February, 24, 2012
2/24/12
12:00
PM ET
A real man swallows his vomit when a lady is present.
January, 8, 2012
1/08/12
1:45
PM ET
Penn State's wait for a head coach finally ended Saturday as the school introduced Bill O'Brien as its new leader. O'Brien
came across well at his news conference
, and while I waited for him to get on the phone Sunday, I could hear fans wishing him well at Penn State's basketball game in the background. But there are challenges ahead, namely juggling his new job with his current one (New England Patriots offensive coordinator). He also has to try and salvage a recruiting class and form a staff that will include current Penn State defensive line coach Larry Johnson, who will lead the team's recruiting efforts for the time being, as well as
Charles London from the Tennessee Titans
.
Here's what O'Brien had to say during our conversation.
What has been the reception so far for you at Penn State?
Bill O'Brien:
It's been unbelievable. To arrive at this place and to drive onto campus from the airport, you realize what a special place it is. It's been a great experience so far, had a great reception at the women's basketball game [Saturday] and another great one today at the men's game versus Indiana. They've welcomed my family and I with open arms.
How much will you be reaching out to different sectors of the Penn State fan base in the next couple of days? Is there any damage control to be done?
[+] Enlarge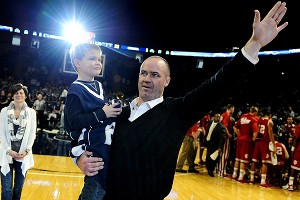 Patrick Smith/Getty ImagesNew football coach Bill O'Brien and his family made an appearance Sunday at the Penn State-Indiana men's basketball game.
O'Brien:
Any time you had a transition where there's been a coach [Joe Paterno] here for 60 years and now you're transitioning into a new coach, there's obviously going to be people who are going to be a little bit skeptical. I'm not naive to that. I've been coaching for 20 years so I understand that. I'm going to do the best I can to reach out to the Penn State community and the Penn State lettermen. I've already started that process with my press conference [Saturday] and different phone calls I've received and players I've spoken to already. Again, I'll reiterate what I said [Saturday]: I want everybody in the Penn State community to just give us a chance to allow us to earn their trust and respect. I promise you that we're going to work very hard to do that every day.
What are the biggest challenges you face at Penn State?
O'Brien:
Again, any time you're a new coach and there's a transition, it's getting the staff in place. It's securing the guys that are committed right now and getting guys on the road. We're fortunate that there's a little bit of a dead period here in recruiting, so we've got a couple days to get the staff in place, get them kind of settled in here in State College, and then hit the ground running when recruiting opens back up toward the end of the week. That's probably the biggest immediate challenge, and then from there we've got to evaluate everything that's here, and make decisions as we go along.
Where do things stand with your staff and how much will you lean on them the next few weeks as you have other responsibilities?
O'Brien:
I'm going to lean on them a lot. Right now, I really don't want to get into specific things, but we're still in the process of putting the staff in place. You'll see soon enough. By the middle of the week, you'll have a good understanding of who the staff is. It's a very, very strong staff, a mixture of college and NFL experience, a mixture of great recruiting experience, national championships won. It'll be a very, very strong staff.
How would you describe the offensive philosophy you want to bring to Penn State?
O'Brien:
It's a game-plan offense. The first thing we've got to do is evaluate our own personnel, see who we have, and then we've got to make sure we're putting our players in the best position to attack the defenses we see. We're not this offense, we're not that offense. We're a diverse offense, and we require our players to learn a lot of different things about defense and offense. We're going to have to have some smart, instinctive players here as we go forward, and I hear that we have some. I'm not going to get into specifics. You'll see what it is when the season starts next year.
You're meeting with the players later today. What are some of the most important things you want to get across to them about you and the direction of the program?
O'Brien:
I think the expectations I have for them, especially in the immediate future while I'm not around. I'm going back to the Patriots, so I'm not going to be right here on campus. Those expectations that I have, both off the field and on the field. That's the first thing I want to get across to them. And then there are some different things I really believe in. Anything other than that is going to be kept between myself and my team. They'll know that, too. That's going to be a very private conversation.
And as far as the coaches they'll be reporting to during the next few weeks, is it just Coach Johnson or whoever else you name?
O'Brien:
By Wednesday, there will be at the very least seven full-time coaches. You're allowed nine on staff, and seven of those guys will be in place by Wednesday in the building, in addition to a couple guys that are coming on board for different roles. So they'll know who their coaches are very soon here.
You've been a guy who said he has followed Penn State for a long time. What was your reaction to everything that happened back in November?
O'Brien:
I'm here now. I'm the head football coach now, and it's my job to put the best football team out on the field and off the field. That's my job. There are very many people here, special people that are in charge of that situation. I wasn't here, I'm here now, so just moving forward, that's all I'm going to say about publicly because again, I wasn't here. I'm just here to lead the football program, from my start date that was [Saturday] moving forward.
How much patience do you have?
O'Brien:
Oh, you know, it depends [laughs]. Some people would say I don't have a lot of patience. I don't have a lot of patience with mistakes that are made over and over again. I have patience with the first mistake, but once we learn from that mistake, you can't make the same mistake twice.
Are there guys you're planning to reach out to who were in similar situations, taking over a program? Coach [Charlie] Weis is one that comes to mind. Have you already done that or do you plan to in the future?
O'Brien:
There's no question. I don't know Coach Weis, so that specifically would be no because I don't know him, but there's a number of coaches, starting with Coach [Bill] Belichick, who's been very, very good to me during this whole process. There's a lot of guys -- George O'Leary, Ralph Friedgen -- guys who have already reached out to me, and I'm definitely going to be reaching back out to them when I get a chance to and talk to them about different advice that they would have for me going forward.
January, 7, 2012
1/07/12
1:01
PM ET
For the first time since Feb. 19, 1966, Penn State has
introduced a new head football coach
. Bill O'Brien is the new man in charge, and he conducted himself well during his first public appearance in the new job. He was energetic and confident and hit on most of the issues Penn State fans needed to hear.
O'Brien, 42, received a five-year contract that will pay him $950,000 annually plus a five percent annual increase and performance incentives not to exceed $200,000 per year. The deal includes $1 million annually from TV and radio, and $350,000 from Nike. Total compensation: $2.3 million.
Before getting to the notes, O'Brien finished his opening remarks with a letter he wrote addressed to the Penn State football community, portions of which had expressed outrage at his hiring and the search process.
[+] Enlarge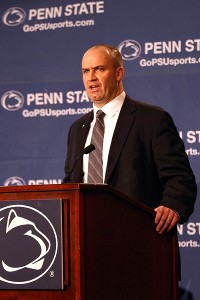 Rob Christy/US PresswireNew Lions coach Bill O'Brien said he has "a lot of confidence" in his ability to lead Penn State through "what some people would say is a tough time right now."
It reads:
"We respect the right to one's opinions, beliefs and contributions to Penn State. We admire one's loyalties to Penn State, Penn State football, its grand tradition, coach [Joe] Paterno and all of its football staffs, and present and former players. We respectfully request the opportunity to earn your trust through communication and field it through our abilities, ethics, beliefs, work ethic and commitment to Penn State. In time, you will find that we have more common interests and goals than not.

"We are now with you. You should be proud of Penn State's numerous accomplishments. You should be proud of Penn State's football program. You should love this school. You are why we love to be here. We want you to know that you will always be welcome and are part of our program because we are Penn State."
Here are some notes:
O'Brien plans to assemble a staff in the next 2-3 days, but he confirmed that current Lions defensive line coach Larry Johnson will be a part of it. Johnson, the team's top recruiter and an excellent position coach, served as co-defensive coordinator with Ron Vanderlinden after Tom Bradley took over the head-coaching duties in November. O'Brien will meet with the other current assistants during the next few days. Keeping Johnson is a good move.

It doesn't appear as though Bradley will remain on staff (no big surprise), and Bradley issued a statement Saturday saying Penn State has his full support going forward. Classy remarks from "Scrap."

O'Brien discussed Paterno in his opening remarks, saying he grew up following Penn State football. He loved the "helmets, the uniforms, the black cleats, no names on the back of the jerseys, and also because of the man on the sidelines." O'Brien added that there "will never be enough words to say what he did for this program." O'Brien looks forward to meeting Paterno as soon as possible.

O'Brien said he will take the NCAA exam today or Sunday that will then allow him to contact Penn State recruits. He emphasized the importance of securing Penn State's verbally committed recruits and making a push in Pennsylvania, Maryland, Ohio and the Washington D.C. area -- "our bloodlines."

While his assistants will be on the road, O'Brien himself will be splitting time between Penn State and the New England Patriots, much like Charlie Weis did with the Patriots and Notre Dame in 2005 during the Patriots' Super Bowl run. "There's no way I can stand up in front of our football team and our recruits and talk about loyalty and commitment and then leave the Patriots at the start of a playoff run," he said. "... I will also continue any break I have to make sure I am full-time as much as I can for Penn State." This will be tricky, but it's hard to fault O'Brien for finishing the job with the Pats. Johnson will lead Penn State's recruiting efforts during the next few weeks.

O'Brien didn't mention Jerry Sandusky or the sex-abuse scandal directly but acknowledged he has "a lot of confidence in my ability to lead us through what some people would say is a tough time right now." He said there were a lot of tough questions asked and answered from both sides during the interview process and praised acting AD Dave Joyner and president Rodney Erickson. Asked why he can lead Penn State through a tough time, O'Brien replied, "I believe in myself. I believe in Penn State. I believe in the academic diversity of Penn State. I obviously believe in the football traditions here and the past football successes. What is there not to sell about Penn State?"

O'Brien said Penn State will be multiple on defense and continue to reflect the program's tradition on that side of the ball. The offense will be game-plan-oriented. "The offensive philosophy will be to find out what our players do best ... and put them in position to take advantage of these strengths," he said. O'Brien says he'll call offensive plays, at least for the first year.

O'Brien wasn't part of a Friday night conference call with Lions players -- he spent the time preparing for the news conference -- but will meet with them Sunday at 5 p.m. ET. Classes start Monday. This meeting can't happen soon enough, in my view.

Joyner said he was receptive to the Letterman's Club members and others who wanted to give input on the coaching search. Former Penn State player Brandon Short told media outlets Friday that Joyner hadn't been receptive to the program's alums. As for the secrecy of the search, Joyner said, "We conducted this search very similar to normal academic searches for a dean for a chair of a department."

O'Brien on being a first-time head coach: "Everybody's got to start somewhere, and what better place to start than Penn State? I know there's many challenges ahead. I'm going to surround myself with really good people."

On current boss Bill Belichick: "He allows his coaches to coach, to be creative, to come up with their own play designs and their own game plans. He's the most challenging guy I've ever worked for, and I've learned so much from him."

On Patriots quarterback Tom Brady: "He's a special, special guy, and a special friend of mine, and he always will be. We have a unique relationship. It was like two brothers ... so there were times when things got heated, and most of that was probably my fault."
More to come on O'Brien's hiring ...