October, 28, 2014
Oct 28
8:30
AM ET
Welcome to terrific Tuesday. Or terrible Tuesday. All depends on your perspective.
The College Football Playoff selection committee began deliberations on Monday in Grapevine, Texas. Tonight at 7:30 p.m. ET, Arkansas Athletic Director Jeff Long will unveil to a most curious audience the first-ever CFP rankings.
It's a historic time -- and surely chaotic.
Marc Tracy of the New York Times, in
assessing the moment
, writes that "historians will most likely date the end of the era of good feelings to 7:31."
With that in mind, some advice for fans from the Big Ten to the SEC:
September, 13, 2013
9/13/13
4:30
PM ET
Wishing you a good weekend of football. Don't forget to follow us
on Twitter
.
To the mail ...
Wisc QB from Wisconsin writes:
Why is it that even though Wisconsin is returning more starters and has played more games than ASU, everybody is acting like ASU is a proven commodity while Wisconsin is still an unknown. Why is nobody mentioning that this is the first real test for both of these teams? And I'm pretty surprised that I haven't seen a single pick in favor of the Badgers.
Adam Rittenberg:
These are fair points, QB, and it's a little odd to see a ranked team getting so little love against an unranked foe. You're right that neither team has been tested, so we really don't know that much right now. The concern is that Arizona State's strength (a dynamic passing game) is matching up with Wisconsin's potential weakness (secondary/pass defense). A quarterback like
Taylor Kelly
could pick apart a Badgers back four featuring three new starters if he doesn't face pressure. That's why I'm so interested to see what Dave Aranda and Gary Andersen dial up for this one. You also can't overlook the fact that Big Ten teams really struggle in Pac-12 venues (just six wins in the past 26 appearances) and have never beaten Arizona State in Tempe. Sure, this year is different and the teams are different, but on paper, this looks like a tough matchup for Andersen's Badgers.
---
Todd from Atlantic Highlands, N.J., writes:
I'm surprised you haven't mentioned the unfortunate death of the UCLA football player and the impact it might have on the Nebraska-UCLA game. If managed correctly, I think it could provide the edge to UCLA. If not managed well, it could cause UCLA to be blown out. What are your thoughts?
Adam Rittenberg:
Todd, we mentioned the tragedy on a few videos, but not enough in the blog. That's a fair point, and it could be a significant factor Saturday. It's a terrible thing for a team to deal with, especially in the middle of a season. Teams can use a tragedy as a rallying point but they also can get overwhelmed by it, especially when things start to go badly on the field. It's why I'm so interested in how UCLA starts the game Saturday. The Bruins are playing at 9 a.m. Pacific time, which is already an adjustment, and continue to deal with
Nick Pasquale
's tragic passing. I think there's an opportunity for Nebraska to strike quickly and shock UCLA a bit. Then again, Bruins coach Jim Mora is an excellent motivator, and he should have his team as ready as he possibly can for kickoff.
---
Joel from Minneapolis writes:
Adam, you've made it clear how annoyed you (and Brian) are about Minnesota playing the likes of FCS and bottom-dweller FBS teams, and I am in the same boat. I would love to see more noteworthy opponents than Western Illinois on the Gophers' schedule as well. My question is what is your take on Kill's rationale for scheduling these types of teams (building confidence)? I would like to think that maybe Kill is on to something, that once Minnesota can turn that corner of putting away these types of teams the way perhaps Wisconsin has done up until now, maybe it would be a worthwhile investment.
Adam Rittenberg:
It's important to string together some bowl appearances, Joel, and Kill's scheduling approach gives Minnesota a better chance to do so. Kill comes from the Bill Snyder school of scheduling, and Snyder helped build Kansas State's profile by living in cupcake city outside of league play. So there's some precedent. The problem is Minnesota fans saw a similar scheduling approach under Glen Mason, which led to a bunch of mid-tier bowl appearances but not enough success in the Big Ten. Kill needs to have his team ready for the Big Ten, and I don't know if these schedules will do the job. Minnesota's
recent schedule addition of TCU
for 2014 and 2015 is a good one, and I hope we see more of those games (and, somewhat sadly, fewer games on Aggie Vision).
---
Marc from New York writes:
With Notre Dame gone, who do you think Michigan will play in their night games now, specifically in the next two seasons? I'm not quite sure if the future OOC schedules warrant a Under the Lights III/IV, unless Dave Brandon is willing to play at night later in the season against B1G teams.
Adam Rittenberg:
Marc, I hear you, but why does every Michigan night game have to be a huge deal? It speaks to a larger issue I have with the Big Ten and its reluctance to shake up the scheduling approach. Night games are cool almost regardless of the opponent. Michigan should play a Big Ten game at night. I wish it would be Michigan State, but Brandon has his reservations about playing a rival under the lights. It happens all the time in the SEC and Big 12 -- just sayin'. I think Oregon State or BYU could work well in 2015, and I'd expect some exciting additions to the nonleague schedule with Notre Dame moving up. But my larger point is Michigan shouldn't have strict standards for night games. Play Penn State at night, or Wisconsin, or Northwestern, or Nebraska. Night games should be a bigger part of the Big Ten's identity. They are everywhere else.
---
Buckeye from Columbus writes:
Adam, would it be better, in regard to the league's national perception, that Notre Dame blows out Purdue this weekend? I know losing nonconference games aren't good, but wouldn't the league be better off that Michigan beat a good ND than Michigan beat a mediocre ND who barely won/lost to a, so far, terrible Purdue? I know this isn't fair to Purdue fans, but public opinion rarely is.
Adam Rittenberg:
I don't know if a Purdue blowout helps the Big Ten, but a Notre Dame win, maybe by 10-14 points, probably does, as Michigan would benefit from the Irish having a strong overall season. The Big Ten wants the profiles of its top teams -- Ohio State, Michigan, Northwestern, Wisconsin, Nebraska -- too look as good as possible come early December. Notre Dame is Michigan's only impact nonleague game, so when we're judging the Wolverines, we want to attach value to their win against the Irish. So yes, beating Purdue is important, but if Notre Dame wins against better teams such as Oklahoma, Arizona State, BYU and, most important, Stanford, that will mean more for Michigan and the Big Ten.
---
KMan from BMore writes:
After the emergence of freshman phenom
Christian Hackenberg
, do you feel there is a possibility that
Tyler Ferguson
might transfer? I know the free-transfer period has ended, but (barring injury) I am having a hard time believing he will see meaningful snaps over the last three years of his eligibility. Best-case scenario (from an outside observer) would be Hackenberg starts through his junior year (2015), heads to the NFL, and Michael O'Connor steps in with three years of eligibility remaining, which would take PSU to the end of the sanctions with two top-flight pro-style quarterbacks at the helm. Do you concur?
Adam Rittenberg:
KMan, I'm not in Ferguson's head, and he probably wants to see how things play out in the next few weeks, as Hackenberg could struggle when Big Ten play rolls around. But there's a decent chance the scenario you presents ends up being true. If that's the case, you couldn't blame Ferguson for wanting to play elsewhere and get a real chance. He took a leap of faith in
picking Penn State without ever setting foot on campus
. Maybe that loyalty keeps him in State College, but he's a California kid who left the team this summer to be with his ailing mother and has some strong ties to his local area. Penn State certainly needs Ferguson to stay this season as the quarterback depth is so poor, but it seems pretty clear that Hackenberg is the future for the Lions offense.
---
Bill from Genoa, Ohio, writes:
Adam, I continue to see MSU fans' concerns about their offense and not scoring points. I want to remind them that their school hired Jim Bollman as their offensive coordinator this past offseason. Being an Ohio State fan, and having watched and complained about his and Jim Tressel's play calling for years, I want to tell MSU fans what you are seeing is what you are going to get. Even with a dynamic QB who can make plays 1,000 different ways, Bollman's approach is more conservative than most members of the GOP. He is not innovative and will run the ball to death, even when the run isn't working. I have sympathy for the MSU fans out there, because I think they are better than how their offense has been playing, and I really thought they'd play in the B1G championship this year. So MSU fans, as long as Bollman is in charge of your offense, no matter how good that offense is or could be, get used to averaging points in the mid to high-twenties and don't expect any creative plays to happen, because there is no imagination in the offense right now.
Adam Rittenberg:
Bill, I understand your criticism for Bollman, and I admit his hiring didn't inspire much confidence among those who know his background with Tressel at Ohio State. But he's not the primary offensive play-caller. Co-offensive coordinator Dave Warner is, and Warner has been on the Spartans' staff for a while. And while Michigan State's play-calling leans conservative, the problems with the offense go deeper. Quarterbacks haven't improved, receivers continue to drop passes and the offensive line can't take the next step to become an elite Big Ten unit. I'll admit that the decision to flip Warner's and Brad Salem's responsibilities -- Warner now coaches running backs and Salem coaches quarterbacks -- left me scratching my head as almost every offensive coordinator also coaches the QBs. Bollman might be part of the problem in East Lansing, but he's not the biggest issue the Spartans have right now.
---
Eric from Iowa City, Iowa, writes:
I am wondering why the blog is now being written by a lot of other writers besides Bennett and you?
Adam Rittenberg:
Good question, Eric. We've expanded our blog staff to include Chantel Jennings, Mitch Sherman, Austin Ward and Josh Moyer. While they'll write a decent amount about specific teams for the
Michigan
,
Nebraska
,
Ohio State
and
Penn State
team pages, they'll also contribute in the Big Ten space. The idea is to provide a better overall product with more viewpoints and in-depth coverage. The additions also free Brian and I up to work on longer blog features and other projects, both in the Big Ten space and elsewhere. We didn't have this luxury in the previous model because of all the posting demands. The changes should improve the blog and the overall college football coverage we provide. We're excited about it.
December, 4, 2012
12/04/12
7:28
PM ET
Bret Bielema didn't start his career at Wisconsin, but he appeared to feel right at home in Badger Land.
He had good and sometimes great teams. He had a great boss in athletic director Barry Alvarez, who handpicked Bielema as his coaching successor after the 2005 season. He made pretty good coin ($2.6 million). He seemingly had much more job security than most major-conference coaches. As long as Alvarez was around, Bielema was safe. He talked before this season about the promise of the 2013 squad.
But he evidently didn't have enough resources to keep him in Madison. Why else would he leave such a good situation? He'll also inherit much better facilities and more money to hire top assistants.
[+] Enlarge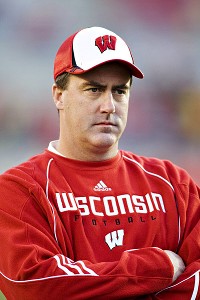 David Stluka/Getty ImagesIf asked, might Paul Chryst be willing to return to Wisconsin?
A decent portion of Wisconsin fans never fully embraced Bielema, despite his success in continuing what Alvarez had built with the Badgers. Although Alvarez played at Nebraska, he's a Badger, through and through. Alvarez is the reason the program is nationally relevant. Bielema never achieved that status despite winning 12 games his first season, as well as three consecutive Big Ten titles. Badgers fans never truly felt Bielema was one of them. His in-game coaching was questioned, especially after the 2012 Rose Bowl.
Bielema's surprising exit, on the heels of Wisconsin's dominating performance in the Big Ten championship game, leaves Alvarez scrambling to find the Badgers' next coach. He'd be wise to hire one of Wisconsin's own.
Alvarez could pull a Bill Snyder and reinstate himself as head coach. Crazier things have happened, and although Alvarez, who turns 66 on Dec. 30, seems more than content in his current role, he still loves the game.
A much likelier approach would be to bring Paul Chryst home.
Chryst grew up in Madison, played for Wisconsin, coached the Badgers' tight ends in 2002 and returned in 2005 as the team's co-offensive coordinator. He moved into the permanent coordinator role in 2006, which he occupied until becoming Pitt's head coach following the 2011 season. Chryst led record-setting Wisconsin offenses in 2010 and 2011 and had been coveted for several jobs before taking the one at Pitt.
The loyalty questions (fair or unfair) that sometimes surfaced among fans with Bielema likely wouldn't be there with Chryst. He knows the program, knows the town and knows the fan base. He makes a lot of sense.
Darrell Bevell's name also will come up. Bevell played quarterback for Alvarez and led Wisconsin to a Rose Bowl championship after the 1993 season. Although he started his career in the college ranks, he has been in the NFL since 2000 and serves as the Seattle Seahawks' offensive coordinator. Like Chryst, he has Wisconsin roots and would make a lot of sense.
Would Dave Doeren take Alvarez's call? Doeren, the former Badgers defensive coordinator under Bielema,
accepted NC State's head-coaching job
on Saturday, hours after winning his second straight MAC championship at Northern Illinois. Although Doeren's Wisconsin ties aren't as strong as Chryst's, he has spent much of his career in the Midwest.
It's a tough day for Wisconsin, which enjoyed stability and success under Alvarez and saw it continue with Bielema. The Badgers' program is a lot closer to Ohio State's and Michigan's than it is to the middle of the pack in the Big Ten. To see a coach leave for a good but not great SEC job can't be easy.
Wisconsin needs to decide what it wants to be. It'll soon have an upgraded athletic facility. Will there be additional resources to attract top assistants? Bielema lost six, including Chryst, after the 2011 season. So there had better be. The challenges in recruiting always will be there, but Wisconsin has found ways to overcome them with player development.
This is a very good program that shouldn't be viewed as a stepping stone, especially to a place like Arkansas.
Alvarez needs to hire someone who sees Wisconsin as a potential destination job.
Hope he didn't lose Chryst's number.
December, 3, 2012
12/03/12
11:30
AM ET
The final regular-season polls are out, including the coaches' poll, which on Sunday revealed the
final ballots from 59 FBS head coaches
.
Six Big Ten coaches voted in this year's poll: Illinois' Tim Beckman, Wisconsin's Bret Bielema, Michigan State's Mark Dantonio, Michigan's Brady Hoke, Nebraska's Bo Pelini and Indiana's Kevin Wilson.
Politics and biases undoubtedly play out in the final balloting, so let's check out some notable votes from the Big Ten contingent.
After Wisconsin smashed his team Saturday night, Pelini ranked the Badgers at No. 16, the highest vote they received (Washington's Steve Sarkisian also had UW at 16). Bielema, meanwhile, had the Badgers at No. 18. Bielema didn't think a whole lot of the Huskers after Saturday night's stomping, putting Nebraska at No. 24, the lowest vote Big Red received among the Big Ten coaches.
Wilson, whose Indiana team Wisconsin crushed Nov. 10 in Bloomington, had the Badgers at No. 25, lowest among all the Big Ten coaches. Wilson had Nebraska at No. 22. Hmmm ...
Hoke was one of three coaches to give Michigan its highest ranking at No. 15. The others? Notre Dame's Brian Kelly and ... wait for it ... Arizona coach Rich Rodriguez, who coached the Wolverines from 2008-10. Nice to see Rich isn't bitter. Dantonio put his in-state rival at No. 20.
Hoke played and coached in the Mid-American Conference for Ball State, but he had little loyalty for the league on his ballot. That, or he just hates Northern Illinois. Hoke had the Huskies at No. 25, the lowest vote they received among any of the coaches. Beckman, who previously coached NIU's top rival Toledo, had the Huskies at No. 17.
Bielema gave his former boss Bill Snyder some love, ranking Kansas State at No. 4 on his ballot. Dantonio, who is good friends with Oklahoma coach Bob Stoops, had the Sooners at No. 8 and BCS buster Northern Illinois all the way down at No. 22. Wilson, who worked for Stoops at Oklahoma before coming to Indiana, had the Sooners at No. 11. So did Pelini.
A quick check of where the Big Ten coaches ranked their upcoming bowl opponents. Bielema had Stanford at No. 5, Hoke had South Carolina at No. 10 and Pelini had Georgia at No. 6.
All six Big Ten coaches had Notre Dame at No. 1 and Alabama at No. 2.
Other notable coach votes:
NC State coach Dave Doeren, the former Wisconsin defensive coordinator who coached Northern Illinois this season, didn't rank the Badgers on his final ballot. He had Nebraska at No. 18. Huh?
Kent State coach Darrell Hazell, a former Ohio State assistant, didn't have much love for the Big Ten, not ranking Northwestern or Nebraska. He had Michigan at No. 23.
Ohio coach Frank Solich, who played and coached at Nebraska, had the Huskers at No. 23 on his ballot.
Here's a quick look at the voting for each Big Ten team in the final poll (Ohio State and Penn State weren't eligible).
No. 17 Northwestern
High vote: 14, from Kentucky's Joker Phillips and South Carolina's Steve Spurrier (who also
jabbed at the Wildcats on Sunday
)
Low vote: Not ranked by multiple coaches
No. 21 Nebraska
High vote:15, by Oklahoma's Stoops, Spurrier and Arkansas State's Gus Malzahn
Low vote: Not ranked by multiple coaches
No. 22 Michigan
High vote: 15, by Hoke, Kelly and Rodriguez
Low vote: Not ranked by multiple coaches
No. 23 Wisconsin
High vote: 16, by Pelini and Sarkisian
Low vote: Not ranked by multiple coaches
September, 28, 2012
9/28/12
4:30
PM ET
Some questions and answers before the weekend. Not surprisingly, a lot of you are weighing in on
this story
.
CK from Seattle writes:
I'm going to call it right now Adam. B1G has a good bowl season (or at least better than recent years -- not saying much I know). Reason being the B1G teams seem to often play higher ranked teams and teams playing close to home. With our poor rankings this year, I imagine we'll have some more even matchups. That said -- Wisconsin has looked terrible, Michigan isn't impressive, MSU struggled against mediocre ND and Nebraska had a laugher in Cali. Verdict is still out on OSU. Well -- after saying that, I feel less confident, but still think we'll get better matchups this year.
Adam Rittenberg:
CK, you very well could be correct. It's hard to envision the Big Ten keeping its streak of multiple BCS berths alive. Then again, I've thought the streak would end in the past, and it hasn't, as Big Ten teams and their massive fan bases remain so attractive to the big bowls. The matchups undoubtedly would be better and potentially more appropriate if the Big Ten only sends a team to the Rose Bowl. And if the Big Ten does well, I think the league will get credit because difficulty of bowl lineup doesn't seem to matter much with how leagues are perceived. That said, the Big Ten has to start winning Rose Bowls again. One victory in the past nine is pretty bad.
---
Dan from Austin, Texas, writes:
As a proud PSU alum, it's tough to see the conference in this state. I agree with the premise you are attributing this to, however to understand why the talent pool is low, you have to understand what QBs in other markets are doing all year round. Look at how many Texas QBs are leading D1 programs around the country and starting in the NFL. The reason 7-on-7 leagues that were started about 10 years ago. You now have a generation of Texas QBs who have been able to have 2x to 3x more reps than QBs in the North.
Adam Rittenberg:
I think 7-on-7 leagues are a factor, Dan, but spring football in the south might be a bigger one. Former Purdue coach Joe Tiller told me that from a talent standpoint, the recruits he landed from Texas and other states weren't way above those from the Midwest. But the fact that the Midwest kids didn't have spring football in high school made them less prepared to play college ball right away. "The southern states are really getting the edge," Tiller told me. "Florida with their spring practices and Georgia with their spring practices and Texas with their spring practices, those kids, I know when we recruited them to Purdue, they were just advanced players over the guys we were getting out of the Midwest. They weren't necessarily more gifted naturally, but they were just advanced in the sense that they played so much more football." Tiller also noted that some southern states (Texas) have longer regular seasons than those in the Midwest, so players are playing more games before they arrive at college.
---
Steve from San Francisco writes:
I can't agree with Earle Bruce, and not just because I went to Michigan. I think the quarterbacks in the league are not the problem. Look at Alabama. Greg McElroy and
AJ McCarron
have led them to National Championships and they are not NFL caliber quarterbacks. Maybe they will be backups for a while, but they aren't carrying those teams, it is the top-down talent around them -- strong defenses, speedy, large, wide open receivers, and huge, yardage-churning running backs. Go back to UM-Bama to start the season, McCarron's and
[Denard] Robinson
's numbers were eerily similar, and how close was the final score? McCarron missed a bunch of receivers too, he just happened to also have 3 running backs tearing up the field. The question is: will the Big Ten ever be able to pull enough talent in all schools so that every class has the depth to match the SEC and I think the answer is no. I wanted to go to Michigan, but I grew up in the north. Most of the talent these days is in the south. Why would they ever go to a place that is frozen in the winter when they could be in the sun with girls in bikinis? Yes, you get your one-offs, but it is all positions talent and depth where the Big Ten has lost its prestige.
Adam Rittenberg:
Some good points here, Steve. Bruce also told me the running back position is down in the Big Ten, and while I don't necessarily agree with him there, the number of elite QB-RB combinations might not be as high as it should be. The wide receiver spot certainly has been down in the league, and I would also look at cornerback as a weakness in recent years. Everyone points to defensive line play and says that's where the SEC has the advantage, but I look at the linemen the Big Ten has produced in recent years -- J.J. Watt, Ryan Kerrigan, Cameron Heyward, Jared Odrick etc. -- and don't see a massive shortage. Maybe there's not as much depth in the Big Ten as there is in the SEC, but I don't think there's a dearth at defensive line. Your last point is spot on. The issues go beyond just one position, and it's hard for the Big Ten to recruit overall rosters that can match the best teams from the SEC.
---
Brutus from the Ninth Circle writes:
Hey Adam, have a question about Penn State. With the departure of
Paul Jones
, I'm beginning to think that there are 2 key things going on. First, [coach Bill] O'Brien knows that he has to get the scholarships down to a certain level and he has to "trim the fat," if that's the right phrase. Second, every team has under-performers, so they would be the first to go. It seems to me that BOB is cleaning house to get to the levels that he needs to be at, protecting the core players, and lightening the load with players that are less critical. Jones was the 3rd string quarterback and way down the list on TE. Seems like a good call to let Jones go. Thoughts?
Adam Rittenberg:
Brutus, I don't think O'Brien is running players off from Penn State. I think he's being honest with them about their futures, and he didn't see a future for Jones at quarterback for the Lions. I believe O'Brien when he said he saw Jones as a contributor at tight end, but ultimately Jones wanted to play quarterback, as
he tweeted Wednesday night
, and he couldn't do that at Penn State. It's probably too soon to how Jones would have fared as a tight end for PSU, and there are quite a few players ahead of him at that spot. While I don't think O'Brien will lie awake at night thinking about how he could have kept Jones in State College, I don't think he's thrilled to see Jones leave. As O'Brien said Thursday night, Jones just needed a fresh start.
---
Dylan from Nebraska writes:
Adam, Is there a Big 10 team that could, with some help, still contend for a national title? Would a 1-loss Nebraska, or Michigan St team make it? Would an undefeated Minny or Northwestern make it?
Adam Rittenberg:
It's very hard to envision any Big Ten team taking the field in Miami on Jan. 7. The problem is the Big Ten didn't do much of anything in the first four weeks to justify having a 1-loss team make the title game ahead of comparable squads from other conferences. Between Minnesota and Northwestern, I'd say Northwestern would have the better chance because it has a slightly stronger strength of schedule than the Gophers do. And while I've been impressed at what both teams have done, there's little to believe either squad will run the table, especially in the tougher division (Legends). UCLA, which beat Nebraska, already has a home loss to Oregon State, pretty much eliminating the Huskers. Maybe if Notre Dame runs the table and so does Michigan State, there would be a slight, slight chance. But it's hard to see a national title game without featuring a team from the SEC, which has won the past six championships.
---
Jesse from Lansing writes:
Adam -- Coach Kill seems to be a great fit for Minnesota right now. He doesn't reek of that used car salesman attitude (all talk-no walk) that [Tim] Brewster brought to the U. I am really enjoying his matter-of-fact, tough-love gotcha style and the fact that he's more focused on developing his players than the previous regime. Points also for the consistency brought on by his loyal coaching staff. Say Kill is able to build back this program in the next 3-4 years, what are the chances another BCS program lures away him away? I would like to think he's happy here and would stick around for a while. The U administration has been more than generous in providing him the resources he needs to get the job done as well as the time (7-year contract, I believe). Still, Bill Snyder can't stay at Kansas State forever, and being a native Kansan, that would be another opportunity for him to say retire close to home.
Adam Rittenberg:
Jerry Kill might not have been Minnesota's first or second choice, but the guy looks like the right choice for a long-suffering Gophers program. He has definitely paid his dues in coaching at the lower rankings, and he doesn't take this opportunity for granted. That said, he obviously has ties to the Kansas area. Ideally, Kill would build up Minnesota's program enough so a move to Kansas State would be more lateral than an obvious step up. I don't get the sense he's a guy who wants to keep moving around every few years, but I doubt you're the only Gophers fan who made the connection to the K-State situation. Kill won't make any move until he feels like he has built up the program sufficiently, which likely is still a few more years away.
---
Nick from Jacksonville, Fla., writes:
Hi Adam. I am a die-hard, but very realistic Iowa Fan. Its probably taboo to make comparisons between the last 4 years of Hayden Fry's dismal career and where Kirk's career currently is. The reality is Hayden Fry recruiting significantly diminished after the Tavian Banks/Tim Dwight era which led to more losses. Ferentz had to completely rebuild Iowa. Over the last few years the talent, development has reduced with the losses increasing. Ferentz use to personally coach special teams and it showed. Since he stopped coaching them they have gone down hill ... quickly. I see him now more as a figure-head like Hayden Fry's last years. Do you see these comparisons as well? The angst is growing in Florida among the Iowa fans.
Adam Rittenberg:
Nick, I can understand your frustration, and I doubt you're the only one making that comparison. While Iowa's program undoubtedly has lost momentum since 2009, I don't know if there has been a huge drop in talent. Iowa never was talented enough to overcome mistakes like running away from an onside kick or committing a dumb personal foul penalty in the closing seconds of a 2-point game. Most of Ferentz's teams have played smart, fundamentally sound football and often played above their collective talent level to win a lot of games. I don't think the 2012 Hawkeyes fit this description. It's fair to wonder if players are being developed as well as they used to in Iowa's program, but aside from a handful of recruiting classes (i.e. 2005), I haven't seen major differences in the types of players Iowa signs. I'm sure the facilities upgrades will help in recruiting, and I also think Ferentz has a lot left as a coach. But it's definitely a rough situation right now in Hawkeye Country.
---
Charlie from Ames, Iowa, writes:
Adam, Just listened to your "Game of the Week" talk and noticed you said that
Le'Veon Bell
is the Big Ten's best running back. I think that's a little presumptuous to proclaim this early in the season. Based on a larger time scale (last year) and his performance in limited time this year, I'd still take
Rex Burkhead
. Now, I know what you're going to say. You're going to pull out the Brian Bennett card and base everything you think, do, and say on "body of work." But, this isn't directly about body of work, it's who you think is best based on all past performances and projected future performances. Although Bell will unquestionably, unless he gets hurt, finish the year with more yards than Burkhead, don't you think Burkhead deserves just as much mention for the Big Ten's best running back?
Adam Rittenberg:
Charlie, my comment pertained strictly to this season. No one would argue -- aside from a few Northwestern fans -- that Bell has been the Big Ten's best running back this season. We've barely seen Burkhead, and he could turn out to be the league's top back, but he hasn't been to date this season because of the knee injury. Burkhead's overall career has been more impressive than Bell's, but I think Bell has closed the gap -- more because of what he has done lately, not because of any shortcomings with Rex's game. I will say this: Le'Veon Bell
projects better to the NFL than any back in the Big Ten
, including Burkhead and
Montee Ball
. If he keeps this up, he could be a potential first-round pick in next year's draft if he chooses to forgo his senior season.
---
Dave from Denver writes:
Does Schlabach get paid by the SEC too?
Adam Rittenberg:
Only in joy.
December, 18, 2009
12/18/09
2:20
PM ET
After a wild night of rumors and negotiations, Illinois got the man it wanted to run its defense.
[+] Enlarge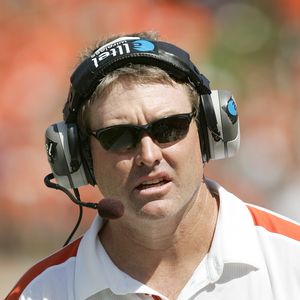 Todd Kirkland/Icon SMIVic Koenning left Kansas State to take a similar position at Illinois.
Illinois officially named Vic Koenning its new defensive coordinator at a news conference today in Champaign. Koenning, who previously served as Kansas State's co-defensive coordinator, replaces Dan Disch and Curt Mallory, who were demoted to position coaches.
"I'm ready to jump in there with coach [Ron] Zook, start to watch some recruiting tape, start to watch some games and get going," Koenning said Friday. "I couldn't be more excited to be here. In so many things in life, timing is everything, and the timing has worked out fantastic."
Illinois' hiring of Koenning
had been expected for several days
, but things got interesting Thursday night as Georgia re-entered the mix for his services. Koenning recalled how Kansas State head coach Bill Snyder came into his office several days ago and asked where Koenning was headed.
Ultimately, Koenning settled on Illinois, calling it a "much-needed change."
"There was some dialogue [with Georgia]," Koenning said. "It made for an interesting last 16, 18 hours, but when push comes to shove, the character and the drive and the enthusiasm that coach Zook exhibited made sure there was no doubt in the outcome."
A week after
dismissing four assistant coaches
and demoting two others, Zook has filled all four positions and has his staff in place for a make-or-break 2010 season. We can certainly debate whether Zook should still be at Illinois and whether the fired assistants were scapegoats for a miserable season, but you've got to give the team credit for its bold approach to finding replacements.
Time will tell if these hires can turn things around, but the early returns are favorable.
New offensive coordinator Paul Petrino has been around great offenses for some time, and he seems excited about the chance to break away from his brother Bobby and call his own plays. Petrino and new offensive assistants Jeff Brohm (quarterbacks) and Greg Nord (tight ends) were all at Louisville when the Cardinals lit up the scoreboard from 2003-06.
Koenning spent only one year at Kansas State, which ranks 40th nationally in total defense and 16th against the run. He built his reputation as a strong defensive coordinator at Clemson, which finished in the top 25 nationally in scoring, total defense, and pass efficiency defense in each of his four seasons there (2005-08).
Koenning had never been to Champaign and arrived "in the dark of night" early Friday.
"There may be some dark circles under my eyes," he said. "But you have an adrenaline rush when you come into a place like this. We're ready to go."
July, 21, 2009
7/21/09
2:30
PM ET
Posted by ESPN.com's Adam Rittenberg
A lot of coaches were on vacation last week, so things got a bit quiet. Let's take a trip on the Big Ten recruiting trail.
ILLINOIS
2010 verbal commits: 8
ESPNU 150 Watch List: Safety Corey Cooper, quarterback Chandler Whitmer, tight end C.J. Fiedorowicz
Quick take: No action during the last week for the Illini, but a very solid class is shaping up for Ron Zook. After a very strong start with in-state recruits, Illinois could soon branch out to other areas. Linebacker Jonathan Brown is on the radar.
INDIANA
2010 verbal commits: 13
ESPNU 150 Watch List: None
Quick take: Indiana has been one of the Big Ten's most active teams in early recruiting, and the results are paying off. Linebacker Ishmael Thomas is a very solid addition, and guard Bill Ivan provides depth along the offensive line. Though the group doesn't include a watch list prospect, Indiana has done very well in its region. A 3-9 season last year doesn't seem to be hurting the program at all in recruiting.
IOWA
2010 verbal commits: 10
ESPNU 150 Watch List: Defensive end Matt Hoch, tackle Andrew Donnal

Quick take: No new additions for the Hawkeyes, who have to be pleased with their class so far. The team loses several key pieces in the defensive front seven after the 2009 season, but players like Hoch and James Morris could make an early impact.

MICHIGAN
2010 verbal commits: 16
ESPNU 150 Watch List: Quarterback Devin Gardner, wide receiver Jeremy Jackson, wide receiver Ricardo Miller, guard Christian Pace, safety Marvin Robinson
Quick take: Austin White became the third running back to commit to the Wolverines, who hope they've solidified depth in the backfield for the foreseeable future. Michigan beat out Michigan State for White, who has two brothers who play for the Spartans.
MICHIGAN STATE
2010 verbal commits: 9
ESPNU 150 Watch List: Defensive end William Gholston, linebacker Max Bullough, quarterback Joe Boisture

Quick take: Nothing new for Michigan State last week, though Mark Dantonio has to be pleased with what he sees right now. The Spartans continue to target in-state prospects like C.J. Olaniyan and Tony Jones.

MINNESOTA
2010 verbal commits: 10
ESPNU 150 Watch List: None
Quick take: Some Gophers fans took offense at my claim that the team hadn't made a big splash in recruiting yet. To be fair, offensive lineman Jimmy Gjere qualifies as a very nice pickup. The big fish is still out there, though, in local product Seantrel Henderson. Cornerback Jabari Price would be a very nice addition.
NORTHWESTERN
2010 verbal commits: 7
ESPNU 150 Watch List: None
Quick take: Northwestern's efforts in central Florida haven't gone unnoticed, as three of the team's six commits hail from the Sunshine State. The Wildcats continued to look out of state for center Brandon Vitabile, a New Jersey native who bolsters the offensive line. Next step: Pick up a prospect or two from within the state of Illinois.
OHIO STATE
2010 verbal commits: 9
ESPNU 150 Watch List: Tackle Andrew Norwell, linebacker Jamel Turner, defensive end David Durham, running back Roderick Smith, defensive end Darryl Baldwin

Quick take: Penn State and Michigan have generated most of the recruiting headlines so far, but here come the Buckeyes. Baldwin's commitment gives Ohio State five watch list prospects out of nine and even more depth for the defensive line. He's already a physical presence who should only get better under Jim Heacock.

PENN STATE

2010 verbal commits: 13
ESPNU 150 Watch List: Wide receiver Adrian Coxson, running back Silas Redd, center Miles Dieffenbach, defensive end Kyle Baublitz, defensive tackle Evan Hailes, quarterback Robert Bolden, wide receiver Alex Kenney

Quick take: The Nittany Lions kept Kenney at home, giving them seven watch list prospects out of 13. Kenney always seemed likely to pick Penn State, but there are no guarantees in recruiting. He gives Penn State seven in-state commits, a good sign for a program that saw its recruiting dip several years ago.
PURDUE
2010 verbal commits: 7
ESPNU 150 Watch List: Quarterback Robert Marve (2007 watch list)

Quick take: Head coach Danny Hope isn't afraid to wait for recruits, but he has a nice nucleus for the 2010 class. Purdue has addressed the passing attack with two quarterbacks -- Marve and Sean Robinson -- two wide receivers and a tight end. Hope is trying to tap his Florida roots for defensive lineman Brandon Wilkinson.
WISCONSIN
2010 verbal commits: 9
ESPNU 150 Watch List: Safety Frank Tamakloe

Quick take: Kansas State's loss is Wisconsin's gain as defensive end Warren Herring will play for the Badgers after originally committing to the Wildcats. Interesting subplot: Wisconsin coach Bielema used to work for Kansas State and Bill Snyder. The Badgers have recruited well on the defensive side so far with Herring, Tamakloe and linebacker Konrad Zagzebski.
August, 11, 2008
8/11/08
7:03
PM ET
Posted by ESPN.com's Adam Rittenberg
| | |
| --- | --- |
| | |
| | David Stluka/Getty Images |
| | Wisconsin QB Allan Evridge is fighting for the starting job. |
MADISON, Wis. -- Allan Evridge has heard the common opinion that he'll be Wisconsin's starting quarterback when the team opens the season Aug. 30, but he knows better than to buy into it.
If Evridge has learned anything in his 23 years on Earth, it's that there are no guarantees.
"You never know," Evridge said Sunday. "That's kind of been my whole story. It's kind of been when things are going, things will switch. It's all about perseverance and pulling through it."
Evridge grew accustomed to transition at an early age.
His father, James, was in the military, and the family moved at least seven times. Allan attended six different elementary schools between first and fifth grades.
The left-hander seemed to be settling in at Kansas State in 2005, starting six games as a redshirt freshman and setting a school freshman record for passing [1,365 yards].
But longtime Wildcats coach Bill Snyder announced his retirement before the final game, and new coach Ron Prince installed a new offense and opened up the competition at quarterback. Evridge transferred to Wisconsin just days into fall camp in 2006. He had met Badgers coach Bret Bielema briefly when Bielema served as Kansas State's recruiting coordinator but said the connection wasn't a major factor in his decision.
After sitting out the 2006 season, Evridge competed for the top job last summer and lost out to Tyler Donovan. It looks like he'll finally take the reins this fall, but as Evridge knows, the script can always change.
"Life is crazy," said Evridge, who is competing with Dustin Sherer and Scott Tolzien for the top job. "Once you think you have it figured out, it will definitely give you a big twist. You can't change those things."
Though Evridge was used to being the new guy, fitting in with his Wisconsin teammates presented some different challenges.
"He can't sit back and laugh about when they came as freshmen, the haircuts certain guys had or the look that they carried or the guys that have put on weight or whatever," Bielema said. "He doesn't have that foundation of the first couple years being in our program with this group of seniors, but he did go through college football. He was a guy who was starting as a freshman in the Big 12 Conference. So he can share those experiences."
He also shares the experience of being Wisconsin's only married player. When Evridge left Kansas State, he left behind his girlfriend, Stacey Spiegelberg, a volleyball player for the Wildcats.
The two dated long distance for more than a year and a half before getting married Jan. 12.
"At Kansas State there were a lot of guys that were married, and now I'm the only one," Evridge said. "A couple might be engaged, but I'm the lone wolf. Some guys that don't really know me, like some the new guys, they think there's some stigma, like, 'Oh, you've got to go home to your wife.'"
Badgers players are getting to know Evridge better this summer, when he took a lead role in organizing workouts. After failing to claim the starting job this spring, he slimmed down a bit and is listed at 212 pounds.
The fifth-year senior impressed Bielema's in Saturday's scrimmage, leading the first-team offense on an 80-yard touchdown drive.
"Everything depends on how you look at it," Evridge said. "If you go into a situation thinking things are going to be bad, more than likely, they are going to be bad. If you into a situation -- say a move, when I was young -- thinking it's going to be good and being positive, then things usually do work out and you enjoy it. You've just got to learn that you might have a bad day, but you have the next day to wake up, if you're lucky."