October, 8, 2013
10/08/13
4:30
PM ET
Defensively, for Nebraska this season, two categories exist in surrendering chunks of yardage: There are simply big plays, and there are big plays with catastrophic results.
In the Huskers' Big Ten opener last week against Illinois, a 39-19 Nebraska victory, the Blackshirts progressed little in limiting the big play. But, the frequency of disastrous plays diminished significantly.
Nebraska continues to rank in the bottom 8 percent among FBS schools in allowing gains of 10 yards or more. Illinois accumulated 17 -- just two fewer than the Huskers' defensive average through four games -- to bring the total for the season to 96. That's 114
th
nationally.
[+] Enlarge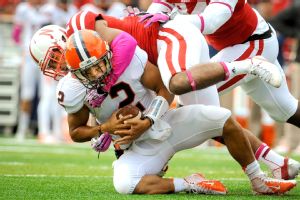 Eric Francis/Getty ImagesCiante Evans and the Blackshirts made some timely plays to keep Illinois in check.
What you didn't see last week at Memorial Stadium, though, was the domino effect so prevalent in non-conference play, in particular on Sept. 14 against UCLA, when the Huskers collapsed in allowing the final 38 points of the game. Against Wyoming and South Dakota State, too, problems snowballed for the defense.
"It's small, baby steps to give these guys some confidence," defensive line coach Rick Kaczenski said.
Coaches asked their players in the two weeks that followed the Huskers' 59-20 win over South Dakota State to let go of the bad thoughts.
If you make a mistake on the field, forget about it. If the offense makes a mistake, let it go.
"Don't look at the JumboTron," Kaczenski said. "Don't worry about it. We can't ride the highs and lows of the offense. We've got to concentrate on what we're doing.
"We signed up for this gig, too. Go put the fire out."
The Huskers did just that on defense against the Illini, which averaged 478.5 yards before the trip to Lincoln. Nebraska held it to 372.
But it's not necessarily the yardage that matters; it's how the Illini got its yards. And when.
Notably, Nebraska held Illinois when it needed stops. Here are three examples from the first half:
The Illini drove inside the Huskers' 25 late in the first quarter after Nebraska jumped on top 14-0. On third-and-7, defensive end Jason Ankrah sacked Nathan Scheelhaase for a 4-yard loss. Next play, Scheelhaase fired a strike to Steve Hull, who was met over the middle by Stanley Jean-Baptiste, whose hit jarred the ball loose to end a scoring threat.

Early in the second quarter after the Huskers made it 17-0, Illinois marched from its 8 to the Nebraska 6. It faced just one third down, on which Scheelhaase needed 12 yards and scrambled for 17. But on first-and-goal, cornerback Ciante Evans hit Donovonn Young for a 3-yard loss. Evans sacked the quarterback for an 11-yard loss on third down to force a field goal.

Leading 23-3, Nebraska endured a brain cramp in the shadow of its goal line, utilizing Imani Cross on a wide run. Illinois linebacker Houston Bates nailed Cross for a safety, and suddenly Illinois had momentum with less than two minutes to play before halftime. The Illini started near midfield but went nowhere as Nebraska linebacker David Santos made an open-field tackle of Josh Ferguson then pressured Scheelhaase into a third-down incompletion.
"Sometimes, in the course of a game, plays get lost in the shuffle," Nebraska defensive coordinator John Papuchis said. "I thought we did a nice job kind of standing up when they got in the red zone, not breaking at that point."
The defensive stops prevented Illinois from chopping into Nebraska's lead. Once the Huskers drove 75 yards in four plays to score on the opening possession of the third quarter, the game was out of reach.
"I think we played a lot more confident, a lot more loose out there on defense," linebacker
Michael Rose
said. "We gave up a lot of plays to (South Dakota State) that were head scratchers. There comes a time when enough is enough. Someone's got to step up and make a play. That's the attitude we took."
Coach Bo Pelini said he credits some of the improvement at key moments to better communication.
"We got to the point where we, as a staff, got fed up with it," Pelini said. "We demanded that we expect to see 11 guys talking on every single play. Eleven guys. And if you're not talking, you're coming out. I said, 'Try it for a day.' I think they found out what a difference it makes."
Still, the Huskers rank 98
th
nationally in total defense (445.4 yards per game), 102
nd
in yards allowed per play (6.15), 118
th
in first down per game (25.4) and 90
th
in yards per pass attempt (7.92).
But they were looking for some sign of improvement. Against Illinois, they got it by avoiding disasters. As Pelini said on Monday, "it shouldn't get to that point" where the Huskers sit on the brink. That's a challenge for this week as Nebraska prepares for its trip to Purdue.
"When it was time to bow up, they did," Kaczenski said. "That's good. That's the stuff you preach. You've got to walk the walk. These are steppingstones, and you take small strides."
September, 23, 2013
9/23/13
3:00
PM ET
LINCOLN, Neb. – Amid four quarters on Saturday filled with defensive sequences that exasperated Bo Pelini, the Nebraska coach had no trouble identifying one spot, moments after the Huskers' 59-20 victory over South Dakota State, that captured the essence of the Blackshirts' trouble at the end of a scary September.
The Jackrabbits scored two touchdowns on nine plays, covering 176 yards in less than three minutes to open the game -- often running straight at Nebraska.
But that's not what Pelini referenced. He's talking about the next possession, when the Huskers stacked the box with eight defenders, and still South Dakota State running back
Zach Zenner
churned for 15 yards on the first play, followed by gains of 4 and 5 up the middle.
"There is zero," Pelini said, "zero excuse for that."
[+] Enlarge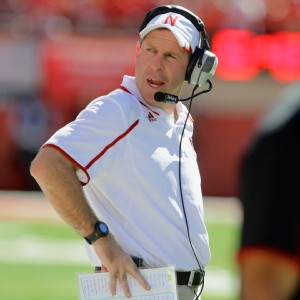 AP Photo/Nati HarnikBo Pelini wasn't happy with Nebraska's defense against South Dakota State.
The Nebraska defense has problems. Four games into this season, troubling trends that emerged late last season have turned into a cold reality.
Replacing seven senior starters from a year ago, the Huskers knew they would face growing pains this fall. Some of what we've seen this month, though, is rooted more deeply than in Nebraska's lack of experience.
"Every week with this group, right now, feels like it's a new adventure," defensive coordinator John Papuchis said, "whether it's from quarter to quarter or half to half or game to game. There are times that we show signs of being pretty good, and then there are times where it's hard to watch.
"I don't know how to say it other than that."
He could say it like this: The Huskers have two weeks to prepare for Illinois and the start of Big Ten play. And based on the results of late – FCS-level South Dakota State scored just three points after the first quarter on Saturday but still totaled 465 yards – Nebraska coaches and players must decipher the cause of their defensive woes and fix them fast.
Statistics here tell just part of the story. But an important part.
In the first 12 games of last season, Nebraska ranked first nationally in passing yards allowed per game (152.2), first in opponent completion percentage (45.5), second in yards per opponent passing attempt (5.16), 13
th
in yards per opponent play (4.59) and 23
rd
in points per opponent drive (1.44).
In six games since, in the same categories, Nebraska is 105
th
(277.5 passing yards per game), 82
nd
(62.4 percent completion rate), 116
th
(9.35 yards per opponent passing attempt), 118
th
(7.45 yards per opponent play) and 105
th
(2.58 points per opponent drive).
Something is wrong. Pelini said it's a missing attitude.
Pelini discussed it Saturday with former Huskers tight end and current associate athletic director
Jamie Williams
before the coach roasted the defense in his postgame news conference.
"You've got to have a killer instinct," said Pelini, who was defensive coordinator at Nebraska, Oklahoma and LSU. "In football, no one's going to give you anything. You've got to take it. You've got to earn it. If you don't have that kind of approach, it's not going to work out well for you.
"Right now, we're not playing with a type of attitude that you need to take to the field defensively. There has to be a sense of urgency every time you line up."
The Huskers have endured struggles at all three levels.
Newcomer
Randy Gregory
at defensive end is a bright spot. Freshmen
Avery Moss
and
Vincent Valentine
have played well on the line, but veterans
Jason Ankrah
and
Thad Randle
aren't showing up.
True freshman linebackers
Nathan Gerry
and
Josh Banderas
were benched for
Zaire Anderson
and
David Santos
in the first half on Saturday. Anderson appeared to play well, but missed assignments continued to plague the unit.
In the secondary,
Stanley Jean-Baptiste
, with interceptions in every game this year, is a star in the making. The safeties are a different story, especially at the spot next to
Corey Cooper
.
"They're playing too tentative," Pelini said.
The Huskers lack aggression, in general, on defense. Pelini and defensive line coach Rick Kaczenski talk regularly to the linemen about exploding at the snap, initiating contact with the players across the line of scrimmage.
"I wasn't doing that the first series," Gregory said. "The defensive line as a whole, we weren't doing that."
Gregory doesn't know how to make the fixes or even what to say to his teammates.
"I don't think anybody knows what to say," he said, "but we've got to come in with the mindset that we're going to stop them."
Others sounded more confused. A couple defenders said they thought the Huskers played well defensively on Saturday. Meanwhile, Pelini described it as "the worst defensive performance of the season."
He issued a promise, too.
"I'll get this fixed," the coach said. "Trust me there."
Interesting choice of words. Trust, it seems, is wearing thin among the Nebraska defense these days.