September, 9, 2011
9/09/11
9:30
AM ET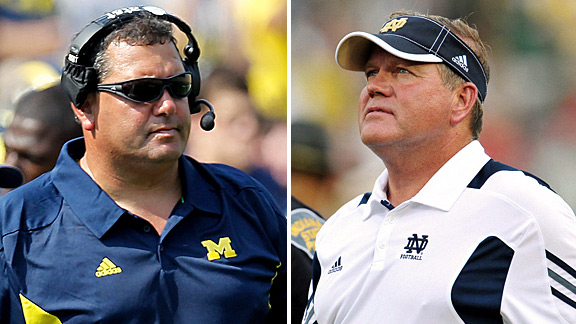 Getty Images, US PresswireBrady Hoke and Michigan come into their game versus Brian Kelly and the Irish with the momentum.
Notre Dame and Michigan meet under the lights for the first night game in the history of Michigan Stadium on Saturday. It will be a terrific atmosphere, though the Irish's opening loss to South Florida took a little luster off the game itself. This is the first of three Notre Dame versus Big Ten matchups, so to preview this week's game and the other two contests, Big Ten blogger Brian Bennett and new Notre Dame blogger Matt Fortuna square off:
Brian Bennett:
Matt, it was nice of Notre Dame to save us time by going ahead and failing to live up to expectations early this year. At least in the past two years, the Irish had a little head of steam going into Michigan week before falling to the Wolverines. Now that they're already 0-1, how desperate a Notre Dame team will we see in Ann Arbor?
Matt Fortuna:
Brian Kelly and
Tommy Rees
have said they are approaching this like any other game, but I'm not buying it. A loss to the Maize and Blue would put the Irish at 0-2 going into a tough Week 3 matchup against an experienced Michigan State team, not to mention virtually kill any BCS dreams this team had left. With a new quarterback at the helm while senior
Dayne Crist
watches from the sideline, the stakes are certainly raised from Notre Dame's end.
I'm curious about Michigan, Brian. Momentum from two big wins against the Irish the past two years did not exactly carry over for the Wolverines in 2009 and 2010. Are things different with Brady Hoke at the helm?
[+] Enlarge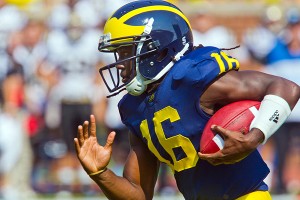 AP Photo/Tony DingDenard Robinson passed for 98 yards and rushed for 46 more against Western Michigan in Week 1.
BB:
Matt, Brady Hoke just proved he could coach his team to victory in (almost) three quarters of a game. Other than that, the jury is mostly still out. The Wolverines' defense looked better in the opener, but Notre Dame should offer more of a challenge than Western Michigan, provided of course the Irish don't turn the ball over in the red zone as much as they did against South Florida. I'm most curious to see how
Denard Robinson
fares in this game; he didn't do much and wasn't asked to do a whole lot in the opener, but of course he nearly single-handedly won the game in South Bend a year ago (as Tate Forcier did two years ago in Ann Arbor).
Notre Dame faced a mobile quarterback last week in South Florida's
B.J. Daniels
. Are the Irish more equipped to handle Robinson this time around?
MF:
Brian, facing Daniels certainly couldn't have hurt, but he is a different kind of runner. Daniels will run you over, whereas Robinson is gone after the first sign of daylight. The Irish actually did a decent job on Robinson last year for much of the second half, though it obviously wasn't enough. The coaching staff has spent all week raving about Robinson and is aware that no matter how disciplined the defense is, Shoelace will still put up big numbers.
Switching to the other side of the ball, why should anyone believe Michigan's defense has turned the corner? Sure, the unit had a couple of big plays against Western Michigan, but it also let
Alex Carder
go 8-for-8 on the game's opening drive.
BB:
It's way too early to say Michigan has turned a corner on defense, but there were some signs of improvement as the game went on last week. You've also got to like how the Wolverines came up with turnovers, thanks to linebacker Brandon Herron's two-touchdown day (giving him the same amount of scores as
Michael Floyd
in 2011).
The Irish should still have plenty of opportunities to make big plays, both in the running game and with Floyd down the field. But can Notre Dame stay out of its own way? I think they've got the right quarterback now in Tommy Rees, but the offense has yet to really click in a big way like I thought it would by now under Brian Kelly. Defensive coordinator Greg Mattison certainly saved some schemes for the Domers that he didn't show in Week 1.
We also can't ignore the atmosphere in this one. First night game in the Big House, a record crowd of more than 110,000 expected. That's got to play in Michigan's favor. Notre Dame is used to big-time environments, but how do you think this factors in?
MF:
Brian, every player and coach I've talked to this week insists it won't matter. Given the fact this is the first of a school-record five night games this season, they had better be right. The players have spent more time talking about their new uniforms for this game than they have about the prime-time atmosphere.
[+] Enlarge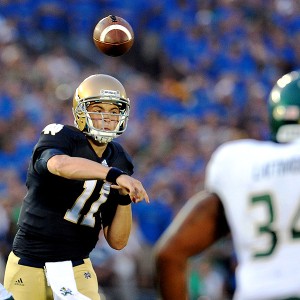 Matt Cashore/US PRESSWIRETommy Rees threw for 296 yards and two TDs in the second half against the Bulls last week.
Though I was surprised by the early pulling of Dayne Crist, I do think Tommy Rees is the right guy, especially for a game like this. Every single person says the exact same thing about him -- he doesn't get fazed by anything. Growing up in a football family, the guy just knows how to step right in and play the same way in front of 100,000 fans as he does in practice. And his ability to bounce back from mistakes -- as he has shown time and time again -- will also be a big plus for the Irish.
The atmosphere can only play so much of a factor, as in the end the game is won between the stripes. Which makes me think next weekend's game against Michigan State will actually provide a stiffer test for the Irish. What do you feel about Sparty as they relate to their in-state brethren, Brian?
BB:
Michigan State should be a more complete team than Michigan, assuming the Spartans clean up some of their sloppy mistakes from last week's opener. The Spartans have some issues on the offensive line they will need to address before facing what has become a pretty good front seven for Notre Dame, and they won't have faced nearly the competition level the Irish have faced in the first two weeks. That game has come down to the last play each of the past two years and is probably another toss-up. If Notre Dame is 0-2 coming into it, Irish Nation will be at DEFCON-1 level of panic.
Notre Dame also faces Purdue on Oct. 1. The Boilers have an inexperienced quarterback and barely escaped Middle Tennessee in Week 1, but they will have a bye week to game plan for the Irish, who must come to West Lafayette. If
Caleb TerBush
continues to mature, Purdue could be in position to pull that one off.
OK, Matt, it's prediction time. What happens this weekend, and what's Notre Dame's final record against the Big Ten in 2011?
MF:
Call me crazy, but I saw enough good out of this team Saturday to make me believe it can still take off. I just can't see another five-turnover game riddled with dumb penalties, at least not in the immediate aftermath of Week 1. I expect Tommy Rees to deliver in the pocket and the defense to do just enough to keep Denard Robinson from running wild. I've got Notre Dame coming out on the winning end of another high-scoring affair between these two teams, and, at least right now, I think the Irish take two out of three against the Big Ten this season. How about you?
BB:
Fine, Matt. You're crazy. Just kidding. I do believe Notre Dame is a better team than what it showed last week, but I also think Michigan wins this weekend. The Wolverines will be jacked up in that atmosphere, and I think Notre Dame's confidence has to be a little shaken right now. I also see the Irish rallying together and upsetting Michigan State, because they will be incredibly desperate to avoid an 0-3 start. They'll also take care of Purdue to finish 2-1 against the Big Ten, just not the same way you see it.
June, 17, 2011
6/17/11
3:00
PM ET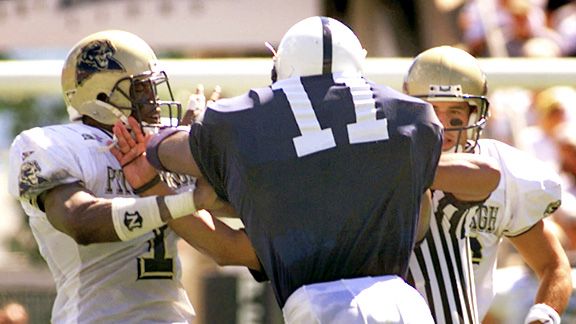 AP Photo/ George WidmanPenn State and Pittsburgh are scheduled to meet in 2016 after last facing each other in 2000.
Penn State and Pittsburgh announced this week that they would resume their once long-running rivalry for at least two years, beginning in 2016. The game is sure to be a hot topic for Pennsylvanians between now and then, and it's a perfect setup for a debate between Big Ten blogger Brian Bennett and Big East blogger Andrea Adelson.
Brian Bennett:
Andrea, how is my old conference beat treating you? Good thing they didn't set us up as a blogger-in-waiting thing, because I may have started some rumors about your behavior at casinos.
Anyway, I think we both agree that the Pitt-Penn State game is a good thing for college football. Frankly, I was surprised to see it happen. The Nittany Lions had been holding out since the last game in 2000, wanting at least two out of every three meetings to be played in Beaver Stadium. Since the series was announced, I've heard from several Penn State fans who wonder what their school has to gain by this game. And while it's great for football in the state, I tend to agree that the Nittany Lions don't necessarily need this series.
What has been the reaction from Pitt fans, and who stands to benefit more from this rivalry resumption?
Andrea Adelson:
Brian, you were not supposed to mention anything about the casinos! Thanks a lot for ruining my rep three weeks into the job.
As for the Penn State-Pitt game, I think the overwhelming majority of Panthers fans are excited because they never wanted this game to end. They also believe this means there is no way JoePa is coaching the team in 2016 because they are convinced he is the reason the series ended. But even with the excitement, there are those who say it is no big deal because it is just two games.
What do two games against a former rival really mean? In the time since the Penn State series ended, West Virginia has become a much more bitter rival. The "Backyard Brawl" is one of the nastiest rivalries in all of college football. I don't think that changes even though this series resumes. That being said, playing Penn State is extremely important for Pitt. Anytime a Big East team gets an opportunity to play a marquee team from a conference like the Big Ten, the stakes are much higher. Beating Penn State would definitely be a big win for Pitt and the Big East itself. The league can use all the big nonconference wins it can get.
BB:
Andrea, we all know JoePa will be coaching for at least 20 more years, even if he's calling plays via Skype by then. Anyway, I agree that a win over Penn State would be big for Pitt and the Big East, potentially. But unless Todd Graham gets the Panthers playing at an elite level, beating Pittsburgh probably won't be considered a marquee victory for the Nittany Lions, while a loss could damage Penn State's reputation and recruiting efforts in Western Pennsylvania.
But you mentioned the West Virginia-Pitt rivalry, and I think that's an important point. Penn State doesn't really have a true annual rivalry game right now. The school still feels like somewhat of an outsider in the Big Ten as that league's far Eastern school. Sure, Syracuse and Temple appear at times on the schedule, but those games simply wouldn't move the needle as much as a duel against the state's other AQ team. College football is at its best when there are good old-fashioned neighborly feuds to follow.
I know Pitt would like this to be an annual home-and-home series (if for no other reason than to guarantee a rare sellout at Heinz Field). Right now, only two games are scheduled. Do you think the two schools should extend this to a yearly date like it used to be?
AA:
Absolutely. I think both schools would have something to gain. As you mentioned, Penn State has no true rival and getting Pitt back on the schedule would certainly help. Fans would enjoy watching a game against Pitt, as opposed to the Cupcake U. flavor of the year. What does Penn State really have to lose here? I understand about the extra home dates, but how much money are we really talking about Penn State losing if they go on the road every other year to play Pitt? Florida State and Florida still play each other in a home-and-home series, and they have been able to maintain their strong rivalry and fill in the rest of their home dates without a problem. What does Penn State have to lose with this game, other than an old grudge from JoePa?
BB:
Well, Penn State has to consider the very real possibility that the Big Ten will go to nine conference games by 2016. That means there are only three nonconference games available, and the Nittany Lions would want to schedule at least one guarantee game. If the school wants to have another big-name opponent like the current Alabama series, then all of a sudden the schedule becomes both very difficult and perhaps not financially feasible.
Then again, Penn State likes to believe its program is vastly superior to Pitt's. So why not prove it on the field?
December, 31, 2010
12/31/10
9:30
AM ET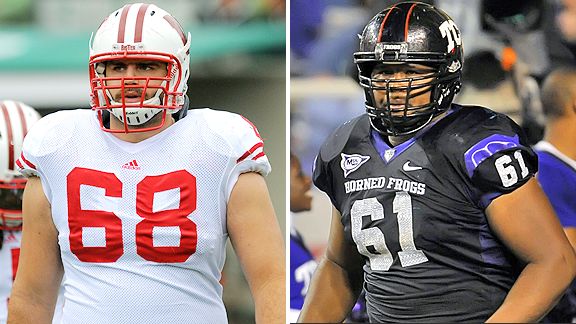 Getty Images, Icon SMIWhich left tackle will have a bigger impact: Wisconsin's Gabe Carimi or TCU's Marcus Cannon?
LOS ANGELES -- The Grandaddy of Them All has something to entertain the whole family this year. The matchup between No. 3 TCU and No. 5 Wisconsin features many fascinating subplots, intriguing individual matchups and -- to take the macro view -- two really, really good teams. Bloggers Adam Rittenberg and Brian Bennett are ready for their close-up in this Rose Bowl Game presented by VIZIO debate:
Brian Bennett:
OK, Adam. Time for you to take a break from getting starlets' phone numbers and shopping on Rodeo Drive. Let's talk about a very interesting Rose Bowl. Wisconsin has won the eyeball test this week and may have cracked the foundation of the Los Angeles Downtown Marriott on Media Day with all that bulk in one place. But TCU has seemed focused and has a ton of athletes. Of all the contrasts and matchups in this game, which one do you think is most important to the outcome?
[+] Enlarge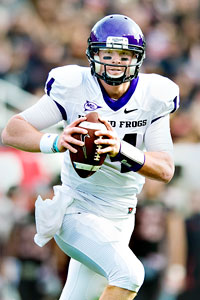 Douglas C. Pizac/US PresswireTCU's offensive line has kept Andy Dalton's jersey pretty clean this season, allowing just nine sacks.
Adam Rittenberg:
Easy, Bennett, don't tell my wife. Actually, I was planning to meet up with Suge Knight later. You know how I roll. I think this game comes down to the line of scrimmage, an area where there might be more similarities than differences. Both teams have outstanding left tackles (Wisconsin's Gabe Carimi, TCU's Marcus Cannon) and outstanding defensive ends (Wisconsin's J.J. Watt, TCU's Wayne Daniels). TCU's size along its offensive line is overlooked next to Wisconsin's, and Wisconsin's speed along its defensive line is overlooked next to TCU's. The team that controls the line of scrimmage wins the game. Can TCU's defense endure Wisconsin's power game? Can Wisconsin's defense find a way to get to Horned Frogs veteran quarterback
Andy Dalton
?
BB:
The line of scrimmage will be critical, but I think TCU's defensive linemen are good enough to hold their own. I wonder about the safeties who will need to help out against the run. They're going to be physically outmatched by linemen, tight ends and
John Clay
. They had better tackle well and be extremely sound in their technique, though the Horned Frogs excel at that. And then of course you worry about play-action if you're Gary Patterson and Dick Bumpas.
On the other side, TCU's offensive line has given up just nine sacks all year. Watt versus Cannon is going to be fun to watch, but I think Dalton will stay pretty clean. I wouldn't expect Wisconsin to come after him too hard because of the threat of the zone-read and the Horned Frogs' tendency to throw those underneath routes. I would think Dave Doeren would want to keep his linebackers covering those areas against speedsters like
Jeremy Kerley
and
Jimmy Young
.
Another question I have is how the layoff will affect these teams. We've seen some spread teams struggle with timing in bowls. That might bother TCU, which never found its rhythm last year in the Fiesta Bowl, more than a ground-based attack like Wisconsin. Agree?
AR:
It could, Brian, but Wisconsin was so hot at the end of the regular season, scoring 201 points in its final three games. It might take some time to re-establish the confidence and the rhythm, which could prove costly against a defense like TCU's. The Badgers really tried to maintain the intensity in bowl practice, having the first-team offense and first-team defense practice a lot against one another. But I would expect a little lull on game day. Wisconsin will benefit from having running back John Clay at near 100 percent for the game. Tackling Clay isn't a lot of fun, and he might be able to wear down TCU's defense and create lanes for
James White
and
Montee Ball
.
One area that really intrigues me about this game is special teams. Both teams have strong returners, especially TCU with Kerley. How big of a factor will the kicking game be for the Frogs?
BB:
Well, Frogs fans surely understand the importance of special teams after last year's Fiesta Bowl loss, in which a Boise State fake punt made the difference. Kerley is electrifying and could single-handedly change the game; Wisconsin did surrender a punt return touchdown in its only loss, against Michigan State. TCU's punting is mediocre, and kicker Ross Evans has made only one field goal longer than 40 yards this season.
Another hidden area could be red-zone efficiency. Both teams were great at punching it in during the year, and in a potentially close game between two high-scoring teams, a red-zone stop could be huge. Any other under-the-radar factors jump out at you?
[+] Enlarge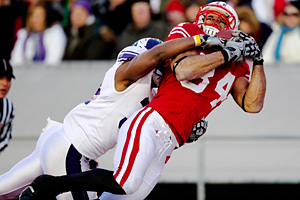 Jeff Hanisch/US PRESSWIREWisconsin tight end Lance Kendricks (39 catches for 627 yards and 5 TDs) is a future NFL prospect.
AR:
Great call on the red-zone effectiveness. Wisconsin is tied for fifth nationally in red-zone offense, while TCU is tied for 16th. TCU is much better than the Badgers in red-zone defense, though (51st nationally vs. 95th). One area I've thought a lot about is the play-action game for both teams. TCU is an extremely disciplined defense, but
Scott Tolzien
runs the play-action very well and usually has tight end
Lance Kendricks
or a wide receiver open for a pass. Kendricks is a future NFL prospect, and receiver
Nick Toon
might be as well. Wisconsin needs its linebackers to tackle well in this game, but the Badgers can't lose sight of Dalton, who has underrated mobility and can attack down the field.
OK, Bennett, prediction time. You first.
BB:
Wisconsin is awfully good, and I fear that TCU will eventually succumb to all that size. But these Horned Frogs know how to win, and I get the feeling they're very motivated to prove something on this stage. The TCU defense comes up with some key turnovers, speed trumps strength and the Horned Frogs make the Rose Bowl a non-AQ house, 30-27.
AR:
This should be a great game, and it could go either way. I just don't think TCU has seen anything like Wisconsin this season. The Badgers' power and style of play is unique in college football, and ultimately, Wisconsin will wear down the frogs. Dalton keeps TCU in the game and makes several big plays with both his arm and his feet, but Wisconsin uses a big fourth quarter to secure the win. Badgers 30, Frogs 27.
October, 27, 2009
10/27/09
9:00
AM ET
Posted by ESPN.com's Brian Bennett and Adam Rittenberg

Several teams remain alive in the BCS title game hunt. But outside of the Big Three (Florida, Texas, Alabama), only two BCS conference teams are still unbeaten -- Iowa and Cincinnati. And both are the subject of considerable debate.
So let's break it down now with Big Ten blogger Adam Rittenberg and Big East blogger Brian Bennett.
| | |
| --- | --- |
| | |
| | AP Photo/Pablo Martinez Monsivais |
| | Mardy Gilyard has scored 10 touchdowns so far this season. |
Brian Bennett:
First of all, Adam, do you think either the Hawkeyes or the Bearcats are worthy of playing for the national title this season?
Adam Rittenberg:
Brian, I think both teams are worthy, and before getting to each case, let's look at the sport as a whole. Who is really good this year? Florida has flaws, Alabama has flaws, Texas has flaws, USC certainly has flaws. The most dominant teams to me have been TCU, Boise State and yes, your
Cincinnati Bearcats
, but those teams will always face questions about overall strength of schedule.
When it comes to Iowa, I know the Hawkeyes don't win many style points with the voters outside the Big Ten region. I know they should have beaten Arkansas State and Northern Iowa by a lot more. But trust me, it can't be understated how hard it is for a team to go into State College, Madison and East Lansing and come out with victories. If Iowa completes its road circuit with a win at Ohio State, I don't know how you leave that team out of the title chase.
So let's hear it. Make your case for Cincinnati. Are they worthy? I feel like
Wayne and Garth
right now.
BB:
Party time, it's excellent. (We're dating ourselves here, Adam.)
Well, Cincinnati has been simply dominant, winning its three Big East games by an average of 27 points. Two of those were on the road. In fact, the Bearcats are 4-0 on the road, including a 10-point victory at Oregon State. Mighty USC just beat those same Beavers by 7 at home.
Look at the national statistics, and Cincinnati is everywhere: second in scoring offense, 11th in scoring defense, first in sacks, third in turnover margin, ninth in kickoff returns. This is a complete, well-rounded football team with a couple of real stars on offense (
Tony Pike
,
Mardy Gilyard
) and one of the best coaches in the business right now, Brian Kelly.
Iowa has had a great year, but I just can't shake those close shaves to Northern Iowa and Arkansas State out of my mind. Can a team that has as much trouble scoring as the Hawkeyes do really be taken seriously as a national championship contender?
AR:
I'll admit to having a man-crush on Brian Kelly. He's an amazingly innovative coach, and I love the way he never lets a setback like losing a quarterback affect his plan.
| | |
| --- | --- |
| | |
| | Stephen Mally/Icon SMI |
| | Tyler Sash leads the Big Ten in interceptions with five. |
As for Iowa, does a team have to be an offensive juggernaut to win the national title? I know it's a quarterback's game, but we seem to build up those players so much and then get disappointed (like with
Tim Tebow
,
Colt McCoy
and
Sam Bradford
this year). Iowa's defense has more dynamic playmakers than most offenses in the FBS. The defensive line is a joy to watch, as all four guys, especially ends Adrian Clayborn and Broderick Binns, totally wreak havoc. Safety Tyler Sash leads the Big Ten in interceptions for the second straight year and makes a ton of exciting plays. Same goes for cornerback Amari Spievey, safety Brett Greenwood and linebacker Pat Angerer. Really, how can you not love a middle linebacker named Pat Angerer?
The offense has some bright spots as well (tight end
Tony Moeaki
, running back
Adam Robinson
, wideout
Derrell Johnson-Koulianos
) and while quarterback
Ricky Stanzi
has had his ups and downs, he's incredibly resilient and just knows how to win games. He's 16-3 as the starter.
I just keep pointing to the road wins, plus a nice home victory against surging Arizona. Corvallis is a tough place to play, but it isn't State College, Madison or Columbus. The Big Ten still has the intimidation factor going for it. Does Cincinnati run the table with Iowa's road slate?
BB:
I think Cincinnati would win at Wisconsin and possibly at Penn State, given that Syracuse stuck around there in Week 2 without any offense at all. As for Ohio State, well, that's a subject of great interest for many Bearcats fans that we'll have to take up later this week.
I do seem to remember, however, Iowa losing at Pitt last year. Different year, I know, but a lot of the same players on both sides. And it proves that the Big Ten and Big East aren't too far apart.
I wonder if we should be watching the Arkansas State-Louisville score this weekend, since Cincinnati beat Louisville 41-10 and of course Arkansas State nearly knocked off the Hawkeyes. Unfortunately, given the system, comparative scoring is about all we have.
Well, that and opinion. So in your opinion, who's better between Cincinnati and Iowa?
AR:
You're right in that there isn't much to compare these two leagues, but this Iowa team is totally different than the one that lost at Pitt last September. The quarterback situation was messy back then, and Stanzi's presence has completely changed things and provided the offense a new degree of confidence.
As for who's better, it's a tough call. Cincinnati is certainly the sexier team. Heck, Iowa even admits that it isn't the prettiest car in the lot. It's almost a point of pride. I would certainly pay to see Clayborn, Binns and the Iowa defense go up against the Bearcats' offense. Stanzi and the Iowa offense would need to limit mistakes and try to control the clock to keep Pike or
Zach Collaros
or Brian Bennett or whomever is playing quarterback for UC off of the field.
But if the game is close, and you'd figure this game would be, you simply can't bet against Iowa. The Hawkeyes are fail-safe in the clutch, while Cincinnati hasn't been in many down-to-the-wire games. You need a special quality to dig deep and pull out the close ones, and Iowa has that quality this season. If the Hawkeyes could keep things close until the fourth quarter, I would like their chances.
OK, you get the last word on this. Who's better?
BB:
I've got to stick with Cincinnati (assuming that Bennett kid is far away from the huddle). I just think the Bearcats would definitely score some points on offense and that they have a much more modern attack than Iowa sees most weeks in the Big Ten. I have no confidence that the Hawkeyes could score enough against a very underrated Cincinnati defense. Stanzi is clutch but is nowhere near Pike's league. And I have learned to never bet against Kelly.
Let's just hope that neither team gets shut out of the BCS title game if indeed it can go undefeated. Or that would make a lot of fans Angerer.