November, 13, 2013
11/13/13
6:30
AM ET
The ESPN.com college football reporters are on a foreign mission this week. We're venturing outside our conference footprints to see how folks in other parts of the country experience the game in their own unique ways. College football means different things to different people in different places. We're heading out there to soak it in and report back what we see, hear, smell and taste.
For those who don't know us, Adam covers Big Ten football from his Chicago base, while Edward is all over the SEC happenings from his headquarters in the ATL. We both have ties to our regions and attended schools in the leagues we now cover.
We'll trade places later this week, as Edward ventures north to Madison, Wis., for Wisconsin's game against Indiana, and Adam takes in the oldest rivalry in the Deep South: Georgia-Auburn at Jordan-Hare Stadium. It'll be different, eye-opening and a whole heck of a lot of fun.
Let's get started ...
Adam Rittenberg:
Edward, I'll admit I'm a Yankee. I grew up first in the Northeast (New Jersey and Massachusetts), spent most of my formative years in Northern California and have called Chicago my sweet home for the past 14 years. If there's a blue state, I've probably lived in it. My experience in the South has been limited to major cities like Atlanta and New Orleans, one of my favorite places on earth. My college football roots are firmly in the Big Ten with a little Pac-12 mixed in. But after hearing about the SEC's game-day experience from you, C-Low, that Schlabach fella and others, I'm ready to see it for myself.
[+] Enlarge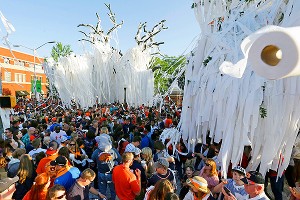 AP Photo/Dave MartinThe oak trees no longer stand on Toomer's Corner, but the tradition is still rich on The Plains.
Auburn is a great place to start. I'm looking forward to seeing what The Loveliest Little Village on the Plains is all about. Checking out
Toomer's Corner
and where the oaks once stood definitely is high on my to-do list, and I'll obviously head back if Auburn beats Georgia on Saturday. Sources tell me the lemonade isn't bad there, either. What's the
War Eagle
tradition all about? I'm going to find out. I'll check out the
Tiger Walk
-- and the Reverse Tiger Walk -- and the
tailgating
around Jordan-Hare. I'll talk to people who have been around Auburn football, and learn about Pat Sullivan, Zeke Smith, Bo Jackson, Terry Beasley and, yes, Cam Newton. I cover the Ohio State-Michigan rivalry, considered the most intense in all of sports. Auburn fans surely will disagree, and will tell me why Auburn-Alabama is king.
I'll leave my heavy jacket at home, but should I bring my houndstooth hat along? Kidding, kidding.
My main objective is to have fun and to identify the answer to a question you and I have often discussed. Why does college football mean so much in the South? Don't get me wrong: It resonates in Big Ten country, too, but so do other sports, both at the college and professional levels. As you'll find out, Big Ten folks take great pride in their tailgates, their stadiums and their game-day traditions, but football seems to consume the communities more in SEC territory. Why is that the case, and how that passion impact the product on the field?
Auburn, here I come. Can't wait. What are you looking forward to in Mad City?
Edward Aschoff:
Well, you certainly have done your homework when it comes to Auburn. Just make sure you check out Toomer's Drugs, where you can get the best lemonade under the Mason-Dixon Line. Oh, and watch your head because Auburn's War Eagles have a tendency to go rogue sometimes. You're gonna have a blast, especially with Auburn back in the national spotlight.
I'm so excited to see Madison on game day. You know, I have some Midwestern roots. Half of my family calls Iowa City/Cedar Rapids home, so the cold weather will be nothing new to this southern gentleman. And I've been to Madison a few times in the past, but never for a game. Actually, I've never been to Madison when the sun was shining or the temperature rose above 50 ... and I was there for a few days in July!
But I couldn't care less about the weather during this trip. I'm ready to see State Street and all its game day glory. I want to see Camp Randall on a Saturday when the students are at their very best. You know, when the, uh, "water" is flowing through their veins. I'm ready to smell the brats and cheese curds early Saturday morning. As a former member of the drum line at the University of Florida, I'm excited to see Wisconsin's band during its pregame concert at Union South and during the Fifth Quarter.
[+] Enlarge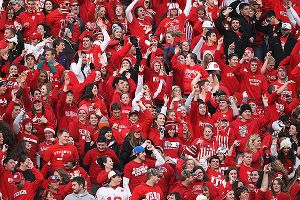 Jonathan Daniel/Getty ImagesWisconsin students "jump around" after the third quarter at Camp Randall Stadium.
Obviously, I plan on throwing my body around with those Mad-town students during "Jump Around," and because I grew up in a household that embraced "The Rocky Horror Picture Show," I'm dying to school some kids in the Time Warp.
I also hear there's a pretty fun call-and-response between the students during games. We all know there's plenty of room for a potty mouth on game day!
Really, I'm just thrilled that I'll be stepping out of the South and into an environment where maybe the party really is bigger than the actual football game. I'm not saying that Badgers fans don't enjoy their football, but I just don't think it will be as ceremonial as it is down South. Maybe I'm wrong, but I'm sure there's plenty of fun to be had up north!
Any other advice for me, other than packing my pea coat and mittens?
Rittenberg:
The ATL Kid might end up being the Mad City Kid by the end of the weekend. You sound well prepared, my friend, certainly more than our pal Schlabach, whose system shuts down any time the temperature drops below 50 degrees.
Madison is my favorite town in the Big Ten, and you seem to have a good handle on it. Any place that ties its identity to beer, meat and cheese will warm a man's heart (and possibly block it). I expect you to come home 5-10 pounds heavier. Definitely check out State Street, buy a "Sconnie" T-shirt, check out the terrace and climb Bascom Hill on campus, where ESPN's "College GameDay" set up for its broadcast before the Wisconsin-Ohio State game in 2010.
Wisconsin's tailgating scene is arguably the best in the Big Ten (Penn State is also right up there), and despite the early start time, you should spend some time on Regent Street before the game. Stop by Lucky's for sure, as I saw people dressed up as sausages there before last week's game against BYU. The parties along Breese Terrace should be buzzing before and after the game. The neighborhood just west of Camp Randall is worth checking out.
Downtown Madison offers plenty in the way of fun, but to get a true sense of Wisconsin flavor, head on out to Quivey's Grove on the outskirts of town. It has been a regular stop for me the night before Badgers games. You'll leave stuffed and extremely happy. Other than that, you have most of your bases covered. You should spend some time in the student section, for sure, and enjoy one of the better in-game atmospheres. The Fifth Quarter also is a lot of fun. And if you can spend any time with Barry Alvarez, the face of Wisconsin's program, be sure to do it.
Any advice for me for my trip to the Plains?
Aschoff:
I can already feel myself changing the word "Coke" to "pop" in my vocabulary. I'm really excited about everything. I actually have a Sconnie shirt and I'm on the email list, but I'll make sure I add to my collection.
If you think I'm going to gain some pounds, have fun getting in those pants after a few days with fried southern delicacies. While you're waiting for that prime-time kickoff, make your way to Momma Goldberg's and get a plate of nachos. They're simple, but well worth the trip and serves as a great pregame meal. Don't stay too long because you have to make it to what the folks on the Plains call the original Tiger Walk. Also, take a stroll near Samford Hall, which might be the most iconic building on Auburn's campus.
You'll certainly need to make enough time to walk around the glorious tailgating spots Auburn has to offer. Yes, expect to see chandeliers hanging in tents. The campus is absolutely gorgeous and don't worry if you don't have anything to share among your new family members, the folks at Auburn will have plenty for you to choose from ... as long as you aren't wearing red and black.
After the game, you'll have plenty of places to check out. Rumor has it that Good Ol' Boys has the best steaks in town and Niffer's Place is a great local spot. If want to try and run into Sir Charles Barkley while you're in town, check out Hamilton's, which is a bistro downtown.
You can also check out Cheeseburger Cheeseburger, which is a nice throwback place at the end of Toomer's Corner. You want a nice burger and a vintage milkshake? Well, then that's your place. Make sure you get there early because it will fill up quickly.
Trying to relive your college days where you try to outlast the moon, Adam? I'd head to the War Eagle Supper Club. There's live music, a bus bar out back, it doesn't close until the sun comes up and there's a van that will take you home. I mean, it just doesn't get any better than that.
I can't stress enough how much you need to get some of that Toomer's lemonade. According to urban legend, Abe Lincoln himself once sipped it.
Rittenberg:
Lincoln was a Big Ten guy: Don't forget that, Aschoff. And please send along pictures of you wearing a Sconnie shirt, eating cheese curds and playing drums. You can let Bret Bielema know what he's missing.
Well, we both have plenty on our plates (literally) as we venture into the great football wilderness. But we need your help, too, to enhance the experience. Wisconsin/Big Ten fans, if you have some advice and recommendations for Edward when he hits the ground in Madison, send them
here
or tweet him at @
AschoffESPN
. Auburn/SEC fans, you can do the same for me
here
or tweet me at
@ESPN_BigTen
. Let's see what Southern Hospitality is all about.
That's it for now. War Eagle. On Wisconsin. It's time to hit the road.
February, 23, 2009
2/23/09
9:00
AM ET
Posted by ESPN.com's Adam Rittenberg
The Big Ten Mount Rushmore series concludes today with Iowa, Indiana and Illinois (reverse alphabetical order, remember). Iowa is up first.

Unlike other long-standing Big Ten members, Iowa has some strong candidates from both the distant past and recent memory. There's at least one slam-dunk choice on my list, though I'm sure Hawkeye Nation will have some opinions of its own to share. That's what makes it fun.
Iowa also produced one of the more controversial candidates for selection, former head coach and athletic director Forest Evashevski, who didn't make the final cut.
Here's Iowa's rundown.
Nile Kinnick -- His name is on the stadium, and no figure means more to Iowa football. Kinnick is undoubtedly the greatest Iowa football player of all-time, winning the Heisman Trophy in 1939 after a dominant performance running, throwing and punting the football. He was an All-American both on and off the football field, and his moving Heisman acceptance speech and wartime death added to his legend.

Hayden Fry -- Fry not only resurrected a sputtering Iowa program, but he changed the culture around the team. From the pink visitors' locker room to the Pittsburgh Steeler-like uniforms to the way Iowa players entered the field, Fry shaped the Hawkeyes program into a winner again. He coached Iowa to three Big Ten championships, three Rose Bowl appearances and 14 bowl games. The College Football Hall of Famer went 143-89-6 at the school and mentored numerous assistants who went on to lead other programs.

Chuck Long -- Long rewrote the record books at Iowa and remains one of the program's most beloved players. A four-year starter at quarterback, Long led Iowa to a 35-13-1 record and four bowl appearances (he actually played in five bowls total). In 1985, he won the Maxwell Award and Big Ten Player of the Year honors, and was the runner-up to Bo Jackson for the Heisman Trophy. The College Football Hall of Fame selection was the first Big Ten player to eclipse 10,000 passing yards.
Cal Jones -- One of only two Iowa players to have his number retired, Jones dominated the line of scrimmage in his three seasons as a Hawkeye. He was the first black player to earn the Outland Trophy in 1955 and won first-team All-Big Ten honors in all three seasons he played. Jones, who died in a plane crash in 1956, is one of only two two-time consensus All-Americans at Iowa and a College Football Hall of Fame selection.

Others considered for Iowa's Rushmore included: Evashevski, Alex Karras, Tim Dwight, Bump Elliott, Calvin Jones, Randy Duncan, Kirk Ferentz and Duke Slater.
October, 1, 2008
10/01/08
3:32
PM ET
Posted by ESPN.com's Adam Rittenberg
Ohio State running back Chris "Beanie" Wells still thinks he has a shot at the Heisman Trophy despite missing three games with a toe injury. For an award that demands Herculean performances every Saturday, any missed time, much less one-fourth of the regular season, would normally eliminate any contender from the race. Then again, a bad game can hurt a candidate more than one in which he doesn't play at all.
To see if there is any history of hobbled Heisman winners, I consulted Chris Huston, who runs the fabulous Heisman Pundit Web site and knows more about the award than I ever will. Huston came up with some modern-era Heisman winners who missed time during their historic seasons.
In 1979, USC running back Charles White missed a game and a half early in the year. White finished the season with 332 carries for 2,050 rushing yards and 19 touchdowns.

In 1982, Georgia running back Herschel Walker missed a game. He had 335 carries for 1,752 yards and 16 touchdowns.

In 1985, Auburn running back Bo Jackson missed parts of two games with thigh and knee injuries, and Auburn lost both times. Jackson still finished with 1,786 rushing yards and 17 touchdowns.

Wells has 217 yards and one touchdown in two games this year. His touchdowns total undoubtedly will increase, but at this pace, he would finish the regular season with 977 yards, nowhere near enough. Several showcase games (Wisconsin, Penn State, Michigan) should help the big-game back, but Wells likely needs a 300-yard performance or two, and I doubt Ohio State would push him too far after the toe injury. Three missed games appears to be too much to overcome.
Heisman Pundit's 10 Heismandments doesn't list a minimum number of games for a candidate to remain viable, but Wells is unlikely to reach the statistical benchmarks set for a running back to win the award.
If you are a running back, you need to gain at least 2,000 yards if you are NOT on a traditional power or a national championship contender. This is a number that is slowly rising as more backs hit that mark. If you are on a traditional power or national title contender, you must gain at least 1,700 yards. In either case, you also must score at least 17 touchdowns.
September, 30, 2008
9/30/08
5:06
PM ET
Posted by ESPN.com's Adam Rittenberg
Heisman Trophy voters shouldn't expect to receive some goofy green ring with Javon Ringer's face carved into it any time soon.
Michigan State isn't conducting a formal Heisman Trophy campaign for Ringer, the senior running back who leads the nation in both scoring (14.4 ppg), carries (187) and all-purpose yards (1,178) and ranks second in rushing average (179.4 ypg). The Spartans are taking more of an old-school approach with their star. They make him accessible to the media, don't make him into something he's not and let him market himself when it matters -- on Saturdays.
"I don't read the papers much right now," coach Mark Dantonio said earlier today. "All I can tell you is he's being mentioned. The more success we have as a football team, the more exposure he'll get. The better he does on football field, the more wins we get. The two sort of feed off each other."
The plan suits the credit-deflecting Ringer, the all-business Dantonio and associate athletic director for communications John Lewandowski, who has seen the Heisman campaign landscape change during his career.
Lewandowski, who is one of the best in the business, remembers working on Bo Jackson's Heisman campaign and sending out VHS tapes to voters every week. The increase of television exposure no longer requires such methods. Great players will be seen, and this season, few FBS players have been better than Ringer.
"I'm more old school with these things," Lewandowski said. "We live in an era where gimmicks are not going to win awards. It's more important to make sure he's accessible, manage the media opportunities and be mindful of what else he has going on. But the bottom line is the team has to be successful."
Michigan State has been so far, starting the year 4-1. Ringer, who wasn't on the Heisman radar before the season, ranks third on ESPN.com's Heisman Watch and occupies a similar spot on other lists.
His candidacy could be hurt by the popularity of the SEC and the Big 12, where the other top contenders -- Chase Daniel, Sam Bradford, Tim Tebow, Colt McCoy, Knowshon Moreno -- play. The Big Ten has a bit of a relevancy problem right now after its projected best team (Ohio State) imploded in a showcase game and its projected best player (Chris "Beanie" Wells) got hurt in the opener.
But Ringer should continue to get noticed if he maintains an incredible workload and Michigan State keeps winning. I'm not anti-gimmick -- I kept my Michael "The Burner" Turner hot sauce for years and currently enjoy my Chase Daniel viewfinder -- but it's nice to see a program letting the player state his case between the lines.
"He's probably in the four, five guys you talk about," Dantonio said. "But for him to get up to the top, we have to have a super year as football team."