July, 29, 2014
7/29/14
5:00
PM ET
By
Adam Rittenberg, Josh Moyer, Mitch Sherman
and
Austin Ward
| ESPN.com
CHICAGO -- Big Ten media days are in the books and the countdown to the 2014 season can officially begin. It was a mostly uneventful session at the Hilton Chicago, despite the presence of stars such as
Braxton Miller
,
Melvin Gordon
,
Ameer Abdullah
and
Shilique Calhoun
.
Our Big Ten reporting crew weighs in on some of the topics from the past two days.
What was the biggest surprise at Big Ten media days?
Austin Ward:
The lack of major headlines coming from the league was a bit of a shock considering some of the star power in Chicago, the storylines around college football right now and the amount of trash talk between leagues that has popped up this month. Not even Ohio State coach Urban Meyer or Penn State coach James Franklin were able to stir the pot much nationally, and typically they are always good for a viral sound bite or hot topic in late July. There's nothing wrong with avoiding controversy, but the Big Ten didn't do much to draw attention to itself over two days.
Mitch Sherman:
Other than the bright-red pants worn by Maryland quarterback
C.J. Brown
on Tuesday to go with his dark jacket and tie, I was surprised most by the lack of bravado we saw out of Michigan State. I know the Spartans are a blue-collar bunch and that this spot atop the Big Ten is new to them. But after a 13-1 season and set to play arguably the most significant nonconference game nationally on Sept. 6 at Oregon, I thought Michigan State would come to Chicago with a little more swagger. If coach Mark Dantonio hadn't worn
his giant championship ring
, I'm not sure I would have remembered that MSU beat Ohio State in December, then Stanford in the Rose Bowl. This is not to suggest it's a bad thing; simply that the Spartans -- even flamboyant defensive end Shilique Calhoun -- are not resting on their accomplishments of 2013.
Josh Moyer:
OK, let's say you pulled aside the top three offensive players in the Big Ten -- Braxton Miller, Melvin Gordon and Ameer Abdullah -- and asked them, in separate interviews, about the most exciting offensive player in the conference. Who do you think they would say? Well, their answer was my biggest surprise this week; they all said the same guy -- Indiana wideout
Shane Wynn
. Maybe they just wanted to put the spotlight on an underrated player, but it was still a shock to hear Wynn's name so often. Heck, I told Wynn about that -- and even he was surprised. It's fun to watch a short guy like Wynn, who is 5-foot-7, run circles around defenders. So while I thought Wynn would be in for a good season, I can't say I would've mentioned him in the same breath as those three.
[+] Enlarge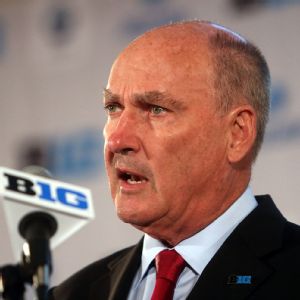 Jerry Lai/USA TODAY SportsCommissioner Jim Delany was "content to lay low" during his address at the 2014 Big Ten media days.
Adam Rittenberg:
In keeping with the understated theme, I was surprised Big Ten commissioner Jim Delany didn't make a bigger splash with his annual media days address Monday. Mike Slive quoted Churchill and Mandela,
Bob Bowlsby talked doomsday
and
Larry Scott spread warm fuzzies
at Pac-12 media days. But
Delany didn't rock the boat at all
. A year after outlining a four-point proposal to reform college football, he seems content to lay low and let the process play out. Delany always seems to be a step ahead, and he has never been one to hold back on his opinions. But I wonder if he felt a need to keep relatively quiet after the Ed O'Bannon-NCAA trial and with the vote on NCAA autonomy coming up next week.
Who had the most memorable interview?
Moyer:
I have to go with Purdue tailback
Raheem Mostert
. He's
the fastest player in the Big Ten
, and he might just be the most charismatic. You couldn't blame Purdue if it came out a little quiet at this media day after the season the Boilermakers had, but Mostert didn't shy away from making some bold statements. He said his offense was capable of scoring 30-some points a game and, while I still think there's zero chance of that happening, it takes some guts to make that statement. Plus, he was hilarious in talking about how far along
Danny Etling
's come. He couldn't say enough good things about Etling now, but said last season he looked like a guy who just lost his dog every time he threw a pick. So my "Most Optimistic" and "Most Well-Spoken" awards go to Mostert.
Sherman:
Northwestern coach Pat Fitzgerald was on fire Tuesday during the group session. Fitzgerald, always an eloquent speaker, had plenty to get off his chest in the wake of an offseason like no other in Evanston, Illinois. He waxed on about problems with the current model of college athletics, in particular criticizing some of the outdated rules that govern recruiting. "I don't want to be basketball," Fitzgerald said in the midst of his monologue. "We're going there." He harped on the disingenuous ways that some college coaches try to attract prospects. All of this after his players voted recently on whether to unionize. The issues of unionization and inequity within the sport are inseparable. Still, Fitzgerald managed keep his own players and former players largely out of the discussion. And the coach made a lot of sense.
Rittenberg:
Well, my favorite moment was Michigan State's
Connor Cook
, midway through an answer Tuesday about how Dantonio had loosened up over time, stared blankly and said, "Sorry, my brain, I just blacked out right there." Must have been a fun Monday night in Chicago. ... I really enjoy Franklin's energy, especially in a league of mostly decaffeinated coaches. Franklin on Tuesday excitedly recalled the night the Penn State staff
watched assistant Herb Hand appear on "Chopped"
while riding a bus between their guest-coaching camp stops in the South. "It was awesome, we were driving and Herb comes walking out [on the show] and the whole bus explodes: 'Herbie! Herbie!'" Franklin said, clapping his hands. "The other guys come out and the whole bus is booing them, 'Boo! Boo!' So Herbie wins the first round and the bus goes crazy, 'That's our boy!' He loses the next round and that bus turned on him in an instant. Everybody's bashing him. His flavors were good but the presentation was awful." Again, something different and refreshing.
Ward:
Calhoun had little interest in a standard question-and-answer interview, instead turning his podium session on Monday into an interactive experience that livened up the event while the Michigan State star was in the spotlight. He spent his 30 minutes joking, laughing and telling reporters how much he enjoyed watching them talk over each other to ask questions and then yelling across the room at Cook to clarify comments the quarterback had supposedly made about him earlier. In one brief session, Calhoun made the kind of memorable impact on the media he's been known to make on opposing quarterbacks.
What's one new thing you learned?
Rittenberg:
Big Ten teams aren't shying away from the playoff talk. Players, coaches and the commissioner all acknowledged that if you don't make the playoff, you're basically irrelevant in college football. And that's the right position for this league to take. The perception is that Big Ten players and coaches only care about the Rose Bowl and don't aim higher. Perhaps some of that is true, but most of the folks I encountered this week seemed to embrace the significance of the new system. I loved what Ohio State defensive lineman
Michael Bennett
said: Anything short of a national title would be disappointing. That's how the Big Ten needs to think.
Moyer:
Nebraska's
Kenny Bell
has
a killer Afro
? Michigan State's
Kurtis Drummond
has
great fashion sense
? Penn State's
Sam Ficken
will never escape questions about the 2012 Virginia game? There were certainly a lot of tidbits. But I was impressed with how even-keeled Maryland coach Randy Edsall was. At one point, during podium interviews, an irate cameraman kept yelling at reporters to move out of his shot. It went on for a few minutes, but Edsall never paused or broke from his calm demeanor. Other coaches might have yelled for some quiet; Edsall just pretended like nothing was wrong. It was an interesting juxtaposition.
Ward:
The Spartans have some really nice bling. Both Cook and Dantonio flashed their championship rings on Monday, and the huge, sparkling accessories were hard to miss. At one point Cook took his off to allow the media a closer look at the prize he helped earn with breakout passing outings against Ohio State in the conference title game and Stanford in the Rose Bowl, but he might have really just needed a break from lugging around the heavy jewelry on his hand.
Sherman:
Even in the age of the College Football Playoff, with more potential for sweeping change in the sport, old habits die hard in the Big Ten. From Michigan coach Brady Hoke's lamenting about the elimination of tradition at the Rose Bowl when Pasadena serves as a semifinal site to Iowa's Kirk Ferentz preaching the values of old-school football, the more things change nationally, the more they stay the same in the Big Ten. This is comforting and disturbing all at once. I heard Nebraska's Bell speak of unity among the league and Ohio State's Miller project confidence that the Buckeyes can make another run at a perfect season. But the league needs a larger dose of more progressive thinking.
July, 25, 2014
7/25/14
9:00
AM ET
Big Ten Media Days is nearly upon us. Just survive the weekend, and you'll get a full dose of coaches and players on Monday and Tuesday. As our time to preview the event winds to an end, here's a fearless forecast of what to expect from the Hilton Chicago:
Jim Delany will make news. The Big Ten commissioner almost certainly will not follow the lead of his Big 12 counterpart, Bob Bowlsby, who this week slammed the enforcement arm of the NCAA, saying it pays to cheat in college athletics. But Delany will address tough questions about the game in an up-front manner. He'll discuss the potential ramifications of the upcoming vote by the NCAA Division I Board of Directors to grant autonomy to the five major conferences and the upcoming verdict in the Ed O'Bannon antitrust lawsuit against the NCAA. Both events could alter the landscape of college football, which makes the opinion of Delany -- one of the game's top power brokers -- of high interest.
An awkward moment or two for the Northwestern players. It's no coincidence that the Wildcats chose to send a trio of seniors to this event. Safety Ibraheim Campbell, linebacker Collin Ellis and quarterback Trevor Siemian are smart guys. They'll be well equipped to answer questions about an offseason like no other at their school, highlighted by a late-April vote of players on whether to form the nation's first union for college athletes. Still, facing a large media throng, the players will get peppered with questions about the situation and the possibility that its fallout may linger as a distraction at their school for some time.
Randy Edsall will end his war of words with the ACC. Highly doubtful that the Maryland coach chooses to fire back at Clemson's Dabo Swinney, who defended the ACC after Edsall said he was pleased to make the jump to coach in a "football conference." Edsall, speaking at lunch event in Baltimore on July 14, said he was "not in a basketball conference anymore." In response, Swinney, at ACC Media Days, referenced the Tigers win over Ohio State to end last season in the Orange Bowl. "Aren't they in that conference?" Swinney said. There's not much more to say here, especially for a coach who went 13-24 in three seasons in the ACC. Oh, and who said the Big Ten's not a basketball league?
Connor Cook will charm the media. Michigan State's junior quarterback is known as a blue-collar guy, in step with Spartan style, who did just enough last season not to spoil the 13-1 MSU season capped with wins over Ohio State in the Big Ten title game and Stanford in the Rose Bowl. But Cook is more than that. And the writers and broadcasters in Chicago may be in for a surprise to meet this quarterback now brimming with confidence as a result of his strong finish to 2013 and a productive offseason. I met Cook recently during the Elite 11 finals, at which he counseled the nation's top prep quarterbacks, and came away impressed with his poise and confidence.
Brandon Scherff will get asked to lift something heavy. And politely decline. What else can you expect in the wake of this recent video? Scherff possesses freakish strength. He would likely win a strongest-man competition among all Big Ten players. Iowa offensive coordinator Greg Davis compared Scherff's dominance to former Nebraska defensive tackle Ndamukong Suh, whom Davis encountered while coaching at Texas in 2009. A likely first-round NFL draft pick next spring, Scherff provides a great luxury for the Hawkeyes at left tackle. And if anyone needs help with a suitcase in Chicago, he's your man.
October, 11, 2013
10/11/13
4:00
PM ET
Thanks for all your questions and answers. Enjoy the games this weekend.
Don't forget:
Twitter
is the best way to follow us on game days.
Phil from Vancouver, Wash., writes:
Lets assume Ohio State runs the table and goes undefeated. If Wisconsin can win out and end up 10-1-0-1 (W-L-T-Screwed), where do you see them ending up for a bowl? With the BIG No. 5 in AQ leagues, I don't see them in the BCS.
Adam Rittenberg:
It depends on so many factors, Phil. If Ohio State doesn't make the national title game and goes to the Rose Bowl, the chances of the Big Ten receiving an at-large BCS berth go down. If the Rose Bowl loses a Big Ten team to the national title game, it likely would look for a Big Ten replacement, as long as one is eligible. Would the Rose want Wisconsin for a fourth consecutive year? Tough to tell. There are also other conferences in play, and right now you'd have to expect the SEC and Pac-12 to each send two teams to BCS bowls. And as long as Clemson and Florida State don't both fall apart, both teams are likely BCS bowl bound as well. The advantage Wisconsin would have is a long win streak to end the season, as opposed to a possible loss in the league title game, which often is the kiss of death when it comes to at-large berths.
---
Ian from Tacoma, Wash., writes:
Adam, I know there has been some talk from you and Brian recently in regard to conference perception and how it shapes top-25 rankings and the national championship picture, but I think this is becoming more of an issue than most folks realize. Why does Georgia scraping by a pretty lousy Tennessee team (that got slaughtered by Oregon) constitute a "tough road win" by the so-called experts, yet Ohio State's road win against top-15 Northwestern gets ignored? Even further, why does Ohio State get lambasted every week for their schedule, while Oregon gets constant media praise, despite having played a MISERABLE slate of games so far? Oregon is getting credit for games they haven't played yet, while Ohio State gets punished for games it hasn't played yet. I'm getting pretty frustrated with the inconsistency and hypocrisy in how teams are portrayed, simply because of the conference in which they compete.
Adam Rittenberg:
Ian, I hear ya, and Ohio State should be getting more credit for finding ways to win against good teams despite making some mistakes along the way. Georgia's win at Tennessee was vastly overvalued because the Bulldogs had so many injuries. Tennessee is mediocre at best. The Oregon example is interesting, because while Virginia and Tennessee aren't any good, it looks like the Ducks at least tried to schedule major-conference teams. Those quick to criticize Ohio State for living in cupcake city probably don't realize Vanderbilt canceled this year's game in Columbus. Vandy is no Alabama, but the Commodores are comparable to Virginia and Tennessee right now. And it's not Ohio State's fault that Cal is going through transition. Could Ohio State have done a little more with scheduling? Perhaps. But the bigger problem for the Buckeyes is the Big Ten's lousy perception, something Georgia and Oregon don't have to worry about.
---
Dan from Watercooler writes:
True or false: Bo [Pelini's] long-term outlook with the Huskers should be more based on what he does this and maybe next season, vs. what happened last season. Reasoning: Bo's defense last season had all sorts of seniors, effectively meaning he had a cap on what he could draw from them talent-wise. We've seen glimpses of what the defense is capable of (see: first half UCLA, parts of Illinois) and can see the talent there, but it needs time to build. Counterpoint: Last year's defense consisted largely of talent he developed; he should have been able to recognize gaps in the defense and find ways to correct them.I'd give him the benefit of a doubt and say, with the seemingly more athletic players he has coming up, he should be judged more on what happens from here.
Adam Rittenberg:
A nice breakdown from the water cooler, Dan. Nebraska's defense might be both younger and more talented this season. Pelini has alluded to it throughout the offseason, and I already see signs of more difference-makers with the Huskers D, especially in the front seven. That said, Pelini shouldn't get a pass for the struggles on defense last season because he brought in all of those players. Although Nebraska's move to the Big Ten probably didn't help a defense that had been shaped for the Big 12, the breakdowns in big games were inexcusable. This year's defense has had and will continue to have some growing pains, but if the unit isn't better in November than now, it falls on Pelini and the staff.
---
Matt from Baltimore writes:
I was looking at
this map of AAU schools
, and I was trying to guess where the next Big Ten expansion could be. Assuming that any schools in the ACC, SEC, or Pac-12 will stay put, it looks like the most appealing school from a state bordering a Big Ten state is Kansas (a distant second is Iowa State). What do you think the odds are of a Big Ten land grab into Big 12 territory in the near future?
Adam Rittenberg:
Ah, Matt, we must be overdue for an expansion question. Keep in mind that the Big 12 also
has a grant of rights agreement
, just like the ACC does, which makes it very difficult for schools to leave the league. The Big 12 also has great leadership now with Bob Bowlsby as commissioner. Although Texas could still send things into flux, I'd be surprised if more Big 12 schools jumped ship. The one league the Big Ten could look to, believe it or not, is the SEC, which amazingly doesn't have a grant of rights agreement. Anyone else think Missouri is a much better fit in the Big Ten than the SEC? Still, Mizzou would be giving up a lot, and I don't think the Big Ten wants to expand West when it has talked so much about being bi-regional and trying to bring in the northeast corridor. Problem is, there aren't any great candidates on the East Coast.
---
Matt from Iowa writes:
Who will be the last to surrender a rushing touchdown, Iowa or Michigan?
Adam Rittenberg:
I'm going with Michigan, especially since Iowa is off this week and the Wolverines face a Penn State team that, while lagging in rushing offense, has 11 rushing touchdowns through the first five games. I have
Akeel Lynch
scoring the game-winning touchdown for Penn State on Saturday, so I think the Wolverines' run of zero rush touchdowns ends.
---
Mike from Minneapolis writes:
Thoughts on the selection committee? As a Nebraska fan, I'm not all that thrilled to see that if they come into the playoff discussion Osborne/Alvarez will have to leave the room and their fate will be decided by a group of southerners.
Adam Rittenberg:
I'm glad you asked, Mike, as I didn't get much chance to address this last weekend. While I understand your concern about Nebraska and the ties that both Tom Osborne and Barry Alvarez have to the school, I couldn't be happier with these choices to represent the Big Ten on the committee. They're both home runs: smart football men who have served as administrations and have thick enough skin to handle the job after coaching major programs for a long time. Alvarez was the overwhelming choice among sitting athletic directors to represent the Big Ten when
we conducted a poll back in July
, and it would have been a close race between Alvarez and Osborne if Osborne still served as Nebraska's AD. Big Ten fans should be really pleased with these two.
---
Jon from Columbus writes:
Adam, Michigan has allowed seven offensive TDs in five games so far, and yet ... and yet ... you're calling for PSU to score 38 on them on Saturday? I just don't see your reasoning based on any sound football analysis. Listen, Penn State might beat Michigan this week. But if it happens, it very likely won't come in a fireworks-filled offensive shootout.
Adam Rittenberg:
Jon, maybe the score prediction is a little high, but Michigan has faced only one decent offense (Notre Dame) through the first five games -- the other four are ranked 106th or worse nationally -- and hasn't done much defensively to stand out aside from allowing no rushing touchdowns.
Tommy Rees
made plays against Michigan's secondary but couldn't avoid the turnover.
Christian Hackenberg
has more natural ability than Rees and poses a bigger challenge for the Wolverines, who still don't have any standouts on defense (
Jake Ryan
comes back soon). This is a great chance for Michigan's defense to stand out against a good quarterback in a tough road setting. But I expect to see quite a few points scored at Beaver Stadium.
September, 6, 2013
9/06/13
4:30
PM ET
As you read this, I'll be en route to Ann Arbor. Anything
going on
tomorrow night?
Remember,
Twitter!
To the inbox ...
Alex from Charlottesville, Va., writes:
Adam, there is some talk going around saying Michigan needs to replace the Notre Dame game with an annual series against another big-time opponent. Who do you think would be the most ideal candidate(s)? What about the most realistic? I like the idea of a Michigan/ACC matchup (VT, Florida State and Clemson all seem like they could be great rivalries). Living in ACC country there really hasn't been much overlap between the two conferences. I feel like we see the SEC/Pac-12/Big 12 a lot during the bowl season.

Adam Rittenberg:
Alex, I'd rather see a variety of opponents for Michigan than just one on an annual basis. The Notre Dame series was unique because of the schools' histories, their proximity and other factors. Wouldn't you rather see Michigan play a home-and-home with Florida State, followed by one with Virginia Tech, and then one with Clemson? The Virginia Tech series
is already set for 2020 and 2021
. The upside of the Notre Dame hiatus is that Michigan can mix it up with its opponents. I'd like to see the Wolverines play some prominent Pac-12 schools in non-league play (Stanford, UCLA, USC).
---
Nick from Howard, Ohio, writes:
Listening to sports radio locally an interesting question came up: of the out-of-conference games Ohio State has, which conference would fans like to see them play annually? I think this could include all B1G teams. Personally, I'd like to see Ohio State play an SEC team every year as one of the first games of the season, as well as all B1G teams. Thoughts?
Adam Rittenberg:
I'd love to see it, too, Nick, as the SEC will be the measuring stick for every other conference until someone dethrones it for a national title. Unfortunately, what we'd like to see in scheduling often doesn't match up with reality. Most SEC programs have shown no interest in venturing to Big Ten country for true home-and-homes (Alabama being the lone exception). They'll do neutral-site games, typically those closer to SEC country like at Cowboys Stadium in Arlington, Texas, but there's not much push to play the Big Ten.
The playoff will help with overall scheduling and we've already seen several good moves, including those with the SEC (Wisconsin opens against LSU in 2014 and 2016, and against Alabama in 2015). One drawback with Ohio State is that athletic director Gene Smith seems lukewarm at best about neutral-site games, which often are the best way to schedule high-profile SEC opponents. I could see the Buckeyes playing a neutral-site game every once in a while, but with the nine-game Big Ten scheduling coming, facing the SEC annually doesn't seem realistic.
---
Dan from Des Moines, Iowa, writes:
Thought I'd write in from over at the Big 12 blog today. Going through the Big 12's future bowl lineup, there are no games against Big 10 teams. Living in Big 10/12 country in Iowa, I look forward to those matchups. Is there some sort of rift between the two conferences that we're unaware of, or is this simply a matter of the Big 12 trying to increase its matchups with the SEC and the Big 10 with the Pac-12/ACC? Thanks.
Adam Rittenberg:
It's a shame the Big Ten and Big 12 won't meet in the postseason beginning next year. I thought they would match up in the two Dallas-area bowls (Heart of Dallas, Armed Forces), but it sounds as if they'll actually share those tie-ins but go against other leagues (Conference USA, American). It's the only thing I don't like about the Big Ten's lineup, as I felt a push into California was long overdue and much needed. The problem with the recent Big Ten-Big 12 bowl pairings has been mismatched teams. It always seemed like a mediocre Big Ten team would face a Big 12 squad that entered the season with BCS bowl aspirations. The results have been pretty ugly for the Big Ten. If the two leagues could match up in a higher-tier bowl like the Alamo, it would be great, but the Pac-12 has replaced the Big Ten there. Just an unfortunate situation, but there's no bad blood I'm aware of between the leagues. Big 12 commissioner Bob Bowlsby is a Big Ten guy (former Iowa athletic director).
---
Misplaced Gopher from Fargo, N.D., writes:
Adam, I need you to explain something to me. Why are so many writers and TV talking heads willing to project improvement for Indiana but not for Minnesota? Why the reluctance to credit the Gophers for improvements in personnel, execution and wins? All summer we've heard encouraging words about Indiana, but Minnesota's future has been downplayed. Now I'm looking at your Week 2 picks (both yours and Brian's) and you're both making their game against NMSU a close affair. Why is it so easy for you to see Indiana getting better, but so hard to perceive any improvement on Minnesota's part? Case in point: Indiana gets gushing praise from all quarters for blowing out a bad FCS team last week, but Minnesota gets criticism or faint praise for a four-touchdown win against a team that took them to triple OT last year. Personally, I think it's a lack of imagination. Not in the dreamy la-la-land sense, but in terms of vision. You commentators have a lot to keep track of, and your job is easier if you can generalize. So you embrace a herd mentality, rarely expressing an opinion different from the consensus, assuming (for the sake of ease) that bad teams have to stay bad, and considering it a surprise if any down program ever improves.What do you think?
Adam Rittenberg:
A Minnesota-Indiana hype debate?!?! Bring it on! Seriously, Gopher, I'm surprised you're getting upset by this. Is Indiana really getting that much more praise than Minnesota? Maybe a little, but look where Indiana is coming from (1-11 in 2011), while Minnesota has stabilized under coach Jerry Kill following the Tim Brewster mess. Both programs are viewed as being on the rise, at least by the Big Ten blog. But the truth is neither team deserves a ton of praise for beating lowly UNLV and Indiana State.
The Minnesota score was misleading, as the Gophers sputtered on offense for much of the night and couldn't stop UNLV on fourth downs. Credit Minnesota for making big plays, especially on special teams, and
Ra'Shede Hageman
looks ready for a huge senior season. But you're deluding yourself if you think there isn't a lot of room for improvement. Indiana looked great on offense, but it should against Indiana State. And the Hoosiers' historically poor defense still allowed some garbage-time points. Do our Minnesota-NM State predictions really bother you? They shouldn't. Neither of these teams deserves any real praise until they go out and beat somebody. For Minnesota, the big game comes on Sept. 21 against San Jose State and standout quarterback
David Fales
. We'll learn a lot more about the Gophers' trajectory after that contest.
---
Paul from Grand Rapids, Mich., writes:
Ohio State only ran 69 plays Saturday against Buffalo. Is this the "Jet Tempo" pace Meyer has been talking about? When Oregon is running 84 plays a game, 69 is pretty slow if you ask me.
Adam Rittenberg:
Ohio State is not Oregon, Paul. The Buckeyes aren't trying to be the Ducks on offense. Urban Meyer has said that the 2012 season was the first time he really used a hurry-up tempo with his offense, and even then, it's not at the core of what they do. Sure, it'll help from time to time, but Ohio State's version of the spread -- based around the power-running game and vertical passes -- differs sharply from Oregon's sped-up version.
---
Chris from Buffalo, N.Y., writes:
My question is in relation to the QB situation at MSU, obviously a popular topic. How many QBs do you project will play on Saturday and which ones? I have been a loyal Spartan fan for about 14 years, and I have never seen MSU struggle so much finding the right QB. Also, considering all of the MSU QBs that went on to play in the NFL, this problem is hard to fathom.
Adam Rittenberg:
Chris, you're certainly not alone in your frustration with the situation under center in East Lansing. I expect Michigan State to play three quarterbacks against South Florida:
Andrew Maxwell
,
Connor Cook
and
Tyler O'Connor
. There's a chance the Spartans play only one or two if the starter or backup gets hot, but I think the coaches need to evaluate all three in game situations before the Week 4 trip to Notre Dame Stadium. Maxwell has been unable to take charge of the job, and Cook didn't do much to help his cause last week against Western Michigan. I expect O'Connor to get an extended look against South Florida. It's probably not
Damion Terry
time just yet, as coach Mark Dantonio seems concerned about hurting the confidence of such a young player. "He just got here," Dantonio said this week. "So you don't want to ruin a person."
---
Rich from Columbus, Ohio, writes:
Hey Adam, help me out with this no-helmet rule. Last week, OSU's
Curtis Grant
was flagged for continuing to play after his helmet popped off. Is he supposed to just freeze and risk taking a hit that could lead to a serious injury (especially with no helmet on)? I can understand him sitting out on the next play, but a 15-yard penalty?
Adam Rittenberg:
The rule states that if a player's helmet pops off, he cannot attempt to make a tackle, continue a block or keep running a pass route. So yes, he has to just freeze because he could risk a serious head injury. The thinking is that the injury risk for a player who freezes isn't as great as the one for a player attempting to make a tackle without a helmet. That, to me, makes sense. The rules are a little weird because the play is whistled dead only if the ball-carrier's helmet flies off, so the rule applying to Grant hurts the defense because he's effectively taken out of the play.
---
Aaron from Minneapolis writes:
So I realize that it is just one week, but did this weekend show that maybe the ban on FCS opponents was a bit off the mark? Sure, most FCS programs are still not up to facing Big Ten competition, but the last few seasons have shown that the top-tier FCS football teams have closed the gap on their FBS counterparts considerably, and teams like North Dakota State and Eastern Washington could probably consider themselves better than a number of non-BCS conferences teams that the Big Ten will continue to schedule. I realize that money and TV ratings play into all this, but I guarantee that an NDSU game against Iowa or Minnesota would garner more attention locally than one against New Mexico State or Ball State.
Adam Rittenberg:
Aaron, I wrote about
the FCS success in Week 1
, and I completely agree that some of the power programs at that level are superior to the bottom rung of the FBS. The tricky thing is how to regulate the scheduling. Do you identify a set of FCS teams (North Dakota State, Eastern Washington, Northern Iowa) that are OK to schedule? Those teams can change from year to year, and teams projected to do well can falter and create unappealing matchups. I think the Big Ten views it as an all-or-nothing deal. The league understands Minnesota-North Dakota State resonates more than Minnesota-New Mexico State, but if it eliminates the really lousy FCS teams from the Big Ten schedule, it's a win in the long run.
July, 23, 2013
7/23/13
12:00
PM ET
Media days are on tap Tuesday and Wednesday. Today's menu once again is all about the links.
June, 25, 2012
6/25/12
7:30
PM ET
The
BCS presidential oversight committee
meets Tuesday afternoon in Washington D.C. to discuss college football's future postseason. The 12 presidents will hear from the FBS commissioners who last week endorsed a seeded four-team playoff beginning in 2014, which would have semifinals at bowl sites and bid out the championship game nationally. The commissioners are expected to present multiple models and discuss the evolution of their discussion, which came to a head last week in Chicago. Although the commissioners are unified, they've made it clear the presidents have the final say here.
The oversight committee begins its meetings at 3 p.m. ET, and while initially scheduled to meet four hours, the session likely will last well into Tuesday night.
To get you prepared for a long day and night, here's a primer, in question-and-answer form.
What action will the presidents take Tuesday?
It's likely they'll approve the four-team playoff model endorsed by the commissioners. ESPN.com has learned that the two most evolved elements of the playoff are the basic four-team model and the use of a selection committee to determine the four teams. Two elements that still must be discussed further and likely won't be resolved Tuesday: understanding playoff access and revenue distribution. Although there's an agreement in principle among the commissioners for how the revenue should be divided, the presidents want to have a thorough discussion on this topic.
What elements unified the commissioners in Chicago?
The two big ones were the selection committee and having the semifinals played inside the bowls. Commissioners who have chaired the NCAA men's basketball tournament selection committee -- such as the SEC's Mike Slive, the Big Ten's Jim Delany and the Big 12's Bob Bowlsby -- strongly advocated for it, and others, like the Pac-12's Larry Scott, warmed up to the idea. They see the committee as more transparent, more rational and having fewer conflicts of interest than the current polls used in the BCS formula.
The commissioners emerged from their April meetings in Hollywood, Fla., with two models: a four-team playoff inside the bowls and a four-team playoff at neutral sites outside the bowls. ESPN.com has learned three leagues -- the SEC, Big 12 and Conference USA -- advocated neutral sites for semifinal games, which likely would bring in more revenue but devalue the top bowl games. The Big Ten and Pac-12 didn't want to see the Rose Bowl drop down several notches (think NIT) and endanger the other bowls. This was a deal breaker, and it eventually pushed the group toward an inside-the-bowls model.
How will the model work inside the bowls and with access?
It's very likely that five or six bowls, not just the four BCS bowls, will be part of the playoff structure. There will be the familiar four -- Rose, Sugar, Orange and Fiesta -- as well as one or two yet-to-be-determined bowls (Cotton, Capital One, etc.). Although the commissioners spent a lot of time discussing an anchor plan -- where the No. 1 and No. 2 playoff participants would play at regional sites -- they determined it would be too difficult because of television sponsorships, ticket distribution and other factors. So the semifinal games will be predetermined and rotate between the bowls. For example, if the TV contract is for 12 years and the rotation includes six bowls, each game could host a semifinal four times.
The selection committee could end up selecting participants for more than just the four-team playoff, especially because the additional bowls will provide access for champions from smaller conferences. The same guidelines applied to selecting the playoff participants – strength of schedule, valuing conference championships -- also will be used to determine who appears in some of the additional bowls. For example, if the Mountain West champion and the Big Ten's No. 2 team have comparable profiles, including strength of schedules, and are ranked 12th and 13th, the Mountain West champion likely would get the nod to a big bowl because of its championship.
While there will be access for smaller-conference champions, the bowls who have contracts with certain leagues will continue to feature teams from those leagues. If the Rose Bowl isn't a national semifinal and loses the Pac-12 and/or Big Ten champion to a semifinal game, it will replace them with Pac-12 and Big Ten teams. The only way the Rose Bowl features teams not from the Big Ten or Pac-12 is if it's a semifinal.
How much traction does the plus-one model have?
None. It will be discussed Tuesday because the presidents want to look at multiple models, but everyone is so far down the road toward a four-team playoff and they're highly unlikely to turn back. Nebraska chancellor Harvey Perlman, a playoff opponent who prefers the status quo and a plus-one over a four-team playoff -- as do the Big Ten colleagues he represents and some Pac-12 presidents -- will have his say, but he also understands where this is headed. Perlman realizes he can't be Mr. Davis in "12 Angry Men" and sway everyone else in the room.
How would the selection committee operate?
The group will have certain guidelines for selection, such as valuing strength of schedule conference championships. There are no hard-and-fast rules, but these guidelines will help break ties. Expect the committee to be around 15 members, and it will meet throughout the season. It's unclear who will serve on it, although former coaches as well as school and league administrators are the likeliest candidates.
According to a source, the committee could reveal a poll midway through the season to let the public know where things stand with certain teams. Such a poll likely would debut around the time the initial BCS standings do (Week 8 or so).
When would the playoffs take place?
The five or six bowls in the playoff rotation likely will take place around Jan. 1. The Rose Bowl will keep its traditional New Year's Day afternoon time slot, whether or not it's a national semifinal. A new contract for the Rose Bowl is expected this week and will last through the 2026 game. The Rose Bowl contract always has been completed before the BCS contract.
We could end up seeing three of the bowls take place Dec. 31 and the other three, including the Rose, on Jan. 1. The championship game then would take place about 10 days later.
Colleagues Mark Schlabach and Heather Dinich will be in D.C. for the presidential oversight committee meeting, so be sure and check in with ESPN.com throughout Tuesday afternoon and night.
June, 12, 2012
6/12/12
2:45
PM ET
As the BCS commissioners prepare to meet Wednesday in Chicago, colleague Mark Schlabach examines
the two most powerful figures in the negotiation room
: Big Ten commissioner Jim Delany and SEC commissioner Mike Slive. It's a good, comprehensive look at two influential men. Give it a read.
Delany and Slive represent the two richest and most popular conferences in college sports, and not surprisingly, they have a bit of a rivalry. As Schlabach details in the ESPN The Magazine piece, Delany and Slive likely will sit opposite one another in Wednesday's meeting.
The two men have similar backgrounds -- East Coast roots, law degrees -- but they operate in different ways. They've also taken different approaches during the playoff discussion -- Delany has put multiple ideas on the table; Slive has taken a firm position in recent weeks to select the "best four teams," period.
Some tidbits from the story:
"Jim Delany is one of the most competitive people I've ever met," says one industry insider familiar with the negotiations. "He sees the world in simple terms: You're either helping the Big Ten or hurting it."
The 64-year-old Delany has earned his reputation as an aggressive and abrasive commissioner in 23 years at the helm of the Big Ten. Slive, 71, has taken a more soft-spoken and diplomatic approach in his 10 years with the SEC. "Don't be fooled by Slive's grandfatherly demeanor," says the source. "These guys have been at it for a while. They remind me of Bowden and Paterno. I don't see one retiring until the other does." ....
Other commissioners, like the Pac-12's Larry Scott and the Big 12's Bob Bowlsby, have quietly lined up behind Delany and Slive, respectively. The Pac-12 wants to preserve its matchup with the Big Ten in the Rose Bowl; the Big 12 recently negotiated a similar postseason marriage with the SEC. These aligned interests have served only to consolidate Delany's and Slive's positions of power. "The quickest way to solve the debate would be to stick Jim and Mike in a room and tell them, 'Let us know when you've got it figured out,' " says a source. "At this point, it's about which one is willing to come to the middle."
Here's more:
Less than three years after Delany spoke before Congress, Slive and ACC commissioner John Swofford presented a plus-one model, matching the top two teams in the country in a national championship game following the BCS bowls. Delany shook his head in disagreement -- and heads around the table nodded along with him.
In 2012, those same heads were mostly shaking no when Delany trumpeted "home-field advantage" and "hybrid model." While the SEC has gained leverage during what Slive describes as its golden age, the Big Ten has lost footing as it endures one of its most regrettable stretches. Former Ohio State coach Jim Tressel was forced to resign in May 2011 for lying to the NCAA and hiding rules violations by his players. (Delany asked the NCAA to keep the accused Buckeyes eligible for the 2011 Sugar Bowl, only to have OSU's victory later vacated.) Then Penn State fired Joe Paterno after former assistant Jerry Sandusky was accused of sexually assaulting young boys. That pall has followed Delany into these playoff negotiations. Once entrenched, he must now react rather than set the tone.
I have to respectfully disagree with my pal Schlabach on the last point. Delany still has plenty of influence in the room, and his strategy to not wed himself to one plan or another during an ongoing negotiation could work out well in the end. But it's fair to say the Big Ten's voice isn't as strong as it once was. But it has much less to do with the recent scandals and much more to do with the fact the league has only one football national championship in the BCS era (Ohio State, 2002).
Whether you love or hate Delany, he has put the Big Ten in the best possible position to succeed. Quite frankly, his teams have let him down, while Slive's have come through for him.
For more BCS meetings/playoff content, check out Schlabach's
BCS meetings primer
, Ivan Maisel on the
historical debate over a college football playoff
and some
additional views on the playoff possibilities
from our friends on the ESPN television side.