January, 30, 2014
Jan 30
2:30
PM ET
Purdue isn't a program that wins in spite of its quarterback. It isn't a place for game managers or those content with handing off the ball 40 times a game.
You don't need to be a Purdue historian to know that the program's spikes in success are tied to its star quarterbacks, from Bob Griese in the mid 1960s to Mark Herrmann in the late 1970s to
Drew Brees
from 1997-2000. Even average Boilers teams had productive signal-callers, from Bob DeMoss to Len Dawson to Gary Danielson to
Jim Everett
to
Kyle Orton
to
Curtis Painter
.
Purdue lacks the luxuries or location to consistently build great teams with defense or the run game. Although the program bills itself as the "Den of Defensive Ends," and for good reason, it's more significant nickname is "Cradle of Quarterbacks." Fifteen Purdue quarterbacks have moved on to the NFL, accounting for more starts and throwing for more yards than those from any other FBS program.
[+] Enlarge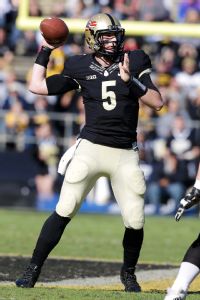 AP Photo/Michael ConroyDanny Etling was solid in his freshman season at Purdue, starting the final seven games, but knows the Boilers QBs need to play better in 2014.
As the Boilers begin digging out from a 1-11 bunker last fall, their worst season in 20 years, they know where to start.
"The entire quarterback room has a big responsibility in turning this whole culture around," quarterback
Danny Etling
told ESPN.com. "Any time you've ever had success at Purdue, you've always had a very good quarterback at the helm. That shows with our Rose Bowls. It was Bob Griese and Drew Brees. So in order for Purdue to be successful, the quarterback position has to be playing very, very strong."
Growing up in Terre Haute, Ind., Etling needed no education on Purdue's quarterback tradition. Boiler quarterbacks dominate the passing section of the Big Ten record book, occupying the top four spots in single-season yards and four of the top eight spots in career yards.
But last season, Purdue finished last in the Big Ten and 119th nationally in both scoring (14.9 points per game) and total offense (282.9 yards per game). It ranked 106th in team passing efficiency.
"At Purdue, you're the focal point of why a team is going to be successful or not," Etling said. "I'd rather have that on my shoulders. I'd rather have to be the big man on campus having to take control of a team and try to lead them, throwing it 30, 40 times a game instead of handing the ball off a bunch. That's what Purdue has a history of doing."
Purdue's history is what lured Etling, rated by ESPN RecruitingNation as the country's No. 12 quarterback in the 2013 class.
Austin Appleby
grew up in North Canton, Ohio, as a big Ohio State fan, but he also knew about Purdue's reputation for producing NFL quarterbacks.
The same draw also helped Purdue land 2014 recruit
David Blough
, who, like Brees, hails from Texas. Blough, who
stood out at the prestigious Elite 11 finals last summer
, has already enrolled at Purdue, like Etling did last winter.
"We have three Elite 11 quarterbacks right now, three pretty highly touted guys and it's not by mistake," Appleby said. "There's such a tradition here for good quarterbacks. Danny, David and myself, we're all genuinely good people. We love to work and we love to push each other. You won't find a time where you walk into the film room and one of us isn't in there. That's the thing that has separated us, aside from the talent."
Appleby and Etling both competed alongside
Rob Henry
for the starting job last spring and summer. Henry got the nod for the opener, but after a 1-3 start, Purdue turned to Etling, who started the final seven games.
Although Etling showed some promise, especially in his final three games when he competed 66.7 percent of his passes for 871 yards with six touchdowns and two interceptions, he'll need to beat out both Appleby and Blough when spring ball kicks off March 6.
"We didn't have the season we wanted, and I don't think any job is safe," Appleby said. "That's one of the best things that could possibly happen to this team. There needs to be a sense of urgency in the program that we are going to turn things around and we're going in a certain direction. You either need to get with us or you need to get outta here. That's been explained to us from the top.
"It's enough talk. We've got to be men of action."
The quarterbacks are taking charge this winter, from meeting with receivers and linemen to review routes and protections to organizing 7-on-7 sessions in the indoor facility. They've also tried to set examples with some of the off-field policies coach Darrell Hazell implemented after his arrival, such as sitting in the front row of classes and not wearing hats indoors.
"The quarterback has to set the tone," Etling said. "The tone is set by the strong, and we're a very, very strong quarterback room, I believe, one of the better ones in the country."
Etling wasn't pleased with his play last fall and has set several goals for his sophomore season: 3,000 passing yards, a completion percentage well above 60 and, the most ambitious, 30 completions per game -- "whether we call 35 passes or 50," he said. He has worked on his timing with receivers and wants to make quicker decisions, whether it's on downfield shots or checkdowns.
Although Appleby appeared in just two games last season, completing five of six attempts, his approach to be the starter hasn't changed. He thinks he knows the offense as well as the coaches.
"There's always an urgency," Appleby said. "I'm looking to get this program back on the right track, and it's going to go through the quarterback position."
April, 19, 2013
4/19/13
12:00
PM ET
Tomorrow is Husband Appreciation Day. I'm expecting some nice gifts.
February, 4, 2011
2/04/11
12:00
PM ET
July, 13, 2010
7/13/10
11:00
AM ET
Robert Marve
didn't come to Purdue to sit on the bench.
Despite his troubles at Miami, Marve always had the pedigree and talent to be a starter for a major college program. And to the surprise of nobody, he's getting that chance for the Boilermakers.
[+] Enlarge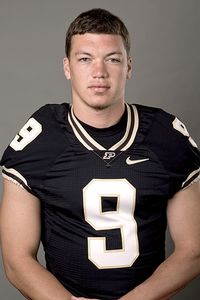 Purdue University Sports InformationRobert Marve beat out Caleb TerBush to be the Boilers' starting quarterback.
Purdue on Tuesday
named Marve as its No. 1 quarterback
entering preseason camp, which kicks off Aug. 6. Marve, who sat out the 2009 season after transferring from Miami (he also had a torn ACL), shared first-team snaps with sophomore
Caleb TerBush
this spring.
Although both quarterbacks had their moments -- TerBush actually
outperformed Marve in the spring game
-- Marve always had been the heavy favorite to claim the starting job. Barring a hiccup in camp, he'll take the first snaps for Purdue on Sept. 4 at Notre Dame.
Here's a statement from head coach Danny Hope:
"We like everything about Robert -- his ability to throw the football, run with the football and lead our team from the quarterback position -- and we want him to begin practice with the mindset that he is the guy. Knowing Robert and his competitiveness, he will not take this decision for granted and, if anything, it will make him more determined than ever to solidify the starting position."
And from Marve:
"Last month, I had the opportunity to meet Drew Brees, Len Dawson and Bob Griese and learn more about the quarterback tradition at Purdue. Now to have the chance to join that fraternity means a lot of me and gives me a great sense of responsibility. I am looking forward to the start of training camp and working with my teammates to have a great season."
Again, this is not a surprise at all. Marve certainly has a chance to be a special quarterback at Purdue, which boasts a lot of weapons on offense heading into 2010. Talent never will be an obstacle for him. But after what happened at Miami, Marve must continue to show he's a more mature and capable leader both on and off the field.
All the
early indications about Marve at Purdue have been positive
, but until the games begin along with the inevitable ups and downs, the character questions will remain.
I'll have more on this after talking with Marve this afternoon, so stay tuned.
June, 24, 2010
6/24/10
12:00
PM ET
November, 11, 2009
11/11/09
9:00
AM ET
Posted by ESPN.com's Adam Rittenberg
Purdue might miss a bowl game for the second consecutive season. All those turnovers and near misses in September and early October could come back to bite the Boilers in an unflattering body part.
But no matter how the next two games turn out, Purdue can hang its hat on ending three streaks that dogged the program as it tried to become a Big Ten power under former coach Joe Tiller.
The Boilers snapped a 19-game losing streak to ranked opponents by upsetting then-No. 7 Ohio State on Oct. 17.
They ended an 11-game road losing streak by rallying to beat Michigan last Saturday in Ann Arbor.
They ended a 17-game losing streak at Michigan Stadium, downing the Wolverines in the Big House for the first time since 1966.
The streaks are outlined in Purdue's game notes this week in a section appropriately called "Ghostbusters."
"It puts us on a national level," said senior quarterback
Joey Elliott
, who became the first Purdue signal caller since Bob Griese to win at the Big House. "At the beginning of the season, you were asking me, 'Who are going to be your playmakers? Who's going to step up? Who's going to do this?' Purdue football was a bunch of question marks. In 2009, we've done a great job of being able to establish what we're trying to do and go out and get it done.
"Those wins are huge for us. It's something we can sit back and talk about when you're on the back porch 10 years from now."
First-year coach Danny Hope and the players openly discussed the long losing streak in Ann Arbor last week and used it as motivation.
"We'd tell coach Hope he was probably wearing diapers the last time Purdue won at Michigan," Elliott said. "Everybody jokes about it, but it also keeps you focused and eager and motivated. Every coach tries to find things each week to motivate their kids, and one of our motivational standpoints was, 'We haven't won at the Big House in forever.'"
Elliott and several other seniors came up with a motto for the season, ONE, which translates to "Opportunity Now for Everyone." Wide receiver
Adam Wolf
came up with the design, and it's displayed on T-shirts, hats and posters.
The slogan has held true as several seniors have seized the moment, especially Elliott, who leads the Big Ten in both passing (244.8 ypg) and total offense (270.5 ypg). The seniors are the first class at Purdue to beat Ohio State and Michigan in the same season since 2000.
"There have been some streaks we wanted to put an end to," Hope said. "There have been a lot of milestone wins that this particular team can take a lot of pride in."
November, 9, 2009
11/09/09
12:30
PM ET
Posted by ESPN.com's Adam Rittenberg
Big Ten weather? Not right now. Hope this keeps up.
"Even though we're similar academically, we're in a little different boat as Stanford and Notre Dame," said Northwestern coach Pat Fitzgerald. "We've been consistently winning since 1995. They're still saying they can do it, but we're doing it."
November, 9, 2009
11/09/09
8:30
AM ET
Posted by ESPN.com's Adam Rittenberg
My apologies to Ohio State defensive end Cameron Heyward. I should have
had him listed
as co-Defensive POTW along with Illinois' Clay Nurse. I'm still very surprised Nurse didn't share the league's official award. Four sacks in a game should be rewarded.
Here are the choices.
OFFENSE -- Purdue QB Joey Elliott
Elliott completed 72 percent of his passes for a career-high 367 yards to help rally Purdue from a 14-point halftime deficit and lead the Boilermakers to their first win at Michigan since 1966. The fifth-year senior completed 28 of 39 passes and accounted for three touchdowns, including two scoring strikes and a fourth-quarter rushing touchdown that proved to be the winning margin in a two-point triumph. Elliott became the first Purdue quarterback since Bob Griese to win in Michigan Stadium, and his 367 yards passing were the most ever by a Boilermakers signal-caller against the Wolverines.
DEFENSE -- Ohio State DE Cameron Heyward
Heyward produced a team-high and career-best 11 tackles, including three tackles for loss and a career-high two sacks, to help hold Penn State to a single touchdown in a 24-7 road victory. The junior defensive end pushed the Nittany Lions' offense back 17 yards with his three tackles for loss, including 13 yards on two sacks. His 11 defensive stops surpassed his previous career best of seven tackles. The Georgia native spearheaded a Buckeyes defense that limited one of the conference's top offenses to seven points, 76 rushing yards and 201 total offensive yards.
SPECIAL TEAMS -- Ohio State WR Ray Small
Small helped Ohio State win the battle for field position with seven punt returns for 130 yards, including a pair of returns over 40 yards to set up Buckeyes touchdowns in the victory at Penn State. The senior wide receiver averaged 18.6 yards per punt return and also added a 7-yard reception and a 13-yard reverse.
February, 17, 2009
2/17/09
11:15
AM ET
Posted by ESPN.com's Adam Rittenberg
Rule No. 1: candidates to be chiseled onto Purdue's Mount Rushmore must have a mustache. OK, I'm kidding. But the 'stache has become a Boilermakers' trademark in recent years, sported by former head coach Joe Tiller and current coach Danny Hope.

Purdue enjoyed several successful periods in the 1930s, late 1960s and late 1970s before Tiller ended a long stretch of mediocrity when he arrived in 1996. Here's the fab four for the Boilers.
Leroy Keyes -- Considered the greatest player in team history, Keyes was a two-time consensus All-American and a runner-up for the Heisman Trophy in 1968. The College Football Hall of Fame running back and defensive back helped Purdue to a 25-6 record and rushed for 3,365 yards in his career.

Joe Tiller -- The man pioneered the spread offense in the Big Ten and saw tremendous early success with his "Basketball on Grass" system. Tiller led Purdue to a league title and 10 bowl games and finished his career as the school's all-time winningest coach.

Jack Mollenkopf -- As Purdue's head coach from 1956-69, Mollenkopf led Purdue to its first Rose Bowl appearance (1967) and a 10-4 mark against Notre Dame. He coached players like Keyes and Bob Griese and held the school record for wins until Tiller broke it last season. A College Football Hall of Famer, Mollenkopf went 84-39-9 as Purdue's head coach.
Bob Griese -- A Hall of Famer at both the college and pro levels, Griese was a two-time All-America selection as Purdue's quarterback. He led the Boilers to the 1966 Big Ten title and a Rose Bowl victory against USC and was the runner-up for the Heisman Trophy.

If Mount Rushmore had five faces, former Boilermakers quarterback Drew Brees would be the obvious choice. It was very close between Brees and Griese for the final spot. Though Brees had the bigger numbers and tons of Big Ten records, Griese won a Rose Bowl.
August, 1, 2008
8/01/08
12:30
PM ET
Posted by ESPN.com's Adam Rittenberg
Here's a look at 10 players who earned the title of "Captain Clutch" during their Big Ten careers:
Anthony Carter, WR, Michigan [1979-82] -- Carter was only a freshman when he played a part in one of the greatest plays in Michigan history, hauling in a 45-yard touchdown pass as time expired to beat Indiana in 1979. The wideout/return man had 37 touchdown receptions in three seasons.
Kerry Collins, QB, Penn State [1991-94] -- Penn State joined the Big Ten in 1993, and Collins made his mark the next year. He led the Nittany Lions to a 12-0 record, which included three road victories (Michigan, Indiana, Illinois) by seven points or fewer.
Ron Dayne, RB, Wisconsin [1996-99] -- The NCAA's all-time rushing leader made his mark in big games, winning back-to-back Rose Bowl MVP awards after rushing for 246 yards and 200 yards in Badger victories. Dayne also had a 246-yard effort in his first bowl appearance, a Cotton Bowl win against Utah.
Bob Griese, QB, Purdue [1964-66] -- Griese's near-flawless performance in Purdue's upset of No. 1 Notre Dame in 1965 stands as one of the greatest in team history. The next year he led the Boilermakers to their first Rose Bowl appearance and a 14-13 win against USC.

Brian Griese, QB, Michigan [1994-97] -- After coming off the bench to rally the Wolverines past Ohio State in 1996, Griese cemented himself as a clutch quarterback the next season. He led Michigan to a 12-0 record and a national championship, winning five games by 10 points or fewer, including a 21-16 triumph over Washington State in the Rose Bowl.
Jim Harbaugh, QB, Michigan [1983-86] -- Considered by many to be the best quarterback in school history, Harbaugh led Michigan to a 27-23 win against Nebraska in the 1986 Fiesta Bowl. He won four games by three points or fewer as a senior.
Nile Kinnick, RB, Iowa [1937-39] -- The stadium is named after him for a reason. Kinnick did it all for Iowa, including a 63-yard punt that pinned No. 1 Notre Dame at the 6-yard line in a 7-6 Hawkeyes win in 1939.
Craig Krenzel, QB, Ohio State [2000-03] -- He took heat for his arm strength, but no one could question his late-game toughness. The two-time Fiesta Bowl MVP led Ohio State to a national title in 2002 with his arm and his legs.
Chuck Long, QB, Iowa [1981-85] -- A dramatic fourth-down touchdown run against Michigan State kicked off a memorable 1985 season for the Hawkeyes and Long, who many believe should have won the Heisman Trophy. Two weeks later, Long rallied Iowa past Michigan.
Mike Nugent, PK, Ohio State [2001-04] -- Record-setting kicker was nearly unshakable under pressure. He kicked game-tying and game-winning field goals to beat Purdue in overtime in 2003, and his game-winning 55-yard kick against Marshall stands out in an otherwise forgettable 2004 season.
July, 23, 2008
7/23/08
2:15
PM ET
Posted by ESPN.com's Adam Rittenberg
As Wisconsin speedster David Gilreath plans to torch the Big Ten this fall, most of the attention in Madison remains under center. Wisconsin's quarterback competition features fifth-year senior Allan Evridge, junior Dustin Sherer and sophomore Scott Tolzien.
Here are Gilreath's thoughts on who might be throwing him passes this fall:
"They all look good. Allan looks like the veteran guy, like he should be. He probably looks the best to me, him and Dustin, they both know the offense front and back. But it's going pretty well. The guys, we're all kind of jelling together. We have a little bit of chemistry, but we haven't really been in there when the bullets are flying out there yet on the field. As the season goes on, we'll build even more chemistry with whoever is in there, especially with Allan."
Elsewhere:
NFL training camp is never easy for rookies, but Redskins offensive linemen Kerry Brown might be dreading the coming weeks. Brown played for Appalachian State, which, in a normal year, would make him fairly inconspicuous. But everything after the Mountaineers knocked off Michigan, a game Redskins lineman Jon Jansen -- a former Wolverine -- hasn't forgotten.

Add Illinois defensive end Will Davis to the Ted Hendricks Award watch list (sorry, no link yet).

Bleacher Report has a list of the top 10 Heisman Trophy snubs. Here's the Big Ten recap: Ohio State QB Les Horvath shouldn't have won in 1944, Purdue QB Bob Griese should have won in 1966, Ohio State RB Archie Griffin shouldn't have won in 1975 and Michigan CB Charles Woodson shouldn't have won in 1997.