March, 25, 2014
Mar 25
1:00
PM ET
We've arrived at the end of the first round of our
all-time Big Ten coaches tournament
.


Our final opening-round game pitted the most recent coach in our field against someone who started coaching in the Big Ten in 1913: No. 9 seed Ohio State's Jim Tressel vs. No. 8 seed Illinois' Bob Zuppke.
The possible future president of the University of Akron advanced with ease, as Tressel ousted Zuppke by a count of 68 percent to 32 percent in your voting.
And so our elite eight is set, and Tressel will face top overall seed Woody Hayes in an all-Buckeyes showdown. Look for the next two matchups later this week.
But first, let's hear some of your comments on our last first-round game:
Josh from Columbus, Ohio: Age skews my vote. I voted before even reading about the other coach. It would seem he would be more deserving. However, I appreciate what Tressel did for me as a fan. For that, Tressel gets my vote.
A.J. from Hickory, N.C.: I'm picking The Vest. You look at what he did during his time at OSU. He was pretty much forced out because of what happened. Think about what he could have done with more time.
Dukester from San Diego: Even though I'm an Ohio State fan, and I love Jim Tressel, I voted for Bob Zuppke. Four national championships, the long and successful tenure, Red Grange, etc. As great as Tressel was, I've gotta believe that Zuppke accomplished more.
Chad from Dacula, Ga: I vote for Tressel. Just based on his record against the other top school in the B1G, TTUN! (At least during that 10-year reign).
Chief Illiniwek from Illinois: Zuppke beats Tressel hands down. Anyone looking from a distance might not appreciate how much of an innovator Bob Zuppke was, not just with the huddle but with his formations and game planning. No two games were coached or planned the same, in an era when most teams had no more than a handful of plays they used all season. Coaches like Tressel (a great coach, no doubt) were able to accomplish what they did in large part because of coaches like Zuppke and Stagg. On top of that, Zuppke was a great motivator and educator, as Red Grange himself pointed out. Zuppke made Grange earn his way onto the team and pay his own way through school with no guarantee of playing time, but he also taught him a lot about football. Without Zuppke, there is no Grange, and without Grange, possibly no NCAA football or NFL as we know it.
March, 21, 2014
Mar 21
3:00
PM ET
On Wednesday, we introduced the
all-time Big Ten coaches tournament
, and now it's time to close out our first round.
Remember, this is a 12-team tournament in which the top four seeds all received byes. Those top four seeds are:
1. Woody Hayes, Ohio State
2. Bo Schembechler, Michigan
3. Tom Osborne, Nebraska
4. Joe Paterno, Penn State

Our final first-round game pits the No. 8 seed vs. the No. 9 seed, with the winner advancing to face top overall seed Woody Hayes. Your votes will determine the winner, and you have until late Tuesday morning to weigh in on this one.
Let's wrap up Round 1 with:
No. 8 Illinois' Bob Zuppke vs. No. 9 Ohio State's Jim Tressel

Tournament résumés:
Tressel:
He coached exactly 10 years in the Big Ten before he left under a cloud of scandal, but few coaches have had better 10-year runs. Ohio State dominated the league under The Vest, winning or sharing seven Big Ten titles (though the last one was vacated) and the 2002 BCS championship. Tressel owns the second-highest winning percentage, both overall and in league play, for coaches who spent at least 10 years inside the conference.
Zuppke:
He had a much longer tenure than Tressel, coaching the Illini from 1913 to 1941. During that span, he won four national titles (1914, 1919, 1923, and 1927), and his teams included the legendary Red Grange. Zuppke is also credited for inventing the huddle, and he captured seven Big Ten titles.
Which coach advances? Vote now, and
drop us a note
as to why you voted the way you did. The best responses will run in our results posts.
March, 19, 2014
Mar 19
1:00
PM ET
We're a 24/7/365 football blog around here, but it's impossible to not get caught up in the excitement of the NCAA men's basketball tournament.
But while football will have its own, smaller version of March Madness with the College Football Playoff this season, we don't want to wait that long. Why let the basketball guys have all the fun when we can hold our own tournament?
In past years, we did this with
the top players
and
championship teams
of the past 15 years. This time around, we're going to pit the best coaches in Big Ten history against one another in a winner-take-all bracket.
The Big Ten has an incredible roster of accomplished coaches in its lore. (And, yes, we're including all current Big Ten member schools, regardless of how long they've been in the league. We're inclusive here. Deal with it.). Narrowing the field to our customary eight was difficult, if not downright unthinkable. So we've expanded the bracket to 12 this time, with the top four seeds getting byes and the others trying to play their way in. Be on standby, Dayton.
We're looking for coaches who have won Big Ten titles and national championships, those who stuck around long enough to pile up Hall of Fame résumés and build unmistakable legacies. No current coaches are involved, as we'll let them finish their careers before we start stacking them up against the all-timers.
The tournament will kick off Thursday with the first couple of matchups. But first, here is a look at the entire field, in alphabetical order:
Barry Alvarez, Wisconsin: Alvarez revived the Badgers program during his 16 years at the helm in Madison, compiling 118 wins. He also earned three Rose Bowl victories and is the only league coach to ever win back-to-back Rose Bowls. He was inducted into the College Football Hall of Fame in 2010.
Bernie Bierman, Minnesota: The Gophers claimed five national titles under Bierman (1934, 1935, 1936, 1940 and 1941) and won seven Big Ten championships from 1932-41. He went 93-35-6 at Minnesota and also won a national title as a player with the Gophers.
Duffy Daugherty, Michigan State: Daugherty coached the Spartans from 1954 to 1972 and led them to back-to-back national titles in 1965 and 1966. The rest of his tenure didn't go as well, but Daugherty is tied for the sixth-most Big Ten wins ever.
Hayden Fry, Iowa: The Hawkeyes hadn't had a winning season in 17 years before Fry arrived before the 1979 season. He proceeded to go 143-89-6 in Iowa City, claiming three Big Ten titles. His 98 Big Ten wins are fourth-most ever.
Woody Hayes, Ohio State: Few coaches are as synonymous with a school as Hayes is with Ohio State. He won 205 games, the most of any coach while a member of the Big Ten, and a record 152 league games. Hayes also won 13 Big Ten championships, tying him for the most all time, and five national titles (1954, 1957, 1961, 1968 and 1970).
Tom Osborne, Nebraska: There aren't many coaches more beloved and universally respected than Osborne, who went 255-49-3 while leading the Huskers to three national titles in a four-year span (1994, 1995 and 1997). How about this: His teams never won fewer than nine games in a season, and this was before 12-, 13- and even 14-game seasons became the norm.
Joe Paterno, Penn State: JoePa won a record 409 games, plus two national championships (1982, 1986) and four other undefeated seasons. He won all four major bowl games -- the Rose, Orange, Fiesta and Sugar -- and was the AFCA national coach of the year five times. His career ended in scandal and a huge chunk of his wins were vacated by the NCAA.
Bo Schembechler, Michigan: Bo and Woody. Woody and Bo. Two coaches really defined the Big Ten for decades, and Schembechler was one of them. He is tied with Hayes for the most Big Ten titles ever (13) and his 143 Big Ten victories are the second-most all time. Schembechler has the highest conference winning percentage (.850) of any coach who competed in the Big Ten for at least 10 years. But he never won a national title.
Amos Alonzo Stagg, Chicago: Listen up, youngsters. The University of Chicago was a charter member of the Big Ten, and Stagg was its sports titan. He won 199 games, including 116 Big Ten victories, as well as two national championships (1905, 1913). Stagg is credited with innovating many plays and formations used in modern football, and he was also named to the Basketball Hall of Fame for his contributions to that sport.
Jim Tressel, Ohio State: Tressel coached exactly 10 years in the Big Ten before he was forced to resign, but what a decade it was. He has the second-highest winning percentage both overall and in league play for coaches who spent at least 10 years inside the conference, and he won or shared seven league titles (though the 2010 co-championship was later vacated). Tressel is the last Big Ten coach to win a national title, in 2002.
Fielding Yost, Michigan: The Wolverines won six national titles under Yost (1901, 1902, 1903, 1904, 1918 and 1923) and his 10 Big Ten titles trails only Hayes and Schembechler. His career winning percentage of .888 while a Big Ten head coach is the best all time among those who coached at least a decade in the league.
Bob Zuppke, Illinois: He was the Illini head coach from 1913 to 1941 and won four national titles (1914, 1919, 1923, and 1927). Zuppke is credited for inventing the huddle, which is kind of a big deal, and he also coached the legendary Red Grange. He is tied with Daugherty for the sixth-most Big Ten wins of all time, and he captured seven Big Ten titles.
As you can see, this is an impressive field. We couldn't even include all the amazing coaches from history, including Michigan's Fritz Crisler, Nebraska's Bob Devaney or Minnesota's Henry Williams, to name just a few. (Sorry, Huskers fans, but while Osborne has a tenuous connection to the Big Ten as the athletic director who ushered the school into the league, Devaney's great career had no Big Ten ties. Don't worry. You can simply throw all your considerable voting power behind Osborne if you desire.)
Stay tuned for the opening matchups.
"The ball is tipped ..."
July, 9, 2012
7/09/12
9:00
AM ET
Joe Paterno has become a polarizing figure in recent months, but all parties would agree that he defines Penn State football.
Paterno was affiliated with the Nittany Lions program for 62 years of its 125-year existence. He served as Nittany Lions coach for nearly 46 seasons before being fired in November. And his impact is particularly significant in the program's victories total.
[+] Enlarge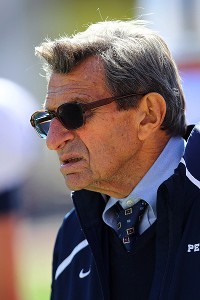 Michael Hickey/US PresswireAccounting for nearly 50 percent of the program's wins, Joe Paterno was the face of Penn State.
Of Penn State's 827 all-time victories in football, Paterno coached the team for 409, the most of any coach in Division I history. Other than former Florida State coach Bobby Bowden, who accounts for an astounding 64 percent of the Seminoles' all-time wins (304 of 475), Paterno's percentage of Penn State's wins (49.4) places him in select company. Only Air Force's Fisher DeBerry (49.1 percent) and BYU's LaVell Edwards (49.2 percent) have accounted for a similar chunk of program wins -- among FBS programs that have been around for more than 30 years -- as Paterno has at Penn State.
ESPN.com is taking a closer look at coaches this week, and today's topic examines which programs are defined by one coach. Penn State fits the description because of Paterno's long and successful career. Penn State also is unique because its program has been around so long, and while there was success before JoePa -- eight undefeated seasons between 1894-1947, a Rose Bowl appearance in 1923 -- almost all of the program's significant achievements (two national titles, 24 bowl wins) occurred on Paterno's watch.
What about the other Big Ten teams?
In terms of winningest coaches, here's how they look:
Illinois:
Robert Zuppke, 131 of program's 580 wins (22.6 percent)
Indiana:
Bill Mallory, 69 of 449 (15.3 percent)
Iowa:
Hayden Fry, 143 of 593 (24.1 percent)
Michigan:
Bo Schembechler, 194 of 895 (21.7 percent)
Michigan State:
Duffy Daugherty, 109 of 638 (17.1 percent)
Minnesota:
Henry Williams, 136 of 646 (21.1 percent)
Nebraska:
Tom Osborne, 255 of 846 (30.1 percent)
Northwestern:
Lynn Waldorf, 49 of 488 (10.04 percent)
Ohio State:
Woody Hayes, 205 of 837 (24.5 percent)
Purdue:
Joe Tiller, 87 of 586 (14.8 percent)
Wisconsin:
Barry Alvarez, 118 of 635 (18.6 percent)
As you can see, no coach comes close to Paterno in terms of percentage of his program's wins. But this ratio is just one gauge of a program-defining coach.
Another important factor is a team's history both before and after a coach took the job. Look at Wisconsin before Alvarez arrived in 1990. The program had endured five consecutive losing seasons and had just six winning seasons since 1963. Wisconsin's previous two coaches, Don Morton and Jim Hilles, had gone a combined 9-36 at the helm.
Alvarez transformed Wisconsin into an upper-tier Big Ten program, leading the Badgers to three Big Ten titles and three Rose Bowl championships. His hand-picked successor, Bret Bielema, has carried on Wisconsin's momentum, but Alvarez fostered the change. He is Wisconsin football, period.
Two iconic coaches regarded by many the faces of their respective programs are Ohio State's Hayes and Michigan's Schembechler. They tied for the most Big Ten championships with 13. Hayes won the most Big Ten games (152 to Schembechler's 143), while Schembechler owns the record for best winning percentage in conference games (.850).
But both men led programs that had success under other coaches. Michigan was a national superpower under the likes of Fielding Yost (.888 career win percentage), Harry Kipke, Fritz Crisler and Bennie Oosterbaan, while Schembechler never won a consensus national title. The Wolverines boast six coaches who have served 10 or more years, most recently Lloyd Carr (1995-2007).
Ohio State carved a place among the nation's elite under shorter-tenured coaches like Francis Schmidt and Paul Brown, while Jim Tressel won a national title and more than 81 percent of his games during his 10 years in Columbus.
Are Michigan and Ohio State defined by Schembechler and Hayes, respectively? Depends on your perspective. My take: both are iconic, but Hayes is more defining.
Iowa's Fry fills a similar role to Alvarez. He took over a program on the downturn for several decades and put it in the Big Ten's top half. Fry is the coach people think of when Iowa comes to mind, although his successor, Kirk Ferentz, has put his own stamp with a solid run since 1999.
Other Big Ten programs seem to fit into different categories.
Programs with two great coaches:
Nebraska -- Osborne (255-49-3) and Bob Devaney (101-20-2)

Purdue -- Tiller (87-62) and Jack Mollenkopf (84-39-9)
Programs that had its most successful coaches many years ago
Illinois -- Zuppke (131-81-13 from 1913-41); Arthur Hall (27-10-3 from 1907-12)

Minnesota -- Williams (136-33-11 from 1900-21; Bernie Bierman (93-35-6 from 1932-41 and 1945-50)

Michigan State -- Daugherty (109-69-5 from 1954-72); Biggie Munn (54-9-2 from 1947-53); Charles Bachman (70-34-10 from 1933-46); Chester Brewer (58-23-7 from 1903-10, 1917, 1919)
Historically weak programs with a lot of coaching turnover
Indiana -- No coach with career winning record since Bo McMillin (1934-47), no coach with 70 or more wins at school

Northwestern -- No coach with 50 or more wins at school, only one coach with tenure longer than 10 years
You could argue Zuppke remains Illinois' defining coach, even though he hasn't coached in more than 70 years. Osborne is undoubtedly the face of Nebraska's program, but is he the Huskers' defining coach? Tough to say that after looking at what Devaney did (two national titles, eight Big Eight titles).
Could any current Big Ten coach end up being a program-defining figure? None will occupy his job as long as Paterno did at Penn State. Northwestern's Pat Fitzgerald is just nine wins shy of Waldorf's victories mark, and he turned 37 in December. Fitzgerald's strong ties to the program, plus Northwestern's poor history and absence of coaching greats, create an opportunity should Fitzgerald have success for a long period.
What are your thoughts? Which Big Ten programs are defined by a coach, and which are not? Share them
here
.
November, 11, 2009
11/11/09
3:54
PM ET
Posted by ESPN.com's Adam Rittenberg
I grew to love college football while attending games at Memorial Stadium in Berkeley, Calif. I've spent part of my professional career covering games at Memorial stadiums in Champaign, Ill., and Bloomington, Ind.
No matter where you live, Memorial stadiums are an integral part of college football. There are 15 such venues in the FBS, including two in the Big Ten at Illinois and Indiana. On this Veterans Day, colleague Ivan Maisel looked at
what's behind these stadiums
which honor the nation's servicemen and servicewomen. There's a lot more to these facilities than the Memorial Stadium name, and in a time when stadiums are named after pizza chains and video stores, this piece is certainly worth reading.
Maisel spends much of the piece focusing on Illinois' Memorial Stadium, which opened in 1923.
The initial grand plans dreamt up by Illinois athletic director George Huff and coach Bob Zuppke included memorial plazas on each side of the stadium flanked by towers with a campanile in front and 75,000 seats. The towers should be so high, Zuppke said, that a spotlight atop them "will illuminate the name of Illinois from the Statue of Liberty to the Golden Gate."
Such plans would cost $2.5 million to execute. Financial reality reduced those plans to what $1.7 million could buy: 57,000 seats and the stately 22-foot columns that endure to this day.
On nearly every column is the name of an Illini alumnus who perished in the war. There are a few exceptions: One memorializes the Student Army Training Corps; one, the Student Navy Training Corps; and another, the unknown soldier.
There's also an account of the dedication ceremony in 1924 and Red Grange's incredible performance the next day. So give it a read.
February, 25, 2009
2/25/09
9:46
AM ET
Posted by ESPN.com's Adam Rittenberg
Love and hate are the themes of the day around these parts, so I figured I'd chime in about the Big Ten. There are many reasons why I love covering football in this conference, and a few things I'm not so crazy about.
Let's begin with five good things.

Big stadiums --
Size matters in the Big Ten, which boasts three of the nation's four largest stadiums at Michigan, Penn State and Ohio State. Ohio Stadium, Beaver Stadium and Camp Randall Stadium are on the short list of toughest places to play, and other Big Ten venues (Kinnick Stadium, Spartan Stadium) add their own charm. The game-day experience is truly captured where Big Ten teams call home.
The Game (and other rivalries) -- The Big Ten lays claim to quite possibly the greatest rivalry in all of sports, between Ohio State and Michigan. No series has produced more colorful figures and memorable moments. The league also features exciting annual matchups like Michigan-Michigan State, Penn State-Ohio State and Minnesota-Wisconsin. At stake are coveted items like a bronzed pig, a giant ax, a brown jug and an ancient bucket.
Regent Street and the Beaver Stadium grounds -- They are two of the nation's prime tailgating spots, and they both belong to the Big Ten. Tailgating at Wisconsin or Penn State is an experience every college football fan should enjoy. You get beer and brats in Madison, and elaborate set-ups and daylong debauchery in State College. As a college football fan, you can't go wrong at either place.
Legendary coaches -- The Big Ten has produced legendary coaches through the decades. From Fielding Yost and Bob Zuppke to Bernie Bierman and Fritz Crisler to Woody and Bo to Hayden Fry and Duffy Daugherty to Barry Alvarez and Jim Tressel, the Big Ten has been at the top of the coaching ranks. The arrival of Penn State's Joe Paterno in 1993 has only added to the league's rich coaching tradition.
Night games in Columbus, Madison and State College -- Noon kickoffs are generally the norm in the Big Ten, which sort of blows but makes the rare night game all the more special. Ohio State will host only the ninth night game in team history this fall against USC, and the atmosphere will undoubtedly be electric. Same goes for any game under the lights at Camp Randall Stadium -- there were two last year -- and at Penn State, which thankfully welcomes night football more than any other Big Ten team.
BIG TEN SCOREBOARD
Saturday, 12/20
Monday, 12/22
Tuesday, 12/23
Wednesday, 12/24
Friday, 12/26
Saturday, 12/27
Monday, 12/29
Tuesday, 12/30
Wednesday, 12/31
Thursday, 1/1
Friday, 1/2
Saturday, 1/3
Sunday, 1/4
Monday, 1/12
Tweets from https://twitter.com/ESPNCFB/lists/b1g