Big Ten:

Bobby DiGeronimo
December, 20, 2011
12/20/11
4:26
PM ET
Minimize until forced to maximize.
By now, loyal blog readers know the phrase. It's what I've used repeatedly to describe Ohio State's strategy throughout its NCAA infractions case.
The school's approach went like this:
Cooperate fully with NCAA investigators (unlike USC).
Acknowledge mistakes but attribute them to individual failings.
Defend individuals until forced to sever ties (i.e., Jim Tressel).
Place blame on those no longer affiliated with the program -- namely ex-coach Tressel, disaffiliated booster Bobby DiGeronimo and former quarterback Terrelle Pryor -- and, as tactfully as possible, the players still with the team.
Never, ever admit to having a systematic problem.
Ohio State held steadfast to this strategy during news conferences by athletic director Gene Smith, in its responses to the NCAA and in other public comments by university brass during the nearly year-long saga. The school tried to show just enough remorse but not too much, while cooperating throughout the process. It
imposed some penalties initially
and tacked on a few more after the second layer of violations -- the ones involving DiGeronimo. But Ohio State never imposed a bowl ban.
If this case was indeed a big deal, Ohio State placed the burden on the NCAA to prove why.
It was a calculated risk that backfired Tuesday, as the
NCAA handed down a one-year bowl ban
, in addition to other penalties, in its ruling on Ohio State's case. Ohio State in 2012 will miss a bowl game for the first time since the 1999 season and be ineligible to participate in the 2012 Big Ten championship game.
The other penalties handed down were more or less expected: four additional scholarship losses (total of nine) and an additional year of probation. Everyone expected Tressel to receive a show-cause penalty, although the length and severity of the sanction handed down by the NCAA raised some eyebrows.
The big surprise, at least inside the walls of the Fawcett Center and the Woody Hayes Athletic Center, is the bowl ban. Smith didn't expect it. New head coach Urban Meyer didn't expect it.
Current
and
former
players didn't expect it.
"We are surprised and disappointed with the NCAA's decision," Smith's prepared statement about the penalties begins. He goes on to add, "This decision punishes future students for the actions of others in the past."
Just a hunch, but if the NCAA issued the same penalties minus the bowl ban, Smith would be singing a very different tune.
From reading the
NCAA's public report
on Ohio State's case and hearing from infractions committee member Greg Sankey, it's pretty clear where Ohio State's minimize-until-forced-to-maximize strategy went wrong.
Had the violations been confined to players exchanging memorabilia items for tattoos and cash, and Tressel not coming forward with information about the transactions, Ohio State likely would have avoided a bowl ban. The violations involving players and DiGeronimo put a bowl ban on the table. It was the dreaded second layer. It prompted a second Notice of Allegations sent to Ohio State in early November that
included the "failure to monitor" charge
. Sankey cited the failure to monitor charge and Ohio State's repeat violator status as key factors in the committee's decision to impose a bowl ban.
Until the DiGeronimo violations surfaced, Ohio State had tried to make the issue a Tressel problem and a player problem. But the DiGeronimo case created a program problem, at least in the eyes of the NCAA.
From Page 16 of the report:
The institution took steps to distance itself from the representative, including having excluded [DiGeronimo] from the sideline, locker rooms and coaches' offices. However, there is no evidence that the institution took any monitoring actions specific to the representative's involvement with student-athletes after 2006. The institution conceded that it could have done more to monitor the representative by taking additional steps to determine whether he had interactions with student-athletes away from institutional facilities and, had it done so, the likelihood of these current violations occurring would have been reduced.
Ohio State received the notice on Nov. 3. At the time, the football team had a 5-3 record but had revived itself in the Leaders division race with upset wins against Illinois and Wisconsin. Imposing a bowl ban at the time would have eliminated Ohio State from the Big Ten title race.
It also would have been the right call.
While it's easy to write that knowing where the Buckeyes ended up -- at 6-6 and heading to the TaxSlayer.com Gator Bowl -- the school would have minimized the damage for the future while sacrificing a so-so season that had a slim chance to end really well. While Sankey refused to speculate on hypothetical situations in a conference call with reporters, it seems unlikely the infractions committee would have tacked on an additional year to a bowl ban had Ohio State self-imposed one for this season.
Ohio State gambled and lost.
Overall, the penalties aren't too bad, especially considering what the NCAA did to USC, which paid dearly for not cooperating with investigators. While there could be some short-term headaches, Ohio State still has a lot of momentum under Meyer, who is cleaning up on the recruiting trail.
But there will be pain on Dec. 1, 2012, when Ohio State will watch the Big Ten championship game from home, even if it has the best team in the Leaders division. And there will be pain later that month and in early January, when the Buckeyes watch the bowls from their couches.
The minimize-until-forced-to-maximize strategy nearly worked.
But in the end, it left Smith and Ohio State feeling small.
November, 10, 2011
11/10/11
9:31
PM ET
Some of you might have caught this already, but there's an interesting nugget from
today's Ohio State's NCAA violations news
in the letter written from university president E. Gordon Gee to athletic director Gene Smith.
Gee wrote to Smith, "I am disappointed that this is where we find ourselves. You know I find this unacceptable."
Gee could be trying to show remorse and disappointment for the school's latest NCAA rules violations. He has been publicly supportive of Smith throughout the past 11 months since the first violations surfaced.
But the letter seems pretty direct and could indicate a shift in Gee's thinking about Smith regarding the athletic departments monitoring -- or lack thereof -- of former booster Bobby DiGeronimo. We likely won't know until the penalty phase is compete and Ohio State's NCAA case is closed, but his letter is worth noting.
October, 3, 2011
10/03/11
5:30
PM ET
Gene Smith's spit list started out with seven names.
It included the six Buckeyes football players who violated NCAA rules by trading memorabilia items for cash and tattoos, and Edward Rife, the tattoo parlor owner with whom the transactions were made.
At a December news conference announcing the violations, Smith, the Ohio State athletic director, first declared the program did not have a systematic problem with compliance. Give Smith credit: Once he makes an argument, he sticks to it, even when it becomes harder and harder to believe.
While Smith's case has lost credibility, his list continues to grow.
A prominent name was added in March, that of Ohio State football coach Jim Tressel, who admitted he knew of the violations the previous April but did not come forward.
When Tressel resigned on Memorial Day, Smith and the Ohio State brass shrewdly began placing blame on the coach, especially during a scathing self-report to the NCAA.
It seemed then that Smith's list would be complete. Not quite.
More players have been added, along with a booster, Bobby DiGeronimo, who reportedly has employed Buckeyes players for years and invited them to charity events. DiGeronimo's connection led to three players being suspended for the first two games of the 2011 season.
Bobby D is back in the news, as an NCAA probe into his employment of players has revealed that three Buckeyes received too much compensation for the work they did. Wide receiver
DeVier Posey
and running back
Dan Herron
, two players set to come off of suspension this week for their involvement in the tattoo transactions, are
ineligible for Saturday's contest at Nebraska and possibly more time
. Defensive end Melvin Fellows, who hasn't been playing because of injury, also was overpaid. Linebacker Etienne Sabino was declared ineligible but reinstated for the Nebraska game after paying $60 -- the amount he was overpaid -- to a charity.
[+] Enlarge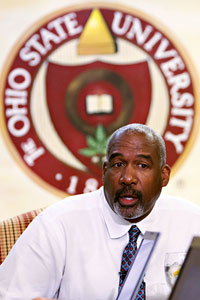 AP Photo/Terry GilliamOhio State athletic director Gene Smith says: "I am confident in our compliance program."
According to Ohio State, the overpayment amounts ranged from $60 (Sabino) to $728 (Posey).
Ohio State recently disassociated DiGeronimo from the program. The school has applied to have Posey, Herron and offensive lineman Marcus Hall reinstated.
Do Posey and Herron count once or twice on Smith's list? Just trying to keep all these individuals straight.
"These failures are individual failures, failures of individual athletes, obviously a previous coach," Smith said Monday. "It's not a systemic failure of compliance."
There's that line again. Just a few bad apples. Apple cart's fine. Nothing to see here, NCAA. Keep moving along.
"These individual decisions were made to go off the reservation," Smith said. "At the end of the day, it's not a systems problem."
Remind me to ask Smith where I can find this reservation. Getting paid for not working? Sign me up!
"These were individual decisions by individual people," Smith said. "It's not 30."
It's getting close.
The individuals on Smith's original list could cram into a double room at a two-star motel. Now Ohio State might need to rent out the presidential suite.
Still, Smith insists Ohio State doesn't have a program problem. Individual problems? Sure. A Tressel problem? Absolutely.
But the individual violations, in his mind, don't merit charges of failure to monitor or lack of institutional control. Remember, the NCAA's infractions committee has yet to rule on Ohio State's case following an Aug. 12 hearing in Indianapolis.
"Optimistic as we move forward in our broader case there are no additional allegations," Smith said. "Optimistic a failure to monitor or lack of institutional control is not an allegation that will emerge."
Smith said the August hearing was held with the understanding that the NCAA would be "investigating additional matters." Ohio State now is putting together a report about the latest violation to the committee, and Smith said a final decision -- one that might close the book on this program's darkest chapter -- will be delayed.
"I anticipate the committee will take longer and hopefully get us an answer sometime this fall," Smith said.
Smith was the one trying to provide answers Monday: on why DiGeronimo for years was approved to host Ohio State players at his charity events; on how Ohio State didn't know about his employment of players; on what lessons can be learned from these violations; on who is held accountable for this; most important, on why he believes the hammer won't drop on Ohio State.
He talked about Ohio State's 1,090 student-athletes, including 200 new ones each year "who come to us with all levels of maturity and immaturity." He talked about the hundreds of community service activities and events Ohio State approves each year for its student-athletes.
"Do we have an individual [from compliance] to be at those? No we don't," Smith said. "Will we do some things differently? No question. But the reality is that's not a systems issue."
Got it.
"I am confident in our compliance program," Smith said. "We do not have a systemic problem. Most people don't understand that."
Those of us on the outside certainly don't. Even some Ohio State fans are mystified by what has taken place in recent months.
Smith has to hope the infractions committee members understand. In the end, their views are the only ones that matter.
Ohio State isn't giving the NCAA many options. How many individual cases must be added up to result in a failure to monitor charge? How many names do they need to see before putting Ohio State on their list?
Yes, there were some incredibly stupid decisions made, particularly by Posey and Herron. But at some point, the individual cases add up to one big program problem.
Smith had better hope his math is the same as the committee's.