November, 13, 2013
11/13/13
11:00
AM ET
STATE COLLEGE, Pa. -- The debate's been raging in Happy Valley dorm rooms, tailgates and bars for the past few weeks: Is
Allen Robinson
the greatest Penn State receiver of all-time?
[+] Enlarge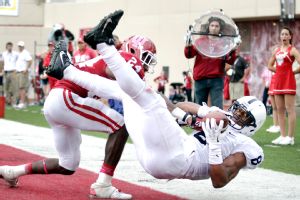 AJ Mast/Icon SMIIs Allen Robinson the greatest receiver in Penn State history? Time will tell.
One glance at the stats is all it takes to make a quick case for the junior. He broke NFL vet Bobby Engram's single-season school record for receiving yards (1,084) last week -- and he still has three games remaining. He's either at the top, or near the top, of every conceivable receiving category. And he's just the second receiver in PSU's 127-year history to clinch back-to-back 1,000-yard seasons.
Much to the chagrin of fans hoping for closure to the debate, Robinson declined to weigh in last week by saying, "Just being in the conversation with those guys is an honor."
But those former Penn State greats weren't so reserved in discussing Robinson's place in history.
"He's every bit as good as any one of us," two-time All-American Kenny Jackson told ESPN.com.
Jackson was referring to himself and two other PSU greats, Engram and O.J. McDuffie. All three earned All-America honors, all three played in the NFL, and all three are mainstays in the Penn State record books. When it comes to Penn State's best-ever wideouts, those are the three most often brought up in conversation.
And, now, it appears that there are four -- including the 6-foot-3, 210-pound Robinson.
"He's got every tool we had," McDuffie told ESPN.com, "and every physical tool we wish we had. We made the most of what we had, but he's an atypical receiver in the NFL."
But it's not quite time to place Robinson at the top of that list and end the debate. Despite that praise, neither former receiver was quite ready to anoint A-Rob as the greatest ever -- even if his numbers put him in the company of one.
Based purely on ability, both still labeled Engram as the G.O.A.T. Engram was the first-ever Biletnikoff Award winner in 1994, a human vacuum who reeled in every pass, leaving State College with about a dozen receiving records and an undefeated 1994 season.
"I put Bobby Engram at No. 1, Kenny at No. 2 -- and then I think it's hard between me and Allen," said McDuffie, who finished his PSU career in 1992 with 125 catches for 1,988 yards and 16 touchdowns. "Bobby is one of those guys who could mix it up; he could block downfield and make big catches. Kenny, well, I didn't get to see much from what he did on the football field, but what really draws me to him is that he's a two-time All-American receiver at Penn State -- and that's not easy to do at Penn State."
Historian/author Lou Prato,
who literally wrote the encyclopedia on Nittany Lions football
, borrowed a line from a Magic-8 ball: "Ask again later." He wasn't ready to rank Robinson, a junior who could declare early for the NFL, because his career wasn't yet over.
Prato said he'd have to consult his notes and reflect upon the question before offering an educated opinion. He graduated from Penn State in 1959, six years before Joe Paterno took over as head coach, and he wouldn't go further than acknowledging Robinson belongs in the top 10 and that Engram was PSU's "greatest clutch receiver."
But both he and the two wideouts cautioned not to base the "best-ever" title on numbers alone. Robinson's stats this season -- 73 catches; 1,106 yards; six TDs -- are more a product of the times as opposed to a simple reflection of talent, they said.
Jackson, a track star, lined up with his hand in the dirt in the early 1980s when JoePa's hair still matched his jet-black shoes. He earned All-America honors in 1983 when he caught just 28 balls.
Neither Jackson nor McDuffie competed on a team that completed more than 180 passes. Former walk-on Matt McGloin completed 270 passes just last season when Robinson set a school record with 77 receptions.
"I don't care how he broke Bobby's 1,000 yards. That is not impressive; any one of us could've done that if the coach wanted to target us," Jackson said. "Allen Robinson is impressive to me not because of the numbers because it's so easy to get ridiculous numbers now. What's impressive to me is Allen Robinson, every Saturday, shows up with nothing to play for. He's got talent; I'm very impressed without looking at the numbers."
Added Prato: "Because of those different eras, it all becomes subjective. There were a couple great receivers in the '30s and '40s, but they didn't pass as much. So who knows?"
Robinson may not be the most talented -- according to Jackson and McDuffie, that's Engram -- but he certainly appears to be the most valuable of the four. So far in 2013, Robinson has accounted for 39 percent of the team's receptions (73 of 188) and 47 percent of its passing yards (1,106 of 2,342).
Compare that to past greats, and Robinson is still on top. (Engram's best season, 1995, comes close as he hauled in 32 percent of his team's catches and 46.5 percent of the passing yards.) A-Rob accounted for more of the passing offense than any PSU receiver since 1971.
Plus, Jackson and McDuffie argued, Robinson is doing more with less. Kerry Collins -- who threw for more than 40,000 yards in the NFL -- launched balls to Engram. Should Robinson get a few bonus points since he's catching balls from a true freshman, on a team with 24 fewer scholarships than the opposition?
It all depends on what criteria one wants to use to determine the best-ever. But, looking ahead, both all-time greats believe Robinson is destined for a path on which few Penn State receivers have traveled.
"Allen Robinson has more upside and did more with what he had at Penn State than I did," Jackson said. "And if you asked me, 'Who would I draft -- me or Allen Robinson?' I'd say, 'Draft Allen.' I don't know if even Bobby or O.J. had as much upside as this kid because of his size."
At the very least, Robinson has already earned the respect from the very best.
So, for now, let the debate rage on.
November, 9, 2013
11/09/13
2:45
PM ET
Allen Robinson
moved to the top of the Penn State record books.
The junior wide receiver set the Nittany Lions' single-season receiving record in the fourth quarter of the Minnesota game on a 12-yard pass from
Christian Hackenberg
. He moved past Bobby Engram, who set the long-standing mark of 1,084 yards back in 1995.
Entering the game, Robinson needed just 42 yards to surpass the milestone. He finished the game with seven catches for 63 yards.
He now holds the school's single-season records for both receiving yards and receptions. He broke the receptions record (77) last season, and h'es on pace to break that again this season.
"I don't try to pay too much attention to it," Robinson said earlier this week, regarding the records. "But it's a good honor."
Heading into the Minnesota game, he averaged 10 catches and 149 yards in Big Ten games and was ranked fourth nationally with 1,043 yards. He's accounting for about 48 percent of the passing offense.
He'll still need one more season to catch up to Engram's record for career receiving yards (3,026), but he could choose to leave for the NFL. Robinson said that's something he'll discuss with the coaching staff once the season's over.
October, 11, 2013
10/11/13
10:00
AM ET
You know what's better than regular old trivia? Big Ten trivia. So take a look at this week's crazy numbers and interesting facts:
The Badgers boast two standout players on offense who pile on the yards, which puts them in pretty elite company. Wisconsin is one of just three teams in the country who have a player averaging 100 rushing yards a game (Melvin Gordon, 139.6) and another player averaging 100 receiving yards a game (Jared Abbrederis, 114.4). Those other two teams? LSU and Baylor.
Northwestern has scored at least 30 points in every game this season. Actually, going back to last year, the Wildcats have done that in seven straight games -- the longest such streak in school history. Only one team in the FBS currently boasts a longer streak, and that's the Baylor Bears who have scored between 69 and 73 points in four games this season.
Wisconsin's Gordon has played the role of home-run threat this season and, outside of averaging more than a first down every carry, he also leads the FBS in rushes of 25 yards or more. He's broken long runs like that seven times already this season, including a nation-best four TD runs of 25 yards or more. He didn't have one such long rush against Ohio State last week, the first time all season.
Devin Gardner obviously hasn't been the most consistent of quarterbacks, but the Michigan offense has been pretty steady at keeping drives alive thanks to its incredible third-down numbers. Last season, it was sixth in the nation -- and first in the Big Ten -- when it converted just over half (87-of-173) of its third-down attempts. This season so far? It's even better. U-M is converting 54 percent (36-of-67) of its third-down attempts and still ranks atop the conference.
Michigan's defense hasn't allowed a rushing touchdown all season -- and that's pretty rare. The Wolverines are one of only two teams that can say that; the other is Iowa. On the flip side, Penn State has rushed for 11 scores already this year and is averaging a little more than two a game.
Penn State wideout Allen Robinson was asked this week about whether he'd declare early for the NFL -- he said it's not yet on his mind -- but that opportunity really shouldn't have been a surprise. He's currently on pace for the best receiving performance ever by a Penn State player. By far. He currently owns the school's single-season receptions record with 77 catches (from last year), and Bobby Engram boasts the single-season receiving yards record with 1,084 yards (from the 1995 season). Well, if you take Robinson's current numbers (38 catches, 621 yards) and average them out to the course of a season, A-Rob is on pace for a record-breaking 91 catches and 1,490 yards.
Indiana coach Kevin Wilson takes pride in his uptempo offense, and the numbers certainly seem like cause for satisfaction. Twenty-six of the Hoosiers' 32 scoring drives -- which went for 23 TDs -- have taken three minutes or less. Eleven scoring drives, all of which went for TDs, have taken under 60 seconds. And Indiana runs one play, on average, every 19.9 seconds. That's enough to tire out just about any defense.
Where do we even begin when it comes to putting into words and numbers how dominant Michigan State's defense has been? Well, first of all, it ranks No. 1 in total defense (203.8 yards per game), rushing defense (51.2 yards per game), passing efficiency defense (81.16 rating) and opponent third-down conversions (22 percent; 17-of-77). Oh, and it's also near the top of the nation, within the top 10, in scoring defense (13.4 ppg) and passing defense (152.6 yards per game). Basically, think up a defensive stat and there's a pretty good chance the Spartans are ranked at the top of the Big Ten.
True freshman quarterback Danny Etling will grab his first career start for Purdue this weekend, but he's hardly the only young player seeing time for the Boilermakers. Just look at the roster to begin with -- Purdue has 52 freshmen (29 true, 23 redshirt) on the roster, while there are just 60 sophomores, juniors and seniors. Sixteen freshmen have already played this season, including five true freshmen. So it seems as if it should only get better in West Lafayette, Ind., in the coming seasons.
Most offenses try to strike a nice balance, and no team in the Big Ten has done a better job in the last two years -- at least statistically -- than Nebraska. Yes, the running game has been its forte in the early going. But its part of an exclusive club that has thrown for at least 200 yards a game while also running for more than 200. Last season, it was one of just 19 teams in the country to join the 200-200 club. So far this season, it's one of 31 schools in the country.
August, 15, 2013
8/15/13
1:30
PM ET
We're counting down our rankings of the Top 25 players in the Big Ten for the 2013 season. This list is based on past performance and potential for the upcoming season only. We do not consider NFL potential for purposes of these rankings.

Our next selection wears jersey No. 8 and comes in at the same spot in the rundown ...
No. 8:
Allen Robinson
, WR, Penn State, junior, 6-foot-3, 210 pounds
2012 postseason ranking:
No. 11
2012 numbers:
Recorded a team-record 77 receptions for 1,013 receiving yards and 11 touchdowns
Why he's here:
The Big Ten is hardly a league of star wide receivers, but Robinson proved to be the lone exception during a breakout sophomore season in 2012. He played a major role in Penn State's offensive renaissance under new coach Bill O'Brien, forming the league's most consistent and dynamic passing connection with quarterback Matt McGloin. Robinson was the obvious choice for the Big Ten's Richter-Howard Receiver of the Year award after easily surpassing Bobby Engram's team record of 63 receptions. He led the league in receptions, receptions per game (6.4), receiving yards and receiving touchdowns.
Robinson set the tone in the 2012 opener against Ohio with nine receptions for 97 yards. He recorded four games of nine or more receptions, 10 games of five or more receptions, seven games of more than 80 receiving yards, and two games with three touchdown catches (Navy, Indiana). Robinson finished 33rd nationally in receiving, but had 150 more receiving yards than the Big Ten's No. 2 wideout (Nebraska's
Kenny Bell
,
No. 17 on our list
). He's not simply a possession receiver as he can stretch the field and make big plays in the red zone.
After a
sophomore season that Robinson downplays
as merely "decent," the Lions junior hopes to take his game even further this fall. He emerged as a leader this summer in organizing lifting sessions and on-field workouts. Robinson will be a primary asset for Penn State's unproven quarterback (
Tyler Ferguson
or
Christian Hackenberg
) as the Lions' offense tries to continue its momentum from 2012.
The countdown
No. 25
:
Jonathan Brown
, LB, Illinois
No. 24:
Mark Weisman
, RB, Iowa
No. 23
:
James White
, RB, Wisconsin
No. 22
:
Melvin Gordon
, RB, Wisconsin
No. 21
:
John Urschel
, G, Penn State
No. 20:
Tyler Scott
, DE, Northwestern
No. 19:
Jack Mewhort
, OT, Ohio State
No. 18:
Deion Barnes
, DE, Penn State
No. 17:
Kenny Bell
, WR, Nebraska
No. 16:
Jared Abbrederis
, WR, Wisconsin
No. 15:
Ra'Shede Hageman
, DT, Minnesota
No. 14:
Kain Colter
, QB, Northwestern
No. 13:
Ameer Abdullah
, RB, Nebraska
No. 12:
Spencer Long
, G, Nebraska
No. 11:
Devin Gardner
, QB, Michigan
No. 10:
Darqueze Dennard
, CB, Michigan State
No. 9
:
Bradley Roby
, CB, Ohio State
August, 13, 2013
8/13/13
9:00
AM ET
STATE COLLEGE, Pa. --
Allen Robinson
crossed his arms during Penn State's media day and lingered near the end zone, a place he found plenty -- 11 times to be exact -- during last season's record-breaking run.
Despite the familiar surroundings, the stonefaced junior seemed out of place with the focus on his accolades. He routinely dismissed talk about last season's Big Ten-leading 77 catches and 1,013 yards. And on three separate occasions, he labeled his year as "decent" before deflecting praise to teammates or addressing the offseason.
[+] Enlarge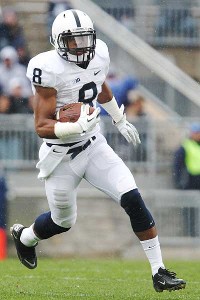 Matthew O'Haren/USA TODAY SportsAllen Robinson says he still has room for growth on the football field, despite pulling in 77 catches last season to break Penn State's single-season receptions record of 63.
"I don't know, Allen," said one reporter. "I think it was a little better than decent."
Robinson offered a slight shrug but didn't crack a smile: "I'm just trying to come open and make plays when my number's called."
The junior wideout is coming off one of the most surprising performances from one of the program's most surprising seasons -- but he's not looking back. After shattering the school's long-standing single-season receptions record (63) as a sophomore, surpassing the likes of PSU greats Bobby Engram and O.J. McDuffie, Robinson said he's focused on 2013.
So maybe it shouldn't come as a surprise he declined to talk much about that record. He didn't want to talk about it much last season either. His parents opted to use the word "relief" when describing it, and the two paused when asked just how much Robinson has brought up the fact he sent those PSU record books back to the printing press.
"I don't remember him bringing it up once since January," his mother, Tracie, said. "I really don't. He just doesn't talk about his achievements."
Added his father, also named Allen: "He hasn't brought it up, not once with me. Allen talks the most about him and
Adrian Amos
, as far as D-back and wide receiver. That's what he talks about, about making each other better."
Neither Robinson nor his family are even sure where that record-setting pigskin is. It's not resting on a desk inside his dorm, nor is it on the family's mantle. The Robinsons said they never really thought about it; a Penn State spokesman said he didn't think anyone ever pulled it aside for the museum located inside the very stadium Robinson set the record.
Not that the younger Robinson really seems to mind. He's looking ahead. Without an experienced quarterback, the wideout with the 37-inch vertical took it upon himself this summer to organize the team. He'd wake up every morning at exactly 5:05 -- just enough time to rush to the football building by 5:30 -- lift, then grab a quick breakfast before heading to class and later sending out mass texts for some 7-on-7s or extra route-running drills.
"He was the one initiating all those sessions," wideout
Matt Zanellato
said. "There were some times where we'd be doing so much that Fitz (strength coach Craig Fitzgerald) would send out a text saying, 'Take this afternoon off. You guys need to relax.'"
Robinson mostly heeded Fitzgerald's words, "but it's just me trying to be a leader. And a lot of it's how good do we really want to be this year? Do we want to be 8-4 again -- or do we want to be 12-0?"
The 6-foot-3 wideout, the recipient of last year's Richter-Howard Receiver of the Year Award, is nine pounds heavier this season. He's faster, he's become accustomed to all the receiver spots, and he's improved his route-running. Put simply, the Big Ten's best wideout is even better.
Assistant coach Stan Hixon has taught quite a few great ones, such as Buffalo Bills' leading WR Stevie Johnson and first-round draft pick Michael Clayton. Robinson reminds him a bit of Clayton -- "tough, tough, tough" -- but Hixon believed the player affectionately known as A-Rob still has a ways to go in 2013.
"He's going to be really good," Hixon said. "But he's just good right now. With the guys I've been around, he's got that ceiling. He has the potential to be better, so my expectation is higher than what a lot of people think."
Robinson, as serious a player as there is on the Nittany Lions, was relayed that message from Hixon: Good, but not yet really good. The Michigan native glanced down, trying to conceal a quick grin -- the first and only smile in 15 minutes of speaking.
"I would say he's right," Robinson said.
"There's a lot of things I can do to improve my game. Last year, I had a decent year -- so I'm just trying to improve off that. There were some catches last year I didn't come down with, so I'm just trying to improve."
That became the third, and final, time Robinson used "decent." So, clearly, those records and those accolades are in the past for the Penn State receiver. He's hoping last season isn't a highlight -- he's convinced it's just the beginning for him and these Nittany Lions.
February, 11, 2013
2/11/13
3:30
PM ET
The Big Ten postseason player rankings are full of surprises, and our next player certainly qualified as one in 2012. As a reminder, these rankings are based solely on performance during the past season. This guy caught 11 touchdown passes for Penn State, so it's fitting he checks in at ...

No. 11:
Allen Robinson
, WR, Penn State, sophomore, 6-foot-3, 201 pounds
Preseason rank:
Not ranked
2012 numbers:
Had 77 receptions for 1,013 yards and 11 touchdowns, leading the Big Ten in all three categories and setting a team single-season record for receptions. Named the Big Ten's Richter-Howard Receiver of the Year.
Why he's here:
If you had Robinson in the Big Ten's best wide receiver of 2012 pool before the season, hop on the next flight to Vegas. Although wide receiver certainly was a mystery position around the league entering the fall after so many key departures from 2011, Robinson had recorded only three catches for 29 yards as a freshman and played in an offense that had struggled mightily to do much of anything.
But Robinson quickly won over new Penn State coach Bill O'Brien with his practice performance, and O'Brien labeled the sophomore as a potential difference-maker in 2012. Was he ever. Robinson turned heads from Game 1, when he had nine receptions for 97 yards. He was by far the league's most consistent wideout, finishing with four games of nine or more receptions, 10 games of five or more receptions, seven games of more than 80 receiving yards and two games with three touchdown catches (Navy, Indiana). He had four more touchdowns than any other Nittany Lions player. Robinson not only proved to be a red-zone threat but stretched the field with nine catches of 30 yards or longer and 16 catches of 20 yards or longer.
Thanks to Robinson, quarterback Matt McGloin, tight end
Kyle Carter
and others, Penn State's pass offense went from one of the league's most questionable to one of its best (273.2 ypg). Robinson set the team receptions record and finished with the second-highest touchdowns receptions total and third-highest receiving yards total (trailing former star Bobby Engram in both categories). He had nine more receptions, 150 more receiving yards and three more touchdown catches than any other Big Ten player in 2012.
The countdown
No. 25
:
Denard Robinson
, QB, Michigan
No. 24
:
Michael Carter
, CB, Minnesota
No. 23
:
Kain Colter
, QB, Northwestern
No. 22
:
Spencer Long
, G, Nebraska
No. 21:
Carlos Hyde
, RB, Ohio State
No. 20:
Ameer Abdullah
, RB, Nebraska
No. 19
:
Darqueze Dennard
, CB, Michigan State
No. 18
:
Mike Taylor
, LB, Wisconsin
No. 17:
Jake Ryan
, LB, Michigan
No. 16:
Bradley Roby
, CB, Ohio State
No. 15:
Max Bullough
, LB, Michigan State
No. 14
:
Matt McGloin
, QB, Penn State
No. 13:
Chris Borland
, LB, Wisconsin
No. 12
: Johnathan Hankins, DT, Ohio State
November, 17, 2012
11/17/12
3:57
PM ET
STATE COLLEGE, Pa. -- It was a record-breaking day for Penn State.
Allen Robinson
set the Nittany Lions' single-season receptions record in the first quarter, and
Matt McGloin
set a school record for yards in a single season and career touchdowns.
Behind a strong offensive effort -- highlighted by performances from Robinson and McGloin -- the Nittany Lions overcame a slow start to
throttle Indiana 45-22
Saturday.
Robinson now has 73 receptions, surpassing the record of 63 set by former PSU greats
Bobby Engram
and
O.J. McDuffie
. McGloin boasts 3,071 passing yards this season and 45 career passing touchdowns.


With the win, Penn State's record improves to 7-4 (5-2 Big Ten), while Indiana falls to 4-7 (2-5 Big Ten).
It was over when
:
Zach Zwinak
crossed the goal line for a 1-yard touchdown late in the third quarter. The Hoosiers were building momentum, but that score put an end to it. PSU led 35-22 at that point, and Indiana wouldn't threaten again.
Game ball goes to
: Robinson. Not only did he set the single-season receptions record on his first catch of the game, but he caused problems for Indiana all day. He was responsible for the Nittany Lions' first three touchdowns and finished with 10 catches for 197 yards.
Stat of the game
: 482 -- Penn State's offensive yardage in the first three quarters, when the game was still in doubt. Indiana couldn't stop the Nittany Lions on the ground or through the air.
Turning point
: In the third quarter, with Indiana trailing by only six, Bill O'Brien found his team facing fourth-and-10 on his opponent's 33. He decided to go for it -- surprise, surprise -- and McGloin found
Brandon Moseby-Felder
for a 12-yard gain. That key play set up a touchdown.
Unsung hero
:
Gerald Hodges
. With the
injury to Michael Mauti
, Penn State's other outside linebacker stepped up. He showed just why he's a Butkus Award candidate with 12 tackles and an interception. Hodges was this defense's playmaker Saturday.
Unsung hero, part deux
:
Cameron Coffman
. With no help from the running game, Coffman was forced to throw often -- and he did a pretty good job. He threw two interceptions, but one came when he pressed while trailing by three touchdowns. He finished with 454 passing yards.
November, 7, 2012
11/07/12
9:00
AM ET
Allen Robinson
's turning point at Penn State might have been the low point for everyone else.
The transfers of several key Penn State players both before and after the NCAA leveled sanctions against the program in July was labeled charitably as a setback and, seemingly more realistically, as a disaster. Arguably no position group suffered more than wide receiver. Top target
Justin Brown
bolted for Oklahoma
.
Devon Smith
, a returning starter, left the team in June before the sanctions hit and eventually landed at Marshall. The team's top returning pass-catcher was
Shawney Kersey
with five receptions in 2011 -- and he, too, would
eventually depart the team
.
Many wondered who would catch passes for Penn State in 2012. Robinson knew the answer. It's why he viewed Penn State's summer turmoil as something different -- an opportunity.
[+] Enlarge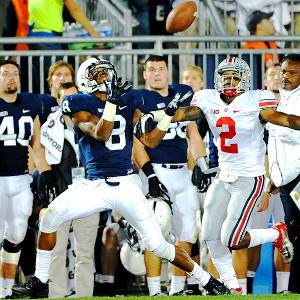 Rich Barnes/US PresswireAllen Robinson went from three catches as a freshman to tops in the Big Ten in TD grabs this year.
"As the sanctions and everything else happened, my expectations for myself got a little bit larger," Robinson told ESPN.com. "We had
Silas Redd
leave, Justin Brown leave. We didn't have that many guys [left], so I definitely knew I'd have a bigger role.
"I just wanted to produce when my number was called."
Has he ever. Robinson not only has cemented himself as Penn State's No. 1 wide receiver, but he's also quite possibly the best in the Big Ten.
The 6-foot-3, 201-pound true sophomore leads the Big Ten in both receptions (57) and receptions per game (6.3) -- nearly a full catch more per game than any other player in the league. He also leads the league in touchdown receptions (8) and trails only Wisconsin's
Jared Abbrederis
in receiving yards per game (76.6). Robinson also holds the team record for receptions by a sophomore and needs just seven receptions to break the Penn State single-season record of 63 held by both Bobby Engram (1995) and O.J. McDuffie (1992).
While senior quarterback
Matt McGloin
is the most pleasant surprise in Penn State's suddenly potent offense, Robinson, who had just three receptions as a freshman in 2011, isn't far behind.
"I knew I would have to step up for this team if we wanted to win some games," Robinson said.
Robinson notes that the transfers, particularly Brown, increased his ability to make an impact. First-year Lions coach Bill O'Brien sees thinks differently.
"He knew whether Justin Brown was here or not," O'Brien said, "that he was going to be a major part of this offense."
O'Brien knew before anyone else what type of season Robinson could have. Robinson immediately caught O'Brien's eye during winter workouts, weeks after the coach had taken the Penn State job.
"You could see right away that he was a big kid that had very, very smooth athleticism," O'Brien said. "He could come in and out of cuts real well."
Spring practice only increased O'Brien's confidence in the young receiver. O'Brien brought in his offense from the NFL's New England Patriots, but Robinson was a quick study.
Robinson showed the staff he could play both outside receiver spots as well as the slot, unique versatility for such a tall receiver.
"He caught the ball real well in the spring," O'Brien said. "We knew going into the summertime that we had a guy there who had a chance to be really productive for us."
O'Brien tabbed Robinson as a co-starter with Kersey on the
post-spring depth chart
. Brown and Smith also were named starters at receiver.
Robinson spent much of the summer working with McGloin, named in June as the Lions' starting quarterback. They built a chemistry that has repeatedly shown up in games, particularly in the red zone. Between Sept. 8 and Oct. 20, Robinson caught touchdown passes from McGloin in five of six games, including three against Navy and two against Northwestern.
"Matt has thrown that ball that you guys see in games to me hundreds of times [in workouts]," Robinson said. "Matt definitely trusts me in those situations to go get it, and I definitely trust and believe in him that he's going to make the throw."
Robinson has embraced the detail-oriented approach needed to succeed in O'Brien's offense. While the Lions might not be perfect on every play, "we can try," Robinson said.
O'Brien oversaw one of the NFL's top passing offenses with the Patriots, but he hasn't had many weapons quite like Robinson.
"We had guys in New England that were about 5-foot-9, 5-foot-10 for the most part," O'Brien said. "We had Randy Moss there, but obviously Randy Moss is a Hall of Fame player. Allen is a tall guy, he runs well, he can jump, he's got really good hands, he's very smart. He can do a lot of different things on the route tree. He's not just a vertical threat. He can run underneath things. He can catch screens.
"So he's got a very unique set that really I haven't been around in my career."
Robinson saw a big opportunity after Brown's departure, but he was sorry to see Brown go. Brown took Robinson under his wing when Robinson arrived at Penn State, and the two roomed together on road trips during the 2011 season.
They still talk regularly, mostly not about football, although Robinson noted Brown's strong performance for Oklahoma in last week's victory against Iowa State.
"Justin is still a really good friend," Robinson said.
Brown made his choice, while Robinson opted to stay at Penn State. Not surprisingly, Robinson and other Lions young standouts such as defensive end
Deion Barnes
have been asked frequently whether they'll stick around State College after the season. Robinson has consistently affirmed his commitment to the program.
"Hearing [questions] about transferring and things like that, it does kind of overwhelm us sometimes, but you have to deal with it," he said. "Coach O'Brien always tells me the opportunities to make big plays are definitely going to be there.
"It definitely gives you some insight on what I could potentially do here."
May, 8, 2012
5/08/12
4:00
PM ET
Thanks to user
Lavar A. from Silver Spring, Md.
, for inspiring this post:
We're coming up on the one-year anniversary of Nebraska joining the B1G and pretty much have completed a cycle of sports. How would you rate this experiment? Was the first year good for Nebraska and the B1G? Any surprises? How does it compare to PSU's first year in the B1G? In football, what do you think Nebraska's chances are to pull a PSU in their 2nd year and run the table?
Before delving into these questions, let's look at how the two teams stacked up.
PENN STATE, 1993


Record:
10-2 (6-2 Big Ten, 3rd)
Bowl result:
31-13 win against Tennessee in Florida Citrus Bowl
Regular-season highlight:
Penn State rallied from a 37-17 third-quarter deficit at No. 24 Michigan State to win 38-37
Low point:
24-6 loss at No. 3 Ohio State
Record versus ranked opponents:
3-2
Final rankings:
No. 8 AP, No. 7 coaches'
Stats:
first in Big Ten in scoring (32.3 ppg), fifth in points allowed (17.9 ppg)
First-team All-Big Ten selections:
3 (TE Kyle Brady, WR Bobby Engram, G Jeff Hartings)
NEBRASKA, 2011
Record:
9-4 (5-3 Big Ten, 3rd in Legends division)
Bowl result:
30-13 loss to South Carolina in Capital One Bowl
Regular-season highlight:
Nebraska dominated Michigan State, handing the eventual Legends division champ a 24-3 beat-down in Lincoln
Low point:
The week after the Michigan State triumph, Nebraska fell to 2-5 Northwestern on its home field
Record versus ranked opponents:
2-2
Final rankings:
No. 24 AP, No. 24 coaches'
Stats:
fourth in Big Ten in scoring (29.2 ppg), seventh in points allowed (23.4 ppg)
First-team All-Big Ten selections:
4 (RB
Rex Burkhead
, K/P
Brett Maher
, LB Lavonte David, CB Alfonzo Dennard)
Penn State undoubtedly had the better first season in Big Ten play, but the teams shared some similarities. Both had the ability to put up points but underwhelmed a bit on the defensive side. Both struggled against the league's elite teams: Penn State's only losses came against Ohio State and Michigan, while Nebraska fell to BCS bowl participants Wisconsin and Michigan. Nebraska actually has the best win between the two squads, against then-No. 9 Michigan State, but the Huskers also have the only bad loss (Northwestern at home). The teams had about the same number of first-team All-Big Ten players (four versus three).
The Big Ten was a stronger league in 1993 than it was in 2011. Wisconsin won the Rose Bowl and the Big Ten went 4-3 overall in the postseason with its top four teams -- Wisconsin, Ohio State, Penn State and Michigan -- all winning games. The Big Ten went 3-5 in bowl games last season with losses by Wisconsin, Nebraska, Ohio State and Penn State on Jan. 2.
To answer Lavar's question, Nebraska's first year in the Big Ten turned out OK, not great. Some of us, including yours truly, overestimated the difficulty the Huskers would have moving to a new league. Although Nebraska delivered some impressive performances, it also had some clunkers (Wisconsin, Michigan) and seemed to be a bit fragile in handling success.
Can Nebraska replicate what Penn State did in its second year as a Big Ten member (12-0 record, Rose Bowl championship)? It will be extremely tough, but the
Huskers are confident they can take a giant step
this fall. The key for Big Red will be to mirror Penn State's evolution on offense. The Lions went from a good offense in 1993 to a record-setting one in 1994, as they had the highest scoring average (47 ppg) for a Big Ten team in the modern era and averaged a league-record 48.1 points in league games. Nebraska returns eight starters on offense and will be in its second year in coordinator Tim Beck's system. The Huskers also expect to make upgrades on defense after backsliding in 2011.
October, 23, 2008
10/23/08
12:20
PM ET
Posted by ESPN.com's Adam Rittenberg
You don't coach a team for 43 years without being dealt some good cards, particularly at the wide receiver position.
Joe Paterno has seen several standouts pass through Penn State, including Biletnikoff Award winner Bobby Engram and All-Americans Kenny Jackson and O.J. McDuffie. He has even had some standout receiver pairs (Engram and Freddie Scott, Jackson and Gregg Garrity).
But before 2005, the 81-year-old had never received a hand that included three of a kind.
That was the year Derrick Williams, Deon Butler and Jordan Norwood began starting for the Nittany Lions. Four seasons later, the three wideouts remain the pillars of the Penn State passing game.
"We've had two at different times, but I don't think we've ever had three that are quite like these three are, who have played so much and so long and who have made so many plays," Paterno said. "They're like a band of brothers."
The record-setting wideouts are capping their careers in historic fashion as No. 3 Penn State continues its quest for a national title Saturday night at No. 9 Ohio State (ABC, 8 p.m. ET).
Butler needs six receptions to pass Engram and become Penn State's all-time receptions leader. Williams has more touchdowns on kick returns than any Penn State player during Paterno's tenure. On Sept. 27, he became the first player under JoePa to record a rushing touchdown, a receiving touchdown and a kick return touchdown in the same game.
Norwood is tied with Williams for third place on the school's career receptions list with 142.
For the third consecutive season, Penn State is on pace to have three different receivers catch 40 or more passes, a milestone that hadn't been reached until Butler, Williams and Norwood did it in 2006.
"It's been a long road already," Norwood said. "We've kind of grown up together."
September, 5, 2008
9/05/08
10:49
AM ET
Posted by ESPN.com's Adam Rittenberg
Here's a scary thought for Big Ten defensive coordinators.
In 1994, Penn State led the nation in both scoring (47.8 ppg) and total offense (520.2 ypg), broke three Big Ten records, 14 team records and 19 individual records. The Nittany Lions' produced five first-team All-Americans on offense, including running back Ki-Jana Carter, the No. 1 overall selection in the 1995 NFL draft. Penn State didn't lose a game that fall, beating its opponents by an average of 26 points.
But in terms of big-play threats, the type of players who can change games upon contact with the ball, the 1994 Lions team might be jealous of the current one.
"We didn't have as many [in 1994]," coach Joe Paterno said. "Carter was the first guy picked in the whole draft, Bobby Engram's still playing, [Kerry] Collins was a first-round pick, [Kyle] Brady's still playing tight end with the Patriots. We had four or five on that team that were playmakers and game-breakers, the whole bit.
"We probably have more kids on this team who have that kind of potential."
Whether Penn State makes a push for a Big Ten title in what could be Paterno's final season on the sideline remains to be seen.
The Lions lost linebacker Sean Lee, their top defender, to a knee injury this spring. The team's off-field problems continued this week with the suspensions of three players, including All-Big Ten defensive end Maurice Evans and starting defensive tackle Abe Koroma, for Saturday's critical home matchup against Oregon State (ABC, 3:30 p.m.).
But a glance at Penn State's skill-position depth makes it clear there will be plenty of dizzying highlights this fall in Happy Valley. Throw in a system -- the Spread HD -- that should better utilize the talent, and the Lions should be even more dangerous.
"There's not enough spots on the field for the amount of athletes we have," wide receiver Brett Brackett said. "To get them all to touch the ball and make plays is going to be exciting."
The 6-foot-6, 235-pound Brackett plays behind three senior wide receivers -- Derrick Williams, Deon Butler and Jordan Norwood -- who entered the season with 366 career receptions, 32 total touchdowns and 4,597 career receiving yards. Though the group has fallen short of expectations at times, the arrival of a new offensive system and a new quarterback (Daryll Clark) should help.
Williams' value goes beyond the passing game, as he showed last Saturday against Coastal Carolina, returning a kickoff 89 yards for a touchdown. The co-captain has three career touchdowns on returns to go with five rushing scores.
"There's different people that can beat you in different parts of the offense," Brackett said. "It's not just [Anthony] Morelli throwing deep or Rodney [Kinlaw] making runs. There's different guys that can make plays and different abilities."
Williams played an integral role in Penn State's Orange Bowl run in 2005, but when it comes to playmakers, the current team has more -- "by far," he said.
"Right when last year's team was over with, it was definitely a sign of how many weapons we had," Williams continued. "There's so many people on the field that are very good that can do things at any given moment."
The veteran receivers help, but Penn State's biggest strength will be in the backfield. In addition to Clark, whose scrambling ability gives the offense something it didn't have the last two seasons, the Lions boast a core of young ball carriers. There's a reason why seven running backs are listed on this week's depth chart.
Sophomore Evan Royster leads the group after finishing second on the team in rushing and averaging better than six yards a carry last season. Next up is redshirt freshman Stephfon Green, whose speed and elusiveness makes him one of the most anticipated arrivals in recent years. Sophomore Brent Carter also will contribute alongside true freshman Brandon Beachum.
The Lions averaged 7.8 yards a carry and scored seven rushing touchdowns against Coastal Carolina.
"We're in good shape," Paterno said. "But you can't play 'em all, also. Sometimes it's a luxury that we can't exploit."

Brackett and his teammates occasionally watch highlights from the 1994 season, trying to pick up lessons from the offense. But the scheme barely resembles what Penn State now runs.
In some ways, neither do the players.
"They had a lot of offensive weapons," Brackett said, "but I don't think they had the same type of athlete we have now and the amount we have, it's unbelievable. ... It'll be hard to live up to what they did on the field, but we have the ability to do that."