Big Ten:

Bobby Richardson
September, 26, 2014
Sep 26
11:00
AM ET
Indiana safety
Mark Murphy
is sometimes told to close his eyes at practice, visualize success and picture interceptions and stops in the backfield. The exercise is no different from last season.
But, when he closes his eyes this season, he senses something different. This entire defense does.

"It's funny," Murphy told ESPN.com. "You can talk about the scheme and the 3-4, 4-3 and all that. But I think the biggest thing for us is actually the attitude and the effort."
That change wasn't born from the Hoosiers' upset win over then-No. 18 Missouri, where they limited the Tigers to 27 points and finished with 11 tackles-for-loss. It's taken months for Indiana's first-year defensive coordinator, Brian Knorr, to build. And it's taken an offseason for these Hoosiers to start buying into it all.
Knorr could see from last season's film and his players' eyes in the spring that this defense was worn down. Losses, weak performances and criticism tend to build -- and, for the past three seasons, Indiana hasn't once cracked the Top 100 in total defense or scoring defense. Heck, in the past 15 years, the Hoosiers never cracked the top 65 in either category.
Knorr's initial focus centered on forgetting that past and rebuilding this unit's confidence. Whether it was showing a motivating film right before kickoff (one filled with Missouri miscues and IU sacks) or challenging the younger players to motivate the seniors, players told ESPN.com that this squad's mind-set is totally different from seasons past.
"Our confidence has gotten way higher," defensive lineman
Bobby Richardson
said. "We're a completely different team. The mentality of this whole defense is different; we have a whole new attitude this year."
There's excitement around this defense now, but there's no singular cause for that transformation. Knorr switched to a 3-4 scheme, tried to play up to different players' strengths and emphasized a more aggressive mindset. In some ways, that was the easy part.
But it was also all the little things: reinforcing the importance of visualization, improving communication, reiterating continued focus and challenging the underclassmen in practice. Each difference impacted other areas of Indiana's defense.
"The good thing about young kids -- freshmen and sophomores -- is they don't know any better," Knorr said. "Our seniors have seen them, and they've been challenged a little bit by them. I don't want to say our younger guys led, but I guess they motivated some of our older guys."
Richardson agreed. When the scout team breaks out of their practice blocks as if a game's on the line, the upperclassmen no longer have time to relax. If they don't play with that same intensity, they're asking to look foolish. That's clearly paid off for both groups; it's no coincidence that freshman linebacker
Tegray Scales
was recently named Big Ten co-Freshman of the Week.
Of course, that's not to say this Indiana defense has already matured into a great one. It hasn't. It might even be fair to say it's still working on being average. But Knorr is the first to admit this defense has a long way to go. Regardless, it's clear something has changed.
Richardson answered most questions about 2013 by talking passionately about 2014. Murphy deflected every question about past seasons -- except when asked why he didn't want to answer them.
"You really don't want to talk about it because it's just so, so -- different," he said. "It's just not comparable.
"The biggest thing for this year compared to last year is that we put it upon ourselves to go make that change, to make the difference. Because, ultimately, we were sick and tired of hearing about offense, offense, offense. We knew we had the talent and the players."
September, 10, 2014
Sep 10
3:30
PM ET
There's a new scheme that allows for better pass-rushing opportunities, more confidence, and perhaps most simply, a healthy body at
Bobby Richardson
's disposal.
Any or all of those factors can be pointed to for perhaps the most surprising individual start in the Big Ten with the Indiana defensive lineman bursting out of the blocks with 3 sacks in a season-opening win. But rather than try to explain his early success, Richardson is more focused on trying to duplicate it this week at Bowling Green.
"That felt good," Richardson said. "We had a week off early and some guys around the Big Ten had a chance to catch up [in sacks]. But I'm going to try my best to stay in front of them and separate myself just so Indiana can be known for the way we work."
[+] Enlarge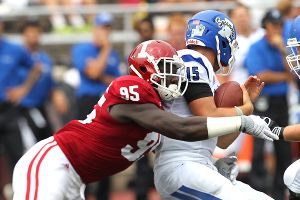 Pat Lovell/USA TODAY SportsSenior Bobby Richardson had 5.5 sacks in his career before busting out for three sacks in the season opener.
That's exactly what coach Kevin Wilson wants, too. And right now his top priority might be keeping the Hoosiers and their new-look defense grounded until they've proven themselves for more than just one week.
Wilson isn't necessarily expecting that to be an issue, particularly with a veteran like Richardson who has three years of experience in the program to draw on and a healthy groin after offseason surgery which is allowing him to practice at a higher level more consistently. With just 5.5 sacks in his career before the breakout performance against Indiana State, Wilson is also quick to point out there's plenty of circumstances from that game that might have contributed to Richardson's big outing or skewed his numbers -- and it's up to him to show that it wasn't a fluke.
"He was sporting that hernia, groin injury, and he had played well but was a little bit nagged," Wilson said. "He wasn't able to maybe train or practice as consistently as high as he has this summer and this preseason camp. But he had that procedure in the offseason, he's very, very healthy, and he had by far his best camp. Short term, he's gotten off to a good start.
"We'll see if that will continue or if he can maintain that. He's put it up for a one-week deal, we'll see how he moves against Bowling Green and the challenge they bring."
That message isn't just aimed at Richardson, and it also surely applies to more than just his defensive teammates.
Thanks to an early bye week ahead of the trip to Bowling Green, the Hoosiers only have a win over an FCS program to their credit so far as they try to climb back into a bowl game for the first time since 2007. So whether it's
Tevin Coleman
's eye-popping rushing statistics or Richardson jumping out to an early lead in the sack race, at this point Indiana still has to go out and show that those kinds of performances are repeatable against stiffer competition.
"That's a great way to build confidence though," Richardson said. "I missed spring ball and I had to put back in my extra work just to get back out there and stay healthy. I came out with a great start and I feel my confidence is way higher than it was.
"I already had a lot of it, but I think it can carry over and help my teammates, too. We all just have to keep working."
For starters, the offseason work appeared to pay off in the opener. Now Richardson and the Hoosiers just have to go out and do it again.
September, 10, 2014
Sep 10
1:00
PM ET
We're only two weeks into the season, but we're taking a weekly look at how the major Big Ten individual awards races are shaping up.
All five of our Big Ten reporters are voting weekly on the races, with players receiving five points for a first-place vote, four for a second-place nod, etc. Also, we try hard to base these standings on 2014 season results only, not any preconceived notions or a player's previous track records. That's why you might see some names here you likely did not expect in the preseason.
Away we go:

Graham-George Offensive Player of the Year
1. Nebraska RB Ameer Abdullah
(five first-place votes): A unanimous pick right now, and understandably so given his game-winning catch and run vs. McNeese State. Abdullah is ranked No. 6 in the
latest ESPN Heisman Watch
.
2. Penn State QB Christian Hackenberg
: The sophomore leads the Big Ten with 773 passing yards through two games, though his 4-to-4 touchdown-to-interception ratio could stand to improve.
3. Illinois QB Wes Lunt
: The Oklahoma State transfer has been a big hit in Champaign, especially after he threw for 456 yards last week in a win against Western Kentucky.
4. Indiana RB Tevin Coleman
: Coleman and the Hoosiers were off this week, so he'll look to build on his huge Week 1 performance (247 yards, two touchdowns) on Saturday at Bowling Green.
5. Michigan State QB Connor Cook
: He threw for 343 yards and two scores in the loss at Oregon, though he also had two picks. Cook is completing 68.3 percent of his passes through two games.
Also receiving votes:
Rutgers RB
Paul James
Paul James
Nagurski-Woodson Defensive Player of the Year
1. Iowa DT Louis Trinca-Pasat
(1): A surprise early leader. Trinca-Pasat has four tackles for loss and 1.5 sacks as Iowa's defensive line has carried the team in two close wins.
2. Ohio State DE Joey Bosa
: Bosa already has two forced fumbles, including one against Virginia Tech last weekend. Will he be even more effective when
Noah Spence
returns on the other side of the Buckeyes' line?
3. Penn State DT Anthony Zettel
(2): Zettel is tied with Trinca-Pasat for the most tackles for loss in the league through two weeks, and he owns two quarterback sacks. The Nittany Lions' defense has done a great job of bending but not breaking.
4. Penn State LB Mike Hull
(2): Hull has been the leader of the Penn State defense as expected, and he has the second-most tackles in the league, with 22.
5. Wisconsin S Michael Caputo
: After registering 15 tackles in the opener against LSU, Caputo grabbed an interception last week vs. Western Illinois.
Also receiving votes
: Iowa DE
Drew Ott
; Indiana DL
Bobby Richardson
; Illinois S
Taylor Barton
September, 4, 2014
Sep 4
8:00
AM ET
Taking the smallest sample size possible obviously isn't encouraged in making a sound evaluation. Looking at just one game against completely overmatched opposition only makes it worse.
The opening weekend, though, did provide a handful of statistical outliers that are still worth noting, mostly because they're so ridiculous that they will never be seen again. But maybe, just maybe, there are a few that could conceivably be duplicated and may reveal more about the teams or individuals than anybody might have projected coming into the year.
So, I'm taking five of the most eye-catching numbers from the opening set of games and giving them a closer examination to see if there's anything to be learned -- or if they're just aberrations for the record book.
Nate Sudfeld attempts just 18 passes -- and the Hoosiers win
With Tevin Coleman racking up yardage at a frightening clip, there was no pressing need for Indiana to throw it all that often. But with Sudfeld working alone as the top choice at quarterback for an offense that never attempted less than 26 passes in a game last fall, his light workload in a reasonably tight contest was certainly unexpected. The Hoosiers would obviously like to take some pressure off the passing attack and Coleman is more than capable of doing that, but they aired it out more than 40 times in half of their games last season. Maybe the per-game average will come down, but surely this will be the last time Sudfeld hits this mark this season.
Ohio State allows 370 yards rushing -- and also wins
Navy is the ultimate statistical skewer, and its powerful ground game gives the Buckeyes a very different look than they're accustomed to after one game. As bad as the rushing defense looks now, the bright side is the much-maligned secondary is among the best in the country currently after giving up just 20 yards to the Midshipmen. With perhaps the top defensive line in the country, a collective unit that typically lives for shutting down the rush and and a defense that allowed just 109 yards per game on the ground last season, the average will progressively drop with each game. The real question for the Buckeyes is how high the number through the air will inflate.
Rutgers holds Washington State to 6 rushing yards
On the flip side, the Scarlet Knights played an offense on the complete opposite end of the spectrum in their opening win against Washington State, a team that seems allergic to rushing the football. While that low total is certainly extreme, it's actually not out of the realm of possibility that Rutgers could get close to that again with a defensive unit that was among the best in the nation last season while barely allowing more than 100 yards per game on the ground. In fact, the Scarlet Knights might have been even more impressive last December in holding South Florida to 10 yards on 20 carries.
Michigan finishes a rout with a pair of running backs over 100 yards
Historically doubling down with rushers over the century mark might not be that big of a deal for the Wolverines, but it hadn't happened since 2007 and they were coming off a disastrous rushing season that included four different games when the entire team couldn't get to 100 yards on the ground. Michigan still looks more potent when spreading the field and operating out of the shotgun, but Derrick Green (170 yards) and De'Veon Smith (115) did some damage out of those formations and could be capable of putting some sting back in the ground game this fall.
Bobby Richardson racks up 3 sacks
The Indiana defensive lineman came into the season opener with just 5.5 career sacks, so his prolific outing certainly seems pretty unlikely to be duplicated. But maybe the scheme is the perfect fit for the senior, who didn't even register one quarterback takedown last fall. If nothing else, his individual breakout performance might hint at a unit-wide improvement for Indiana's reconfigured defense, and maybe more career days are in the cards for the rest of the Hoosiers on that side of the ball as they try to get the program back into the postseason.
East Division
West Division
September, 3, 2014
Sep 3
9:15
AM ET
As we've done around here in the past, we are going to take stock of how the major Big Ten individual awards races look each week of the season.
A couple of things to note this time around: this year, all five of our Big Ten reporters are voting weekly on the races, with players receiving five points for a first-place vote, four for a second-place nod, etc. Also, we try hard to base these standings on
2014 season results only
, not any preconceived notions or a player's previous track records. That's why you'll see some names here you likely did not expect after just one week of action.
In a couple of weeks, we'll start adding other categories, like freshman of the year, coach of the year, etc. But with such a small sample size to start, we'll begin with offensive and defensive players of the year (first-place votes in parentheses):
Graham-George Offensive Player of the Year
1. Nebraska RB Ameer Abdullah
(3): The senior ran for 232 yards and a touchdown on 21 carries in the opener against Florida Atlantic. He could keep piling up the numbers this week vs. McNeese State.
2. Indiana RB Tevin Coleman
: Though it came against an FCS opponent in Indiana State, Coleman put up the top rushing total in the Big Ten in Week 1 and second-best in the nation with 247 yards and two scores on 21 attempts. He and the Hoosiers are off this week.
3. Michigan State QB Connor Cook
(2): He was very nearly perfect in the opener vs. Jacksonville State, going 12-of-13 for 285 yards and three touchdowns. Up next: Oregon.
4. Penn State QB Christian Hackenberg
: The super soph broke a Penn State school record with 454 yards and lead the game-winning drive against UCF in Ireland. He gets Akron this Saturday.
5. Wisconsin RB Melvin Gordon
: He ran for 140 yards against LSU but only had 16 total carries -- including just two after his 63-yard run on the first play from scrimmage in the second half. The Badgers said Monday he's dealing with a hip flexor strain.
Also receiving votes:
Michigan wide receiver
Devin Funchess
.
Nagurski-Woodson Defensive Player of the Year
1. Iowa DT Louis Trinca-Pasat
(1): A surprising name at the top, but remember, we're basing this heavily off 2014 results. Trinca-Pasat had 10 tackles, 1.5 sacks, three tackles for loss and a pass break-up in a win over Northern Iowa. Let's see if he can keep it up.
2. Michigan State DE Shilique Calhoun
(2): Here's a more familiar name. Calhoun wasn't overly dominant against Jacksonville State but did have a sack he worked extra hard to get. And with
Randy Gregory
likely missing most of the first two games of the season, he's probably the favorite for this award right now.
3. Wisconsin S Michael Caputo
(1): The Badgers safety was terrific in run support against LSU, finishing with 15 tackles. Wisconsin coach Gary Andersen said they credited Caputo with 20 stops after watching the film.
4. Indiana DE Bobby Richardson
: Another unexpected name, Richardson leads the Big Ten in sacks after one week, thanks to his three-sack showing against Indiana State. He and the entire Hoosiers defense still have a lot to prove when the competition level increases soon.
5. Ohio State DE Joey Bosa
: His blow-up of a Navy option attempt led to teammate
Darron Lee
's fumble return for the Buckeyes' first touchdown. Expect him to be in this mix all season.
Also receiving votes:
Penn State DT
Anthony Zettel
(1); Michigan State S
Kurtis Drummond
; Rutgers S
Johnathan Aiken
; Ohio State LB Darron Lee; Purdue CB
Frankie Williams
; Penn State LB
Mike Hull
.
July, 14, 2014
Jul 14
3:30
PM ET
Big Ten media days arrive two weeks on July 28. We'll get you ready in the coming days by identifying three pressing questions that each league squad will face at media days, along with their possible answers.
Next up is Indiana, which is bringing senior linebacker
David Cooper
, junior quarterback
Nate Sudfeld
and senior receiver
Shane Wynn
along with coach Kevin Wilson.
1. So, is there any hope for the defense?
This will remain the No. 1 pressing question for the Hoosiers until they actually change the conversation. Indiana allowed a Big Ten-worst 38.8 ppg last year, and since 2008 it has given up more points per season than every other FBS team except for Washington State. Wilson knows this all too well and made a change in the offseason, bringing in Brian Knorr as his new defensive coordinator. Indiana has 10 starters back on defense, and Wilson says he has more depth on that side of the ball than any other time during his tenure. A lot will ride on whether defensive linemen
Bobby Richardson
,
Ralph Green
and
Darius Latham
can finally give the Hoosiers a push up front, especially with the switch to a 3-4 base. Expect a lot of optimistic talk, and Cooper will bear the brunt of the defensive questions as the lone player representative from that unit. But until IU actually proves it on the field, it's still all talk.
2. How good can Sudfeld be?
It's a little hard to believe, given Indiana's offensive prowess in the previous three seasons, but this should be the first time in four years that Wilson has a no-doubt starter at quarterback all season long. Tre Roberson's summer transfer -- something Wilson will obviously be asked to explain -- leaves Sudfeld as the only experienced player there. He's a legitimate NFL prospect who threw for 2,523 yards and 21 touchdowns last season despite splitting snaps with Roberson. Wilson will happily answer questions about Sudfeld in Chicago, knowing that he can avoid having to hear the same week-to-week quarterback inquiries that have dominated his media sessions the past couple of years. Sudfeld gets a great opportunity to shine this year, and he can begin that process at media days.
3. Bowl or bust in 2014?
Indiana has improved its record every year under Wilson, going from 1-11 in 2011 to 4-8 in '12 to 5-7 last year. Yet that's still not good enough in an era where well over half the teams in the FBS go bowling, and it's disappointing the Hoosiers couldn't get over the hump last year despite fielding one of the best offenses in the Big Ten. Wilson appears to have the full support of athletic director Fred Glass, but it's hard for any coach to go four years with no postseason and not face at least some heat. It's even harder for programs to build momentum that way. Life doesn't get any easier for the Hoosiers in the new East Division of the Big Ten, and they play Missouri and MAC stalwart Bowling Green on the road in nonconference play. Can IU's fan base -- already arguably the smallest and least vocal in the league -- stomach another season without a bowl at the end of it?
April, 24, 2014
Apr 24
9:00
AM ET
BLOOMINGTON, Ind. -- A recent Indiana practice came down to a winner-take-all snap in the red zone.
Redshirt freshman
Kris Smith
ended things by sacking
Nate Sudfeld
(at least unofficially, since there's no tackling the quarterback in practice). That led to a scene rarely witnessed around the Hoosiers in recent years: IU defensive players celebrating something they did to secure a victory.
Even that celebration didn't last long, as new defensive coordinator Brian Knorr made his troops run sprints and do up-downs after practice as punishment for giving up too many big plays earlier in the day.
Defense has plagued this program for years. Consider that Indiana has allowed at least 34 points per game in every season since 2008, with the lone exception coming in 2009 when it gave up 29.5 ppg. Washington State is the only FBS team to have given up more points per game in that time period, and the average for all FBS teams in that span is 26.3 PPG allowed.
[+] Enlarge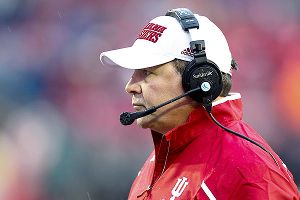 AP Photo/Andy ManisCoach Kevin Wilson is focused on improving IU's defense. His plan includes a new coordinator, a new scheme and increased competition.
Things haven't been trending in the right direction, either. The Hoosiers yielded a Big Ten-worst 38.8 PPG in 2013, the highest number in head coach Kevin Wilson's three seasons. Had the team played close to league- or national-average defense, it surely would have gone bowling instead of finishing 5-7 with an explosive offense that ranked 16th in the country at 38.4 PPG.
"It's not by design," Wilson told ESPN.com. "We've been able to hit a little bit better on our offensive recruiting. It's taken us time to get as many big defensive linemen. We've not had anyone stand out at linebacker since we've been here, and those guys impact a lot of plays. We've recruited numbers there. We've had juco guys who have played.
"We think we're starting to get it now. It's going to be our nemesis if we don't. We need to start playing some competitive defense and get some stops."
Skepticism is understandable, given the rotten history. But with one big coaching change and a whole lot of experience returning, Wilson is hoping the tide starts to turn in 2014.
In January, he fired defensive coordinator Doug Mallory -- not an easy decision, given the power of the Mallory name in Bloomington -- and hired Knorr, a former Wake Forest assistant. He has brought in a 3-4 scheme as the Hoosiers join Wisconsin as the only other Big Ten team using that as their base. Knorr, though, insists that it won't strictly be a three-man front.
"Any more, you've got to be pretty multiple," he said. "We're able to move our guys around and get them in gaps up the field, and we'll be able to pressure as well."
Knorr has the size up front to make the scheme work. Mountainous sophomores
Darius Latham
and
Ralph Green
got most of the first-string work at tackle this spring; both are listed at 6-foot-5 and 325 pounds. Senior
Bobby Richardson
, who will return in the summer from an injury, is 6-3 and 290 pounds.
"This scheme is meant for us," Richardson said. "We're all pretty big, but we've still got our quicks."
Linebacker, the position Wilson mentioned as a particular bugaboo, could turn into a strength with
David Cooper
,
Marcus Oliver
and
T.J. Simmons
on the inside and
Flo Hardin
,
Clyde Newton
and converted defensive end
Nick Mangieri
on the outside. They've all played a lot and are noticeably bulked up this spring.
"We're more physical and running to the ball more," said cornerback
Tim Bennett
, who led the FBS with 20 pass breakups a year ago. "Coach Knorr believes in moving around and not letting the offense know what you're doing."
Wilson called the secondary "a position of development this summer," as projected starting safeties
Mark Murphy
and
Antonio Allen
missed contact drills this spring with injuries. But the Hoosiers lost only one starter on defense from a year ago -- safety
Greg Heban
-- and threw a bunch of freshmen into the mix once again. They also signed 15 defensive players in a well-regarded 2014 recruiting class.
Because of all that, Wilson feels like he has true competition on the defensive depth chart for the first time.
"Sometimes we had guys who've had the luxury of playing by default," he said. "It was easy to get your job, easy to get on the field. On offense, you had to fight to get on the field as a running back, wide receiver or a quarterback.
"Our defense has lacked that. Competition is what's going to build our team, and through no one's fault that's been the void. You can say it's talent, you can say it's scheme. But it's really been competition."
Wilson says he hasn't wanted his team to get divided the past few years, so when Indiana struggled, he'd often blame the offense for not scoring enough. While the Hoosiers have put up points at a rapid pace, that strategy hasn't led to victories. Everyone around the program is hoping the added depth and coordinator change can finally lead to more celebratory scenes like the one after Smith's sack.
"Our defensive problems are well documented and known," Wilson said. "We've got a chance to get better. But it's all talk until we do."
March, 20, 2013
3/20/13
10:00
AM ET
Indiana defensive coordinator Doug Mallory is looking for a few good men this spring. Actually, more than a few.
Mallory isn't necessarily seeking the next standout player (although he wouldn't complain if he found one). The Hoosiers' defense has had productive individuals over the years, from cornerback Tracy Porter to defensive linemen Jammie Kirlew and Greg Middleton, to defensive tackle
Adam Replogle
. Last fall, Replogle put up huge numbers for an interior lineman (13.5 tackles for loss, five sacks, two forced fumbles, 71 total tackles). Safety
Greg Heban
(91 tackles, three interceptions, seven tackles for loss) and linebacker
David Cooper
(86 tackles, nine tackles for loss, three sacks) also had strong statistical seasons.
[+] Enlarge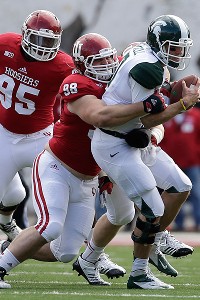 AP Photo/Darron CummingsIndiana defensive tackle Adam Replogle had 13.5 tackles for loss and five sacks last season.
But the unit still struggled, finishing 103rd nationally in yards allowed, 101st in points allowed and 116th against the run. The cumulative results were all too typical for a defense that has struggled for more than a decade because of its lack of depth.
"It can't be the same guy out there every single play of the game, every play of the season," Mallory told ESPN.com. "We've got to be able to have some guys come in and contribute, whether it's 10, 20, 30 plays a game, guys who give us a little bit better depth."
The Hoosiers are looking for numbers this spring, at least 22 defenders who Mallory can feel confident about sending onto the field this coming season. IU's offense took a significant step in coach Kevin Wilson's second year and should be one of the Big Ten's most explosive units in 2013.
But for Indiana to take a step as a program -- toward winning records and bowl appearances -- its defensive depth must improve substantially. Although it's not ideal that three projected starters -- Cooper and fellow linebacker
Chase Hoobler
, and safety
Mark Murphy
-- are now
sidelined this spring
, it's more important to get others up to speed.
"We're trying to see more competition, more guys putting themselves in position to compete," Mallory said. "With all these guys coming back, that's great, but we were not very good a year ago, so that could be a positive and it could also be a negative. We've got to make major strides and do a better job as coaches and as players defending the run, stopping the run and being a lot more physical on defense."
Mallory has made it clear to the players that there are "no starters" this spring. Players move between the first-, second- and third-teams from practice to practice, depending on performance, and sometimes even within a single workout.
"The worse you are, the further you fall on that depth chart," Mallory said. "Kids understand that."
Mallory has been impressed by cornerback
Kenny Mullen
, who started the final five games in 2012. Defensive end
Bobby Richardson
, a reserve last fall, also has stood out as IU must replace two starters up front.
Help is on the way as Indiana significantly elevated its defensive recruiting efforts for the 2013 class. Six of IU's
seven highest-rated recruits
, according to RecruitingNation, will play defense, including ESPN 150 defensive back
Rashard Fant
, and linemen
Darius Latham
and
David Kenney III
.
"On paper, it definitely looks like a good class," Mallory said. "We're looking forward to getting those guys here, and they'll get in here and compete. You certainly want to be quality two-deep and hope that your incoming class are guys that can help you get three-deep."
July, 30, 2012
7/30/12
3:04
PM ET
With media days in our rearview mirror, we jump back into our preseason Big Ten position rankings. Last week we unveiled our rankings for
individual defensive linemen
. Now it's time to look at the defensive line units as a whole.
Remember, these rankings are based heavily on last year's performance and who returns to the fold, with potential considered as well. Let's get to the guys up front who make the entire defense go.
[+] Enlarge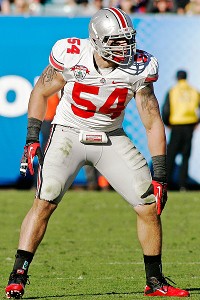 Phil Sears/US PresswireJohn Simon leads one of the Big Ten's best defensive fronts.
1. Ohio State:
The Buckeyes have a chance to field one of the top defensive lines in the country.
John Simon
is a beast, while
Johnathan Hankins
has as much potential to dominate his position as any Big Ten player.
Nathan Williams
could be a big contributor coming back from knee surgery. This group is already really deep, and with standout freshmen like Noah Spence, Adolphus Washington and Se'Von Pittman coming in, it could be scary good.
2. Michigan State:
The Spartans will rival Ohio State for the league's top defensive front. You know all about end
William Gholston
and his unlimited potential.
Marcus Rush
gets overshadowed at the other end spot, but he put up an outstanding freshmen season.
Anthony Rashad White
should be an anchor inside. The big question is who replaces Jerel Worthy, but the team is flush with candidates. This is another very deep defensive line.
3. Purdue:
Don't be surprised by this high ranking.
Kawann Short
might be the top defensive lineman in the league, and is poised for a monster senior season.
Bruce Gaston
gives him a veteran running mate. Defensive end
Ryan Russell
is coming on and might be due for a major breakout this season. This should be the strength of Danny Hope's defense.
4. Penn State:
Devon Still is gone, but the Nittany Lions should continue to be strong up front.
Jordan Hill
looks to follow Still's lead and become a superstar as a senior.
Sean Stanley
is a speedy rusher off the edge, and
Pete Massaro
returns from a knee injury.
DaQuan Jones
and
Deion Barnes
could become bigger contributors.
5. Illinois:
Star power lifts the Illini to this high ranking, as defensive end
Michael Buchanan
and tackle
Akeem Spence
should be among the very best at their positions in the league. It's just a matter of finding out how the others -- like end
Justin Staples
and tackle
Glenn Foster
-- raise their games around them to help make up for the loss of sack master Whitney Mercilus.
6. Nebraska:
Too low for the Huskers? Perhaps. They do bring back several veterans, like Cam Meredith,
Chase Rome
and
Baker Steinkuhler
, while expecting more from
Eric Martin
. Still, this group did not dominate enough for my taste last season, and seems to lack the one true pass-rushing stud. But Nebraska has the potential to have a very stout line.
7. Michigan:
It's probably wrong to doubt a line overseen by Brady Hoke and Greg Mattison. Yet this unit lost three starters from a year ago, including stars Mike Martin and Ryan Van Bergen. A lot depends on how Will Campbell performs as a senior, and whether
Craig Roh
can take his game to the next level. There isn't much experience at all behind the starters.
8. Wisconsin:
Can
David Gilbert
stay healthy and emerge as a fearsome pass-rusher? That's the key to the Badgers' defensive line, without a doubt. Tackles
Beau Allen
and
Ethan Hemer
are rock solid, though the loss of
Jordan Kohout
hurts the depth inside.
Brendan Kelly
should be good against the run. But Wisconsin needs a fast player on the perimeter, and that's where Gilbert comes in.
9. Iowa:
This is a frighteningly young and inexperienced group heading into the season for Iowa, though that doesn't mean it lacks talent.
Steve Bigach
is the closest thing to a seasoned veteran. The Hawkeyes will need a lot of players to raise their performance, including
Dominic Alvis
and
Carl Davis
.
10. Northwestern:
This has been a trouble spot for the Wildcats, and could be again in 2012 with the loss of both starting tackles.
Tyler Scott
and Quetin Williams are back at end, and expectations are high for redshirt freshman
Deonte Gibson
. Can
Will Hampton
and Brian Arnfeldt hold the fort down inside the tackles?
11. Indiana:
Defensive line is one of the few places where the Hoosiers have experienced veterans. Seniors
Adam Replogle
and
Larry Black
lead the way at tackle.
Bobby Richardson
and
Ryan Phillis
showed some things as freshmen pass-rushers last season. Still, this group must play better overall.
12. Minnesota:
The Gophers have had trouble putting consistent pressure on quarterbacks for the past couple of seasons, and now they're replacing both interior linemen. Jerry Kill has talked highly of 6-foot-6, 300-pound junior
Ra'Shede Hageman
's offseason, and
Roland Johnson
comes over from junior college to help out.
D.L. Wilhite
and
Ben Perry
will bring speed, but not much bulk to the defensive end spots.
May, 11, 2012
5/11/12
11:00
AM ET
2011 record
: 1-11
2011 conference record
: 0-8 (sixth, Leaders Division)
Returning starters
: offense: 7; defense: 8; kicker/punter: 1
Top returners

QB
Tre Roberson
, RB
Stephen Houston
, WR
Kofi Hughes
, CB
Lawrence Barnett
, DT
Larry Black
, DT
Adam Replogle
, S
Mark Murphy
Key losses
OL
Andrew McDonald
, LB
Jeff Thomas
, LB
Leon Beckum
, WR
Dre Muhammad
2011 statistical leaders (*returners)
Rushing
: Stephen Houston* (802 yards)
Passing
: Ed Wright-Baker (1,029 yards)
Receiving
: Kofi Hughes* (536 yards)
Tackles
: Jeff Thomas (80)
Sacks
: Adam Replogle* (4)
Interceptions
:
Greg Heban
* (2)
Spring answers
1. Improved defense:
The Hoosiers had nowhere to go but up after fielding one of the worst defenses in the country last year. Some junior college transfers, especially linebackers
David Cooper and Jacarri Alexander, injected some much-needed talent and energy into the unit this spring. The defense showed much better execution and fundamentals overall, thanks in large part to some young players getting baptized by fire last fall. This is still not a dominating group by any stretch, but with some solid players up front such as Larry Black and Adam Replogle and in the back end such as Mark Murphy and Lawrence Barnett, the Hoosiers hope to have far fewer major breakdowns this season.
2. Depth at running back:
Stephen Houston led the team in rushing last season despite showing up a little out of shape in the summer from junior college. That spoke both to his skills and the lack of competition around him. That's not the case now, as Indiana has a much healthier stable of backs to work with, including a healthy
Matt Perez
and transfer
Isaiah Roundtree
, who had a big spring game. Add in mobile quarterback Tre Roberson, and the Hoosiers could have an effective ground attack in 2012.
3. Better off Ted:
Tight end
Ted Bolser
had a promising freshman year with 27 catches for 407 yards and five touchdowns, but those numbers dipped to just 14 catches for 165 yards last year. Some of that was probably due to a largely ineffective passing game. Bolser had a strong spring, capped by a six-catch performance in the spring game, and was targeted often in the offense. The 6-foot-6, 255-pounder could become a go-to guy for new offensive coordinator Seth Littrell.
Fall questions
1. Quarterback competition:
Roberson seized the starting job midway through last season and showed so much promise that two other young quarterbacks -- Ed Wright-Baker and
Dusty Kiel
-- transferred. He has a strong presence and the potential to be a star. But the coaching staff insisted that junior college transfer Cameron Coffman was right in the thick of the race to be the starter this season after a nice spring. Coffman is a better pure passer than Roberson, who needs to work on that aspect of his game.
2. Bringing the heat:
Indiana had just 18 total sacks last season and often had trouble generating much of a pass rush, which was part of the reason it gave up so many big plays. While Black and Replogle make a nice tandem at tackle, the search is still on for playmakers who can get to the quarterback.
Ryan Phillis
showed some things late in his freshman year, including a big game in the finale against Purdue, and
Bobby Richardson
made a nice transition from tackle to end as a freshman. Maybe the linebackers can help in the pass rush as well. But the Hoosiers need to make other teams uncomfortable in the passing game without blitzing to improve on defense.
3. Overall talent and depth:
Head coach Kevin Wilson has his work cut out for him after failing to win a single game against FBS competition his first season in Bloomington. Wilson played 32 true and redshirt freshmen in 2011 and had many players going through spring practice for the first time this year. The extra seasoning will no doubt help them get better, but this is still a roster that doesn't look like the top Big Ten contenders. Indiana will need to stay healthy, get some breaks and see its young players mature quickly to make any noise in the league this season.
March, 7, 2012
3/07/12
10:15
AM ET
Indiana completed its second spring practice on Tuesday, and head coach Kevin Wilson knows his team needs a lot of work. The Hoosiers finished 1-11 and went winless in the Big Ten while playing numerous true freshmen in Wilson's first season. Things can only get better in Year 2, and Wilson recently spoke to ESPN.com about the state of his program and what he hopes to accomplish this offseason:
You played so many freshmen last year, many of whom were not even on campus this time last year. Does that put you ahead a little bit going into spring?

[+] Enlarge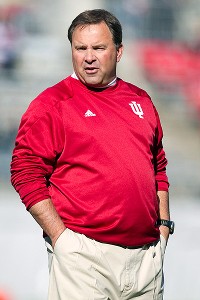 Greg Bartram/US PresswireIndiana coach Kevin Wilson is hoping to improve on last season's 1-11 campaign.
Kevin Wilson:
I wouldn't by any means say ahead because, number one, it's their first spring. So they're still trying to figure out what spring is all about. They're doing those offseason workouts, the morning conditioning programs and running. Some of these guys, you're like, "Hey, you've been playing," so you expect them to do really great. Instead they're doing good or fair or whatever. And you're sitting there looking at the kid, and really, he's been here for like seven months.
So we've got to be smart as coaches to realize we're still extremely young, and we've got to continue bringing them along instead of maybe having greater mental and physical expectations than guys are ready to fill right now.
Is there a different attitude or energy in Year 2 now that everyone knows what to expect from you?

KW:
Yeah. I don't think it was bad the first year. I just think there's a much better understanding from them to me and me to them. An understanding of the typical day, what I expect as a coach, but also the dynamics of what they're going through as students here. The ebb and flow of Monday through Saturday here.
Your team was competitive at Ohio State late in the year and played Purdue tough in the finale. Did that give you any optimism that things were starting to get better?

KW:
Yeah, and that's the disappointing thing. As hard as guys were working, you want to be rewarded with W's, and we were on the wrong side of that stick too much. But if you didn't know anything and just watched us practice down the stretch, you wouldn't have sensed it. There was a much more positive environment and much more potential for better outcomes than we were having. We were a really good practice team, our energy was high and the kids really got in sync with what we were trying to do. The more the young guys played the more comfortable they got.
At the same time, you want to win and we didn't get much of that done at all. It's nice to show that maybe we're not that far away, but ultimately when you're not winning games, you are far away.
Defensively, your numbers were obviously bad. How can that improve this year?

KW:
It's the second year in the system and also now for us the second year in the league and understanding it. Maybe we'll tweak some things in the system scheme wise. Subtle things. I don't see any wholesale changes, but just in the leverages of players, situations, when to attack and when to not, how to help people and how to hide people. In the second year, we need to make as much improvement mentally. Broken plays, busted assignments -- that happened way too much. We can't give up the big plays.
We brought in five junior college guys and this spring we have two safeties, two linebackers and a defensive end here right now. They're all going to be in the two-deep. It's only Day 2 and we're not in pads yet, so there's lot of work to do to determine where they'll fall. But it looks like on defense and special teams we'll need them to come through, and I expect them to.
You have starters back at defensive tackle, but what about the defensive end spot and improving your pass rush this season?

KW:
Ryan Phillis
really played his best from the Ohio State game on. I think he had like nine tackles before that and then 10 at Ohio State, and he played really well against Purdue. Ryan's a guy who showed up the summer of his freshman year and had a broken ankle, and his first workout was when I got here. So he had one spring and then last fall. So he wasn't even a true redshirt freshman. He really came on late, which was good to see.
Bobby Richardson
was a freshman we moved to D-line and he really came on strong. Those two guys will be sophomores now. We got a junior college guy [Justin Rayside] who's got speed off the edge. And I really like the background of coach [Jon] Fabris from Georgia. He'll be a nice addition. We had a very good coach there who we lost [Brett Dierson] but we were lucky to have coach Fabris because he brings a great deal of expertise there as well.
Speaking of coaching changes, you also have a new offensive coordinator in Seth Littrell. In what ways will the offense change with him running the show?

KW:
I think the change will be in some ways how we're practicing the pass game and some subtle ways. Not the plays that are called but how to run some routes, and some quarterback progressions to bring greater continuity and rhythm to the pass game. I think the plays will look very, very similar and the formations and mindset will be very, very similar, but I think the means will be different.
Coach Littrell is a direct descendant of [Mike] Leach. He worked with him for five years and also worked with [Dana] Holgorsen for five years. So I think we'll be a little cleaner and a little bit more into that type of passing game. The plays will look a lot alike, but the execution, the way they're practiced and the developing of the quarterback and wide receiver position, I'm hoping we'll see some significant gains there.
At quarterback, Tre Roberson really emerged for you midway through last season as a true freshman. How do you see his development continuing?

KW:
He's another one of those guys who's been here seven months. Saturday was his first spring practice ever. So there's still a learning curve of getting through it the first time. Coach [Kevin] Johns and coach Littrell will do a nice job of developing him as a passer, and I think he has the skill set to develop into a really solid, strong quarterback. I don't think he's an athlete. I know he can run well, but I think he's a guy who's going to be a complete player and bring some great things to the passing game. And I believe he's going to be a great leader, but he's still young and has a lot of work to do.
How's the state of your receiving corps this spring?

KW:
A little thin.
Duwyce Wilson
is coming off a knee injury. He's healthy but not he's allowed to practice yet, though he's ahead of schedule and looks good. I think we'll see some good things out of
Shane Wynn
and
Kofi Hughes
and even
Ted Bolser
, with the way the passing game will be taught and implemented by Coach Littrell. Ted will be a very nice complement and you'll see him as maybe more of a receiving threat at tight end.
Cody Latimer
and
Jay McCants
were two freshmen who showed some flashes last year, so we've got a bunch of freshman coming back. We've got
Nick Stoner
, who just set a record in the 4X400 and qualified for the NCAA indoor [championships], so he's a fast kid. It's just a young crowd. But as we go through spring and if guys on their own have a great summer ... Tre can do well but he's not going to do well until he and those those receivers play well for one another.
Stephen Houston came on as your leading rusher last year, and now you finally have some depth at running back. Will you look to spread the ball around more there?

KW:
You need to, because they're getting beat up enough there that you can wear a guy out. It's not just games during the season -- you've still got to be a great practice player to play on Saturday, and there's wear and tear from practice. Even when you've got a great back, you need a nice complementary guy. You look at NFL teams, most of them are playing two or three [running backs] and it's the same deal in college.
So now we've got
D'Angelo Roberts
, we've got
Matt Perez
back,
Isaiah Roundtree
is a kid who transferred in and I'm very intrigued by, and then we signed a really good player in Tevin Coleman. Last year, every running back in the spring seemed like they were hurt. This year, it's a little bit better, and we should be in a solid position by fall, we hope.
Finally, you played so many young players and don't have a lot of seniors. How is the leadership on this team?

KW:
Every team has leaders, whether they're good or bad. Every is team being led by players in a locker room, by a core group of guys. We've worked really hard this offseason and did a couple neat little things I'm not going to get too detailed about. We've been able to do some team building. We are trying to develop leaders and put our players in charge and take ownership for our actions on the field, off the field, in season out of season, on campus and in the community.
It's been going really pretty good, but once you get some adversity, that's where the leadership is going to come in. We've had about 6-to-8 really good, behind-the-scenes [leaders]. Even though it's young -- we've only got five seniors -- I think it's significantly better than a year ago. I think it's developing. But I'm really looking forward to seeing when we get a bump in the road, do we have great, positive leadership. I won't know that until we get a couple hiccups and see how we respond.
February, 17, 2012
2/17/12
10:00
AM ET
After taking a look at the Legends Division outlook for spring practice, it's time to turn the focus to the Leaders Division.
Away we go ...

ILLINOIS
Start of spring practice:
March 7
Spring game:
April 14
What to watch:
New faces in new roles: Tim Beckman and his assistants get their first chance to work with the players on the field. Beckman retained only one assistant (defensive line coach Keith Gilmore) from the previous staff, so it'll be important for the players and coaches to get acclimated. It's also a big spring for co-offensive coordinators Billy Gonzales and Chris Beatty, both of whom will be primary playcallers for the first time at this level.
The quarterbacks: Nathan Scheelhaase is a two-year starter, but he'll have to re-establish himself as the team's top option at quarterback. Reilly O'Toole received a decent amount of field time last season, and Illinois should have a competition under center in spring practice. Both men will have to learn a new offense and show good decision-making skills after combining to throw 12 interceptions last fall.
No Merci: All-American defensive end Whitney Mercilus is gone, and Illinois will be looking for his replacement this spring. The defensive line could once again be a strength for the Illini, especially with Gilmore back and an aggressive defensive coordinator in Tim Banks. It'll be interesting to see how the coaches use Michael Buchanan and Justin Staples, who played the "bandit" position in the previous scheme and boast speed but don't have typical defensive end size.

INDIANA
Start of spring practice:
March 3
Spring game:
April 14
What to watch:
Juco fever: Indiana needs a quick fix on defense, and it hopes an influx of junior college players can provide one. Six juco players already are enrolled and will participate in spring practice, including five on the defensive side. It will be interesting to see how players such as defensive back Tregg Waters and linebackers Justin Rayside and Jacarri Alexander perform this spring as they compete to play right away.
New direction on offense: Coach Kevin Wilson wants to be more productive in the passing game, and he hired an offensive coordinator in Seth Littrell who can help in that area. Littrell guided an Arizona offense that last season ranked third nationally in passing (370.8 ypg) and 27th in pass efficiency (145.2). He'll try to help Tre Roberson, who Wilson said he thinks can elevate his game significantly as a passer despite throwing twice as many interceptions (six) as touchdowns (three) as a freshman.
Who has grown up: Indiana played 32 freshmen (16 true, 16 redshirt) in 2011, the most in the FBS. The early experience should pay off for several players, and Indiana needs them to grow up quickly during the spring. Roberson showed a lot of promise at quarterback, and safety Mark Murphy finished second on the team with 76 tackles. Keep an eye on players such as defensive end Bobby Richardson and receiver/returner Shane Wynn.

OHIO STATE
Start of spring practice:
March 28
Spring game:
April 21
What to watch:
Urban renewal: The mood has improved around Ohio State's program from the moment Urban Meyer stepped to the podium Nov. 28. After putting together his staff, signing an elite recruiting class and ticking off some of his Big Ten coaching colleagues, Meyer finally gets a chance to work with the players on the practice field. After a lackluster final season at Florida in 2010, Meyer says he's refreshed and recharged, and it'll be interesting to see how he attacks practices.
The new offense: Ohio State fans can't wait for a new offense after suffering through a 2011 season that featured some extremely questionable play-calling. Meyer's offensive system is well-known throughout college football, but the interesting thing this spring will be how Meyer and offensive coordinator Tom Herman blend their ideas. Herman is a dynamic young coach who impressed a lot of folks at Iowa State. But Ohio State is a different animal, and expectations will be high for quarterback Braxton Miller and the unit.
Fickell back on defense: After spending last season as Ohio State's head coach, Luke Fickell returns to an assistant role on the defensive side. And for the first time, Fickell will be the Buckeyes' primary defensive playcaller. Ohio State's defense took a step back last season and will be looking to regain its traditional form. Fickell will work alongside co-defensive coordinator Everett Withers and look to identify some leaders to complement defensive lineman John Simon.

PENN STATE
Start of spring practice:
March 26
Spring game:
April 21
What to watch:
O'Brien's time: Much will be made of Penn State opening spring ball without Joe Paterno, but the real story is how critical these practices will be for new coach Bill O'Brien and his team. Penn State will be acclimating to new systems on both sides of the ball and a new coaching style from O'Brien and his assistant coaches, all but two of whom are from the outside. The learning curve will be accelerated for all involved, as Penn State needs to get a lot done in 15 workouts.
The quarterbacks: It's good that O'Brien has extensive experience coaching quarterbacks because no position needs a bigger upgrade at Penn State. The Lions struggled mightily under center last season and need a major boost beginning this spring. Can O'Brien get more out of Matthew McGloin and Rob Bolden, both of whom have seen extensive time in the Big Ten? How does Paul Jones factor into the mix? It'll be interesting to see how the signal-callers perform this spring.
Filling gaps on defense: Penn State should have one of the nation's best linebacker groups this season, but the Lions need to fill some holes on the line and in the secondary. Big Ten Defensive Player of the Year Devon Still departs, and Penn State will be leaning on Jordan Hill and others to step up. A bigger concern is the secondary, which loses two multiyear starters at safety (Drew Astorino and Nick Sukay). Penn State also has a new defensive coordinator in Ted Roof, who will be looking for better results than he had at Auburn.

PURDUE
Start of spring practice:
March 7
Spring game:
April 14
What to watch:
Another quarterback competition: Boilers coach Danny Hope loves having options at quarterback, and he'll once again get his wish during spring practice. Caleb TerBush, Robert Marve,Rob Henry and Sean Robinson all boast starting experience and will vie for the No. 1 job when workouts resume. Henry, who sizzled last spring and would have started the season if not for a torn ACL, has been cleared to participate in noncontact drills. Marve received an extra year of eligibility and will be in the mix. TerBush started every game last season.
Tisebar takes over: Purdue has a new defensive coordinator for the third consecutive season, as Tim Tisebar takes over this spring. Tisebar returns to college football after spending the past three seasons with the Canadian Football League's Montreal Alouettes. Hope hired Tisebar to help Purdue improve against the spread offense and the zone-read game. It will be interesting to see what spin Tisebar puts on the defense as the Boilers enter a pivotal season.
Offensive line depth: One of Purdue's strengths last season is a bit light on bodies following several departures. The Boilers need a left tackle to replace Dennis Kelly, and they also must increase depth on the interior line. Purdue already has moved tight end Robert Kugler to center, and Hope said earlier this month that several other tight ends could practice at offensive tackle during the spring.

WISCONSIN
Start of spring practice:
March 17
Spring game:
April 28
What to watch:
A revamped staff: Bret Bielema hired six new assistant coaches during the winter months, including offensive coordinator Matt Canada. The new coaches will have their first opportunity to work with players on the field this spring. It's important for both sides to acclimate, mainly because Wisconsin has had tremendous success the past two seasons and doesn't want the staff shakeup to throw things off course. Quarterback Russell Wilson made a seamless transition to the program last summer. Let's see if the new assistants can do the same in spring ball.
The quarterbacks: Speaking of Wilson, he departs Madison, leaving a major void under center. Jon Budmayr and Curt Phillips are coming off of major injuries, and while they're both making progress it could be tough to get a gauge on them this spring. Canada will spend much of his time working with Joel Stave and Joe Brennan, who need to get comfortable with Canada's adjustments to the offense and start establishing themselves as potential team leaders.
Reloading up front: Wisconsin will have to replace two All-American offensive linemen for the second consecutive year, and the Badgers lose three All-Big Ten selections up front (Peter Konz, Kevin Zeitler and Josh Oglesby). While the Badgers are built to reload, offensive line coach Mike Markuson has a lot of evaluating to do this spring. On the defensive line, Wisconsin loses two starters (Patrick Butrym and Louis Nzegwu) and will be looking for some difference-makers. End David Gilbert returns to the mix after missing most of last season with a broken foot.