Big Ten:

Bobcats-Lions 090112
September, 1, 2012
9/01/12
8:02
PM ET
STATE COLLEGE, Pa. -- Bill O'Brien crossed his arms while his ball cap nearly hid his eyes. The first-year head coach wasn't happy.


O'Brien hoped to silence the questions surrounding his team with a Penn State victory: Can Penn State's football team overcome nine transfers? Will this season mark the return of those three- and four-win seasons? Will the offense impress?
He answered those questions with short replies Saturday afternoon and tried to leave his seat and return to the locker room at least twice. "We lost to the better team," he said minutes after the 24-14 loss.
Players spoke in hushed tones, and offensive guard
John Urschel
's voice cracked. Some players looked as if they just heard a eulogy.
They talked about losing with class, moving forward and still having a good season. But it was clear this game was emotional.
"We're definitely upset," quarterback Matt McGloin said.
This wasn't the emotional statement the Nittany Lions were supposed to make, players said. McGloin said the team came in ready, Urschel said the team felt good at halftime -- but a barrage of issues bubbled up in the second half.
The secondary, long thought to be a weak link, struggled mightily against Ohio and dual threat
Tyler Tettleton
. The defense allowed nearly 500 yards, including 324 passing yards from Tettleton.
Historically, Penn State's strength has been defense. It wasn't on Saturday. Players didn't try to pretend otherwise. And with cornerback
Stephon Morris
' injury -- the severity of which is unknown -- this season could be a hard one for a unit short on depth.
"We need to execute better all around," center
Matt Stankiewitch
added.
Sophomore wideout
Allen Robinson
said he wished the Lions could have one play back. Watching from the sideline, he became upset when he watched a 43-yard touchdown strike from Tettleton on a tipped ball.
Plays like that typified Penn State's afternoon. The Nittany Lions allowed more than four passes of longer than 25 yards, failed to execute on a key fourth-and-5 play and watched Ohio make two key third-down conversions on a 93-yard touchdown drive.
Players said they'd watch tape, get over the loss and continue on. "One game doesn't make a season," Urschel said.
Penn State hoped to answer some questions Saturday and prove it's focused. Instead, it faces even more questions after a second half that saw it outscored 21-0.
September, 1, 2012
9/01/12
4:31
PM ET
It was over when:
Tyler Tettleton
ran up the middle for a 1-yard touchdown in the third quarter. Penn State trailed for the first time all game after that -- 17-14 -- and couldn't recover. Tettleton made his presence felt after throwing two passes longer than 30 yards on back-to-back drives, but that short run clinched it.


Game ball goes to:
Tettleton. He disappeared in the first half but came on strong in the second. The Ohio signal-caller led his team to three touchdown drives, and threw for 207 yards in the second half. The Bobcats wouldn't have won without him.
Stat of the game:
Four. That's the number of passing plays longer than 25 yards that Penn State's defense allowed. Three of those came during Ohio's three touchdown drives.
Second guessing
: Putting in a linebacker on the kick returns was a gutsy idea ... but definitely an unusual one. Gerald Hodges returned three kicks and made at least two questionable plays before he was pulled. He fumbled a punt return and brought the ball out of the end zone, ending up at the 12 on the opening kickoff. This experiment might be over.
Best call
: With 2:59 left in the game, on 3rd-and-Goal from the 5, Ohio lined up with three receivers in the shotgun. Tettleton found
Donte Foster
in the corner of the end zone to ice the game and put the score at 24-14.
What we learned about PSU
: Penn State's offense has potential, and the secondary's in trouble. The offense had a few mistakes -- one fumble, at least four dropped passes -- but it moved the ball downfield better than last season. The secondary was picked on in the second half and, as most thought, appears to be the weak link to the defense. Ohio's fourth-quarter drive -- 14 plays, 93 yards -- showed Penn State's defense might not dominate like past years.
Who we should see more of
: For Ohio,
Beau Blankenship
appears to be a guy to watch in both the running game and passing game. He ran for 109 yards and led the team in receptions (7). For Penn State,
Allen Robinson
had a strong debut. He had six catches for 74 yards in the first quarter. Yes, just one quarter. His route-running separates him from other receivers here, and he'll lead the team in receptions this season.
September, 1, 2012
9/01/12
1:41
PM ET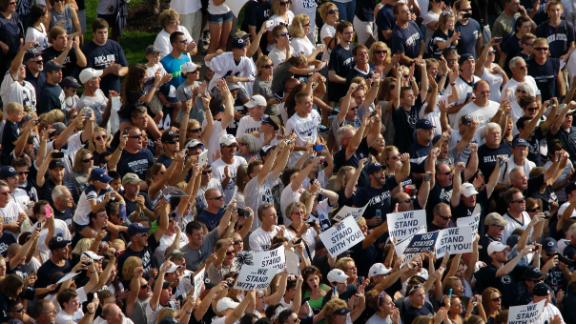 Penn State students sing the alma mater before Saturday's game against Ohio.