April, 22, 2014
Apr 22
2:00
PM ET
STATE COLLEGE, Pa. -- The past few years have brought historic changes at Penn State, from the men occupying the head coach's office to the names occupying the backs of the Nittany Lions' jerseys.
Yet until recently, Penn State's defensive line meeting room resisted renovation. It was one of few elements of the program that, in 2013, looked much like it did in 2005. Larry Johnson coached the group, as he had every season since 2000 (and, in some form, since 1996). And while the Lions' defense struggled for much of last season, the line still produced a first-team All-Big Ten performer, tackle
DaQuan Jones
, just as it did the previous five years.
[+] Enlarge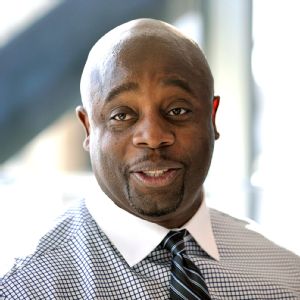 MCT via Getty ImagesNew defensive line coach Sean Spencer wants his guys attacking like 'wild dogs.'
But even the PSU defensive line couldn't evade the winds of change forever. After being passed over for Penn State's head-coaching job for the second time, Johnson in January
declined a chance to remain with
James Franklin
's staff
. Days later, he
latched on at rival Ohio State
.
Lions defensive linemen now take direction from a man known as Coach Chaos. You'll be able to hear Sean Spencer's voice from Row 80 of Beaver Stadium -- on game days. Spencer wants his Lions to be wild dogs, explaining, "The wild dog is the most efficient animal in the jungle in terms of hunting in a pack."
The 43-year-old dynamo with the "spastic" personality differs from that of his reserved, buttoned-down Penn State predecessor. But when it comes to standards, Spencer and Johnson are aligned.
"Traditionally, the D-line here has always been one of the elite in the country," Spencer told ESPN.com. "I know no other way but to have them rise to the expectations that I set forth and that they set forth for themselves. There's no excuse.
"I don't care who I've got out there. I expect to be dominant."
Spencer's message resonates with a group that, unlike others on a reduced roster, doesn't face dire depth challenges. The Lions return both starters at end --
Deion Barnes
and
C.J. Olaniyan
-- and veteran reserve
Brad Bars
, who missed all of last season with a ruptured Achilles' tendon.
Sophomore
Austin Johnson
moves into the lead tackle position and
Anthony Zettel
, a converted defensive end, has been a good fit at the 3-technique tackle spot.
"The D-line is probably our strength," Franklin said. "We have the most depth at that position. We've got about four deep at defensive end and probably two-and-a-half deep at D-tackle."
If the depth holds up, it will help Penn State use a larger rotation that Johnson typically used. Defensive coordinator Bob Shoop said the Vanderbilt linemen he and Spencer coached last fall didn't average more than 40 snaps a game.
The coaches want to use five or six defensive ends, as Bars, junior
Carl Nassib
and redshirt freshman
Garrett Sickels
also are in the mix. A healthy rotation suits Spencer's wild dogs philosophy.
At Vanderbilt, he commissioned a
painting of a Commodores football player blended with a dog
, which he displayed in his office at Penn State this spring. He also took a
giant dog bone
to the field.
"Part of their survival is when they chase their prey down, for three to five miles they take turns biting at him," Spencer said. "One goes to the front, and when he gets tired, the next one comes. It's a really unique strategy in terms of the way they attack things. We rotate a lot of guys, so we just take turns nipping at quarterbacks and making plays in the backfield."
Vanderbilt recorded 28 sacks last season, which tied for fourth in the SEC. Spencer estimates 24 came solely from line pressure. He expects the same production at Penn State.
Defensive tackle has been Penn State's strongest position in recent seasons with players such as Jones, Devon Still, Jordan Hill and Jared Odrick. Although Zettel and Johnson aren't known outside Happy Valley, the coaches think that soon will change.
"Zettel has been been very, very disruptive this spring," Shoop said. "Austin Johnson falls in line of the beast D-tackles Penn State's had in the past. He's over 300 pounds, moves well, he's tough to move at the point of attack, got a big butt and legs."
Olaniyan led Penn State with five sacks last season, his first as a starter. Penn State looks for more from Barnes, the former Big Ten Freshman of the Year whose sacks and tackles for loss totals dropped by more than 50 percent from 2012 to 2013.
"What we're looking at is, how can we get him back to that?" Spencer said.
Spencer is pleased with Barnes' football knowledge and said all the linemen are asking "200- and 300-level questions" in meetings. Life without Johnson undoubtedly caused an adjustment -- "It's always tough to see somebody you call a family member leave," Olaniyan said -- but players quickly connected with Spencer, who lists relationship-building among his strengths.
"I grew up without a dad," said Spencer, whose father played for Michigan State in the 1960s. "Unfortunately, we don't have a relationship right now, and he's still alive. It's one of the things I'm least proud of, but at the same time, it made me who I am today. It made me have the ability to reach out to kids that probably are similar to me. I'm a little younger than Larry so they're not going to look at me as a dad, so to speak. They look at me as a big brother or an uncle.
"I think we've got some similarities in the way we care about our players, but I'm probably a little bit wilder than he is."
A little wilder and a little louder, but just as demanding.
"They both have the same philosophy as far as they want you to do everything perfect," Olaniyan said. "It's easy to embrace the new coaches when they have the same goal. We take pride as the Penn State D-line.
"Each game, we want everybody to see us as one of the best defensive lines out there. We want to be great."
At Penn State, some things never change.
October, 24, 2013
10/24/13
8:00
AM ET
Injuries are an unfortunate part of the game. Every team must deal with them, but some teams get hurt harder than others. Today, we're taking a look at the teams that have been impacted the most this season. Here's our ranking of the top three:

1. Northwestern:
Injuries have played a major role in the Wildcats' 0-3 start in Big Ten play. All-American kick returner and star tailback
Venric Mark
has been healthy enough to play exactly one full game -- against Ohio State. Quarterback
Kain Colter
has been banged up just about all season as well. Both were reinjured at Wisconsin and missed all of last week's loss to Minnesota. In addition, top defensive tackle
Sean McEvilly
has played in only three games, while starting cornerback
Daniel Jones
suffered a season-ending knee injury in the opener at Cal.

2. Penn State:
The Nittany Lions had major depth issues to begin with because of NCAA sanctions. It hasn't helped that they have also dealt with a series of injuries. Tight ends
Matt Lehman
and
Brent Wilkerson
and defensive end
Brad Bars
were lost for the season. Linebacker
Mike Hull
was hurt for most of the first two months, as was tight end
Kyle Carter
. Wide receiver
Brandon Felder
missed the Indiana loss with an ankle problem. Linebacker
Ben Kline
has been limited after offseason shoulder surgery. Safety
Ryan Keiser
has been dealing with a hand injury since the Kent State game. This team can't afford many more injuries as it approaches the homestretch of the season.

3. Nebraska:
The Huskers' injury problems haven't adversely affected them -- at least not yet. Still, it's never easy when you lose your four-year starting quarterback, and
Taylor Martinez
hasn't played since Week 3 versus UCLA because of turf toe. He could be back this week, but All-American guard
Spencer Long
was lost for the season in the last game against Purdue with a knee injury. He'll be tough to replace.
July, 18, 2013
7/18/13
5:25
PM ET
Some bad news for Penn State's defensive line as the team announced Thursday afternoon that reserve defensive end
Brad Bars
will miss the season after rupturing his Achilles tendon earlier this week during a workout.

Bars, a redshirt junior, will undergo surgery in the next few days before beginning a rehabilitation plan estimated at 4-6 months, according to team doctor Peter Seidenberg. The 6-3, 251-pound Bars was listed as a backup end on
Penn State's summer depth chart
behind
C.J. Olaniyan
. He appeared in eight games last year and recorded two tackles against Navy.
A two-time academic All-Big Ten selection, Bars redshirted the 2010 season, so he will have just one season of eligibility remaining unless he applies for a sixth year.
"Definitely plan on playing another season and know I have a lot of football left in me," said Bars in a text to
NittanyNation
's Josh Moyer.
Deion Barnes
, the 2012 Big Ten Freshman of the Year, has locked up one starting defensive end spot, and Olaniyan and sophomore
Anthony Zettel
are expected to compete for the other. Bars' injury thins Penn State's depth up front, but if Barnes, Olaniyan and Zettel stay healthy, the Lions should be OK at a traditionally strong position.
April, 22, 2013
4/22/13
10:00
AM ET
Saturday featured a three-pack of spring games around the Big Ten, and we're recapping each one. Next up, the annual Blue-White Game at Penn State.

You can find coverage of Penn State's spring game
here
and
here
and
here
and
here
.
Star of the game:
Redshirt freshman running back
Akeel Lynch
. He turned in a very impressive performance, rushing for 83 yards and a touchdown on 13 carries, including a 27-yard burst. Lynch showed he's very much in the mix to start for Penn State and capitalized on an opportunity as
Bill Belton
(toe) missed the game and
Zach Zwinak
left early with a hand injury.
How it went down:
The defense recorded a
67-47 victory
in the game, thanks to a modified/confusing scoring system, but the offense garnered more attention at Beaver Stadium. Fans got their first glimpse of quarterback candidates
Steven Bench
and Tyler Ferguson, who had identical passing lines (9-for-15) and didn't leave much clarity in the race to name a starter.
Ferguson fired two touchdown passes and Bench threw one. Bench also directed a touchdown drive on the opening series capped by Lynch's 1-yard run. Both not surprisingly showed some inconsistency.
"I'm not any closer," head coach Bill O'Brien said of determining a starter. "But I enjoy coaching both guys and, eventually, we'll have to make a decision. But I'm not ready to make that right now."
Incoming recruit Christian Hackenberg, who attended the game, will have a chance to compete for the job when he arrives this summer.
Both quarterbacks connected on long passes to sophomore tight end
Jesse James
, who had a big day (five receptions, 77 yards, TD). Sophomore receiver Matt Zanellato also performed well with four receptions for 53 yards.
Despite some big plays on offense, Penn State's defensive front seemed to control the line of scrimmage, applying steady pressure on the quarterbacks. Although the sacks total (nine) isn't really relevant because quarterbacks were off limits, linemen like
Brad Bars
and
Deion Barnes
consistently beat their men.
The Lions also appear to be stronger and deeper in the secondary.
Adrian Amos
has moved from cornerback to safety, as
Jordan Lucas
had a strong spring at corner and converted receivers
Trevor Williams
(two pass break-ups) and Malik Golden (four tackles) had some plays in the game.
"Everyone on defense is light years ahead of where we were last year at this time just because of the familiarity," new defensive coordinator John Butler said.
O'Brien supplied a highlight by
going on the stadium microphone in the third quarter
. He encouraged fans to start the wave and jokingly prodding some players.
Several projected starters missed the spring game with injuries, including tight end
Kyle Carter
(wrist) and defensive tackle
DaQuan Jones
(back).
April, 23, 2012
4/23/12
10:00
AM ET
There were three spring games in the Big Ten over the weekend, and we're going to break down all of them over the course of the day. First up is Penn State.
You can find coverage of the Nittany Lions' spring game
here
,
here
,
here
and
here
.

Star of the game:
Freshman defensive end
Brad Bars
had four tackles for loss, including two sacks.
Bill Belton
rushed for 53 yards and a touchdown for the offense.
How it went down:
Fans got their first glimpse of the new era of Penn State football as the defense beat the offense 77-65 in the Beaver Stadium debut of head coach Bill O'Brien. A crowd estimated at 60,000 turned out for the game, which used a modified scoring system.
No doubt most people were curious to see how the quarterback competition was going and how those guys looked in the new offense. The results were, predictably, mixed.
Matt McGloin
completed 6 of 13 passes for 105 yards with a touchdown and an interception.
Rob Bolden
went 7-of-14 but had three interceptions.
Paul Jones
was 6-of-15 for 113 yards, with a touchdown and an interception.
"We've asked them to learn a system that's totally different than anything they've ever learned, and that takes time," O'Brien said. "And different guys learn at different rates. Some guys get it right away, other guys get it the next day, other guys get it two days from now. So we have to let it soak a little bit, let it soak for ourselves as a staff, and then we'll make a decision headed into training camp on who we're going with or who the top two are."
O'Brien said that fans saw 10 percent of his offensive playbook on Saturday.
"I understand the offense they've given us so far," McGloin said. "[O'Brien] has thrown the whole playbook at us, and we've run a million things in practice and we understand it very well. It's an exciting offense and it's going to take the whole summer to learn, but once we get it down it's going to be very fun to watch us play."
Not surprisingly, the Nittany Lions' defense looked ahead of the offense. It forced five total interceptions and had eight sacks and 13 tackles for loss. Defensive end
C.J. Olaniyan
had three of those sacks, while
Ben Kline
,
Adrian Amos
, Devin Pryor,
Jordan Hill
and
Jesse Della Valle
each grabbed interceptions.
Allen Robinson
led the team with 87 receiving yards, while
Matt Lehman
and
Christian Kuntz
each caught touchdown passes. Star tailback
Silas Redd
did not play.
Cornerback
Stephon Morris
and center
Matt Stankiewitch
were named the team's most improved defensive and offensive players of the spring.
"I felt it was pretty good, and I think it was exciting for the fans at times," O'Brien said of the spring game. "I'm not saying it was the most exciting game in the world, but I said it wasn't going to be the most exciting game in the world. But again, it was great to see all the fans out there, and I think it was a good day for Penn State football."
February, 1, 2010
2/01/10
11:00
AM ET
Illinois' 2010 class won't make national headlines like the 2007 haul, and a few weeks ago, the team seemed to be in big trouble on the recruiting trail. But Ron Zook and his new-look staff are finishing strong and picked up several key recruits, including defensive back Earnest Thomas, during the final weekend before national signing day (Wednesday).

Here are all of the Big Ten-related recruiting bits from the weekend, courtesy of ESPN's Scouts Inc.

Wisconsin draws lineman Joe McNamara from the Deep South

A 6-foot-2, 275-pound defensive/offensive lineman, Joe McNamara of Cypress Bay (Weston, Fla.) has accepted a Class of 2010 scholarship offer from the Badgers.

A former Stanford commitment, McNamara choose Wisconsin over offers from FAU, FIU and Marshall.

Illinois snares highly-recruited defensive back Earnest Thomas

Safety Earnest Thomas of St. Mary's (Orchard Lake, Mich.), who recently decommitted from UCLA, has decided to sign with the Illini for the Class of 2010.

The 6-foot-1, 195-pound prospect also drew offers from Indiana, Purdue, Louisville, Minnesota, Missouri, Penn State, Wisconsin, Stanford and Vanderbilt.

Glenbard South prospect Austin Teitsma accepts Illini scholarship

A 6-foot-3, 230-pound defensive end/tight end, Austin Teitsma of Glenbard South (Glen Ellyn, Ill.) has chosen Illinois.

Ball State, Indiana and Northern Illinois also offered.

Boilermakers land Daytona Beach kicker Jonathan Linkenheimer

Mainland (Daytona Beach, Fla.) punter/kicker Jonathan Linkenheimer is headed to Purdue for the Class of 2010.

Four Buccaneers are now bound for the Boilermakers including The 6-foot-2, 205-pound Linkenheimer, defensive back Ricardo Allen, receiver/defensive back Chevin Davis and receiver O.J. Ross.

Illini snare 240-pound running back in Jay Prosch of Alabama

Recruited as a fullback, Jay Prosch of UMS Wright (Mobile, Ala.) has given a Class of 2010 pledge to Illinois of the Big Ten.

He was also recruited by Louisiana Tech and Northern Illinois.

Ole Miss scores four-star cornerback Tony Grimes

Highly-coveted senior Tony Grimes (Hollywood, Calif./Hills) has committed to Mississippi over Michigan and Maryland, ESPN affiliate InsideTheGrove.com reports.

"I had two good trips to Michigan and Maryland there's just something about Ole Miss that stuck with me. I like the other schools but I think Ole Miss beats them out and that's where I belong," he said.

Lely defensive back Jhony Faustin no longer headed to Boilermakers

Purdue has withdrawn a Class of 2010 offer to Jhony Faustin of Lely (Naples, Fla.), because the three-star prospect has yet to qualify academically.

Nittany Lions score sleeper linebacker/defensive end Brad Bars

From Montgomery Bell Academy (Nashville, Tenn.), promising defensive prospect Brad Bars has accepted a Class of 2010 scholarship offer from Penn State.

The 6-foot-2, 210-pound Bars also holds offers from Army, Navy, Arkansas State and Central Michigan.