June, 20, 2014
6/20/14
4:30
PM ET
I'm taking your questions for a third time this week, filling in the Friday time slot for the vacationing Rittenberg. I'll be gone myself next week, so this will be the last time I talk to you for a bit.
What do you got?

Doc from Scottsdale, Arizona, writes:
What is your best case scenario for the Big Ten brand next season in regards to the Playoff? Assuming just one team gets into the Playoff, does it matter which school is there "representing" for the BIG or should just having a presence in the game be considered a victory for the league?
Brian Bennett:
Best-case scenario, naturally, is winning a national title. Nothing enhances your brand quite like that. But the second part of your question is the important one, Doc. I think it's vital for the Big Ten to get a team into the Playoff this season. Conferences that don't take part in the four-team event will basically be irrelevant. I don't even think it matters if a Big Ten representative wins its semifinal as long as it is competitive (nightmare scenario: a blowout loss to the No. 2 SEC team in a semi.) Makes no difference which team from the league gets there, but the conference needs to make sure its champion is involved most years.
---

JR from Winchester, Virginia, writes:
What signs or trends from the first few nonconference games will you be looking for that will telegraph what kind of year Nebraska will have? (Turnovers? Ability to pass the ball? Defensive line play?) Thanks.
Brian Bennett:
You picked three good ones there, JR. Nebraska should have little to no trouble with its first two opponents, Florida Atlantic and McNeese State. Fresno State on the road in Week 3 could prove a bit dicier, but the Huskers should still win that game if they are a legitimate Big Ten contender. I want to see dominance, especially in the trenches and on that defensive line, in those first three games. I want to see
Tommy Armstrong
take care of the ball and show that he can make plays down the field. And mostly, I want to see Nebraska avoid some of the extreme mood swings and fluctuations we've witnessed in the past.
A great nonconference performance doesn't guarantee anything, because an injury or other adversity can strike any time. But it would be nice for the Huskers to avoid drama early on.
---

@TimShay17 via Twitter writes:
The Badgers' passing game is their biggest question mark this season. Which is more of a concern: QB race or the unknowns at WR?
Brian Bennett:
Good question, and I say it's the wide receivers.
Joel Stave
, at the very least, is a known quantity. The team won nine games with him as its starter last season, and an extra year of experience can only help him. If
Tanner McEvoy
beats out Stave, then it's because McEvoy is playing well in practice and offering an improvement. The receivers are still a giant question mark. It's anyone's guess who will lead this team in receiving this year after Wisconsin relied so heavily on
Jared Abbrederis
the past two seasons.
---

PurpleCatResurgence from Northbrook, Illinois, writes:
Look I get it, Northwestern was sub-.500 last year, and the team still has some holes to fill, but the Cats are getting NO love in the national publications. This is almost the same team that if they get what, 5-6 plays go their way, they are a 9- or maybe even a 10-win team. They have a tough schedule this season, no doubt, but how many wins do you see this team achieving? In your view, what has to break right for this team to play in Indy this fall? Love the blog- Go Cats!
Brian Bennett:
It is funny how quickly things can change. Northwestern was 4-0 and rising toward the top 15 heading into October last season. Then came the loss to Ohio State, the first of seven straight defeats, and now the Wildcats are basically off the national radar. Still, this is a team that won 10 games in 2012 and had been to five straight bowl games. As you said, Northwestern dealt with some serious bad luck in 2013, not only late in games but also with a ridiculous rash of injuries.
So Pat Fitzgerald's team could easily be one of the most improved in the Big Ten in 2014.
Venric Mark
is healthy again, and the offense has a solid identity behind
Trevor Siemian
. Plenty of talent returns on defense. The schedule is not easy, as the Wildcats drew Michigan and Penn State from the East Division and play at Notre Dame in November. On the other hand, the West does not appear to have any truly dominant teams. I definitely see the 'Cats getting back to a bowl. For them to truly contend for a division title, the offense needs to rediscover its explosiveness, and Fitzgerald will have to figure out how to get over the hump in some of those close games.
---

@mort_c15 via Twitter asks:
Urban Meyer has said repeatedly that this year's freshmen will play will for OSU and few will redshirt. How many will, in your opinion, RS?
Brian Bennett:
Meyer told me this spring, as he said often, that he made a mistake by not playing more true freshmen last season. He plans to avoid that in 2014. At the same time, he's not going to play freshmen just to play them. Barring injuries, it's safe to say that
Raekwon McMillan
,
Johnnie Dixon
,
Curtis Samuel
and
Jalyn Holmes
will play.
Erick Smith
could get a look at safety. Guys like
Marshon Lattimore
and
Malik Hooker
could force their way onto the field on special teams, at the very least. The more likely redshirt candidates are offensive linemen, like
Kyle Trout
and
Brady Taylor
, and quarterback
Stephen Collier
. Expect to see a lot of true freshmen on the field for the Buckeyes, but if a whole bunch of them are in key roles, that's probably not the best sign.
---
Dave from Columbus, Ohio, writes:
There seems to be more time travelers here predicting how their favorite team (who has never shown the ability to win out) is going to just absolutely BEAT everyone, go undefeated and win the national championship. Yet you restrain yourself from laughing at them. Is it ever hard to do so?
Brian Bennett:
I may have to hold back a chuckle or two. But that's the beauty of the preseason in college football (or any sport, really). Everybody's undefeated, and optimism abounds. Why punish that? The actual season will do that on its own.
February, 6, 2014
2/06/14
4:15
PM ET
COLUMBUS, Ohio -- Urban Meyer is always chasing the sizzle. What the Ohio State coach needed more than anything this time, though, was some steak.
Like usual, Meyer had skill players with speed in his recruiting class, a prerequisite for his spread offense and perhaps the type of target he annually covets above all else. But on the heels of a class that was light on linemen and with four senior starters walking out the door after last season, Meyer had no choice but to load up on big guys with his third class since taking over the Buckeyes.
[+] Enlarge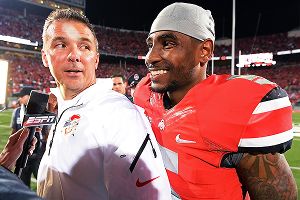 Jamie Sabau/Getty ImagesWith four senior starters on the O-line leaving, Urban Meyer knew he had to sign some linemen to help protect Braxton Miller.
And he did exactly that, signing more offensive linemen than any other position. When all the paperwork was filed on Wednesday, Meyer had a group that might not be as flashy as the burners on the perimeter but ultimately figures to be the foundation for Ohio State's future.
"Last year was a [recruiting] disappointment in the offensive line," Meyer said. "I'd say two of the five this year have to be in the depth, and we recruited as such.
"Typically you don't put freshmen in there early, but these guys have got mature bodies and they're fairly mature men."
Certainly the newcomers aren't as physically developed as the veterans who just graduated, and obviously they don't have anywhere near the experience competing at the Big Ten level. But based on the numbers and the talent on hand, the Buckeyes may have no choice but to plug a couple true freshmen at least into the two-deep depth chart as they rebuild the unit almost from scratch.
Taylor Decker
is the lone holdover, and Meyer confirmed that the junior is set to move from right tackle to left as part of the transition.
Pat Elflein
handled himself well at guard in place of
Marcus Hall
late in the season, and he's a safe bet to lock down another starting job.
Jacoby Boren
has played in reserve and impressed on the practice field, and he will move into the lineup at center. The rest of the rotation is currently written in pencil, which if nothing else at least leaves the possibility open that a fresh face could make a push for playing time.
With such precious cargo at quarterback, though, the Buckeyes would surely prefer to plug in a player who has at least been through a season with the program to help protect
Braxton Miller
. Their options, however, are somewhat limited after signing just two linemen a year ago, losing one of them before the season and ultimately moving a defender to the other side of the ball to help make up for it.
"I think last year's smallness in numbers certainly led to an increased urgency to have to go sign those guys," offensive coordinator Tom Herman said. "But with last year, at Ohio State we're not just going to sign a guy just to fill a spot. If we don't think he can help us win a national championship, we're not going to sign him. Those guys weren't out there towards the end of recruiting last year, so that put us in a dire need of urgency this year.
"Really the entire staff did a great job coming through with five offensive linemen, and all five of them, none of them are guys who you would think would be reaches at Ohio State."
Out of that bunch that earned their offers,
Jamarco Jones
had his name pop up most frequently as a crucial signee and possible option to lend a hand early, with
Demetrius Knox
not far behind him.
Brady Taylor
, a late flip from Virginia Tech, caught Meyer's eye as well after getting up to 295 pounds and could emerge as a guy he said "could sneak in the depth fairly quickly."
On top of that, the Buckeyes also have a pair of true freshmen linemen already on campus in
Marcelys Jones
and
Kyle Trout
, potentially giving them a chance to acclimate quickly and make an impression during spring practice as the Buckeyes sort through the candidates on hand. But even if none of them wind up as regulars by the end of the season, the day surely isn't all that far off when all those speed-burners Meyer is stockpiling are counting on the latest group of beefy blockers to give them room to work.
"Our toys are very useless," running backs coach Stan Drayton said, "until we take care of that front."
January, 20, 2014
1/20/14
8:00
AM ET
As usual there is a ton of action happening around signing day. The Big Ten has had commitments, decommitments, offers and everything in between.

Here is a look at what took place within the conference on the recruiting trail this past week: