September, 16, 2014
Sep 16
4:00
PM ET
STATE COLLEGE, Pa. -- Penn State linebacker
Brandon Bell
broke out in a big smile Tuesday afternoon when asked to describe his defensive coordinator. He knew he'd offer the same two-word answer that another teammate used.
"Mad scientist."
"That hits it on the head," Bell said. "He's a guy who knows what he's talking about. And that confidence is instilled in us."
[+] Enlarge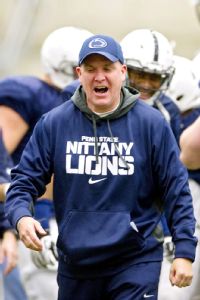 MCT via Getty ImagesBob Shoop's unit ranks among the nation's best in scoring defense.
Call defensive coordinator Bob Shoop what you will. But, by any measure, you'd have to call him a success. Penn State's defense was inconsistent at best, and poor at worst, last season. The Nittany Lions ranked No. 48 in total defense and No. 59 in scoring defense, while PSU fans everywhere were forced to take a deep breath on
third
-and-long with those passes over the middle. Now, despite preseason question marks, the defense is soaring as one of the nation's best.
The Lions are No. 13 in total defense and No. 11 in scoring defense. Sure, there's a lot of time left in this season, but players are noticing a big difference. And a lot of that starts with Shoop and his penchant for calling the right play at the right time.
"I don't know if we're doing that much different," linebacker
Nyeem Wartman
said, comparing this season to 2013. "It just seems like the play-calling and the timing is right. There are no more than two or three plays that seem new."
Said James Franklin: "I've been on the headset on defense where Bob's calling out 75 percent of the plays before they're being run. He's calling out, 'We're going to get an interception here,' and things like that. It's impressive, it really is."
Shoop literally broke out a pack of Icebreaker breath mints last week and told his defense they were going to "break the ice" with some turnovers. It was a silly move, one that drew laughs, but Shoop followed that up by saying this defense would force five turnovers against Rutgers on Saturday.
On Saturday, Penn State wound up with five interceptions against the Scarlet Knights. In several different interviews, within an hour after the game, Penn State's defensive players swore that Shoop called those five picks. He knew the Nittany Lions would have opportunities, and he told his squad five turnovers is what it would take for a win.
"It's crazy," linebacker
Mike Hull
said, half in disbelief. "It's crazy it worked out that way. You never think about that kind of stuff; you just do your job and hope things take care of themselves."
It's premature to call this a defensive renaissance for the Nittany Lions. But it's not too early to call this a dramatic improvement over last season. The secondary in 2013 was the Achilles' heel of the team, and cornerback
Trevor Williams
struggled so mightily that PSU shuffled the lineup to bench him midway through the season. On Monday, Williams was named the Big Ten defensive player of the week after pulling down two picks against Rutgers.
The offseason graduation of defensive tackle DaQuan Jones -- whom NFL.com's Gil Brandt once rated as the top senior DT -- was supposed to prove problematic. But now first-year starter
Anthony Zettel
could be on pace for Big Ten defensive player of the year. These linebackers were also supposed to struggle with their depth and inexperience outside, but they've been just fine.
When problems become strengths, and question marks evolve into exclamations, that's a definite sign of progress. And it has been a mark of Shoop and this staff.
"He's like a mad scientist the way he figures out defenses and tendencies of the offenses," Wartman said. "He's the one who predicted the five turnovers, and he's the one who said we were going to come out and not give up 14 points. He's just phenomenal."