March, 5, 2012
3/05/12
9:00
AM ET
The Tim Beckman era reaches a new phase Wednesday as Illinois players go through their first spring practice under their new coach. Beckman is a high-energy leader who wants to foster competition in every element of his program. Although two-year starter
Nathan Scheelhaase
returns at quarterback, he'll have to fend off three contenders and make an impression on the team's new coordinators, Billy Gonzales and Chris Beatty. The Illini are short on running backs and wide receivers, while the defense looks to continue the momentum it generated in 2011. Beckman takes over a team that has recorded back-to-back bowl victories but struggled to show it can take a step toward the top half of the Big Ten.
ESPN recently caught up with Beckman. Here are his thoughts.
[+] Enlarge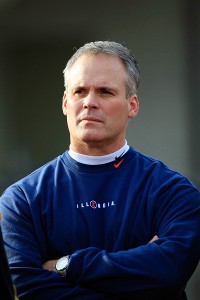 AP Photo/Marcio Jose SanchezNew Illinois coach Tim Beckman has high expectations for his team as it begins spring practices.
What are your expectations for spring practice?
Tim Beckman:
I want our players competing. I want them playing with outstanding effort in everything they do in spring ball. That competitive nature will be in every drill we do. These players will be evaluated in everything that they do. They're going to get feedback from the coaches on what we feel is championship-caliber and what we feel is not championship-caliber.
How much have you looked at tape from last season?
TB:
Definitely. I've watched and evaluated tape, and been involved with what they did last year. But that's in the past. As I told the players when I met individually with each one of them, this is the future, this is a new era and we're building this thing forward, not building from the back.
How would you describe your quarterback situation entering the spring? Will it be a full competition?
TB:
Oh, it's great. That's what life's all about. We've got the capabilities of being good at that position with four guys. Competition just makes you better. We've got one that has played [Scheelhaase] and played quite a bit and proven that he can win football games, won seven this year and won a bowl game. But we also have some backups with Reilly [O'Toole] and Miles [Osei] and [Chase] Haslett, there's three backups and a starter that are capable of winning football games.
How does Nathan fit into your vision for the offense?
TB:
Your vision for the offense is scoring points and securing the football. I'm not going to bang my fist on the table, saying, 'We've got to do it this way.' We've got personnel that's already involved here. Nobody here is anybody we've been able to go out and recruit, so we're going to fit our schemes to what we have here talent-wise. Yeah, I want to be able to say we're a spread football team, but if we don't have the personnel to be a spread football team right now, we've got to fit an offensive scheme to the player personnel we have. I know this, though. We're going to be fundamentally sound in what we do. We can secure the football on offense, and on defense, we can take the football away.
You brought in two coordinators on the offensive side, both younger guys [Gonzales and Beatty]. Are you going to be evaluating them this spring in their new roles?
TB:
Everybody gets evaluated. Heck, they're going to be evaluating me. This is a new coaching staff, so that's the life of a coach, that's the life of a Division I college football player. You are being evaluated in everything that you do. If it's at a speaking engagement or if it's lifting weights or running or whatever it might be, you're going to get evaluated. So we're going to evaluate ourselves and try to make ourselves the best we can be.
Really impressive year on the defensive side in 2011. Is it a matter of keeping it going, or do you want to do something dramatically different with coach [Tim] Banks and your vision for that group?
TB:
They did an outstanding job last year, no question about it. But there's other categories they've got to get better at. They didn't have enough takeaways [22], and the game of football is simple: you've got to have the football to score. So you've got to take it away on defense, and you need to secure it on offense. That is an avenue that this defense must get better at because it just wasn't quite as productive [at takeaways] as it was in all the other categories. That is the one thing we have to strive to do better at.
And how do you plan to emphasize that?
TB:
If you look at where we've been the past three years, we've always been very, very strong at takeaways and ball security. We practice it in everything that we do, from Period 1 to Period 24 or Period 1 to Period 18, whatever the practice entails, we'll have a ball-security and a takeaway drill. We'll have constant talk about ball awareness, so that our players understand that's the key to any football game, securing it or taking it away on defense.
You lose an outstanding player to the NFL in Whitney [Mercilus]. Who do you see emerging at the defensive end spot and filling that production?
TB:
The great thing you've seen is we were able to keep
Michael Buchanan
. Michael Buchanan's a heck of a football player. He was one of our top recruits, keeping Michael here, keeping
Terry Hawthorne
here, keeping
Akeem Spence
here on defense. That was very, very crucial for us.
Graham Pocic
also. They were all capable of being able to go out in the NFL draft and they didn't. And at this time last year, Whitney's name wasn't named very much throughout college football, so you can make tremendous strides, as Whitney did. There's a possibility of a
Justin Staples
or a
Timmy Kynard
or a
Brandon Denmark
. All of our defensive ends have had outstanding winter workouts, and now they've got to prove it on the field during spring.
At running back and wide receiver, what are you looking for from those groups? You lose a top receiver in A.J. Jenkins.
TB:
Oh my goodness. That is a major concern, the depth at both of those positions. They're going to have to grow up fast. We've only got really three running backs on scholarships. I've never been at a place where there hasn't been more than four or five on scholarship at one time. So depth is a major concern. And wide receiver, it's the same. You've got a couple names of guys that have done decent, but they need to elevate their game and then the depth of our young players to make ourselves better at those positions.
Is depth also an issue up front on the offensive line?
TB:
There are some freshmen that have done some good things and have been able to step up and play, so I think there's a little more depth on the offensive line than there is at wide receiver and running back.
How much are you looking for leadership to emerge during spring ball?
TB:
It's huge. You talk about it every day to the players. It's our leadership that can push this football team past a 7-win season. That's the challenge for the senior group and the challenge all the way down to the freshman group. Everybody's got a role on a football team and everybody's role is different. You can be a leader based on any one of your roles. I've pushed this football team to be better leaders and to be better guides for our football team to be successful. So if we do have a young man that's late for maybe a 6 o'clock weight workout, I don't blame just that man. I blame his roommate, I blame the position group and I blame the whole unit itself. That's how leaders are built.
Even with the competition that we've been doing throughout the winter workouts, by drafting teams and having an offensive lineman with a kicker or a DB with a wide receiver, all on the same team, to try and enhance the leadership roles of each one of the football players as we compete.
May, 4, 2011
5/04/11
11:30
AM ET
Illinois
2010 overall record:
7-6
2010 conference record:
4-4 (T-4th)

Returning starters
Offense: 7; defense: 6; kicker/punter: 1
Top returners
QB
Nathan Scheelhaase
, LT
Jeff Allen
, WR
A.J. Jenkins
, C Graham Pocic, CB Tavon Wilson, S Trulon Henry, LB Ian Thomas, DT Akeem Spence, K Derek Dimke
Key losses
RB
Mikel Leshoure
, G Hugh Thornton, T Ryan Palmer, DT Corey Liuget, LB Martez Wilson, LB Nate Bussey, DE Clay Nurse, P Anthony Santella
2010 statistical leaders
(*returners)
Rushing:
Mikel Leshoure (1,697 yards)
Passing:
Nathan Scheelhaase* (1,825 yards)
Receiving:
A.J. Jenkins* (746 yards)
Tackles:
Martez Wilson (112)
Sacks:
Corey Liuget (4.5)
Interceptions:
Trulon Henry* (3)
Spring answers
1. Scheelhaase takes next step:
Offensive coordinator Paul Petrino seemed extremely pleased with the way quarterback Nathan Scheelhaase built on his first season as the starting quarterback. Scheelhaase proved himself as a runner last season, but he upgraded his passing skills this spring, displaying a quicker release and better decision-making. The redshirt sophomore should be a dangerous dual-threat signal-caller this fall.
2. Secondary steps up:
Illinois must replace several standouts in the defensive front seven, but it should be very solid in the secondary this season. Terry Hawthorne, Justin Green and Tavon Wilson were among the defensive backs who stood out in spring ball. Illinois boasts depth at both safety and cornerback, as Supo Sanni returns from injury and Trulon Henry enters his second year as a starter.
3. Lankford provides depth:
Top receiver A.J. Jenkins and projected contributor
Darius Millines
both missed spring practice after offseason surgeries, so the coaches were looking for options at wideout. Sophomore
Ryan Lankford
answered the bell with a very impressive spring, showing good hands and run-after-catch ability. Lankford capped the session with five receptions for 64 yards in the spring game.
Fall questions
1. Running back:
Injuries prevented the coaches from getting much of a read on the group this spring. Senior
Jason Ford
, a likely successor to Mikel Leshoure, missed most of the spring with a bruised knee, and Petrino said he needs to see more from Ford this summer.
Troy Pollard
had some good moments before suffering a concussion in a scrimmage. The starting job is open heading into the fall, and there's opportunity for an incoming freshman like Donovonn Young to make a splash.
2. Linebacker leadership:
Defensive coordinator Vic Koenning didn't sound too pleased with the linebackers midway through the spring, although the group picked up its play toward the end. Illinois still must replace two productive players (Martez Wilson and Nate Bussey) and identify leadership at the position. Senior Ian Thomas seems like the obvious choice to take the reins, while talented younger linebackers like Jonathan Brown, Houston Bates and Brandon Denmark must continue to make progress.
3. Punter:
Illinois loses a field-position weapon in Anthony Santella, who ranked 14th nationally in punting average (44.8 ypp) and placed 19 punts inside the opponents' 20-yard line in 2010. Backup kicker Matt Eller worked as a punter this spring and Lankford auditioned as a rugby punter, but Illinois likely will see what incoming freshman Justin DuVernois can do before settling on a starter.
April, 11, 2011
4/11/11
9:00
AM ET
After a recent practice, Illinois defensive coordinator Vic Koenning asked the team's linebackers to identify the breed of dog that best represents their position group.
The players didn't hesitate. Four immediately shouted out, "Pitbull!"
It's an answer that warms a coach's heart, but saying the right thing and doing the right thing are different things. Koenning let the players know what he has been seeing this spring.
"Well," he told the linebackers, "we're little cocker spaniels right now."
[+] Enlarge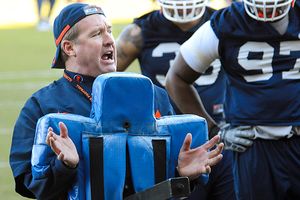 AP Photo/The News-Gazette, Robin ScholzIllinois defensive coordinator Vic Koenning wants his linebackers to be pitbulls but "we're little cocker spaniels right now," he said.
Illinois is trying to reload on defense after losing a likely first-round draft pick in defensive tackle Corey Liuget and a likely second-round pick in linebacker Martez Wilson. Although Liuget leaves a major void in the middle of the line, the linebackers lose the most overall production as Wilson and Nate Bussey combined for 195 tackles, 20 tackles for loss, three forced fumbles, four fumble recoveries and two interceptions in 2010.
Koenning, who now oversees the linebackers after coaching defensive backs in his first season with Illinois, says the 'backers have the longest way to go "by a long shot." To be fair, the Illini are mostly young and unproven at linebacker and are turning to players like sophomores Jonathan Brown and Brandon Denmark and redshirt freshman Houston Bates. Brown stood out as a true freshman in 2010, recording 31 tackles, but he no longer has Wilson or Bussey on the field to help.
Part of Koenning's challenge is to get the linebackers on the same page from a fundamentals and techniques standpoint.
"That's a major, major, major focus for me right now, for them to all have the same stances, the same basic footwork and techniques," Koenning said.
He's also trying to teach toughness.
"We've got to get back to pursuit drills and stuff we haven't made time to do," Koenning said. "Like Mickey told Rocky, 'The worst thing that can happen to a fighter is to get civilized. You've got to get back to old school.' In my opinion, we've got to get back to a little bit of old school. That's what we've got the rest of spring practice to do.'"
Koenning's top priority is to identify leadership. Although Illinois' most experienced defensive unit is the secondary, he notes that few defenses can survive without a leader in the front seven. Wilson answered the call to lead last spring and later was joined by Liuget, who became Illinois' bell cow with his dominating play on the interior line.
Koenning has spotted some potential leaders up front. Rush end Michael Buchanan and tackle Akeem Spence both have playing experience and show signs of wanting to take the reins.
"Mike's matured a lot, and Mike may be our leader," Koenning said. "He may be the guy."
The easiest solution to the leadership issue, though, would come from the linebacker group. Rising senior Ian Thomas seems like an obvious choice. He has started the past two seasons, recording 162 tackles.
But Thomas is adjusting to the middle linebacker spot and still must make strides in the final two weeks of spring ball.
"He's got a lot on his plate," Koenning said. "He wants to [lead] badly and he's a good person and he's conscientious. It's all weighing on him a little bit. He just needs to relax and play. He's sometimes trying too hard. He'll get it. I'm extremely, extremely hard on him."
Thomas' top priority is improving his footwork to remain in the right position to make plays. He's not alone in that respect.
"It's like one of those country dances," Koenning said. "You take one step forward and two steps back or two steps forward and one step back, however that goes. I haven't been able to crack the code with some of these guys to get them to absorb it. We've got a lot of questions to answer in the linebacker corps."
The good news: Illinois still has plenty of time to find the answers.
March, 3, 2011
3/03/11
10:30
AM ET
Every Big Ten team will enter spring practice needing to replace valuable seniors who have exhausted their eligibility.
The
Illinois Fighting Illini
face a similar challenge -- with a twist.
Illinois' biggest personnel hits come from losing three standout juniors -- running back
Mikel Leshoure
, defensive tackle Corey Liuget and linebacker Martez Wilson -- who opted to enter the NFL draft a year early. All three players earned All-Big Ten honors, and strong cases can be made for all three being the league's top players at their respective positions.
Leshoure led Big Ten running backs with 1,697 rush yards, ranked fifth nationally in rushing average (130.5 ypg) and led the league in touchdowns (20)
Liuget dominated on the interior line, racking up 12.5 tackles for loss, 4.5 sacks and 10 quarterback hurries
Wilson tied for fourth in the league in tackles (112), led Big Ten linebackers in tackles for loss (11.5) and had three forced fumbles, an interception, five passes defended and a blocked kick
All three players will be missed, but Ron Zook isn't sounding alarm bells in Champaign. The coach is optimistic Illinois has the pieces to fill each void.
Running back
Leshoure was one of the nation's most productive offensive players in the past season and a half, but Zook has often thought
Jason Ford
would carry the load for the Illini.
"If you'd asked me a year ago, I'd have said Jason would be the main guy," Zook said. "He's a pretty good running back."
Ford has rushed for 1,362 yards and 19 touchdowns in his career, but he has been nagged by injuries, which Zook attributes in part to Ford's weight.
"The one thing we said he had to do is get his weight down, which he's done, he's worked hard on it," Zook said. "We'd like to see him around 232, 234 maybe. He's a bit bigger than that, but he's on his way down."
Defensive tackle
Illinois will be hard-pressed to find another Liuget, but Zook really likes what he's seen from Akeem Spence during the offseason. Spence recorded 45 tackles, including four for loss and a sack, as a redshirt freshman last season.
Austin Tietsma and Jake Howe are two other young linemen who should be in the mix, Zook said, and Craig Wilson has moved from offensive line to the defensive front.
"I'm excited about a big body in the middle," Zook said of the 6-5, 320-pound Wilson. "He'll have a chance to be special for us."
Linebacker
Martez Wilson's unique skill set will be missed at middle linebacker, but Illinois has a player who knows the position. Ian Thomas played middle linebacker in 2009 after Wilson went down with a season-ending neck injury. Thomas led Illinois with 95 tackles.
Illinois also is excited about Jonathan Brown, who had a strong freshman season at linebacker. Brandon Denmark, who moved to linebacker during bowl practice, has some similarities to Wilson as a player.
February, 4, 2010
2/04/10
2:15
PM ET
Illinois Fighting Illini
The class
Recruits:
20 (19 high school seniors, one junior college player, three players enrolled early)
Top prospects:
Chandler Whitmer
gives the Illini another option at quarterback as the team tries to replace four-year starter Juice Williams. Wide receiver
Darius Millines
, a last-minute addition, bolsters the receiving corps, while safety
Earnest Thomas
will get a chance to play right away in the secondary.
Sleepers:
Linebacker
Mark Wilson
should help a group that regains the services of Martez Wilson this fall. Arguably the team's most intriguing prospect is junior college safety
Trulon Henry
, the older brother of former Illinois star
Arrelious Benn
. Henry served nearly five years in prison for armed robbery but has turned his life around and should help in the secondary.
Needs met:
Time will tell if Illinois addressed its need in the secondary, as players like Henry and Thomas need to contribute right away. Losing safety
Corey Cooper
to Nebraska hurt, but embattled head coach Ron Zook and his new-look staff closed recruiting well with players like Millines and
Brandon Denmark
. The wide receiver position should once again be strong this season.
Analysis:
The class isn't drawing high marks, which puts pressure on the coaching staff to develop players for a make-or-break 2010 season. Illinois held onto Whitmer, which could be key, and finished strong after the class looked bleak in early December. If the defensive recruits can come in and contribute this fall, Illinois might be able to stabilize itself on that side of the ball.
Scouts Inc. grade:
C-minus
What Ron Zook said:
"The strengths are the linemen and obviously the receivers. If you go back and you look at who we lost, we filled in the positions. ... Hopefully, we're getting to a point where we don't have to continually count on freshmen playing. Although I think there will be some guys [in this class] who have a pretty good opportunity to do that."
"Darius [Millines] is an unbelievable athlete, he can run like a deer. He probably surprised a lot of people down there because he committed early to West Virginia. Doc Holliday really had a great relationship with him, and he's at Marshall now. I think he has a chance to be a special guy. Jarred Fayson said, 'Coach, he's one of us.' That makes me feel good."

"There's been a lot of negative recruiting going on, but that's part of it. People don't have to say anything. They just take the articles that are written and show them. You're defending your manhood, you're defending everything about you every time you go out there."
BIG TEN SCOREBOARD
Saturday, 12/20
Monday, 12/22
Tuesday, 12/23
Wednesday, 12/24
Friday, 12/26
Saturday, 12/27
Monday, 12/29
Tuesday, 12/30
Wednesday, 12/31
Thursday, 1/1
Friday, 1/2
Saturday, 1/3
Sunday, 1/4
Monday, 1/12
Tweets from https://twitter.com/ESPNCFB/lists/b1g