April, 11, 2013
4/11/13
3:00
PM ET
Our look at a Saturday packed with spring games around the Big Ten continues with Purdue. Head coach Darrell Hazell wraps up his first spring session with the annual Black & Gold spring game at Ross-Ade Stadium.
Here's a closer look:
When:
Saturday, 1 p.m. ET
Where:
Ross-Ade Stadium in West Lafayette, Ind.
Admission:
Free. Gates open at noon. Free parking is available on a first-come, first-served basis in the A Lot (west half only), F Lot, G Lot, H Lot (upper and lower), R Lot and Z Lot. The family fun fest takes place from 11 a.m.-noon ET and is open to all kids in eighth grade or younger.

TV:
Live on BTN2Go
. Big Ten Network will air the game at 9 p.m. ET on April 15.
Weather forecast:
Partly to mostly cloudy, temperatures between 41-48 degrees, winds at 15-17 mph.
What to watch for:
There are new schemes on both sides of the ball, an evolving quarterback competition and a different feel with Hazell and the new staff. Purdue
drafted teams Wednesday
-- secondary coach Jon Heacock will lead the Black team and defensive line coach Rubin Carter will lead the Gold squad. Full rosters are
here
.
The quarterbacks will be in the spotlight Saturday and it will be interesting to see how the Black squad rotates senior
Rob Henry
and freshman Danny Etling, as they seem to have separated themselves a bit in the competition. Henry tried to
trade Etling to the Gold squad
for offensive lineman
Robert Kugler
and punter
Thomas Meadows
but was shot down.
Etling made a move last week and shared most of the reps with the first-team offense in practice earlier this week. Henry has worked extremely hard to learn John Shoop's pro-style system, and while he's always branded as an athlete first, he wants to show he can be an effective pocket passer.
Austin Appleby
, meanwhile, will lead the Gold squad and has a good opportunity to end the spring on a strong note. Although Appleby seems to have fallen back a bit in the race the last week, he can leave the coaches with a strong impression coming out of the spring.
Line play also will be an area to watch as
Purdue tries to get closer to being "Big Ten strong
." Defensive tackle
Bruce Gaston
Jr. is back on the field after recovering from thumb surgery, and he'll lead the Gold squad line, while end
Ryan Russell
lines up for Black. Hazell told ESPN.com this week that the offensive line is "starting to make strides," so it will be interesting to see which team protects the passer better. The defensive line is thin as
Ryan Isaac
,
Greg Latta
and
Brandon Taylor
all are out with injuries.
The secondary could be a strength for Purdue this fall, and while top defensive backs like
Ricardo Allen
,
Frankie Williams
and
Normondo Harris
are split between the teams, all have opportunities to showcase their playmaking ability. Outside receivers
Dolapo Macarthy
and
Charles Torwudzo
, both of the Gold team, will challenge Williams and Harris.
Running back
Akeem Hunt
has had a very good string in establishing himself as the starter, and he'll help lead the Black team's offense. The Gold will counter with
Robert Gregory
and, if he's cleared,
Brandon Cottom
.
November, 6, 2012
11/06/12
3:15
PM ET
Some more personnel nuggets from around the league ...
October, 28, 2011
10/28/11
10:30
AM ET
Purdue no longer has Ryan Kerrigan, a first-round NFL draft pick this spring, but the Boilermakers have another star in the making on the defensive line. Junior tackle Kawann Short was named the Big Ten's co-defensive player of the week for his two-sack, 3.5 tackle-for-loss performance last week against Illinois. The 6-foot-3, 310-pounder has emerged alongside Devon Still, Jerel Worthy, John Simon and others as a standout interior lineman in this league. I recently caught up with Short on the eve of Purdue's game at Michigan for this week's Friday Q&A:
What has been the key to your success so far this season?
Kawann Short:
Just watching film, doing what the coaches tell me to do. I'm trying to be consistent, to not let up in practice and go hard all the time. And it's showing up in the games on Saturday.
Danny Hope said your improved conditioning has been a big key. How has that helped you this season?
[+] Enlarge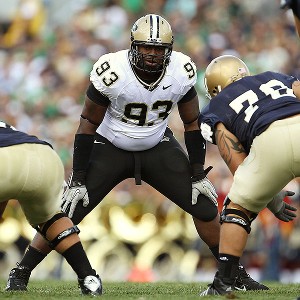 Jonathan Daniel/Getty ImagesKawann Short, Purdue's junior defensive tackle, says the Boilers "must" get to a bowl game this season.
KS:
It's been a dramatic change from my freshman year to now. My weight has fluctuated, but it's also about being muscular and just pushing myself, really. As a young guy, you're really not always pushing yourself as hard as you could. As an older guy, I want to set an example for the younger guys.
How many more snaps can you play now with your better conditioning?
KS:
I can play a whole game. At Penn State, I played the whole game, and at the end of the day, it wasn't bad. Last year, I could probably play no more than like 50 or 60 snaps. On Saturday [against Illinois], I played like 70 or 80, and I felt pretty good about it.
Are you seeing a lot more double teams now?
KS:
Yeah. People told me it was going to happen. Teams see you getting better, and they start focusing on you more. I don't even acknowledge it, just because I've been in that position before. Now it's time for the younger guys to step up and beat the one-on-ones.
What did you learn in playing next to Ryan Kerrigan?
KS:
Just as far as his intensity and energy and his drive. I've never seen that man take a play off or even mess up in a game. I'm trying to be like him now, where in meetings you never hear my name except when they say, "Good job here" or "Good job there." Playing next to Ryan gave me that energy, knowing that you've got to go every time you put your hand down in the grass and don't even think about tiredness. That's the biggest thing I learned from him.
Did you feel responsibility to become more of a leader after he left?
KS:
Well, Gerald Gooden is the leader and a captain. But we're the two older guys on the line, so we have to set an example. He's doing it for the defensive ends, and I'm doing it for the tackles.
What was it like Saturday when you guys beat a ranked team for the first time since 2009?
KS:
It felt great after the win. Holding them scoreless until the fourth quarter was a blessing, and it was great to see the whole team coming together like that. Now we know we're capable of doing it. Every Saturday, any team can be beat and you just have to be ready to play and bring it. We're going to try to do that the rest of these Saturdays in the conference.
You need two more wins, but do you feel like you guys can get to a bowl game for the first time since 2007?
KS:
Most definitely. It's a must. We've got to. We've been out too long, and everybody is just hungry. We've been going home for Christmas and watching other teams and players and knowing we could be playing. We're trying not to go home this year.
Would not making a bowl be a disappointment now?
KS:
Yeah, just because now we're a whole lot better team. Everybody's mindset is definitely different and we're working hard. That would hurt us. It would be a sharp pain in our stomachs just to know we could have been bowl eligible but we didn't do it.
What are the challenges for a defensive lineman when facing Denard Robinson this weekend?
KS:
Just his quickness. You have to stay true to your assignments, because if you have any little mess-up, he can take off. He's a very good quarterback and runner. As far as the D-line, we've got to stay in our gaps. We've got to keep control and keep contain. If we do that, we should be in good shape.
You have four blocked kicks in your career. What's the secret to that?
KS:
To be honest, I'm not doing it by myself. The guy next me helps me to get the push. All I'm doing is throwing my arms up and jumping a little bit. Ryan Kerrigan helped me do it a couple times. Bruce Gaston, Ryan Isaac and
Brandon Taylor
, all those guys helped me get one. I can't take all the credit, knowing those guys were with me all the time. All you need is that good push and to throw your hands up.
Is it true you didn't play football until eighth grade?
KS:
Yeah. A lot of people were in my head telling me to go play. When I went to high school I wasn't even going to play, but one of the coaches told me to try out. I just stuck with it because it was something I was good at. I was more of a basketball player, but when I learned I could do both, I stuck with it.
And you won an Indiana state title in basketball with former Purdue star E'Twaun Moore as your high school teammate?
KS:
It was in 2007, his senior year and my junior year. That was a great year, because it was also the year I committed to Purdue.
What position did you play?
KS:
I played center. We had a 6-11 guy, but he played the 4 and the 3. I was going up against guys who were like 6-6, 6-7, but I was handling it pretty well. My big body kept me going.
You must have been a pretty good rebounder.
KS:
Yeah, that was where all my points came off of. I was a double-double guy.
When did you know football was your future?
KS:
Probably my sophomore year. I was just playing basketball because I really enjoyed myself and I couldn't see myself not playing. It helped me stay in condition and helped me get my footwork and coordination right. So it was definitely a plus.
August, 11, 2010
8/11/10
10:00
AM ET
Purdue's recent struggles in defending the run just don't add up.
The Boilers have had their share of outstanding defenders the last two seasons, particularly in the front seven. Remember these names?
All-Big Ten end Ryan Kerrigan has recorded 20 sacks, 30 tackles for loss and nine forced fumbles in the last pwo seasons.
Tackle Mike Neal recorded 11.5 tackles for loss and 5.5 sacks last fall before becoming a second-round pick in the NFL draft by the Green Bay Packers.
Linebacker Jason Werner racked up 14.5 tackles for loss, 4.5 sacks and two forced fumbles last fall.
Safety Torri Williams recorded 167 tackles in his final two seasons as a Boilermaker.
Tackle Alex Magee was a third-round draft pick of the Kansas City Chiefs after finishing his Purdue career in 2008.
Another lineman who played in 2008, Ryan Baker, is now with the Miami Dolphins.
With so many individual standouts, how has Purdue finished last in the Big Ten in rushing defense in each of the past two seasons?
"It's everybody against the run," co-defensive coordinator/defensive line coach Gary Emanuel told me Tuesday night. "It's not just the front seven, it's not just the back end. It's everybody, together."
Purdue has struggled to find that cohesion on a consistent basis. Gaps haven't always been controlled. The line hasn't always fit where it's supposed to. And when opposing ball-carriers break through the first wall of defenders, tackles haven't always been made.
Enter Emanuel, a seasoned defensive line coach whose extensive résumé includes a previous stint at Purdue from 1997-2004. He worked alongside current Boilers head coach Danny Hope from 1997-2001 and mentored standout linemen like Anthony Spencer, Shaun Phillips and Akin Ayodele.
When Emanuel returned to West Lafayette, he saw a defense that had the parts but didn't always play well as a whole.
The best news?
"The biggest thing is we don't have guys with a bunch of egos," Emanuel said.
Kerrigan sets the tone for the group. He's one of the nation's best pass rushers, but you'd never guess it if you met him off the field.
Emanuel sees similarities between Kerrigan and the other stars he has coached, including Spencer, Phillips and former Boiler Rob Ninkovich.
"They loved football, they didn't have egos, they loved practicing, they loved to play, they were interested in learning and they wanted to be good," Emanuel said. "He's [Kerrigan] probably one of the more coachable big-time players I've been around. He has no ego at all."
Kerrigan and junior end Gerald Gooden have taken charge of the group, but Emanuel also likes his young linemen like Kawann Short, Brandon Taylor, Justin Kitchens and Bruce Gaston, a true freshman who should see the field this fall. He hopes the sum of the parts finally stuffs the run in 2010.
"You have to do some scheming, but it's basically fundamentals: emphasize tackling a little bit more, having a system of tackling, having a team that runs to the ball, emphasizing 11 hats to the ball," Emanuel said of his preseason plan. "It's a work in progress.
"It's not going to be fixed overnight, but it has to be."
February, 6, 2009
2/06/09
3:07
PM ET
Posted by ESPN.com's Adam Rittenberg
Head coach Danny Hope's first recruiting class at Purdue is up next on the rundown.

Number of recruits: 20
Key needs: Wide receiver, running back, defensive line, defensive back
Highest-rated player (Scouts Inc.): Eric McDaniel (No. 26 nationally among defensive tackles)
The quote: "We believe this class is coming to Purdue with a purpose and will bring a swagger. Those guys down there in South Florida play with a swagger. Football's the most important thing to many of them, and it'll be nice to have some of that around here." -- Head coach Danny Hope, on his Florida-centric recruiting class
Quick take: This class likely will go one of two ways. Purdue's team speed and athleticism could be significantly upgraded by an influx of recruits (14) from Florida, a state that mass-produces game-changing skill players. Hope's ties to the Sunshine State could pay off with several immediate contributors like running back Al-Terek McBurse, linebacker Antwon Higgs and wide receiver Eric Williams. On the flip side, Purdue might be stuck with second-rate talent from a talent-rich state, and its newest players could struggle to adjust to Big Ten football and/or attending college so far from home. The class ranked near the bottom of the Big Ten, and it's up to Hope and his assistants to prove themselves as talent evaluators and developers. Purdue seemed to address a need at wide receiver with three additions, and defensive tackle prospects like McDaniel, Brandon Taylor and Cody Davis could play early in their careers.
October, 28, 2008
10/28/08
1:00
PM ET
Posted by ESPN.com's Adam Rittenberg
I'll be on the Big Ten coaches' conference call for the next bit, so check back later for news updates.
For now, here's your daily diet of links.
"It has long appeared that the Buckeyes try to be too much the chameleon on offense, which can lead to predictability because only a few plays are run out of each formation. After all, there are only so many plays a team can practice.

"They've shown the I formation, the broken I, the one-back, the shotgun, the pistol and variations on those themes. Sometimes they've got one wide receiver on the field in a two tight-end power formation; sometimes they've had five receivers on the field in a shotgun spread. Sometimes they've got combinations."
Youth is no longer an excuse for Michigan, and Rich Rodriguez wants his team to become mentally tougher, Mark Snyder writes in the Detroit Free Press.