March, 31, 2010
3/31/10
6:30
PM ET
Joe Paterno opened his news conference Wednesday afternoon by apologizing for delaying his pre-spring meeting with reporters.
Then, in classic Paterno fashion, he muttered, "I'm here. Unfortunately, so are you."
Yes, we missed you, JoePa.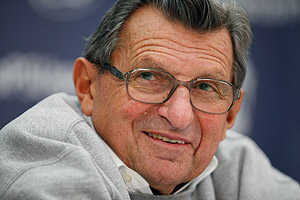 AP Photo/Carolyn KasterPenn State coach Joe Paterno sports his new glasses while meeting with the media on Wednesday.
We haven't heard much from the Penn State head coach since the Capital One Bowl, though his vision surgery and the auctioning of his famous glasses kept Paterno in the spotlight. Paterno addressed a number of topics in Wednesday's media session, and here are a few takeaways:
There's no timetable on a decision to name a starting quarterback. Paterno is open to modifying the offense so it fits the players' strengths. "We want to get them comfortable, see what they can do, and not do more than what they can handle," he said.

Paterno reiterated that former walk-on Matt McGloin is very much in the mix at quarterback, while wide receiver Brett Brackett hasn't been working with the signal callers this spring. Paterno is making the rounds in spring ball and hasn't seen much of early enrollee Paul Jones. JoePa is happy with the way Kevin Newsome handles himself in the huddle, saying Newsome "has made a lot of progress."

Wide receiver Chaz Powell is getting a look at cornerback this spring. Powell ranked fourth on the team in receptions with 28 last fall. He also served as the team's primary kickoff return man and finished second in all-purpose yards (67.8 ypg). Powell played both defensive back and wide receiver in high school and was a standout on special teams. "I'm not sure Powell's going to be a corner," Paterno said. "Obviously, Powell's a good athlete. He could play offense or defense."

Asked about the situation at offensive tackle, Paterno jokingly asked reporters if they had a big sheet of paper with them. Penn State is auditioning several players at the tackle spot, including DeOn'tae Pannell and redshirt freshman Eric Shrive. "We argue every morning, can so-and-so handle the pass protection?" Paterno said. "For me to make any kind of statement on where guys will play is ridiculous right now."

Starting safety Drew Astorino (shoulder) and linebacker Michael Mauti (knee), who many project as a starter in 2010, are out for the spring with injuries. Reserve running back Brandon Beachum (knee) will only do some light running this spring. Paterno didn't sound too concerned about the linebacker position and likes what he has with Bani Gbadyu, Nate Stupar and Chris Colasanti.

Paterno doesn't expect starting running back Evan Royster to do too much this spring, as he has little to prove to the coaches. Backup Stephfon Green and Shaine Thompson, a former walk-on who recently received a scholarship, will be in the spotlight there.

The jury is still very much out on defensive tackle Brandon Ware, who has struggled with academic issues and weight problems. "I think he's still a little too heavy," Paterno said. "But he's got a long road to go academically before I'm going to think about him playing."

Doug Klopacz is back for a fifth year and will back up Stefen Wisniewksi at center. Running back Brent Carter and defensive tackle Tom McEowen are no longer with the team.
March, 4, 2010
3/04/10
9:00
AM ET
As we inch closer to the start of spring practice in the Big Ten, I wanted to revive a series I started last year and enjoyed. During the coming days, I'll take a look at the
strongest position
and
weakest position
for each Big Ten team. It will be interesting to see whether teams can improve their weak spots during the course of spring practice.
First up, Penn State. The Nittany Lions lose six All-Big Ten performers from 2009, including co-Big Ten MVP
Daryll Clark
and co-Defensive Player of the Year Jared Odrick. There are more holes on the defensive side, but Penn State has shown an ability to reload there, so much of the focus this spring will be under center.

Strongest position:
Running back
Key returnees: Senior Evan Royster (205 carries, 1,169 rush yards, 6 TDs in 2009); junior Stephfon Green (71 carries, 319 yards, 3 TDs); junior Brandon Beachum (24 carries, 113 rush yards, 1 TD); junior fullback Joe Suhey (22 carries, 68 yards); junior Brent Carter (13 carries, 1 TD).
Key departures: None
The skinny: It's a close call between offensive line, safety and running back for this distinction, but Royster's return provides a huge jolt to an offense that needs to rely on the run game. Royster and Green form arguably one of the nation's top rushing tandems, especially if Green can take the next step in his evolution. The backs should get more running room from the O-line in 2010, although opposing defenses will flood the box and dare an unproven quarterback to beat them through the air.
Weakest position:
Quarterback
Key returnees: Sophomore Kevin Newsome (66 pass yards, 95 rush yards and 2 TDs in 2009); sophomore Matt McGloin (two pass attempts in 2009)
Key departures: Daryll Clark (232 completions for 3,003 pass yards and 24 touchdowns with 10 interceptions; 84 carries for 211 rush yards and seven touchdowns)
New arrivals: Paul Jones (already enrolled) and Robert Bolden (arrives this summer)
The skinny: Penn State lost more bodies at linebacker, but it usually refills well there. Replacing a record-setting quarterback and an even better leader in Clark likely will prove much more difficult for the Lions. They hoped to get Newsome more playing time in 2009, and they'll need him to take major steps forward at a young age. The two incoming freshmen will compete for playing time right away, along with McGloin. There's certainly talent in the quarterback room, and Penn State should have more athleticism under center, but none of these players has proved anything at the college level. The goal for the spring is to learn and then try to lead the offense.
October, 22, 2009
10/22/09
8:23
PM ET
Posted by ESPN.com's Adam Rittenberg
An ankle injury will keep Penn State backup running back
Stephfon Green
at home this weekend, head coach Joe Paterno said Thursday night.
Green
won't travel with the team to Michigan
after being unable to practice this week. The sophomore re-aggravated the ankle injury last week against Minnesota after undergoing offseason surgery. Green is Penn State's second-leading rusher this season with 248 yards and three touchdowns on 49 carries.
Sophomore
Brandon Beachum
will serve as
Evan Royster
's primary backup against the Wolverines, and
Brent Carter
will be the third-string back.
Here's Michigan's
injury report
for the game.
August, 4, 2009
8/04/09
3:30
PM ET
Posted by ESPN.com's Adam Rittenberg
The position rankings switch over to offense. Before examining the all-important quarterback position, which should be better in the Big Ten this fall, here's a look at the running backs.
The Big Ten was absolutely loaded at running back last fall, boasting two of the three finalists for the Doak Walker Award (Shonn Greene and Javon Ringer) and three of the nation's top six rushers. Five of the league's top six rushers depart, and several teams need to find new lead ballcarriers.
I really like the top four groups, and other teams should answer some lingering questions early this season.
| | |
| --- | --- |
| | |
| | AP Photo/Gene J. Puskar |
| | Evan Royster scored 12 TDs on the ground last season. |
1. Penn State -- Evan Royster flew somewhat under the radar last year but turned in a fabulous sophomore season, racking up 1,236 rushing yards and 12 touchdowns on just 191 carries. Royster wants a more featured role this fall and might get one, though Penn State has the luxury of spreading out the carries. Stephfon Green should have a better sophomore season as long as his ankle holds up, and sophomores Brent Carter and Brandon Beachum provide depth.
2. Wisconsin -- Despite losing the underappreciated P.J. Hill, Wisconsin once again is stacked in the offensive backfield. John Clay can become a superstar in this league as long as he maintains a decent weight, and Zach Brown might be the league's top backup. The Badgers are also excited about incoming freshman Montee Ball, a very productive high school back. Clay ranked seventh in the league in rushing last fall despite playing behind Hill.
3. Michigan -- This is without a doubt Michigan's strongest unit and one that must perform consistently for the offense to succeed. Senior Brandon Minor looks primed for an All-Big Ten season after a strong finish to 2008, a season during which he played through several injuries. Senior Carlos Brown and sophomore Michael Shaw are also healthy, and freshman Vincent Smith turned heads during spring ball with his quickness.
4. Ohio State -- Replacing Chris "Beanie" Wells isn't easy, but Wells' injury problems created opportunities for his successors to see the field in 2008. Dan Herron and Brandon Saine both performed well in spring ball and will share the carries load, with Herron expected to be the starter. Depth is a bit of concern behind the top two, though heralded incoming freshman Jaamal Berry appears to have avoided major punishment for his marijuana possession arrest and should be a factor this fall.
5. Illinois -- The team that led the Big Ten in rushing in 2006 and 2007 will be back near the top this fall. Sophomores Jason Ford and Mikel LeShoure both improved physically during the offseason, and head coach Ron Zook isn't counting out senior Daniel Dufrene, who endured some problems last year. New offensive coordinator Mike Schultz has an excellent track record of developing standout backs.
6. Iowa -- I'm a little hesitant to put the Hawkeyes this high without knowing that Jewel Hampton will be good to go Sept. 5 after sustaining a knee injury this summer. Hampton performed well behind Greene last fall and needs to be on the field for Iowa. Reserves Jeff Brinson and Paki O'Meara provide depth, and Iowa's offensive line should be able to create running room for just about anybody.
7. Purdue -- Spring practice certainly lifted my hopes for this unit, as sophomore Ralph Bolden sizzled alongside Dan Dierking. Purdue also gets veteran Jaycen Taylor back and heralded freshman Al-Terek McBurse on the field, and new head coach Danny Hope wisely wants to emphasize the run game in a slightly tweaked offense. A few ifs remain with this group, which needs Bolden to perform in games and Taylor to get healthy, but I like what I see.
8. Michigan State -- The Spartans could climb the rankings this fall, but they have too many unknowns at running back entering camp. No Big Ten offense relied on one player as much as Michigan State did with Ringer last fall, and none of the reserves has really stepped up to claim the starting job. Ashton Leggett or Caulton Ray could emerge during camp, but most believe heralded incoming freshmen Edwin Baker and Larry Caper will emerge as the top backs.
9. Indiana -- The Hoosiers installed the pistol offense primarily to get more out of their run game, which wasn't half bad last season. Marcus Thigpen will be missed, but the offensive line should be healthier and better in 2009. Veterans Bryan Payton and Demetrius McCray get their chance to shine, but most eyes will be on redshirt freshman Darius Willis, a heralded recruit who showed good signs this spring.
10. Minnesota -- Tim Brewster wants to make Minnesota a running back's haven again, and he made several moves to transform the offense, including hiring coordinator Jedd Fisch and line coach Tim Davis. I like Brewster's plan, but it might be a little ambitious to expect major results this season. Duane Bennett's return from a torn ACL should boost Minnesota, and the Gophers boast good depth with DeLeon Eskridge and Kevin Whaley, who performed well in the spring game.
11. Northwestern -- History favors the Wildcats, who have churned out excellent backs throughout the spread offense era (2000-present). But Northwestern returns virtually no experience at the position after losing four-year starter Tyrell Sutton and backup Omar Conteh. Junior Stephen Simmons boasts top-end speed and I liked what I saw from Jeravin Matthews this spring, but the Wildcats' backs have a lot to prove this fall.
July, 24, 2009
7/24/09
10:30
AM ET
Posted by ESPN.com's Adam Rittenberg
Here's the second half of my interview with Penn State quarterbacks coach Jay Paterno.
Are you more curious to see the wideouts or the offensive line in camp? Everything depends on how those guys perform up front.
Jay Paterno: Probably about the same, but the key really will be the offensive line and how quickly they deal with things. There's some awfully good defensive lines we're going to play in this league. Ohio State's got people back, Illinois has people back, Iowa's always got people. That's just off the top of my head. It's one of those things where they're going to have to ramp up and get good in a hurry. That will be the key. That's what we're all going to be watching.
As far as the running back situation, from talking with Evan [Royster] in the spring, he wants to be a potential featured guy as far as carries. You have a lot of other guys there as well. Do you see things going like they were last year, more of a committee thing, or will Evan be more featured?
JP: I forget what he ran for, 1,200 [yards], I don't even know. He had a pretty good number of carries last year. The key for him is going to be staying healthy because he's done a lot of different things. He's a guy who catches the ball. Running with the ball, he's really shifty, makes big plays. He made a play that really got us going against Michigan when we really weren't playing very well. So he's a guy we'll obviously feature. The question is, there's a lot of guys behind him and a lot of competition. You've got [Stephfon] Green back there, you've got [Brandon] Beachum back there, you've got [Brent] Carter coming back from the injury he had. And then you've got Joe Suhey, who's kind of a hybrid fullback-single back, a guy who can catch, too.
We've got a lot of good backs. It's a great situation, but everybody's going to compete there. It's a position where if you're not careful, if you're not on top of your game, there's a bunch of guys that are clawing their way, trying to get playing time, too. But Evan's proven a lot of things in big games for us, so we're obviously going to feature him.
With Green, is he on schedule to come back at full strength after his [ankle] injury?
JP: He went through the Lift for Life [weightlifting competition/fundraiser] two weeks ago, and the Lift for Life is probably tougher than the games. So I think he'll be alright. The Lift for Life is almost torture. But it's a lot of fun. They raise a lot of money every year. The point is, he went through that workout, so a game will be a piece of cake for him.
You guys put up a bunch of great numbers on offense last year. With Daryll back, are your expectations the same as they were last year, or is it more a wait-and-see thing after the losses at wide receiver and offensive line?
JP: We want to be a little better than we were last year, if we can. Joe came in after last season in a staff meeting and guys are talking about, 'Well, we ranked here defensively, we ranked here in this, we ranked here in that.' And Joe said, 'Hey, look guys, we lost two games and that's all I'm worried about. I've never been a coach who's been content going 11-1.' He said, 'I want to win them all. I want to win the national championship. That's the one that we should talk about.' And that's his goal every year. We'll look at that and say, 'We need to improve.' We could have scored two more points at Iowa City and we're playing in the national championship. None of us are content with what we did last year. It's going to be a situation where we try and push and get better and better. Now, whether we can get there or not with a new line and some new wideouts, we'll find out.
I really sensed that Joe had a second wind in the spring. Did you sense that as well after his health issues were behind him?
JP: Yeah. Obviously, with the [hip-replacement] surgery, he had his own challenges there. But he's really, really been upbeat. Even on vacation, he called me a couple times, 'Hey, what do you got for me? What are you working on?' And I'm like, 'Well, actually, I'm on vacation. I'm not in here painting the Sistine Chapel for you. I'm working on it, sketching some things out.'
I was watching the British Open last week. They talked about Tom Watson, he had his hip [surgically repaired] in October. I said to Joe, 'Hey, he had his hip done in October and competed for the British Open. You got yours in November. Time for you to step up. Guys are making you look bad. Lance Armstrong's back on the bike and he's 37. Some guy out in Oregon, an 81-year-old guy, he did a NASCAR race.' I said, 'You're slacking. You're just coaching.' And he kind of laughed and said, 'You know, you're right. I'll have to pick it up.'

September, 5, 2008
9/05/08
10:49
AM ET
Posted by ESPN.com's Adam Rittenberg
Here's a scary thought for Big Ten defensive coordinators.
In 1994, Penn State led the nation in both scoring (47.8 ppg) and total offense (520.2 ypg), broke three Big Ten records, 14 team records and 19 individual records. The Nittany Lions' produced five first-team All-Americans on offense, including running back Ki-Jana Carter, the No. 1 overall selection in the 1995 NFL draft. Penn State didn't lose a game that fall, beating its opponents by an average of 26 points.
But in terms of big-play threats, the type of players who can change games upon contact with the ball, the 1994 Lions team might be jealous of the current one.
"We didn't have as many [in 1994]," coach Joe Paterno said. "Carter was the first guy picked in the whole draft, Bobby Engram's still playing, [Kerry] Collins was a first-round pick, [Kyle] Brady's still playing tight end with the Patriots. We had four or five on that team that were playmakers and game-breakers, the whole bit.
"We probably have more kids on this team who have that kind of potential."
Whether Penn State makes a push for a Big Ten title in what could be Paterno's final season on the sideline remains to be seen.
The Lions lost linebacker Sean Lee, their top defender, to a knee injury this spring. The team's off-field problems continued this week with the suspensions of three players, including All-Big Ten defensive end Maurice Evans and starting defensive tackle Abe Koroma, for Saturday's critical home matchup against Oregon State (ABC, 3:30 p.m.).
But a glance at Penn State's skill-position depth makes it clear there will be plenty of dizzying highlights this fall in Happy Valley. Throw in a system -- the Spread HD -- that should better utilize the talent, and the Lions should be even more dangerous.
"There's not enough spots on the field for the amount of athletes we have," wide receiver Brett Brackett said. "To get them all to touch the ball and make plays is going to be exciting."
The 6-foot-6, 235-pound Brackett plays behind three senior wide receivers -- Derrick Williams, Deon Butler and Jordan Norwood -- who entered the season with 366 career receptions, 32 total touchdowns and 4,597 career receiving yards. Though the group has fallen short of expectations at times, the arrival of a new offensive system and a new quarterback (Daryll Clark) should help.
Williams' value goes beyond the passing game, as he showed last Saturday against Coastal Carolina, returning a kickoff 89 yards for a touchdown. The co-captain has three career touchdowns on returns to go with five rushing scores.
"There's different people that can beat you in different parts of the offense," Brackett said. "It's not just [Anthony] Morelli throwing deep or Rodney [Kinlaw] making runs. There's different guys that can make plays and different abilities."
Williams played an integral role in Penn State's Orange Bowl run in 2005, but when it comes to playmakers, the current team has more -- "by far," he said.
"Right when last year's team was over with, it was definitely a sign of how many weapons we had," Williams continued. "There's so many people on the field that are very good that can do things at any given moment."
The veteran receivers help, but Penn State's biggest strength will be in the backfield. In addition to Clark, whose scrambling ability gives the offense something it didn't have the last two seasons, the Lions boast a core of young ball carriers. There's a reason why seven running backs are listed on this week's depth chart.
Sophomore Evan Royster leads the group after finishing second on the team in rushing and averaging better than six yards a carry last season. Next up is redshirt freshman Stephfon Green, whose speed and elusiveness makes him one of the most anticipated arrivals in recent years. Sophomore Brent Carter also will contribute alongside true freshman Brandon Beachum.
The Lions averaged 7.8 yards a carry and scored seven rushing touchdowns against Coastal Carolina.
"We're in good shape," Paterno said. "But you can't play 'em all, also. Sometimes it's a luxury that we can't exploit."

Brackett and his teammates occasionally watch highlights from the 1994 season, trying to pick up lessons from the offense. But the scheme barely resembles what Penn State now runs.
In some ways, neither do the players.
"They had a lot of offensive weapons," Brackett said, "but I don't think they had the same type of athlete we have now and the amount we have, it's unbelievable. ... It'll be hard to live up to what they did on the field, but we have the ability to do that."