December, 3, 2013
12/03/13
12:30
PM ET
Last week, Michigan athletic director Dave Brandon wrote a
1,059-word blog post
affirming his support for head coach Brady Hoke.
[+] Enlarge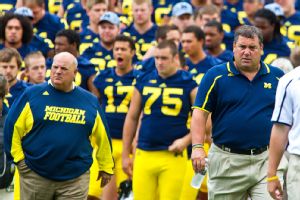 AP Photo/Tony DingAfter a down 2013, Al Borges (left) and Brady Hoke might not have the luxury of another season for their offense to grow.
Hoke's job status at Michigan, at least for a fourth season, never seemed to be in doubt. If Jabrill Peppers, Michigan's top 2014 recruit, hadn't
expressed concern about Hoke's future
, Brandon could have saved himself some time at the keyboard.
Brandon urged patience with the program, mentioned coaches like Jim Harbaugh and Nick Saban in his post and praised defensive coordinator Greg Mattison, whose job, at least to the outside, always appeared safe. Noticeably absent from the post was offensive coordinator Al Borges, who, along with offensive line coach Darrell Funk, has been the subject of increasing criticism as Michigan's offense sunk to historic lows in early November before reviving itself last Saturday against archrival Ohio State.
Hoke doesn't have a blog (am I the only one who wished he did) and isn't nearly as verbose as his boss, but he also expressed some public support for his staff Monday during an appearance at Detroit's Ford Field.
From
The Detroit News
:
Hoke was asked if he's happy with the staff and anticipates having this staff in 2014.

"Yeah, I anticipate the staff [returning]," he said.

When pressed and asked if he does not expect any changes, he responded simply.

"Correct," Hoke said.

He was asked again if this is a "we'll-see situation."

"No," he said.
Like every coach, Hoke will conduct evaluations with his staff following the season. Not surprisingly, Brandon will be a part of those. So it's possible changes could come following Michigan's bowl appearance, but don't hold your breath.
There's no doubt Hoke is loyal, and loyalty is a fleeting quality in today's pressurized world of college coaching. Florida on Monday
fired offensive coordinator Brent Pease
and offensive line coach Tim Davis, and other programs either have made or will make significant staff changes.
Michigan's offensive woes and season record aren't nearly as bad as Florida's, but both programs are supposedly big time and face pressure to win championships. Brandon's counterpart at Florida, Jeremy Foley, also had to give his head coach a vote of confidence in recent days. What do the two approaches say about the culture of the programs, the leagues they play in and the standards they set for performance?
Hoke and Borges were united in their offensive vision at San Diego State, and nothing has changed at Michigan. They want to restore a pro-style offense built around the power run. But for various reasons -- personnel types, youth, lack of development -- it hasn't happened yet. Michigan's offense had negative net rushing totals in its first two November games, couldn't score a touchdown in regulation at Northwestern and racked up just 158 yards at Iowa before exploding for 41 points, 31 first downs and 603 yards against Ohio State.
The Wolverines seem to be at their best with quarterback
Devin Gardner
moving around and ball-carriers attacking the perimeter, rather than between the tackles. That hasn't been the long-term vision, but the plan could come into focus next season as young linemen and young running backs mature.
Borges is a smart coach, but he's also a journeyman coordinator. He had different jobs each season from 2000-04 and hasn't been at one stop for longer than five years since a seven-year stint at Portland State from 1986-92.
Like many coaches, Hoke believes in staff continuity, which is often a top indicator of success. We've seen plenty of examples in the Big Ten, including the long-tenured staffs at Michigan State and Minnesota picking up the slack when head coaches Mark Dantonio and Jerry Kill stepped away because of health reasons.
Northwestern attributes much of its recent success, at least until this year, to the staff remaining fully intact. Coach Pat Fitzgerald plans to keep it that way despite a highly disappointing 5-7 record. But Fitzgerald isn't at Michigan. He doesn't have the same external and historic demands as Hoke does, or should.
Does the patience/loyalty shown by Brandon and Hoke show that Michigan is different (in a good way), avoids knee-jerk reactions and wisely plans for long-term success? Or does it show Michigan talks like a big-time program but struggles to make the hard choices needed to compete at the highest level?
I'll admit it's a tough one. We'll probably get our answer in 2014.
February, 17, 2011
2/17/11
1:30
PM ET
Kevin Wilson has no hard feelings.
Wilson knows how it must look: four assistant coaches leaving his Indiana staff for other jobs days after they came aboard. But after living the assistant's life for decades and understanding how the coaching carousel moves, Wilson doesn't harbor any ill will toward those who bolted Bloomington.
[+] Enlarge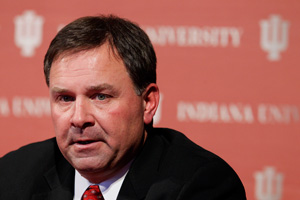 AP Photo/Darron CummingsKevin Wilson understands the offseason coaching carousel is part of the business side of college football.
"I don't pigeonhole a guy on what he's got to do," Wilson told ESPN.com on Thursday. "If they can pay [Auburn offensive coordinator] Gus Malzahn $1.3 million, if a guy can get a better deal, more power to him. With the timing, some things came in front of guys' laps that I don't think they anticipated. I didn't have a problem with any guy, I didn't have a problem with any coach.
"That's the business side of college football. It doesn't look good maybe, but as an assistant football coach, you do what's best for you."
To recap the staff departures:
Offensive coordinator Brent Pease returned to Boise State for the OC job after Bryan Harsin left for Texas

Defensive ends coach Jerry Montgomery left to become defensive line coach at Michigan

Cornerbacks coach Corey Raymond left to become secondary coach at Nebraska

Running backs coach Jemal Singleton left for the same position at Oklahoma State
Indiana has filled most of the gaps, hiring two offensive coordinators (Kevin Johns and Rod Smith), a new defensive ends coach (Brett Diersen) and a new cornerbacks coach (Brandon Shelby). Wilson will hire his final full-time assistant coach (presumably for the running backs) in the near future.
There are two major periods of activity for coaching changes: following the season and after national signing day. Wilson made his hires following the season but several got swept away in the post-signing day flurry.
"I think we put together a great staff," Wilson said, "and the guys that left, it was unfortunate because they were great fits here. I thought we stole some good ones. We wanted them here. We encouraged them to be here. Unfortunately, when a guy hasn't moved, hasn't bought a house, it's almost like he was a free agent. I think we maybe helped the stock of some young coaches and now they can quote say they were a Big Ten coach although they never coached in a Big Ten game.
"We kind of spiked the guys' stock a little. Maybe that hurt us, but at the same time I've got no ill will against any of those guys or any of those programs."
Wilson points out that his core group of hires -- co-defensive coordinators Mike Ekeler and Doug Mallory, and Johns -- has remained intact. Indiana has committed greater resources to football, which is evident in Wilson's contract (seven years, $8.4 million) and getting coaches like Johns and Ekeler away from good situations at Northwestern and Nebraska, respectively.
"We've been presented financially with a good situation where our salaries are going to be extremely competitive," Wilson said. "The bottom line is I don't think we're taking a backseat to anyone. These guys felt family wise, career wise, it's better. We wish them well. But shoot, I think we have a heck of a gig going.
"There are some good people who want to be at Indiana."
February, 14, 2011
2/14/11
10:00
AM ET
Valentine's Day is about love, but it's also about heartbreak.
Every Big Ten team has felt a little heartbreak from time to time, whether it's a coach leaving for another position, a recruit choosing another college destination or key players veering off track.
Here are some heartbreakers for Big Ten squads:
1. Ohio State's Tat 5:
Quarterback
Terrelle Pryor
and four of his teammates broke some Buckeye fans' hearts by selling memorabilia, including Big Ten championship rings and Gold Pants, for cash and tattoos. The "Tat 5" helped themselves with their Sugar Bowl performances and their pledge to return for their senior seasons, but their absence for the first part of the 2011 season could sting.
2. Brent Pease, Jerry Montgomery, Corey Raymond and Jemal Singleton:
All four assistants joined Kevin Wilson's new staff at Indiana but soon bolted for other jobs. Montgomery (Michigan) and Raymond (Nebraska) left for other posts within the Big Ten. Ouch.
3. Derrell Johnson-Koulianos and Adam Robinson:
Iowa's all-time leading receiver and top running back the past two seasons both missed the Insight Bowl following December arrests. DJK, who had an extremely productive career in Iowa City, is
trying to restore his rep
before the NFL draft.
Robinson wants another chance at Iowa
but right now it looks like a long shot.
4. Tate Forcier:
After an encouraging season on the field, the Michigan backup quarterback was ruled academically ineligible right before the Gator Bowl. It proved to be the end for Forcier, who last week transferred to Miami.
5. Jacoby Brissett:
Wisconsin held a scholarship spot for the quarterback recruit, but he didn't even have the Badgers in his final two choices (Miami and Florida). Brissett ended up signing with the Gators.
February, 4, 2011
2/04/11
4:00
PM ET
You know
how to reach me
.
Joe from Chicago writes:
"[Dan Roushar] inherits an offense that showed decent promise in 2010, and the Spartans bring back two-year starting quarterback Kirk Cousins." First of all, it was "decent" enough to win 11 games (many in clutch performances) and the conference championship, second of all, "promise" indicates that it was floundering around ineffectively, but has a chance to be mediocre in 2011. I don't think Notre Dame, Wisconsin, Michigan, Illinois, Northwestern, Minnesota, Purdue, or Penn State would characterize their losses to MSU with these adjectives. You'd think MSU just went 7-6 based on the way you describe them. MSU had two bad losses, but is not Illinois. Show us some love!
Adam Rittenberg:
Joe, you're interpreting "promise" in that way, but that's not what I meant. Promise means potential -- I've never heard it interpreted as "floundering around ineffectively" -- and Michigan State boasts great potential for 2011 on offense. I can't rate the Spartans' 2010 offense as exceptional when the team finished in the middle of the league in most offensive categories and saw a pretty significant drop-off in rushing production as the season went on. Did the offense help Michigan State win a Big Ten title? No doubt. But clutch performances, as you mention, along with huge special-teams plays and solid defense also played a role. You bring up the Illinois, Minnesota and Penn State games. Were those displays of exceptional offense? Nope. But Michigan State found ways to win the games. Roushar inherits a pretty solid unit, but he also knows Michigan State must run the ball more consistently.
---
Robert from Kansas City writes:
My question is now that national signing day is over how much stock should we really put into how many stars a player has. Looking back on some of great Hawkeyes, many of there players who turned out to be All Americans and all Big Ten players had no more than three stars and some of them even had only one star (Bob Sanders). Do you think that the amount of stars a player has is over rated and that all four and five star recruits don't always translate into victories and that it has more to do with coaching a player up than anything else?
Adam Rittenberg:
Robert, star ratings are often meaningless. They give us something to talk about and something for some fans to obsess about. But player development is way more important in my view, especially in the Big Ten. If star ratings really mattered, the ACC would be a dominant football conference, which it's not. Iowa is a great example of a program that does a masterful job in player development. While Iowa's heralded 2005 recruiting class didn't pan out that great, the Hawkeyes have transformed more than a few anonymous recruits into All-Big Ten and NFL players.
---
Devin from an igloo in Indiana writes:
When Danny Hope first came to Purdue he said he was going to recruit Florida hard to bring some more athleticism and speed, he has succeeded in signing 24 Floridians in the last 3 years, but when are we going to see this speed and athleticism on the field? (and translate to some wins?????)
Adam Rittenberg:
Well, a couple of those Florida recruits are panning out, guys like star cornerback Ricardo Allen, linebacker Will Lucas and quarterback Rob Henry, who showed some promise last season before his hand injury. I would give Hope a little more time with these players because he's got the right idea by bringing in versatile, athletic guys to Purdue.
---
Matt from Indianapolis writes:
Hey Adam,Just heard Indiana lost two more coaches. What's the deal with them losing 3 in less than 3 months? Raymond and Montgomery were the names of the guys leaving...Any idea what's going on here?
Adam Rittenberg:
Matt, it's a little unusual to lose three coaches, but assistants will make moves after signing day if they get better opportunities elsewhere. Indiana is a bit of a risky place to be given the prolonged struggles and while IU is giving coach Kevin Wilson enough time and resources to get things right, it's hard to pass up places like Nebraska (Corey Raymond) and Michigan (Jerry Montgomery). Brent Pease's situation at Boise is a little bit different because he never would have left if he knew offensive coordinator Bryan Harsin would depart to Texas. I will say the number of Big Ten assistants making moves within the league this year is very unusual.
---
Craig from Braintree, Mass., writes:
Adam Weber has some of the best QB career numbers for the University of Minnesota and was a three year captain and the NFL doesn't invite him to the combine. I find that hard to believe. What's your take?
Adam Rittenberg:
Craig, I thought there was a good chance Weber would be invited, but there are several factors working against him. He played in so many systems in college and understandably had some growing pains. While his numbers improved in 2010, the drop-off in 2009 likely hurt his stock. NFL
scouts have interest in Weber
, and he still should be able to find a spot in the league next year.
January, 12, 2011
1/12/11
5:30
PM ET
I've been falling behind on the mail -- blame the Big Ten news cycle -- and will try to catch up the rest of this week. More mailblogs coming Thursday and Friday.
Here's
how you can reach me
.
One programming note: I'll be chatting about all things Big Ten football at 4 p.m. ET Thursday. Join me.
Tyler from Columbus, Ohio, writes:
I'm having some issues understanding why Hoke is being compared to Jim Tressel in the media. Tressel was an Ohio native who spent his whole career coaching in Ohio, as well as winning 4 national championships at Youngstown State. Hoke is an Ohio native who apparently became a Michigan fan to annoy his friends enough to run him out of the state to get a job in Ann Arbor. He has had little consistent success as a coach, and I am baffled as well as offended that he is being so immediately compared to one of the greatest coaches to ever enter the 'Shoe. Can you explain it, please?
Adam Rittenberg:
I totally agree with you about the Hoke-Tressel comparison, but I think you're being a bit harsh on Hoke (to be expected as an Ohio State fan). Tressel came to Ohio State with terrific credentials, regardless of the level where he coached. Hoke had a good season at SDSU and a good season at Ball State, but his accomplishments to this point don't come close to Tressel's before he came to Ohio State. Now we've just seen Gene Chizik win a national title at Auburn after really struggling at Iowa State, so coaches have the ability to improve programs in a hurry. It'll be interesting to see if Hoke restores Michigan to elite status.
---
Miles from Madison, Wis., writes:
Hey Adam, Why are the Badgers playing an away game versus Michigan State next year? Two years in a row? I'm guessing it has something to do with the conference realignment but what gives? Seems a bit unfair I was looking forward to a payback game at Camp Randall next Fall.
Adam Rittenberg:
The realignment changes the scheduling structure a bit, but the Big Ten also has things set on a two-year cycle where the no-plays rotate. This has resulted in teams playing at the same site two years in a row. One example I can remember is Iowa and Northwestern playing at Kinnick Stadium in consecutive seasons (2008-09). The good news is Wisconsin will host Michigan State in 2012 even though the teams are in opposite divisions.
---
Andrew from Atlanta writes:
If RichRod isn't offered a coaching position soon, why not grab him up as the offensive coordinator for Michigan? Even if it's only a temporary gig before teams come calling again, it would help keep a potent offense with even greater potential for 2011 on track and ready to go! Even a remote possibility?
Adam Rittenberg:
Andrew, thanks for bringing some laughter to my day. As much fun as this would be to cover, it's not happening, my friend.
---
John from Gilbert, Ariz., writes:
Adam, any news on who will be the new DC or additions to the staff at Wisconsin?
Adam Rittenberg:
Nothing official yet, but I heard late last week that Wisconsin is still committed to promoting from within to replace Dave Doeren as defensive coordinator. D-line coach Charlie Partridge and secondary coach Chris Ash are the primary candidates, and they could end up sharing the title as co-coordinators. Although Partridge has been at Wisconsin longer, Ash did an excellent job with the secondary in his first season.
---
Jon from Sioux City, Iowa, writes:
Adam-I read what we learned in the Big Ten bowl games, and you were almost right about everything. The only thing I have to say I disagree with the "mini-upsets". In Iowa's case, I could understand an upset, however, wouldn't their win show they have depth? I mean, a lot of younger players stepped up in that game, such as Coker, Hyde, and Morris. And I guess I really wouldn't call the Illinois game an "upset". They kind of blew Baylor out of the water. What's even more perplexing is that in early 2011 power rankings, you placed Wisconsin at number 2 because of depth.
Adam Rittenberg:
Jon, the upset label is applied before games are played, not afterward, and both Iowa and Illinois entered their bowls as underdogs. Iowa had stumbled badly down the stretch of the regular season and was facing the No. 12 team in Missouri. Illinois came in 6-6 and faced Baylor in Baylor's home state. My comment had nothing to do with Iowa's depth, but sure, the Hawkeyes showed some in that game and raised hope for 2011. While Wisconsin loses several outstanding individuals, the Badgers still have depth at positions like running back, offensive line, receiver and linebacker that will pay off.
---
Illini Mike from Chicago writes:
Between loosing to Penn St, loosing three juniors, and loosing additional income to a lame duck tax increase; it has not been a good week for Illinois fans. I don't think the loss of Corey, Martez and Mikel will be as bad as some will think. I think Ford can be another running back that "comes out of nowhere" (aka not a five star prospect that commits to OSU or UM) to suprise people. I think Vic Koennign will continue to surprise on defense and develop talent. Mercilus (best last name for a punishing DT) can adequately fill Liuget's shoes. Who do you think can step up at middle linebacker next season?
Adam Rittenberg:
Jason Ford is a different type of back than Leshoure, but he boasts experience and a powerful running style that should work in Paul Petrino's offense. Defensive tackle Corey Liuget is unquestionably the biggest loss of the three. Nothing against Whitney Mercilus, but it's unrealistic to expect him or anyone to replicate what Liuget did. It will be up to Vic Koenning to find some replacements on defense, as the unit struggled in the second half of Big Ten play. Ian Thomas likely will take over the lead role at linebacker in 2011.
---
Zachary from New York writes:
You said "most coaches only end up at Michigan after building an impressive legacy elsewhere." I think that is demonstrably false. Rodriguez fits that bill, but no one else does. Crisler had a decent record at Minny and Princeton, but not great. Bo isn't remembered for what he did at Miami and was greeted with headlines of "Bo Who?" when he was hired. Yost coached only three years total prior to Michigan. Moeller was a disaster at Illinois. Kipke coached one year at MSU. Okay George Little coached a lot before his one year at Michigan. Does anyone remember Little for anything other than his work as Wisconsin AD after he left Michigan? The rest (Carr, Oosterbaan, Elliott, Wiemann, and all the 19th century guys) were never head coaches prior to leading Michigan and Moeller of course hadn't been a head coach for roughly a decade.
Adam Rittenberg:
Wrong, Zachary.
I wrote
, "Most coaches only land a job
like
Michigan after building an impressive legacy elsewhere." I'm placing Michigan in the elite category of programs that often attract coaches with impressive legacies at other schools. I get the Bo thing and the Lloyd thing. And Hoke very well could work out well. All I'm saying is Michigan didn't have to go this route. There were other coaches with more impressive résumés than Hoke available. There might not have been a better fit available.
---
Chuck from Bloomington, Ind., writes:
Based on who Indiana has hired so far as their coaches, how there doesn't seem to be many people leaving the team, and also based on how their recruiting class seems relativity intact, I can see Indiana easily becoming bowl eligible next season. That's not to say things are going to be easy, but from what I've been seeing here in how the coaching change has worked, we couldn't be in a better position! Coach Wilson and what staff he has hired already seems adamant about creating a team based on what we have, not on what scheme he wants to play. Do you think Indiana can become bowl eligible next year, or am I just full of wishful thinking and hopeless dreams?
Adam Rittenberg:
Like you, I've been very impressed with the staff Kevin Wilson is putting together. Brent Pease would have been a nice offensive coordinator, but I'm confident Wilson will find a good replacement. The coaching will help, but I still look at the personnel and see a team that doesn't win more than five games. I could be wrong, but the talent level on defense still must be upgraded significantly, and Indiana will really miss Ben Chappell at quarterback. But things are heading in the right direction.
January, 11, 2011
1/11/11
12:00
PM ET
January, 11, 2011
1/11/11
11:00
AM ET
»
Power Rankings
:
ACC
|
Big 12
|
Big East
|
Big Ten
|
Pac-10
|
SEC
|
Non-AQ
The 2010 college football season is over, and the interminable wait for 2011 now begins.
Before taking a peek ahead at next fall, here's the final installment of the 2010 Big Ten power rankings.
1. Ohio State (12-1):
The Buckeyes once again sit atop the rankings after holding on to beat Arkansas in the Allstate Sugar Bowl. Although the circumstances surrounding the game sparked a lot of controversy, Ohio State showed tremendous focus and executed well on both sides of the ball against a good SEC opponent.
2. Wisconsin (11-2):
There's no shame in losing to a team like TCU, but Wisconsin left Pasadena especially disappointed after veering ever so slightly off course in the Rose Bowl. If the Badgers had fully committed to between-the-tackles running, they likely would have celebrated another Rose Bowl championship. Still a great season for Bret Bielema's crew.
3. Michigan State (11-2):
I'm reluctant to put the Spartans here after a non-competitive performance against 9-3 Alabama in the Capital One Bowl, but they still had three more wins than any other Big Ten squad below. Michigan State had a special season with a sorry ending, but the program is undoubtedly on the rise under coach Mark Dantonio.
4. Iowa (8-5):
We saw a little bit of everything from Iowa in the Insight Bowl, but Micah Hyde's electrifying pick-six ensured a third consecutive bowl win and dulled the disappointment from the regular season. Returning players like Hyde and running back
Marcus Coker
fueled Iowa's win, and the Hawkeyes should be right at home under the radar entering 2011.
5. Illinois (7-6):
No Big Ten team delivered a more complete postseason performance than Illinois, which outclassed Baylor and cruised to a 38-14 victory in the Texas Bowl. Quarterback
Nathan Scheelhaase
came of age in the bowl and the defense contained Baylor star
Robert Griffin III
. Illinois could be dangerous this coming season, but the NFL departures will hurt.
6. Penn State (7-6):
Florida gave Penn State every opportunity to build a big lead in the first half, but the Nittany Lions fell victim to too many mistakes. The defense made strides during bowl practice and should be a solid unit in 2011. Penn State's quarterback race will open up this spring, and it'll be interesting to see how much better this team gets during the offseason.
7. Northwestern (7-6):
Thanks to
Kain Colter
, the Wildcats found enough offense to keep pace with Texas Tech despite not having star quarterback
Dan Persa
. But it's pretty odd that Persa's injury seemed to take any life out of Northwestern's defense, which allowed 163 points in its final three games. Pat Fitzgerald and Mike Hankwitz need to get the D on track for 2011.
8. Michigan (7-6):
Speaking of defense, Michigan had none against Mississippi State in the Progressive Gator Bowl. Rich Rodriguez's fate might already have been sealed at the school, but the lack of improvement on defense made the decision pretty easy after the worst bowl loss in team history. Michigan has some pieces in place on offense, but the next coach must address the defensive woes to get the program back on track.
9. Minnesota (4-8):
No changes to the bottom three and the Gophers deserve to be here after ending the season with victories against two of the Big Ten's three bowl winners (Illinois and Iowa). I'm excited to see how
MarQueis Gray
fares in Jerry Kill's offense as he moves back to quarterback from receiver.
10. Indiana (5-7):
Despite
Brent Pease's about-face
, new Indiana coach Kevin Wilson is assembling a solid staff of assistants as he tries to change the culture in Bloomington. The Hoosiers have to figure out a way to compete better on defense in Big Ten play, especially since the offense likely will take a step back as quarterback
Ben Chappell
departs.
11. Purdue (4-8):
Danny Hope's teams have played hard amid adversity, but the results haven't shown up in his two years as head coach. Purdue gets a lot healthier during the offseason and should boast a dynamic offense in 2011. The potential for a big jump forward is here, but Purdue must reduce major mistakes, particularly in the kicking game.
January, 10, 2011
1/10/11
5:57
PM ET
It's finally official. Indiana's new offensive coordinator is heading back to his old team.
Boise State just announced that Brent Pease will return to the school and receive a promotion to offensive coordinator. Pease had previously worked with Boise State's receivers before leaving to become Indiana's offensive coordinator.
But when Texas hired Boise State offensive coordinator Bryan Harsin to the same position days ago, Pease saw an opportunity to return. He wouldn't have left Boise had he known Harsin would leave his post.
"I'm very honored and fortunate to be able to return to Boise State," Pease said in a statement released by Boise State. "While I was very much looking forward to the opportunity at Indiana, the knowledge and relationships I have with the players, coaches and administration at Boise State made it a very logical choice for me and my family."
Two things jump out to me about how much college football has changed in recent years.
1.
Pease left a Big Ten team for the same job with a soon-to-be Mountain West squad
2.
It's hard to fault him for doing so
Not a knock against Indiana, but Boise State is one of the nation's premier programs and Pease has familiarity there. Head coach Chris Petersen will return, and Pease gets to oversee a dynamic offense and coach a Heisman Trophy candidate in quarterback
Kellen Moore
.
This certainly is disappointing for Indiana and new coach Kevin Wilson, who is compiling an outstanding staff of assistants. Wilson recently brought in Kevin Johns from Northwestern to coach receivers and serve as pass game coordinator, but he has some money to spend and will look for an offensive coordinator.
It'll be interesting to see Wilson's next move.
My biggest disappointment is not seeing Pease sport
this headgear
on the Hoosiers sideline this fall.
January, 10, 2011
1/10/11
12:01
PM ET
It's lunchtime. And link time.
January, 3, 2011
1/03/11
5:05
PM ET
The good news: Indiana has hired an outstanding receivers coach in Kevin Johns, who moves to IU from Northwestern.
[+] Enlarge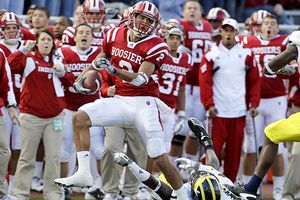 AP Photo/Darron CummingsIndiana receiver Tandon Doss will bypass his senior year to enter the 2011 NFL draft.
The not-so-good-but-not-shocking news: Johns won't get to coach
Tandon Doss
with the Hoosiers.
Doss is declaring for the NFL draft
and will bypass his senior season with the Hoosiers.
After earning back-to-back first-team All-Big Ten honors, Doss received a strong evaluation from the draft advisory board and saw the move as an opportunity to help his family. He also had
some concerns about playing in a new system at IU
.
Doss' departure doesn't come as a major surprise. He led the Big Ten and ranked fourth nationally in all-purpose yards (175.8 ypg), while ranking second in the Big Ten in receptions. An outstanding return man and receiver, Doss has all the ingredients to do big things at the next level.
"While my experience at Indiana was great, my decision came down to the fact that I could not pass up the opportunity to start my professional career," Doss said in a prepared statement. "Entering the NFL Draft was the best decision for myself, and most importantly, my family. My experience at IU was great and helped lay the foundation for my future. I can assure you that I will work hard and represent Indiana University in a first-class manner. I would like to thank coach [Bill] Lynch, coach Billy Lynch, all my coaches, the training staff and the support staff. I also wish coach [Kevin] Wilson and his staff the best of luck. I know they will do a great job. Lastly, I want to thank all the Indiana fans for their support. I hope all of you will continue to follow me as I move on to the NFL."
Northwestern has confirmed Johns' hiring by Indiana, which will be announced Tuesday.
Johns, who also will serve as Indiana's pass game coordinator alongside new offensive coordinator Brent Pease, did an outstanding job with the Wildcats' wideouts the last few years. He helped mold players like Zeke Markshausen and
Jeremy Ebert
into All-Big Ten receivers. He's ready to move into a bigger role and will get one at IU, which returns a good group of receivers led by
Damarlo Belcher
(as long as he stays for his senior year).
I've been impressed with Wilson's assistant hires so far. He's putting together a very solid staff with the Hoosiers.
December, 31, 2010
12/31/10
12:00
PM ET
December, 30, 2010
12/30/10
4:00
PM ET
New Indiana coach Kevin Wilson has found a man to run his offense, and it looks like Wilson made a strong hire.
Indiana announced earlier Thursday that Boise State receivers coach Brent Pease will serve as its new offensive coordinator. Pease, who spent the past five seasons at Boise State and the past four as the Broncos' assistant head coach, boasts 10 seasons as an offensive coordinator, including stops at both Kentucky (2001-02) and Baylor (2003-05).
"Brent has coordinated in the Big 12 and the SEC, and he is coming from one of the most dominant programs in college football over the last decade in Boise State," Wilson said in a prepared statement. "We look forward to integrating his offensive ideas from Boise State into to what we have done in the past."
Boise State's success speaks for itself, and anyone who watched the Broncos the past few seasons had to come away impressed with receivers
Austin Pettis
,
Titus Young
and Jeremy Childs, each of whom Pease tutored.
I really like this hire. Pease boasts a lot of experience and comes to Indiana from one of the nation's best programs in Boise State.
It will be interesting to see how much autonomy Wilson gives Pease in this role. Wilson built his reputation as an offensive coordinator and as a playcaller, although he said several weeks ago that it would be a challenge to call plays from the field.
There certainly will be a lot of collaboration, but I think a first-time head coach should sit back and let his top assistants go to work.
December, 29, 2010
12/29/10
12:00
PM ET
What a start to the Big Ten bowl season. We'll find out later today if Illinois can keep things going.