March, 22, 2010
3/22/10
3:45
PM ET
Competition will be in the air Tuesday as Minnesota kicks off spring practice. The Gophers lose 11 starters from a team that reached the Insight Bowl, and the depth chart is wide open entering the spring. Much of the attention will be on the quarterback spot, as three-year starter
Adam Weber
tries to hold off
MarQueis Gray
and
Moses Alipate
. On defense, the Gophers lose all three starting linebackers, both starting cornerbacks and both starting defensive tackles.
Head coach Tim Brewster took some time Monday to preview spring ball.
[+] Enlarge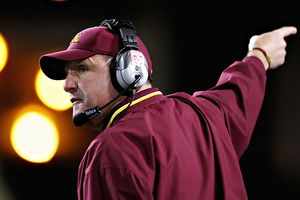 Christian Petersen/Getty ImagesTim Brewster would like to have the quarterback depth chart sorted out by the end of spring practices.
What are you looking forward to seeing when you get back on the field Tuesday?
Tim Brewster:
This is really going to be a good group for us. It's a young group, a lot of talent in the group, they've really done a great job in the winter conditioning program. Guys came back off spring break in great shape. We had a great 6 a.m. run this morning. We've just got to do a great job as a staff this spring of developing these young guys. There's nothing complicated about what we're going to try to accomplish. Really just the fundamentals of the game, we'll spend a good deal of time on situational work, and then the thing that's going to be exciting for us is the competition. For the first time since we've been here, we've got some really good competitive situations at a lot of different spots. That's really exciting for us as coaches.
What are a couple of those key competitions we'll see?
TB:
Obviously, the quarterback position, how that's going to play out, and see Adam Weber continue to grow and see him compete with MarQueis [Gray] and Moses Alipate. We're going to have great competition at the tailback position with
DeLeon Eskridge
and
Duane Bennett
here now, and three young guys coming in this fall who are talented and have a chance to jump in the mix immediately. We've got some real good situations at linebacker: Sam Maresh and Gary Tinsley, Mike Rallis, Spencer Reeves, Aaron Hill, Keanon Cooper, Brent Singleton. The linebackers are young, but they're talented. That's going to be good to see.
For Weber, he's in a unique position, being the starter for three years and now competing for the job. How do you keep his confidence level up? What's his mental approach going into the spring?
TB:
I couldn't be more excited about adding [new offensive coordinator/quarterbacks coach] Jeff Horton. Jeff is an outstanding teacher. I love his demeanor. Never gets too high, never gets too low, very down the middle. He's got a very quarterback-friendly personality. The system, there's nothing complicated about what we're going to try to accomplish, and it's really going to allow Adam to go out and play well. It's going to allow MarQueis a chance to compete for the quarterback position. And it'll be exciting to see Moses Alipate. But certainly Adam's experience gives him a leg up. Again, I've been really pleased with Jeff's control there at that position. Those guys are really going to benefit from Jeff's experience.
Do you have a timetable in mind of where you'd like to be at quarterback by the end of the spring?
TB:
You'd love to see the position sort itself out by the end of spring practice. You'd love to have your starter in place. We're not going to go into training camp with a quarterback competition. We want to go in with a guy who is our starter, and I certainly think it'll play itself out that way. They're all going to get plenty of opportunity this spring to show what they can do. We're going to have some situations with the quarterbacks where the quarterback will be live [able to take on contact]. We haven't done that in the past. It will give us a chance to really evaluate the position well.
You've talked a lot about the offensive line and needing to upgrade there. What do you expect from that group this spring?
TB:
There's really good competition there, and Tim Davis is going to continue to do a good job in developing that group. We've got to get better up front, and I certainly believe we will be better with another year under Tim and in the system. Ed Olson is really a talented young redshirt freshman offensive tackle. He's going to really push Jeff Wills. We've got competition at center, we've got competition at guard. We're in a situation now where we've got a little depth, and it'll also be interesting, we're bringing in some really talented offensive linemen in this recruiting class. I understand that it's not easy for a freshman to come in and contribute, but it's done. You look across the country and there's a number of young guys that step in and help. We're really excited about Jimmy Gjere. He's a very talented young kid. He'll be here in June, he'll be with us all summer. He's weighing 310 pounds now, he's almost 6-foot-8, very athletic. I'll tell you a guy who's going to get your attention, a tight end we brought in named Tiree Eure, from Lackawanna Junior College. He's been very, very impressive to this point in the conditioning program. He's 6-6, he's 250 pounds and he runs. He's very athletic. We think he's going to help us a bunch as well.
Tuesday in Part II: Outlook at wide receiver, linebacker, defensive line and the secondary.
December, 24, 2009
12/24/09
10:45
AM ET
From a distance, Minnesota's upcoming appearance in the Insight Bowl looks like a swing game for an inconsistent team.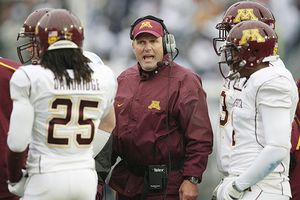 Chris Gardner/Getty ImagesMinnesota coach Tim Brewster's Gophers need a victory in the Insight Bowl for a winning season.
At 6-6, the Golden Gophers can secure a winning season and their first bowl victory since 2004 by knocking off Iowa State on Dec. 31 in Tempe, Ariz. (NFL Network, 6 p.m. ET). A victory almost certainly would mean some kind of contract extension for head coach Tim Brewster, who has two years remaining on his current deal.
A Minnesota loss to the Cyclones would bring a very different sentiment. The Gophers would drop to 6-7, certainly well short of preseason expectations. They lose a large group of seniors, including all three starting linebackers, both starting defensive tackles and, of course, star wideout
Eric Decker
(injured for the bowl). And Brewster's future could be murky.
Though the coach remains confident a contract extension will happen, Minnesota athletics director Joel Maturi has been somewhat non-committal about Brewster and the future. Earlier this month, Maturi said he wouldn't stop Brewster from pursuing other jobs, and he will evaluate everything after the bowl game. Keep in mind that Minnesota isn't afraid to dump a coach after a bowl, as it fired Glen Mason after the team collapsed in the 2006 Insight Bowl against Texas Tech.
Brewster is 14-23 in three years at the U and just 6-18 in Big Ten play.
So is the Insight Bowl a make-or-break game for Minnesota and Brewster?
"Winning football games is what we're all paid to do and what we're all here for, and this game's no different than that," Brewster told me Wednesday. "Our expectation level is to win. I feel real good about the progress of our program, where we're at from Year 1 to Year 2 and Year 2 to Year 3. I don't think one game is going to determine the course of where we're going.
"The course is set."
Whether Maturi sees things the same way remains to be seen. Brewster has recruited well to Minnesota, and he's excited about the potential of young players like tight end
Ra'Shede Hageman
, linebacker Brent Singleton and defensive ends Matt Garin and Kendall Gregory-McGhee.
But he came to Minneapolis talking about Big Ten championships, and at least in wins and losses, the Gophers aren't closer than they were under Mason.
"If you study it, there's very few coaches that have taken a team they inherited and gone to two bowl games in their first three years, very few," he said. "Obviously, recruiting's a huge part of it and we've really got some outstanding young players in the program. It's just exciting to see the youth and the athleticism and the speed.
"Those are the guys who are going to help lead us to where want to go."
Guys like Hageman, Singleton, Garin and Gregory-McGhee will be in larger roles next fall, and Brewster deserves another shot to coach them. But the bar will be set higher than 6-6, and a win Dec. 31 would get the program headed in the right direction.
"You're just developing a program, and it's working," Brewster said. "We want to build a championship-caliber program, a team that has a chance to compete for a championship. And as we all know, that takes some time. But I'm really pleased with the progress that we're making, and this will be another opportunity, New Year' Eve, to continue to establish the course in which we want to go."