October, 3, 2013
10/03/13
11:30
AM ET
EVANSTON, Ill. -- Northwestern's rise from national doormat to national darling to consistent winner is impossible to deny, even for farsighted skeptics who still discuss the program as if it were 1983, not 2013.
A team once best known for owning college football's longest losing streak can point to Big Ten titles in 1995, 1996 and 2000, five consecutive bowl appearances, and, finally, a bowl victory this past Jan. 1. But there's a scarlet and gray asterisk next to Northwestern's name. Of all the hurdles -- real or perceived -- the Wildcats have cleared since 1995, one opponent consistently trips them up and leaves them lying flat on their faces.
Ohio State hasn't merely dominated the all-time series against Northwestern, holding a 59-14-1 edge, including wins in the past four meetings and 28 of the past 29. Most of the matchups haven't even been competitive, beginning with the first, a 58-0 Buckeyes win a century ago.
Since a 60-0 win in 1973 at Ohio Stadium, the Buckeyes own 13 victories against Northwestern by 40 points or more and 21 victories by 20 points or more. Single-digit losses to Ohio State are almost as uncommon as wins for Northwestern. Even the Wildcats' championship seasons in 1995, 1996 and 2000 occurred without Ohio State on the schedule.
The dark days are over at Northwestern. No reasonable person could dispute that. But Ohio State remains a dark cloud hovering around the program. Saturday night, the fourth-ranked Buckeyes storm into Ryan Field for the most-anticipated regular-season Northwestern game in recent memory. The forecast, by the way, calls for showers.
[+] Enlarge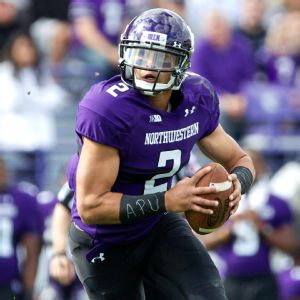 John Gress/Getty ImagesKain Colter and the Wildcats hope to end Ohio State's dominance with a win Saturday night.
Will Northwestern's big-stage appearance be a washout, or will the purple reign?
"It's going to be a big measuring stick for us, to see where we're at," Northwestern quarterback
Kain Colter
said Monday.
Nine years earlier, Noah Herron sat in the same room as Colter, discussing Northwestern's upcoming home game against an Ohio State team ranked No. 7 nationally. Herron, the Wildcats' running back at the time, and several of his teammates made comments that were true then and are true to this day but that still created a stir in Buckeye Country. Wide receiver Mark Philmore described the Buckeyes as "kids just like you out there."
"It was along the lines of, 'They're just Ohio State. They're the same guys that we are, playing for their school. They're no different than us,'" Herron recalled in a phone interview with ESPN.com this week. "It became poster-board stuff for their locker room, which is not what it was intended to be, but it was supposed to look at it from our approach. We're not playing their tradition, we're playing them. We're playing the current roster for 2004, not Archie Griffin and all these other great names that they've had."
Brett Basanez, the Wildcats' quarterback at the time, had a similar feeling. Despite playing with a separated throwing shoulder suffered the previous week, Basanez passed for 278 yards and two touchdowns and added 53 rushing yards, including a 21-yard dash to set up Herron's eventual winning TD.
Basanez had watched Ohio State's game against NC State and saw similarities between NC State's offense and Northwestern's.
"You're not playing Eddie George," Basanez said. "You're playing normal guys. Just play your game and win. We knew if we came out and played, we could score with them, we could score more than them. And that came to fruition as the game started."
Herron might have violated Big Ten etiquette by not paying homage to the Buckeyes. Ohio State came to Ryan Field eager to put Northwestern in its place.
Instead, the Wildcats won 33-27 in overtime. Herron scored the winning touchdown in what
one Northwestern fan website
calls the "33 game" -- Herron wore No. 33, scored the team's 33rd point on his 33rd carry and helped snap a 33-year losing streak to the Buckeyes.
"We weren't intimidated by them from the very beginning," Herron said. "Offense, defense, special teams, everybody played with that same kind of swagger, that, 'Hey, we're playing this team right now, nobody else.' Sometimes you catch a little heat for saying some things, but nevertheless they're true and they prove to be true. They're college kids just like us.
"Just because they're Ohio State, they don't get a free pass."
The current Northwestern players had nothing inflammatory to say this week about Ohio State. Colter praised the Buckeyes' coaches and said Ohio State has "athletes all over the board."
But the Wildcats also aren't in awe of Ohio State, which might have been a problem for Northwestern teams of the past.
"If you grow up watching college football, you hear about tradition, you hear about the successes that programs have had," Herron said. "You can be enamored by it. You can even be intimidated by it."
Herron acknowledges that, from top to bottom, Ohio State had more talent than Northwestern in 2004 and still does today. Wildcats coach Pat Fitzgerald agrees, saying Monday, "I think there's a talent gap between anybody in the top five and everybody else, including us. ... But we're pretty darn talented."
The talent gap has narrowed for Northwestern, as recruiting is on the rise under Fitzgerald. The are-you-kidding-me losses that used to plague Northwestern, particularly in nonleague play, have gone away. The Wildcats actually can stay ranked for more than a week.
But there are steps to legitimizing a program, and beating the Big Ten's most talented and visible program is one Northwestern eventually has to take, especially if it intends to return to the Rose Bowl.
Saturday night's opportunity, Basanez said, is more about Northwestern's future than its past.
"If you're judging your football program in the Big Ten, especially with [Buckeyes coach] Urban Meyer, with the tradition that [Jim] Tressel and other guys have had there, yeah, that's a measuring stick," he said. "It's very important to beat Ohio State because they're a Big Ten foe, but it's just as important to beat Michigan or Iowa. Everyone just thinks of Ohio State, but you beat them, arguably right now you're the best in the Big Ten."
Herron, who played five NFL seasons with four teams, calls the touchdown run in overtime against Ohio State his best moment on a football field. Personal achievement played a small role, as the win resonated for a team and a school still trying to escape its putrid past on the gridiron. The Ohio State win turned out to be the high point for the 2004 Wildcats, who went 6-6 and missed a bowl, thanks to a 1-3 mark in nonleague play.
The program since has been elevated. So have the stakes Saturday night.
"It is a measuring stick because it's the main stage, and it's seemingly been a team that Northwestern has had a hard time beating," Herron said. "Two ranked teams, game of the week, 'GameDay' is going to be there.
"What more can you ask for, not only for that team but for the program?"
October, 22, 2010
10/22/10
9:00
AM ET
A few notes and nuggets to make you smarter as you head out to the (likely) rain-soaked stadiums on Saturday.
Thanks to the fine folks at ESPN Stats & Info for several of these:
Wisconsin's rushing attack has 50 rushes of 10 or more yards in 2010, which is tied for 11th most in the FBS. Iowa's stingy defense very rarely gives up the big running play, but the Hawkeyes will have their hands full with John Clay and James White. Iowa is tied for second nationally in fewest rushes of 10 or more yards allowed with 11. Boston College leads the nation with 10.
Penn State's Joe Paterno will coach in his 65th stadium on Saturday when the Nittany Lions visit TCF Bank Stadium in Minneapolis. JoePa has coached 276 games in Beaver Stadium, and TCF Bank Stadium will become the 64th away or neutral site venue the Hall of Famer has coached in 257 contests.
Iowa's Ricky Stanzi and Wisconsin's Scott Tolzien both have been great inside the opponent's 20-yard line this season. Tolzien has thrown all seven of his touchdown passes from inside the red zone in 2010. Wisconsin is one of only two FBS teams that has not thrown a touchdown pass from outside of the red zone. Stanzi leads the nation in red zone pass efficiency (297.4 rating), while Tolzien is second (286 rating) and Indiana's Ben Chappell is third (264.4 rating).
Michigan State has recorded three interceptions in each of the past two games. The Spartans had six interceptions in 13 games last season. They are tied for third in FBS with 12 interceptions. They also rank in the top 10 nationally in both takeaways (seventh with 18) and turnover margin (9th).
Danny Hope has done his best coaching work in league play. In his seven seasons as a head coach, Hope has posted a 38-12 record (a .760 winning percentage) in 50 conference games at Eastern Kentucky and Purdue.
Illinois has faced the second-toughest schedule in the nation thus far according to the official NCAA schedule strength rankings. Illinois' opponents have a combined record of 26-7 this season vs. Division I opponents (not counting their game vs. Illinois). Only Iowa State has played a tougher slate so far (29-7 combined opponent record).
Ohio State's Terrelle Pryor needs 90 passing yards to become the ninth quarterback in team history to pass for 5,000 career yards. With 180 yards passing, he would move into eighth place on the school's all-time list.
Indiana's Bill Lynch and Iowa's Kirk Ferentz both are nearing the 100-victory mark for their coaching careers. Lynch improved to 99-92-3 with a win over Arkansas State last weekend and will look for his 100th victory on Saturday at Illinois. Lynch has compiled his 99 victories in 17-plus seasons at Butler, Ball State, DePauw and Indiana. Ferentz is now 98-77 in his career after a victory at Michigan last weekend. He's in his 15th season as a head coach after a previous stint at Maine.
Minnesota's Adam Weber could become just the fifth quarterback in Big Ten history to pass for more than 10,000 career yards this week. He needs just 100 yards to accomplish that feat. Weber would join Iowa's Chuck Long (10,461), Northwestern's Brett Basanez (10,580), Purdue's Curtis Painter (11,163) and Purdue's Drew Brees (11.792) in that exclusive club.
Northwestern has been strong coming out of the locker room in its first six games this season, outscoring opponents 98-28 in the first and third quarters combined. The Wildcats have been outscored by seven points in both the second and fourth quarters.
Michigan State is the highest ranked Big Ten team in the AP Poll for the 1st time since the final poll in the 1987 season. That Spartans team finished 9-2-1 and was ranked No. 8 after beating USC in the Rose Bowl.
Wisconsin's John Clay and James White form one of just two running back tandems in the FBS to both rush for at least 80 yards per game. Michigan State's Edwin Baker and Le'Veon Bell form the other pair.
September, 15, 2010
9/15/10
5:30
PM ET
Dan Persa
's 86.4 percent completion ratio so far this season doesn't surprise Northwestern coach Pat Fitzgerald.
Fitzgerald sees this all the time from the Wildcats' junior quarterback.
Asked Tuesday if Persa passes the ball as accurately in practice as he does in games, Fitzgerald flipped through his notes from the team's workout earlier that morning.
[+] Enlarge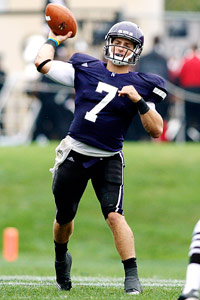 Jerry Lai/US PresswireDan Persa in the early national leader in pass efficiency with a rating of 212.1.
"We just got off the field and he threw for 92 percent in seven-on-seven," Fitzgerald said. "And in team [drills], he threw for 88 percent.
"So yeah, he's pretty consistent."
Persa opened the season by completing 19 of 21 passes for 222 yards and three touchdowns in a road win against Vanderbilt. He set a single-game team record for completion percentage (90.5 percent, minimum 20 attempts) and added 82 rush yards.
Last Saturday, Persa took a huge step back. He only completed 82.6 percent of his throws (19-for-23) in about a half of work against Illinois State.
On-target passing combined with five touchdown strikes and no interceptions has helped Persa lead the nation in pass efficiency with a rating of 212.1.
"It's just all about your confidence," Persa told me earlier this week. "Once it becomes second nature, you don't really think about making mistakes. You just think about getting the ball to [the receivers] as quick as you can and watch what they do with it."
Persa is only two games into his stint as Northwestern's full-time starter and entered the year with only 34 career pass attempts (20 completions). His fast start is linked to his ability to maximize the offseason, whether it was earning team awards for his weight-room prowess, working with former Northwestern quarterback Brett Basanez on his skills or leading voluntary workouts with his receivers.
Northwestern's spread offense is built around high-percentage passes, some of which coordinator Mick McCall considers the equivalent to run plays. Most of Persa's throws don't travel very far, but the execution needs to be there on both ends.
"Some are short, easy passes," Persa said, "but at the same time, we work really hard in the offseason and in fall camp to get our timing right. It's really showing right now."
Northwestern enjoyed similar accuracy with All-Big Ten quarterback Mike Kafka in 2009.
Kafka led Big Ten starters in completion percentage (64.8). He completed his first 16 passes against Syracuse, breaking a 47-year-old team record, and finished the game 35-for-42 (83.3 percent).
Persa has continued the pattern.
"I just try to make all the throws that I'm capable of," he said. "You're going to have some incompletions, just because sometimes you've got to throw the ball away or sometimes, you have to save yourself. I'm not really focused on making or missing passes as much as executing and getting the job done."
Fitzgerald said there's only one throw Persa would like to have back so far this season, a pass that sailed through the hands of a Vanderbilt linebacker and into those of Northwestern receiver
Demetrius Fields
.
So even when Persa messes up, he still completes the pass. Figures.
"He's managed it outstanding," Fitzgerald said. "I don't know if he could have done a better job in the first two games. ... He's a great fit to our offense. He can do everything: He can run, he can throw the quick game, he can throw on the move, he can throw the ball vertically.
"He's just the full package."
April, 5, 2010
4/05/10
10:30
AM ET
EVANSTON, Ill. --
Dan Persa
is still a novice when it comes to playing quarterback at the college level.
His career stat line shows only 34 pass attempts, 51 rushing attempts, two touchdowns, two interceptions and zero starts. It's a résumé not unlike those of other backup quarterbacks in the Big Ten.
Where Persa distinguishes himself is leadership. He's the resident expert at Northwestern.
[+] Enlarge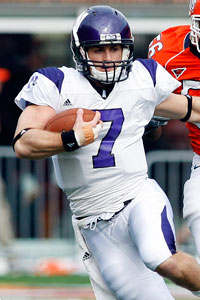 Jerry Lai/US PresswireAlready a threat running the ball, Dan Persa is working on fine-tuning his passing skills.
Since the moment Persa arrived in Evanston, he has prepared to lead. After the 2007 season, head coach Pat Fitzgerald formed a 10-man leadership council to give players greater ownership of the offseason program. Persa is the only player elected to the council in each of the three seasons.
Despite his place on the depth chart -- behind C.J. Bacher and Mike Kafka in 2008, and behind Kafka in 2009 -- Persa always tried to find ways to assert himself and gain confidence among others. He even saw time on special teams in 2008, returning one kickoff for 15 yards.
"I tried to get in here as much as I can to show people than I'm willing to work as hard as anyone," Persa said. "Everybody looks to you for energy, they look to you for attitude. If you're having a bad day and you're wearing your feelings on your sleeve, everybody's going to see that and then they're going to be down.
"But if they see you energized and ready to go, they're like, 'Alright, let's go.'"
Persa will get his chance to lead in the spotlight this fall as he moves into a starting role. The former Pennsylvania high school superstar takes over an offense that relied almost exclusively on Kafka's right arm last season.
Although Persa established himself as a locker-room presence years ago, he cranked things up during the winter months in preparation for his first spring practice at the helm.
"Mike Kafka was an extremely hard worker," left tackle Al Netter said, "and Dan works as hard, if not harder. This offseason, he's the first guy in the football offices, and he's the last guy to leave, every single day. His work ethic is spectacular. I look up to him, all the other guys look up to him, so he's taken this role very seriously."
Persa's rationale: "Knowing that you'll be the leader of this team, it's not just taking care of yourself any more. You've got to bring the whole team, the whole offense, along. If the offense fails, it's pretty much on you."
Since installing the spread offense before the 2000 season, Northwestern has had different types of trigger men. Brett Basanez and C.J. Bacher developed into record-setting passers, while Kafka transformed himself from a run-first quarterback into the Big Ten's passing leader last fall.
In Persa, the Wildcats might have the most natural fit for the spread since Zak Kustok, who led NU to its last Big Ten championship (2000). Persa is a true dual-threat quarterback who became the first Pennsylvania high school player to eclipse 2,000 passing yards and 1,000 rushing yards in a season.
It's noteworthy that if Persa didn't end up at NU, he likely would have signed with Rich Rodriguez at West Virginia. Rodriguez is arguably the biggest reason Northwestern runs the spread, as Wildcats coaches implemented the system
after visiting with Rodriguez at Clemson in 1999
.
"If I don't run, I think that's taking away from one of my strengths," Persa said. "But I don't see myself running 20, 25 times a game."
NU coaches know Persa can run, so they're spending more time fine-tuning his passing skills. As a smaller quarterback -- Persa is somewhat generously listed at 6-foot-1 -- he has to be precise with his footwork to help his field vision.
"I know he worked hard last summer about really getting some depth on his drop," offensive coordinator Mick McCall said. "He did a good job with that. We're going to try and move the pocket a little bit more to help him out, but we still are who we are. We're a spread team, we're going to be in empty, we're still going to run the ball with the quarterback at times."
Persa's size hurt him a bit in the recruiting process, as some schools wanted him to play defense. But the shotgun spread offense isn't married to 6-5 quarterbacks, and so far, Persa is standing tall at Northwestern.
"He has always led," McCall said. "He was always a voice here because he still worked his fanny off in the weight room, he still worked his fanny off in workouts. But he had to be [Kafka's] right-hand man.
"Now he's the guy."
September, 21, 2009
9/21/09
10:00
AM ET

Posted by ESPN.com's Adam Rittenberg
Looks like I swung and missed with
my choices
. I definitely should have had Chris Borland for special teams, but I can make a strong case for the rest of my decisions.
Here are the official picks.
CO-OFFENSE
Michigan RB Carlos Brown
-- Brown averaged 14.4 yards per carry against Eastern Michigan, racking up a career-high 187 rushing yards on only 13 carries while scoring a pair of touchdowns. The senior running back scored from 9 yards out near the end of the first quarter before exploding on a 90-yard touchdown sprint in the second quarter. His 90-yard score is the third-longest run in school history. Michigan posted 380 rushing yards in the game, the school's best single-game performance since the 2003 campaign.
Northwestern QB Mike Kafka --
Kafka opened the game by connecting on a school-record 16 straight pass attempts and set a single-game record by completing 83.3 percent of his passes while accounting for five touchdowns to keep Northwestern close in a high-scoring shootout at Syracuse. The senior quarterback completed 35 of 42 passes for a career-best 390 yards with three touchdown passes. He also added a touchdown run and reception, becoming the first Big Ten player with at least one passing, rushing and receiving score in the same game since Penn State's Zack Mills accomplished the feat against Akron in 2004. Kafka's completion percentage broke the previous school record of 80.6 percent set by Brett Basanez against Illinois in 2005.
DEFENSE
Penn State LB Sean Lee --
After missing last season with an injury, Lee recorded double-digits in tackles for the second time in three games this year with 12 defensive stops to help Penn State hold Temple to only a pair of field goals. The senior linebacker added 2.5 tackles for loss in the contest, including a 3-yard sack, while hitting double-figures in tackles for the 14th time in his career. The Nittany Lions held the visitors to only 46 rushing yards in the game as PSU has held three consecutive foes to seven points or less for the first time since 1996.
CO-SPECIAL TEAMS
Iowa P Ryan Donahue --
Donahue averaged 51 yards on five punts against Arizona, including placing two boots inside the 20-yard line with a long of 62 yards. The junior punter totaled 255 punting yards in the game and four of his five kicks were of 50 yards or longer, including punts of 50, 51, 58 and 62 yards. The visiting Wildcats were held to only one punt return for 4 yards in the game.
Wisconsin LB Chris Borland --
Borland made his presence felt on special teams against Wofford, blocking a punt and forcing a fumble on another punt while adding four tackles on defense. The freshman linebacker registered his first career forced fumble in the first quarter, stripping the ball from the returner deep in Badgers territory to set up a field goal. In the second quarter, he broke through to block a punt which was recovered in the end zone for a touchdown and a 17-0 lead.
August, 12, 2009
8/12/09
2:54
PM ET
Posted by ESPN.com's Adam Rittenberg
EVANSTON, Ill. -- It's no secret around these parts that Northwestern's offensive production largely depends on quarterback Mike Kafka's ability to evolve as a passer.
Kafka might not be a household name in the Big Ten, but he holds the league's single-game record for quarterback rushing with 217 yards against Minnesota last year. The senior is less accomplished as a passer, but he spent the summer focusing on the passing game.
| | |
| --- | --- |
| | |
| | Jonathan Ferrey/Getty Images |
| | Mike Kafka, above, spent time this summer working with former Northwestern QB Brett Basanez. |
Part of Kafka's summer regimen involved working with former Northwestern quarterback Brett Basanez, the 2005 Big Ten co-Offensive Player of the Year. Basanez, who ranks third on the Big Ten's career passing yards list (10,580), returned to the area after signing with the Chicago Bears as a reserve quarterback.
Kafka gathered several of Northwestern's receivers and worked with Basanez twice a week for six weeks. Wildcats backup quarterback Dan Persa and Kafka's brother, Jason, who will play football at San Jose State this fall, also participated.
"We were working out with an NFL quarterback," Kafka said. "You can't beat that."
Basanez critiqued Kafka's passing mechanics and footwork, but his most valuable advice had to do with the mental aspect of playing the position.
"We talked a lot about being able to manage the game and control and lead," Kafka said. "That was one of the biggest things -- leadership. A lot of times, the quarterback doesn't have to be the best player on the field, as long as you lead your team down the field."
Since installing the spread offense in 2000, Northwestern has struggled to overcome the loss of a starting quarterback. The Wildcats stumbled to 3-9 in 2002, after losing Zak Kustok, and went 4-8 in 2006, after losing Basanez.
C.J. Bacher held the top job the past two-and-a-half seasons, though Kafka isn't a stranger to the spotlight. He started four games as a freshman and two last fall after Bacher hurt his hamstring.
Head coach Pat Fitzgerald said Kafka is "throwing the ball as well as he ever has" and gained confidence by being the clear-cut starter in camp.
"You can just tell that he's taken the time to improve, even on the little things," said wide receiver Andrew Brewer, a former quarterback who competed with Kafka in 2006. "It's definitely helped his mechanics and helped his arm speed and strength."
April, 14, 2009
4/14/09
9:00
AM ET
Posted by ESPN.com's Adam Rittenberg
A few questions and answers on this get-away day for me.
Paul from Johnstown, Pa., writes: Adam, Every year it seems like there is a QB in the Big Ten that emerges as the guy no one really talks about, but no one wants to play either. You know what type of guys I'm talking about too--the Brett Basanez's of the league...the guys that aren't flashy and don't get the PR, but are just plain gamers. Could Stanzi emerge this year to fill that role? Pryor, Clark and Forcier are already the media glory-boys, so it can't be any of those choices. Who do you think fits the bill?
Adam Rittenberg: Great question, Paul, and totally agree on quarterbacks coming out of nowhere in the Big Ten. Penn State's Daryll Clark certainly continued the trend in 2008. Iowa's Ricky Stanzi certainly could be that guy in 2009. I'm not sold on his wide receivers, but if tight end Tony Moeaki stays healthy, Stanzi could have a big year. He'll have one of the league's top offensive lines in front of him. Michigan State's quarterback, Keith Nichol or Kirk Cousins, also could fit into this category, as could Northwestern's Mike Kafka if he improves on short and intermediate passes.
---
Tony from Denver writes: Hey Adam, love the blog keep up the good work. When Robinson gets up to Michigan this summer, do you foresee a possible "wildcat" offense or something similar that could be put in the offense, with Robinson at QB and then Forcier out at receiver like Pennington was since he has the better arm?
Adam Rittenberg: I don't see this, Tony, at least not right away. Michigan must first see what it has with Denard Robinson at the quarterback spot, and also assess whether Tate Forcier has continued his development after a solid spring. The Wolverines are in no position to be moving quarterbacks to other spots on the field -- there's just not enough depth. And both Forcier and Robinson fit Rich Rodriguez's spread offense, which already has enough creativity when it's cooking. I wouldn't rule anything out, but I doubt Michigan will go this direction.
March, 20, 2009
3/20/09
9:42
AM ET
Posted by ESPN.com's Adam Rittenberg
The departure of a three-year starter at quarterback is never cause for celebration, but Northwestern offensive coordinator Mick McCall could get exactly what he wants in the backfield this fall.
| | |
| --- | --- |
| | |
| | Jonathan Ferrey/Getty Images |
| | Mike Kafka is one option for the Wildcats at quarterback in 2009. |
Northwestern's spread offense works best with a mobile quarterback who poses a legitimate rushing threat. After all, the roots of the Wildcats' system can be traced directly to Rich Rodriguez, who has directed dynamic offenses with mobile quarterbacks (Shaun King, Woody Dantzler, Pat White) and struggled mightily when his quarterbacks lack foot speed (Michigan's 2008 season).
McCall also enjoyed his best coaching success when he mentored mobile quarterbacks Josh Harris and Omar Jacobs at Bowling Green.
Outgoing Northwestern starter C.J. Bacher and his predecessor Brett Basanez showed decent mobility at times, but the team has lacked a true rushing threat since Zak Kustok finished his career in 2001.
McCall will have two when spring practice opens March 30.
"It puts a lot of pressure on the defense when the quarterback can run and be able to break some things open that way," McCall said. "The defense definitely has to be a lot different."
Projected starter Mike Kafka already has established himself as a rushing threat in the Big Ten. Making his first start in three years Nov. 1 against Minnesota, Kafka set a Big Ten quarterback record with 217 rushing yards. He followed with 83 rushing yards the next week against Ohio State.
Backup Dan Persa can move a bit, too.
As a high school senior in Bethlehem, Pa., he became the first player in state history to eclipse 2,000 passing yards and 1,000 rush yards in the same season. Despite serving as Northwestern's third-string quarterback last fall, Persa was used regularly on special teams, even returning a kickoff against Michigan.
Kafka and Persa should enhance a rushing attack that loses Tyrell Sutton, a four-year starter at running back, but McCall chooses to focus more on their arms than their legs.
"We've still got to find ways to move the football through the air because you cannot sit there and pound the quarterback and pound him and pound him, and expect him to throw for 65 percent completion or 70 percent completion," McCall said. "[Tim] Tebow can't even do it, and you're talking about a guy who's won a Heisman.
"We've got to be realistic about what our guys can do and how many hits they can take."
March, 12, 2009
3/12/09
4:30
PM ET
Posted by ESPN.com's Adam Rittenberg
The Friday mailbag comes a day early, as I'll be taking most of Friday off and you guys sent in some real good e-mails. Keep 'em coming.
A popular issue this week seemed to be Penn State and whether the Lions would be better suited in the Big East than the Big Ten. This is a fascinating topic and one that will be discussed more on the blog in the coming weeks.
Joe from Harrisburg, Pa., writes: Hey, thanks for the post about the Big East and Penn St. It's an often over-looked point that Penn St. is a very unnatural fit for the Big 10 -- and we continue to search for an identity in this conference. Besides the new-born rivalry with Ohio State, nothing about PSU in the B10 really fits: Geographically, historically, storied rivalries, etc. It's really sad to imagine what could have been: a conference with PSU, Pitt, BC, Miami, FSU, WVU, and more all playing one another every season. Suddenly the landscape of college football would be dramatically different, because a strong unified eastern conference such as that would certainly alter history as we know it: Bowden and Paterno would go head to head every season. The PSU Pitt rivalry would still exist. Paterno may have 3 national championships. The B10 would be able to have the championship game they desperately need. Had Syracuse not spoiled the deal back in ?82, I think college football would have been a lot better off.
Adam Rittenberg: I certainly don't object to having Penn State in the Big Ten, but you bring up some pretty valid points. The geographical gap between Penn State and the rest of the Big Ten is significant. Penn State and its fans are more Northeast-based than Midwest-based, so I can understand if they feel like outsiders at times. And though a rivalry is brewing between Penn State and Ohio State, it wouldn't compare to built-in rivalries like Pitt.
Who knows if the addition of Penn State would have kept Miami and Florida State in the Big East, as Mike Tranghese said, but it would make it harder for those schools to leave. The Joe Paterno-Bobby Bowden matchups would be a lot of fun.
---
Derek from Baltimore writes: Re: Your piece on Penn State and the Big East... I'm taking a big leap into the deep end of hypothetical-land, but I'd trade Penn State to the Big East for ND and Pitt, provided ND plays football in the Big Ten. Quite honestly, I'd even go for a Penn State-Pitt trade with the Big East, provided we pick up Iowa St. or Mizzou from the Big 12. Then the Big 12 could grab TCU and be even again. Split into 2 divisions (Pitt, MSU, Michigan, OSU, Indiana, Purdue; Illinois, NW, Wisc. Minn., Iowa, Iowa St.) It could be done. How the mind whirrs on this issue :)
Adam Rittenberg: Interesting take, Derek, though this would once again split up Penn State and Pitt. Notre Dame is the natural fit that will never happen for the Big Ten, and I'm not so sure Pitt wants to give up its Big East affiliation in basketball. The divisions argument is always tricky in the Big Ten because of Michigan and Ohio State, but adding a school to the west (Iowa State, Missouri) seems logical. Then again, as Jim Delany said Wednesday, expansion isn't even on the back burner.
---
Jareth from Mount Pleasant writes: Love the blog keep it up!! I was just wondering what you think about the situation at Michigan and the quarterback position? I know that Threet is gone and he was the better of him and Sheridan but with Forcier coming in early and Robinson this summer that will help with depth and competition. The biggest thing that I think will help, even if they have a true freshmen start is the supporting staff of all the OL, RBs, and WRs returning so who ever starts will have more weapons and more experience surronding them. That should take a little bit of the pressure off of them. Just wondering what you think? Thanks.
Adam Rittenberg: Thanks, Jareth. I'll touch on this more in Friday's blog, but you're absolutely right in identifying the other positions as a benefit for the starting quarterback. Rich Rodriguez basically has said the position competition under the previous regime wasn't where it needed to be, and he wants to increase it everywhere this spring. There will definitely be good competition at wide receiver and offensive line, and running back might be Michigan's deepest position next fall.
This is still a quarterback's game and Michigan must get better at that position, but the 2009 starter will have a lot more help surrounding him. It should be easier to move the ball and sustain drives.
---
Tom from Charlotte writes: Adam, really liked the post on "Comparing Big Ten football and hoops identities." It reminded me of the LeBron James hype around playing for the Browns. What recent Big Ten hoops player would make the best transition onto the gridiron? Do you project OSU's Greg Oden at TE? Or maybe Wisconsin's Mike Flower's at CB? It almost goes without saying that Northwestern's Brett Basanez could probably dunk from the free throw line.
Adam Rittenberg: Hmmm, good question, Tom. I think most Big Ten secondary coaches would take Michigan State's Kalin Lucas as a cornerback right now. As far as recent Big Ten hoopsters, I'd take Terence Dials on my defensive line. I'm sure we could find a spot for Oden, maybe as a pass-deflecting defensive tackle. Luther Head could play wide receiver. So could Devin Harris. And Deron Williams would be a load at running back. As for Baz dunking from the foul line? I'd highly doubt that.
---
Jake from Hampton, Va., writes: Adam i was just wondering with all the experience we have returning on sides of the ball i think Iowa has a good shot at the big ten title this year whether you look at Jewel Hampton replacing green or Klug and Binns filling in at DT. What are your thoughts?
Adam Rittenberg: Hampton should be able to step in nicely for Shonn Greene. I wouldn't expect another season like Greene had, but with Hampton, Jeff Brinson and a very good offensive line, Iowa should be able to run the ball. My bigger concern is the defensive tackle spot. Karl Klug won Big Ten Player of the Week honors last year, but I don't see much else returning at that position. You can't undervalue what Mitch King and Matt Kroul meant to that team, and I'd expect a pretty significant drop-off there.
October, 23, 2008
10/23/08
3:25
PM ET
Posted by ESPN.com's Adam Rittenberg

No statistic serves as a better gauge for Northwestern than quarterback C.J. Bacher's interceptions total. Since Bacher became the starter in 2006, the Wildcats are 11-0 when he throws fewer than two interceptions and 3-10 when he has two or more picks.
Ball security is paramount for Bacher, but so is his ability to run.
Northwestern's offense, like many versions of the spread, needs the quarterback to run the ball effectively. The Wildcats' spread originated in part from the system Rich Rodriguez used at Clemson, and we know how much RichRod likes mobile quarterbacks.
Since installing the spread in 2000, Northwestern has asked its quarterbacks to make plays with their feet. Zak Kustok stepped up, Brett Basanez stepped up and the same must happen with Bacher.
Head coach Pat Fitzgerald knows this, and that's why Bacher will continue to be an integral part of the rushing attack.
"We're going to run the quarterback," Fitzgerald told reporters this week. "That's part of being in the spread offense. If you don't run the quarterback, you're kind of sitting in second gear. That doesn't mean we're going to run him 78 times, but we'll take what the defense gives us."
The Chicago Sun-Times' Jim O'Donnell writes that there are risks and rewards to running Bacher during games.
"With Tyrell Sutton sidelined, Bacher's daring fourth-quarter runs preserved a 16-8 victory over Ohio. At Iowa, he personally cleat-started a critical touchdown drive late in the first half.
But for a lithe Californian whose golden right wing could lead the Wildcats to postseason horizons almost unimaginable two months ago, the question of risk/reward every time Bacher takes off running undoubtedly looms large in the mind of the more sophisticated NU football fan."
That's true, but it's a greater risk for Bacher to be hesitant about running. He has had trouble forcing throws and passing off his back foot, leading to interceptions. It's important for him to recognize pressure and make plays with his feet when he can.
Bacher seemed much more willing to run last week against Purdue, rushing for 41 yards and a touchdown on 13 carries. He executed the option well with Sutton and the Wildcats' offense had by far its best performance of the season.
The injury risk is always there, but the bigger gamble for Bacher would be sitting back in the pocket when rushing lanes are there for the taking.
August, 29, 2008
8/29/08
5:00
PM ET
Posted by ESPN.com's Adam Rittenberg
I'm about to hit the road for Ann Arbor, where former walk-on Nick Sheridan is using heady play to possibly grab the starting quarterback spot at Michigan. But I promised a mailbag on Friday and here's a condensed version. Enjoy.
Matthew from Canton, Mich., writes: How can you pick against Michigan State in their game against Cal? State is more consistent, and has a well proven running back, quarterback, and O-Line. the Defense isn't too shabby either. I think Michigan State will surprise you. Oh, and nice pick on the Michigan-Utah game. I thought I was alone when I told my friends that Utah would beat Michigan.
Adam Rittenberg writes: I love Mark Dantonio and the job he's done in East Lansing, but your comment about Michigan State being more consistent nearly made me fall out of my chair. Consistent at what? Disappointing its fans every October? Dantonio will put an end to that soon enough, but there's a lot of troubling history with that team, especially when there are expectations. Javon Ringer and Brian Hoyer look solid, but only if they get help from the offensive line (not much depth). I won't be surprised at all if Michigan State wins, but Cal is awfully tough in Berkeley and made absolutely the right decision by starting Kevin Riley at quarterback.
---
Drew from Minneapolis writes: One can easily make the case that Iowa has one of the easiest schedules in the nation, let alone the Big Ten (No OSU or Michigan). But do you think they will actually be able to take advantage of the cakewalk schedule? There are definite holes at running back and the secondary, and it always seems like half of their starters get injured once the conference schedule begins. Is this the year that will put [Kirk] Ferentz back among the elite coaches of the Big Ten?
Adam Rittenberg writes: The schedule definitely will help Iowa overcome some major issues on offense, not just at running back and the offensive line, but at quarterback as well. The road game against Pitt won't be easy, but Iowa should be 3-1 when it opens Big Ten play against Northwestern. Like you point out, injuries could be a concern, especially after the sick bay filled up so fast last season. But without Ohio State on the slate and both Wisconsin and Penn State at home, the Hawkeyes and Ferentz could do some damage and restore their reputation.
---
Erik from Saint Joseph, Mo., writes: I would just like to say your biased pick of Illinois over Missouri made me a little mad at first. Then I realized you were just having delusional thoughts. Then I laughed and wasn't mad anymore. However, I still feel like the pick is idiotic. p.s. If you're going to respond, have the gall to do it before the game is over.
Adam Rittenberg writes: Glad I made you laugh, Erik, and I'll be happy to respond before kickoff, just like I'll be happy to get ripped if Missouri pounds Illinois. I don't see it happening, though. Illinois' defense will be better than last season, and Jeremy Maclin won't be able to torch Vontae Davis like he does other cornerbacks. Chase Daniel still will put up numbers, but watch out for Juice Williams. He's not just a runner any more. Could go either way, but I'm sticking with the Illini.
---
Queena in Calgary writes: Hello Adam, Would you give a short explanation on the main differences between Michigan's new spread offense versus what we had run under Coach [Lloyd] Carr? Do you think Michigan will see sucess this season under the new system?
Adam Rittenberg writes: How much time do you have, Queena? There are numerous differences. Michigan will operate a lot in the no-huddle and the overall pace will be much quicker this fall. The days of Chad Henne dropping back and looking for Mario Manningham or handing off to Mike Hart in the I-formation are over. Think a lot more shotgun, a decent amount of option and the zone read, which forces defenses to defend the back side of plays. Michigan did a decent amount of zone blocking before, but there will be more movement with what Rich Rodriguez does.
---
D.J. from Minneapolis writes: Really, only one mention of the Gophers in your 25 Things To Watch For. How about the next step in Adam Weber's development...a player who should be getting a lot more attention than he does. Or how about the real coming out party for Eric Decker who is going to have a monster year this year. I know last season was a joke, but there are some very good pieces in place on this team. Sorry Adam, I had to vent and show some support for my squad. I enjoy the blog, keep up the good work...just give some more love to the Gophs!
Adam Rittenberg writes: Sorry D.J., ran out of room for a team coming off a 1-11 season. Seriously, though, I'm very excited about Adam Weber. He's got a great personality and the right skill set to lead that offense. I covered offensive coordinator Mike Dunbar at Northwestern, and he wants a guy who can run -- not as much as Weber did last year -- and throw short passes. Think Brett Basanez in 2005. Weber is an excellent fit, and Decker should have a big year. So I'm excited for those things as well, even if they didn't make the list.
July, 28, 2008
7/28/08
10:09
AM ET
Posted by ESPN.com's Adam Rittenberg
The night between Big Ten media days gives players from rival teams the rare opportunity to spend some time together. This isn't quite Ohio State and USC stars partying at the Playboy All-America function, but the players get a chance to hang out in Chicago before the season.
It's a good time for all, though the good vibes rarely last. Three years ago, Northwestern quarterback Brett Basanez organized a group -- all of whom were legal drinking age, of course -- and went to a sports bar. Basanez hung out with Iowa linebacker Chad Greenway, who several months later he accused of head-hunting following a game.
Players from several teams met up Thursday night, and Iowa players ended up spending most of the time with the contingent from Penn State. Both the Hawkeyes and Nittany Lions have endured their share of problems during the offseason. ESPN's "Outside the Lines" recently documented Penn State's string of transgressions, while Iowa coach Kirk Ferentz and other athletic officials are being investigated for a second time regarding their handling of an alleged sexual assault involving two former football players.
"Both of us have had some off-field issues, and our seasons haven't gone the way we wanted them [to go] the last couple years," Iowa defensive tackle Matt Kroul said. "We just talked about as leaders, what they're trying to do, what their coaching staff does. You just try to find similarities, how different schools react to the same problems."
Like Kroul, Penn State center and team captain A.Q. Shipley is accepting a greater responsibility for keeping teammates in line this season.
"With [Iowa] going through the same things, dealing with that, talking about that, it was interesting to see how they were handling things, too," Shipley said. "We've been through it for a while. It's good that we're past it now. Guys faced the consequences and were able to move on."
Though the "Outside the Lines" piece rehashed Penn State's problems, the worst appears to be over in Happy Valley. Iowa is a different story, as an incoming freshman was arrested July 19 after Iowa City police say he led officers on a foot chase.
Kroul said Iowa's team leaders have addressed disciplinary issues throughout the summer and will continue to do so when preseason practice begins Aug. 4.
"We changed some things, made it a little more of an open forum with the older and younger players," he said. "Hopefully, they can feed off us and see how we do things. We're trying to get in more contact with them, let them know that we actually care about them and they're not some little freshmen that don't mean anything to us. It's up to us to keep the Iowa tradition and try to restore the image that we've had."
July, 21, 2008
7/21/08
1:22
PM ET
Posted by ESPN.com's Adam Rittenberg
| | |
| --- | --- |
| | |
| | Jerry Lai-US PRESSWIRE |
| | Pat Fitzgerald took over a tough situation, but sees improvement from his squad regularly. |
EVANSTON, Ill. -- The Northwestern football office is filled with memories from Pat Fitzgerald's playing career. Visitors are immediately greeted by one of his National Defensive Player of the Year trophies, and a display case several feet away holds several other awards given to the former Northwestern linebacker, who headlined the 1995 Rose Bowl team. More items are on the way when Fitzgerald gets enshrined into the College Football Hall of Fame next summer.
The Hall of Fame selection provided Fitzgerald the chance to reflect on his on-field accomplishments, but his focus has switched back to his current responsibilities. He wants to bring more hardware to Evanston, this time as a head coach. Northwestern underachieved in 2007, falling short of a bowl game, and Fitzgerald's missteps cost the team at times. Fitzgerald's legacy a player is undeniable, but he still has plenty to prove as a coach. No longer the novice who took over following the sudden death of Randy Walker, Fitzgerald understands the significance of this season.
After a family vacation to Florida during which he did not get a tan -- impossible, he claims -- Fitzgerald sat down last week to discuss the Hall of Fame, the upcoming season, his two new coordinators and his evolution as a coach.
How has your life changed since being selected for the Hall of Fame?
Pat Fitzgerald: (laughs) I don't know if it's changed at all. It's an incredible, humbling honor. Someone asked me what it meant to be on the ballot. I think it just shows how strong of a football team we had. My career in the NFL was not very long, probably the shortest of anybody being enshrined this year. So I look back to what we accomplished here and I look at this honor, and it's my name, but it's more of our team that's going to be inducted into the Hall of Fame.
You're obviously asked about that team a lot, but did this make you reminisce about it even more?
PF: As you get a little bit older, you look back at that time in your life and you really appreciate the experiences you went through and the people you were with. For me, still living it every day, still being here every day, I think about it almost daily. We had a little milestone with the 10-year reunion the last couple years, and hopefully for some of my teammates, this opportunity to celebrate our team will be an opportunity to reconnect again.
Given all the places you've been and the experiences you've have since then, does the Rose Bowl feel like a long time ago?
PF: Yeah, it does. So much has changed, not only for myself, but a lot of my teammates. Most of them are married now, most of them have children, so we've all taken another step in our lives, milestone-wise. It seems a little distant now. We need to get back.
Coaches talk about finding their voice. Do you think you've found your voice now more than before?
PF: I'm more set on what I want. Looking back to Year 1, there were things I felt strongly about, but now as we've gone through a couple years of it, I'm very confident in what I want to have. I'm excited about this year. We've got a lot of experience coming back, a lot of guys that have been around me and know what I expect. I think I'm doing a better job of articulating that.
With (quarterback) C.J. (Bacher), what's been the biggest difference in him, leadership-wise, from when he took over as the starter?
PF: He's confident. He's kind of run the whole gamut you go through at quarterback. He was the backup, watched a great player (Brett Basanez) have a great end to his career, got hurt, had to battle his way to a starting job, won it, we didn't have success, then got us to bowl eligibility last year, was not satisfied with that. Now he's poised to have a great year. He's worked hard, he's strong. I'm encouraged with where he's at.
Mick (McCall) is his third offensive coordinator in four years. How did it go with those two in spring practice?
PF: Mick came in with some automatic credibility to the development of two All-American quarterbacks (Josh Harris and Omar Jacobs) while he was at (Bowling Green). So C.J. was excited to work with a coach like that. Not that things weren't going great with Garrick (McGee), but to have this opportunity and to watch the job C.J. did, learning and growing, giving extra time to get to know coach McCall better, I'm excited where that relationship is right now.
Will fans notice dramatic differences with what you do on offense with Mick calling plays?
PF: Mick is smart enough and our offensive staff has got a good dynamic where they're not going to ask C.J. to do things he doesn't do very well and put him in an area where he's strong. I don't think it'll be dramatic. Will there be some nuances? Yeah.
More dramatic on the defensive side?
PF: Hopefully in being a little bit more successful, but from a scheme standpoint, we're trying to attack and be more aggressive. What does that mean? As we solidify that top 11, 12, 13, 14, 15 guys, what do they do best? I would assume we'll be four-down most of the year, based on where we're at health-wise right now and the strength of our defensive line. But who ends up being that nickel guy? Do we keep two linebackers in? Do we keep one linebacker in? Is it a corner? Is it a safety? Those are all left to be determined. But Mike Hankwitz has run just about everything you can run, so the flexibility in our system will give us an opportunity to be successful.
How beneficial has having him around been for you, as a young head coach?
PF: Both him and Mick. Mick's been a former head coach for a number of years, and for me, it's great to have those two guys in the room. I like being in a staff room where there's not a bunch of yes-men, where anything I say, they bobblehead, 'Yeah, yeah.' That's what I enjoyed the most about the spring, the challenge of being able to say, 'Do you have any ideas? We did this a certain way.' And they say, 'Well, OK, we did that a couple years ago, too.' To talk through those things, the growth that happens is tremendous.
Who needs to step up on that side of the ball?
PF: The experiences we had there are going to hopefully make us a better defense. You think of the experience up front, Corey Wootton being a multi-year starter, John Gill being a multi-year starter, Adam Hahn being a multi-year starter, Kevin Mims, as we sit here today, being a multi-year starter. And they're being pushed every day by the Vincent Brownes and the Corbin Bryants and the Marshall Thomases. I'm excited about that group, but that group needs to step up. We had good pressure last year. Now we need to finish the job. That's kind of indicative of our whole team. We had some games that we need to finish the job in and we didn't and stayed home for the holidays. At linebacker, Malcolm Arrington had a very solid spring. In the secondary, I'll rattle off more names than we've ever rattled off. (Brendan) Smith coming back off
injury and (Brad) Phillips, two guys that have made a lot of plays for us. They're going to be pushed by David Arnold, who we were going to play as a freshman but then got a little banged up. Same thing with Brian Peters. At corner, Sherrick (McManis) is being pushed by (Jordan) Mabin and (Mike) Bolden and then on the other side, you've got (David) Oredugba and (Justan) Vaughn fighting it out for a starting job. That's six names at corner. We've never had six names at corner of guys I feel confident about. We need to figure out which 11 pieces fit.