January, 2, 2012
1/02/12
5:09
PM ET
Indiana announced Monday that defensive ends coach/recruiting coordinator Brett Diersen has resigned.
Diersen joined Kevin Wilson's staff after the departure of D-line coach Jerry Montgomery to Michigan. Diersen came to Indiana from Nebraska, where he had served as an intern.
"We appreciate Brett's service and wish he and his fiancée Jenna the best," Wilson said in a prepared statement. "We will move forward quickly in making a quality hire that will further strengthen our staff."
Wilson will be replacing at least two assistants from his 2011 staff as co-offensive coordinator Rod Smith left last month to rejoin Rich Rodriguez at Arizona. It will be interesting to see where he turns for the recruiting coordinator post, as defensive recruiting has to be the biggest priority for the Hoosiers right now.
February, 17, 2011
2/17/11
1:30
PM ET
Kevin Wilson has no hard feelings.
Wilson knows how it must look: four assistant coaches leaving his Indiana staff for other jobs days after they came aboard. But after living the assistant's life for decades and understanding how the coaching carousel moves, Wilson doesn't harbor any ill will toward those who bolted Bloomington.
[+] Enlarge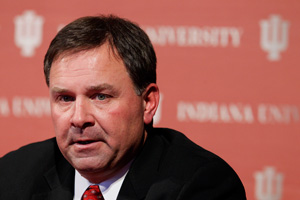 AP Photo/Darron CummingsKevin Wilson understands the offseason coaching carousel is part of the business side of college football.
"I don't pigeonhole a guy on what he's got to do," Wilson told ESPN.com on Thursday. "If they can pay [Auburn offensive coordinator] Gus Malzahn $1.3 million, if a guy can get a better deal, more power to him. With the timing, some things came in front of guys' laps that I don't think they anticipated. I didn't have a problem with any guy, I didn't have a problem with any coach.
"That's the business side of college football. It doesn't look good maybe, but as an assistant football coach, you do what's best for you."
To recap the staff departures:
Offensive coordinator Brent Pease returned to Boise State for the OC job after Bryan Harsin left for Texas

Defensive ends coach Jerry Montgomery left to become defensive line coach at Michigan

Cornerbacks coach Corey Raymond left to become secondary coach at Nebraska

Running backs coach Jemal Singleton left for the same position at Oklahoma State
Indiana has filled most of the gaps, hiring two offensive coordinators (Kevin Johns and Rod Smith), a new defensive ends coach (Brett Diersen) and a new cornerbacks coach (Brandon Shelby). Wilson will hire his final full-time assistant coach (presumably for the running backs) in the near future.
There are two major periods of activity for coaching changes: following the season and after national signing day. Wilson made his hires following the season but several got swept away in the post-signing day flurry.
"I think we put together a great staff," Wilson said, "and the guys that left, it was unfortunate because they were great fits here. I thought we stole some good ones. We wanted them here. We encouraged them to be here. Unfortunately, when a guy hasn't moved, hasn't bought a house, it's almost like he was a free agent. I think we maybe helped the stock of some young coaches and now they can quote say they were a Big Ten coach although they never coached in a Big Ten game.
"We kind of spiked the guys' stock a little. Maybe that hurt us, but at the same time I've got no ill will against any of those guys or any of those programs."
Wilson points out that his core group of hires -- co-defensive coordinators Mike Ekeler and Doug Mallory, and Johns -- has remained intact. Indiana has committed greater resources to football, which is evident in Wilson's contract (seven years, $8.4 million) and getting coaches like Johns and Ekeler away from good situations at Northwestern and Nebraska, respectively.
"We've been presented financially with a good situation where our salaries are going to be extremely competitive," Wilson said. "The bottom line is I don't think we're taking a backseat to anyone. These guys felt family wise, career wise, it's better. We wish them well. But shoot, I think we have a heck of a gig going.
"There are some good people who want to be at Indiana."
February, 8, 2011
2/08/11
5:00
PM ET
I don't keep statistics of every assistant coach move in the Big Ten in the past few decades, but I'd be surprised if we've seen an offseason quite like this one.
Although college football assistants change jobs every year in every league, the Big Ten has had an unusually high number of coaches make moves within the conference. Some changes were voluntary, some were out of necessity, and two coaches spent just days at one Big Ten school (Indiana) before jumping elsewhere within the league. New Big Ten member Nebraska played a role in several of these moves.
Here's the rundown:
Purdue linebackers coach Mark Hagen left to become defensive tackles coach/special teams coordinator at Indiana.
Northwestern receivers coach Kevin Johns left to become Indiana's receivers coach/pass game coordinator. He later was elevated to Hoosiers' co-offensive coordinator.
Former Michigan assistants Rod Smith and Greg Frey, out of work following Rich Rodriguez's firing, joined Kevin Wilson's staff at Indiana. Smith will serve as co-offensive coordinator/quarterbacks coach, while Frey will coach the offensive line.
Nebraska linebackers coach Mike Ekeler left to become co-defensive coordinator at Indiana.
Former Indiana assistant head coach/running backs coach Dennis Springer, out of work following Bill Lynch's firing, was hired by Northwestern as Johns' replacement (wide receivers coach).
Jerry Montgomery and Corey Raymond both took jobs on Wilson's staff at Indiana but soon left for positions elsewhere in the league. Montgomery will coach defensive line at Michigan, while Raymond is expected to be announced as secondary coach at Nebraska. Indiana also brought in a Nebraska defensive staffer, Brett Diersen, to help replace Montgomery and coach the defensive ends.
All in all, nine assistant have spent time at multiple Big Ten programs in recent months.
And we might not be done yet. There are several remaining Big Ten assistant coach vacancies -- Wisconsin's running backs coach, Illinois' linebackers coach, two potential openings at Nebraska -- that could be filled from within the league.
What does this mean? Perhaps not much, but the familiarity factor isn't something to overlook when some of these coaches reunite with their former teams on fall Saturdays. Johns knows Northwestern and vice versa. Same goes for Hagen and Purdue, Ekeler and Nebraska and, to a lesser degree because of head-coaching changes, Springer at Indiana and Smith/Frey at Michigan.
Indiana hosts both Northwestern (Oct. 29) and Purdue (Nov. 26) this season, but doesn't play Nebraska or Michigan.
February, 7, 2011
2/07/11
9:00
AM ET
Several Big Ten teams are still filling out their staffs for 2011, and we'll hear an official announcement or two later Monday.
Here's a roundup of what's been happening the last few days:
INDIANA

The Hoosiers on Friday announced the hiring of
Brandon Shelby as cornerbacks coach
. Shelby, who previously held the same position at Louisiana-Monroe, starred as a defensive back at Oklahoma during IU coach Kevin Wilson's time there and also served as a Sooners' defensive assistant in 2006. Shelby replaces Corey Raymond, who left Indiana to take a position at Nebraska. Although Nebraska hasn't made an official announcement about Raymond, he's expected to replace secondary coach Marvin Sanders, who resigned Thursday.
Indiana also last week hired Nebraska defensive assistant Brett Diersen as defensive tackles coach and Air Force running backs coach Jemal Singleton to the same position. Diersen replaces Jerry Montgomery, who Wilson said left for a position at Michigan.
These appointments complete Wilson's staff for 2011.
NEBRASKA

So far, Sanders' resignation is the only official announcement Bo Pelini has made about his staff. But Wilson said Raymond is on his way to Lincoln, and all signs point to offensive coordinator Shawn Watson and receivers coach Ted Gilmore being on their way out. Nebraska's offensive production dipped toward the end of the 2010 season, and the Huskers' receivers had an up-and-down year.
Multiple media reports from Nebraska state that
Pelini might be targeting
Oregon receivers coach Scott Frost, the former Huskers' star quarterback, and Notre Dame offensive line coach Ed Warinner as replacements. Warinner served as Kansas' offensive coordinator from 2007-09 and spent time in the Big Ten as Illinois' offensive line coach and run game coordinator from 2005-06.
The interesting part of this is
Pelini reportedly will hand over play-calling duties
to running backs coach Tim Beck. The Lincoln Journal Star and Omaha World-Herald both report that Frost might not leave Oregon unless it's for a job as a play-caller elsewhere.
Pelini seems to be reshaping his staff before Nebraska's jump to the Big Ten. It will be fascinating to see how things play out in Lincoln.
MICHIGAN

Coach Brady Hoke will finalize his staff Monday and announce the defensive assistants to join coordinator Greg Mattison.
Montgomery is on his way to Ann Arbor, and he'll reportedly be joined by Akron defensive coordinator Curt Mallory on the Michigan staff. Expect Mallory to coach the Wolverines' secondary, while Montgomery will work with the defensive line. Mallory played at Michigan and has spent his entire coaching career in the Midwest, serving as Illinois' secondary coach and co-defensive coordinator from 2007-09. Montgomery played at Iowa and most recently served as Wyoming's defensive line coach.
MICHIGAN STATE

After promoting Dan Roushar to offensive coordinator last week, Mark Dantonio reportedly has found the final member of his staff.
According to The (Mount Pleasant) Morning Sun, Central Michigan receivers coach
Terry Samuel has left to take the same position
on Michigan State's staff. Samuel, who played wide receiver at Purdue, worked his way up through the FCS ranks before joining former Dantonio assistant Dan Enos at Central Michigan last year.
He'll coach the position group that previous Michigan State offensive coordinator Don Treadwell oversaw. Samuel inherits a deep and talented receiving corps led by B.J. Cunningham and Keshawn Martin.

WISCONSIN
The Badgers lost a key assistant over the weekend as running backs coach John Settle departed for the same position with the Carolina Panthers. Settle did an outstanding job with Wisconsin's running backs, helping to mold standout players like P.J. Hill, John Clay, James White and Montee Ball.
Although Wisconsin always recruits talented backs, Settle leaves some big shoes to fill. It will be interesting to see who coach Bret Bielema hires as his replacement.
February, 2, 2011
2/02/11
2:56
PM ET
New Indiana coach Kevin Wilson announced several updates to his coaching staff Wednesday.
Two defensive assistants, Jerry Montgomery and Corey Raymond, are moving onto other schools. Montgomery has been rumored to take a position on Greg Mattison's defensive staff at Michigan, while Raymond might be heading to Nebraska. It's amazing how many assistant coach changes we've seen within the Big Ten this year. "They had an opportunity for something that was better for their family," Wilson said.
Jemal Singleton has joined the Indiana staff as running backs coach and recruiting coordinator. Singleton most recently served as running backs coach and run game coordinator at Air Force, where he spent the past eight seasons. It'll be interesting to see how he adjusts to Wilson's offense after working in the triple option system with Air Force.
Brett Diersen will be joining the Hoosiers' defensive staff from Nebraska. Dierson worked alongside Indiana co-defensive coordinator Mike Ekeler with the Huskers as a football intern last year.
BIG TEN SCOREBOARD
Friday, 12/26
Saturday, 12/20
Monday, 12/22
Tuesday, 12/23
Wednesday, 12/24
Saturday, 12/27
Monday, 12/29
Tuesday, 12/30
Wednesday, 12/31
Thursday, 1/1
Friday, 1/2
Saturday, 1/3
Sunday, 1/4
Monday, 1/12
Tweets from https://twitter.com/ESPNCFB/lists/b1g