July, 23, 2013
7/23/13
12:00
PM ET
Media days are on tap Tuesday and Wednesday. Today's menu once again is all about the links.
April, 1, 2013
4/01/13
12:00
PM ET
March, 26, 2013
3/26/13
9:00
AM ET
Minnesota coach Jerry Kill guided the team to a bowl game during his second season in Minneapolis despite some depth and injury problems in 2012. What's in store for Year 3 of the Kill era? I recently caught up with him to get his outlook for the Gophers' spring practice, which opens today.
How has the offseason gone for you guys so far?
Jerry Kill:
Well, I think the bowl game, even though we lost, the kids played very hard and well. We got healthy, for one, before we went to the bowl, and we had a great month with our kids and a great experience. And coming into the offseason, I think there was a lot of confidence gained. All our kids' strength and testing numbers went up. I guess I can use
Ra'Shede Hageman
as an example, He benched 450 pounds, squatted well over 500 and cleaned 350, with a 38-inch vertical. So kids like that got a lot better.
We feel up front and on the defensive line, we've gotten stronger. I think we've added some depth to the defensive line, and secondary-wise, we played several freshmen in that game against Texas Tech. We've got the flexibility to play
Derrick Wells
at corner and safety. I think the biggest question mark we've got going in is, we lost five scholarship linebackers. It's like a year ago when we lost seven secondary players and kind of hit the jackpot in recruiting. Damien Wilson, a junior college transfer, has had a great spring, and I'm looking forward to seeing him on the field. The guys who need the reps this spring are
James Manuel
,
Aaron Hill
,
Lamonte Edwards
, and young men we redshirted named
Jack Lynn
and
Nick Rallis
. And then we've got four other kids coming when fall camp starts. Our secondary a year ago had a lot of questions and really played well. I think, this year, linebacker is where we need to step up on defense.
And then on offense, I feel we'll be a much better football team than we were a year ago because we get everybody back except for
Brandon Green
and Q [
MarQueis Gray
], really. So I think that unit will be much improved.
[+] Enlarge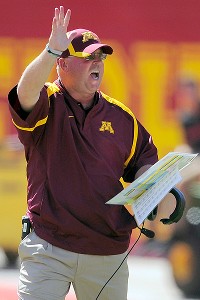 AP Photo/Mark J. TerrillJerry Kill begins his third season as head coach of the Gophers.
You showed off a good power running game in that bowl game. Is that what we should expect from your offense going forward?
JK:
Yeah, that's what we were at Northern Illinois. We could run the power at you, but then we were athletic enough to turn and run the zone read with the quarterback. Both [Chandler] Harnisch and [Jordan] Lynch, when we needed to throw it, we completed it. But we still made our living on running the football. It was the first time, in the bowl game, that we had the same offensive line that we had at the beginning of the seaon. We had so many people get experience there. But that's what we want to be -- a team that gives you a lot of different looks, shifting and motion and different personnel grouping. But you've still got to be able to run the football, and certainly in the Big Ten.
Speaking of that offensive line, after a lot of injuries there last year, how is the position looking this spring?
JK:
Well, we've got a lot of depth, no question. Eddie Olson, he won't go through the spring, but he had a good year a year ago. If we can get his foot healed up and done right, it kind of works out. He'll continue to get stronger. We redshirted
Jonah Pirsig
, who's a 6-foot-8, 6-9, 320 pound tackle,
Ben Lauer
, who's 6-7 and probably 305, and
Isaac Hayes
, who is a 6-2, 300-pound offensive guard. So those kids, I'm anxious to see them in the spring.
We've got
Zac Epping
,
Jon Christenson
and
Caleb Bak
-- in the weight room, he benched 350, squatted 550, so he's gotten stronger.
Josh Campion
is a strong kid; he benches well over 400 pounds. So the same guys who when I first got here were getting pushed around have gotten stronger. And then we've added these young kids that have come in.
Marek Lenkiewicz
is up to 290 pounds,
Tommy Olson
is healthy again and
Brian Bobek
, who transferred from Ohio State and had great credentials when he went to Ohio State, he's another one who's very physically strong. Then there's
Foster Bush
and
Joe Bjorklund
. They're all young kids, but they've gotten physically stronger.
When we got here, I think we had about seven or eight offensive linemen. So we've built it through walk-ons and kind of did it the hard way. But I feel good about that position, along with our tight ends, quarterbacks and receivers. Our defense improved tremendously from one year to the next. For us to be competitive in the Big Ten -- which I think we can be -- our offense has to take the steps our defense did a year ago. And I think we can.
Philip Nelson finished the season for you at quarterback and had a nice bowl game, but you also have some talented young guys there. Is it his job to lose this spring or a more open competition?
JK:
We took the redshirt off Philip last year, and he did some good things and had some things he struggled with, as you'd expect for a freshman. He did some great things in the bowl game. When we go into camp, somebody is going to have to go in there and beat him out. But the thing that's good about that is the competition.
Mitch Leidner
and Chris Streveler are great athletes who can play another position if needed, but they both want to play quarterback and they're very capable of giving someone a run for their money. I can tell you, our defense is very high on Leidner. Mitch is probably close to 6-5 and 230, and he is a 4.6, 4.65 guy [in the 40-yard dash]. And very strong. And then Streveler is quicker than that. He came in during the second semester, and I think he's the third-fastest guy on our team. When we had him in camp, he played receiver also.
So all three of those guys are great kids, students of the game, and the type of kids you want playing quarterback leadership-wise. We'll let it work out. Leidner and Streveler are the type of kids who would say, "Coach, if it helps the team if you move me, I'll do that." But in the spring we're going to let them compete and make sure we're solid at that position. If you look at last year, it was kind of a miracle we got to a bowl game, because we had three different quarterbacks and three different centers. Not many people can win doing that.
August, 23, 2012
8/23/12
12:00
PM ET
August, 20, 2012
8/20/12
2:00
PM ET
In the not so distant past, when a Big Ten player decided to transfer, it almost always signaled the end of his Big Ten career.
The Big Ten's old policy stipulated that a player who transferred from one Big Ten school to another couldn't receive athletics aid at his new destination. While some players still made the moves and paid their own way -- Wisconsin-turned-Minnesota safety Kim Royston comes to mind -- the rules typically steered transfers to other leagues.
The league since has loosened its restrictions, and several players seem to be capitalizing. Four players transferred within the conference this summer.
Kenny Hayes, a former Ohio State defensive lineman who
reportedly is transferring to Michigan State
, is the latest player to make a move within the league. Illinois last week
added Nebraska transfer Ryan Klachko
, an offensive lineman who redshirted in 2011. The Illini also recently picked up offensive lineman Ryan Nowicki, one of nine Penn State players to transfer from the program after the NCAA leveled heavy sanctions July 23. Another offensive lineman, Brian Bobek,
transferred from Ohio State to Minnesota in June
.
Nowicki is eligible to play immediately, according to the relaxed rules the NCAA devised for players interested in transferring from Penn State. Klachko, Hayes and Bobek both must sit out a season before becoming eligible in 2013.
But all four can receive immediate scholarships at their new schools, thanks to a recent change in the Big Ten's transfer policy.
Beginning with the 2011-12 academic year, athletes transferring within the Big Ten can receive scholarships from their new schools as long as they receive their full release.
Bobek won't be on scholarship until January only because Minnesota is at its limit for the season. But if Minnesota had room for him right now, he could receive aid.
The highly publicized case of former Wisconsin basketball player Jarrod Uthoff this spring had
more to do with Wisconsin restricting Uthoff's options
than the Big Ten making it difficult for Uthoff financially. Uthoff
transferred to Iowa in June
and will pay his own way for a year before being put on scholarship.
It'll be interesting to see if the revised policy on intraleague transfers leads to more moves within the Big Ten. While the Big Ten doesn't want to see this become a major trend, the league made the right call in allowing immediate scholarships to kick in. It's one thing for schools to be childish and hypocritical about granting releases, but league should be looking out for the players.
June, 16, 2012
6/16/12
7:38
PM ET
Offensive lineman
Brian Bobek
, who announced earlier this month that he would transfer from Ohio State, is headed to play for Minnesota.

Bobek on Saturday released a statement to several media outlets, including ESPN.com, confirming his move to the Gophers. Because of Big Ten rules about transferring between conference members, Bobek will lose a season of eligibility in 2012 as he sits out because of NCAA transfer rules. He will have two years of eligibility remaining beginning in 2013. Bobek will pay his own way this fall because Minnesota is at its scholarship maximum (85). He will be on scholarship with the Gophers beginning in January 2013.
Bobek says in his statement that Minnesota was one of the first schools to contact him when he announced his intention to transfer. Head coach Jerry Kill and offensive coordinator Matt Limegrover reached out after receiving permission from Ohio State.
"Coaches Kill and Limegrover are exceptional coaches, and I am confident they and the rest of the staff are on the way to restoring the winning tradition of the Minnesota football program," Bobek's statement reads. "I look forward to making a contribution to Minnesota football and, once eligible, having an opportunity to achieve my personal goals as a football player. The University of Minnesota offers a quality education, and I hope to take advantage of the many opportunities of going to school in a great city like Minneapolis. Also, my family and I are happy for me to have the chance to continue to compete in the Big Ten, one of the best football conferences in the country.
"I once again want to thank the athletic department and football program at The Ohio State University for their consideration and assistance in easing my transition to the University of Minnesota and the Minnesota Golden Gopher football program."
Bobek played a bit as a freshman last season for the Buckeyes. A highly touted recruit, he had been projected as the successor to four-year starter
Michael Brewster
at center, but he slipped to No. 3 on the depth chart this spring.
The 6-foot-2, 275-pound Bobek is a good pickup for Minnesota, which is looking to upgrade depth on the offensive line and restore its reputation in the trenches.
June, 11, 2012
6/11/12
12:00
PM ET
Well, I'm the president of the Howdy Doody Circus Army!
June, 6, 2012
6/06/12
9:00
AM ET
Going into this offseason, Ohio State needed to find a replacement for four-year starting center Mike Brewster. Many people thought
Brian Bobek
, Brewster's backup from last season, had the inside track. Few would have predicted that
Corey Linsley
would grab the job and make it his own.
It's not that Linsley lacked talent. It's just that he hadn't shown a lot in his first three seasons. Last season, he was suspended for two games and didn't get a lot of playing time as a backup guard.
[+] Enlarge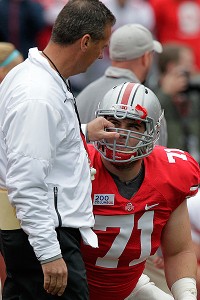 AP Photo/Jay LaPreteOhio State's Urban Meyer, left, has been pleased with the progress of Corey Linsley this spring.
"I really didn't see myself as accomplishing too much," Linsley told ESPN.com about his career. "I wasn't putting in all the time to be a great player. I was just doing enough to get by, and thought that was good enough. Obviously, last year showed that it wasn't."
That's why Linsley felt like he had approached a crossroads this winter. He had a clean slate with new head coach Urban Meyer. But he also had to push himself harder than ever when new strength coach Mickey Marotti began the team's challenging early morning workouts. Linsley called it "do or die" time for him as a college player.
"We had a series of 5 a.m. workouts right when Coach Meyer started, and that's when it kind of clicked for me," he said. "I had to make a decision: Am I going to sit back and relax, or am I going to take the initiative to get better, to become a better player and a better person?
"It was probably the hardest thing I've ever done. But every day I told myself, 'If I got through this, I can get through the next workout. And not only get through it, but get better while I was doing it.'"
Few players have transformed as much under the new Buckeyes regime. Linsley went from what Meyer called "a journeyman" to being anointed as the most improved player of the spring on offense by his coach. Linsley barely played in the Ohio State spring game because the staff was confident in and comfortable with what he could do.
"He was a pleasant surprise," Meyer told reporters last month. "He has the potential to be a very good player. His commitment to excellence right now is real strong."
Linsley embraced those early morning workouts and started showing up before they began to get in extra snaps with quarterback
Braxton Miller
. He later realized how much that offseason conditioning paid off when offensive coordinator Tom Herman introduced the high-tempo offense this spring.
"I knew I had to be in shape after probably the first week [of spring practice]," Linsley said. "I've got to be the first O-lineman up to the line, the guy making the calls, and then make sure everybody is relaying that call further down the line. If you're not in tip-top shape, you can do it, but your mental aspects are really going to deteriorate over the course of the game."
The 6-foot-3, 292-pound Linsley has all the physical tools to make a great center. Teammates say he has bench-pressed more than 500 pounds this spring. What he's trying to do now is play with the fundamentals and technique that Brewster showed during his standout career.
"Mike has unbelievable knee bend and uses his hands the way you're supposed to use them," Linsley said. "I don't have the flexibility that Mike does, but I'm probably a little stronger. So I'm trying to take the strength I have and play with the technique he does."
Once a player who did just enough to get by, Linsley is taking to heart Meyer's challenge for the team to have the best offseason in Ohio State history. For him, that means not just doing the scheduled lifts and runs, but to always add on some extra film work or position drills. He says he's also making a point to try and lead the younger linemen and backups, making sure to pull them along to additional workouts.
That's not the Corey Linsley anybody knew before this winter. But that's why he could be known as the next great Buckeyes center.
March, 29, 2012
3/29/12
11:30
AM ET
Ohio State's first spring practice on Wednesday was significant for a number of reasons. Not least of which was the official return of Urban Meyer to a sideline for the first time since he retired from Florida.
"I felt great," Meyer told reporters afterward. "It was great to blow the whistle and watch the guys run. It was great to coach punting, something I love to do, and to just watch the positions."

Meyer knows he has some major work to do with these Buckeyes, especially at the receiver position. He has talked several times about the need for more playmakers at that position and he didn't see much change there in the first practice.
"At Ohio State, you should walk off the field going, 'Wow, who are those three guys?'" Meyer said. "I haven't done that yet and I still today haven't done that. There's got to be a wow factor, and you should have one, should have two, here you should probably have more than two."
Meyer did have nice things to say about sophomore wideout
Devin Smith
, calling him "a separator" and "a speed guy." Smith and
Evan Spencer
worked with the first team on Wednesday, while Corey "Philly" Brown -- the most experienced player at the position -- was on the second team.
A couple other notes:
There was a mild surprise at the pecking order at center, where Corey Linsley started with the first unit. Brian Bobek was thought to be the heir apparent to four-year starter Mike Brewster.
Curtis Grant, who came in last year as a heavily hyped recruit but struggled on the field, was the first-team middle linebacker. "He had an excellent offseason," Meyer said. "He is a guy that has to develop. ... He has to be a player for us. If he's not, we've got problems."
The Buckeyes' offense worked at a high tempo that Meyer said wore the players out. The pace is a product of offensive coordinator Tom Herman's preferences. "We weren't that way at Florida," Meyer said.
February, 28, 2012
2/28/12
1:00
PM ET
Spring practice is just around the corner, and that will be a time for Big Ten teams to locate replacements for departed stars. We're taking a look at how each team might fill the roles of two key contributors no longer on campus.
Today, we turn our attention to Ohio State and its Urban renewal projects. The Buckeyes didn't lose a whole lot of seniors, and they already experienced what it was like to play without departed seniors
Dan Herron
and
DeVier Posey
for large stretches of last season. So we'll focus our attention on the offensive line:
[+] Enlarge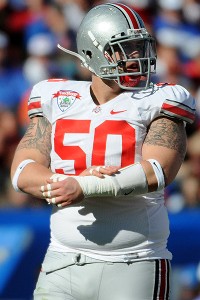 Melina Vastola/US PresswireOhio State has to replace departing center Mike Brewster, who made 49 consecutive starts.
BIG SHOES TO FILL: Mike Brewster, C
Why:
Brewster was a fixture in the Buckeyes' lineup, making 49 consecutive starts after debuting as a true freshman. He was one of the best centers in the Big Ten for the duration of his career, and was named an All-American in 2010. He also provided good leadership -- especially in a year when some other seniors ran afoul of NCAA rules.
Replacement candidates:
Brian Bobek
(6-2, 280, Soph.);
Corey Linsley
(6-2, 310, Jr.); Joey O'Connor (6-4, 295 incoming freshman); Jacoby Boren (6-2, 275, incoming freshman).
The skinny:
One reason to temper expectations about Urban Meyer's first year in Columbus is a dangerous lack of depth on the offensive line. The Buckeyes were already thin there last season, and lost three senior starters. If anyone other than Bobek is starting at center, it's probably because of an injury or something else unforeseen. The former blue-chip high school prospect spent last season as Brewster's understudy, and saw some time in mop-up duty. He should make a smooth transition to starter this spring, though living up to Brewster's production won't be easy.
Linsley has played guard in the past for the Buckeyes ,but likely will be one of the starting guards this season, along with
Jack Mewhort
. O'Connor and Boren project as guards, but could play center in a pinch -- a situation Ohio State hopes to avoid.
BIG SHOES TO FILL: Mike Adams, LT
Why:
Adams missed the first five games of 2011 while serving a suspension, and his absence was notable. He was one of the best offensive linemen in the Big Ten during his three years as a starter, and the 6-foot-8, 320-pounder has been projected by some as a first-round NFL draft pick this spring. The Buckeyes' offensive line played much better last season once he returned.
Replacement candidates:
Andrew Norwell
(6-5, 308, Jr.);
Marcus Hall
(6-5, 315, Jr.);
Antonio Underwood
, (6-3, 305, Soph.);
Tommy Brown
(6-5, 320, Soph.); Chris Carter (6-6, 350, R-Fr.); Taylor Decker (6-8, 310, incoming freshman); Kyle Dodson (6-5, 315, incoming freshman).
The skinny:
Here's another place where a successor is in place, but things could get shaky if something goes wrong.
Norwell started the first five games at left tackle last season while Adams was suspended before sliding back to guard. He should take over the blind side full time this season, and he has good instincts for the position. Everything else at tackle this spring is a little bit up in the air, as Meyer plans to convert tight end
Reid Fragel
into a right tackle. He and Hall will likely battle for that starting spot, with Hall potentially ending up as a super sub along the line.
Underwood started the Purdue game when
J.B. Shugarts
was injured but was pulled after a poor performance. Hopefully, another year of coaching will help him develop into a solid contributor. Brown and Carter are largely unknowns at this point, but at least have big bodies. Don't be surprised to see at least one of the true freshmen crack the two-deep this season. They're both very talented, and unfortunately for Ohio State, they don't have a ton of competition ahead of them.
March, 17, 2010
3/17/10
1:30
PM ET
In a span of less than 30 hours Monday-Tuesday, Ohio State picked up commitments from five recruits for the 2011 class. The Buckeyes on Tuesday also announced a
two-year contract extension
for head coach Jim Tressel that takes him through the 2014 season.
Coincidence? I think not.
Good news often comes in waves, and Ohio State, which took some heat on National Signing Day after losing two coveted offensive line prospects, just had one.
Let's take a quick look at the five newest Ohio State commits, all in-state prospects, who bring the 2011 class to seven members.
Tip of the cap to ESPN Recruiting for much of the info:
Antonio Underwood, OL, 6-3, 300: Committed on Monday during unofficial visit to campus. He had received offers from several Mid-American Conference programs, including Toledo and Miami (Ohio). Michigan and Illinois also had expressed interest. Underwood told The Cleveland Plain Dealer he expects to play center or guard at Ohio State.
Chris Carter Jr., OL, 6-4, 340: Committed on Monday during an unofficial visit to Ohio State. Also had offers from NC State and Miami (Ohio) and had received interest from most Big Ten schools. "It's the best choice for me," he said. "The academic support is great and I like the way they treat the players. They help you get adjusted to college life and the coaches really care about you as a person." Carter isn't related to former Buckeyes star Cris Carter.
Brian Bobek, C, 6-2, 280: Bobek committed Tuesday to the Buckeyes. He also had offers from Michigan State and Purdue, and his father, Jeff, played at Iowa. Like Underwood and Carter, Bobek was recruited by Ohio State offensive coordinator/line coach Jim Bollman.
DerJuan Gambrell, CB, 6-2, 180: Gambrell had an offer from Toledo and committed on Tuesday. He received an offer from Ohio State about a month ago and told the Toledo Blade that he would accept it after talking things over with his family. He runs a 4.5 in the 40-yard dash.
Chase Farris, DE, 6-5, 265: Farris committed Tuesday, choosing Ohio State over offers from Notre Dame, Michigan State, Indiana, Illinois, Boston College and others. He recorded 18 tackles for loss and nine sacks as a junior at Elyria Catholic High School.