November, 11, 2013
Nov 11
1:00
PM ET
MADISON, Wis. --
James White
often hasn't been the central character in The James White Story at Wisconsin. Maybe it's time for that to change.
Any discussion of White quickly drifts to the other running backs he has played alongside with the Badgers. As a freshman, he was part of the three-headed monster with John Clay and Montee Ball. As a sophomore, he took a backseat as Ball ran his way into the record books and landed a seat at the Heisman Trophy presentation in New York. Last season, White once again played understudy to Ball, who won the Doak Walker Award as the nation's top back. For the first half of this season, White's teammate
Melvin Gordon
received the accolades and adulation after dazzling fans with long touchdown runs.
"I try to be selfless," he said. "Whether it's me getting the ball, whether it's me blocking, whether it's me catching or cheering on my team, I'm going to do whatever I can to motivate these guys."
[+] Enlarge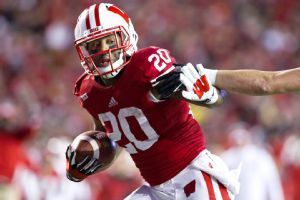 Dan Sanger/Icon SMIJames White has rushed for 478 yards in Wisconsin's past four games.
Great teammate. Unselfish. Versatile. Dependable. Durable. Willing to accept different roles. These terms have characterized White at Wisconsin. That's fine. They're accurate.
But another label should be attached to White as he wraps up a truly unique college career: the most complete back in recent team history.
He runs with power and speed, delivers devastating cuts in the hole, catches passes out of the backfield and picks up blitzes. If the team needs a kickoff returned, he's available, too (he had 38 returns between 2010-12).
"He should be up there with anyone," Wisconsin linebacker
Chris Borland
said. "[Ron] Dayne, [Brian] Calhoun, Montee, [Terrell] Fletcher and even John Clay. It's hard to have a better career than James has had here the last four years."
To fully appreciate White's contributions at Wisconsin, you can't concentrate on a single play or a single season. Sure, he has reached the necessary milestones, from recording a 1,000-yard season (in 2010) to earning awards (2010 Big Ten Freshman of the Year, second-team All-Big Ten honors that year), but his career path hasn't spiked like those of other Badgers backs.
The totality of White's career shows a player who has averaged more than 5 yards per carry all four seasons -- more than 6 yards in 2010, 2011 and so far this year. It shows a player who will record 10 or more rushing touchdowns for the third time with his next trip to the end zone. It shows a player who has eclipsed 1,000 all-purpose yards in all four seasons and could approach his freshman-year total of 1,469 with a strong finish to this season. It shows a player with 46 total touchdowns, tied for third on Wisconsin's all-time list behind Ball (81) and Dayne (73), and 43 rushing touchdowns, two shy of third place on the team's career chart.
It also shows a player who doesn't hurt his team. White hasn't lost a fumble in his last 323 touches. He has just two lost fumbles in 669 career touches (572 rushes, 60 receptions, 37 kick returns).
And despite playing a position where injuries often take a toll, White has missed just two games in his career.
"He does it all," Wisconsin quarterback
Joel Stave
said. "Everything you need done on offense, it'll get done, and it'll get done well from the running back position. He obviously can run the ball well, he doesn't fumble, he's great in pass protection, he's got tremendous hands, he's always in the right spot in the routes.
"He's just an easy guy to play with."
The essence of White came through in Saturday's win against BYU. He had 147 yards and two touchdowns on 23 carries (6.4 ypc). He had a career-high six receptions for 47 yards and a score. He scored all three Wisconsin touchdowns in the game, accounted for 29 of the team's offensive touches and did the "U Dub Step" three times with Gordon.
So what did Wisconsin coach Gary Andersen single out about White's performance afterward? A block against a blitzing BYU cornerback on a third-down play late in the first half.
"There's no way Joel gets that ball off [if White doesn't make the block]," Andersen said. "James scanned it, came back, looked across the protection and bumped the corner right off. Those plays are huge plays."
They're the types of plays White has made throughout his career, regardless of his role, the other backs or the system he's in.
"He's done a great job with the way protection has changed year after year with the new coaching staff," Stave said. "He does a great job knowing who he's got and holding them down."
Five plays later, Stave found White for a 5-yard touchdown with 14 seconds left in the half. Naturally, White began the play blocking a linebacker and wasn't even an option as a receiver ... until he was.
"I wasn't even supposed to go out on a route," White said. "I just heard the crowd yell and it sounded like Joel was scrambling, so I was like, 'I might as well just leak out.' Right when I turned around, the ball was coming to me."
White, who didn't start a game at running back until the 2013 opener, is quietly putting together a signature senior season. He's on pace to eclipse his top rushing total and already has career highs for receptions (23) and receiving yards (208). While Gordon's production has dropped off a bit, White has 478 rushing yards and seven touchdowns in his last four games.
The 5-foot-10, 195-pound senior also has been a model of consistency in games.
More consistent excellence from Wisconsin TB James White: 207 rushing yards in first quarter, 221 in second, 282 in third, 241 in fourth.

— Andy Baggot (@AndyBaggotWSJ) November 10, 2013
White is driven by two factors these days: the ticking clock on his time at Wisconsin, and his opportunity to showcase his talents for April's NFL draft.
"H
e has a big desire to play at the next level, and that's OK," Andersen said. "There's nothing wrong with talking about that ... and he's got to play well to have that opportunity.
So a lot of things drive James, but the No. 1 thing is the University of Wisconsin and getting victories with his teammates."
At least four more victories are possible for White, as Wisconsin's most complete back completes his story and claims a place in team history.
September, 17, 2013
Sep 17
5:30
PM ET
Iowa running back
Mark Weisman
has been a very busy man.
Last Saturday, he carried the ball 35 times in Iowa's 27-21 win against Iowa State. According to the school, only five Hawkeyes ball-carriers have heard their number called more often in a game. Weisman's workload came a week after he logged 30 carries, then a career high, in a win against Missouri State.
Just three games into the season, Weisman has 85 carries, 10 more than any other FBS player (Boston College's
Andre Williams
has 75) and 21 more than any Big Ten back (Ohio State's
Jordan Hall
has 64). If Weisman continues this pace, he'll finish the regular season with 340 carries, which would break Sedrick Shaw's team record of 316, set in 1995.
[+] Enlarge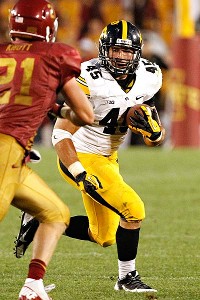 David Purdy/Getty ImagesMark Weisman made 35 carries against Iowa State. Workhorse running backs are still typical throughout the Big Ten.
If Iowa reaches a bowl game, that number goes up to 368.
Take that,
AIRBHG
!
"John McKay's quote comes to mind, 'The ball's not that heavy,'" Hawkeyes coach Kirk Ferentz said Tuesday, referring to the former USC and Tampa Bay Buccaneers coach.
Weisman's workload might be unique in most leagues, but not the Big Ten. A Big Ten back -- Michigan State's Le'Veon Bell -- led the nation in carries last season with 382, and another, Wisconsin's Montee Ball, was third with 356. Ball and Nebraska's Rex Burkhead both ranked in the top 10 nationally in carries in 2011.
The Big Ten has had at least one player rank in the top 10 in carries in eight of the past nine seasons. Michigan State's Javon Ringer led the nation with 390 totes in 2008, and Wisconsin's Brian Calhoun topped the chart with 348 in 2005.
The league's continued emphasis on the run game and power football contributes to the trend. You see more big, burly ball-carriers in the Big Ten than other leagues.
Bell, who played last season at about 240 pounds, certainly fits the description. The 6-foot, 236-pound Weisman came to Iowa as a fullback and has the frame to take a pounding.
"It takes a special guy to run the ball 390 times, like Le'Veon did," Michigan State coach Mark Dantonio said. "You can do it game to game 25 times, but that guy's got to get hot. They're plenty durable enough to do that."
Ferentz has had several bell-cow backs at Iowa, including Doak Walker Award winner Shonn Greene, who ranked fifth nationally with 307 carries in 2008.
"It's not easy for anybody who's playing a lot of plays," Ferentz said. "They've really got to take care of themselves and they've got to be mentally tough, too, because anybody who's playing college football, most of them are sore by now."
Ferentz credits Weisman for staying in "phenomenal shape," but he also doesn't want to overwork the junior.
"It's really important that we utilize the whole group and really bring them along," Ferentz said, "so Mark can be at his best the whole season."
November, 9, 2011
11/09/11
11:15
AM ET
The 2010 season wasn't a great one for Big Ten running backs.
The league's best running back played quarterback (Michigan's
Denard Robinson
). Illinois' Mikel Leshoure flew under the radar but was a nationally elite back in every sense of the word.
But after those two, meh. The league boasted some solid backs --
Edwin Baker
,
James White
,
Dan Herron
, Adam Robinson, John Clay -- but no one you had to watch every time he took the field. The Big Ten's real star power could be found on the defensive line, as five players went on to become first round picks in the NFL draft.
This season, it's all about the running backs in the Big Ten. The league boasts four players averaging more than 105 rush yards per game, all of whom rank among the nation's top 21 rushers. No other league has more backs in the top 25 nationally than the Big Ten.
So who's the Big Ten's best running back in 2011? It's already one of the more spirited debates around the conference.
Let's meet the candidates (in alphabetical order):
Now let's take a closer look at each player and how they stack up.
MONTEE BALL
Vitals:
5-11, 210, junior from Wentzville, Mo.
2011 stats:
162 carries for 1,076 yards and 21 touchdowns, 119.6 ypg, 6.64 ypc, 13 receptions for 229 yards and 3 touchdowns, 1-for-1 passing with a 25-yard touchdown
Things to know:
Ball leads the nation with 24 touchdowns, tying the team record set by Brian Calhoun. He needs just two touchdowns to tie the Big Ten single-season record held by three players. Ball scores a touchdown every 7.3 touches. ... Ball leads the Big Ten in all-purpose yards (145 per game). He ranks fifth nationally among FBS running backs in combined rushing-receiving yards. ... He has scored at least one touchdown in each of his last 15 games and 39 touchdowns during the span. ... Ball has rushed for at least 115 yards in eight of his last nine games against Big Ten opponents. ... Like the other Wisconsin backs, Ball has no fumbles (lost or recovered) this season. ... Despite a strong finish to last season, Ball transformed his body in the winter and spring, shedding weight to add speed while maintaining his power.
Supporting cast:
Ball has the best supporting cast of the four candidates. He runs behind one of the nation's best offensive lines, a group led by NFL prospect Peter Konz. His quarterback,
Russell Wilson
, is a Heisman Trophy candidate and has brought a new element to Wisconsin's offense. His backup, James White, is the reigning Big Ten Freshman of the Year.
The quote:
"He's definitely our best practice player. Nobody has practice that hard at that position since I've been here." -- Wisconsin coach Bret Bielema
Quick case for Ball:
"Moneyball" is a touchdown-scoring machine and has been absolutely unstoppable for most of the season. Few backs in the country have been more effective than Ball since the middle of last season. He doesn't put the ball on the ground and consistently moves it forward and into the end zone. He didn't rest on his laurels in the offseason and got better physically.
Quick case against Ball:
Wisconsin's track record of running the ball probably works against Ball with the other candidates. The Badgers always have a dominant back (or three) and terrific offensive lines. Wilson's presence also has opened things up for Ball in the run game.
REX BURKHEAD
Vitals:
5-11, 210, junior from Plano, Texas
2011 stats:
187 carries for 951 yards and 13 touchdowns, 105.7 ypg, 5.1 ypc, 14 receptions for 129 yards and 2 touchdowns
Things to know:
Burkhead has recorded five 100-yard rushing performances in the last seven games, including against two of the nation's better rush defenses in Michigan State and Ohio State. He turned in a heroic performance in the win against the Spartans, carrying 35 times, the third-highest total in team history. ... Burkhead has gotten better as games have gone on. He has 43 fourth-quarter carries and has averaged 6.16 yards in the final quarter. Burkhead had 109 second-half yards and 96 fourth-quarter yards in Nebraska's historic comeback win against Ohio State. ... He has lost just 32 yards on 187 carries. ... Of his 38 carries in the red zone, Burkhead has gained a first down or a touchdown on 15 rushes. He has rushed for at least one touchdown in every game this season. ... Former Texas high school star nicknamed "Superman," Burkhead did a bit of everything for Nebraska in 2010, even taking some snaps as a Wildcat quarterback.
Supporting cast:
Burkhead shares a backfield with another rushing threat in quarterback
Taylor Martinez
, who has 712 rush yards and nine touchdowns this season. While Martinez demands the attention of opposing defenses, he also takes away some carries and scoring opportunities for Burkhead. Nebraska's offensive line entered the season banged-up and extremely young, but the group has come together nicely. The Huskers' passing attack ranks 101st nationally, and Martinez and his receivers have had their ups and downs. After Burkhead and Martinez, no other Nebraska player has more than 25 carries.
The quote:
"He might not be the flashiest guy in the world. I wouldn't trade him for anybody. I have a tremendous amount of respect for him and how he plays the game." -- Nebraska coach Bo Pelini
Quick case for Burkhead:
He's one of the more reliable players in the country and an absolute joy to watch. He doesn't mess around with excessive moves and blends speed and power extremely well. Unlike Ball and Coker, he doesn't operate in an offense with a strong passing threat, and he's produced against some solid defenses.
Quick case against Burkhead:
His numbers don't pop off the page like some of the other candidates'. Burkhead's most impressive performance (against MSU) was more of a workmanlike effort (35 carries, 3.7 ypc) than one that wows you. He doesn't have many long runs in Big Ten play (longest is 22 yards).
MARCUS COKER
Vitals:
6-0, 230, sophomore from Beltsville, Md.
2011 stats:
211 carries for 1,101 yards and 12 touchdowns, 122.3 ypg, 5.2 ypc, 15 receptions for 94 yards
Things to know:
Coker leads the Big Ten in carries, rushing yards and rushing average (he ranks sixth nationally). ... He has six 100-yard rushing performances this season. His 12 rushing touchdowns tie for the fourth-highest single-season total in team history ... Coker ranks second in the Big Ten and 41st nationally in all-purpose yards (132.8 ypg). ... His 252 rushing yards yards in an Oct. 22 game at Minnesota ranks as third best single-game total in school history. ... He's one of only four backs in Iowa history to record multiple 200-yard rushing performances. ... Coker has eclipsed 120 rush yards and scored two touchdowns in each of his last four games, all against Big Ten opponents.
Supporting cast:
Coker runs behind one of the better Big Ten offensive lines, led by NFL draft prospect Riley Reiff at left tackle. Iowa isn't quite as powerful up front as Wisconsin but boasts a better line than both Penn State and Nebraska. Quarterback
James Vandenberg
has had a very strong season passing the ball, and defenses must respect Iowa's aerial attack and receiving corps, led by star senior
Marvin McNutt
. Coker has been Iowa's bell cow, as no other Hawkeyes running back has logged more than 18 carries.
The quote:
"Marcus is the type of back that makes your offensive line want to block for him. So we definitely love him, and we love blocking for him, and we don't want anyone else back there." -- Iowa center James Ferentz, to
The (Cedar Rapids) Gazette
The case for Coker:
He leads the Big Ten in rushing and has improved as the season has progressed. He boasts arguably the best combination of power and big-play potential among the candidates, recording six runs of 25 yards or more and three of 41 yards or more. While some of the other candidates are solid, reliable runners, Coker has the rare ability to simply dominate a game.
The case against Coker:
He struggled with fumbles at the start of the year and hurt Iowa in its Week 2 loss to Iowa State. He benefits from Iowa's lack of depth at running back and gets more carries than other candidates. He averaged a pedestrian 4.3 yards per rush through Iowa's first five games. He feasted on mostly average defenses.
SILAS REDD
Vitals:
5-10, 209, sophomore from Norwalk, Conn.
2011 stats:
195 carries for 1,006 yards and 7 touchdowns, 111.8 ypg, 5.2 ypc, eight receptions for 31 yards
Things to know:
Redd recorded five consecutive 100-yard games and led all FBS players with 703 rushing yards in October. He averaged 140.6 yards per game and 5.3 yards per carry during the month. He's the first Penn State player to record five consecutive 100-yard games since former All-American Curtis Enis in 1997. ... He already has eclipsed 1,000 rush yards for the season, becoming the 12th Penn State player to do so. ... He already has 118 carries more than he had all of last season and has racked up 28 or more carries in four of Penn State's five Big Ten games. ... He has lost just 19 yards on 195 carries. ... Redd worked on his body during the offseason and added 10-15 pounds to help with an increased workload. He also
changed his running style
, becoming a more straight-ahead, downhill power back.
Supporting cast:
Redd has the weakest supporting cast of the candidates, underscoring how impressive his performance has been this season. Penn State has rotated two quarterbacks all season and had very limited success in the passing game, so the offense relies heavily on Redd to produce. The offensive line is performing better in recent weeks but hasn't been as strong as Wisconsin's and Iowa's, and even Nebraska's. Redd has gotten a bit of help from fellow backs Beachum and
Curtis Dukes
, but Dukes is second on Penn State's carries list with only 35.
The quote:
"He can hurt you with his speed and his elusiveness outside, and he can run between the tackles. He's a pretty complete back." -- Nebraska coach Bo Pelini
The case for Redd:
He has been an absolute workhorse for a struggling Penn State offense and transformed himself into a complete back in just his sophomore season. Redd had the most impressive month of any candidate (October), and he did it all against Big Ten competition. He has the weakest supporting cast and, along with Coker, he's clearly his team's main ball-carrier.
The case against Redd:
The main knock on Redd is he doesn't score enough touchdowns. He has 14 fewer rush touchdowns than Ball, six fewer than Burkhead and five fewer than Coker. Redd also has had some fumbling issues that have ended promising Penn State drives.
October, 28, 2011
10/28/11
9:00
AM ET
Some notes and nuggets to hopefully make you smarter as you watch Big Ten football on Saturday. Thanks to the fine folks at ESPN Stats & Information for some of these.
Michigan State is looking to defeat three ranked opponents in consecutive games for the first time in school history. The Spartans have beaten three ranked opponents in one season six times in program history (last time: 2001).
Since the start of last season, Nebraska QB Taylor Martinez has 18 rushes of 25-plus yards, including nine touchdowns. Both numbers rank in the top three of the FBS during that period. The Cornhuskers are 9-0 when Martinez has at least one run of 25-plus yards.
Purdue's ground game has been a true team effort as seven different players have double-digit carries, four have rushed for more than 100 yards for the year and six different rushers have scored touchdowns.
Iowa has been solid in the red zone on both sides of the ball this season. The Hawkeyes are tied for third nationally in red zone offense (96 percent scoring conversions) and tied for ninth nationally in red zone defense (71 percent scoring allowed).
Running back Duane Bennett has cracked Minnesota's top 20 list for career rushing yardage (1,792). Last week's total of 55 yards pushed him to the No. 18 spot on the chart. At his current pace, Bennett would finish his career with 2,010 yards and would rank No. 13 in school history.
Since the beginning of the 2005 season, the Ohio State defense has allowed only 13 100-yard rushers during a span of 85 games and only nine since the start of the 2007 season. Both of those marks are the third best among FBS schools during those spans (behind Alabama and Boston College).
Northwestern has converted 23 of 37 third-down chances in the last two games to bring its season rate to 48.5 percent (49-of-101), tied for 19th nationally. Northwestern has finished in the top 20 nationally in third-down conversion percentage in each of the last two years.
Illinois WR A.J. Jenkins has 12 catches of 25-plus yards, tied for second most in the FBS. Jenkins has 34 catches for 622 yards and five touchdowns in four Big Ten games. His 155.5 yards-per-game average during conference games is more than 40 yards per game better than his closest competitor (Iowa's Marvin McNutt, 114.7 ypg).
Michigan QB Denard Robinson has completed 31.8 percent (7-22) of his passes from outside the pocket, and completed 58 percent from inside the pocket. Robinson leads the FBS with 81 rushes of 10-plus yards since the start of last season. Robinson has had at least one such run every game over the past two seasons.
Penn State is 5-0 in games decided by 10 points or less this year, its most wins in such games since going 5-1 during the 2005 season.
Indiana true freshmen quarterback Tre Roberson and cornerback Michael Hunter made their first career starts at Iowa. Indiana has started nine true freshmen and played 16 overall, which is tied for the third most nationally. Roberson became the first true freshman quarterback in IU history to start a game.
Wisconsin Junior RB Montee Ball leads the nation with 19 touchdowns. That is eight more than any other Big Ten player. Only two players in school history have scored more than 19 touchdowns in a season. Ron Dayne scored 21 in 1996 and 20 in 1999. Brian Calhoun holds the school record with 24 TDs in 2005.
March, 18, 2009
3/18/09
9:00
AM ET
Posted by ESPN.com's Adam Rittenberg
For better or for worse, Bret Bielema became a college football coach last season. He faced his first real bout with adversity and criticism, guided Wisconsin back to a bowl game and finished on a sour note against Florida State in the Champs Sports Bowl.
| | |
| --- | --- |
| | |
| | David Stluka/Getty Images |
| | Things didn't go as planned for Bret Bielema and the Badgers in 2008. |
After a charmed 17-1 start at Wisconsin, Bielema has gone just 11-10 since and comes off a very disappointing campaign last fall. He has earned his own fire-me Web site, a rite of passage for coaches these days, and needs to show progress in Year 4. The 39-year-old made several key offseason changes in hopes of getting Wisconsin back on track.
I caught up with Bielema while the coach was driving back from a brief vacation in Wisconsin Dells. Here are his thoughts on 2008, his outlook for spring ball and the 2009 season.
Is this an exciting time for you, especially after the way things ended last fall?
Bret Bielema: It is. You keep saying to yourself all the time during the fall that you always have next week, you get another game to go out and prove, another opportunity. But when you end the bowl game in a way that doesn't sit well with you, as coaches you can't wait to get back out in spring ball. I really have enjoyed the players. I sat down with all of them, 98 guys went through my office. There have been some changes in the weight room and the strength and conditioning department, and those guys are all very eager to see the rewards.
Ever since I've been here, we've always had spring ball before and after spring break. But as I've witnessed as a coach, you get your biggest gains during the summer. So we tried to create two summers. When we got back from winter break, we gave our guys a seven-week window, just like we do during the summer. We started off with very little running. We emphasized more on strength and speed and size. And that period took us up all the way until last Friday.
And did you make those changes because the strength and speed last year wasn't up to your standards?
BB: More than anything, after the season we took a look at where we were. All the guys in my staff room have worked in all different parts of the country, and they all had a preconceived notion about Wisconsin before they came here and started working. I said, 'What is it? What made Wisconsin tick?' And they always said, 'Physical, tough, a mental toughness, do things right, do things harder than the other guy.' We just want to get back to those core basics of Wisconsin football.
Did you guys get away from some of those fundamental values last year, and can you pinpoint why?
BB: It wasn't so much getting away from the fundamentals. The things that were getting us, any time we had a penalty before the snap, offense or defense, it wouldn't put ourselves in a positive light. We've always prided ourselves at Wisconsin on doing things right consistently, and a lot of that gets down to self discipline and mental toughness. That's really what we tried to emphasize during these winter conditioning months.
August, 29, 2008
8/29/08
12:16
PM ET
| | |
| --- | --- |
| | |
| | AP Photo/Andy Manis |
| | Can P.J. Hill eclipse the 1,212 rushing yards he racked up last season? |
Posted by ESPN.com's Adam Rittenberg
P.J. Hill doesn't know who started the tradition at Wisconsin, but he'd like to find out.
It could have been Brian Calhoun, the nation's fourth-leading rusher in 2005. Or maybe it was Anthony Davis, who eclipsed 1,400 rushing yards in both 2001 and 2002. Perhaps it traces all the way back to Heisman Trophy winner Ron Dayne, the most decorated running back in team history.
At the end of each practice, Hill and the other Badgers running backs get together and chant, "Dog pound, woo!" before heading to the locker room.
"I don't know how long it's been here," Hill said, "but I think it's pretty good. Dogs are a tough group, very tough, and that's what we want to be, as tough as a dog pound."
The Badgers certainly look the part.
Hill, a 236-pound junior, headlines the group after leading the team in rushing the last two seasons. The Badgers also bring back capable reserve Zach Brown, who started the final four games as a true freshman last season, racking up 450 rushing yards and four touchdowns in that span. And Wisconsin fans finally get a look at John Clay, a 6-foot-2, 237-pound redshirt freshman who many consider the back of the future.
A fourth running back, Lance Smith, was expected to contribute as well this season before being dismissed from the team Aug. 4. Despite Smith's loss, Wisconsin will rival Ohio State for the Big Ten's deepest and best rushing attack this fall.
"When we have the ball in our hands, we do a lot," Hill said. "Very talented, different types of skill. That's what I like about this group. We have nothing against each other. It's like a brotherhood."
The Badgers backs also benefit from a system designed to feature them. The trendy spread offense hasn't reached Madison, and Wisconsin runs a scheme designed to punish and wear down defenses with big backs and bigger offensive linemen.
"Everybody else is running the spread," Brown said, "and for us to do something different, it makes other defensive coordinators put more work in to try and stop it. This type of offense is smash-mouth football, but to be unique is great. I love it."
Offensive coordinator Paul Chryst acknowledged that Smith, who rushed for 429 yards last year in only eight games, had the most distinct skill set of the runners. Though the Badgers might miss having a change-up back, they benefit from having experience with both Hill and Brown.
Hill finished with 1,212 rushing yards last season but took some heat from some fans for his size and not staying healthy. He made it through his first offseason program without any injury issues and looks to become the fifth Badgers running back since 1946 to lead the team in rushing in three consecutive seasons.
"We certainly know what Zach is and P.J. is, but also, it's a new year for them," Chryst said. "How have they changed?"
Brown maintains he and the other backs aren't concerned about how carries will be divided this fall. Opposing defenses will have to worry about all of the backs.
"It's always going to be a change of pace because it's fresh legs," Brown said. "They're not going to know what to expect."
BIG TEN SCOREBOARD
Saturday, 12/21
Monday, 12/23
Tuesday, 12/24
Thursday, 12/26
Friday, 12/27
Saturday, 12/28
Monday, 12/30
Tuesday, 12/31
Wednesday, 1/1
Thursday, 1/2
Friday, 1/3
Saturday, 1/4
Sunday, 1/5
Monday, 1/6
Tweets from @ESPNCFB/big-ten