August, 15, 2013
8/15/13
5:00
PM ET
In two weeks, we will have football. But for now, it's another must-see Thursday mailbag.
Brad from Cleveland writes:
Brian, with this being the last season of the BCS before the 4 team playoff let's run a hypothetical by you. Let's say that both Ohio State and Louisville run the table and go undefeated. Alabama wins the SEC again but has 1 loss to a top 10 team, and the Oregon/Stanford Winner wins the Pac-12 but also has 1 loss to a ranked team. Of those 4 teams who do you feel the BCS formula would rank 1 and 2? I would imagine a 1 loss SEC champ is in. But would a 1 loss Pac-12 Champ trump both an undefeated OSU and undefeated Louisville? And if not, who would have the edge of the 2 undefeated teams based on their schedule to take on the SEC champ?
Brian Bennett:
I honestly don't think Louisville beats out any of those teams in your scenario. I mean, my goodness, have you
seen that schedule
? I also don't envision any way an unbeaten Ohio State gets left out. What the Buckeyes really have going for them is that they will start the season at No. 2 in the coaches' poll. As we've seen, voters have a real reluctance to move teams down when they keep winning. I also think a one-loss SEC champion -- especially if it's two-time defending champion Alabama -- gets the nod in every scenario against another one-loss conference champion, and rightfully so. Oregon's nonconference schedule (Nicholls State, Virginia, Tennessee) isn't that much better than Ohio State's, and outside of Notre Dame at home, Stanford's isn't all that impressive, either (San Jose State, Army). At least not impressive enough for the Cardinal to jump an undefeated Buckeyes team that would have won 25 straight at that point.
---
Ken C. from St. Louis writes:
Jim Delany and the Big Ten desperately want to be elite again. And they believe the easiest way to accomplish this task is to have their better teams play dreadfully inferior teams through the month of September. Other than Michigan, who last year played both ND and Bama, no other strong Big Ten teams are willing to take a chance on playing a marquee game out of conference. Yet the voters will reward, for example, OSU if it wins all of its games regardless of its schedule ease. OSU and the entire Big Ten should be called out for this strategy, a strategy which was underlined when they added powerhouses Rutgers and Maryland.
Brian Bennett:
Ken, I forgive you if you've been too busy following the Cardinals this summer to stay up on the news. Yes, this year's nonconference schedule is pretty dreadful. No one can successfully argue otherwise. But it's hardly the strategy of Delany and the Big Ten, which more than any other conference right now is taking the lead in scheduling very aggressively for the future. Take a look at some of the planned opponents for Big Ten teams:
Michigan: Arkansas (2018-19), Virginia Tech (2020-21)
Michigan State: Oregon (2014-15), Alabama (2016-17)
Nebraska: Miami (2014-15), Oklahoma (2021-22)
Northwestern: Notre Dame (2014 and 2018), Stanford (2019-22)
Ohio State: Oklahoma (2016-17), Oregon (2020-21), Texas (2022-23)
Wisconsin: LSU (2014 and 2016), Alabama (2016)
And again, that's just a sampling of some of the opponents the Big Ten has on the books. So get your shots in now at the league's nonconference schedules, because they're about to be as tough as anybody's. Speaking of which ...
---
Erik from Tallahassee, Fla., writes:
Brian, as a Penn Stater living in Florida, I was really hoping to travel to Orlando for an away game at UCF, but it looks like Ireland was the best move for everyone. The non-conference slate has been looking more interesting lately, especially with the newest addition of Virginia Tech albeit a decade away, but the only match-up I'm really looking forward to in the sanction era is 2016 @ Pittsburgh. I know two years isn't that much breathing room in college football, but the addition of San Diego St. to finish off the 2015 non-cons seems a bit of a let down. How realistic would it have been to fit a marquee game into that spot, knowing it would either be a one game series, or the return trip wouldn't be for a while (a la PSU vs. Virginia)?
Brian Bennett:
Just to be clear, you're not actually calling Virginia a marquee opponent, right? Anyway, the 2015 schedule (Temple, Buffalo, San Diego State) is pretty boring right now, but the Nittany Lions do still have an open date to fill that year since the nine-game Big Ten schedule doesn't kick in until 2016. Let's see if the school adds an interesting team to that mix. But if not, it's hard to blame Penn State for playing it safe with the 2015 schedule. That will be the second year of the 65-scholarship limit and the third year where the team can offer only 15 initial scholarships in recruiting. That's where we could see the effect of these sanctions kick in, and with the bowl ban lifting for 2016, there's no real need to try and schedule a headliner for 2015.
---
David from Minneapolis writes:
There has been a lot of news and articles going around about scheduling in the Big Ten. The strength of the opponents the time between scheduling and playing. PSU just scheduled a series with VaTech for 2021. UW pushed it series back with them to 2019-2020. Will there come a time when we can see our schools make their non-conference schedules only a couple years out rather than almost a decade? I like that UW booked Alabama and LSU in the near future. I'd like college football to be able to schedule like this for more marque match ups for us fans.
Brian Bennett:
David, it's difficult to do because there are so few open slots and so many teams. For example, many Big Ten schools have their schedules mostly set for the next 3-5 years, with a couple of holes to fill. But I share your feelings on the timing of these scheduling announcements. It's hard to get too excited about a Penn State-Virginia Tech series that starts in 10 years. Who the heck even knows who will be coaching those teams, much less whether either will be good? Plus, all it takes is for one school to change its priorities or head coach or go through a downturn and suddenly the series is bought out or postponed. I'm sure Ohio State thought it was getting an interesting series with Cal when that was set up a few years back. One of the best benefits that would come with a potential breakaway into a new division by the larger schools is the pool of teams would be shrunk, and perhaps more sanity with future scheduling could result.
---
Thomas from Omaha, Neb., writes:
So Maryland
can't afford to give its athletes
three meals a day but somehow they are so valuable the Delany had to snap them up? The preferential treatment that Maryland is receiving a few short years after Nebraska left a long relationship with the Big 8/12 is quite frankly disgusting and has a lot of folks in this area questioning Nebraska's move to the B1G. Hopefully the SEC will decide to form a Super Conference and NU can leave the B1G. Which would be too bad because I like you and Rittenberg.
Brian Bennett:
Don't go, Thomas. Nebraska in the Southeastern Conference? Now that would really be stretching the definitions of geography. Anyway, I couldn't blame the Huskers for being a little upset that Maryland is getting some Big Ten welfare while Nebraska still waits to receive a full share of revenue. But remember that the reason the Big Ten added Maryland (and Rutgers) had far less to do with the actual programs and much more to do with their locations. The league is betting that expanding into the D.C. market will help its existing schools get better exposure and access to new recruiting grounds. Whether that was a sound strategy remains to be seen. But if Maryland were located in, say, Idaho (I realize that sentence makes little to no sense), the Terrapins would never have been invited.
---
Jason from Seattle writes:
Hi, Brian. Illinois alum... concerned it may be a tough watch this season. From what you have seen, could we get to mid-pack Big Ten in 2013?.. Or is there true hope on the horizon for 2014 & 2015?
Brian Bennett:
Jason, I'm glad you wrote in. Haven't had many Illinois questions here for a while. I can understand why Illini alumni might be laying low, but it's always good to hear from you. I do believe that Tim Beckman's team will show improvement this year. I like that an offensive identity is being established under new offensive coordinator Bill Cubit; I think some of the jucos will help and the offensive line simply can't get much worse. But there's still a talent deficit at play here, and the schedule is rather unforgiving. I think Illinois will be better and more competitive than it was in 2012, but we could still be looking at something like a 3-9 record. Perhaps
Wes Lunt
can lead the program back in '14, but it's a long climb.
---
Mike from Cincinnati writes:
Looking at the UM backup QB situation, if the race is so tight what do you think of just giving the nod to
Brian Cleary
and red shirting
Shane Morris
? If
Devin Gardner
comes back for his 5th year and we burn Shane's redshirt this year he really only has 2 years of eligibility left. I don't think it's any secret that a lot of the hype around Shane is on pure potential. Why not give it an extra year to develop?
Brian Bennett:
It's an interesting question, because if Gardner stays healthy there's really no reason to play Morris and you could potentially redshirt him. On the other hand, we have no guarantee that Gardner will actually come back for his fifth year, and if he bolts for the NFL, you face a situation in 2014 where Morris has no game experience. That's why I think it's probably best to get Morris a little bit of work this year and get him ready just in case. Yeah, you might lose a year of development, but you've got to play for now in college football. And the way Brady Hoke & Co. have been recruiting, they can always find a successor to Morris down the line.
---
Ian from Tacoma, Wash., writes:
Hey Brian, during a recent
article regarding the end of the 15-year BCS era
, your colleague Mark Schlabach made a comment regarding Ohio State's "futility" in BCS games. Now, I realize the Big Ten is down and that Ohio State did lose a couple of clunkers in 2006 and 2007, but has everyone forgotten the fact that Ohio State has more BCS bowl wins and appearances than ANY other school, including those from the almighty SEC? It seems a little disingenuous to recall 2006 and 2007 while ignoring several high profile BCS wins and Ohio State's strong overall BCS record.
Brian Bennett:
We've been talking a lot about perception this week, and here's a case where perception trumps reality a bit. Ohio State has played in more BCS bowl games (nine) than any other team and is tied with USC for the most BCS bowl wins with six. Yet all anybody seems to remember are the two national title game losses, in 2007 and 2008. Of course, winning one out of three appearances in a BCS title game isn't too shabby, but our friend Schlabach rarely misses a chance to jab the Big Ten.
---
Andy from Grand Rapids, Mich., writes:
Looking at
your player rankings
, I can't help but notice that you put Devin Gardner right behind a guy named "Dennard." Was the irony intentional?
Brian Bennett:
Ha. Totally unintentional. But kind of funny. I asked
Darqueze Dennard
at Big Ten media days whether he pronounced his last name "De-NARD" or "DENN-ard." He said it was fine either way and that most people used "DENN-ard" now but that he pronounced it "De-NARD" growing up. Isn't that ironic for a Michigan State defender?
August, 15, 2013
8/15/13
2:00
PM ET
ANN ARBOR, Mich. -- The Michigan defensive line calls itself the heart of the team. But after a season in which the unit registered only 22 sacks it kind of seemed like the Wolverines' heart was on life support.

"The thought of it, it's like a sick feeling that comes about myself," defensive end
Frank Clark
said.
Stanford led the nation in sacks with 57. Tulsa had 53, and Arizona State registered 52. Michigan didn't even make the top 50 nationally for sacks, while four other Big Ten teams did -- Penn State (T-15th), Ohio State (T-28th), Indiana (46th) and Nebraska (48th).
Historically, the Wolverines are a very good team at getting pressure on opposing quarterbacks. Being outpaced by teams like Indiana (which won just two Big Ten games last season) is not something that will stand.
So when defensive line coach Jerry Montgomery left at the end of last season, head coach Brady Hoke and defensive line coach Greg Mattison decided that they would take over the line themselves and they've seen advancements.
"I think some of the game work that Coach Mattison has done with them and the pass-rush stuff that he's really done a great job with them, teaching the techniques," Hoke said. "You see that coming. You know, there's some guys that obviously have some very good ability who have been very good pass rushers, but as a whole I think there's a lot of improvement."
The team threw itself back into the fundamentals and focused on becoming a better line as a whole and individually. Clark said the team is watching game tape constantly and showing improvement.
"From spring to now, I believe we've become a way better pass rushing team, especially with the four-man pass rush," Clark said. "You've got some guys in there, especially some of the younger guys who want to step up and they've become guys who have bought in to that four-man pass rush mentality."
The team hasn't set goals for how many sacks they'd like to get this season or how many they'd like to finish with after their first scrimmage this Saturday.
And it has been a little difficult for the Wolverines to truly count that number considering Michigan is going through camp with its quarterbacks in a non-contact agreement with the defense.
With so little depth at the quarterback position the Wolverines are doing their best to keep
Devin Gardner
healthy. While the no-contact rule has been helpful for the quarterbacks, it has been frustrating for the D-line at times.
Even when they break through, they can only run past Gardner or his back ups,
Shane Morris
and
Brian Cleary
. But, Clark said the team is keeping track in their own ways, knowing when they could've or should've had a sack.
"I'll let DG know, I tap him on the behind really hard or come back after the play and let him know. I whisper in his ear, 'I'm coming back,' " Clark said. "I tell Taylor [Lewan], I say it to him a little bit."
The Wolverines will be hungry to actually hit a quarterback by the time the season opener rolls around at the end of August. However, whether this "heart of the team" will be pumping fully or in need of a surgeon remains to be seen.
August, 12, 2013
8/12/13
10:12
AM ET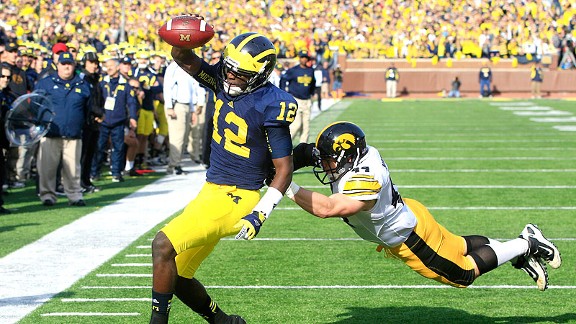 AP Photo/Carlos OsorioFor Michigan to have success, it needs junior quarterback Devin Gardner to stay healthy and make plays because the depth chart behind him is a bit scary.
ANN ARBOR, Mich. -- Meet
Devin Gardner
. No. Seriously. You should. And if you like Michigan, you really should look into protecting him as much as possible in every situation imaginable.
The one non-negotiable thing about Michigan's season is if Gardner is hurt for any length of time, the Wolverines' chances of winning any of those games almost disappears. Any Michigan offense without Gardner this season would be an adventure in experimentation at best.
So go buy some bubble wrap, pad the walls of his apartment or whatever else you want to make sure a random tree branch doesn't fell him. Michigan's players, though, realize they can't stop a random injury from occurring. They have enough faith Gardner can take care of himself.
"Random, freak injury, you can't really control that," senior receiver
Drew Dileo
said. "We look out for each other but if Devin rolls his ankle on a little bitty rock, I can't control that. And vice versa.
"If I slip on the ice in the snow, I can't control that."
In other words, there won't be an entourage accompanying Gardner to any of his graduate school classes this semester -- at least not for protective purposes.
Michigan can control how it uses Gardner during practices in the preseason. While the Wolverines aren't isolating their starting quarterback or keeping him from making plays -- the repititions are too important for what he and Michigan hope to do this season -- having no healthy backup quarterback with even one snap of experience means more early practice snaps for freshman
Shane Morris
and redshirt freshman walk-on
Brian Cleary
.
It also keeps Gardner safe on the sideline.
Gardner might not be the most polished quarterback in the Big Ten or the most talented player on his own team -- that is left tackle
Taylor Lewan
. That lack of depth behind him, though, makes him more critical than any other player.
"He's an important factor to the offense here," senior receiver
Jeremy Gallon
said. "He has to set a tempo. He will set a tempo. His demeanor to the game is very important to us. How he comes out and performs and he's willing to work hard for the team.
"That's very important."
Equally important is the lack of depth behind Gardner, which is why he is the most important player to stay healthy in the entire Big Ten. One could argue Ohio State's
Braxton Miller
, but the Buckeyes have an experienced, serviceable backup in senior
Kenny Guiton
. But for what Michigan wants to do this season, it is Gardner -- and then a shoulder shrug of what would happen if he weren't in the game.
So keeping Gardner upright and healthy is of supreme importance in Ann Arbor.
"That's pretty obvious. I think that's pretty self-explanatory," Michigan receivers coach Jeff Hecklinski said. "Obviously we need to keep Devin healthy and that falls on all of us. Not just the offensive line, but the tight ends and wideouts getting open down the field in time so he doesn't have to hold the ball and the running backs protecting him."
The coaching staff doesn't want to limit Gardner's progress, though. If they start to have him lighten up in practice, it becomes almost an omen setting Gardner up for injury because they believe players are injured when they aren't going hard enough and are concerned about it.
Gardner isn't worried. He just keeps playing as he always has.
"I'm the same person on the field, practicing as hard as I can," Gardner said. "Taylor [Lewan] sometimes tells me not to make certain cuts, but that's just the way I play. You can't get ready for the game unless you play the full speed, the way you're going to play."
Other than Lewan, Gardner said the only one who told him to maybe take it a little easy was Michigan's strength and conditioning coach, Aaron Wellman.
Everyone else? They just want Gardner to play like he did over the final five games of last season, or even an improved version of that player. Keeping Gardner healthy does add a small amount of pressure, especially for those entrusted with protecting him.
"We have to make sure we are on our game with that pass protection-wise," senior right tackle
Michael Schofield
said. "We don't really verbalize it. That's just kind of known."
One day Morris or Cleary could end up as a good starting quarterback for Michigan. But for this season, the Wolverines have only one healthy non-freshman scholarship quarterback. They only have one quarterback who has any game experience. One quarterback who is designated and looked to as a leader.
That's Devin Gardner. Michigan's season rests on his health.
May, 8, 2013
5/08/13
10:00
AM ET
Now that spring practice is over, we're starting a new series looking at the most indispensable players on each Big Ten team.
By indispensable, we don't necessarily mean best. We mean the players who would be hardest to replace between now and the start of the season if they got hurt/suspended/crushed by a safe, etc. That could be because of their value to the team or because of a lack of depth at their position.
We'll pick two players from each team, usually offense and defense but not always. Let's start off, in no particular order, with the
Michigan Wolverines
:

Devin Gardner, QB, Sr.
Picking a starting quarterback for any team is pretty obvious, but Gardner might be as indispensable -- again, not the same thing as best -- quarterback in the league. That's because his only experienced backup,
Russell Bellomy
, tore his ACL in the spring. Right now, walk-on
Brian Cleary
is the No. 2 quarterback, and if anything happened to Gardner in the fall, the Wolverines likely would turn to true freshman
Shane Morris
. Michigan wouldn't have to completely change the offense if it lost Gardner as it did last year when Denard Robinson went down at Nebraska. But the offense's productivity -- and likely the team's fortunes -- would take a major hit if he were removed from the equation.
Taylor Lewan, LT, Sr.
Here's a case where Michigan's most indispensable players are probably also their best ones. The Wolverines already lost a very valuable star in linebacker
Jake Ryan
, but at least they have depth at that position. Not so much at offensive line, where Lewan is one of only two returning starters and by far the most decorated. His decision to return for his senior year rather than become a possible high first-round NFL draft pick changed the entire outlook of the offensive line. He's also developing into a respected senior leader. Without Lewan, Michigan would likely have to insert a freshman like Logan Tuley-Tillman or
Erik Magnuson
at one of the tackle spots. And things definitely wouldn't be the same without the All-American.
April, 15, 2013
4/15/13
10:45
AM ET
It was a big Saturday of spring games around the Big Ten, and we're recapping all of them today. Let's take a look at how the
Michigan Wolverines
wrapped up their spring session at the Big House.
You can find coverage of Michigan's spring game
here
and
here
and
here
and
here
.
Star of the game:
The Wolverines' offense kept things very vanilla, but the defense more than held its own and sophomore linebacker
James Ross III
showed why he'll likely be a big factor in the fall. Ross played the entire scrimmage and logged a game-high eight tackles, including two for loss. Linemen
Frank Clark
,
Jibreel Black
and Taco Charlton also stood out for the defense.
How it went down:
Michigan fans didn't learn a ton about the 2013 team as the offense, as expected, was "very vanilla, very basic," as starting quarterback
Devin Gardner
put it. The Wolverines are going back to their traditional pro-set structure and operated mostly under center in an I-formation.
Gardner completed 11 of 16 passes for 146 yards and a touchdown and displayed the vertical pass game we saw last fall after he became the starter in finding
Devin Funchess
and
Amara Darboh
for gains of 35 and 33 yards. Backup
Brian Cleary
got in a bit of work along with
Alex Swieca
.
The defense had the edge in the spring game, starting at the line of scrimmage. The most telling matchup pitted Michigan's defensive front against an offensive line looking for starters at both guard spots and at center. Although the young offensive linemen showed flashes, the defensive front carried the day, getting consistent penetration with players like Clark, Black and Charlton, a man-child freshman at 6-foot-6 and 265 pounds.
"We moved and established the line of scrimmage today, and I think that is one thing that we haven't seen in a while," senior left tackle
Taylor Lewan
said. "But what we do in the summer and do in fall camp is really going to define us as an offensive line."
Defensive coordinator Greg Mattison has made the pass rush a major priority after Michigan recorded only 22 sacks last season. If Saturday's scrimmage is an indication, the Wolverines will be heating up the pocket more this fall.
"We've got some young kids who have some ability," head coach Brady Hoke said. "With Greg and his passion with how he teaches rushing the passer ... the guys are excited about it. They know what we want to do. We've worked on it. We're not near what we can be and will be, but I think we're a little better at it."
The interior offensive line will continue to be a major storyline throughout fall camp, and Hoke wants to see Michigan run the ball more effectively.
Thomas Rawls
had a 14-yard touchdown run in the scrimmage and led the offense with 32 rush yards on six carries.
The best news for Michigan came off of the playing field as Hoke said running back
Fitzgerald Toussaint
(leg) and cornerback Black Countess (knee) both are on track to return for the opener, and linebacker
Jake Ryan
, who recently underwent ACL surgery, could be back by mid October. Michigan also
picked up a commitment from wide receiver
Drake Harris, who originally pledged to rival Michigan State.
April, 12, 2013
4/12/13
1:00
PM ET
Half of the Big Ten wraps up spring practice this weekend, and five squads are holding spring games/scrimmages that are open to the public. We're taking a look at each one. Up next: Michigan's Mott Spring Game presented by PNC Bank.

When:
Saturday, 1 p.m. ET
Where:
Michigan Stadium, Ann Arbor, Mich.
Admission:
Free. Michigan Stadium gates open at 10 a.m. ET. The alumni flag football game starts at 11 a.m., and the Wolverines take the field at 12:40 p.m. Parking is free in the lots that Michigan operates around the stadium, although space is limited. Fans can park at Briarwood Mall and take shuttles to the stadium, which start at 9:30 a.m. Fans can make donations to Mott Children's Hospital upon entry into the stadium and
receive certain giveaways
.
TV:
The scrimmage will be
streamed live on BTN2Go
. The Big Ten Network will broadcast the scrimmage at 9 p.m. ET Saturday.
Weather forecast:
Cloudy and windy with a 30-40 percent chance of rain. Temperatures between 39-40 degrees, winds at 22-23 mph.
What to watch for:
Spring games are all about the future, and Michigan's future -- short term and especially long term -- will be on display at the Big House. The Wolverines return only five offensive starters and six defensive starters and have several potential starters -- cornerback
Blake Countess
and running back
Fitzgerald Toussaint
-- still recovering from major injuries. As a result, plenty of younger players will be showcased in the scrimmage.
Keep an eye on the interior offensive line as Michigan must fill starting spots at both guards and center. Sophomore
Jack Miller
has been working as the top center, but he's being pushed by
Joey Burzynski
and
Graham Glasgow
.
Ben Braden
and
Kyle Kalis
have drawn praise from the coaches as they target the starting guard spots. Most of the buzz at running back has been about Toussaint and incoming freshman Derrick Green, but others like
Justice Hayes
and
Thomas Rawls
have a chance to step up in the scrimmage.
Michigan will be without star linebacker
Jake Ryan
for the start of the season, but Cam Gordon has drawn good reviews this spring. It will be interesting to see how Gordon and
Brennen Beyer
look at the strongside linebacker spot, and whether Michigan can generate a good pass rush with players like Beyer,
Frank Clark
and
Mario Ojemudia
. Defensive coordinator Greg Mattison has made the pass rush a major priority this spring.
Wolverines fans also can monitor position competitions at safety (
Jarrod Wilson
seems to be in the lead to start opposite
Thomas Gordon
) and at outside receiver, where
Jehu Chesson
and
Amara Darboh
are getting a lot of work.
Notice that I haven't mentioned
Devin Gardner
? The Wolverines' top quarterback will be out there in a don't-even-think-about-touching-me orange jersey that Michigan got from Oregon State. Although fans want to see Gardner's offseason progress, the most important thing is keeping him healthy. It will be interesting to see how walk-on
Brian Cleary
, Michigan's No. 2 quarterback for the time being, performs in the scrimmage.
April, 10, 2013
4/10/13
5:00
PM ET
Every Legends Division head coach, along with a player from each of the six teams, participated in a Big Ten spring teleconference with the media on Wednesday.
Here are some notes and updates from those teams:

IOWA
After six practices, the Hawkeyes' three-man quarterback race between Jake Rudock, Cody Sokol and C.J. Beathard is "about where we expected," head coach Kirk Ferentz said. All three are receiving equal reps, and all are working with the first-, second- and third-team offenses. "At this point, it's a jump ball for all three guys," Ferentz said.
Accountability is a big theme this spring at Iowa after the team endured its worst season (4-8) in more than a decade. Ferentz said he can't bury his head in the sand after a season like last year's. "We have to do a better job in all areas and that starts with me," he said. Linebacker James Morris was candid about the legacy he'd like to leave at Iowa. "The mark we've left so far, if we're being completely honest, isn't a particularly good one," Morris said. "I'm not happy about it, but I'm excited we have one more opportunity to change things."
Ferentz said Sunday's open practice in West Des Moines gives Iowa a chance to say thanks to its fans in the central and western parts of the state. Hawkeyes players enjoy the chance to perform in front of their fans. "It's something to break the monotony of spring ball," Morris said. "This will be something different."
Morris wants to see Iowa's defense translate its red-zone effectiveness -- the Hawkeyes allowed only 15 touchdowns on 48 red-zone chances in 2012 and held opponents scoreless 10 times -- to the rest of the field. Better communication also is a focal point for the defense this spring.

MICHIGAN
Head coach Brady Hoke said the team will explore the possibility of adding a junior-college quarterback or a graduate transfer from an FBS program to address the position. Russell Bellomy, the projected backup, is scheduled for ACL surgery May 1 and could miss the entire season. Walk-on Brian Cleary is working as the No. 2 quarterback this spring behind Devin Gardner, and heralded recruit Shane Morris arrives in the summer. Asked generally about redshirting players, Hoke didn't sound as if he'd hesitate to use a player like Morris. "No matter if they're fifth-year seniors or true freshmen, the best players have to play," he said. "If you don't do your justice on playing the best players, you're going to cheat the kids on this team."
Both Hoke and left tackle Taylor Lewan praised the young players competing for the three vacant starting spots on the interior offensive line. Hoke has seen "a lot of progress" with players like Ben Braden, Kyle Kalis, Chris Bryant, Blake Bars and Joey Burzynski. Lewan sees more "maulers" along Michigan's line as the unit aims to be more physically dominant this season in a pro-set scheme.
Lewan said the experience of playing for Michigan and the opportunity to win a Big Ten championship led him to decide to return for his senior season rather than enter the NFL draft, where he likely would have been a first-round pick. He said his decision was his own, and that those who haven't played for Michigan can't truly understand the lure of remaining there. "There's no better decision I could have made than coming back to the University of Michigan," he said.
Lewan said defensive end Frank Clark could be on the All-Big Ten radar by the end of the season, while Hoke singled out Chris Wormley for having a strong spring with the D-line. Hoke said running back Fitzgerald Toussaint is progressing well as he recovers from leg surgery.

MICHIGAN STATE

MINNESOTA
Head coach Jerry Kill said injured offensive tackle Ed Olson (ankle) and defensive lineman Roland Johnson (knee) are both progressing well, and he expects both to be ready to go for fall camp.
Kill had high praise for safety Brock Vereen, saying he could follow his brother, Shane, into the NFL. "He's gotten better and better since we've been here, and he's turned into a great football player in our minds. We look for him to have a very productive year."
Vereen said the team is practicing with a new sense of confidence. "We're finally comfortable with coach Kill's system. We know what they expect from us. And that just makes it a lot easier to show up every day and do what we need to do."
Vereen on how far away the Gophers are from contending in the Legends Division: "We are closer than a lot of people think. If you look back to last season, a lot of those games we lost were in the fourth quarter. A loss is a loss, but at the same time, we were in a lot of those games. It's about pushing through, which is something we learned the hard way, but we still learned. ... I think we're going to shock some people this year."

Linebacker David Santos (arm) will miss a portion of summer workouts but will be back before the Huskers open preseason camp, head coach Bo Pelini said. Defensive linemen Vincent Valentine and Greg McMullen, who missed Saturday's spring game, aren't seriously injured and will be fine for workouts and camp.
Although Nebraska's defense had its ups and downs this spring, redshirt freshman linebacker Jared Afalava stood out. Pelini expects a lot of production this fall from Afalava, who is "probably further ahead of where I thought he'd be." Pelini also praised senior defensive end Jason Ankrah, saying the coaches gave him more freedom to move around this spring. "Hopefully, his best year is yet to come," Pelini said.
Senior quarterback Taylor Martinez expects Nebraska to throw the ball "a lot more" this season, mainly because of the team's strength at wide receiver with Kenny Bell, Jamal Turner and others. Martinez said expectations are extremely high for the offense, and that coordinator Tim Beck is more comfortable calling plays. "I'd rather throw the ball 30 times a game … get the football to those guys and let them do their thing," Martinez said. Pelini has no argument, saying "the best is yet to come" with Martinez at quarterback.
Martinez said the Memorial Stadium crowd was about as loud as he's ever heard it when 7-year-old cancer patient Jack Hoffman ran for a 69-yard touchdown in Saturday's spring game.

NORTHWESTERN
The Wildcats won't hold a traditional spring game this year but just a normal practice session. Head coach Pat Fitzgerald said 13 players had surgeries after the season, and the team was limited to eight healthy offensive linemen this spring. "We've had to tweak things, so that's why we've kept the same routine throughout all 15 of our practices," he said.
Some of the lesser-known Northwestern players who have had good springs, Fitzgerald said, included backup quarterback Zack Oliver, receiver Mike Jensen, superbacks Mark Szott and Jack Schwaba and defensive lineman C.J. Robbins. Fitzgerald said he's been "very, very impressed" by Robbins, who has been injured the past two years.
A question on offering prospects early prompted this response from Fitzgerald: "I have just a fundamental issue with offering a kid a scholarship that doesn't have a driver's license. Just barely shaving. And because he looks good in shorts doesn't mean he's going to be a great Big Ten football player. The glorification of these kids at a young age is unfair to them. It's putting unfair and unrealistic expectations on them."
Defensive end Tyler Scott, who Fitzgerald said is "poised to take the next step," said he's worked hard on becoming a more vocal leader this year and on his pass-rushing techniques. "I'm trying to bring more tools to that aspect of the defense," he said.
April, 3, 2013
4/03/13
12:00
PM ET