April, 12, 2012
4/12/12
9:00
AM ET
ANN ARBOR, Mich. --
Denard Robinson
has always been hard to define by standard notions of quarterback play. He plays with his shoelaces out, throws the ball up for grabs at times and rips off game-breaking runs.
Those things were good enough to make him one of the most exciting players in the country the past two years, and for him to lead Michigan to a Sugar Bowl victory last season. But they weren't good enough for head coach Brady Hoke, whose idea of a Wolverines quarterback is more along the lines of Tom Brady and Brian Griese, guys who carried themselves a certain way on and off the field.
So Hoke did something unusual this offseason. He asked his star player, the guy who has seemingly single handedly willed Michigan to victories in the past, to change some of personality traits as a senior.
"You look at the legacies of the guys who played that position here, and there's something about it from a maturity standpoint, from a leadership standpoint and their business-like approach," Hoke told ESPN.com. "We have an expectation of how a quarterback handles himself, a little bit more maybe than he understood."
Hoke wanted Robinson to rely not just on his talent and likable nature, but to become a forceful, vocal leader. That meant getting into the film room more, working harder on off days, shoring up his fundamentals and speaking out more in the locker room and in public. That last part might have been the toughest demand.
"I'm normally a very laid back person," he said. "Just chilling, smiling, having a good time."
[+] Enlarge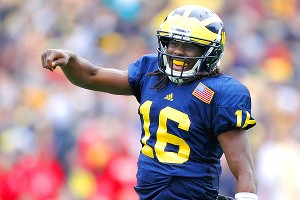 Gregory Shamus/Getty ImagesCoach Brady Hoke has pushed quarterback Denard Robinson to take on more of a leadership role as he enters his senior year.
But Robinson is beginning to show a different side of himself. It's apparent on the practice field, where he's now more apt to guide traffic. It's apparent even in interviews, as a guy who often said little to the media now seems ready to become more of a team spokesman. When I asked Robinson a simple "How's your spring going?" to begin an interview this week, he eagerly responded with more words than I'd ever heard him say at one time.
While speaking to reporters won't help Michigan win games, it could change the way Robinson is perceived as a quarterback and endear him to voters for national awards, not that he cares much about individual honors. Moreover, it enhances his position as a leader when he can talk on his teammates' behalf.
So why didn't Robinson, who is entering his third year of starting at the most prominent position, take this approach before?
"I wasn't there yet," he says. "But senior year came up fast. Now, you're a leader and you've got to step it up.
"In the past, I spoke up when I needed to or when somebody needed to be talked to. Now, it's more me letting guys know what they should do and what they can do on and off the field."
Hoke likes the way his quarterback is improving in the leadership role. The next step is for Robinson to become more consistent.
He had some monster games last season, like his heroics against Notre Dame and Ohio State, and he led the Big Ten in total offense for a second straight season. But he also threw more interceptions (15) than any league quarterback while getting bailed out on some throws by receivers in the Sugar Bowl and other games. Michigan survived those turnovers last season but doesn't want to have to do it again.
"Unacceptable," Robinson says of his interceptions. "That's something I take upon myself as a quarterback to do better for the team."
Robinson said at least 10 of his picks came when he threw off his back foot. He repeatedly made that fundamental mistake even though offensive coordinator Al Borges kept telling him that every time he threw off his back foot, Borges covered his eyes and waited for something bad to happen.
A lot of that, Robinson said, was just poor technique. Not following through on his throws and "getting into the fight" as Borges likes to say. And some of it was Robinson just trying to make a huge play out of nothing -- which, to his credit, has actually worked in the Wolverines' favor a lot during his career. Borges has told his quarterback to avoid trying to make a miracle, yet miracles are a part of Robinson's game.
"That's what's hard," Borges said. "You don't want to hinder him too much. But there is a line. And I think he's getting better about understanding that line."
Robinson has focused on stepping into his throws this spring, and Borges says he has made "less indiscriminate" and "catastrophic" throws than he did last fall. While the jump-ball aspect of Michigan's offense won't disappear completely, Borges might actually be able to watch more while it's happening.
"From a physical standpoint, of how we want him to do things, he's further along than he was at end of the season," Hoke says of Robinson's fundamentals.
One thing that hasn't changed is Robinson's effervescent personality and positive energy. Teammates marvel at how he never seems to have a bad day or gets down even when things aren't going well. Receiver and close friend
Roy Roundtree
describes Robinson as "the cheesiest cow out there. That guy's always smiling, even if we're losing."
Robinson said that's just the way he's always been. His mom showed him pictures when he played little league, and he was out there grinning just as wide as he does now. That sometimes belies what he's really thinking, though.
"Sometimes I'd get in trouble for smiling too much in class or during games," he said. "People always think you're out to get them with that smile."
This year, he's out to talk and lead as much as he smiles. And that would make Hoke very happy.
June, 24, 2010
6/24/10
12:00
PM ET
July, 30, 2009
7/30/09
6:30
PM ET
Posted by ESPN.com's Adam Rittenberg
What moment defines a championship season? Colleagues Ivan Maisel and Mark Schlabach take a look in an excellent series detailing the magic moments for each national champion from the last 25 years
Who can forget Ohio State's dramatic fourth-down touchdown pass from Craig Krenzel to Michael Jenkins against Purdue in 2002?
The Buckeyes trailed Purdue 6-3 and faced fourth-and-1 at the Boilermakers' 37-yard line with less than two minutes to play. Purdue gambled that Ohio State would stick with its conservative play calling and blitzed several players to try to stop a short run. But Buckeyes quarterback Craig Krenzel stood in the pocket and lofted a pass to Michael Jenkins, who beat Antwaun Rogers for a 37-yard touchdown in the 10-6 victory. The Buckeyes beat Illinois and Michigan and then stunned Miami 31-24 in double overtime in the Fiesta Bowl to win a national title.
Other key moments included Brian Griese's touchdown pass to Jerame Tuman for Michigan at Iowa in 1997 and Pete Giftopoulos' interception for Penn State against Miami's Vinny Testaverde in 1986. Penn State wasn't in the Big Ten yet, but this is still worth remembering.
August, 1, 2008
8/01/08
12:30
PM ET
Posted by ESPN.com's Adam Rittenberg
Here's a look at 10 players who earned the title of "Captain Clutch" during their Big Ten careers:
Anthony Carter, WR, Michigan [1979-82] -- Carter was only a freshman when he played a part in one of the greatest plays in Michigan history, hauling in a 45-yard touchdown pass as time expired to beat Indiana in 1979. The wideout/return man had 37 touchdown receptions in three seasons.
Kerry Collins, QB, Penn State [1991-94] -- Penn State joined the Big Ten in 1993, and Collins made his mark the next year. He led the Nittany Lions to a 12-0 record, which included three road victories (Michigan, Indiana, Illinois) by seven points or fewer.
Ron Dayne, RB, Wisconsin [1996-99] -- The NCAA's all-time rushing leader made his mark in big games, winning back-to-back Rose Bowl MVP awards after rushing for 246 yards and 200 yards in Badger victories. Dayne also had a 246-yard effort in his first bowl appearance, a Cotton Bowl win against Utah.
Bob Griese, QB, Purdue [1964-66] -- Griese's near-flawless performance in Purdue's upset of No. 1 Notre Dame in 1965 stands as one of the greatest in team history. The next year he led the Boilermakers to their first Rose Bowl appearance and a 14-13 win against USC.

Brian Griese, QB, Michigan [1994-97] -- After coming off the bench to rally the Wolverines past Ohio State in 1996, Griese cemented himself as a clutch quarterback the next season. He led Michigan to a 12-0 record and a national championship, winning five games by 10 points or fewer, including a 21-16 triumph over Washington State in the Rose Bowl.
Jim Harbaugh, QB, Michigan [1983-86] -- Considered by many to be the best quarterback in school history, Harbaugh led Michigan to a 27-23 win against Nebraska in the 1986 Fiesta Bowl. He won four games by three points or fewer as a senior.
Nile Kinnick, RB, Iowa [1937-39] -- The stadium is named after him for a reason. Kinnick did it all for Iowa, including a 63-yard punt that pinned No. 1 Notre Dame at the 6-yard line in a 7-6 Hawkeyes win in 1939.
Craig Krenzel, QB, Ohio State [2000-03] -- He took heat for his arm strength, but no one could question his late-game toughness. The two-time Fiesta Bowl MVP led Ohio State to a national title in 2002 with his arm and his legs.
Chuck Long, QB, Iowa [1981-85] -- A dramatic fourth-down touchdown run against Michigan State kicked off a memorable 1985 season for the Hawkeyes and Long, who many believe should have won the Heisman Trophy. Two weeks later, Long rallied Iowa past Michigan.
Mike Nugent, PK, Ohio State [2001-04] -- Record-setting kicker was nearly unshakable under pressure. He kicked game-tying and game-winning field goals to beat Purdue in overtime in 2003, and his game-winning 55-yard kick against Marshall stands out in an otherwise forgettable 2004 season.