August, 23, 2013
8/23/13
2:00
PM ET
His phone showed a text message informing him of a team meeting.
Brock DeCicco
called his father. He understood what this meant. It was happening again.
Two team meetings so close together meant one thing at Wisconsin last season. His coach, Bret Bielema, was leaving for somewhere -- in this case, Arkansas.
[+] Enlarge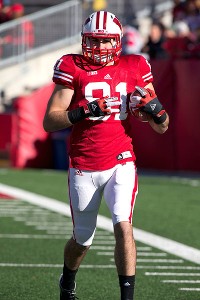 AP Photo/David StlukaWisconsin tight end Brock DeCicco, who transferred from Pitt, knows all too well how it feels to have a head coach leave for another school.
Including interim head coaches, DeCicco has had seven head coaches in four-and-a-half years during his time at Pittsburgh and Wisconsin. Add in coordinators and position coaches and he has lost count of the adults who have attempted to mentor him before either being fired or leaving on their own volition.
This is why his high school coach, Bill Cherpak, has jokingly called him "coach killer."
"I never would have guessed that," DeCicco said. "It's just kind of how college football is. Coaches move back and forth all the time so you kind of just get used to it. There's probably not many guys at schools that start off with the same coach and end with the same coach."
Hardly any player has rolled through coaches like DeCicco, now a fifth-year senior who might see his first significant time this fall since his redshirt freshman season at Pitt. Back then, his coach was Dave Wannstedt, who recruited DeCicco and also coached his older brother, Dom.
Since Wannstedt's firing after his redshirt freshman season, his head coaches have been Phil Bennett (one game), Michael Haywood (zero games), Todd Graham (zero games), Bret Bielema (transfer season and 2012 season), Barry Alvarez (one game) and now Gary Andersen (zero games and counting).
The toughest breakup was the first. He was naive then. He didn't expect Wannstedt, who his family had known for a while, to be fired. He thought he would play his entire career for Wannstedt. In retrospect, he says he learned so much from Wannstedt, Bennett and the rest of that first staff he played for.
As each successive separation happened, DeCicco became desensitized to it. After he said Graham and his coaching staff told him he'd play H-Back in an offense which didn't utilize a tight end much, he became concerned in spring practice. He departed soon after the start of fall camp in 2011.
"He was like, 'I gotta go. I have to get out of here,' " said Dominic DeCicco, Brock's father. "He knew if he was going to have any success in football, I need to leave."
Depending who you ask, DeCicco's feelings about this varied. He liked his teammates at Pitt, but the coaching staff and scheme didn't fit him. Cherpak said the Pitt staff under Graham had lost DeCicco in part due to the position switch and what was told to him after. For a player whom all involved said might not have succeeded had he started somewhere far from home instead of Pittsburgh a half hour away, belief in a staff at that point was huge.
"Once they lost Brock's trust, he was gone," Cherpak said. "At that point, he didn't have anywhere to go. He was home for a week-and-a-half."
Enter Wisconsin. The Badgers recruited him in high school. He went on a visit and loved it, and got along well with the offensive coordinator, Paul Chryst, and the tight ends coach, Joe Rudolph.
He went as a walk-on after the Badgers could not offer him a scholarship right away. In 2012, he earned a one-year scholarship. This past season, he re-earned it for his fifth year. He believed in the Wisconsin staff.
DeCicco didn't expect to go through all the switching. Again. This time with some irony involved. After his transfer year in 2011, Graham bolted. Pitt needed a coach and hired Chryst. He took Rudolph with him to be his offensive coordinator.
By then, all DeCicco could do was laugh.
"After (Chryst) took the job and then he started taking the assistants, it was like it was never going to end," Cherpak said. "It didn't upset him. More like, 'What's next?' "
What's next was playing in every game last season and now finally having the chance to impact a team again as a redshirt senior. The last time he caught a pass was 2010, a 13-yard touchdown catch against Kentucky in the BBVA Compass Bowl.
It's been a journey he never could have expected since then, but one which he doesn't regret. One which has made him grow more than he ever thought he would.
"I always tried to look at it as a positive," DeCicco said. "I've had a bunch of different offenses I've run through. Learned a bunch of different offenses and styles of how coaches teach."
It's just the coaches don't stick around, which heads back to Bielema, the text message and a laugh with his father. Four years ago, DeCicco would have been traumatized by a coach departing. Let alone two.
Now he can call his father, predict what is happening next and console confused teammates. It isn't about a coach anymore for DeCicco. It's about himself. His teammates. And whatever happens next is all good with him.
Really, there was no way DeCicco's college career would conclude without one more somewhat unplanned twist.
On Sept. 14, he and the Badgers head to Arizona State. Its coach -- Todd Graham.
"If you told me back when he signed his letter of intent that this was the journey he would have taken," Dominic DeCicco said. "I would have had a better chance of winning the lottery than that happening.
"It's so bizarre, so many twists and turns to it. It was incredible."
August, 7, 2013
8/07/13
12:00
PM ET
August, 20, 2012
8/20/12
5:30
PM ET
July, 14, 2012
7/14/12
10:05
PM ET
Who are the impact transfers in (and out) of the Big Ten in 2012? Keep an eye on these players who switched four-year schools and who should be eligible this season:

Incoming transfers
Danny O'Brien, QB, Wisconsin (from Maryland):
O'Brien hopes to follow Russell Wilson's playbook and go directly from the ACC to the Rose Bowl with the Badgers. O'Brien, who graduated from Maryland to become immediately eligible, is expected to start at quarterback and solve the depth problems Wisconsin has. And he'll be able to play in 2013, too.
DeAnthony Arnett, WR, Michigan State (from Tennessee):
Receiver is a major position of need for the Spartans, so it was great news when Arnett was ruled immediately eligible after transferring to be close to his ailing father. Arnett had 24 catches for 242 yards and two touchdowns as a true freshman for the Volunteers in 2011.
Kyle Prater, WR, Northwestern (from USC):
Prater is still awaiting word on whether he'll be immediately eligible this season. But if he is cleared, the former blue-chip recruit should make a major contribution for the Wildcats with his size and speed.
Quinn Evans, CB, Northwestern (from Stanford):
The Wildcats know that Evans, who graduated from Stanford, can play right away. And though he missed all of last year with an injury, Evans could provide help to a secondary that really struggled in 2011.
Brock DeCicco, TE, Wisconsin (from Pitt):
DeCicco started three games for Pittsburgh in 2010 before switching to the tight end haven that is Wisconsin. The Badgers already have All-America candidate
Jacob Pedersen
at the position, but DeCicco should provide additional depth and playmaking skills.
Tommy Davis, S/KR, Illinois (from Northern Illinois):
Davis graduated from Northern Illinois and became immediately eligible for the Illini when he transferred earlier this summer. He's a two-time All-MAC kick returner who could help Illinois' woeful special teams while providing depth in the secondary.
Outgoing transfers
Marcus Coker, RB, Stony Brook (from Iowa):
Coker led Iowa in rushing and was second in the Big Ten with 1,384 yards and 15 touchdowns. He transferred to the FCS after some off-the-field problems. His departure was a big loss for the Hawkeyes and he figures to dominate at a lower level if focused.
May, 22, 2012
5/22/12
1:05
PM ET
When you think Big Ten football, what usually comes to mind is big, corn-fed Midwestern players and bruising offenses. The kind of place that would be perfect for a tight end.
But the 2011 season was a little lackluster for that position in the league, at least as far as the passing game goes. Sure, Northwestern's Drake Dunsmore and Wisconsin's
Jacob Pedersen
were Mackey Award semifinalists, but those two and Michigan State's Brian Linthicum were the only two tight ends in the conference to record more than 25 catches. Some guys we expected to have big years, like Nebraska's
Kyler Reed
, Minnesota's Eric Lair and Indiana's
Ted Bolser
, were nearly invisible on the stat sheet. And there was certainly no one who rose the level of recent Big Ten stars like Dallas Clark, Matt Spaeth, Travis Beckum, Lance Kendricks or Dustin Keller.
[+] Enlarge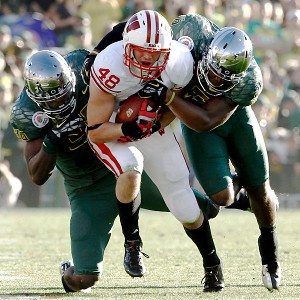 AP Photo/Matt SaylesJacob Pedersen led the Big Ten's tight ends with eight touchdown catches last season.
Dunsmore, who won the league's inaugural Kwalick-Clark tight end of the year award, and Linthicum have both graduated. Yet 2012 is shaping up as a potentially big season for tight ends across the league.
Some of it has to do with changing offenses and playcallers who love utilizing the tight end. Urban Meyer made a star out of Aaron Hernandez at Florida and could do the same with
Jake Stoneburner
, who started off blazing hot last year before the Ohio State offense forgot about him. With the Buckeyes searching for playmakers, expect Stoneburner to be utilized heavily in 2012.
"Seeing Hernandez make all those plays makes someone like me pretty happy," Stoneburner told Adam Rittenberg last month. "It's something I've been waiting for since I graduated high school, being able to go out there knowing you're going to get the opportunity to get the ball more than once or twice a game. "
Bill O'Brien coached Hernandez and Rob Gronkowski as offensive coordinator with the New England Patriots, which featured the tight end as much as anybody in football. Now O'Brien is at Penn State, where tight ends have mostly been an afterthought. That will change quickly.
"That's a very important part of what we're going to do offensively," O'Brien told reporters in March. "Obviously, the last two years in New England taught me a lot about the use of a tight end, multiple tight ends."
At Iowa, new offensive coordinator Greg Davis is raving about sophomore
C.J. Fiedorowicz
, a 6-foot-7, 265-pounder who began to emerge late last season as a weapon. With an uncertain running game and an excellent passer in quarterback
James Vandenberg
, Fiedorowicz could follow in the footsteps of Clark and Tony Moeaki as breakout Hawkeyes tight ends. Coincidentally, Iowa's new offensive line coach is Brian Ferentz, who coached the tight ends with the Patriots last year.
"You'll see the tight ends playing outside sometimes," Davis told the Des Moines Register during spring practice. "Used to seeing them in motion, but there will be motion in wide receiver sets in some situations because they're tough match-ups."
Wisconsin returns one of the best tight ends in the country in Pedersen, who had led Big Ten tight ends with eight touchdown catches a year ago. Bret Bielema is also excited about the depth at the position, with veterans
Brian Wozniak
and
Sam Arneson
, redshirt freshmen
Austin Traylor
and
Austin Maly
and Pittsburgh transfer
Brock DeCicco
. Given the inexperience at receiver outside of
Jared Abbrederis
, the Badgers could look to throw to their tight ends even more this season.
Indiana's Bolser had only 14 catches last year, but he was one of the stars of the spring for the Hoosiers. An improved passing game should help him become more of a factor. Purdue likes the depth it has at tight end, led by
Gabe Holmes
and
Crosby Wright
.
"A year ago it was one of the leanest positions on our football team," Boilers coach Danny Hope told reporters in the spring, "and now I think going into the season that the tight end position is going to be one of our strengths."
Reed's numbers dropped last year, but he still led Nebraska with an average of 17.1 yards per catch. He and fellow senior
Ben Cotton
form a nice tandem of targets for
Taylor Martinez
. Michigan State must replace Linthicum but is optimistic about 6-foot-5, 280-pound
Dion Sims
, who practiced this spring with a cast on his hand. Sims could provide a safety valve for new quarterback
Andrew Maxwell
early on as the Spartans break in some green receivers.
Minnesota's
Moses Alipate
will at least be a curiosity as a former quarterback who grew to 290 pounds. Michigan needs
Brandon Moore
or someone else to step in for
Kevin Koger
, while Illinois'
Jon Davis
could have a different role in the team's new spread offense after a promising freshman campaign. Whoever replaces Dunsmore for Northwestern should get a lot of touches.
Tight ends could play an important part of many Big Ten teams' attacks this fall. Just as it should be.
September, 7, 2011
9/07/11
8:24
AM ET
Wisconsin's roster had a bit of shuffling Tuesday as the team dismissed one player and added a transfer from Pittsburgh.
Redshirt freshman defensive end
Jake Irwin was dismissed from the team
following a Sept. 1 arrest for disorderly conduct and battery. Irwin allegedly was involved in an early morning altercation. He hadn't participated in fall camp because of an unspecified suspension.
Wisconsin also has added tight end Brock DeCicco, who transfers from Pitt. DeCicco, a decorated high school prospect who started three games for the Panthers and caught two touchdown passes in 2010, will sit out the 2011 season and have two years of eligibility remaining.
"We're very excited to bring Brock to Madison," coach Bret Bielema said in a prepared statement. "We recruited him heavily out of high school and are thrilled he eventually ended up joining us. He will spend this year working on the scout team, getting accustomed to how we work at Wisconsin and we look forward to him contributing on Saturdays next fall."
Wisconsin loses tight end
Jake Byrne
after the season, so DeCicco will compete for time with
Jacob Pedersen
and others.