June, 17, 2013
6/17/13
3:00
PM ET
Last week, we asked
you to pick the nonconference opponent you'd most like to see
your favorite team play in the near future. You could pick a team already on the upcoming schedule or one that inexplicably hasn't been added.
The response, not surprisingly, has been strong. If you haven't done so already, please send us your picks
here
and
here,
and be sure to identify your Big Ten allegiance and why you're picking a certain nonconference foe.
Michigan State fans had some good thoughts on this topic, and here are several of them from around Sparta.
Brian from Conshohocken, Pa.:
Adam, Michigan State alum here. And here are a few non-conference matches I would like to see happen: 1) USC - The Spartans vs. The Trojans, because it would be a great matchup and there are a lot of Homeric (as in the Illiad, not the Simpsons) allusions you could have during the game. Tommy Trojan and Sparty could duke it out at halftime! 2) One of the SEC teams, at Spartan Stadium, in November on rainy, freezing cold day. It is long past time for these guys to play on our turf and see what happens when the elements come into play. 3) Temple - because they play at Lincoln Financial Field in Philadelphia, and I want to see my Spartans in person without having to make a long road trip.
KMANZILLA from Texas:
As a supporter of the Michigan State Spartans, I would like to see a home and home series against South Carolina, so that Spurrier will be embarrassed against us like he was in the 2000 Citrus Bowl and Coach D will get to beat his alma mater. Plus, it'll send a message that we can still beat an elite SEC team. I also would like to see a series against USC based on our epic Rose Bowl series against them. Plus, it could potentially get us to recruit well in California. Finally, we Spartans should play any good Big 12 team like Oklahoma considering that they are a rich program and us beating them will help us recruit the South. Plus, B1G vs. B12 matchups are always fun to watch!
Alexander from Plymouth, Mich.:
As a Michigan State fan, I'd like to see a non-conference game against Cincinnati. I know it sounds bland compared to SEC or Pac-12 opponents, but Cincinnati's a decent team that has wound up getting coaches with experience from the Great Lakes state (Dantonio, Kelly, Jones). I also would like to see a series against North Carolina (to get back at them in some sport for 2009) or Texas Tech (still remember the exciting yet tough loss in the Alamo Bowl). I would also absolutely love to see a game between MSU and Southern Cal (Spartans vs. Trojans). We'll call it the Iliad Bowl (Many bonus points if it's for Rose Bowl, and MSU and its/B10's fans fly in on 1000 planes). Also, imagine the helmet logos: as they line up, a row of green and white Spartan helmets face off from a row of crimson and gold Trojan helmets. Can we also get a mascot fight?
James from Indy:
On the subject of the non-con I would like my Spartans to play, I would have to go with Stanford. I was really excited to play them a couple of years ago but it didn't work out. Also I think Duke would be fun just so we can beat them at something. I hope they find a way to keep playing Notre Dame. Some might want another crack at Alabama. I am not one of those people.
Scott from Saginaw, Mich.:
Regarding non-conference match-ups, I'm an MSU fan and alum. I have always enjoyed the Notre Dame match-up, and would like to see that continue as much as possible. In the overall historical pecking order of college football programs, MSU is probably at about the same level as programs like Texas A&M, UCLA and Arkansas, so match-ups with teams like that would be great.
Garret from Denver:
I would be thrilled to see MSU vs. Virginia Tech! I think these two programs are similar with strong D and a blue-collar attitude. They are both have tremendous fan bases and both stadiums are rocking on game day. I think it would be a hard hitting battle managed by two of the more reserved yet respected coaches in the NCAA. I just see a lot of similarities Pat N. = Bud F. & Mark D. = Frank B. Offense is for wussies anyway!
Matt from Spartan Nation:
For MSU, I'd have to say a home-and-home with Texas or UF/FSU. Recently Coach D has tried to pull big-time recruits from these recruiting hotbeds. A primetime matchup with one of these traditional powerhouses would give the Spartans excellent exposure to the recruits in these areas. I think this is important as MSU tries to turn its program into a national powerhouse.
Justin from Baltimore:
Michigan State fan here responding to your request for desired non-conference match-ups. I would want to see MSU vs. Texas A&M, which I would call the Grandpa Bowl because my grandpa is an alum of A&M.
A Sparty-Tommy Trojan mascot fight? Sign me up, if nothing else but for the Homeric references, as Brian from Conshohocken notes.
Tommy wouldn't be able to use Traveler
unless
Sparty
also gets a horse to ride. Fans would wear togas to the game (if they don't already). I also like the Michigan State-South Carolina matchup because of the little-known Dantonio connection and the number of elite defenders on the field.
Several Michigan State fans want to see the Spartans play in Virginia, North Carolina or South Carolina, and I couldn't agree more. Those are excellent recruiting areas, and as Garret points out, the teams play similar styles for similar coaches and coordinators. Several Michigan State fans mention the Texas schools as potential desired opponents. Right now, the Spartans would be better off adding the school in Austin instead of the one in College Station (scary good).
More fan non-league picks:
Nebraska
Michigan

Penn State
December, 31, 2011
12/31/11
9:00
AM ET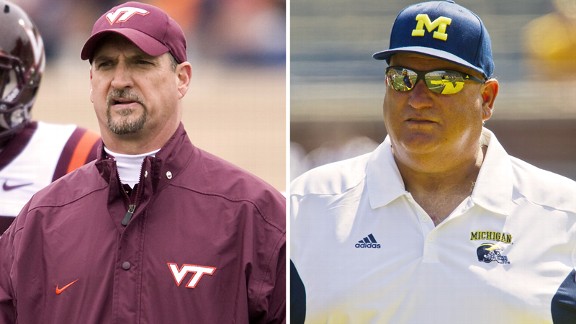 Icon Sports MediaVirginia Tech's Bud Foster and Michigan's Al Borges have benefitted from being flexible.
NEW ORLEANS -- If ever a coach had earned the right to be stubborn about his system, it'd be Bud Foster.
He has coordinated Virginia Tech's defense for the past 16 seasons, and the unit has finished in the top 12 nationally on 10 occasions (the Hokies currently rank 13th in total defense). He has had 34 players drafted in the NFL, 45 different players score touchdowns and at least one player earn All-America honors in all 16 seasons.
The pillars of Foster's defenses -- speed, athleticism, pressure, opportunistic play -- have become synonymous with Virginia Tech's program.
Foster could enter rooms with "My Way" blaring in the background if he wanted to. But he doesn't.
His success isn't tied to stubbornness. He has adapted over time, while maintaining an attacking foundation.
"It's changed a lot but it hasn't changed a lot," Foster said Friday. "We were more of an eight-man front group in the mid-1990s through probably the mid-2000s. You were seeing a lot more two-back offenses at that time. ... We've just tweaked things year in and year out. We're always trying to make it a little better."
Michigan made more than a few tweaks in its offense this year, as coordinator Al Borges integrated some of his pro-style elements while maintaining a spread framework. The results were predictably choppy, but Michigan still scored more points (410) than it did in 2010, when the offense set several team and individual records.
Although Foster has led the Virginia Tech defense since 1995 and Borges had led the Michigan offense only since January, both have benefited from being flexible.
"He's like we have been offensively," Borges said of Foster. "Their defense is ever-evolving."
The next step in the evolution takes place Tuesday night at the Allstate Sugar Bowl, as Virginia Tech's defense and Michigan's offense square off in a fascinating matchup.
Both units faced some obstacles to reach this point. A look at Virginia Tech's defensive depth chart shows seven sophomores and a freshman in the starting lineup. The Hokies were hit particularly hard by injuries this season, losing starters Antoine Hopkins, Jeron Gouveia-Winslow and Bruce Taylor as well as key reserves like Kwamaine Battle.
Despite the losses and the abundance of youth, Virginia Tech maintained its standards on defense, ranking in the top 20 nationally in scoring defense (17.2 ppg), total defense (313.9), pass-efficiency defense (111.8), rushing defense (107.8 ypg) and sacks (2.92 spg).
"[Foster] has enough flexibility," Borges said. "He's been there a long time. That system, although he's got some young players, that system that he has ... they know it. ... You're not teaching every little tiny thing, and you can start dealing more with nuance and things like that. Bud's at that point because he's been there so long."
Borges inherited a more seasoned offense and benefited from a lack of major injuries. His challenge was blending what he had done for decades with personnel suited to a vastly different scheme, particularly junior quarterback
Denard Robinson
.
"You can see they've done a great job adapting to their talent," Foster said. "But then, there's nothing real fancy about them, either. They're going to line up and hit you in the mouth and be physical."
Virginia Tech must not only contain Robinson on Tuesday night but be wary of Michigan's power game, which features sophomore running back
Fitzgerald Toussaint
and a big offensive line led by All-America center David Molk.
While the Hokies boast good size at defensive tackle, they're giving up a few pounds elsewhere. Sophomore defensive end J.R. Collins checks in at 240, while outside linebacker Alonzo Tweedy weighs just 189 pounds.
"We obviously have to get off on the football and be physical," Foster said. "That's what [Michigan] is going to do."
Virginia Tech has faced mobile quarterbacks in the past -- former West Virginia star
Pat White
among them -- and practiced against one the past few seasons in Tyrod Taylor. But linebacker Jack Fuller said Robinson gives the Hokies a look they haven't seen this season.
The closest comparison, according to Tyler, is Clemson's
Tajh Boyd
, who torched the Hokies in the ACC title game (240 pass yards, 3 TDs).
"But [Boyd's] not much of a scrambler," Fuller said. "He's quick and he can run the ball, but they look for Denard to run the ball. They have set plays for him and that's part of their offense, getting him to run the ball and getting that extra blocker."
Michigan also must adjust to some different elements from Virginia Tech, which doesn't shy away from press coverage and has the athletes to do so.
"It is a challenge," Robinson said. "They have some unique defenses and great athletes."
Added Toussaint: "They are very athletic at every position and play every play with maximum effort."
Virginia Tech's defense and Michigan's offense both should be improved in 2012, as only a handful of players depart each unit.
Both groups will look to use Tuesday night's game as a springboard.
"This is a big step for all of us," Toussaint said.
December, 30, 2011
12/30/11
10:00
AM ET
NEW ORLEANS -- Before the SEC invades the Big Easy for the national title game, the Allstate Sugar Bowl kicks off Tuesday as No. 11 Virginia Tech and No. 13 Michigan meet in the Mercedes-Benz Superdome.
Although the matchup has been panned nationally, it pits two teams with somewhat similar profiles and the same goal: a place among the nation's elite.


Bloggers Heather Dinich (ACC) and Adam Rittenberg (Big Ten) are on hand and debate the matchup.
Adam Rittenberg:
HD, always a pleasure. Looking forward to ringing in the new year in NOLA. Few outside the Ann Arbor and Blacksburg areas were too thrilled to see this matchup in the Sugar Bowl, but there's no shortage of intriguing storylines. Michigan is back in a BCS bowl for the first time in five years. Virginia Tech is trying to win just its second BCS bowl game in the past seven attempts under coach Frank Beamer. The Wolverines ended the season playing arguably their best football, as they thumped Nebraska and ended The Streak in The Game against Ohio State. Virginia Tech, meanwhile, comes off of its worst effort of the season after being crushed by Clemson in the ACC title game. What's the mood of the Hokies heading into a game where few think they belong?
[+] Enlarge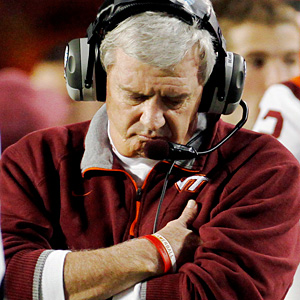 AP Photo/J Pat CarterFrank Beamer and the Hokies are 1-4 in BCS bowl games.
Heather Dinich:
Adam, let me tell you the emotions have been charged, and the disrespect hit defensive coordinator Bud Foster particularly hard. To put it mildly, he's a bit peeved anyone doubts Virginia Tech's place in the BCS. Frank Beamer is making no apologies, and his son, Shane, is following in his footsteps. The players know, though, that they need to perform better in these big games in order to gain some national respect. It's hard to forget the drubbing they took from Stanford last year in the Discover Orange Bowl. Here's the thing, though: The Hokies are ranked
higher
than Michigan in the BCS standings. Why aren't the Wolverines spending as much time as the Hokies answering why they deserve to be there?
Rittenberg:
It's because of the way Michigan finished as opposed to Virginia Tech. You're always judged by your last game, and Michigan's last was a win against Ohio State, its first in the series since 2003. The Wolverines also put together their best performance of the season the week before against Nebraska, crushing the Huskers 45-17. While many believed a Michigan State team that beat Michigan and won the Legends division was more deserving of a BCS at-large berth, the Spartans didn't finish in the top 14 of the final BCS standings. Few thought a Michigan team that finished in the top 14 would be passed over, especially a Michigan team that hadn't been to a BCS bowl since the 2007 Rose and boasts one of the best brand names and largest fan followings in the country. Oh, did I touch a nerve bringing up the fan base thing? I know Virginia Tech had its, um, difficulties with Sugar Bowl ticket sales. C'mon ACC, you got an at-large berth! Time to act like a big-boy conference!
But I digress. Let's talk about what's happening between the lines. Michigan's defense has been the biggest reason why the team won 10 games. No unit in college football made a bigger one-year improvement than the Wolverines. But they'll be tested in this game by Virginia Tech's rushing attack, led by the speedy and talented
David Wilson
. How do you think Virginia Tech's offense matches up against Greg Mattison's D?
HD:
I think they're going to struggle, to be honest with you. They couldn't get anything going against Clemson's defense, and Michigan's is better. It all starts with the running game, though, and I think Wilson has a chance to get his yards and will fare better than the season-low 32 yards he had in the title game. With that being said, Virginia Tech can't afford to get into too many third-and-long, and second-and-long situations. What worked for Clemson was the fact that the Tigers were pretty good on first downs and took away some of the Hokies' ability to run and forced them to win with the passing game. They began to press, never got into a rhythm, and Virginia Tech isn't at its best when it's one-dimensional. They've been good up front, though, and they've got a talented group of receivers, and one thing that's really fun to watch is defenders trying to bring down "Thomas the Tank." Quarterback
Logan Thomas
is built like Cam Newton, and he's not easy to tackle. He's been great in short-yardage situations. He's no
Denard Robinson
, though, and to me that's the main task for the Hokies: Slowing down Robinson. How do you think he'll fare against Bud Foster's defense, which has been one of the best in the country this year despite numerous injuries to key players?
[+] Enlarge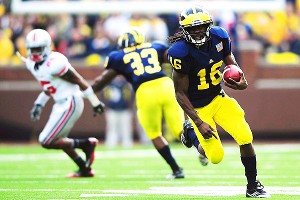 Andrew Weber/US PresswireSlowing down 'Shoelace' will be among the biggest challenges for the Hokies.
Rittenberg:
This is the game's pivotal matchup, in my view. If Robinson can do his best
Tajh Boyd
impression on Tuesday night, Virginia Tech is in trouble. But Michigan fans thinking the Hokies' defense will lie down again likely are mistaken. Virginia Tech always has tremendous talent on defense, and Foster, like Mattison, is one of the nation's best defensive coordinators. The good news for the Wolverines is Robinson ended the season playing his best football. He dealt with injuries midway through the season and regressed as a passer while adapting to an offense that maintains the look of a spread but features pro-style passing elements (deeper drops, more vertical routes). Robinson seemed to find his groove against Nebraska and had arguably his most polished performance as a Wolverine against Ohio State, completing 14 of 17 passes for 167 yards and three touchdowns and adding 170 rush yards and two scores. If he comes near that effort in the Dome, the Hokies are in trouble. But Robinson also makes mistakes. A ton of them. He has thrown 14 interceptions this season, three more than he had all of 2010. Michigan's defense repeatedly bailed him out and didn't make those giveaways sting.
How do you expect Foster to approach Robinson as well as running back Fitz Toussaint, a guy few are talking about who performed very well in Big Ten play?
HD:
It's hard because they're both so talented, but even with Toussaint's success, I think Robinson has to be the focus in the practices leading up to this game. A lot of times coaches will assign a guy who's "a spy," to constantly watch Robinson, and I would guess Foster would take that same approach and use a linebacker or strong safety to watch Robinson on each play and mirror him. The other thing is just in the preparation for him. They've got to spend plenty of time getting ready for the speed option, quarterback counter, things like that, and his speed will be hard to simulate in practice. The good thing for the Hokies is that they've grown used to going against former quarterback Tyrod Taylor in practice every day, so they know what it's like to face a quarterback who can move. When Robinson is most dangerous, at least to me, is when he goes to throw and nobody is open and he just makes something happen with his feet. That's something defenses can't account for. By having that spy, though, it takes away from everything else and limits coverages and blitzes, but teams have to do it or they're in trouble. This is why Foster has one of the most lucrative contracts in the country, though, to figure this out. If I really knew the answer, I might put my name in at Penn State. Like you said, this is the biggest key to the game, but it's not the only one. What's your final verdict on what will separate these teams in the end?
Rittenberg:
I'm officially starting the Dinich-to-Penn State buzz! The game could come down to whether Virginia Tech can force turnovers and, more important, make Michigan pay for its mistakes. The Wolverines survived a lot of Robinson errors in the first 10 games, thanks largely to their defense. If Robinson indeed has moved past those mistake-prone days, as appeared to be the case against Nebraska and Ohio State, it will be tough for Tech to slow him down for four quarters. Another big key, at least for Michigan, is Toussaint and the ability to have a second rushing threat in the backfield. Fitz recorded 120 rush yards or more in four of Michigan's final five regular-season games. On the other side of the ball, it's all about Wilson vs. Michigan's defensive line. It's strength against strength, and the team that has the edge will be in good shape to win this game.
OK, you get the last word. What factors will determine who leaves the Superdome with a sweet feeling Tuesday night?
HD:
Well, like we mentioned I think the biggest factor will be Virginia Tech's defense against Robinson, but to break it down a bit further, I think the Hokies have to win up front on the defensive line. They've got a young group, including two true freshmen at one of the defensive tackle spots, and Michigan's offensive line has four guys who have started all 12 games. That group is a big reason why Toussaint and Robinson have had so much success. One more key for the defense would be to make the stops on third downs. Michigan is No. 12 in the country in third-down conversion percentage. Also, I think it's important Virginia Tech gets back to running the ball well so it can control the clock. They've got to sustain some drives, and when David Wilson is rolling, so is the rest of the offense. Virginia Tech is ranked higher in the final BCS standings, but to me, they've got the bigger challenge and more to prove. See you in the Dome.