September, 2, 2013
9/02/13
12:45
PM ET
Northwestern was
among the nation's healthiest teams in 2012
. According to Phil Steele, the Wildcats only lost five total starts because of injuries last fall.
Pat Fitzgerald's squad isn't as fortunate this season.
Fitzgerald announced Monday that starting cornerback
Daniel Jones
will
miss the season
after suffering a left knee injury late in the first half of Saturday's opener against California. Jones, who had to be carted off of the field after a play in the end zone, will undergo surgery.
The 5-foot-11, 175-pound Jones started seven games last season and recorded 33 tackles and four pass breakups. He beat out challengers
Dwight White
and
C.J. Bryant
to start opposite standout
Nick VanHoose
. Jones used his redshirt season in 2010, so he would need to get NCAA approval to get this year credited back.
Although Northwestern has more secondary depth now than in past years, Jones' loss certainly stings as pass defense always is a concern for the Wildcats. Cal's
Jared Goff
passed for 445 yards against Northwestern in his college debut, often picking on White, who replaced Jones.
The news isn't as bad about Northwestern's starting offensive backfield of quarterback
Kain Colter
and running back
Venric Mark
. Both are day-to-day for this week's home opener against Syracuse. Colter left the Cal game on the first series after suffering an apparent concussion. Mark played sparingly as a running back and not at all on returns. Fitzgerald said Monday that Mark has a lower-body issue and wasn't 100 percent coming out of preseason camp.
Northwestern's offense will be fundamentally different when Colter and Mark get healthy. We'll see if they're on the field together Saturday night against Syracuse.
May, 3, 2013
5/03/13
8:00
AM ET
2012 record:
10-3
2012 conference record:
5-3 (third in Legends division)
Returning starters:
Offense: 8; defense: 7; kicker/punter: 2
Top returners

RB
Venric Mark
, QB
Kain Colter
, QB
Trevor Siemian
, C
Brandon Vitabile
, WR
Christian Jones
, TE
Dan Vitale
, S
Ibraheim Campbell
, CB
Nick VanHoose
, DE
Tyler Scott
, LB
Chi Chi Ariguzo
, K
Jeff Budzien
Key losses
G
Brian Mulroe
, T
Patrick Ward
, DT
Brian Arnfelt
, LB
David Nwabuisi
, DE
Quentin Williams
2012 statistical leaders (*returners)
Rushing:
Venric Mark* (1,371 yards)
Passing:
Trevor Siemian* (1,317 yards)
Receiving:
Christian Jones* (417 yards)
Tackles:
Damien Proby
* (112)
Sacks:
Tyler Scott* (9)
Interceptions:
David Nwabuisi and Nick VanHoose* (3)
Spring answers
1. Secondary options:
Northwestern has had major issues in the secondary during the past 15 years or so, but the group took a step forward in 2012 and should take another one this fall. Improved recruiting efforts throughout the defense are starting to pay off, and it showed up at both the cornerback and safety spots this spring. Young players such as safety
Traveon Henry
and cornerback
Dwight White
had strong springs, and the Wildcats are able to go at least four deep at both spots. "Our secondary runs as well as it has at all four positions," coach Pat Fitzgerald said.
2. Depth emerging at WR, RB:
The Wildcats bring back almost every offensive skill player from 2012, but they saw depth at both wide receiver and running back improve this spring. Fitzgerald and his offensive staff were pleased with the spring performances of veteran receivers Christian Jones and
Rashad Lawrence
. Jones and sophomore tight end Dan Vitale should boost the passing game in the middle of the field. The Wildcats also have plenty of insurance behind All-Big Ten running back Venric Mark. They can go four deep at the position as redshirt freshmen
Stephen Buckley
and
Malin Jones
both showed flashes this spring.
3. Living on the edge:
Like the secondary, Northwestern's defensive line made progress last season, especially with the pass rush. There's a chance to make more this season, especially at the defensive end spot. Tyler Scott returns after tying for the Big Ten sacks lead, and the Wildcats boast three young speed rushers --
Dean Lowry
,
Deonte Gibson
and
Ifeadi Odenigbo
-- who had some impressive moments this spring. Lowry is the furthest along in his development, but both Gibson and the ultra-athletic Odenigbo will be part of the rotation.
Fall questions
1. Walk that line:
Offensive line is undoubtedly the biggest question mark for Northwestern entering the season. Several projected starters missed spring practice following postseason surgeries, which allowed younger players like tackle
Shane Mertz
and guard
Adam DePietro
to get a bunch of reps in practice. The Wildcats are set at left tackle (
Jack Konopka
) and center (Brandon Vitabile), but there will be plenty of competition at the other three spots in preseason camp. Northwestern needs to set its starting rotation fairly early and then build that all important chemistry before the season kicks off.
2. Filling gaps on defense:
There's more overall depth on defense entering 2013, but Northwestern has to fill gaps in all three areas of the unit. Henry likely locked up a starting safety spot this spring, but the cornerback spot opposite Nick VanHoose will feature plenty of competition in camp between White,
C.J. Bryant
and
Daniel Jones
. Northwestern also needs a third starting linebacker, where
Drew Smith
and
Collin Ellis
will compete. And defensive tackle might be the team's thinnest spot on defense. It'll be important to see some progress there in camp.
3. Shaping the offensive identity:
Northwestern seemed to run two or three different offenses in 2012 and endured a
midseason identity crisis
that, in my view, cost it at least one game and maybe two. That's the danger of using a two-quarterback system, which will remain for the 2013 campaign. Northwestern is looking for a bit better run-pass balance as it has enough weapons at receiver and tight end to attack defenses more through the air. Fitzgerald thinks he can win a Big Ten title with both Kain Colter and Trevor Siemian at quarterback, but figuring out exactly what the offense will be remains a challenge that continues in preseason camp.
May, 14, 2012
5/14/12
2:30
PM ET
COLUMBUS, Ohio --
Bradley Roby
came to Ohio State with a specific plan mapped out.
Redshirt the first year, in part because the Buckeyes had two senior starters returning at cornerback (
Chimdi Chekwa
and Devon Torrence). Check.
Earn a starting job as a redshirt freshman and keep it throughout Year 2 in the program. Check.
Cover the Big Ten's best wide receivers -- including four selected in last month's NFL draft -- both in games and in Buckeyes practices. Check.
"That's what I put all my efforts into," Roby told ESPN.com, "and I'm glad it came to fruition."
One item not included on Roby's plan was upset a future first-round pick with both skills and trash talk. But he succeeded in doing so during Ohio State's victory at Illinois in October. Roby held Illini star receiver
A.J. Jenkins
to 80 yards and no touchdowns -- Jenkins came in averaging 135.8 yards and 1.2 touchdowns per game. Roby also set up Ohio State's first touchdown with a 36-yard interception return.
Roby had
sparked some fireworks earlier in the week
when he described Jenkins as "decent, but he's nothing special, really." Jenkins had proclaimed himself the Big Ten's top receiver earlier in the season, and he had been backing it up. Roby now says the media spun his comments "out of control" but admits his words added excitement to the game.
The Buckeyes cornerback doesn't hide the fact he likes to talk trash during games, but most of his targets don't return fire. Jenkins did.
"I guess that's because I got in his head," Roby said. "Because if they're not responding to you, most likely they're trying to ignore you. But if they're yelling back at you, it means you're getting to them. So keep doing it."
Roby will keep yapping, and he'll continue seeking out the best competition. Last fall, he lined up across from standouts like Michigan State's
B.J. Cunningham
and Wisconsin's
Nick Toon
. He already has watched some tape of California standout
Keenan Allen
, a first-team All-Pac-12 selection in 2011 who will visit Ohio State in Week 3.
The 5-foot-11, 190-pound Roby also challenged himself in practice by seeking out
DeVier Posey
, Ohio State's top receiver. Posey played in just three games last season because of suspension, but was drafted in the third round in April.
"I always would want to go against DeVier last year to make sure I'm getting better," Roby said. "You only get better when you go against better people. If you can hang with DeVier, you can hang with any receiver in the Big Ten."
Ohio State's lack of depth at receiver entering 2012 is well documented, and asked who he sought out this spring, Roby replied, "Nobody, really." Still, he has a good eye for talent. When we talked two days before Ohio State's spring game, Roby spotted freshman Michael Thomas walking by and told me to look out for him. Thomas ended up recording 12 catches for 131 yards in the spring game.
Roby spent much of the spring working on off-man coverage, a focal point for new secondary coaches Everett Withers and Kerry Coombs. Ohio State played mostly press coverage in 2011 and will continue to do so, but off-man will be a bigger part of the scheme going forward. Roby welcomes the change.
"If you're a good athlete, anybody can play press," he said. "Coach Withers told me that's one thing in the [NFL] a lot of corners don't know how to do when they come from college. They just press, and they can't play off-man. Some teams need their corners to play off-man, so if you can't do that, you can't play. So me being able to learn this at this age, having three years left eligibility-wise, it will definitely help me by the time I get to that next level."
The next level is certainly part of Roby's plan, and broadening his coverage skills is crucial in taking that step.
"Technique, eyes in the right place, making sure you stay low," he said. "You've got to be disciplined to play off-man, because one false move, it's a touchdown."
Roby made some false moves during his first season in the fire, but he also showed he's a playmaker, tying for the team lead in interceptions (3), leading the team in pass breakups (6) and adding a forced fumble and 3.5 tackles for loss. The rapid rise didn't surprise Roby, who, in case it's not obvious, oozes confidence.
"To be a DB, you've got to have that," Buckeyes safety
C.J. Barnett
said. "You've got to think you're the best out there, because you don't have confidence, you're going to get beat. Roby, he exerts that. I really wasn't surprised by what he did last year. We all knew that he was good. He just needed his time and he stepped up."
March, 6, 2012
3/06/12
10:30
AM ET
Spring football is under way at Northwestern, which returned to the practice field Saturday. The Wildcats say goodbye to a decorated senior class, which included quarterback
Dan Persa
, and must fill several key spots on both sides of the ball. Head coach Pat Fitzgerald has an emphasis on learning and fostering new chemistry on the team, as the Wildcats' leadership features several new faces. The 2012 season will be crucial for Northwestern, which has reached four consecutive bowl games but also seen its wins total drop every year since 2008.
ESPN.com recently caught up with Fitzgerald. Here are his thoughts:
What have been some of your emphasis points from the end of the bowl game and your objectives in spring ball?
[+] Enlarge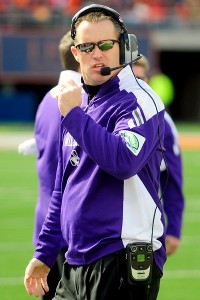 Reid Compton/US PresswirePat Fitzgerald, the Wildcats' coach since 2006, led Northwestern to a 6-7 record last season.
Pat Fitzgerald:
Every year you look for ways you can improve and build upon your past, but it's always a new team. Obviously, we've got a lot of young men that graduated who were very dynamic for us over the last four years, multiyear starters who laid a tremendous foundation of success for our program. Now you have to come together with this team and number one, we want to build better chemistry with this team. Eight of our 12 leadership council members, it's their first year, so it's kind of indicative of trying to forge the chemistry, player to player.
Is it a better chemistry or a new chemistry?
PF:
Every time you get to the offseason, you fall into that trap, is it better or worse? More importantly, it's always new. It's new guys jelling, guys assuming new roles and the natural progression. The guys have done a tremendous job. I look forward to watching to see how we do when somebody punches you back in football.
Were you surprised at how last season turned out? Some guys were talking about contending for a Big Ten title and you end up at 6-7.
PF:
Well, we had a tough five-game stretch. That overshadows anything else that we did. What we look at it is we stayed the course and fought through it. You can point back to multiple plays and calls on our end and what we did schematically as coaches, you vet through all that stuff and you look at how close we were. It's easy to point blame and point fingers. It's more important to create some solutions and through that, you always start with the way you're teaching and coaching, and what you're asking guys to do schematically. Are we playing to their strengths? Because of maybe a little youth and inexperience, are we asking them to try to do too much? And I thought we adjusted. Obviously, you don't want to go through what we went through, and it was our fault. You look back and say, we adjusted, but did we adjust fast enough? Hindsight's always 20-20, but you learn from it, you grow and then you educate the guys on why it happened and how we're going to be stronger moving forward. What did we win, four of our last six games? So we finished strong. Obviously, you'd love to have back the last one here at home. And in the bowl game, we played two really good quarters and two quarters that beat ourselves, so we've got a lot to learn from. I wouldn't say I was surprised. No matter what you predict, you never know how it's going to go.
What are some things you can do at this time of year from a communication standpoint, from a learning-the-game standpoint or a schematic standpoint to remedy some of the things?
PF:
Absolutely. We've taken the approach of Football 101 this whole offseason. Not only what we're doing schematically, but why we have things structured the way we do, going deeper into the why we do what we do to help guys understand and appreciate conceptually what we're trying to achieve as a program. Same thing schematically in all three phases. And then to build the team and build the chemistry. We've got to have a lot of things much further along at the end of spring ball. Then we've got to take another step at the end of the school year and in the summer.
How do you emphasize the why more? Not just what you're doing but why you're doing it.
PF:
Every resource you have capable of a teaching tool, you use. Each guy learns a little bit differently. Some guys can look at it on paper and get it. Most guys have to look at it on paper, see it on video, walk through it, go experience it, learn from it, fail at it, do well at it. It's a process. It's not just one cookie-cutter way to do it. You've got your structure, but then you've got to adjust it based on the way guys are picking it up. And as a teacher, you always have to make sure what you're doing is productive and you're seeing the result equal what you believe you're teaching.
What do you want to see out of your quarterbacks in spring ball?
PF:
Number one, I want to see them improve from where we were at the last time we were with them. All three guys were involved with bowl practice and all three guys improved throughout that month. I want to see them lead the offense. I want to see them manage what we do and how we want to do things as far as schematics. And then I want to see them take over the leadership of the team.
Kain [Colter] obviously has played more than the others. What are you looking for from him in the spring to emerge as the next guy?
PF:
Number one, let's focus on what's important and that's for him to go out and fundamentally execute. There's no, 'You're the starter, all of a sudden everything changes.' So obviously let's go out and fundamentally execute and improve on the things we identify after watching the cutups. Going through bowl prep, there are some little mechanical things he's got to work on. And as a quarterback, when he gets on the field he has to make all 10 around him better. When you look at him, he's got that personality that guys just want to be around Kain. He's got a great attitude, he's very driven, he's very focused but still he's got a lot of compassion. He's just a great teammate. And then you watch the experience Trevor [Siemian] had last year. Those two guys will be a little bit further ahead, especially early, than Zack [Oliver], just because of their experience level.
Defensively, what are some areas you feel that need to be improved?
PF:
Obviously, looking back to a year ago, it's limiting explosion plays by communicating and [being better] technically and execution sound. Being better on third down, especially third-and-medium, where we've been really good in the past, and same thing with our pressure totals. We took a step backwards in all those areas. Up until the last two games of 2010, we were actually statistically better in a lot of areas on defense. We've got a lot to build from. We've got some solid experience coming back, and some guys stepping up as leaders, especially up front with three guys who have played a lot for us. A couple of them are young,
Quentin Williams
and
Tyler Scott
, and
Brian Arnfelt
. The linebackers,
David Nwabuisi
has played a lot of ball for us, and
Damien Proby
. And I'm very pleased with the steps that
Ibraheim Campbell
made a year ago. The last thing is continuing to work hard to create turnovers.
Ibraheim comes back in the secondary but you lose three starters there. Who do you look at to emerge there, especially at cornerback?
PF:
We've got great competition there. You look at a group of guys coming back who have played a lot of ball for us in different roles. As you look at the group,
Demetrius Dugar
and DJ,
Daniel Jones
, who have started games for us. We're really excited about a couple of our younger guys,
Nick VanHoose
and
C.J. Bryant
, who has been a role player in the kicking game. And the same thing with
Jarrell Williams
, who we redshirted last year like Nick, who we think is an explosive athlete.
Kain told me he thinks you'll be a more athletic team overall. Do you see that potential?
PF:
Yeah, I think we've recruited well, and we take pride in the way we develop our guys. I feel we've got pretty solid athleticism top to bottom. Now we've just got to develop that depth. You'd hope by toward the end of spring, you'd start to have some guys work toward solidifying some starting jobs at least for the start of camp. And then you hope you solidify that depth for the long haul in Big Ten play. We have 26 guys graduating, 21 guys we signed, 22 with Kyle [Prater] and our walk-on class coming in. So we'll look very different in the fall than we do in the spring.
What's the status of Kyle's NCAA waiver?
PF:
We really can't proceed until he matriculates into school, until we start spring quarter. Nothing is going to move forward until he gets into class, he gets going, all that stuff. Is there a goal to have it done by the end of spring? No. The goal is to work through it, to vet it and work with Kyle and his family and then the NCAA. The priority now is he's going to a new school, so get him to class, get him into a new dorm, here's the lay of the land. Those things are all much more important, get him healthy, make sure everything checks out. I obviously want to have [the waiver process] done by August.
What do you want to learn about this team by the end of the spring?
PF:
The big thing is I want to see us execute through better teaching. I want to see more consistency and execution, and there's multiple parts there, communication, technique, and then obviously the overall execution. I want to see the chemistry in a better place April 14 than we are today from being tested through football. And I want to get stronger. We're going to continue to work hard in the weight room and continue to do the things you have to do. But our priority right now is just to increase our football knowledge, our schematic knowledge and then obviously our knowledge of each other.
August, 24, 2010
8/24/10
12:00
PM ET
A lot of people won't be happy if the Big Ten moves The Game.
The game is the game because they don't play twice a year. You get one crack and that's it. It can make or break the season. Careers, both playing and coaching, are defined by it because the lack of a rematch raises the stakes. The single game increases the urgency of the present. Then the location on hallowed grounds -- either the glorious Horseshoe or the brilliant Big House, not some corporate event at Lucas Oil Stadium -- adds the perspective of the past. As such, the nature of the rivalry should be protected at all costs.
BIG TEN SCOREBOARD
Saturday, 12/27
Saturday, 12/20
Monday, 12/22
Tuesday, 12/23
Wednesday, 12/24
Friday, 12/26
Monday, 12/29
Tuesday, 12/30
Wednesday, 12/31
Thursday, 1/1
Friday, 1/2
Saturday, 1/3
Sunday, 1/4
Monday, 1/12
Tweets from https://twitter.com/ESPNCFB/lists/b1g