August, 26, 2014
8/26/14
8:00
AM ET
When you're watching Big Ten football on opening weekend, be sure to read between the lines.
Don't ignore new quarterbacks like
Wes Lunt
and
Tanner McEvoy
, or newcomer defenders like
Jabrill Peppers
and
Jihad Ward
, but the real gauge for some teams will take place in the trenches. There are several revamped lines in the Big Ten that will be under the microscope in Week 1.
Let's take a look:
Wisconsin defensive line versus LSU (in Houston):
The Badgers will start three new players up front -- ends
Chikwe Obasih
and
Konrad Zagzebski
, and tackle
Warren Herring
-- against talented Tigers running backs
Terrence Magee
,
Kenny Hilliard
and
Leonard Fournette
, the decorated incoming freshman. Herring and Zabzekbski have five combined career starts, while Obasih, a redshirt freshman, makes his debut on a huge stage.
"I really feel that in the pass rush aspect and in the containing the quarterback aspect, we are a little bit more athletic and we have a little bit more speed," defensive coordinator Dave Aranda told me last week.
Penn State offensive line versus UCF (in Dublin, Ireland):
Only one healthy starter (tackle
Donovan Smith
) returns for PSU's line, which has heard all about its depth issues throughout the offseason. The group will be tested right away by a UCF defense that returns nine starters, including the entire line. You can bet Knights coach George O'Leary will put Penn State's line under duress from the onset.
Ohio State offensive line versus Navy (in Baltimore):
Like Penn State, Ohio State brings back just one line starter (tackle
Taylor Decker
) from last year, and the unit's task became a lot tougher after the season-ending loss of quarterback
Braxton Miller
. The Buckeyes' new-look front must protect freshman signal caller
J.T. Barrett
and create some running room against a smaller Navy defensive line.
Northwestern defensive line versus Cal:
Both Wildcat lines have question marks entering the season, but the defensive front enters the spotlight after dealing with injuries throughout the offseason. Veteran defensive tackle
Sean McEvilly
(foot) is out for the season, and tackles
Greg Kuhar
and
C.J. Robbins
will get an opportunity to assert themselves against a Cal offense that racked up 549 yards against Northwestern in last year's game.
Purdue offensive line versus Western Michigan:
The Boilers simply weren't strong enough up front in 2013 and couldn't move the ball for much of the season. They should be better on the interior with center
Robert Kugler
leading the way. This is a great chance for Purdue to start strong against a Western Michigan defense that ranked 118th nationally against the run in 2013.
Michigan offensive line versus Appalachian State:
This isn't the Appalachian State team that shocked Michigan in 2007, but the Wolverines need to gain cohesion and confidence up front and with their run game. After a lot of line shuffling in camp, Michigan tries to get backs
Derrick Green
and
De'Veon Smith
going in the opener before a Week 2 trip to Notre Dame.
To the links ...
West Division
East Division
And, finally ...
April, 21, 2014
4/21/14
3:30
PM ET
EVANSTON, Ill. -- Defense wasn't the reason Northwestern went 5-7 in 2013.
Sure, the unit was on the field for the play that encapsulated a hard-luck season: a Hail Mary touchdown pass as time expired that gave Nebraska a 27-24 victory and set off pandemonium in Lincoln. Wildcats defensive coordinator Mike Hankwitz is right when he states: "We were five plays away from winning five more games, and we needed to make five more plays on defense somewhere."
The defense could have collected a few more takeaways in Big Ten play after a surge early in the season. It could have made another stop against Ohio State, Minnesota, Nebraska or Iowa that might have been the difference.
But if Northwestern's offense is anywhere close to its normal production, the team easily wins seven or eight games. End of story.
The offseason spotlight is on the offense as it ditches a two-quarterback system -- senior
Trevor Siemian
will be the sole operator -- and likely returns to its pass-first roots. Things are much quieter for the defense, which returns nine starters, including all four in the secondary. It's
possibly the team's strongest position group
.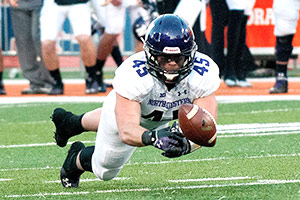 Bradley Leeb/USA TODAY SportsNorthwestern linebacker Collin Ellis is moving inside, hoping to help boost a defense that was a little too soft in the middle in 2013.
It's not a stretch to suggest this could be the strongest defense in coach Pat Fitzgerald's tenure. Northwestern can go two or three deep at every secondary spot, thanks to the emergence of several redshirt freshmen this spring. Veteran playmakers
Chi Chi Ariguzo
and
Collin Ellis
return at linebacker, and speedy ends
Dean Lowry
,
Ifeadi Odenigbo
and
Deonte Gibson
spark the pass rush.
But perimeter strength might not mean much if Northwestern doesn't firm up its core.
"Defensive football is a lot like baseball," Fitzgerald said. "You better be great at the catcher, pitcher and center fielder, the belly of your defense, and that shortstop and second baseman are plenty important, too. [In football] you've got to be strong at D-tackle, the linebacker position and safety. I'm not minimizing the ends and the corners, but if you don't have those things inside, the belly of your defense gets exposed.
"You can't stop people."
Northwestern didn't stop the inside run consistently enough in 2013. Ohio State's
Carlos Hyde
pounded away for 168 rush yards and three touchdowns on a night when quarterback
Braxton Miller
struggled. Other running backs -- Wisconsin's
Melvin Gordon
and
James White
, Minnesota's
David Cobb
, Nebraska's
Ameer Abdullah
, Michigan State's
Jeremy Langford
-- eclipsed 100 yards against the Wildcats, who surrendered 192 rushing yards per game in Big Ten play.
Injuries at defensive tackle, particularly the midseason loss of
Sean McEvilly
, hurt the Wildcats. Northwestern needs McEvilly and
Chance Carter
to stay healthy and
C.J. Robbins
and
Greg Kuhar
to keep developing. Both Robbins and Kuhar received increased practice time this spring as McEvilly missed the whole session following foot surgery and Carter missed the first nine workouts because of injury.
"Everyone knows the fastest way to get somewhere is straight down the middle," Carter said. "That goes with the D-tackles first. We're the first line of defense. We have to be more fundamentally crisp."
The safety spot should be fine as
Ibraheim Campbell
, an excellent run defender with 262 career tackles, anchors the secondary. But there are questions at middle linebacker as Ellis moves over from the strong side to replace
Damien Proby
.
Ellis, lighter than Proby at 233 pounds, admits he has to play the position differently, using his speed and lateral quickness.
"As a linebacking corps, we are quick," Ellis said. "What we're saying is the defensive tackles, if they get in the wrong gap, stay there and we can recognize that and fill."
If the defense can fill those gaps and firm up its midsection, it could be the reason for more Wildcats wins this season.
January, 16, 2014
1/16/14
11:00
AM ET
The offseason is here, folks, and we're taking a look at what each team must do in the long months ahead before the games begin again in late August.
Up next: the
Northwestern Wildcats
.

1. Establish an identity on offense:
An injury-plagued unit never got on track last season, finishing 10th in the Big Ten in scoring (26.2 points per game). The playbook definitely shrunk without standout running back
Venric Mark
, who is expected to receive a fifth season of eligibility and return this fall. Mark adds to an already strong stable of backs, but the team's most experienced quarterback,
Trevor Siemian
, undoubtedly is a pocket passer. Does Northwestern continue with a two-quarterback system (Siemian and
Zack Oliver
or
Matt Alviti
) or stick with one guy? Does it return to the pass-first scheme that proved effective in 2008 and 2009 or the run-pass mix that worked in 2012? These questions and others must be answered in the coming months.
2. Solidify the offensive line:
After several years of progress, the group took a step back last season, allowing 36 sacks, the second-highest total in the Big Ten. Northwestern must establish chemistry earlier and build some depth before fall camp rolls around. The potential good news is everyone returns, including veteran center
Brandon Vitabile
. There should be plenty of competition throughout the offseason to fill the other four spots and build some depth the Wildcats lacked in 2013. If Siemian is the starter, he'll need better protection, as he lacks the mobility of recent Wildcats signal-callers like
Kain Colter
and Dan Persa.
3. Bolster the defensive tackle spot:
Defense really could be Northwestern's strength in 2013, as the Wildcats should have their deepest group in the secondary in recent memory, as well as
Chi Chi Ariguzo
and
Collin Ellis
at linebacker. Three speed rushers return at defensive end, but the tackle spot is a bit cloudy after opponents averaged 167.7 yards rushing per game against Northwestern last fall. It will be important to keep
Sean McEvilly
healthy and find others around him like
Chance Carter
,
Greg Kuhar
and
C.J. Robbins
. Coach Pat Fitzgerald talked about getting stronger up front after a disappointing 2013 season, and the defensive tackle group certainly must respond.
More to-do lists
August, 30, 2013
8/30/13
4:00
PM ET
My mailbag will come to you just once a week from here on out, right around this time on Fridays. Don't forget to follow us
on Twitter
.
Have a great first football weekend! To the inbox ...
---
Craig from Braintree, Mass., writes:
Hi Adam. Just reviewed
your chat
today. In general, agree with your comments on Minnesota except the lack of depth. Yes they have areas of lack of depth -- LB, CB, WR -- but elsewhere they are deeper than last year. That depth, plus Nelson's additional experience, plus their bowl experience, is why I like the team better. I also think Kill's health is better and that can't hurt.
Adam Rittenberg:
Some good points here, Craig. I think we saw in
Thursday's opener against UNLV
how Nelson's experience last year paid off. He looked very comfortable moving around in the pocket, and his athleticism on designed runs also gives Minnesota a good weapon in the ground game. I'm still a little concerned at whether Minnesota's skill players will make an impact against good Big Ten opponents. The Gophers line struggled to dominate UNLV for much of the game and didn't show the physical play we saw in the bowl game against Texas Tech.
You're right that I overlooked some of the depth in the secondary despite losing corners Michael Carter and Troy Stoudermire. The Gophers have some playmakers back there. The good news is Minnesota won its opener easily and still has a lot of room for improvement. And we're all pleased that Coach Kill seems to have his health more under control.
---
John from Au Gress, Mich., writes:
As far as Defensive POY is concerned, it was interesting to see what a rival network found when it polled BIG players and coaches.
Max Bullough
was the runaway choice. Two things work against Max for this award (1) few journalists take enough time to recognize the value of a defensive quarterback like Bullough and (2) with all the "3 and outs" the MSU defense will force, he won't have enough tackles to get his due. Total tackles is an overhyped stat too. My first thought is the overall defense must stink if you get that many opportunities. Borland will probably lead the BIG with around 150 tackles and he would probably like to stay around 100. He seems like a great team guy, and would rather have the defense get off the field.
Adam Rittenberg:
John, some good points here, and I couldn't agree more about tackles being an overrated statistic, especially when it comes to linebackers. I would hope the award isn't given based on total tackles, as some standout defenders will be on the field a lot less than others. For me, it's between Borland and Bullough for this award. Both are the nerve centers of their respective defenses. If the Spartan Dawgs once again finish in the top five nationally, I'd have no issue with Bullough getting the hardware. Ultimately, Borland makes more impact plays than Bullough -- or any Big Ten defender, for that matter. Borland is just a freak in that way. Does it mean he's more valuable to his defense than Bullough? It's up for debate. Both are exceptional players, and
as I recently wrote
, both have a ton of respect around the Big Ten.
---
Curtis from San Angelo, Texas, writes:
You wrote, "Bad calls shouldn't be hidden from fans in the stadium when those at home see them replayed over and over." No, they probably shouldn't. On the other hand, replays of bad calls shouldn't be used like gasoline being poured on a fire, either. Not everyone enjoys going to a sporting event and hearing "fans" yell obscenities (sometimes en masse) at the officials for missing a call. As long as humans are involved, calls will be missed. Hopefully this won't backfire and lead to egging on rude behavior.
Adam Rittenberg:
Curtis, I think there's a compromise here, although the replays will be at the discretion of each Big Ten school. I agree that a controversial call shouldn't be replayed 20 times in super slo-mo in the stadium, but fans who pay good money to watch those games have the right to see what everyone else does at home. Big Ten officiating chief Bill Carollo wants his crews to be held accountable. He puts a lot of pressure on them to get it right. Sure, some fans will act like idiots, but the yelling at the officials is going to be there with or without the replays. It's important to enhance the game-day experience at a time when attendance is dropping a bit and the modern-fay fan wants more out of his/her Saturday afternoon.
---
Lone Wolf McCaw from Siberia, USSR:
I don't get it Adam, I don't. I see there are a lot of coaches that won't name who their starters are. Why? I get there are players and positions where you just don't know who is better, or want to see how they perform in a real game. But you can't tell me that, that is the case with all the teams that won't give out a depth chart. Are the coaches writers for a mystery TV show or something, and want to keep us guessing til the end? How does not revealing who your starters are benefit the team in any way, shape or form? I will hang up now and listen to your answer.
Adam Rittenberg:
Lone Wolf, as a media member in the business of information, you're preaching to the choir, brother. Some coaches think concealing their starting quarterback provides an advantage because opponents have to prepare for more than one player. I'm not sure I buy that. Teams have so much time to prepare for the opener that they almost overprepare. I think the secrecy has more to do with taking pressure off of the starter, and even the player or players who lose the competition. When you have a true freshman starter, as Penn State likely will with
Christian Hackenberg
, you can delay the heavy scrutiny until after he plays his first game. But I'm not a fan of keeping this under wraps.
---
Steve from Washington, D.C., writes:
Count me among the many Northwestern fans who are incredibly psyched for this season. I'm stoked to see the speed and talent that we have lined up on the defensive side of the ball. What keeps me up at night, though, is that we play in a conference known for power football, big linemen pushing up the middle with a big RB running behind them. Do you think NU will struggle to stop an up-the-gut power run game? Which matchups should I be particularly worried about in this regard?
Adam Rittenberg:
Steve, I think this is a fair concern, although Northwestern's run defense improved significantly in 2012, going from 84th in 2011 to 21st last year (127.6 ypg). The big issue is the loss of defensive tackle Brian Arnfelt, hardly a household name around the Big Ten but a huge part of Northwestern's success against the run. The Wildcats lack depth at defensive tackle and need
Sean McEvilly
to stay healthy and others (
Will Hampton
,
C.J. Robbins
) to step up. Standout safety
Ibraheim Campbell
also plays a huge role in stopping the run. Campbell might be Northwestern's most valuable player, especially against teams like Wisconsin that run the power.
---
Adam from DC writes:
Ohio State lost seven starters from last year's squad, including all four defensive linemen and two of their three linebackers. OSU also won some close games last year and didn't exactly lead the conference in defense.You picked the OSU Defense for your fantasy team. Why so much faith in the 2013 OSU defense?
Adam Rittenberg:
Adam, it has more to do with how fantasy points are awarded for defense, at least in the
ESPN College Football Challenge
, which Brian and I use. Ohio State's defense actually recorded the most fantasy points (149) in the Big Ten last year, while Michigan State's defense, undoubtedly the best in the league, finished sixth in fantasy points (105). Defenses are
awarded points
for team wins, of which Ohio State will have plenty, and can pile up points for scoring touchdowns and forcing turnovers. Ohio State might not be the most stifling Big Ten defense, but I expect the Buckeyes to make a bunch of plays, even with all of their youth. The Buckeyes feature several big-play defenders like linebacker
Ryan Shazier
and cornerback
Bradley Roby
.
---
Jeff from San Diego writes:
I had a slew of Hawkeye questions for you, but really you can answer them all by responding to this one question; will Kirk Ferentz still be Iowa's coach in three years?
Adam Rittenberg:
In three years? Hmm, that's a very tough one. I'm inclined to say yes, but I'm not confident in my answer. That would put Ferentz in his 17th season at Iowa. Obviously, he has a
hefty contract that goes for much longer
, and maybe he'd like to keep coaching the Hawkeyes for another eight years. Still, it's a long time, and if the momentum doesn't turn soon, Iowa will face a tough decision with its highly paid coach. I don't think Ferentz is in danger this season, but he has to show some positive signs soon. The move to the West division and the soft schedules the next few years should help him.
---
Ben from Ann Arbor, Mich., writes:
Adam, where would you have put
Jake Ryan
in your preseason rankings had he been healthy? I'm thinking between Roby and Dennard, but I'd appreciate your unbiased opinion.
Joe from Columbus, Ohio, writes:
Really? No
Carlos Hyde
in the top 25? Does his three-game suspension (no charges by the way) really merit that much of a drop? Where would he have ranked had he not been suspended? I figured he would have be top 10/ top 15 for sure.
Adam Rittenberg:
Ben, I think we would have had Ryan around No. 11 or No. 12, behind both Roby and Dennard, who have a little more potential to be nationally elite than Ryan does. I'm a big fan of Ryan's playmaking ability, though, and can't wait to see him back on the field for the Maize and Blue. Joe, we were in a bit of a bind with Hyde because when we kicked off the rundown, his status for the season was very much in doubt and there had been some chatter that he wouldn't play this fall. We had to make
our full list
on the assumption that he wouldn't play. If the Hyde situation hadn't happened, you'd probably see him right around the No. 15 spot.
April, 10, 2013
4/10/13
5:00
PM ET
Every Legends Division head coach, along with a player from each of the six teams, participated in a Big Ten spring teleconference with the media on Wednesday.
Here are some notes and updates from those teams:

IOWA
After six practices, the Hawkeyes' three-man quarterback race between Jake Rudock, Cody Sokol and C.J. Beathard is "about where we expected," head coach Kirk Ferentz said. All three are receiving equal reps, and all are working with the first-, second- and third-team offenses. "At this point, it's a jump ball for all three guys," Ferentz said.
Accountability is a big theme this spring at Iowa after the team endured its worst season (4-8) in more than a decade. Ferentz said he can't bury his head in the sand after a season like last year's. "We have to do a better job in all areas and that starts with me," he said. Linebacker James Morris was candid about the legacy he'd like to leave at Iowa. "The mark we've left so far, if we're being completely honest, isn't a particularly good one," Morris said. "I'm not happy about it, but I'm excited we have one more opportunity to change things."
Ferentz said Sunday's open practice in West Des Moines gives Iowa a chance to say thanks to its fans in the central and western parts of the state. Hawkeyes players enjoy the chance to perform in front of their fans. "It's something to break the monotony of spring ball," Morris said. "This will be something different."
Morris wants to see Iowa's defense translate its red-zone effectiveness -- the Hawkeyes allowed only 15 touchdowns on 48 red-zone chances in 2012 and held opponents scoreless 10 times -- to the rest of the field. Better communication also is a focal point for the defense this spring.

MICHIGAN
Head coach Brady Hoke said the team will explore the possibility of adding a junior-college quarterback or a graduate transfer from an FBS program to address the position. Russell Bellomy, the projected backup, is scheduled for ACL surgery May 1 and could miss the entire season. Walk-on Brian Cleary is working as the No. 2 quarterback this spring behind Devin Gardner, and heralded recruit Shane Morris arrives in the summer. Asked generally about redshirting players, Hoke didn't sound as if he'd hesitate to use a player like Morris. "No matter if they're fifth-year seniors or true freshmen, the best players have to play," he said. "If you don't do your justice on playing the best players, you're going to cheat the kids on this team."
Both Hoke and left tackle Taylor Lewan praised the young players competing for the three vacant starting spots on the interior offensive line. Hoke has seen "a lot of progress" with players like Ben Braden, Kyle Kalis, Chris Bryant, Blake Bars and Joey Burzynski. Lewan sees more "maulers" along Michigan's line as the unit aims to be more physically dominant this season in a pro-set scheme.
Lewan said the experience of playing for Michigan and the opportunity to win a Big Ten championship led him to decide to return for his senior season rather than enter the NFL draft, where he likely would have been a first-round pick. He said his decision was his own, and that those who haven't played for Michigan can't truly understand the lure of remaining there. "There's no better decision I could have made than coming back to the University of Michigan," he said.
Lewan said defensive end Frank Clark could be on the All-Big Ten radar by the end of the season, while Hoke singled out Chris Wormley for having a strong spring with the D-line. Hoke said running back Fitzgerald Toussaint is progressing well as he recovers from leg surgery.

MICHIGAN STATE

MINNESOTA
Head coach Jerry Kill said injured offensive tackle Ed Olson (ankle) and defensive lineman Roland Johnson (knee) are both progressing well, and he expects both to be ready to go for fall camp.
Kill had high praise for safety Brock Vereen, saying he could follow his brother, Shane, into the NFL. "He's gotten better and better since we've been here, and he's turned into a great football player in our minds. We look for him to have a very productive year."
Vereen said the team is practicing with a new sense of confidence. "We're finally comfortable with coach Kill's system. We know what they expect from us. And that just makes it a lot easier to show up every day and do what we need to do."
Vereen on how far away the Gophers are from contending in the Legends Division: "We are closer than a lot of people think. If you look back to last season, a lot of those games we lost were in the fourth quarter. A loss is a loss, but at the same time, we were in a lot of those games. It's about pushing through, which is something we learned the hard way, but we still learned. ... I think we're going to shock some people this year."

Linebacker David Santos (arm) will miss a portion of summer workouts but will be back before the Huskers open preseason camp, head coach Bo Pelini said. Defensive linemen Vincent Valentine and Greg McMullen, who missed Saturday's spring game, aren't seriously injured and will be fine for workouts and camp.
Although Nebraska's defense had its ups and downs this spring, redshirt freshman linebacker Jared Afalava stood out. Pelini expects a lot of production this fall from Afalava, who is "probably further ahead of where I thought he'd be." Pelini also praised senior defensive end Jason Ankrah, saying the coaches gave him more freedom to move around this spring. "Hopefully, his best year is yet to come," Pelini said.
Senior quarterback Taylor Martinez expects Nebraska to throw the ball "a lot more" this season, mainly because of the team's strength at wide receiver with Kenny Bell, Jamal Turner and others. Martinez said expectations are extremely high for the offense, and that coordinator Tim Beck is more comfortable calling plays. "I'd rather throw the ball 30 times a game … get the football to those guys and let them do their thing," Martinez said. Pelini has no argument, saying "the best is yet to come" with Martinez at quarterback.
Martinez said the Memorial Stadium crowd was about as loud as he's ever heard it when 7-year-old cancer patient Jack Hoffman ran for a 69-yard touchdown in Saturday's spring game.

NORTHWESTERN
The Wildcats won't hold a traditional spring game this year but just a normal practice session. Head coach Pat Fitzgerald said 13 players had surgeries after the season, and the team was limited to eight healthy offensive linemen this spring. "We've had to tweak things, so that's why we've kept the same routine throughout all 15 of our practices," he said.
Some of the lesser-known Northwestern players who have had good springs, Fitzgerald said, included backup quarterback Zack Oliver, receiver Mike Jensen, superbacks Mark Szott and Jack Schwaba and defensive lineman C.J. Robbins. Fitzgerald said he's been "very, very impressed" by Robbins, who has been injured the past two years.
A question on offering prospects early prompted this response from Fitzgerald: "I have just a fundamental issue with offering a kid a scholarship that doesn't have a driver's license. Just barely shaving. And because he looks good in shorts doesn't mean he's going to be a great Big Ten football player. The glorification of these kids at a young age is unfair to them. It's putting unfair and unrealistic expectations on them."
Defensive end Tyler Scott, who Fitzgerald said is "poised to take the next step," said he's worked hard on becoming a more vocal leader this year and on his pass-rushing techniques. "I'm trying to bring more tools to that aspect of the defense," he said.
February, 9, 2011
2/09/11
12:00
PM ET
The Big Ten blog community gets larger Thursday. Roll out your welcome mat.
February, 3, 2011
2/03/11
11:00
AM ET
NORTHWESTERN WILDCATS
The class

Recruits:
17 (all high school seniors, no players enrolled early)
Top prospects:
The Wildcats added a heralded recruit to arguably their deepest position group in wide receiver
Christian Jones
, an ESPNU 150 selection from Spring, Texas. Northwestern also boosted both lines with offensive tackles
Jack Konopka
and
Shane Mertz
and defensive ends
Max Chapman
and
Deonte Gibson
.
Zack Oliver
could be the team's quarterback of the future.
Needs met:
Northwestern's defensive line underachieved in 2010, and the team tried to address the need with players like Chapman, Gibson and
C.J. Robbins
. Running back has been a problematic position during coach Pat Fitzgerald's tenure and the team hopes
Treyvon Green
and/or
Jordan Perkins
can help rectify the situation. Despite recruiting well to the offensive line in recent years, Northwestern added four more trailblazers up front.
Analysis:
Fitzgerald's fondness for redshirting freshmen results in smaller recruiting class, but the coach noted that this year's crop might be the deepest Northwestern has had in some time, and he could be right. The recruiting analysts like the top one-third to two-thirds of the class, and players like Jones, Green and superback
Mark Szott
could see the field early. If this class produces some productive defensive linemen and a potential answer at running back, it will labeled a success.
ESPN Recruiting grade:
C
December, 15, 2010
12/15/10
10:00
AM ET
Any time a coaching change is made, the potential of losing committed recruits increases.
Bill Lynch and his Indiana staff didn't win enough Big Ten games at Indiana, but they upgraded the program's recruiting efforts recently. Lynch and his assistants were good at identifying attainable prospects early in the process and getting them to commit well in advance of National Signing Day. The pattern was holding true for the 2011 class.
But Lynch's firing in November caused several Indiana recruits to look elsewhere. Two prospects that committed to Indiana, defensive end C.J. Robbins and defensive back Nick VanHoose, have switched their commitments to Northwestern this week.
VanHoose switched his commitment following a visit
to Northwestern this weekend, and
Robbins did the same
.
An interesting subplot is that new Indiana coach Kevin Wilson spent three seasons (1999-2001) as a Northwestern assistant and worked with Wildcats coach Pat Fitzgerald in 2001. Not sure if Fitz will be receiving a Christmas card from Wilson, but as coaches like to say, recruiting is recruiting.
Indiana may also lose heralded defensive back Raymon Taylor, who committed to IU this summer but
recently said he's looking around at other programs

. Taylor
visited Iowa during the weekend
. And another heralded defensive recruit, linebacker Zack Shaw, says
he remains committed to IU but recently visited West Virginia
.
Considering Indiana's chronic woes on defense, it's important for Wilson to get both Taylor and Shaw on board. The coach wants to take his time to hire a defensive coordinator, but as an offense-oriented coach, it's hard for Wilson to sell his vision without a defensive staff in place.
It will be interesting to see what Indiana's class looks like in February.