July, 8, 2014
7/08/14
3:30
PM ET
Just before the holiday last week, we took a look at some
Big Ten units that will be under pressure
to perform this season. Now we want your opinion on which groups have the most riding on them.
Cue David Bowie as we list the nominees under the most pressure:
Michigan's offensive line: The Wolverines allowed 36 sacks and averaged just 3.3 yards per rush last fall, and that was with future NFL draft picks Taylor Lewan and Michael Schofield. Michigan needs a lot of players to grow up quickly on the O-line to have any chance of competing for a division title this season.
Ohio State's secondary: The Buckeyes' pass defense collapsed at the end of last season and lost top cornerback Bradley Roby to the NFL. New secondary coach and co-defensive coordinator Chris Ash is bringing a more aggressive mindset while relying on young, athletic players like Vonn Bell, Tyvis Powell and Cam Burrows.
Penn State's receivers: Who will replace Allen Robinson? That's a major question in State College. Sophomore Geno Lewis and true freshmen DeAndre Thompkins, Saeed Blacknall and Chris Godwin are among the top candidates.
Wisconsin's quarterbacks: Incumbent starter Joel Stave is a lightning rod for fans, and he's not guaranteed to keep his job over Tanner McEvoy. Whoever earns the nod must help improve the Badgers' passing game -- and deal with LSU's defense in the opener.
Illinois' defensive line: The Illini were one of the worst teams in the country at stopping the run last season, giving up 238 yards per game on the ground. Junior college transfers Jihad Ward and Joe Fotu are expected to help, but if things don't turn around quickly, this team is going to struggle again.
Which unit is under the most pressure to succeed this year? Vote now in our poll.
July, 3, 2014
7/03/14
9:00
AM ET
Last week, we presented a poll on the Big Ten players
facing the most pressure
in 2014. But football, of course, is a team sport. So what about the league units that will be facing the most pressure this fall?
There's little doubt that the No. 1 unit under the gun is Michigan's offensive line. That group was not good last year, to put it kindly, allowing 36 sacks and paving the way for a paltry 3.3 yards per rush. And that was before the two best players on the line, tackles Taylor Lewan and Michael Schofield, got drafted into the NFL.
Virtually every offseason discussion about whether the Wolverines can improve in 2014 begins with the offensive line concerns. There is an inordinate amount of pressure for players like
Kyle Bosch
,
Kyle Kalis
and
Jack Miller
to improve. Michigan had a true freshman early enrollee, Mason Cole, taking first-team snaps at left tackle this spring. The experience level will increase with the return of
Erik Magnuson
, who missed the spring with a shoulder injury, and
Graham Glasgow
, who was suspended for part of the spring and for the opener against Appalachian State
after being arrested
. But there are hardly any proven graybeards around.
[+] Enlarge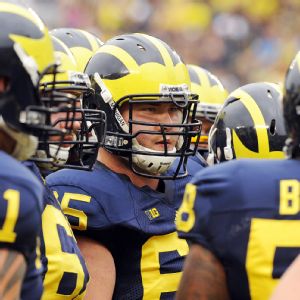 Lon Horwedel/Icon SMIKyle Bosch and the Michigan offensive line are one of the units that need to improve this season.
"A lot of it was youth," head coach Brady Hoke told ESPN.com this spring about the problems on the line last year. "We've got to make sure we're doing everything we can do to accelerate their development, to put them in positions where they can be successful."
New offensive coordinator Doug Nussmeier has simplified many of the blocking schemes, which the players embraced this offseason. Nussmeier -- who recently talked about the offensive line issues in
this podcast
-- wants to incorporate a downhill running game and a physical style, and that all starts up front. He's not going to turn the Wolverines' line into a carbon copy of the last team he worked for -- Alabama -- but hopefully he can make it into a respectable group.
If not, it will be a long year for
Devin Gardner
and probably another disappointing one for Michigan.
Here are some other Big Ten units facing pressure in 2014:
Ohio State's defensive backs:
The Buckeyes' offensive line has question marks as well, but the secondary will be under the most scrutiny. The Silver Bullets got shredded in the back end down the stretch last season, and that was with future NFL draft pick Bradley Roby around for most of it. Urban Meyer hired Chris Ash from Arkansas to be his co-defensive coordinator and defensive backfield guru, and Ash will try to mold younger players like
Vonn Bell
,
Tyvis Powell
and
Cam Burrows
into a more aggressive, playmaking conglomerate.
Penn State's receivers:
Sure, the Nittany Lions' O-line has major concerns, but as @flaveydavie asked on Twitter yesterday: "Penn State lost one of its biggest offensive weapons (Allen Robinson) last year. Who do you see filling that void?" Good question. Robinson was a special player, but he often didn't have much help. With him gone,
Christian Hackenberg
needs someone to catch his passes, and that could be sophomore
Geno Lewis
or a true freshman like DeAndre Thompkins, Saeed Blacknall or Chris Godwin. Penn State has a wealth of tight end options but will need to push the ball down the field to be effective.
Rutgers' secondary:
The Scarlet Knights' defensive backfield was hit hard by injuries and transfers last year and got picked apart while fielding the worst pass defense, statistically speaking, in school history. Several players who got thrown into the fire last year return, along with some recruits who could play right away. A new defensive coordinator should equal a more aggressive scheme. But cornerback
Ian Thomas
' departure -- again -- this summer was not a good start.
Wisconsin's quarterbacks:
We could have easily picked the Badgers' group of largely unknown and mostly unproven receivers. But the attention will be focused on who's under center, whether that is returning starter
Joel Stave
or competitor
Tanner McEvoy
. Wisconsin hasn't had great quarterback play since Russell Wilson left Madison, and whoever gets the job will be staring down LSU's defense in the opener.
Illinois' defensive line:
No Big Ten team was worse at stopping the run last year than the Illini, who gave up a whopping 238 yards per game on the ground. The problems all started with a lack of strength and push up front. Junior college transfers Jihad Ward and Joe Fotu were brought in to help shore up the unit, while there is hope for improvement from the likes of
Austin Teitsma
and
Teko Powell
. The Illini are gunning for a return to a bowl game this year, but they'll go nowhere fast if the D-line doesn't make major strides.
Iowa's linebackers:
The Hawkeyes like the talent they have here with projected starters
Quinton Alston
,
Reggie Spearman
and
Travis Perry
. Still, all three are relatively inexperienced, because
James Morris
, Christian Kirksey and Anthony Hitchens were such fixtures at linebacker the past few years. That trio of senior linebackers formed the heart and soul of Iowa's defense last year, and now their former backups have to make sure the level of play doesn't drop too dramatically.
April, 23, 2014
4/23/14
9:00
AM ET
COLUMBUS, Ohio -- Urban Meyer is always trying to find new ways to motivate his players.
Last spring, he had a banner put up in the Ohio State field house reading "The Chase …" in reference to the Buckeyes' championship pursuits. Meyer said he thought about changing the display for the 2014 offseason. In the end, though, he stuck with the same one.
"We didn't accomplish it," Meyer told ESPN.com. "We chased it but didn't catch it. So the chase is still on."
Ohio State, of course, nearly made it to its desired finish line. After going 12-0 for the second straight season under Meyer, the Buckeyes just needed to beat Michigan State in the Big Ten championship game to clinch a date with Florida State for the BCS national title. Instead, they fell 34-24 to the Spartans and closed the year on a two-game losing streak with a 40-35 setback against Clemson in the Discover Orange Bowl.
[+] Enlarge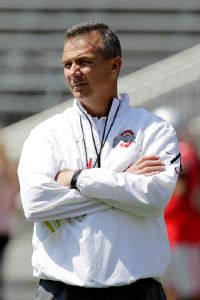 AP Photo/Jay LaPreteUrban Meyer says Ohio State is still trying to finish "The Chase."
So the chase continues, albeit with a much different-looking team in the 2014 starting gate. Gone is four-fifths of the offensive line that formed the backbone of the Big Ten's top-scoring offense the past two seasons. Also gone are reigning Big Ten running back of the year
Carlos Hyde
and top receiver
Corey "Philly" Brown
, as well as the two biggest stars on defense -- linebacker
Ryan Shazier
and cornerback
Bradley Roby
-- who opted to enter the NFL draft.
Experience is lacking in many key areas, but Meyer is ready to let some talented youngsters loose, including true freshmen. In retrospect, he wishes he had done so last year, when defensive end
Joey Bosa
and receiver
Dontre Wilson
were the only first-year players to make a big impact until safety
Vonn Bell
started in the Orange Bowl.
"We redshirted too many last year, and that was our fault," he said. "There was a misunderstanding, and we just didn't do a good job, especially on defense. When they show up on campus, we need to get them ready to play."
This spring, early enrollees
Raekwon McMillan
(linebacker),
Curtis Samuel
(tailback) and
Johnnie Dixon
(receiver) were all heavily involved and have secured roles in the fall. Redshirt freshman are also at or near the top of the depth chart at strongside linebacker (
Darron Lee
and
Chris Worley
) and cornerback (
Gareon Conley
and
Eli Apple
), while true sophomores like safety
Cam Burrows
and tailback
Ezekiel Elliott
could force their way into the starting lineup.
"When you talk about inexperience, that's a good thing right now," said Chris Ash, who was hired from Arkansas as co-defensive coordinator to help fix Ohio State's pass defense. "There aren't a lot of habits that we have to change to fit what we're trying to do. We don't have older guys that are comfortable with where they're at in their careers."
An already young offense became even greener this spring because of injuries to three senior leaders: tight end
Jeff Heuerman
, receiver
Evan Spencer
and quarterback
Braxton Miller
. The Buckeyes will no doubt look a lot different when Miller returns from shoulder surgery. During the 15 spring practices, the two-time defending Big Ten player of the year often stood behind the offense and wore a camera on his head so coaches could go over what he was seeing on the field.
"We're exhausting every avenue and even inventing different avenues to make sure he's engaged and getting mental reps," offensive coordinator Tom Herman said. "We're doing the best we can with a bad situation. He has embraced it and is working his tail off, making sure he's getting the most out of it."
Herman says the Buckeyes should be more explosive on the perimeter this season, with guys like Wilson, Dixon, junior college transfer
Corey Smith
, sophomore
Michael Thomas
and freshman
Jalin Marshall
at receiver and a stable of athletic tailbacks. The
safeties are longer and quicker
than they have been in the past, and the defensive line -- which could be one of the nation's best -- will have four starters who all used to be defensive ends.
The objective is clear: more speed. To that end, Meyer has hammered a new mantra in the players' heads: "4 to 6, A to B." That means play hard for four to six seconds and get from point A to point B as quickly as possible. It's hard to interview an Ohio State player these days without hearing the phrase.
"That's all he's been preaching this spring." defensive tackle
Adolphus Washington
said. "He said he's not really worried about technique and all that stuff. It's just about playing hard, because if you play hard, effort makes up for mistakes."
Washington said the defense was greatly simplified this spring, with only about four or five different calls to learn. Aggressiveness trumped scheme.
"The culture of Ohio State is to go hard, not trick you," Meyer said. "I just felt like there was too much stuff last year, instead of just going hard."
By moving faster and playing harder, the Buckeyes hope to overcome their youth and track down what they've been hunting. They have been tantalizingly close.
"We're still on a chase," Washington said. "We've just got to finish it."
April, 10, 2014
4/10/14
10:30
AM ET
COLUMBUS, Ohio -- Urban Meyer hired Chris Ash away from Arkansas primarily to fix Ohio State's problems in its pass defense.
What Ash found is that the biggest area of need might have been from the shoulder pads up rather than any scheme or philosophy.
"You talk about Ohio State and the history, and there have been some really good defenses and some really good defensive backs," the Buckeyes' first-year co-defensive coordinator and safeties coach told ESPN.com. "You knew what you were going to get when you lined up against Ohio State -- you were going to get hit in the mouth.
[+] Enlarge
Kirby Lee/USA TODAY SportsChris Ash says instilling a new attitude in the secondary is as important as any scheme he is bringing to Ohio State.
"From my observations, some of that confidence and swagger has been lost in the last couple of years. And that mental psyche is probably as big as anything for us to regain."
It's understandable why the secondary might have felt shell-shocked by the way last season ended. The last three games of the season saw Ohio State surrender 451 passing yards to Michigan in a one-point win, allow Michigan State's
Connor Cook
to register his first career 300-yard passing day in a Big Ten championship game loss and serve up five passing touchdowns to Clemson in the Orange Bowl defeat. That led to withering criticism from fans and media about the pass defense.
"It's been everywhere about how bad our back end was," senior cornerback
Doran Grant
said.
Ash said he hasn't looked much at the past and doesn't really care about it. But he does want the defensive backfield to play with an attitude and confidence, a task that's not made easier by the loss of three starters from last season.
One way Ash has tried to instill those traits is by showing his players clips from the Super Bowl champion Seattle Seahawks' secondary. Seattle's hard-hitting, long cornerbacks and safeties set a tone for its entire defense.
"We made lot of cutups of them and said, 'Guys, this is how the best in the business play the game of football,''' Ash said. "Are we going to be that? No, but we can be in our own way, and this is the way we need to play."
Ash wants his players showing energy and excitement on the field. So whenever a defensive back gives a great effort or celebrate a big play in practice this spring, you'll hear Ohio State coaches say, "Locker it." That's jargon for saving the video clip, which Ash will later show to his players in meetings.
Ohio State needed more change than just the mental side of the game, of course. Ash will help give the Buckeyes a more consistent and aggressive approach in its pass coverage, utilizing the Cover 4, or quarters, scheme. That will also feature some man-to-man, press coverage at times. It's kind of a combination of what Ash ran at Wisconsin, mixed in with some principals that Michigan State has had so much success with.
"We're taking the same approach that we take to stopping the run and putting it in the back end," Meyer said. "The feeling around here was as long as we stop the run and give up some passing yards, that's OK. That's not the case anymore. There are too many good throwing teams out there."
Grant is by far the most experienced player in the secondary and looks to take over the role of No. 1 cornerback after
Bradley Roby
's departure to the NFL. Working opposite him are junior
Armani Reeves
and redshirt freshmen
Gareon Conley
and
Eli Apple
. The latter two were both big-time recruits, and Ash said Apple is probably the defense's most improved player over the latter half of spring ball.
Sophomore
Vonn Bell
, who made his first career start at safety in the Orange Bowl, tore his MCL early in spring practice. In his absence, the 6-foot-3
Tyvis Powell
and the 6-foot
Cam Burrows
are taking first-team reps at safety. Both are former cornerbacks and are what Ash calls "the model of what we want to recruit here" at safety because of their speed and size.
They've got a long way to go to match the Seahawks, but the Buckeyes have very promising, if somewhat raw, athletes to work with. They hope that leads to a much better and more confident secondary this season.
"It's not about the size or anything like that," Grant said. "It's about going hard and being coachable. [The Seahawks are] a high standard, but Ohio State, we're also a high standard."
March, 6, 2014
3/06/14
3:00
PM ET
We're taking snapshots of each position group with every Big Ten team entering the spring. Up next: the defensive backs.

Illinois:
The secondary returns mostly intact from 2013, as Illinois returns starters at both cornerback spots (
V'Angelo Bentley
and
Eaton Spence
), as well as
Zane Petty
, who started the final seven games at free safety.
Taylor Barton
, who opened last season as a starting free safety, also is back. Building safety depth is important this spring as Illinois must replace
Earnest Thomas III
. Barton will compete with
Jevaris Little
and others for playing time. The depth is much better at corner as
Darius Mosely
and
Jaylen Dunlap
both saw significant action as freshmen last fall.

Indiana:
Like Illinois, Indiana returns a lot in the defensive backfield but must improve after struggling to stop opponents in 2013. The Hoosiers also lose only one starter in safety
Greg Heban
, a mainstay during the past four seasons. There's a lot of experience at cornerback with returning starters
Tim Bennett
(senior) and
Michael Hunter
(junior), along with reserve
Kenny Mullen
(senior). Decorated recruit
Rashard Fant
, who redshirted in 2013, will compete for significant playing time. Senior safety
Mark Murphy
will lead the secondary, and sophomore
Antonio Allen
could fill the other safety spot when he returns from an ACL tear. Building depth here always is a priority at IU.

Iowa:
The situation isn't as dramatic as the linebacker spot, but Iowa still must replace two productive players in cornerback
B.J. Lowery
and safety
Tanner Miller
, who combined for six interceptions in 2013. Lowery is the more significant loss, as he had 19 passes defended and three forced fumbles. The good news is
Desmond King
looks like a budding star and he will move into the featured role Lowery occupied.
Jordan Lomax
,
Sean Draper
and others will compete to start opposite King. Strong safety
John Lowdermilk
returns after a solid junior season. Lomax also could play free safety and will compete there with
Anthony Gair
and
Nico Law
, who both appeared in all 13 games last fall as reserves.

Maryland:
The back four aims for better results on the injury front and on the field in 2013. Maryland returns both starters at safety in
Sean Davis
, the team's leading tackler with 102 last fall, and
Anthony Nixon
, but there should be competition behind them with
A.J. Hendy
and
Zach Dancel
. The cornerback position is worth watching this spring as
Dexter McDougle
departs and
Jeremiah Johnson
remains limited by a toe injury.
Will Likely
has opened the spring as a starter, and
Alvin Hill
could rise up after recording 24 tackles last season.

Michigan:
The secondary took a step back in 2013 and
all jobs are open
even though Michigan returns two veteran cornerbacks --
Blake Countess
and
Raymon Taylor
-- and some experience at safety.
Jabrill Peppers
, the nation's No. 2 overall recruit according to ESPN Recruiting Nation, will play a major role for the Wolverines this fall, whether it's at corner, safety or nickel. Junior
Jarrod Wilson
started the first seven games of last season at free safety, and
Dymonte Thomas
is a good candidate to start at one of the safety spots. Michigan should expect more from this group in 2014.

Michigan State:
Will opposing offenses invade the
No Fly Zone
in 2014? Not if Michigan State can fill several spots, none bigger than
Darqueze Dennard
's at cornerback. Dennard, a unanimous All-American and the Jim Thorpe Award winner, departs to the NFL, and junior
Trae Waynes
slides into the featured corner role after a promising sophomore season. The competition opposite Waynes heats up this spring as
Ezra Robinson
,
Darian Hicks
,
Jermaine Edmondson
and
Arjen Colquhoun
compete. Free safety
Kurtis Drummond
boasts 21 career starts and enters 2014 as one of the league's top safeties.
RJ Williamson
likely will fill
Isaiah Lewis
' spot at strong safety, and
Demetrious Cox
provides depth.

Minnesota:
Like the Gophers' defensive line, the secondary loses a huge piece in
Brock Vereen
, who played both safety and cornerback last season. But there might be enough returning pieces to fill the void. Cornerback
Eric Murray
had a
very solid first season as a starter
, and Minnesota also brings back
Derrick Wells
and
Briean Boddy-Calhoun
, both of whom have starting experience. Leading tackler
Cedric Thompson
and
Antonio Johnson
finished last season as the starting safeties, and both are back. Senior
Grayson Levine
provides some experience in a reserve safety role.

Nebraska:
An important spring awaits new defensive backs coach Charlton Warren, who must identify new starters at cornerback, safety and nickel. The Huskers are replacing
Ciante Evans
and
Stanley Jean-Baptiste
, who combined for eight interceptions, 18 passes defended and 15 tackles for loss in 2013. Safety
Andrew Green
, who made 10 starts in 2013, also leaves. The good news is cornerback
Josh Mitchell
had an excellent bowl game and will fill a starting spot. Leading tackler
Corey Cooper
also returns at safety. There's not much experience at corner other than Mitchell, and
Daniel Davie
, Auburn transfer
Jonathan Rose
and others will compete. Nebraska brings back more at safety with
Harvey Jackson
, who made three starts in 2013, and junior
Charles Jackson
.

Northwestern:
That the Wildcats' secondary could be one of the team's biggest strengths seemed laughable three years ago, but it could be true this fall. All four starters return, led by safety
Ibraheim Campbell
, one of the Big Ten's most productive defenders (262 career tackles). The depth at cornerback looks strong as starters
Nick VanHoose
and
Matt Harris
return, along with
Dwight White
and
Daniel Jones
, who opened 2013 as a starter and is coming back from an ACL tear.
Traveon Henry
should start alongside Campbell, and there are some promising young safeties like
Godwin Igwebuike
.

Ohio State:
Pass defense proved to be Ohio State's downfall in 2013, and the Buckeyes' secondary will be under the microscope this spring as new assistant Chris Ash steps in. Ohio State loses All-Big Ten cornerback
Bradley Roby
and will lean more on
Doran Grant
, who started opposite Roby in 2013. Ash also expects big things from
Tyvis Powell
, who will start at one of the safety spots. Safety
Vonn Bell
finally logged significant playing time in the Orange Bowl and could become a permanent starter as a sophomore. Veteran
Ron Tanner
and
Cam Burrows
also are in the mix at safety. There should be good competition to start opposite Grant, as
Armani Reeves
tries to hold off redshirt freshmen
Gareon Conley
and
Eli Apple
.

Penn State:
After a season of moving parts and inconsistent plays, Penn State hopes for a more settled secondary.
Adrian Amos
, who alternated between cornerback and safety last season, will lead the group and brings plenty of experience.
Jordan Lucas
likely will start opposite Amos at cornerback after making strides toward the end of his sophomore season. PSU loses some leadership at safety with
Malcolm Willis
and
Stephen Obeng-Agyapong
departing and will lean on
Ryan Keiser
and
Jesse Della Valle
, both of whom have starting experience. Converted wideouts
Trevor Williams
and
Malik Golden
provide depth at cornerback and safety, respectively.

Purdue:
The rotation from 2013 returns almost completely intact, but Purdue loses a very big piece in cornerback
Ricardo Allen
, a four-year starter. Cornerback
Frankie Williams
enters his third year as a starter and will slide into Allen's featured role, while the competition for the other top corner spot will feature
Antoine Lewis
and
Leroy Clark
, among others. Purdue has plenty of experience at safety with
Taylor Richards
, who started every game in 2013, and
Anthony Brown
, who replaced the injured
Landon Feichter
and had 69 tackles. Feichter also is back from a broken leg.

Rutgers:
This group is anxious to turn the page after a season filled with personnel issues and poor performance (Rutgers finished 120th nationally in pass defense). Senior safety
Lorenzo Waters
leads the group after recording 62 tackles and two forced fumbles in 2013.
Johnathan Aiken
will try to start opposite Waters at free safety, although he'll be pushed by
Delon Stephenson
and
Tejay Johnson
, who started three games last fall.
Gareef Glashen
started six games last season and seems likely to retain one of the top cornerback spots. There will be competition at the other between
Anthony Cioffi
and
Nadir Barnwell
, both of whom started games as true freshmen in 2013. The most intriguing player to watch is cornerback
Ian Thomas
, who
returns to the team after quitting midway through last season
, one that he began as a starter.

Wisconsin:
The Badgers are relatively young at both secondary positions but boast far more experience at cornerback than safety. Junior
Darius Hillary
and sophomore
Sojourn Shelton
started all 13 games at cornerback last season.
Peniel Jean
adds even more experience at the position. Safety is much less settled as
Dezmen Southward
graduates,
Michael Caputo
shifts to linebacker and
Tanner McEvoy
returns to quarterback.
Nate Hammon
and
Leo Musso
both played in all 13 games last fall as reserves. Newcomers like
Serge Trezy
and
Austin Hudson
could compete for time when they arrive this summer.
March, 19, 2013
3/19/13
1:00
PM ET
Spring practice is underway throughout much of the Big Ten, and we're taking a look at one potential breakout player for each team. We're
spotlighting players who could take a major step
during spring ball, so those who have started multiple seasons or earned All-Big Ten recognition in 2012 aren't eligible.
Up next in our series is the
Ohio State Buckeyes
, who return to the practice field this week after enjoying (hopefully not too much) spring break ...

Tyvis Powell, DB, redshirt freshman, 6-foot-3, 201 pounds
There are a whole lot of opportunities to emerge on the Buckeyes' defense this spring, with six starters gone from the front seven and cornerback
Travis Howard
also exhausting his eligibility. Powell emerged quickly as a potential breakout guy, working with the first string as a defensive back in nickel coverage when Ohio State opened its spring drills earlier this month.
With more and more spread offenses around the Big Ten and the country, the nickel look should be in heavy use this season. And Powell presents an intriguing option there as one of the taller defensive backs you'll see. Head coach Urban Meyer said Powell "earned that right in the offseason" to line up as a starter early on and said he had "done everything right." That doesn't guarantee any fall playing time, of course, especially since Ohio State has a lot of options at corner with guys like
Doran Grant
,
Armani Reeves
,
Adam Griffin
and talented early enrollees like Cam Burrows and Eli Apple.
But Powell has an early head start on being a spring breakout player. The Buckeyes hope to find plenty of them on defense these next few weeks.
February, 7, 2013
2/07/13
9:00
AM ET
The letters have all been signed and the faxes sent in. Signing day is officially over. So how did each Big Ten team do in fulfilling its most pressing needs?
Of course, the real answer to that question won't come for another one, two or even three years. But we'll take a stab now at figuring out how league teams addressed some glaring concerns, beginning with the Leaders Division. Adam will look at the Legends teams a little bit later in the blog.

INDIANA
Needs met:
It's no secret that the Hoosiers desperately needed reinforcements on defense. They focused on that in this class with 13 of their 22 signees on that side of the ball, plus four players labeled for now as "athletes." That includes six defensive linemen and four linebackers for a team that must improve its front seven.
Holes remaining:
After finishing with one of the worst rushing attacks in the Big Ten, Indiana signed only one true running back --
Daryl Chestnut
-- in this class.

ILLINOIS
Needs met:
After a disastrous 2-10 season where nothing went right, the Illini needed help everywhere, especially at the offensive skill spots. They signed five juco transfers for some immediate assistance and some speed to run the spread offense, including future starting quarterback
Aaron Bailey
.
Holes remaining:
Illinois lost linebacker recruit
Reggie Spearman
to Iowa and didn't sign anyone at that position, though it had two freshmen starters there last year.

OHIO STATE
Needs met:
Speed, speed, speed. Urban Meyer wanted a whole lot more of it, especially at the offensive skill positions. And that's exactly what he got in receivers
Jalin Marshall
,
Dontre Wilson
,
James Clark
and
Corey Smith
. The Buckeyes should also be able to stop the pass with defensive backs
Eli Apple
,
Gareon Conley
,
Vonn Bell
and
Cam Burrows
among the standouts in this class.
Holes remaining
: Very few, as you'd expect with one of the nation's top classes. Ohio State signed only two offensive linemen, but the Buckeyes addressed that position group in the 2012 class.

PENN STATE
Needs met:
The Nittany Lions had to get two quarterbacks in this class, and they managed to land the top-rated quarterback in the land in
Christian Hackenberg
as well as junior college transfer
Tyler Ferguson
. The team also needed to add some talent to the secondary and brought in four defensive backs.
Holes remaining:
The Lions are bringing in only one running back, though they have last year's signee Akeel Lynch, along with Bill Belton and Zach Zwinak returning. With severe scholarship limitations, Penn State's holes will revolve around depth. The team has to be selective and hope its run-on program produces some gems.

PURDUE
Needs met:
The Boilermakers needed reinforcements in the backfield after losing two senior quarterbacks and with a thin tailback corps. Their two top recruits in this class are pro-style QB
Danny Etling
and running back
Keyante Green
. The Boilers also added running backs
Keith Byars II
,
David Yancey
and
Dalyn Dawkins
.
Holes remaining:
Purdue signed just one offensive lineman in this class (
Jason Tretter
). That's an area new coach Darrell Hazell will have to address in next year's class.

WISCONSIN
Needs met:
The Badgers needed to restock the secondary after losing three starters from the 2012 team. They signed five defensive backs, including early enrollees
Keelon Brookins
and
Sojourn Shelton
. Wisconsin also got a potential impact defensive end in
Alec James
and possibly the latest in a long line of star running backs in
Corey Clement
.
Holes remaining:
Wisconsin could still use a bit more playmaking at the wide receiver position after struggling to find complements to Jared Abbrederis last season. The Badgers will hope
Robert Wheelwright
and
Jazz Peavy
provide some help. Neither was a highly rated recruit -- but then again, the highly productive Abbrederis was a walk-on. And although you wouldn't expect Wisconsin to need more offensive linemen, new coach Gary Andersen said the team is a couple of linemen short of the ideal number after signing three in this class.
January, 30, 2013
1/30/13
1:00
PM ET
National signing day is just one week away. Before the big day arrives, we thought we'd check in with a pair of ESPN.com recruiting experts to get their take on how the Big Ten is faring.
Senior national recruiting analyst Tom Luginbill and Midwest recruiting writer Jared Shanker were kind enough to take some time out of their frenzied schedules to address a handful of recruiting topics related to the league. Here's is Part I of that discussion; look for Part II on Thursday:

Michigan and Ohio State are obviously the headliners among Big Ten teams right now. Are they recruiting at a level where fans can expect them to contend for national titles in the near future?
Tom Luginbill:
Possibly. The challenge for both OSU and Michigan will be whether they can pool the type of defensive front player that can contend with SEC competitors, because that is the difference right now, and both Urban Meyer and Brady Hoke know it. Both coaching staffs are recruiting very well and at a level that should set them apart from the rest of the conference at this time. Michigan continues to lay down its blueprint of what they want their identity to be, which is why the commitment of running back
Derrick Green
is so pivotal. He embodies what they want their program to be about -- physical, tough, wear-you-down type of roster. Ohio State's focus is clearly on defense in the front with the 2012 class and again in this class, but with more of an emphasis on the defensive secondary and offensive-skilled weapons.
The reality is that if Michigan or Ohio State are undefeated or one-loss teams, which both are capable of being in the coming years, then yes, they will be able to contend for the title. Winning it means they will have to lure top defensive lineman likely out of the South and away from the SEC and ACC.
Jared Shanker:
I think so. Florida and Alabama, we have them as No.s 1 and 2 in in the country right now. Ohio State, if you look at some of their remaining targets, there's a chance -- I don't know if they can get all the way to No. 1, but they could crack at least the top three. I like what they've been able to do defensively, especially in the defensive backfield, with five-star
Eli Apple
,
Gareon Conley
and
Cam Burrows
. I like what Michigan's been able to do, especially offensively, with
Shane Morris
at quarterback and Derrick Green at running back. There might not be another offensive line haul as good in the country as Michigan's.
If you look at both classes, this is the second year both of them are going to finish among the highest in the country. You have to believe they're going to continue to do that. These recruiting classes should be able to help close that gap and translate into at least competing for a spot to play in the national championship at some point.
Outside of the Wolverines and Buckeyes, what other Big Ten schools have impressed you?
TL:
Penn State and Indiana. Say what you will, but Penn State has been able to hold firm. Of course they had some early defections, but quarterback
Christian Hackenberg
and tight end
Adam Breneman
have been true ambassadors for the Nittany Lions as much as any coach has been. The class will not be large, of course, but the caliber of player is quality, and better than most would expect. The question is whether they can do it over the next three years as well. The numbers will dwindle, and likely so will the wins, so what is the caliber of player going forward that they will truly have a legitimate shot at?
Kevin Wilson has some buzz right now. It actually started last year with the likes of quarterback
Nat
e
Sudfeld
who was way under the radar and from California, and has continued with this class with more of an emphasis on the South. The state of Georgia has proven to be quite fruitful with the additions of athlete
Rashard Fant
, outside linebacker
Kristopher Smith
, and cornerback
Noel Padmore
. In-state defensive tackle
Darius Latham
is a huge get at a critical need position.
JS:
I like what Michigan State's done. They don't have huge numbers in this class, but they have a lot of quality there. I especially like what they're doing at linebacker, with ESPN 300 guy
Shane Jones
.
Delton Williams
, he's a bit of a tweener, but I wouldn't be surprised if he ends up at linebacker. Four-star Jon Reshcke, he's a Michigan State legacy; Michigan came after him a little bit late but he's sticking with the Spartans. So three of their four top commits are likely all going to be playing linebacker, and the one guy that isn't a linebacker in that group is quarterback
Damion Terry
. I've seen him play and really like what he's done. He brings a dual threat to Michigan State, and I think in a couple of years he can be the next big quarterback there.
Northwestern, they've done pretty well on the offensive line, and once again they've been able to get one of the better recruits in the country with quarterback
Matt Alviti
, Obviously, they're not going to get a staggering class, but they've got two four-star guys and some pretty good offensive linemen. So I like what they've been able to do.
How have the new staffs at Wisconsin and Purdue fared in recruiting after getting a late start?
JS:
I think they're doing what you'd kind of expect, maybe a little bit better in terms of keeping guys on board. I believe Wisconsin has only lost one commitment. Four-star
Alec James
is wavering, but I believe he's going to end up sticking with Wisconsin at this point. They're making a run at a couple of other guys they wanted, but they're going to keep the class intact for the most part. They might add a couple of juco guys, or a couple guys late. You have to at least like that Gary Andersen has been able to hold the class, and if they can get a guy like Tanner McEvoy, the juco quarterback out of Arizona, I think you'd have to be really happy. But I think Badger fans should be satisfied that Andersen kept the class together for the most part.
Purdue has done pretty well with some big recruiting weekends recently. They've had to scramble a little bit and go for some guys who were maybe looking at the MAC level before. But I like what they've done. Offensive tackle
Jason Tretter
, he's 6-foot-7 and had a pretty bad injury his junior year, and that might have prevented him from getting a little more attention.
Evan Panfil
, they were able to flip from Illinois.
Dan Monteroso
, they flipped him from Boston College. I think all things considered, coming in late and Purdue not being the easiest place to recruit to, there are a lot of positive signs in what coach [Darrell] Hazell's been able to do. You have to like that he was able to keep the two biggest recruits on board as well: quarterback
Danny Etling
and running back
Keyante Green
.
TL:
There has not been much movement. For the most part the classes have held firm from commitments to the prior staff. Purdue seems to continue its presence in the Southeast, which Danny Hope started.
January, 11, 2013
1/11/13
9:00
AM ET
The folks at ESPN Recruiting have presented their final pre-signing day version of the
ESPN 300
, listing the nation's top prospects in the 2013 class.
Let's see which Big Ten commits made the rundown (note: positions listed by ESPN Recruiting):
No. 11: CB Eli Apple (formerly Woodard), signed with Ohio State
No. 15: QB Christian Hackenberg, committed to Penn State
No. 43: CB Gareon Conley, committed to Ohio State
No. 48: LB Trey Johnson, committed to Ohio State
No. 49: WR Jalin Marshall, committed to Ohio State
No. 56: DT Joey Bosa, committed to Ohio State
No. 62: CB Cam Burrows, signed with Ohio State
No. 67: TE Adam Breneman, signed with Penn State
No. 88: CB Jourdan Lewis, committed to Michigan
No. 91: G David Dawson, committed to Michigan
No. 93 ATH Dymonte Thomas, committed to Michigan
No. 101: G Patrick Kugler, committed to Michigan
No. 102: TE Marcus Baugh, committed to Ohio State
No. 104: OT Logan Tuley-Tillman, committed to Michigan
No. 106: OT Evan Lisle, committed to Ohio State
No. 109: RB Ezekiel Elliott, committed to Ohio State
No. 114: LB Mike McCray II, committed to Michigan
No. 116: DE Taco Charlton, committed to Michigan
No. 127: QB Shane Morris, committed to Michigan
No. 128: LB Mike Mitchell, committed to Ohio State
No. 134: OT Chris Fox, committed to Michigan
No. 147: ATH Rashard Fant, committed to Indiana
No. 149: RB Corey Clement, committed to Wisconsin
No. 157: G Kyle Bosch, committed to Michigan
No. 164: QB Matt Alviti, committed to Northwestern
No. 177: QB Danny Etling, signed with Purdue
No. 182: TE Jake Butt, committed to Michigan
No. 188: LB Shane Jones, committed to Michigan State
No. 208: G Brendan Mahon, committed to Penn State
No. 216: DT Michael Hill, committed to Ohio State
No. 218: S Jayme Thompson, committed to Ohio State
No. 232: WR Jaron Dukes, committed to Michigan
No. 237: WR Dominic Walker, committed to Nebraska
No. 247: QB Johnny Stanton, committed to Nebraska
No. 254: DT Henry Poggi, committed to Michigan
No. 261: QB J.T. Barrett, signed with Ohio State
No. 265: RB Keyante Green, committed to Purdue
No. 279: DT Darius Latham, committed to Indiana
No. 280: ATH Ben Gedeon, committed to Michigan
No. 281: DT Donovan Munger, committed to Ohio State
No. 281: QB Damion Terry, committed to Michigan State
No. 287: DT Billy Price, committed to Ohio State
No. 296: LB Marcus Newby, committed to Nebraska
Ohio State (15 recruits) and Michigan (14) dominate the ESPN 300, but Nebraska has made a nice push recently and Indiana will surprise some folks with multiple entries. Three Big Ten teams -- Illinois, Iowa and Minnesota -- don't have a recruit ranked in the ESPN 300.
The latest
class rankings
also are out.

Ohio State holds steady at No. 4, while Michigan drops a spot to No. 7. Penn State holds steady at No. 24, while Nebraska moves up a spot to No. 26 and Wisconsin moves up two spots to No. 30. Michigan State holds steady at No. 34, while Indiana moves down a spot and rounds out the top 40.
November, 7, 2012
11/07/12
4:00
PM ET
Our friends at ESPN Recruiting have issued a
new version of the ESPN 300
(and
ESPN 150
), as national signing day (Feb. 6) gets closer and closer.
Let's see where Big Ten verbal commitments appear in the latest rankings.
Some thoughts: Michigan and Ohio State are clearly ahead of the pack in recruiting, which comes as no surprise. Michigan has the most recruits (14) in the ESPN 300 of any Big Ten team, but Ohio State has more high-level prospects with three in the top 50 (Woodard, Burrows and Bosa). Penn State, while limited with its scholarships because of NCAA sanctions, also has landed some high-level prospects like Hackenberg and Breneman. Nebraska has a bigger presence toward the end of the ESPN 300, as does Michigan State. Northwestern, Purdue and Wisconsin don't have a huge presence here, but Alviti, Etling and Clement are all potential centerpieces. Three Big Ten teams -- Illinois, Iowa and Minnesota -- don't have a player ranked.
The good news: plenty of top uncommitted prospects remain available.
June, 6, 2012
6/06/12
3:30
PM ET
By now, you probably know all about the ESPN 150, our list of the top high school football prospects in the nation.
But for some of you recruiting lovers, that's not enough information. Well, double your pleasure today with the
release of the ESPN 300
, which also ranks the top players from No.s 151-300.
No matter how you slice the new data, it's still clear that Michigan is killing it on the 2013 recruiting front. The Wolverines lead the country with
16 commitments from the ESPN 300
. No other school has more than 12. Ohio State is doing quite nicely as well, tied for third nationally with 10 commitments from that group. Here is how the rest of the Big Ten is faring in top 300 pledges:
Penn State: 4
Northwestern: 2
Michigan State: 2
Nebraska: 1
The ESPN 300 also includes updated player rankings. The highest ranked recruit currently committed to a Big Ten school is Penn State-bound quarterback Christian Hackenberg, who is rated No. 10 nationally. Future Ohio State cornerback Eli Woodard is right behind him at No. 11, while another Buckeyes committed cornerback, Cam Burrows, is at 19.
The Midwest has 38 prospects ranked in the ESPN 300, and Michigan (11) and Ohio State (five) have gotten commitments from 16 of them so far. Recruiting analyst Jared Shanker writes that this isn't the sterotypical Midwestern recruiting year, with skill position players dominating the linemen.
None of the region's top-seven prospects play along the line. In fact, six of those seven are at the skill positions, led by top Midwest recruit Cam Burrows (Trotwood, Ohio/Trotwood-Madison), a cornerback. In all, only 12 of the 32 Midwest recruits (38 percent) in the ESPN 300 are along the lines. In 2012, eight of the 12 ESPN 150 recruits (67 percent) played either offensive or defensive line.
Shanker also writes that the fall recruiting scene in the Midwest could be calm, because 24 of the 32 prospects in the region have already committed.
There's plenty more recruiting info to digest in the new rankings. So go nuts with it.
April, 17, 2012
4/17/12
3:00
PM ET
The 2013 ESPN 150 -- our list of the top high school rising seniors in the country (now with less U!) -- was unveiled this afternoon. And the Big Ten's hand prints are all over the list, which you can find in its entirety
here
. (You can read more about the class, including spotlights on Penn State commit
Christian Hackenberg
and Ohio State recruit
Cam Burrows
,
here
).
Twenty players from the list have already committed to Big Ten schools. So of the 77 players who have committed, the Big Ten claims more than a quarter of them. The Big Ten only signed 12 players from the 2012 ESPN 150 list.
Michigan is responsible for the biggest portion of that haul. The Wolverines -- who have 17 total commitments for the '13 class -- boast 11 ESPN 150 prospects in their corner so far.
That's easily the most of any school in the country. Texas and Florida are next with seven ESPN 150 commits each, followed by Alabama and Georgia with six. Alabama had the top class in the country this year with 13 ESPN 150 signees. Michigan has a chance to compete for the top class ranking next year if this current group holds together and gets a few more notable additions. Brady Hoke and his staff have done an excellent job of locking up early pledges.
Ohio State is doing well, too. The Buckeyes currently have five ESPN 150 commits for Urban Meyer, including three in the top 55 of the list.
But the league school with the highest-ranked prospect so far is Penn State. Let's take a look at the players from the list who are currently committed to a Big Ten team:
No. 11:
Christian Hackenberg, QB, Penn State
No. 12:
Eli Woodard
, CB, Ohio State
No. 21:
Cam Burrows, CB, Ohio State
No. 37:
Shane Morris
, QB, Michigan
No. 39:
Adam Breneman
, TE, Penn State
No. 55:
Jalin Marshall
, ATH, Ohio State
No. 63:
Gareon Conley
, CB, Michigan
No. 75:
Mike McCray II
, OLB, Michigan
No. 92:
David Dawson
, OG, Michigan
No. 97:
Logan Tuley-Tillman
, OT, Michigan
No. 98:
Dymonte Thomas
, ATH, Michigan
No. 105:
Chris Fox
, OT, Michigan
No. 107:
Jourdan Lewis
, CB, Michigan
No. 112:
Kyle Bosch
, OG, Michigan
No. 113:
Matt Alviti
, QB, Northwestern
No. 115:
Taco Charlton
, DE, Michigan
No. 121:
Patrick Kugler
, OG, Michigan
No. 123:
Greg Webb
, DT, Penn State
No. 127:
Marcus Baugh
, TE, Ohio State
No. 142:
Evan Lisle
, OT, Ohio State
Here is where we issue the requisite word of caution, as these are only verbal commitments and it's a long way until signing day next February. Things can change a lot between now and then, and star rankings do not always predict college success. But clearly the Big Ten is doing a good job competing for the nation's highest-ranked prospects during this recruiting cycle.