December, 10, 2013
12/10/13
10:00
AM ET
These programs gave us one of the most memorable finishes in bowl history nine years ago, and now they return to sunny Florida on New Year's Day for the Outback Bowl. Let's take a closer look at the matchup between No. 16 LSU (9-3) and Iowa (8-4) when they meet at 1 p.m. at Tampa's Raymond James Stadium.


Who's under center?:
This was something of a question for both teams before their coaches cleared it up in the last few days. Iowa coach Kirk Ferentz said
Jake Rudock
should be "absolutely fine" to play against LSU after leaving the regular-season finale against Nebraska with a right knee injury. Meanwhile, LSU's Les Miles said freshman
Anthony Jennings
will take over for the injured
Zach Mettenberger
as the Tigers' starter. Mettenberger suffered a season-ending knee injury in the finale against Arkansas, but Jennings came on to complete the Tigers' comeback, hitting
Travin Dural
with the game-winning, 49-yard touchdown pass with 1:15 to play.
When last we met:
Iowa fans will never forget how the 2005 Capital One Bowl ended, when Drew Tate hit little-used receiver Warren Holloway with a 56-yard touchdown pass to beat LSU as time expired. That 30-25 loss marked an ugly end to Nick Saban's LSU tenure, as he left to coach the Miami Dolphins immediately afterward. Within hours of the game's end, Miles was named as Saban's successor.
What's at stake:
Not much, really. Fresh off an awful 4-8 record in 2012, Iowa started the season with a loss to Northern Illinois. But it's certainly possible that Ferentz's Hawkeyes can finish the season as a ranked team if they beat LSU. Meanwhile, the Tigers have already bid farewell to Mettenberger and could be featuring some of their top draft-eligible skill players for the final time as well. A win in the bowl would give LSU its fourth straight season with at least 10 wins, a school record.
Hit the ground running:
It would not be a surprise to see this become a run-heavy game. Without Mettenberger -- who was one of the nation's most effective passers -- LSU offensive coordinator Cam Cameron might opt to lean heavily on
Jeremy Hill
(1,185 rushing yards, 14 TDs) and
Terrence Magee
(614-8) against the Hawkeyes. The problem there is that Iowa's defense is no pushover. The Hawkeyes rank seventh nationally in total defense (303.2 ypg) and are 17th against the run (120.8 ypg). On the other hand, all Iowa wants to do is run. The bruising
Mark Weisman
(937-7) and slippery duo of
Damon Bullock
(467-1) and
Jordan Canzeri
(451-2) take most of the carries for Iowa, which ranks 41st nationally in rushing (188.6 ypg).
Back to the Outback:
This will be LSU's second visit to the Outback (formerly Hall of Fame) Bowl, having last played in Tampa at the end of the 1988 season when it lost 23-10 to Syracuse. Iowa has played an SEC club in this bowl three times in the previous 11 seasons, beating Florida 37-17 in 2003, losing 31-24 to the Gators in 2005 and blasting South Carolina 31-10 in 2008.
Best wins:
It didn't seem like much at the time, but LSU was the only team to beat No. 2 Auburn, jumping out to a 21-0 lead and winning 35-21 on Sept. 21. LSU also posted a memorable 34-10 victory over
Johnny Manziel
and Texas A&M near the end of the season. Iowa closed with a three-game winning streak to secure its first winning record (5-3) in league play since 2009. That run included a 24-21 win over Michigan and a decisive 38-17 victory at Nebraska to conclude the season.
Worst losses:
Iowa's four losses are all respectable, particularly since three of the teams that beat the Hawkeyes -- Northern Illinois, Ohio State and Michigan State -- finished with 12-1 records, and the other was to 9-3 Wisconsin. LSU's worst loss was certainly its 27-24 defeat against Ole Miss, although the 38-17 loss at Alabama also felt like a low point.
[+] Enlarge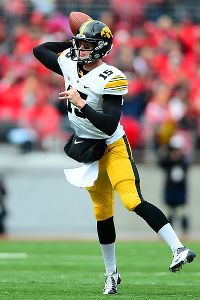 Andrew Weber/USA TODAY SportsWith LSU's Zach Mettenberger out with a knee injury, Iowa has the edge at QB with Jake Rudock.
Offensive stars:
He doesn't generate as many headlines as Rudock or the running backs, but All-Big Ten left tackle
Brandon Scherff
certainly ranks among Iowa's most valuable players. Scherff announced on Monday that he will return for his senior season. Receivers
Odell Beckham
Jr. (57 catches, 1,117 yards, 8 TDs) and
Jarvis Landry
(75-1,172, 10 TDs) will both go down as two of the most dangerous wideouts in LSU history.
Defensive stars:
All-Big Ten linebackers
Anthony Hitchens
(102 tackles, 13 tackles for a loss) and
James Morris
(98 tackles, 14.5 TFLs) are the headliners for Iowa's stingy defense along with defensive back
B.J. Lowery
(55 tackles, three interceptions, 16 pass breakups). Linebacker
Lamin Barrow
leads LSU's defense with 86 tackles, while defensive linemen
Anthony Johnson
(32 tackles, 7 TFLs) and
Ego Ferguson
(58 tackles, 3.5 TFLs) lead the defensive front and safety
Craig Loston
(51 tackles, two interceptions) and cornerback
Jalen Mills
(61 tackles, three sacks, three interceptions) anchor the back end of the defense.
X-factor:
Even if both teams run and run some more, quarterback play could be the determining factor. Jennings will surely need to get the ball to Beckham, Landry and company -- and do so without many costly turnovers -- to force the Hawkeyes to respect the pass. And Rudock will have to prove he can get the job done against a strong opponent. In Iowa's eight wins, he hit 64 percent of his passes for 11 touchdowns and six interceptions. But in the Hawkeyes' four losses -- against the only four ranked teams on their schedule -- he completed 55 percent of his passes for seven touchdowns and six picks.
November, 19, 2013
11/19/13
5:05
PM ET
There was a lot to like about Indiana's hiring of Kevin Wilson as head coach in December 2010.
Wilson had established himself as one of the nation's top assistants at Oklahoma, winning the Frank Broyles Award once and finishing as a finalist another time. He coordinated fast and dangerous offenses at Oklahoma and at Northwestern, worked for a top coach in Bob Stoops and had ties to the Big Ten.
[+] Enlarge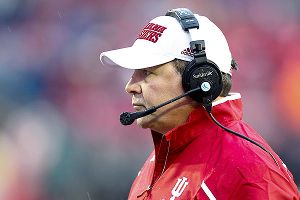 AP Photo/Andy ManisCoach Kevin Wilson's Hoosiers defense is on pace for another historically bad season.
There was only one major concern, as
I wrote at the time
.
Can Wilson fix Indiana's chronic problems on defense?

If he can't, he'll meet the same fate as Bill Lynch, Gerry DiNardo and Cam Cameron, offensive-minded coaches who were fired because they couldn't make Indiana's defense respectable. Cameron had star quarterback Antwaan Randle El for four years and still couldn't make a bowl.
Three years later, the concern remains. In fact, it has been magnified.
As expected, Wilson has made Indiana's offense into a quick-striking, touchdown-scoring machine (last Saturday's stinker at Wisconsin notwithstanding). Indiana is second in the Big Ten in scoring and third in total offense, ranking in the top 20 nationally in both categories.
But the defense is still a major drag. The Hoosiers are in a familiar position: last in the Big Ten in both points allowed and yards allowed, and near the bottom of the FBS in both categories (only New Mexico State allows more yards on average than IU). They surrendered 554 rush yards to Wisconsin last week and have yet to hold an FBS team to fewer than 400 yards this season.
Indiana's last four opponents have racked up 2,612 yards and 191 points.
After Wilson's hiring, I listed Indiana's national rankings in total defense for the previous 11 seasons:
2010:
89th (410.2 ypg)
2009:
88th (401 ypg)
2008:
107th (432.2 ypg)
2007:
71st (403.4 ypg)
2006:
109th (402.3 ypg)
2005:
93rd (417.7 ypg)
2004:
110th (453.2 ypg)
2003:
94th (429.7 ypg)
2002:
101st (428.4 ypg)
2001:
72nd (393.8 ypg)
2000:
112th (457.3 ypg)
There are a few more abysmal additions:
2011:
109th (458.7 ypg)
2012:
103rd (463.5 ypg)
2013 (to date):
122nd (534.8 ypg)
The cycle is repeating itself. So is Indiana's inability to make bowl games. Barring a miracle win this Saturday at No. 3 Ohio State, Indiana will miss the postseason for the sixth consecutive season despite eight home games and an offense that strikes fear throughout most of the Big Ten.
"It's my problem," Wilson said Monday. "It's my fault because I am the head coach. As we're sitting here playing in Year 3, it comes down to [Wilson being] an offensive minded guy, we have five coaches on defense and we trust them to do their job. I'm part of the offensive staff, which a lot of guys are like that.
"But when you're head coach, you're in charge of everything, and we've got to make some strides."
The Indianapolis Star's Bob Kravitz
is calling for the firing of Hoosiers defensive coordinator Doug Mallory, writing that a mediocre or even a below-average defense would be enough to get IU to a coveted bowl game. The Hoosiers defense has its own category of bad.
"

It's my problem. It's my fault because I am the head coach.

"

Coach Kevin Wilson on the Indiana defense.
Sure, there's youth, as Indiana starts only one senior (safety
Greg Heban
). Wilson and his staff didn't inherit much talent from the previous regime. And IU's up-tempo style of offense does few favors for the defense.
But the unit should be better than this. Indiana should be going to a bowl this season.
Defensive recruiting seemingly is on the uptick for the Hoosiers, and Wilson sees some promising signs, like the play of freshman linebacker
Clyde Newton
, who had a team-high 14 tackles at Wisconsin. Newton had a third-down stop that forced a punt and a touchdown-saving tackle that led to a Badgers field goal.
"As great an effort as I've seen since I've been here," Wilson said of Newton bringing down Wisconsin's
Jacob Pedersen
short of the goal line.
"Our freshmen have been pretty good," Wilson said. "[We're] c
hallenging our older guys to give us their best these two weeks, because I see some young guys gaining on it. The older guys haven't been bad, but we're asking those guys to dig a little deeper."
It's scary to think what Ohio State will do to Indiana's defense on Saturday, and Wilson will have to dig deeper to sort out the defense before the start of the 2014 season. He said Monday he'll examine the attitude and culture of the unit. Although
he has backed Mallory so far
, he'll likely have to look at the staff, too.
"It should get better, it needs to get better, and it's my job to make sure it's got to get better," Wilson said.
Indiana needs to make defense a priority. It's why I thought Dave Doeren, then the Wisconsin defensive coordinator, would be a good fit during IU's last coaching search.
The Wilson hire didn't bother me, and I understand that programs like Indiana, which need to boost fan support, gravitate toward coaches with exciting offenses.
But wins really excite the fan base, and until Indiana's defense approaches basic Big Ten standards, there won't be enough of them.
August, 16, 2013
8/16/13
8:00
AM ET
There's hardly ever a perfect time to part ways with a coach, especially one who has had success. Some programs opt to nudge out long-tenured, mostly successful coaches only to pay the price later for their decisions. Others that part ways with a veteran coach end up seeing improvement. ESPN.com is taking a closer look at this topic today, and we're putting it under the Big Ten microscope.
Here are some notable Big Ten (and Nebraska) coaching forceouts:
LLOYD CARR, Michigan (1995-2007)
What happened:
A longtime Michigan assistant for Bo Schembechler and Gary Moeller, Carr moved into the top job in 1995 and two years later guided Michigan to a national title. He led the Wolverines to at least a share of five Big Ten championships and six bowl victories, including the 1998 Rose and 2000 Orange bowls. Carr had the Wolverines positioned for another national title run in 2006 as they faced archrival Ohio State in an epic matchup of undefeated teams ranked No. 1 and No. 2 nationally. But Carr's squad fell to Jim Tressel's Buckeyes, a theme during the later part of Carr's tenure. The 2007 season began with a humiliating loss to Football Championship Subdivision team Appalachian State. Although Carr officially retired in November 2007, there certainly was some pressure for the school to go in a new direction.
[+] Enlarge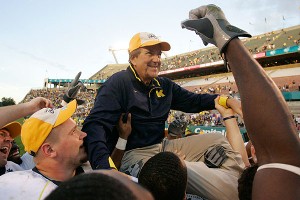 Chris Livingston/Icon SMILloyd Carr is carried off the field following Michigan's win over the Gators in the Capital One Bowl, which was Carr's final game.
What happened next:
Michigan went away from its coaching tree and plucked Rich Rodriguez from West Virginia to succeed Carr. It was a rocky situation from the start that never truly smoothed out. Rodriguez's first Michigan team in 2008 might have been the worst ever, tumbling to 3-9 and ending the school's streak of consecutive bowl appearances at 33. The following summer, Michigan admitted to committing major violations for the first time in its history -- relating to practice time -- and self-imposed probation. The Wolverines once again missed a bowl game in 2009 and struggled to make one in Rodriguez's third season. After a blowout loss in the 2011 Gator Bowl, Michigan fired Rodriguez, who went just 15-22 at Michigan (6-18 Big Ten, 0-3 against Ohio State). Michigan might have slipped a bit from the ranks of the elite under Carr, but the program plummeted to historic depths under Rodriguez. Michigan replaced Rodriguez with former Carr assistant Brady Hoke.
JOHN COOPER, Ohio State (1988-2000)
What happened:
After a rocky start (4-6-1 in 1988), Cooper went on a nice run at Ohio State in the mid- to late 1990s, averaging 10.3 victories between 1993 and 1998. He guided Ohio State to its first Rose Bowl appearance in 13 years during the 1996 season and emerged with a victory against Arizona State. He also won the Sugar Bowl after the 1998 season and coached Heisman Trophy winner Eddie George. But Cooper had two problems: an inability to beat archrival Michigan (2-10-1) and struggles in bowl games (3-8). Three times the Buckeyes entered The Game with a perfect record -- 1993, 1995 and 1996 -- and fell to the Wolverines. After a 6-6 clunker in 1999 and another loss to Michigan in 2000, Ohio State fired Cooper, who finished second on the school's all-time coaching wins list, behind Woody Hayes, with 111.
What happened next:
Ohio State made an unorthodox move in bringing in Youngstown State's Tressel to succeed Cooper. It paid off as Tressel guided the Buckeyes to a national title in his second season. Ohio State remains the only Big Ten team to win a crystal football during the BCS era. Tressel ended up dominating the Big Ten (six titles) and Michigan (8-1) during his tenure, leading Ohio State to five BCS bowl wins (one vacated) and three appearances in the national title game. Although Tressel's tenure ended in scandal, he certainly boosted Ohio State's program after the Cooper era.
BILL MALLORY, Indiana (1984-1996)
What happened:
After mostly successful runs at Miami (Ohio), Colorado and Northern Illinois, Mallory came to Indiana and put together an impressive run, reaching six bowl games between 1986 and 1993. He became the first man to win back-to-back Big Ten Coach of the Year honors in 1986 and 1987. Indiana had three top-four finishes in the Big Ten (1987, 1991, 1993), but after Mallory went just 5-17 (1-15 Big Ten) in 1995 and 1996, Indiana fired him. Mallory remains Indiana's all-time coaching wins leader (69) and is responsible for six of the Hoosiers' nine bowl teams.
What happened next:
Indiana has yet to come close to achieving the type of moderate success it enjoyed in the Mallory era. The program struggled under Cam Cameron and Gerry DiNardo before surging a bit for the late Terry Hoeppner. Still, it took 11 seasons after Mallory's dismissal for Indiana to return to the postseason under Bill Lynch in 2007. Although the Hoosiers are making strides under Kevin Wilson, the program has a ways to go to match where it was under Mallory.
GLEN MASON, Minnesota
(1997-2006)
What happened:
Mason never got Minnesota to the promised land -- its first Big Ten championship since 1967 -- but he made the Gophers a consistent bowl team. He won six to eight games in six of his final eight seasons, slumping to a 4-7 finish in 2001 but breaking through with 10 victories in 2003. Minnesota reached bowls seven times under Mason, but his middling Big Ten record (32-48) and inability to challenge for league titles eventually stirred the administration into action. The school
fired Mason two days after Minnesota squandered a 31-point third-quarter lead
against Texas Tech in the 2006 Insight Bowl.
What happened next:
The program backslid with the overmatched Tim Brewster at the helm, going 1-11 in 2007. Brewster made some splashes in recruiting but couldn't get enough talent to translate to the field. After a 7-1 start in 2008, the Gophers dropped their final five games, including a 55-0 decision to archrival Iowa at the Metrodome. A 6-7 season followed in 2009, and
Minnesota fired Brewster after a 1-6 start in 2010
. Brewster went 15-30 at the school and 6-21 in the Big Ten, which included an 0-10 mark in trophy games. His tumultuous tenure had many questioning why Minnesota ever got rid of Mason.
FRANK SOLICH, Nebraska (1998-2003)
What happened:
A former Huskers fullback, Solich had the nearly impossible task of following coaching legend Tom Osborne, who won national titles in three of his final four seasons at the school. Solich won 42 games in his first four seasons, a Big 12 championship in 1999 and Big 12 North titles in 1999, 2000 and 2001. He guided the Huskers to the 2000 Fiesta Bowl championship, and the 2001 team, led by Heisman Trophy winner Eric Crouch, played Miami for the national title at the Rose Bowl but fell 37-14. Nebraska then went 7-7 in 2002, its first nonwinning season since 1961. Solich rebounded with a 9-3 mark in 2003 but was
fired despite a 58-19 record in Lincoln
.
What happened next:
Much like Michigan, Nebraska went away from its coaching tree and hired Bill Callahan, who had led the Oakland Raiders for two seasons. And much like Michigan, Nebraska paid a price as the program went downhill. The Huskers went 5-6 in Callahan's first year, their first losing campaign since 1961. They won eight games the following year and the Big 12 North in 2006, but a highly anticipated 2007 season fell apart, particularly for the celebrated Blackshirts defense. Nebraska surrendered 40 points or more in six games and went 5-7, leading to Callahan's dismissal. Although Nebraska has rebounded under Bo Pelini, its last conference championship came under Solich's watch, 14 long years ago.
September, 27, 2011
9/27/11
12:45
PM ET
Longtime blog readers are probably sick of hearing my position on Indiana football, but it's worth restating.
Until the defense gets a significant upgrade, the Hoosiers won't consistently compete in the Big Ten. Indiana's defense has been porous for more than a decade, ranking no better than 71st nationally since 2000.
After Indiana fired Bill Lynch, I wrote that the school
should value defense in its coaching search
. And while I liked the Kevin Wilson hire, he follows a line of mostly offensive coaches -- Lynch, Gerry DiNardo, Cam Cameron -- who haven't gotten it done in Bloomington.
Offense sells these days. I get that. But Indiana might be wise to hire a guy who knows a thing or two about defense.
Hoosiers co-defensive coordinator Mike Ekeler knows a thing or two about defense, having come to IU from one of the nation's best defensive staffs at Nebraska. And Ekeler didn't like what he saw Saturday night at North Texas, as Indiana surrendered 24 points in a 16-minute span.
North Texas piled up 427 yards in its first victory of the season, and Indiana had no answer for Lance Dunbar (127 rush yards, 152 receiving yards).
Ekeler didn't hold back in
his assessment of the defense
following Monday's practice.
"We had 28 loafs and I think it was 18 missed tackles," Ekeler said. "… That was an embarrassment for us. Tip my hat to North Texas, but the way we look at it, we play us every week. Us kicked our [butt]. We didn't come to play. That's on me, and I take it very personal. I'm embarrassed that that tape's out there how we looked on defense. We had guys out there playing like they were scared. Scared to go up there and put their face on somebody."
Ekeler and fellow coordinator Doug Mallory have put all their players on notice this week heading into the Big Ten opener against Penn State.
"There is no depth chart at this point," Ekeler said. "We're not gonna watch that."
Indiana already has seen a shakeup on the offensive line, as freshmen have replaced veterans in the starting lineup. Don't be surprised if youth is served on defense Saturday against the Nittany Lions.
December, 7, 2010
12/07/10
5:04
PM ET
Kevin Wilson is a great offensive mind.
I first saw this in 2000 as a student reporter at Northwestern, where Wilson transformed the Wildcats' attack, trading in a going-nowhere, traditional scheme for the spread system. Under Wilson's leadership, Northwestern ranked third nationally in total offense, eighth in rushing and ninth in scoring en route to a co-Big Ten championship in 2000.
Wilson moved on to Oklahoma, where he has coordinated offenses that ranked in the top 25 nationally in six out of the last eight seasons. Wilson's offense in 2008 led the nation in scoring (51.1 ppg) and ranked third in passing and 20th in rushing. He can run the spread with the best of them and twice was a finalist for the Frank Broyles Award, given to the nation's top assistant, winning it in 2008.
[+] Enlarge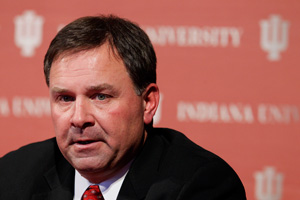 AP Photo/Darron CummingsNew head coach Kevin Wilson knows how important having the right defensive coordinator will be.
It's clear that Wilson is ready to be a head coach, and Indiana has provided him with the opportunity. I think he's a good hire, and I have no doubt Wilson will help the Hoosiers score a lot of points in the coming years.
Here's my concern: Can Wilson fix Indiana's chronic problems on defense?
If he can't, he'll meet the same fate as Bill Lynch, Gerry DiNardo and Cam Cameron, offensive-minded coaches who were fired because they couldn't make Indiana's defense respectable. Cameron had star quarterback Antwaan Randle El for four years and still couldn't make a bowl.
Indiana fans are tired of seeing these numbers, but they bear repeating. There isn't a unit in the Big Ten that has struggled as much for as long as Indiana's defense.
Here's where Indiana's defense has ranked nationally in the 11 years:
2010:
89th (410.2 ypg)
2009:
88th (401 ypg)
2008:
107th (432.2 ypg)
2007:
71st (403.4 ypg)
2006:
109th (402.3 ypg)
2005:
93rd (417.7 ypg)
2004:
110th (453.2 ypg)
2003:
94th (429.7 ypg)
2002:
101st (428.4 ypg)
2001:
72nd (393.8 ypg)
2000:
112th (457.3 ypg)
Again, I'm not hating on the Wilson hire at all. I've known Wilson for a long time. He's a straight shooter who Indiana fans will really like, if they don't already after the coach's strong performance at Tuesday's introductory news conference.
He has a very strong résumé and Indiana landed him for a fair price ($1.2 million a year).
Wilson also will have time to fix the program, receiving a seven-year contract.
"Indiana needs to give continuity a try in its football program," athletic director Fred Glass said.
But for Wilson to last in Bloomington, he has to get the defense on track. The good news is Wilson knows firsthand that you can't win in a major conference without a defensive focus.
"I'm an offensive guy, but nine years going against coach [Bob] Stoops every day [in practice], you learn how to play great defense," Wilson said. "We're going to play some great defense here."
Wilson isn't sure if he'll continue to call the offensive plays from the field or hire a playcaller to IU. It's an important decision, and I think Wilson would be better served to be a CEO-type and leave the play calling to someone he can trust.
The bigger hire, and arguably the biggest hire he'll make at Indiana, is defensive coordinator. Indiana lacks the talent on defense to consistently stop Big Ten offenses, and it really needs someone who can provide a schematic advantage.
"I'm going to take some time because I do have time and I need to get it right," Wilson said. "I need to get the right guy. It's a huge hire.
"We're going to get someone good."
Indiana got someone good in Wilson.
While he lacks head-coaching experience, he's no stranger to the big stage after nine years at Oklahoma and has several indirect ties to the Indiana program and to the region. He'll bring energy to a program that has been unable to get over the hump in Big Ten play.
If this offensive guy can fix Indiana's defense, the Hoosiers will finally get over that hump.
December, 2, 2010
12/02/10
5:00
PM ET
Indiana has been down this road before.
The school is no stranger to hiring offensive-minded coaches.
Cam Cameron came to Indiana in 1997 after coaching quarterbacks at Michigan and then with the Washington Redskins. He was succeeded in 2002 by Gerry DiNardo, who won a national title as Colorado's offensive coordinator before becoming a head coach at Vanderbilt and LSU. Indiana broke the mold in 2005 with Terry Hoeppner, a longtime defensive assistant at Miami (Ohio) before taking the top job in Oxford. But when Hoeppner died tragically in 2007, Indiana handed the head-coaching duties to Bill Lynch, the team's offensive coordinator.
After firing Lynch on Sunday, Indiana once again is looking for a coach to lead its football program.
It might be time for the Hoosiers to look to the other side of the ball.
Indiana's defense has dragged down the program for more than a decade. The Hoosiers have scored points and produced offensive standouts like Antwaan Randle El, Kellen Lewis, James Hardy and
Ben Chappell
, but their repeated inability to field adequate defenses has kept them out of bowl games. It still baffles me how IU couldn't make a single bowl game during Randle El's four years as the starting quarterback.
Defense was a large part of Lynch's downfall. His offenses fared well, but Indiana couldn't stop the opposition on a consistent basis.
Here's where Indiana's defense has ranked nationally in the 11 years:
2010:
89th (410.2 ypg)
2009:
88th (401 ypg)
2008:
107th (432.2 ypg)
2007:
71st (403.4 ypg)
2006:
109th (402.3 ypg)
2005:
93rd (417.7 ypg)
2004:
110th (453.2 ypg)
2003:
94th (429.7 ypg)
2002:
101st (428.4 ypg)
2001:
72nd (393.8 ypg)
2000:
112th (457.3 ypg)
Just dreadful.
I've been told most of the candidates for the Indiana job come from the offensive side, guys like Oklahoma offensive coordinator Kevin Wilson, Michigan State offensive coordinator Don Treadwell, Northern Illinois coach Jerry Kill and former Minnesota coach Glen Mason.
Not saying these guys wouldn't work well at IU, but given the deficiencies on defense in Bloomington, the Hoosiers might be better off with a defense-oriented head coach.
Here are a few suggestions:
Wisconsin defensive coordinator Dave Doeren:
Doeren has the charisma, the recruiting skills and the track record to succeed as a head coach. His defense ranks in the top four of the Big Ten in all the key categories, including second in takeaways and third in yards allowed, despite losing star linebacker Chris Borland in September. Doeren has helped mold standout players like Borland, defensive end J.J. Watt and defensive end O'Brien Schofield.
San Diego State coach Brady Hoke:
I doubt Indiana could lure Hoke away from the West Coast, but he would qualify as a very good hire for the Hoosiers. He knows the area as the former Ball State coach, and he has a background in defense as the former defensive line coach at Michigan, among other spots. Hoke coached three All-American defensive linemen at Michigan.
Toledo coach Tim Beckman:
Beckman led Toledo to an 8-4 mark in his second season at the school. He previously served as defensive coordinator at Oklahoma State, cornerbacks coach at Ohio State and defensive coordinator at Bowling Green. Beckman coached six All-Big Ten defensive backs in Columbus, including Donte Whitner.
Offense sells these days. I get that. But Indiana might be wise to hire a guy who knows a thing or two about defense.