March, 9, 2015
Mar 9
4:00
PM ET
COLUMBUS, Ohio -- The championship trophy had barely been in Urban Meyer's possession for a day when the first seeds were planted for defending it.
If the Ohio State coach is tougher on his team after a win, imagine what it will be like for it after rolling through the College Football Playoff and claiming a national title.
[+] Enlarge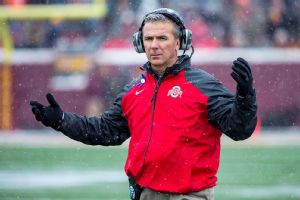 Jesse Johnson/USA TODAY SportsLimiting big plays on defense will likely be a focus for Urban Meyer during spring practice.
"The Chase" banner in the practice complex has already been replaced by "The Grind" on campus, offering the first hint of how Meyer plans to fight off complacency for a roster that returns the majority of its key contributors from last season and will head into this year as a favorite to win it all again. But slogans aside, even after claiming the national crown Meyer still has plenty of evidence he can point to that the Buckeyes still have room to grow as they hit the practice field on Tuesday, which should only help him get their attention for the upcoming 15 workouts.
In some instances, he might have to nitpick to find some flaws with the champs. But Meyer figures to start with these areas as he looks to strengthen the Buckeyes ahead of their title defense and shore up any relative weaknesses.
1. Cut down on turnovers:
Just about the only team slowing down Meyer's high-powered offense late in the season was Ohio State itself. And while occasional carelessness with the football obviously didn't cost the Buckeyes any victories down the stretch, it certainly made life more difficult than it needed to be.
Signature victories over Michigan State, Alabama and Oregon all seemed to follow similar scripts with the Buckeyes struggling at times to protect the football, either keeping the score close or digging them a hole to climb out of even while racking up yardage and looking like the more dangerous team. Particularly in the title-clinching win over the Ducks, it's somewhat scary to think what Ohio State might have been capable of doing without handing over four turnovers.
The Buckeyes finished the season with 26 turnovers, the highest total in the Big Ten. Playing three extra games certainly helped inflate that number, but with 14 lost fumbles, Ohio State was effectively coughing up one possession a game thanks to its lack of ball security. Expect that to be an emphasis for Meyer.
2. Limit explosive plays:
The pass defense improved dramatically, effort was never an issue and the Buckeyes were much more fundamentally sound as tacklers as the Silver Bullets returned to the kind of level the program expects. But there were still a few too many mental lapses that resulted in huge gains or long touchdowns, and that might be the last thing on the checklist left to keep Ohio State firmly among the defensive elite nationally.
Whether it was Indiana's
Tevin Coleman
dashing 90 yards for a score or Cincinnati unleashing a deep bomb for an 83-yard touchdown, when the Buckeyes let their guard down they were susceptible to plays that could change the game. Typically Ohio State could rely on its offense to answer those quick strikes, but it was chunks of yardage allowed on two or three plays -- not problems down-in and down-out -- that left the unit ranked No. 5 against the rush and No. 6 versus the pass in the Big Ten.
3. Something special
: There were certainly highlights in the kicking game, starting with the incredible coverage unit that flew down the field on every kickoff and fired up the sideline with its knack for pinning opponents deep. But aside from that group, a streak of lightning from
Jalin Marshall
with his punt-return touchdown against Indiana and the wizardry of punter
Cameron Johnston
, the Buckeyes still left some areas with room to improve in the third phase.
Considering how much pride Meyer takes in his special-teams units, that probably doesn't sit well with him heading into his fourth season with the program.
For starters, he would surely like to generate the same excitement when opponents are kicking off to the Buckeyes, and averaging just less than 23 yards per return without a touchdown surely doesn't meet his standard. That could open up a competition to more than just Marshall or
Dontre Wilson
. Ohio State could use more consistency from kicker
Sean Nuernberger
as well after the rising sophomore made just 13 of his 20 field goal attempts last season.