January, 6, 2011
1/06/11
12:02
PM ET
There's so much Rich Rodriguez reaction, so I've split the links into two groups.
RICHROD REACTION
OTHER BIG TEN LINKS
December, 10, 2010
12/10/10
4:30
PM ET
You know
how to reach me
. And you should be following me
on Twitter
.
Zack from Los Angeles writes:
I know Bret Bielema loves using the term "program guy," with his players. Do you see BB as the program guy who becomes a legendary Wisconsin head coach for the next 20 years? Besides that Notre Dame rumor, has his name been seriously thrown out for other programs?
Adam Rittenberg:
Zack, it certainly could happen if things continue the way they're going for the Badgers. Bielema truly took ownership of the program this year. These are his guys dominating out there on Saturdays, and they're doing it the Wisconsin way. Will he stay for 20 years? It's hard to put that time span on any coach these days, even ones who have won national titles. But Bielema's relationship with AD Barry Alvarez is the single biggest thing he has going for him. As long as Alvarez is AD, I don't see Bielema going anywhere. The AD relationship is critical for coaches, and Bielema has one of the best situations possible.
---
Gary from Buckeye Country writes:
How did the Big Ten negotiate so many good bowl gigs?
Adam Rittenberg:
Fans, fans, fans. The Big Ten travels to bowls better than any league in the country, although the SEC and Big 12 do well, too. Plus, the Big Ten brings a ton of tradition to the table with its teams. When you have a tradition-rich league filled with fans who want to leave the cold in December and January, you get bowls lining up at your door to affiliate.
---
Jonathan from Cleveland writes:
Adam, great job on the blog. I have a question about
Terrelle Pryor
, especially in light of his latest "I would dominate college football" comments when being interviewed for the Silver Football award. Obviously, I don't know him, but between that interview, as well as his hissy Twitter response to not being named to any All-Big Ten teams...what is his deal? Is he just messing with everyone or does he have a serious ego issue? I find it hard to believe that a coach as buttoned down as Jim Tressel hasn't given him a good PR lesson. Just interested in your perspective.
Adam Rittenberg:
Terrelle certainly keeps us entertained, doesn't he? There's a reason why his media appearances are limited, although I always enjoy hearing what he has to say (many Buckeyes fans don't). He's a confident guy, and he could be right about being able to dominate in a spread option offense. But Pryor also is a guy who, by all accounts, strives for perfection, wants to win very badly and has tremendous respect for the seniors on the team. He wants to win for the seniors and talks about it a lot. Those qualities are admirable and desired in a QB.
---
Chris from Minneapolis writes:
Adam, you've interviewed each of the two new Big Ten coaches. Who will have the most immediate impact on turning their program around? Or put another way, which school has the best chance to reach a New Year's Day bowl game within the next few years?
Adam Rittenberg:
There will be challenges at both places, but Minnesota has been closer to a breakthrough than Indiana. The Gophers have a sparkling new stadium and some young talent on the team. It comes down to Jerry Kill's ability to recruit and develop players. We just didn't see the development Minnesota needed under Tim Brewster. Kevin Wilson is fighting not only a losing tradition on the field at Indiana, but a dreadful tradition on defense the last decade or so. The good news is he received plenty of time with a seven-year contract to get things right. Should be fun to watch.
---
Bill from Toms River, N.J., writes:
Recently in one of your Big Ten Chats, someone asked if the Big Ten was trying to keep Nebraska out of the championship game with the tough schedule next year. Correct me if I'm wrong, but doesn't Nebraska only have to win its division to get to the championship game? In that case, Nebraska has home contests with Michigan State, Northwestern, and Iowa, and away contests with Minnesota and Michigan. That doesn't seem like something they can't handle. The games against Penn State, Ohio State, and Wisconsin wouldn't have an effect on the championship game, correct? What do you think?
Adam Rittenberg:
Bill, the Big Ten hasn't outlined the clear parameters for the division races, including tiebreakers, but you can assume that overall conference record will get you to the championship, and division record will be used to break ties. So if Nebraska loses three Big Ten games and Michigan State's only league loss is to Nebraska, the Spartans would be going to Indianapolis in December. So those cross-division games absolutely have an effect on the championship game, not to mention BCS at-large berths.
---
Scott from New Jersey writes:
Why do you hate Ohio State so much? Any little thing that could be thought of as negative you take it and run with it. Why don't you publish the story about Pryor on how he is donating his Sugar bowl tickets to charity? But you decide because he says something that everyone in the country including you has said that he would benefit from a read option offense, you publish it and re-publish it like he was DJK selling drugs. Have a little responsibility and publish a story on how he is academic all big ten and trying to be a academic all american, or he donated his tickets to Charity instead of just trying to fuel the hate and get comments on your blog.
Adam Rittenberg:
Scott, you're in the wrong place. This isn't the your-team-is-great-and-here's-why blog. You can find those elsewhere. My posts are on topics that I believe Big Ten fans will read with interest, and Pryor's comments are noteworthy. His plan to donate Sugar Bowl tickets is great, and I think there are more sides to Pryor than what comes through in his quotes. But this isn't the Big Ten p.r. blog, or the Ohio State p.r. blog. If it's interesting to Big Ten fans, I'll post it.
---
Arnie from Taiwan writes:
Your mailbags are awful, mostly because you choose the most cup cake questions that any moron could answer. That being said why isn't Denard part of the Heisman discussion?Here is my argumentLaMichael James- 1682 Rushing Yards, 6 yard Avg, 169 receiving yards, 22 Total TD'sDenard Robinson- 1643 Rushing Yards, 6.7 yard Avg, 2316 Passing Yards, 30 Total TD'sSo explain to me how James is a lock? It's not like another RB wouldn't be almost as successful in that Oregon offense! Denard had a better year! Outrage!
Adam Rittenberg:
For starters, Arnie,
LaMichael James
isn't a lock for the Heisman Trophy.
Cameron Newton
is. You want to look at Newton's stats? He has 1,409 rushing yards and 20 touchdowns on 242 carries. He also has completed 67.1 percent of his passes for 2,589 yards with 28 touchdowns and six interceptions. The guy leads the nation in passer rating (188.2). Oh, yeah, and he also has led Auburn to the national title game. You can make an argument Denard Robisnon had as strong a year as LaMichael James, but neither of them are winning the Heisman.
December, 9, 2010
12/09/10
11:00
AM ET
Ohio State quarterback
Terrelle Pryor
won't be joining
Cameron Newton
and three others for the Heisman Trophy presentation this weekend in New York.
But Pryor thinks if he played in an offense like Newton does at Auburn, he'd be bound for midtown Manhattan.
[+] Enlarge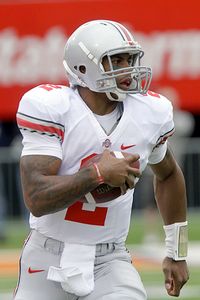 AP Photo/Seth PerlmanQB Terrelle Pryor didn't rush as much this year as in previous seasons.
Pryor, a finalist for the Chicago Tribune's Silver Football award, had some
interesting things to say to the newspaper about how he'd fare in a spread offense
. The Tribune will announce the Silver Football winner Friday, and the finalists are Pryor, Michigan quarterback
Denard Robinson
and Purdue defensive end Ryan Kerrigan.
While Pryor could earn the Silver Football, he didn't receive first- or second-team All-Big Ten honors this fall. The Big Ten coaches picked Northwestern's
Dan Persa
as their first-team quarterback, while the media went with Robinson. Wisconsin's
Scott Tolzien
was the coaches' second-team pick, while the media went with Persa.
From Brian Hamilton's story:
Pryor is not revered like Auburn's Cam Newton. He's not the equal of Dan Persa, Denard Robinson or Scott Tolzien, according to the all-conference voting. But as a starter at Ohio State, he's 30-4. He would like you to remember this.
"I'll put it like this: You put me in any of their offenses -- any of them -- and I'd dominate," Pryor said, when asked about the attention afforded the likes of Newton, Robinson and Persa. "I'd dominate the nation. What those guys do, that's what they're supposed to do in their offense. They carry the ball 30 times a game. I carry the ball maybe five times. There are times I didn't even run the ball in a game. You put me in any of their offenses, where I can run the ball and have a choice to throw, I would dominate college football."
This brings us back to an oft-asked question regarding Pryor and Ohio State: Would the Buckeyes be better off running the spread?
Ohio State has struggled to establish a true offensive identity since Pryor became the starting quarterback in 2008. Head coach Jim Tressel likes to base his scheme off of what he sees from the opposing defense. Ohio State has lined up in the I-formation, the pistol, the shotgun and other sets with Pryor calling the signals.
On the other hand, Ohio State's offense has made strides this season, and so has Pryor. The Buckeyes rank 11th nationally in scoring (39.4 ppg), 14th in rushing (219.7 ypg) and 19th in total offense (448.8 ypg). Pryor ranks 14th nationally in quarterback rating and 26th in total offense. While he's running the ball less than he did the past two seasons, Pryor remains a threat to take off, as he showed on a critical fourth-and-10 play at Iowa on Nov. 20.
And the Buckeyes continue to win. They are 30-4 with Pryor as the starting quarterback and have won three Big Ten titles with No. 2 in the backfield.
If it ain't broke ...
"We could have done better, but I'm 30-4," Pryor said. "I want nothing else but to win. If I was having a lot of stats and I was losing, I would really be kind of mad. My competitive nature wants just to win, by any means. By any means, win. That's all I really care about, to tell you the truth, man."
Can't argue with that.