January, 4, 2014
Jan 4
7:10
PM ET
COLUMBUS, Ohio -- Hitting one out of two was about all Ohio State could ask for with its star juniors.
Even better for the Buckeyes, they're apparently keeping the one who really matters to their title hopes in 2014.
Ryan Shazier
is a fantastic defender, and given the woes on that side of the ball at the end of the season, Urban Meyer certainly can use as many of those as possible as he rebuilds and reloads that unit. Losing him to the NFL draft, as SI.com reported citing a source, is a significant blow. But the Ohio State coach has been stockpiling talent to turn loose defensively next season -- and replacing
Braxton Miller
was always going to be the taller order.
[+] Enlarge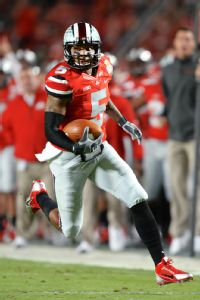 Allen Kee / ESPN ImagesBraxton Miller's return instantly puts Ohio State in the conversation for next season's national title.
Now the Buckeyes won't have to do that for another year, and the benefits are obvious.
The record-setting spread offense will have its engine back with yet another year to absorb the system, become a better student of the game and again improve his mechanics. For all Miller's struggles at the end of the year throwing the football, whether he was banged up, slowed by bad weather or whatever else, he again proved in the Discover Orange Bowl how invaluable his singular skills are to the Buckeyes as he nearly dragged them to a win by himself with four total touchdowns.
Of course, the bid for a late comeback ultimately came up short when Miller misread a coverage and fired an easy interception directly to a Clemson defender, adding one more bit of evidence that he's not quite ready to be a professional passer. There was plenty of proof to go around during the final month of the regular season and another sloppy outing in the Big Ten title game. But even with Miller not quite reaching his potential, there's probably nobody in the country whom Meyer would trade for to run his offense.
Miller is the two-time defending Big Ten Offensive Player of the Year. He has twice finished in the top 10 in voting for the Heisman Trophy. And while his arm might get criticized at times and NFL scouts night not have considered him ready to move on, Miller is plenty good enough at the level he's at now to take the Buckeyes back into national-title contention during his senior season.
Cardale Jones
or
J.T. Barrett
could wind up being productive quarterbacks down the road, and they might have been capable of leading an attack with veteran skill players such as
Devin Smith
and
Jeff Heuerman
returning along with promising dynamic threats such as
Dontre Wilson
and redshirt freshman
Jalin Marshall
without missing a beat. But they almost certainly don't have Miller's multipurpose athleticism. They haven't been through nearly as many battles leading the offense, and the Buckeyes would certainly have their hands full trying to bring the young quarterbacks along behind an offensive line with four new starters.
Shazier would have been icing on the cake if he returned. But Miller is the main course, and the Buckeyes now have enough to feed on to get back in position to play for it all next season.
January, 2, 2014
Jan 2
3:30
PM ET
COLUMBUS, Ohio -- The guy with the higher stock indicated he was leaning toward staying.
The one with all the uncertainty surrounding him declared himself ready for the next level and seemed to tilt toward the exit.
But with
Ryan Shazier
perhaps too hot of a commodity to return for another year in college and
Braxton Miller
at least giving the impression that he's willing to bet on himself, that combination could be a problem for No. 7 Ohio State. It might leave them without both stars after Friday night's Discover Orange Bowl and some mighty big shoes to fill when the Buckeyes start turning their attention to the 2014 season and what could be another run at a national title.
[+] Enlarge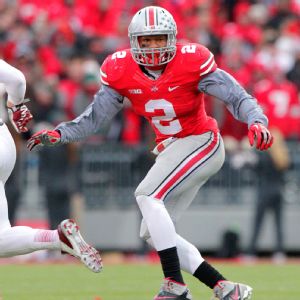 AP Photo/Jay LaPreteAfter a hugely productive season and good evaluations from draft experts, Ryan Shazier might be best served entering the NFL draft.
Is the matchup against Clemson the final time the playmaking linebacker and the two-time defending Big Ten player of the year will put on Ohio State uniforms? What impact will those decisions have the Buckeyes moving forward?
As both the deadline to declare for the draft and the Discover Orange Bowl both creep up, it's time to peek into the crystal ball.
Ryan Shazier
After yet another incredibly productive campaign stuffing the stats sheet in every conceivable way, there's really not much Shazier has left to prove as a college linebacker. He can make tackles anywhere on the field, he's shown an uncanny ability to time the snap as a blitzer and use his athleticism to make plays in the backfield and he's consistently delivered timely plays when the Buckeyes have needed them most.
But even with all that on his resume, Shazier publicly called himself "dead-flat in the middle" between staying or going before giving a slight edge to the former during bowl practices.
If he stays: The Buckeyes have been building toward the 2014 season with strong recruiting at every level of the defense, though linebacker still remains the position with the lowest margin for error based on the depth on hand. Having Shazier stick around would keep the entire starting front seven intact heading into next year, which could make it even more difficult to run the ball against Ohio State and take some pressure off what figures to be a young secondary.

If he goes: There will still be plenty of talent and experience on the Ohio State defense, but it will need some fresh faces to develop quickly and fill the void on the outside. Trey Johnson was a prized commodity in the signing class a year ago, and he might need to be ready to live up to his potential next fall.

Shazier's ESPN.com position rank: No. 4 outside linebacker

Prediction: Enters the NFL draft
Braxton Miller
There's hardly any room to criticize Miller at the competitive level he's playing at now, and few players have ever accumulated hardware at the rate he's been on over the last two seasons at quarterback. He's obviously won a few games, too.
But projecting Miller at the next level gets a bit trickier, because his passing numbers dipped down the stretch and professional general managers will undoubtedly be picking apart his arm and accuracy when they decide where to draft him to lead an NFL offense.
When pressed about his future, Miller said he was "definitely" ready to play at the next level in terms of his physical ability, but he was still waiting for some feedback from the draft evaluators before making a decision that is expected within about a week after the bowl game.
If he stays: The Buckeyes have four starters to replace on the offensive line and Carlos Hyde won't be in the backfield to help share the load, but Miller's presence alone in Urban Meyer's spread offense should ensure a lot of points on the board yet again. Ohio State has recruited well at the skill positions and has veteran targets like wide receiver Devin Smith and tight end Jeff Heuerman returning, so Miller certainly wouldn't have to do it all himself to keep things humming along for what would again figure to be a dynamic attack.

If he goes: Eventually Miller is going to have to be replaced, but the Buckeyes would clearly prefer to put that off for another year. Invaluable backup Kenny Guiton will be gone after this season, putting rising sophomore Cardale Jones and redshirt freshman J.T. Barrett in line for the marquee role for a potential title contender. Jones is big, strong and mobile and would likely have the edge heading to spring practice, but Barrett has been widely praised for his football intelligence since arriving on campus and could make a strong push for the job.

Miller's ESPN.com position rank: No. 13 quarterback

Prediction: Returns for senior season
December, 24, 2013
12/24/13
4:00
PM ET
Since Christmas is tomorrow, the normal Big Ten Wednesday mailbag comes at you a day early. Consider this your letters to Santa blog:

Matt from Tucson, Ariz., writes:
I'll send my question to you since you chose Nebraska as
your most improved bowl team
. I'm curious why (as a whole) Nebraska is perceived as a bad team that didn't meet expectations? I was watching ESPN's bowl preview show and was disappointed that Mike Belotti called Nebraska "a bad team" while Georgia was declared a team that persevered through injuries. Didn't Nebraska persevere through enough O-Line, WR, and QB injuries to make it to an 8-4 record? The O-line was so beat up that
Vincent Valentine
was needed on the FG team by the end of the season. Why is there no love for the Huskers?
Brian Bennett:
"Bad" is a very subjective word, Matt, and not one I'd use to describe this Nebraska team. It's true that the Cornhuskers did get a whole lot of crummy luck when it came to injuries, including losing senior quarterback
Taylor Martinez
and much of the offensive line. Nebraska did a great job of persevering and pulling out victories in tough games against Northwestern, Penn State and Michigan, the latter two of which came on the road. If there's a difference between Nebraska and Georgia, it's that the Bulldogs have marquee victories over South Carolina and LSU and came within a miracle play of beating Auburn on the road. The Huskers didn't accomplish anything close to that and suffered three blowout losses at home -- to UCLA, Michigan State and Iowa.
Tim from Raleigh, N.C., writes
: Will the Capital One Bowl be the last game
Joel Stave
starts for Wisconsin? I want
Bart Houston
(#BartHouston2014 which I try to get trending on Twitter) to start next year. I've been excited about this kid since he committed. I thought Gary Andersen might not be as thrilled since he is a pocket passer, but I looked at Houston's stats and he had 338 rushing yards and 19 rushing TDs in his senior HS season. He's supposed to have the better arm and can probably run better than Stave. I respect Stave a lot being an in-state walk on, but I don't think he's the answer for the next 2 years. I'm also scared Houston could then transfer. I don't want us to be in a Nebraska type situation where get stuck with a QB that you started as a freshman. Also, Houston has to start, HE'S NAMED AFTER BART STARR!!
Brian Bennett:
Well, he's got a good name and some nice high school stats. There's an airtight case that he should start. Ahem.
There's nothing quite like the love for backup quarterbacks among fans. A player is almost never as popular as he is before he plays a significant down. Hey, Bart Houston might wind up as a great player. We have no idea. I'll tell you who does, though: Andersen, offensive coordinator Andy Ludwig and the rest of the Badgers staff. They've seen Houston practice every day since they've come to Madison. If they thought Houston was better than Stave, he would have played more by now.
Maybe Houston progresses in the offseason and overtakes Stave, who simply missed too many throws in 2013. Or maybe
Tanner McEvoy
makes a move at quarterback, though his future may well lie on defense after he played well at safety. It's no secret that
Andersen likes mobile quarterbacks
. Right now, though, Stave still has a huge experience edge. It will be up to someone else to outplay him in practice.
[+] Enlarge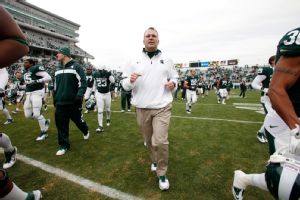 AP Photo/Al GoldisCould Michigan State defensive coordinator Pat Narduzzi get a head coaching job soon?
Matt from SoCal writes:
Do you see Pat Narduzzi as a real option to be the head coach at Texas?
Brian Bennett:
I don't, Matt. It's not that I think Narduzzi couldn't do a good job at Texas. It's just that I don't believe the Longhorns will hire a coordinator. They've got more money than Scrooge McDuck and are going to shoot for the moon with this job. Narduzzi might, however, benefit from a possible coaching carousel resulting from the Texas hire.
Kevin from Rock Island, Ill., writes:
Illinois has really been going after the Juco players. What are your thoughts on the strategy and some of the signees so far? It has worked for Groce and the basketball program, but when there are so many holes, it seems like a short term fix to a bigger problem.
Brian Bennett:
No doubt there are some issues with signing a lot of junior college guys. Not all pan out, and you risk getting in the cycle of needing more and more to fill gaps. But Tim Beckman really needs more depth and experience on the roster, and I think he sees this mostly as a short-term fix. The guys Illinois signed last year weren't exactly superstars, but players like
Zane Petty
and
Martize Barr
contributed, and
Eric Finney
might have done more than that had he stayed healthy. I can't pretend to know how good these incoming 2014 jucos will be, but I do like that the Stone-Davis brothers both fill needs at receiver and defensive backs and have three years left to play.
Connor M. from Lima, Ohio, writes:
Love the work you guys do for the Big Ten! Looking ahead to next year, let's say Braxton and Shazier both play well in the Orange Bowl, raise their stock and turn pro. How much will the offense and defense be affected and who do you see replacing those two in their respective positions, most specifically, the QB spot?
Brian Bennett:
Thanks, Connor. I think
Ryan Shazier
is the more likely of the two to go pro, and Ohio State could more easily absorb that loss, even though it would be a huge one. The defensive line should continue to improve, and there's a ton of young talent at linebacker and in the secondary on the way. Losing
Braxton Miller
, however, would change the whole outlook for the 2014 Buckeyes, especially since most of the offensive line and
Carlos Hyde
also are seniors. The only experience at all on the roster at quarterback is
Cardale Jones
, and he's a freshman who has thrown four passes. Freshman
J.T. Barrett
and incoming recruit
Stephen Collier
would battle Jones for the starting job, but Ohio State would basically be starting from scratch. In a much more difficult division.
BUCKIHATER from Future Home of the BigTen, NYC, writes:
If you look back starting from the modern era of college football (1960's- present), the school who loves to put the word 'THE' in front of its name only has two claimed national titles -- you can even argue they should only have one if it wasn't for a really bad call, while the other happened before Woodstock. If you compare the 'THE' to other traditional football powerhouses like 'Bama, Miami, even Nebraska who all have 5 or more since the 60's, its not even close. Why does 'THE' get so much love on being the savior for the Big Ten? I was shocked to see the lack of championships over the last 50 years and Michigan State just did what every team in the Big Ten wanted to do for 2 years: Beat the bullies from Columbus.
Brian Bennett:
So I take it you're not an Ohio State fan, then? Listen, if you want to start talking about national championships won by the Big Ten since the 1960s, this is not going to turn out well for anyone. Since 1970, we've got Michigan's split national title in 1997, Ohio State's in 2002 and ... hey, look, at that squirrel over there! The Buckeyes have been the only Big Ten team to even play for a national championship in the BCS era as a league member, and they've done it three times. So if you want to hate on Ohio State, that's fine. But that makes the rest of the conference look even worse by comparison.
Doug from KC, MO, writes:
I have a Hawkeye question stemming from some recent conversations I've had with Nebraska fans. They always talk about whether to get another coach or not because they want to be contending for National Titles like the old (90's) days. I tell them for most teams in the country, and especially the BIG, this is pretty unrealistic. CFB is at a point where a lot of the odds/rules/recruiting are stacked against northern teams and outside of programs with lots of tradition (Mich, OSU and even ND) it is going to be very tough for you to have a regular NCG contender. I hope for a BCS game or Rose Bowl for Iowa every 4-5 years but it is just too much of a stretch for me to think Iowa (and other mid-tier BIG teams) will make a NCG appearance. Do you think some BIG teams have expectations that are too high or am I on the Debbie Downer side of the argument?
Brian Bennett:
Doug, can you talk to BUCKIHATER for me? Anyway, I'm not sure enough Big Ten programs are ambitious enough. The Rose Bowl is great, but too many league teams talk like the Big Ten title is the ultimate goal, and I believe that becomes a self-fulfilling prophesy. How many times did you hear Urban Meyer talk about how much the Buckeyes just wanted to get to the Rose Bowl?
Anyway, as I just wrote a moment ago, the Big Ten hasn't exactly been reeling in the national titles. Here's the good news for the league, and for a team like Iowa: the forthcoming Playoff opens things up. Have a great year, win the Big Ten, and there's a chance you'll be in the four-team playoff. From there, who knows? Getting to that playoff, not the Rose Bowl, has to be the goal for every serious league team from 2014 on.
Chris from Northern Michigan writes:
Happy holidays, Brian, and merry bowl season. I would like to get your thoughts on the MSU QB situation. Obviously it looks like
Connor Cook
has the job wrapped up for the next two years, barring injury or a huge year next year leading to NFL early entry. Would you expect
Damion Terry
or
Tyler O'Connor
to transfer? MSU just lost a QB recruit, and while it would be understandable that either current QB would want to play, a Cook injury could be catastrophic if either transfers.
Brian Bennett:
Catastrophic? Well, you'd still have Cook and at least one backup. Not a whole lot of teams had to play three quarterbacks major minutes this season, outside of Nebraska. Cook will be hard to unseat after going 9-0 in the Big Ten and winning a title. I do think there will be some sort of role for Terry, because he's just too talented not to get on the field. Wouldn't surprise me one bit if O'Connor moved on.
And to your first point, Chris, Merry Christmas and happy holidays to all.
August, 20, 2013
8/20/13
5:00
PM ET
Only a few more of these before the season kicks off. Can't wait.
Don't forget:
Twitter!
To the inbox ...
Scott from Williamsport, Pa., writes:
Hey Adam, As we gear up for another season, we begin to speak about the Big 10 national perception. Do you think that part of the problem with the Big 10 is that it allows its identity to be wrapped up around OSU and MU? And that is not only from outside the league, but I think people inside the league also have that view. To prove that point I ask a simple trivia question. What Big 10 team has the most bowl wins since 1993? Hint: It's not OSU or MU.
Adam Rittenberg:
Just so everyone's clear, I'm assuming you mean MU is Michigan. This is an interesting topic, Scott, and one I've discussed with other writers and even Big Ten officials. Big Ten fans who don't root for Michigan and Ohio State have raised this issue many times on the blog, and there's some truth to the belief that the league identity remains too rooted in those two programs. Here's the problem: the Big Ten actually has had more parity in the past 20 years than any time in its history, as teams like Wisconsin, Iowa, Penn State, Northwestern, Purdue and now Michigan State have made surges. But where has all that parity gotten the league? Nowhere. The national titles still aren't coming, and that's really all that matters with national perception. The SEC's depth has shown up when it counts -- five programs have won BCS national titles -- while the Big Ten's depth hasn't translated well enough in the biggest games.
When it comes to pure perception, the Big Ten might be better off with 2-3 dominant teams that could win the crystal football on a regular basis. It's safe to assume Ohio State would be one. Would Michigan be the other? We haven't seen it too often in the BCS era, but no other team -- Penn State, Nebraska, Wisconsin -- has really established itself as a national title contender. Until that happens, the default perception of the league will focus on Ohio State and Michigan, the two most tradition-rich Big Ten powers. People talk about what they know, and those two programs still represent Big Ten football more than any others.
---
Steve from Khandahar, Afghanistan, writes:
Is there heir apparent to Braxton Miller currently on the Buckeye roster? Of the four freshmen currently on the roster, I have only heard any buzz (sounded like a baby fly) about one, Cardale Jones. Should the Buckeye faithful be getting nervous about not recruiting any highly ranked QBs this past summer? What are the chances Miller stays for his senior year to allow Urban Meyer to grab a top 2015 recruit?
Adam Rittenberg:
Steve, this is a fair question as Ohio State needs to start thinking about life after Miller. But I think Miller sticks around for his senior season, as I doubt he'll develop into a can't-miss NFL prospect this year. When I asked offensive coordinator Tom Herman about Miller reaching his full potential in 2013, he replied: "This year? I think it will be really hard because of some of the rudimentary and remedial things we still had to work on going into this year for him to reach his full potential this season." Maybe that's Herman wanting one more year to work with Miller, but I think there's some truth there. As for the future, Jones certainly is a name to watch, but Ohio State hasn't brought in another quarterback who makes major waves nationally. Perhaps J.T. Barrett or 2014 recruit Stephen Collier or someone else steps forward, but you're right about the lack of buzz.
---
Scott R. from Chadron, Neb., writes:
Hey Adam. Just wondering, it's not your ranking, but what are your thoughts on Sports Illustrated having Nebraska as unranked? Not sure if I'm just biased, or if Nebraska really has a shot at being 7-0 at one point in the season. Gotta beat UCLA, but if we do, we could be top 10 by November. Of course, what happens then is going to make or break, particularly playing Michigan in Ann Arbor... but still, unranked?!? And behind Northern Illinois? (No disrespect to them, but SI talks about what a huge challenge Iowa will be for Northern Illinois this season... yet they ranked them ahead of us...)
Adam Rittenberg:
I'd be lying if I said the
SI rankings
didn't raise an eyebrow or two, especially with where they had Michigan State (No. 15) in relation to the rest of the Big Ten. Sure, defense can win championships, but Michigan State has some major questions to address on offense. I agree Nebraska has a great chance to start the season 7-0, and 10 or 11 wins certainly is realistic for Bo Pelini's crew. But in terms of perception, the Huskers left many folks with a sour taste by falling flat in the Big Ten championship game and surrendering 105 points in their final two games. Nebraska is a Top 25 team in my view because of the offense, but there are some uncertainties with Pelini's D. Northern Illinois has 23 wins the past two seasons and brings back a superstar in quarterback Jordan Lynch. I don't have an issue with the Huskies being ranked, but Nebraska should be, too.
---
Jason from Rochester, Minn., writes:
You mentioned in one of your recent mailbag responses that you'd be attending the latest Badgers scrimmage. Anything interesting come out of it?
Scott E. from Barron, Wis., writes:
Hey Adam, I saw you on a video from Madison yesterday. Where is our report? How is the team looking? How about the addition to Camp Randall?
Adam Rittenberg:
Jason and Scott, you better start following Brian and I on Twitter. I had plenty of scrimmage updates there, including some glowing words about my new man crush, Wisconsin freshman LB Leon Jacobs (get that kid on the field!). Wisconsin's offense looked good for most of the scrimmage, although the defense held out linebacker Chris Borland, defensive tackle Beau Allen and several other key players. The Badgers not surprisingly are loaded at running back -- freshman Corey Clement has extremely quick feet, can change directions in the hole and has the size to pass-block effectively -- and need more bodies at wide receiver and on the offensive line, which won't be as dominant as in years past. I gave Joel Stave a slight edge among the quarterbacks in Monday's scrimmage. Scott, I'm a big fan of the
new video board
and Wisconsin's facilities upgrades.
---
PSU Josh from Galesburg, Ill., writes:
Hello Adam: Any word on Penn State playing Michigan to start the B1G East football schedule early with their future schedules? It would be great to see Penn State play either Michigan, Michigan State, or Ohio State in September to begin their Big 10 slate yearly in the future schedules!
Adam Rittenberg:
I'll check on that, Josh, but I'm all for having conference games in early to mid September to make the Big Ten more relevant. Everyone should prepare for the Big Ten to be a national afterthought this season in Week 1, as there are few matchups that appeal outside the region. Pairing Penn State and Michigan or Ohio State in a season opener or a Week 2 matchup would bring more eyeballs to the Big Ten. I generally prefer marquee division games to take place during the stretch run in November, but I wouldn't be opposed to this idea every once in a while.
---
Scott from Davenport, Iowa, writes:
With Iowa losing their top recruit to Alabama, Don't you think that some of these player that go after championship teams, miss the chance of starting sooner than later. They also miss out on the bigger picture the possibility of going to the NFL. Iowa currently have more offensive lineman playing in the NFL than Alabama does.
Adam Rittenberg:
Scott, it's certainly a factor that recruits like Ross Pierschbacher must consider when making their college choices. But if Pierschbacher is as good as some recruiting analysts think, he should be able to start fairly early for any program, including Alabama. Both Iowa and Alabama do an excellent job of getting offensive linemen ready for the NFL. While the Hawkeyes might have more NFL linemen than the Tide, recent years have brought a surge in pro-caliber linemen from Nick Saban's program. Ultimately, Pierschbacher needs to have confidence that he can play on the highest level for the best program or he'll surely fail. We'll have to wait and see if his decision pays off or not.
---
Stay at home dad writes:
When do your chats start again? And can they be during my kids nap time (12:00- 2:00)?
Adam Rittenberg:
Chats should be starting up very soon, most likely next week. And I'm shooting for a noon ET chat slot, so it should work for your kids' nap schedule. See, I take care of my fans.
April, 12, 2013
4/12/13
2:15
PM ET
It's a big weekend in the Big Ten, with five spring games on tap (Northwestern will wrap up its spring with a regular practice). Only one team is playing in a different city than its campus, and that's the
Ohio State Buckeyes
. Here's a look at what to expect when the Scarlet squares off against the Gray ...

When:
Saturday, 1 p.m. ET
Where:
Paul Brown
Stadium, Cincinnati
Admission:
General reserved seats are $12 and $5 for ages 2-6; children younger than 2 and students with a valid ID get in for free. Parking is $10.
TV:
Live on BTN2Go
. Big Ten Network will air the game on tape delay at 7 p.m. ET.
Weather forecast:
Partly cloudy, with a high of 54 degrees.

What to watch for:
With some repair work being done at the Horseshoe, the Buckeyes decided to move their spring game south to Cincinnati. This should make for an interesting atmosphere, and it could ultimately serve another purpose: helping Ohio State
bridge the gap to the Queen City
in recruiting
.

Urban Meyer doesn't really need to see
Braxton Miller
,
Carlos Hyde
,
Corey "Philly" Brown
or
Bradley Roby
perform in a game-like setting. This is a bigger day for some less-heralded positions, like the right tackle spot that has been an open competition between
Taylor Decker
and
Chase Farris
throughout the spring. There will also be a lot of focus on the defensive line, where all four starters are gone from last year.
Noah Spence
,
Adolphus Washington
and
Michael Bennett
are near locks to start there this year, but there is still plenty of competition for playing time in the rotation.
Meyer would also like to see more production out of his receiver group, but don't get too excited if one of them has a breakout performance. Remember
Michael Thomas
' huge spring game last year as a true freshman? He didn't contribute much during the season and still isn't one of the Buckeyes' top four wideouts. Also keep an eye on the linebacker spots, especially since
Ryan Shazier
is expected to be limited at best. This is a big offseason for
Curtis Grant
, the former highly decorated recruit who needs to make an impact this year as a starter for a young unit.
You'll probably see a lot of time for backup quarterbacks
Kenny Guiton
and
Cardale Jones
, whom Meyer said showed this spring that he can handle the position. Maybe we'll even see some of the diamond formation with three backs in the backfield that Ohio State has experimented with this spring.
More than anything, it will likely be a celebration of the Buckeyes as they visit a different part of the state.
October, 11, 2012
10/11/12
5:00
PM ET
When I am king of college football, one of my first moves will be to ban the phrase, "He's a good football player" from every coach's vocabulary. I can't tell you how many times I've heard that answer this week alone when Big Ten coaches were asked about a player. It's not just this league, though; this a national epidemic. We know coaches love to use the word "football" about as much as they love teaching and watching it, but it's still not an adjective and we all know what sport we're talking about. Funny how during the baseball playoffs, we never hear anyone described as a "good baseball player."
End rant. Let's get to your mail.
Dave Minneapolis writes:
In your chat answer about coach of the year you mentioned Urban Meyer possibly over Bill O'Brien. I get O'Brien, but Meyer? I'd like to think I could coach that team to at least 10 wins with year 2 -- Miller and all. Why not think outside the box? What if Bret Bielema were to turn around Wisconsin? (granted, big if) Wouldn't that be huge on his part, having the foresight to can his OL coach after 2 games and bench his transfer QB for a freshman? After all, what makes a good coach? How do we know if it's the players or the coach (obviously it's some combination)? Frankly, the coach of the year thing is too subjective anyway, but I guess that fits perfect with college football.
Brian Bennett:
Dave, that's a good email. You're a good emailer. As of right now, O'Brien is the coach of the year in the Big Ten, if not nationally. But there's a whole half-season (or more, for some teams) left. I think you underrate the job Meyer is doing. Remember, this is essentially the same team that went 6-7 last year and couldn't score. While there's no doubt Ohio State is talented, the Buckeyes aren't deep and they're relying on a lot of young players. If he can get them to 10-2 or better, he deserves serious consideration for coach of the year honors. I get what you're saying on Bielema, but these awards almost always go to coaches who exceed preseason expectations. The expectations for Wisconsin were high after back-to-back Rose Bowls. And if you're going to credit Bielema for firing his offensive line coach early in the season, you also have to blame him for hiring the wrong guy in the first place, no?
---
Kyle from Denton, Texas, writes:
I don't see how the loss to tOSU doesn't turn up the heat on Bo Pelini a bit. He is known as a defensive guru and has founded his program on defense. Thus far this season the Huskers have given up 126 points to THREE BCS conference foes (42 ppg avg.). If that trend continues that means Nebraska will have to score a minimum of 43 points per game on offense to win games. It almost seems as though Bo's teams can either have a good defense with bad offenses ('08,'09,'10), or a good offense with a bad defense ('11,'12). That has to turn the temperature up on him a bit don't you think?
Scott R. from Omaha writes:
Brian, do you think Nebraska fans are ahead of themselves by the "Pelini should get fired" comments? I mean, he took a 2007 team that wasn't even bowl eligible and got 9 wins in his first three seasons. On the other hand, in 1973 Osborne took a championship-caliber program and got 9 wins in 5 of his first 6 seasons. Granted, we ARE the program that fired Solich for going 10-3 because we "didn't want to slip into mediocrity," but regardless, are we jumping the gun?
Brian Bennett:
I went on an Omaha radio station on Monday, and they barely had time for guests because the phone lines were jammed with angry, frustrated Nebraska fans. And understandably so. Pelini's Huskers have won at least nine games every year, but they also haven't been able to get over the hump and make the leap to elite status (or even conference champions yet). The road struggles and continual defensive breakdowns are particularly exasperating. Nebraska fans couldn't have liked Pelini's answers on Saturday night, when he said he didn't know why his teams have succumbed to adversity on the road, or on Tuesday's Big Ten coaches' call, when he simply blamed poor execution for the problems (i.e., putting it all on the players). A coach with his defensive background and track record should be fielding better defensive teams than what we've seen the past two years.
It's far too early to talk about pulling the plug on Pelini, and he's won too many games for that to happen. But he and his staff simply must re-evaluate what they're doing and why the team can't get it done in big road contests. That means everything from scheme to personnel to recruiting to how they travel. Because if this pattern continues, it won't be long before Pelini's job status warrants a serious discussion.
Brent from State College, Pa., writes:
Hi ,Brian. Why is Manti T'eo getting so much Heisman love? I was just comparing his statistics to
Michael Mauti
. T'eo has 46 tackles, 3 INTs, and 3 passed defended, while Mauti has 58 tackles, 2 INTs, and 2 passes defended. What gives? Why isn't Mauti on the Heisman radar as much as T'eo? Is it strictly because ND is undefeated to this point?
Brian Bennett:
First off, let's point out that Te'o has played one fewer game than Penn State's Mauti so far. I agree that Mauti has had an outstanding season, and his omission from the Lombardi Award quarterfinal list is a complete disgrace. But you can't discount team success when it comes to the Heisman Trophy. Notre Dame is undefeated and in the Top 10, while Penn State is 4-2 and unranked. The Irish defense has been one of the best in the country, and Te'o is the leader of that unit. And his story, having overcome personal tragedy to turn in huge performances in spotlight games, also helps.
---
Vicente from Troy, Mich., writes:
Hey Brian, thank you for bringing double the blogging fun with Adam! You both are true connoisseurs of this league, contrary to the belief of the narrow-minded one team fan. Anyway, we both know that the B1G is the running joke these days, but shouldn't Jim Delany and the rest of the B1G pat themselves on the back for getting Nebraska over Mizzou or Kansas? At last glance, we have a better ratio of underwhelming teams in our league when compared to the SEC (I counted us at 4 to 12 vs the SEC at 6 to 14). Shouldn't we take a step back and see how well we are still doing?
Brian Bennett:
Some good points, Vicente. There's no way to deny that the Big Ten is having a bad year, but those predicting nothing but doom and gloom in the future are overreacting. This league has too many tradition-rich programs and too many resources to be down for long. Despite Nebraska's recent road struggles, that program will rise again and it was a great addition to the league. Missouri always seemed like an odd fit and is finding life in the SEC awfully tough right now.
---
James from Chicago writes:
Brian, when is the BIG going to learn that the way you get lots of teams ranked is by scheduling down, not up? The BIG has no teams ranked in the coaches' poll this week, but the Big Least has 3. And look at Rutgers & Cincinnati, they haven't beaten a team with a winning record all year, and haven't even played any teams who are ranked! Those 2 teams should not be ranked at all.
Brian Bennett:
Sorry, James, but I have to sharply disagree with you here, and not just because I used to cover the Big East. Your logic is flawed when it comes to scheduling. Rutgers won at Arkansas; granted the Hogs are a mess right now, but no one would have said before the season that Rutgers was "scheduling down" by taking that game on. It sure looked like a much tougher matchup than playing at Oregon State or at UCLA, both of which were Big Ten losses. And Cincinnati played Virginia Tech on a neutral field. Again, the Hokies are down this year, but that's a much better scheduled game than just about anybody in the Big Ten had. So you can criticize those Big East teams if you want, but they scheduled aggressively -- and didn't lose to teams like Central Michigan.
---
Andrew from Nashvegas, Tenn., writes:
It is fun to speculate that Iowa has found a thunder (
Mark Weisman
) and lighting (
Damon Bullock
) combo at running back. In the Kirk Ferentz era however this combo has never been very successful. Weisman and Bullock both had good numbers against vanilla defenses. Do you think Iowa would benefit from utilizing a thunder/lighting running scheme?
Brian Bennett:
Be careful, Andrew, lest ye tempt the AIRBHG. But we should see Weisman and Bullock together on the field this week at Michigan State. It will be interesting to see how Ferentz and offensive coordinator Greg Davis utilize them, since Weisman has had the hot hand. The Spartans have great numbers against the run, but Ohio State showed two weeks ago that a good offensive line and downhill running game can work against them. The Hawkeyes really need to get their passing game going more than anything, but having an extra and different type of option at tailback certainly can't hurt.
---
Atlee S. from Ann Arbor writes:
I was wondering if you were going to comment on
OSU's backup quarterback's tweet
from the other day that read, "Why should we have to go to class if we came here to play FOOTBALL, we ain't come to play SCHOOL, classes are pointless." Now, I love college football more than just about anything, and my vision may be a little clouded with a Maize and Blue fog, but come on. It's pretty disgusting that players don't appreciate the free education they are getting, not to mention all of the free trips, food, and experiences. An OOS student at Ohio pays $25,445 a year, and while
Cardale Jones
is instate, that is still thousands of dollars he is essentially stealing from a student athlete that could be doing great things in his/her own sport while still taking advantage of all of the opportunities (however inferior to Michigan) the school has to offer.
Brian Bennett:
My take on this is pretty simple: What Cardale Jones said on Twitter was dumb. Mighty dumb. But Jones is a 19-year-old kid who said something stupid on Twitter. Plenty of 19-year-olds don't always like their classes. Big deal. Jones absolutely has to be smarter than that and realize his Twitter feed will be viewed by all kinds of people. Jones wasn't going to play this year, anyway. Let's see if he learns from this mistake.
---
Brutus from The Ninth Circle writes:
I had a question about the way Penn State is playing these days. Because they are taking more risk on 4th downs and really pushing for a TD rather than a FG, this seems to fundamentally alter their ability to win. For example, if they had a good kicker, they may be inclined to go for 3 pts rather than 7. But, being the math genius that I am, 7 points is more than 3. If they have faith that they can make the 7, and if the probability is in their favor (skill, confidence, whatever), then technically, aren't they a harder team to beat because they are playing for larger points? Said another way, they might not have won this past weekend if they had a good kicker because they would have opted for fewer points. Of course, going for 7 on 4th downs is riskier, but it seems to be paying off. Just wondering how the traditional mindsets and outcomes are changed if they are always going for a higher number of points.
Brian Bennett:
Some excellent points, Brutus, and as I noted on Twitter Saturday, O'Brien's team is basically staging a laboratory for whether it's more advantageous to go for it on every reasonable fourth down. Penn State is 13 out of 20 on fourth downs this season, and that success rate seems high enough to me to take the risk. In a weird way, the Nittany Lions have benefited from
Sam Ficken
's struggles. I don't know if O'Brien goes for it on fourth down with his team trailing by 11 last week if he truly believed in his kicker. But because of that, it has helped instill an aggressive approach that has to benefit the offense's mindset. There are stat-heads who will tell you that teams are better off going for it on fourth down every time. O'Brien may end up being their patron saint.
---
Ray from Chicago writes:
You can't knock Northwestern's defense for the 4th quarter collapse against PSU. They were on the field for two-thirds of the game. This loss goes to the offense and even more so to the coaching staff for their unwillingness to run between the tackles and mix in
Kain Colter
on a day when Trevor Siemien was consistently overthrowing the ball. Can you tell I'm bitter about not going 6-0 for the first time in 50 years?
Brian Bennett:
The Wildcats had done a great job of juggling the two quarterbacks all year, but I thought they messed it up at Penn State. Siemian and the passing game weren't clicking, while Colter has some success running the zone-read with
Venric Mark
. Yet when Northwestern was trying to close out the game in the fourth quarter, Colter was absent from the game plan and instead the offense barely stayed on the field because of incomplete passes. Of course, you also can't let the defense off the hook after it allowed 22 fourth-quarter points.
---
Jim from Alexandria, Va., writes:
In your
B1G stock report
this week you called out the Wisconsin students for showing up late to the game. This is nothing new and was standard when I went to school there during the Ron Dayne era. I don't disagree that the late start should mean they could be there on time. But your comment -- "The game was a 2:30 p.m. local time kick, so too much partying the night before could not be used as an excuse" -- confirms the fact that you have never partied in Madison...at least, not "truly" partied.
Brian Bennett:
I had a pretty good time in Madison this spring, Jim. I'd buy your argument if it were an 11 a.m. kick, but there's no excuse for not being recovered by 2 p.m. when you're a spry college student. Plus, the Badgers only have seven home games this year. Pace yourself, people!
July, 17, 2012
7/17/12
2:25
PM ET
On Monday, we ranked
the top individual quarterbacks
in the Big Ten heading into the 2012 season. As we'll do with every group, we now take a look at the quarterback units as a whole throughout the league.
Having a good starter is critical here, but depth also matters. Quarterbacks can take a beating during the course of a season, so teams without experienced backups will fall a notch in these rankings. Away we go:
[+] Enlarge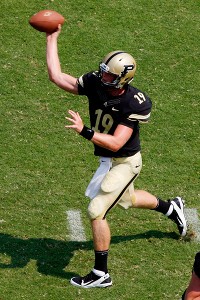 Brian Spurlock/US PresswireCaleb TerBush threw for 1,905 yards and 13 TDs last season.
1. Purdue:
Do the Boilermakers have one of the top quarterbacks in the league? No. But they have something no other Big Ten team can claim: three players with significant starting experience. The benefit of dealing with injuries the past couple of years is that now
Caleb TerBush
,
Robert Marve
and
Rob Henry
are all seasoned veterans who can be interchanged by head coach Danny Hope. That gives Purdue the best quarterback depth in the Big Ten.
2. Michigan:
The Wolverines have the league's most experienced quarterback in star
Denard Robinson
. They also know that if something happens to Shoelace -- or if they just want a change of pace --
Devin Gardner
can fill in capably. Redshirt freshman
Russell Bellomy
is more of a pocket passer who showed some things this spring.
3. Nebraska:
We know all about
Taylor Martinez
. The question is, how good is
Brion Carnes
, his backup? That's hard to say, since Carnes hasn't played much, but he is entering his second season as the No. 2. Redshirt freshmen
Tyson Broekemeier
and
Bronson Marsh
and true freshmen Tommy Armstrong add depth if not experience.
4. Iowa:
The Hawkeyes are ranked here mainly on the strength of
James Vandenberg
, who's reliable and durable. Things drop off after him, with senior
John Wienke
and redshirt freshman
Jake Rudock
the likely backup plans. Junior college transfer Cody Sokol is expected to redshirt, though that could change in case of emergency.
5. Ohio State:
Braxton Miller
should be one of the top quarterbacks in the league for the next three years. But what if he gets hurt, which seems like a real possibility as much as he runs the ball? Urban Meyer said Kenny Guiton showed marked improvement this spring. True freshman Cardale Jones was highly regarded on the recruiting trail.
6. Minnesota:
While senior
MarQueis Gray
is the clear starter, sophomore
Max Shortell
gained valuable experience last year in key spots. And the Gophers are excited about the future with true freshman Philip Nelson, who was a major recruiting coup.
7. Illinois:
Reilly O'Toole
saw a lot of action as a true freshman and will continue to push
Nathan Scheelhaase
for playing time. Junior
Miles Osei
could serve as third-string QB.
8. Wisconsin:
There's a reason the Badgers brought in another graduate transfer. This spring, Wisconsin had only two healthy quarterbacks --
Joe Brennan
and
Joel Stave
, the latter of whom pushed ahead in the competition.
Danny O'Brien
should solidify the position, but with injuries to
Curt Phillips
,
Jon Budmayr
and Bart Houston, depth is still a concern.
9. Northwestern:
Much depends on how
Kain Colter
improves as a passer. Sophomore
Trevor Siemian
completed 16 of 26 attempts last year
and could give the Wildcats a different look if they want to move Colter around.
10. Michigan State:
The Spartans got a preview this spring at what might happen if
Andrew Maxwell
gets hurt. Freshman
Connor Cook
had to lead both offenses in the spring game, as depth is a pressing issue here. Maxwell should be very good, but Michigan State still enters the season without a quarterback who's ever played significant downs.
11. Indiana:
Tre Roberson
had a promising rookie campaign yet felt some stiff competition this spring from junior college transfer Cameron Coffman. The Hoosiers will bring in promising prospect Nate Sudfeld, too. So even with two former starters --
Dusty Kiel
and Ed Wright-Baker -- transferring in the offseason, Indiana should have decent depth here.
12. Penn State:
Call me an optimist, but I believe
Matt McGloin
will be more effective at quarterback now that he's got a more modern offensive system and peace of mind that he's the starter. Still, the Nittany Lions have earned the bottom spot in these rankings with poor performance at the position over the past couple of years.
Rob Bolden
has not capitalized on his opportunities, and fan favorite
Paul Jones
has not played a down in college. At least Penn State has nowhere to go but up.
January, 13, 2012
1/13/12
4:00
PM ET
Hope everyone has a great weekend.
Nate from Moline, Ill., writes:
Hey Adam,I read your article about Illinois hiring Gonzales and the positives and negatives associated with it. I agree that it's great that's he's been around a TON of winning, has produced a great amount of NFL talent, and is an excellent recruiter. However, I don't agree with some of the negatives. LSU's offense has been pretty efficient. They just haven't ranked higher because they have struggled with QB play.
Adam Rittenberg:
Nate, that's a good point. I was only noting that hiring LSU's pass game coordinator a few days after the BCS title game debacle might sway fan perception a bit. Billy Gonzales is a very good recruiter and developed plenty of NFL wide receivers at Florida. It'll be interesting to see how he fares as the primary playcaller at Illinois. LSU has struggled at the quarterback position, while Illinois has had mixed results with
Nathan Scheelhaase
. It'll be important for Gonzales to help Scheelhaase recapture the form he showed early this season and in the 2010 Texas Bowl. It's interesting that Illinois' last two offensive coordinators -- Gonzales and Paul Petrino -- both have worked with wide receivers more than quarterbacks.
---
Michael from St. Louis writes:
In the final third of the season, it felt like Nebraska was held back most by its lack of a down-field passing threat, particularly on third-and-long. Would
Taylor Martinez
overhauling his throwing mechanics help matters in 2012, or would it do more harm than good?
Adam Rittenberg:
Michael, you mean you don't like the T-Magic shot put? His mechanics are what they are, and I don't know how much tweaking you can expect. He did throw the ball well at times, like in the games against Ohio State and Northwestern. But I also think Nebraska's wide receiving corps will be much better in 2012 as players like
Kenny Bell
and
Jamal Turner
get another year of experience under their belts. Most offenses aren't built to succeed in third-and-long, and Nebraska's is no exception, but I do see the Huskers getting more production in the passing game and particularly more YAC (yards after catch) from Bell and the others.
---
Josh from East Lansing, Mich., writes:
What do you expect out of Michigan States receivers for next year? Gaining Arnett was a big addition, but outside of him nobody is proven. Do you think Aaron Burbridge and
Juwan Caesar
can be a big enough impact as freshmen to make MSU a top team for next year?
Adam Rittenberg:
Josh, young players certainly will have opportunities to see the field in 2012 for Michigan State.
DeAnthony Arnett
should be in the mix if he gets his NCAA waiver.
Bennie Fowler
didn't play much this season but showed some promise in 2010 and likely will be a part of the plan. After that point, you're looking at young guys like Burbridge and Ceasar. I also think Michigan State will return to more of a run-based offense in 2012 with a more experienced offensive line and
Le'Veon Bell
back in the fold.
---
Eric from Chicago writes:
Adam,There's one issue related to the Penn State situation that never gets addressed. Being that Paterno, Curly, McQuerry, et al interviewed in front of a grand jury why was every thing such a shock to Penn State when this news became public? Penn State knew about this months before it became public so how did they not have a plan in place for handleing it from a public relations standpoint?
Adam Rittenberg:
Eric, I'd disagree that this issue hasn't been discussed. It's very much in the minds of Penn State fans and alumni who want answers from the school's administration. The (Harrisburg) Patriot-News reported
Jerry Sandusky being the subject of a grand jury investigation
back in March. People at Penn State clearly knew about the report, but it certainly seemed like the school was unprepared for the storm in November. Penn State has been playing catchup from a public relations standpoint from the beginning.
---
Paul from Grand Rapids, Mich., writes:
Hey Adam, what are the odds that Cardale Jones could make a push against
Braxton Miller
? I love Braxton, but Cardale looks like a Vince Young re-incardalded(haha). Braxton might be a better runner, but Cardale sure looks like a solid runner with a rocket for an arm. Am I crazy? Also what about the running backs? What is the order looking like?
Adam Rittenberg:
Paul, I'd say you're a bit nuts on the Miller-Jones thing, but who knows? Maybe I'll be the crazy one a year from now. I do think Miller will thrive in Urban Meyer's offense, which will give him much more freedom to create and make plays, which is what he does best. Although Ohio State should keep other quarterbacks in the mix, the coaches seem very excited about Miller and for good reason. The running back rotation will be very interesting, to say the least.
Jordan Hall
has experience and versatility as a guy who can catch passes out of the backfield. Smaller backs typically thrive in the spread, and both Hall and
Jaamal Berry
seem to fit the profile. Berry has to get his off-field issues straightened out, but he's clearly a talented player. I'm interested to see what happens to a guy like
Carlos Hyde
, who looked good at times during the 2011 campaign but might not be the best fit for this system.
---
Dam from Miami writes:
Read your column about football players running track in the spring. Was curious if any B1G football players play any other sports like basketball? I know in the late 90's early 2000's there were many football athletes who doubled to play basketball as well like Julius Peppers, Jimmy Graham, Tony Gonzales, etc...
Adam Rittenberg:
Dam, it's becoming less and less common as football is a year-round activity and specialization is encouraged more these days. You see football players run track in other leagues more than you do in the Big Ten. As a guy who grew up cheering for Cal's Tony Gonzalez at both Memorial Stadium and Harmon Gym, I wish we'd see it more. The Big Ten has had some football players also play basketball, like Michigan State wide receiver/forward Matt Trannon. Purdue tight end
Patrick Bade
played two years of basketball for the Boilers before joining the gridiron squad, but he no longer does both.
---
Keith from Phoenix writes:
Hi Adam love the blog. A lot has been made about how UM's schedule is hard in 2012 similar to how hard MSU's was in 2011. My question is whose schedule is harder? They are similar in the challenging road games but MSU had Wisconsin and UM at home after a bye week while UM travels to Dallas to take on Alabama and has MSU at home. Another key factor is how OSU improves under Urban Meyer compared to Luke Fickell.
Adam Rittenberg:
Keith, it's a little tough to assess this without knowing how good certain teams will be in 2012. But it appears as though Michigan will play a tougher schedule than Michigan State did this past season. The Alabama opener increases the degree of difficulty by a lot. Like MSU, Michigan will visit both Notre Dame and Nebraska -- the two places where the Spartans stumbled during the regular season. I also think Michigan will face a much better Ohio State team than the one the Spartans faced this season. But again, it's hard to tell at this point. We should get a very good gauge of the Michigan program after the 2012 season.
---
Jesse from Superior, Wis., writes:
Will
Russell Wilson
's performance at Wisconsin this season encourage other athletic quarterbacks to consider Wisconsin a place to excel? I think Wilson's numbers prove that a quarterback with skills can have plenty of success, especially under Bielama. Thoughts?
Adam Rittenberg:
Jesse, Wisconsin's appeal for quarterbacks certainly has increased because of Wilson. The Badgers have a highly touted QB recruit (Bart Houston) arriving next year, and Bielema said he heard from several quarterbacks looking to transfer (
Dayne Crist
among them). The key for Wisconsin going forward is replacing offensive coordinator Paul Chryst. Wilson thrived under Chryst, and Chryst's system can prepare quarterbacks for the next level. Wisconsin will keep a similar identity on offense with its next coordinator, but the new coach and the new assistants on the offensive side will be integral in luring signal callers who boast Wilson's skill set and potential.
---
Lance from Greensboro, N.C., writes:
Adam,Just read your chat transcript. I'm a little surprised that you'd be against a 16 team playoff, and even have problems with an 8 team. While I'm not a playoff fan myself, if there is one I think you have to give automatic bids to the conference champs. Even if you limit this to the BCS conferences, that means 6 of the slots are taken, which doesn't give much room for deserving at-large teams. And if you don't give bids to the other FBS conference champs, that seems unfair. If you don't give automatic bids, you really hurt deep balanced conferences where it's really hard to run the table and help top heavy conferences (remember when FSU played for a national championship every year because there was no way they'd ever fail to go 8-0 in the ACC?). What do you think?
Adam Rittenberg:
Lance, a 16-team playoff would be a logistical nightmare with different schools having final exams at different times and so forth. I'd be in favor of an eight-team playoff if it was organized the right way. I might be in the minority, but I still believe the bowl experience is a nice reward for the players. I'm also not crazy about having the Big East champ or the ACC champ in a playoff every year, especially over more deserving teams that didn't win their league. I would have liked to have seen Arkansas in a playoff this year. Same for Stanford. I didn't need to see Clemson or West Virginia. I'd rather tweak the BCS formula or have a committee select the eight most deserving teams based on a specific criteria. The champions from leagues like the SEC, Big 12 and most likely Big Ten and Pac-12 would be in the playoff most seasons, but I don't think there should be automatic bids.
June, 20, 2011
6/20/11
2:45
PM ET
As promised in last week's mailbag, let's take a look at the annual Big 33 game from over the weekend.
The annual showcase for high school players from Ohio and Pennsylvania featured 20 future Big Ten players, including five Ohio State signees. And the Buckeye State got a boost from those future Buckeyes, as Ohio crushed Pennsylvania 50-14.
Ohio State recruits had a big hand in the win. Quarterback
Cardale Jones
threw two touchdowns passes, strikes of 54 and 40 yards. Receiver
Devin Smith
caught two touchdowns. Cornerback
Doran Grant
returned an interception 100 yards for a score.
The Ohio defense -- which featured Grant and future Ohio State defensive linemen
Chase Farris
and
Steve Miller
, plus Northwestern signee Andrew Smith -- held Pennsylvania to negative rushing yards.
Will the Buckeyes, though, lament one who got away?
Akise Teague
was named the game's MVP with 102 rushing yards, 66 receiving yards and three total touchdowns. Mr. Football in Ohio wanted to go to Ohio State but was not offered because of his lack of size. The Youngstown product signed with Cincinnati instead.
Penn State signee
Shawn Oakman
had said he wanted to help put Philadelphia, his hometown, back on the map. But the big defensive end did not record a tackle.
February, 2, 2011
2/02/11
2:30
PM ET
The Big Ten's best recruiting class just got even better.
Linebacker
Curtis Grant
announced he will sign with Ohio State instead of Florida, North Carolina and Virginia. ESPN Recruiting rates Grant as the nation's No. 3 linebacker and No. 46 overall prospect. Ohio State now has seven ESPNU 150 prospects, tops in the Big Ten.
Grant appeared headed to Florida a few months ago, but Urban Meyer's resignation put Ohio State at the top of his list. Several of Ohio State's top defenders in recent years have come from Florida, including linebacker
Brian Rolle
and cornerback Chimdi Chekwa.
Grant and quarterback
Cardale Jones
are the late additions to Ohio State's 2011 class, although Jones will be a grayshirt and enroll in a prep school this fall before coming to Columbus.
February, 2, 2011
2/02/11
10:48
AM ET
Some of these will be old by lunch time, so I wanted to get them to you now.