January, 11, 2012
1/11/12
2:00
PM ET
A year ago, the biggest blotches in the Big Ten's bloody bowl ledger came courtesy of Michigan and Michigan State.
The Wolverines and Spartans lost their bowl games by a combined score of 101-21 on Jan. 1, 2011. They allowed 51 combined first downs and 1,031 yards. Making matters worse, both losses came at the hands of SEC foes (Mississippi State and Alabama, respectively), reinforcing the perception that Big Ten teams don't belong on the same field with those from the nation's top conference. Of the Big Ten's five losses on a disastrous New Year's Day, Michigan's and Michigan State's stood out from the rest.
But the same two teams that dragged down the Big Ten's rep boosted the conference in this year's bowl go-round. Although the Big Ten's 4-6 overall record isn't anything to flaunt, things would have been much worse if not for Michigan State and Michigan.

Things looked rather bleak around 4:30 p.m. ET on Jan. 2 as the Big Ten appeared headed for an 0-4 start to the New Year's bowls with the Rose Bowl Game presented by VIZIO still to come. But Michigan State erased a 16-0 halftime deficit against Georgia and rallied to force overtime, winning the Outback Bowl 33-30 in the third extra session. The triumph not only resonated for a Spartans team that hadn't won a bowl game under coach Mark Dantonio, but for a league that avoided another o-fer on New Year's and against the SEC.

Michigan's win two nights later in the Allstate Sugar Bowl wasn't quite as critical, but it still helped the Big Ten. A 4-6 mark, given the Big Ten's inherent obstacles with its bowl lineup, looks better than 3-7. Michigan's victory also gave the Big Ten a 1-1 split in BCS bowls -- a questionable gauge of conference strength but one that is often used. The Big Ten is now 4-2 in its last six BCS bowls (Ohio State later vacated its Sugar Bowl win) with the only two losses coming by a combined nine points in the Rose Bowl.
Speaking of the Rose Bowl, Wisconsin fell short for the second consecutive season in heartbreaking fashion, completing a what-might-have-been season for Bret Bielema's crew. The Badgers made a few too many mistakes against speed-stocked Oregon and ran out of time at the end. Big Ten teams now have lost eight of their past nine Rose Bowl appearances.
Nebraska's first bowl appearance as a Big Ten member was a rough one, as the Huskers fell apart in the second half against South Carolina. Penn State and Ohio State both entered bowl season immersed in coaching transitions and didn't look sharp, as the Lions couldn't contain Houston's
Case Keenum
and the Buckeyes surrendered two special teams touchdowns to Florida.
Speaking of unsurprising results, the Big Ten's two bowl matchups against the Big 12 went more or less as expected. Both Iowa and Northwestern were sizable underdogs to Oklahoma and Texas A&M, respectively, and neither Big Ten squad got much from their offenses in the first three quarters of their games. Unlike last year, Iowa couldn't cap a disappointing season with an Insight Bowl win, while Northwestern's bowl monkey will be wearing a No. 64 jersey in 2012 as the team dropped its ninth consecutive postseason game, tying Notre Dame for the longest in FBS history.
Aside from the Michigan schools, the Big Ten's bowl highlights came from Purdue and Illinois, which took care of mediocre opponents (Western Michigan and UCLA, respectively). The Boilers rode a powerful rushing attack and special-teams brilliance to victory in Detroit. Illinois' superb defense came through in San Francisco and a team in turmoil prevailed with bowl wins in consecutive seasons for the first time in its history.
The Big Ten didn't enhance its national perception with this year's bowl performance.
But thanks to the Michigan schools, the league's reputation wasn't damaged too much, either.
January, 2, 2012
1/02/12
9:00
PM ET
The gift baskets should be sent to East Lansing, Mich., care of Mark Dantonio.
The sender: commissioner Jim Delany and the rest of the Big Ten Conference.
Michigan State's electric triple-overtime win against Georgia in the Outback Bowl prevented the Big Ten from going 0-for-5 on college football's version of New Year's Day for the second consecutive season. The Spartans erased a 16-point halftime deficit and a 7-point deficit in the final moments of regulation to force overtime. Defensive tackle Anthony Rashad White blocked a Blair Walsh field-goal attempt in the third overtime to seal a 33-30 win, the team's first postseason victory under Dantonio.
[+] Enlarge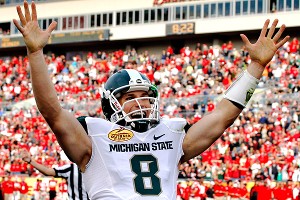 AP Photo/Chris O'MearaWith Robert Griffin III on the roster, one has to wonder about Kirk Cousins' future in Washington.
You had to be happy for senior quarterback
Kirk Cousins
, who led the tying drive in the fourth quarter and survived an interception in overtime. The Spartans' defense was brilliant for most of the day, particularly defensive end William Gholston, who had five tackles for loss, two sacks and a fumble recovery.
Just a great moment for Dantonio and the Spartans.
The rest of the league? Not so much.
Nebraska and Ohio State melted down in the second half, Penn State melted down in the first quarter and Wisconsin committed two second-half turnovers to lose a lead against Oregon. The result is a 1-4 ledger for the Big Ten, dropping its bowl record to 3-6 overall.
For the second straight year, Wisconsin lost the Rose Bowl in heart-breaking fashion, as a handful of plays and decisions led to Oregon's victory. Bret Bielema's timeout early in the third quarter when he thought Oregon had crossed the end line before downing the ball in the end zone came back to haunt Wisconsin in the final seconds. The timeout certainly wasn't Bielema's friend in losses to Oregon and Michigan State.
In the fourth quarter, Wisconsin's offense finally recaptured its big-play ability on a long pass to receiver
Jared Abbrederis
, who fumbled the ball away, the lone blemish on his otherwise masterful day.
The game ended with a questionable decision to spike the ball with only 2 seconds left and a winding clock. Very hard to do. And a hard way to lose.
The Big Ten now has won only one Rose Bowl since Wisconsin's back-to-back wins in the 1999 and 2000 games.
The league's bowl season wraps up Tuesday with Michigan going against Virginia Tech in the Allstate Sugar Bowl.
A few thoughts on the day:
Special teams played a huge role for Big Ten teams. While Michigan State blocked a field goal to win its game, the all-important third phase hurt the Big Ten teams more than it helped. Ohio State's kicking-game breakdowns led to two Florida touchdowns, a kickoff return and a blocked punt returned for a touchdown. Nebraska, arguably the Big Ten's top special-teams squad during the season, had a miserable day in the kicking game, as South Carolina returned a blocked extra-point try for two points and Huskers' All-Big Ten kicker Brett Maher missed a short field-goal attempt early in the third quarter. Even Michigan State had a special-teams breakdown in its win, as Georgia's Brandon Boykin scooted 92 yards for a touchdown on a kick return late in the first half. Wisconsin had a strong special teams performance against Oregon.
Penalties also were a theme for the five Big Ten squads. Nebraska drew 10 flags in its loss and star cornerback Alfonzo Dennard was ejected for fighting with Gamecocks receiver Alshon Jeffery (also ejected). Michigan State received eight penalties in its win against Georgia, and Penn State drew six penalties, one above its season average.
Nebraska thoroughly outplayed South Carolina in the first half and had to be beside itself following the Hail Mary touchdown pass from Connor Shaw to Jeffery with no time left. After a good drive to begin the second half ended in the Maher missed field-goal try, the Huskers were done. They melted down in the final 25 minutes, drawing seven penalties. This is a mostly young team that should improve in some areas for 2012, although the Legends Division figures to be tough once again.
Penn State's performance wasn't a huge surprise, although I thought the Lions defense would fare better against Case Keenum. Penn State missed Matthew McGloin at quarterback, and the offensive line didn't impose its will against a Houston team that hasn't stopped the run all season.
For both Penn State and Ohio State, it's good to get these bowls in the rear-view mirror. Both teams need to move forward after rough years with new coaches (Penn State's has yet to be named).
January, 2, 2012
1/02/12
3:41
PM ET
Penn State's once-promising season ended with a thud, while Houston quarterback
Case Keenum
capped a
record-setting career with a brilliant performance
.
Here's a look at the 2012 TicketCity Bowl.


How the game was won:
Houston's offense came out hot, piling up 17 first-quarter points against a Penn State defense that entered the game allowing just 15.7 points per game. Keenum set the tone with two third-down conversions on the game's opening possession and made brilliant throws and decisions all afternoon. The Penn State defense settled down in the final three quarters, but sophomore quarterback
Rob Bolden
struggled in his first start since Oct. 22, completing only 7 of 25 pass attempts for 137 yards with a touchdown and three interceptions. A Houston defense that couldn't stop Southern Miss' run game in the Conference USA championship game contained
Silas Redd
and the Penn State ground attack. The Cougars opened up a 27-7 lead and staved off a brief Penn State comeback to win.
Player of the game:
Houston's Keenum. The senior went out with a bang, completing 45 of 69 passes for 532 yards and three touchdowns with no interceptions. He picked apart a Penn State team that entered the game ranked fourth nationally against the pass. Keenum got plenty of help from receivers
Patrick Edwards
and
Justin Johnson
, who combined for 21 catches, 376 yards and three touchdowns.
Unsung hero of the game:
Cougars safety Nick Saenz. He recorded a career-best two interceptions, doubling his total from the previous 13 games. Although Bolden made it fairly easy on both throws, credit Saenz for making the plays for a Houston defense that played well.
Stat of the game:
Keenum's 45 completions and 69 attempts marked the most by a Penn State bowl opponent. Bolden, who started Penn State's first seven games at quarterback, entered the bowl with only 46 completions.
Sideline spectator:
Arguably no Penn State player felt worse about the result than quarterback
Matthew McGloin
, who missed the game with a concussion he sustained during a locker-room fight with teammate
Curtis Drake
. Although McGloin had his struggles as well this season, he would have been a better option than Bolden, who has been out of the mix for so long and looked very rusty.
What it means for Houston:
The Cougars won a team-record 13 games and won just their second bowl game in the past 10 tries. They performed well despite losing their coach, Kevin Sumlin, to Texas A&M and rebounded from a lousy performance in the Conference USA championship game. While Houston fans certainly have to wonder what might have been after the league title game loss cost the team a BCS bowl berth, they have to be pleased with the result, especially Keenum.
What it means for Penn State:
The loss closes the book on the toughest three-month stretch in program history. The Lions didn't look sharp for much of the game and never put themselves in position to win. After holding its own in the two games after coach Joe Paterno's firing, Penn State seemed to show the effects of all the drama in its losses to Wisconsin and Houston. The McGloin locker-room fight added an unnecessary burden entering the bowl. Penn State might now move forward with a new head coach, yet to be named. The defense returns some nice pieces, but there's a lot of work to be done on offense, particularly under center.
January, 1, 2012
1/01/12
11:30
AM ET
Neither Penn State nor Houston expected to be in this bowl, but one team was passed over by several games and the other lost a BCS berth and a league title on the same afternoon. As a result, the Nittany Lions and Cougars meet in one of the more intriguing matchups on this year's bowl slate.


Let's take a look at the TicketCity Bowl, played Monday at the Cotton Bowl in Dallas.
WHO TO WATCH:
Penn State running back
Silas Redd
. The sophomore led the nation with 703 rush yards in October, but paid a price physically in November. He's now healthy again after more than a month off and should be the focal point of Penn State's attack against Houston. The Lions' quarterback situation is shaky at best, and Penn State must take advantage of a healthy Redd and a size advantage along the offensive line. Houston has struggled against the run this season, ranking 78th nationally, and repeatedly got gashed in the Conference USA championship against Southern Miss. Penn State wants to control possession time and keep Cougars star quarterback
Case Keenum
off of the field. Expect Redd's number to be called a lot.
WHAT TO WATCH:
Penn State's defensive back seven. The Lions face a Houston team that leads the nation in scoring (50.8 ppg), passing (443.8 ypg) and total yards (599 ypg). Houston passes the ball more than 60 percent of the time, a departure what Penn State typically sees in the Big Ten. While Devon Still and the Lions' defensive line needs a strong performance, the back seven will be tested by Keenum and his weapons. Penn State will lean on a veteran secondary and a dynamic linebacker corps featuring Gerald Hodges. "To duplicate what they do is very, very difficult for us," Lions interim coach Tom Bradley told reporters this week, referring to Houston. "Any time you play a team like that you have to tackle well. You can't give them the big play." Houston leads the nation in touchdown passes of 20 yards or longer with 29, while Penn State is tied for the national lead in allowing just two such touchdown strikes this season.
WHY TO WATCH:
The curiosity factor with Penn State. How will the Nittany Lions respond after two months of intense scrutiny, after the locker-room fight involving quarterback
Matthew McGloin
, after being passed over by several bowls, and after weeks of speculation about their next head coach (still unnamed)? If Penn State shows up motivated to play, it should have an excellent chance to take down a Houston team that hasn't seen a defense nearly as talented as the Lions this season. But motivation is a question mark for a group that was justifiably upset with its bowl placement and has faced more than a few distractions.
PREDICTION:
Penn State 28, Houston 24. I might be in the minority, but I think Penn State finds a way to show up and play well against Keenum and the Cougars. Redd will have a very big performance behind the offensive line, and the Lions defense will fluster Keenum, much like Southern Miss did in the C-USA title game. Keenum will make some plays, but Still will be in his face much of the afternoon. Bradley and the seniors keep the team focused enough to come away with a win.
December, 15, 2011
12/15/11
10:15
AM ET
A Big Ten-record 10 teams will be playing in bowls this season, beginning on Dec. 27 with Purdue in the Little Caesars Pizza Bowl and ending Jan. 3 with Michigan in the Allstate Sugar Bowl.
Here are several things to watch during the Big Ten's bowl season:

1. Wisconsin's quest for redemption:
Anyone in the locker room after Wisconsin's 21-19 loss to TCU in the 2011 Rose Bowl could sense the unfiltered anguish and disappointment. The narrow defeat fueled the Badgers throughout the offseason. Now they're back in Pasadena with a chance to finish what they couldn't against TCU. No game will shape the Big Ten's national perception more than the Rose, and Wisconsin is an underdog against a formidable Oregon team that has stumbled twice on the big stage. The Badgers can establish themselves as a nationally elite team with a win, while a loss will show they're not quite there.
2. B1G attempts to atone vs. SEC:
While the Big Ten has held its own against the SEC in non-BCS bowls, the SEC embarrassed the Big Ten in last year's games. SEC teams beat their Big Ten opponents by a combined score of 138-45 in the Capital One, Outback and Gator bowls. The Big Ten can't afford such a porous showing this season, and the three matchups with the SEC appear more favorable (Nebraska-South Carolina in Capital One, Michigan State-Georgia in Outback, Ohio State-Florida in TaxSlayer.com Gator). While the Big Ten will have to wait at least another year to end the SEC's streak of national titles, it must fare better in these games. Michigan State might have the most at stake as the Spartans were humbled 49-7 last year in the Capital One Bowl and have yet to win a bowl game under coach Mark Dantonio. While a narrow Big Ten title loss
still stings, the Spartans should be motivated Jan. 2.
3. Penn State's motivation in Dallas:
Penn State players had nothing to do with the Jerry Sandusky sex-abuse scandal, but they paid a price for the fallout as several bowl games passed over the Nittany Lions and selected teams they beat (Northwestern, Iowa, Ohio State). Lions players didn't seem too pleased when they learned they had slipped to the TicketCity Bowl, and it will be interesting to see how a team that has dealt with so much since early December responds on Jan. 2. The Penn State-Houston matchup features two talented teams with star players (Devon Still,
Case Keenum
) but no permanent coaches. It will be interesting to see which Penn State team shows up to finish off a season like none other.
4. Big Ten bowl streaks (both good and bad):
There are several streaks to monitor in the Big Ten as bowl season begins. Northwestern looks for its first postseason win since the 1949 Rose after dropping eight straight bowls, including ones in each of the past three years. Dantonio, who has revolutionized the Michigan State program, aims for the elusive first bowl win with the Spartans. Michigan ends a five-year drought without a BCS bowl appearance but looks for its first BCS bowl win since the 2000 Orange when some guy named Tom Brady played quarterback for the Wolverines. Iowa has been the Big Ten's best bowl representative in recent years and tries to continue its streak of three consecutive postseason wins when it takes on heavy favorite Oklahoma in the Insight Bowl.
December, 5, 2011
12/05/11
9:10
PM ET
My Heisman Trophy ballot has changed every week for the last couple of months.
I'm not surprised there are more than three players going to the trophy presentation.
Five players were invited to New York for Saturday night's Heisman Trophy presentation -- quarterbacks
Andrew Luck
of Stanford and
Robert Griffin III
of Baylor, tailbacks
Montee Ball
of Wisconsin and
Trent Richardson
of Alabama and cornerback Tyrann Mathieu of LSU.
It's a shame the Heisman Trust didn't have room for three more quarterbacks because Houston's
Case Keenum
, USC's
Matt Barkley
and Boise State's
Kellen Moore
were just as deserving.
With five finalists going to New York, it figures to be one of the closer votes in recent Heisman Trophy history.
The closest vote in Heisman Trophy history came just two years ago, when Alabama tailback Mark Ingram edged Stanford's Toby Gerhart by only 28 points. Ingram received 227 first-place votes, Gerhart got 222 and Texas quarterback Colt McCoy, the second runner-up, received 203.
Given the number of finalists and their geographical regions, we could have another really close finish on Saturday night.
Luck, the runner-up to Auburn's Cam Newton last season, entered the 2011 season as the Heisman Trophy favorite. His performance didn't slip much this season, as he completed 70 percent of his passes for 3,170 yards with 35 touchdowns and nine interceptions.
I still feel Luck might be the most valuable player on any team in the country. Without him, there's no way the Cardinal is ranked No. 4 in the country and playing No. 3 Oklahoma State in the Tostitos Fiesta Bowl. Luck has done more with less, as Stanford lacks the game-changing playmakers that other teams have.
But Luck might still be the second-best quarterback in New York. Griffin, who is widely known as RG3, completed 72.4 percent of his passes for 3,998 yards with 36 touchdowns and six interceptions. He also ran for 644 yards with nine touchdowns.
Without him, the Bears wouldn't have beaten TCU, Oklahoma and Texas. Griffin's one drawback: He had a late interception that sealed the Bears' fate in a 36-35 loss at Kansas State on Oct. 1 and threw two picks in a 59-24 loss at Oklahoma State on Oct. 29. But with everything else RG3 has done this season, it's easy to give him a mulligan for the miscues.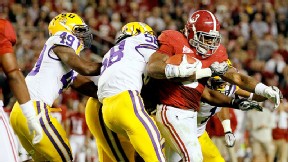 Kevin C. Cox/Getty ImagesRunning back Trent Richardson has been at his best in Alabama's biggest games.
I still believe Richardson is the best player in the country. He looked like the best player on the field in No. 2 Alabama's 9-6 loss in overtime to No. 1 LSU on Nov. 5. He had 89 rushing yards and 80 receiving yards in a game where every yard mattered. He finished the season with 1,583 yards with 20 touchdown runs and three touchdown catches. He's also Mr. Dependable, not losing a fumble in his past 520 touches and only once in 614 career touches.
Ball has been a scoring machine for the No. 10 Badgers this season, running for 1,759 yards with 32 touchdown runs and six touchdown receptions. His 38 total touchdowns are one shy of matching former Oklahoma State running back Barry Sanders' NCAA single-season record of 39 set in 11 games in 1988. Ball's production helped lead the Badgers to a Jan. 2 date against Oregon in the Rose Bowl Game presented by VIZIO.
Mathieu fell off my ballot after he was suspended from playing in the Tigers' 45-10 victory over Auburn on Oct. 22 for smoking synthetic marijuana. But his big plays helped the Tigers overcome deficits in each of their last two victories, over Arkansas and Georgia in the SEC championship game.
Mathieu -- aka the "Honey Badger" -- is the best player on the top-ranked team. He leads the Tigers with 70 tackles and has forced six fumbles and recovered five. He also is the most dynamic punt returner I've seen since Florida State's Deion Sanders. Mathieu has scored four touchdowns -- two on fumble returns and two on punt returns.
To penalize Mathieu for one foolish mistake wouldn't have been right. After all, Newton was briefly ruled ineligible at Auburn last season and 2010 Heisman Trophy finalist
LaMichael James
of Oregon was suspended from playing in last season's opener.
December, 5, 2011
12/05/11
3:30
PM ET
We've had some time to digest the bowl selections and examine the
Big Ten's bowl lineup
for this season.
Here are some thoughts after looking over the bowl landscape:
As usual, the Big Ten's bowl lineup will be challenging, but not as daunting as it was last year. Having two teams in BCS bowls every year makes things tougher for the squads in non-BCS bowls, especially given the locations of the games. It's vital for the Big Ten to get at least a split in the BCS bowls. Although Oregon is a tough draw, Wisconsin can put up points and control possession time. Michigan State exposed Wisconsin's lack of speed on defense, and Oregon will try and do the same. Wisconsin will need a bunch of eight-minute scoring drives to win this game.
Michigan will be a popular pick against Virginia Tech, which has been miserable in BCS bowls, but those thinking the Wolverines will roll the Hokies should tone it down a bit. If Denard Robinson limits mistakes, he'll be a tough matchup for Virginia Tech.
The SEC-Big Ten matchups look more favorable after the Big Ten embarrassed itself against its rival conference in last year's bowls. Nebraska's offense will be challenged by South Carolina's ferocious defense, but the fact the Huskers are so run-oriented should help them against a team that is good but not great against the run. Michigan State and Georgia are evenly matched, and while the Spartans are disappointed after their Big Ten title game loss, they should be motivated to get their first bowl win under Mark Dantonio. As Dantonio said last week, the Spartans showed in the 2011 Capital One Bowl that they weren't BCS-worthy. They have another chance to change perception against Aaron Murray and Georgia, and they must take advantage. Ohio State and Florida both are mediocre, but I like this matchup for the Buckeyes, who should benefit from bowl practice. Buckeyes linebacker Andrew Sweat (concussion) should be back, and he'll provide a big boost against an anemic Gators offense.
The Big 12-Big Ten matchups are by far the toughest on paper, and it's tough to see the Big Ten doing any better than a 1-1 split. Iowa and Northwestern both are sizable underdogs against Oklahoma and Texas A&M, respectively. Although Oklahoma has been the most overrated team in America for much of the season, the Sooners boast a lot of talent. Iowa has been fabulous in bowls under Kirk Ferentz, but the Insight Bowl will be a major test. Texas A&M's motivation could be an issue for the Aggies, who saw their coach fired last week. This would play into Northwestern's favor, as the Wildcats will be geared up to get their first bowl win since the 1949 Rose. But Northwestern's defense has been pretty awful for most of the season, and without top cornerback Jordan Mabin, the Wildcats could struggle against a dangerous A&M offense.
Speaking of motivation, it will be the key factor for Penn State in the TicketCity Bowl. The Lions deserved a better bowl after going 9-3, and the players were unfairly punished for a situation they had no part in creating. As you can see here and here, Penn State players weren't too thrilled about their bowl placement. If Penn State shows up to play, the Lions have a great chance to beat Houston, which showed itself to be a fraud in the Conference USA title game. The Cougars can't stop the run, and Penn State's Silas Redd should have a huge day in Dallas. But if the Lions don't care, Case Keenum could shred them.
Ricardo Allen and Purdue's secondary will be tested by Western Michigan's passing attack, led by quarterback Alex Carder and receiver Jordan White. It's another good opportunity for Allen to showcase his skills against an elite wideout. The Boilers will miss top running back Ralph Bolden (knee), but they have other backfield options and face the nation's No. 107 rushing defense. Pretty even matchup in Detroit.
It's hard to know what to expect from Illinois or UCLA in the Kraft Fight Hunger Bowl in San Francisco. Both teams had their coaches fired, and both had disappointing finishes to the season. Will Illinois coordinators Vic Koenning and Paul Petrino, both in the mix for other jobs, still be around to coach the game? Illinois' defense should be able to contain a UCLA offense that averages just 23.8 points per game. But if the Illini offense doesn't figure things out and show life for the first time since early October, it likely won't matter.
Remember that a .500 record typically qualifies as a strong bowl performance from the Big Ten, which faces the nation's toughest lineup almost every year. It's crucial the Big Ten wins at least one of its BCS games and performs better against the SEC. If the Big Ten can get 5-6 wins with one BCS victory and a 2-1 mark against the SEC, the bowl season should be deemed a success. But there aren't many gimmes in the lineup and could be another rough year for the league.
December, 4, 2011
12/04/11
11:32
PM ET
Houston Cougars (12-1) vs. Penn State Nittany Lions (9-3)
Jan. 2, noon ET (ESPNU)

Houston take from Nation blogger Andrea Adelson:
It was all right there for Houston.
All the Cougars had to do was beat Southern Miss in the Conference USA championship game to make the first BCS appearance in school history. But they had their worst performance of the season, losing 49-28, dashing any hopes of getting up on the big stage. Now they have to settle for a lower-tier bowl game as they wonder about what could have been.
The loss puts a damper on what has been a special season. The 12 wins are the most in school history, and quarterback
Case Keenum
shattered virtually every NCAA passing mark -- career yards, career touchdown passes and total offense came tumbling down in a torrent of scoreboards that were lit up every single week. He threw for more than 5,000 yards for the third time in his career, along with a career-high 45 touchdown passes.
Patrick Edwards
had a terrific season as well, with more than 1,500 yards receiving. Linebacker Sammy Brown anchored the defense with his standout play. But this has been a program with a reputation of dropping a game it is favored to win every season. Just go back to 2009. After beating Oklahoma State and Texas Tech to open the season 3-0, Houston lost to UTEP. Later that season, the Cougars lost to UCF and in the Conference USA championship game. They managed to make it through this season unscathed until the very moment it mattered most. Perhaps the gravity of the situation overwhelmed the players. Perhaps distractions surrounding coach Kevin Sumlin and future coaching destinations were too much to bear. In any case, what has been one of the best seasons in school history may not be remembered that way.
---

Penn State take from Big Ten blogger Brian Bennett:
Penn State's players deserve a bigger bowl game than this.
The Nittany Lions finished 9-3, tied for a share of the Big Ten Leaders Division lead and are ranked in the Top 25. In any other year, that would all but guarantee a spot in Florida or some other traditional locale.
But this was far from any other year at Penn State. The Jerry Sandusky sex-abuse scandal enveloped the entire university in November and led to the firing of legendary head coach Joe Paterno. Bowls do not like negative publicity, so the Nittany Lions tumbled down the Big Ten postseason pecking order -- all the way to the second-year TicketCity Bowl in Dallas against a non-AQ team.
At least it's an intriguing battle of offense versus defense. Penn State, led by Big Ten defensive player of the year Devon Still, finished fifth nationally in scoring defense and 10th in yards allowed. That defense will get a major challenge from record-breaking quarterback Case Keenum and a Houston offense that averaged an FBS-best 50.8 points per game this season.
Both teams could have new head coaches by the time the game kicks off, as the Lions are being led by interim coach Tom Bradley, while Houston coach Kevin Sumlin is a candidate for several current openings. We already know at least one winner from this bowl: Penn State has pledged to donate $1.5 million of its postseason proceeds to sex-crime advocacy organizations.
December, 4, 2011
12/04/11
7:10
PM ET
Penn State took a tumble down the Big Ten's bowl pecking order, but the Nittany Lions have found a home in the TicketCity Bowl.
They'll face a dangerous opponent in Houston, which until Saturday was one of only two unbeaten FBS teams (along with No. 1 LSU). Penn State takes on
Case Keenum
and the Cougars on Jan. 2 at the Cotton Bowl Stadium in Dallas.
Iowa, meanwhile, heads back to the Insight Bowl, where it will take on Oklahoma on Dec. 30 in Tempe, Ariz.
Some tough matchups for the Big Ten so far.
November, 18, 2011
11/18/11
9:00
AM ET
Some notes and nuggets to hopefully make you smarter as you watch your favorite Big Ten team in action Saturday afternoon. Thanks to ESPN Stats & Information for several of these.
Penn State and Ohio State have met 22 times since 1975. At least one team was ranked in 20 of the 22 meetings, with the higher-ranked team prevailing in all 14 games prior to 2005, when No. 16 Penn State beat No. 6 Ohio State 17-10. Prior to 2005, the last time the lower-ranked team had won was in 1964, when the unranked Nittany Lions stunned the No. 2 Buckeyes 27-0 in Columbus.
Michigan QB Denard Robinson and Nebraska QB Taylor Martinez have nearly identical numbers on designed runs this season, but Martinez seems to have slowed down a bit in recent weeks. Martinez is averaging only 4.3 yards per carry on designed runs in his past four games and hasn't had a 20-yard rush on such attempts since Week 3 against Washington. Both men have nine touchdowns on designed runs and five carries of 30 yards or longer. Robinson averages 6.4 yards on designed runs, while Martinez averages 6.3 yards.
Michigan State has finished the regular season strong under coach Mark Dantonio. Since Dantonio took over in 2007, Michigan State is 11-3 in the month of November, including five consecutive victories. The Spartans were 5-19 in November from 2000-06.
Purdue has seen 17 different players rush with the ball this season and not a single runner has lost a fumble on 388 carries. Two of the Boilers' three lost fumbles this season have come after receptions; the other was on a punt return.
Indiana's underclassmen have accounted for: all of the team's 15 rushing scores; all of the team's 179 completions, 2,104 passing yards and 10 passing touchdowns; 3,731 of the team's 3,735 total yards (99.9 percent); 1,627 of the team's 1,631 rushing yards (99.8 percent); 419 of the team's 421 rushing attempts (99.5 percent); 993 of the team's 999 kick-return yards (99.4 percent); 223 or the team's 229 points (97.4 percent); nine of the team's 10 receiving touchdowns (90.0 percent); 4,291 of the team's 4,831 all-purpose yards (88.8 percent); 1,610 of the team's 2,104 receiving yards (76.5 percent); 132 of the team's 179 receptions (73.7 percent).
Under offensive coordinator Mick McCall, Northwestern has found a way to move the chains efficiently on third down. The Wildcats have been successful on exactly 50 percent of their third-down attempts (69 of 138), the ninth-best average among FBS teams. Northwestern has finished in the top 20 nationally in that category each of the past two years.
Ohio State players have intercepted a pass against Penn State and returned it for a touchdown seven times since 2002. The Buckeyes won all five games where they recorded a pick-six. They recorded two pick-sixes against Penn State last season, as both Devon Torrence and Travis Howard had scoring returns.
Wisconsin QB Russell Wilson has thrown 101 touchdown passes in his career. That trails only Houston's Case Keenum (144) and Boise State's Kellen Moore (130) for the most among active FBS players. Wilson leads all current major-conference players. He became just the 13th quarterback in FBS history, and just the fifth from a BCS conference, to pass for 100 TDs.
Nebraska's defense has been stingy lately, especially in the first half. In the Cornhuskers' past four games, they have allowed a total of 10 points in the first half (Minnesota, Michigan State, Northwestern, Penn State).
Duane Bennett's 96-yard kickoff return for a touchdown in Saturday's loss to Wisconsin was the second kickoff return for a score this season by Minnesota; Marcus Jones returned a kickoff 92 yards at Purdue earlier this season. It is the first time Minnesota has had two kickoff returns for touchdowns in the same season since 1997.
Iowa's 37-21 loss to Michigan State last Saturday marked the first Iowa loss by more than 10 points in 53 games, dating back to a 31-6 loss at Purdue on Oct. 20, 2007. Iowa did not lose a game by more than a touchdown in 43 consecutive games, between a 28-19 loss to Western Michigan on Nov. 17, 2007, to the 13-3 loss at Penn State on Oct. 8 this season.
October, 31, 2011
10/31/11
2:30
PM ET
Here's how Brian and I voted in the latest installment of the ESPN.com power rankings:
Brian Bennett's ballot
1. LSU
2. Alabama
3. Oklahoma State
4. Stanford
5. Boise State
6. Oregon
7. Oklahoma
8. Arkansas
9. Nebraska
10. South Carolina
11. Clemson
12. Virginia Tech
13. Michigan
14. Penn State
15. Houston
16. Michigan State
17. Wisconsin
18. USC
19. Kansas State
20. Georgia
21. Arizona State
22. Georgia Tech
23. Cincinnati
24. West Virginia
25. SMU
Adam Rittenberg's ballot
1. LSU
2. Alabama
3. Oklahoma State
4. Stanford
5. Boise State
6. Oklahoma
7. Oregon
8. Arkansas
9. South Carolina
10. Nebraska
11. Clemson
12. Houston
13. Virginia Tech
14. Penn State
15. Michigan
16. Michigan State
17. Georgia
18. Wisconsin
19. Kansas State
20. USC
21. Arizona State
22. Cincinnati
23. West Virginia
24. Southern Miss
25. Ohio State
Our top 5 teams are identical, and we have the same 10 squads in our top 10s. I'm a little higher on Oklahoma and South Carolina, while Brian has Oregon ranked ahead of OU and Nebraska ahead of South Carolina. He has Michigan ahead of Penn State, while I have the 8-1 Nittany Lions ahead of Brady Hoke's crew. I have
Case Keenum
's
Houston Cougars
ranked three spots higher than Brian does, while he likes Virginia Tech a few spots higher. We both have Michigan State at No. 16, and Brian has the slumping
Wisconsin Badgers
one spot higher than I do. SMU rounds out Brian's Top 25, while I went with Ohio State, which could be the most dangerous team in the Big Ten during the month of November. The Buckeyes really impressed me Saturday night.
October, 21, 2011
10/21/11
4:30
PM ET
Wishing everyone a great weekend and hoping for some exciting games!
Adam M. from Austin, Texas, writes:
Adam, I hear all this talk about the vaunted MSU defense vs. my Badger's destructive force on offense, but what about the other side of the battle? If I can read my stat lines correctly, while the Badgers have given up 100 yards more a game (give or take), they're ahead in the only stat that really matters: Points allowed. I know their competition hasn't been the best, but after the Nebraska game, there needs to be some credit given. I know injuries are taking their toll, but they still stepped it up and clamped down vs. Indiana. The only score came on a mistake that went for a long TD run. It's not like MSU is having a blowout year on offense.
Adam Rittenberg:
Glad you brought this up, Austin. Wisconsin's defense certainly has made strides after a shaky tackling performance in the opener against UNLV. The Badgers have been described as a no-name defense, which seems pretty accurate, although players like linebackers Mike Taylor and Chris Borland and cornerback Antonio Fenelus are having really nice individual seasons. The big key against Michigan State is the defensive line, especially after the Spartans ran the ball well with
Edwin Baker
against Michigan. Michigan State's young offensive line is gaining confidence, and the Badgers don't have a J.J. Watt this year. A huge key for Wisconsin is third-down defense, as Michigan State converted 9 of 18 attempts last year.
---
Tim from St. Paul writes:
Adam, had to comment after reading a Glen Mason-related question in your chat today. Why does everyone consider Mason to be a "winner" at Minnesota? He was 32-48 in the big ten. He beat no one of consequence (He won at Ohio State in Cooper's last year, the worst OSU team in 50 years). He played 3 BCS non-conference teams in 10 years. Not beat, PLAYED, and yes, he had major input in scheduling. Explain how destroying terrible non-conference teams and going 3-5 in conference going to low-tier bowls is successful? I get he was light years better than Brewster, but come on, it is illegal for MN fans to expect more?
Adam Rittenberg:
Tim, you bring up some great points. I wasn't saying Minnesota shouldn't expect more than what Mason did during his tenure, and you're right that he struggled in Big Ten play and against elite competition. But he did make bowl games and avoid disastrous seasons like 2007, 2010 and this one. I understand Minnesota's desire to take the next step, and maybe things need to get worse before they can get a lot better. It's just tough to see what has happened in Minneapolis since Mason was fired. Fans shouldn't expect mediocrity. I get that. But Minnesota fans are always making the Wisconsin comparisons. Wisconsin has been pretty darn good for almost 20 years. It takes time to build that tradition and truly take the next step. Would Mason have done it? His track record suggested he wouldn't, but he also didn't have a shiny new stadium to show off to recruits.
---
Mike from Martins Ferry, Ohio, writes:
If all of the controversy did not happen with OSU and the players was not suspended, Do you think OSU would still have 3 losses?
Adam Rittenberg:
No way, Mike. You put Terrelle Pryor,
DeVier Posey
,
Dan Herron
and Mike Adams into the Buckeyes' offense from Day 1, and you're looking at a potential national title contender in my mind. There's no way the Buckeyes lose to a mediocre Miami team, and the team likely doesn't fall apart at Nebraska with those seniors on the field. Ohio State's defense showed last week at Illinois that it can still play a little ball, but the absences on the offensive side have been felt from Day 1. You can already see significant differences with Adams and Herron back in the fold. Posey will help, too, although he's out until Nov. 19.
---
Jeff from K-Zoo, Mich., writes:
With Nebraska stuggling and Dennard losing pub in the process. Is Johnny Adams emerging as the top Cornerback in the B1G this year
Adam Rittenberg:
Jeff, Adams has been outstanding this season for Michigan State. After a strong spring, he has put himself among the league's top cornerbacks for sure. It's a little hard to judge Dennard because he missed the first three games with a leg injury. He's still a heck of a player, and it will be interesting to see what he does against better receivers like
B.J. Cunningham
,
Jeremy Ebert
and
Marvin McNutt
down the stretch. Purdue's Ricardo Allen also has stood out with two interceptions, including a pick-six. But Adams has really impressed me. It will be interesting to see how he fares against Wisconsin's
Nick Toon
on Saturday night.
---
Matt from Ann Arbor, Mich., writes:
Just read the Big Ten statement regarding the 1-game suspension of Gholston. I am a little confused as to there not being anything mentioned about the obvious attempt to break Denard's neck. It would seem that the Big Ten has just set a precedent of turning their head to aggressive attempts to injure another player. Am I missing something? Also, Michigan State deserved to win that game because their defense is very good. It still would be a good defense without an attempt to break an opposing players neck.
Adam Rittenberg:
Matt, I was a little surprised the Big Ten only referenced the punch and not the other personal foul William Gholston received. To me, the combination of the two fouls makes it a unique case meriting a suspension. But the punch corresponds more with the sportsmanlike conduct violation language in the Big Ten Handbook, so the league went with that. Anyway, the league did the right thing in this case. Will Gholston isn't a bad kid at all, and I don't think last week's game reflects him as a player and a person. But the combination of the two incidents merited some type of punishment.
---
Kyle from West Lafayette, Ind., writes:
Hi Adam, I just realized that
Case Keenum
received a 6th year of eligibility at Houston after only playing in 3 games last season. Keith Smith only played in 2 games last season before tearing his ACL/MCL, but the NCAA denied his request for another year. What is going on at the NCAA? This seems very inconsistent...
Adam Rittenberg:
Kyle, I hated the NCAA's decision at the time and still don't understand it myself. The inconsistency with these decisions is stunning. You're happy for guys like Keenum and Minnesota safety Kim Royston, and you feel sick for a guy like Smith, who not only is a terrific receiver but a wonderful representative for Purdue and college athletics. You'd think the NCAA would want a guy like Smith around for one more year. He took a redshirt season in 2007 in part because he left the team to deal with family issues in the spring. And then he hurts his knee early in the 2010 season. I didn't understand the NCAA's decision then, and I don't understand it now.
---
Matt from Bridgewater, N.J., writes:
Adam, your blog keeps me sane at school!-Call me a tad optimistic, but I say Penn St. goes 10-2 with their sole loss coming from Wisconsin. Northwestern seems to be falling apart by the week, and Illinois showed that it has trouble on the big stage. Nebraska has not lived up to the hype (not to mention several key injuries), they come to Happy Valley, and we get Moye back. Finally, the entire team, especially McGloin must be looking for a measure of payback, the way they let the OSU game slip last year. Then we get blown out by Wisky. Your thoughts?
Adam Rittenberg:
Matt, I'd say you're being optimistic, but a 10-2 mark isn't unrealistic for Penn State. The Lions defense will keep the team in every game as long as the offense doesn't commit a bunch of turnovers. And if the offense makes strides in the second half like it did last year, anything is possible. The Northwestern game is big because Penn State hasn't been dominant on the road by any stretch and the Wildcats are a desperate team in a must-win situation. Illinois will make it tough for Penn State to score, and the Lions will need to score a bit to beat Nebraska. There really aren't any gimmes the rest of the way, but Penn State has held its own so far in Big Ten play, thanks to the defense.
---
Tom from Columbus, Ohio, writes:
Adam,Do you think you can get Michigan & Nebraska to play a meaningful trophy game? The only trophy that matters. Bring both 1997 national championship trophies to the game, winner take all
Adam Rittenberg:
Tom, that would be a lot of fun. But something tells me both schools won't want to give up their hardware because of a game that took place 14 years later. Maybe I'm wrong.
November, 10, 2009
11/10/09
5:10
PM ET
Posted by ESPN.com's Adam Rittenberg
There aren't any
Case Keenums
or Ryan Matthewses (is that a word?) in the Big Ten this year, as the league has been dominated by defense. Some of the Big Ten's top big-play threats were relative unknowns entering the season, while others entered the fall with high expectations.
Here's a look where the top Big Ten player(s) rank nationally in several statistical categories recorded by the fine people at ESPN's Stats & Information group.
Passes of 20 yards or longer

Passes of 30 yards or longer
T-4th -- Iowa QB Ricky Stanzi, 18 passes
T-14th -- Minnesota QB Adam Weber, 14 passes
Receptions of 10 yards or longer
Receptions for 20 yards or longer
3rd -- Minnesota WR Eric Decker, 16 receptions
T-11th -- Michigan State WR Blair White, 14 receptions
Rushes of 10 yards or longer
Quick thoughts:
Stanzi might have driven Iowa fans nuts with his interceptions, but he was the Big Ten's top big-play quarterback this season. ... It has been a bit of all-or-nothing for Weber this season, as he has been able to hit on big plays at times but has seen his completion percentage drop to 54.2. ... I'm amazed that Decker, who has missed the last two games, remains the Big Ten's leader in receptions of longer than 20 yards. ... Purdue is still a big-play offense despite losing almost all its starting skill-position players from last year's team. Both Smith and Bolden have been weapons this fall behind quarterback
Joey Elliott
. ... No Big Ten player ranks among the national leaders in runs of longer than 15 or 20 yards. It speaks to the league's struggles at the running back position as well as the strong defenses we've seen. ... The fact that Pryor leads the league in rushes of 10 yards or more shows me that he should be running the ball at least 15 times a game, ideally 17-22 times.