June, 3, 2014
Jun 3
12:00
PM ET
December, 17, 2013
12/17/13
11:30
AM ET
STATE COLLEGE, Pa. -- Bill O'Brien is probably heading to the Houston Texans. Wait, no -- the Vikings. Actually, Washington is intriguing because of its young quarterbacks. Scratch that, the Giants have location on their side.
It's another cold December in Happy Valley, which means the season for O'Brien coaching rumors -- and the accompanying panicky fan base -- is in full swing.
[+] Enlarge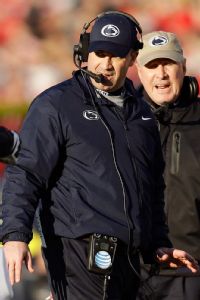 Mike McGinnis/Getty ImagesWith Bill O'Brien in high demand from the NFL, Penn State fans will have to get used to coaching carousel rumors being the norm.
Chatter in local bars and on message boards tends to focus on the latest O'Brien rumors, but it's difficult to blame the fans. The college football norm is unique to Penn State, and fans just don't know how to react. O'Brien is going everywhere and nowhere at once.
CBS' Jason La Canfora reported Sunday that both the Texans and Vikings
have already approached O'Brien
. That's not surprising; Penn State's dimple-chinned coach is in high demand for developing quarterbacks and showing tremendous leadership during a dark time in Happy Valley. Why wouldn't teams be interested?
No reports have emerged yet about interviews or potential contracts. Heck, Minnesota coach Leslie Frazier hasn't even been fired yet.
"When you're a team that has four wins," Vikings linebacker Chad Greenway
told the St. Paul Pioneer Press
, "[reports like that are] going to happen. That's the NFL, the business we're in. It happens."
And when you're a college coach who's guided a rookie quarterback and a roster of just 60 other scholarship players to a winning season, new opportunities are going to happen. It's the same situation and same question as last season: Will O'Brien leave for the NFL?
And the answer is likely the same this time around: Eventually, yes -- but just not this season.
Penn State fans are a jittery bunch these days, in part because they've never had to deal with these offseason rumors in the past. Joe Paterno became a PSU assistant coach in 1950, a year before sales of a commercial computer that weighed 13 tons. (
Seriously
.) He was named head coach in 1966, three years before man walked on the moon.
And before the age of Twitter and the Internet, Paterno thought about leaving Happy Valley just three times -- in 1969, 1973 and 1982. Alumni celebrating their five-year college reunions weren't even alive the last time a head coach other than O'Brien thought about leaving for another gig.
So, maybe understandably, the same fans who pack Beaver Stadium every Saturday are worried they won't see O'Brien again next season. The panic button has already been hit -- but it's been hit much too prematurely.
If O'Brien chooses to stay another decade, his name could pop up on coaching lists every offseason. Even before the confirmed reports, some media outlets
floated O'Brien's name
as a potential candidate. This is the new normal. But it's just not normal to fans who still drive around with "409" bumper stickers or who have lived through the tenures of nine U.S. presidents and just two Penn State head coaches.
All these reports, and accompanying speculation, revolve around the same storyline as last year: O'Brien is an attractive choice because he's a good college coach.
So, maybe, it's fitting to look back at what O'Brien had to say when the dust cleared around this time last year. It likely still applies.
"I have a lot of respect for that league," O'Brien said on Jan. 7, referring to the NFL. "I love that league. Again, this is my profession. I'm a coach. And that's the highest level, and so -- but at the same time, like I've said, I really, really, I can't be more clear about this: I love coaching these kids.
"I enjoy being the head football coach at Penn State, and I enjoy working here. I enjoy the people I work for, the people I work with, all the people I've met, the student body is incredible here, and I enjoy being here. And I plan to be here."
History tends to repeat itself. Last year, O'Brien garnered interest and worried fans before staying put at Penn State. This year, it's likely more of the same -- even if PSU fans aren't yet used to it.
May, 4, 2012
5/04/12
1:00
PM ET
IOWA CITY, Iowa -- Iowa linebacker
James Morris
doesn't go along with the status quo. Unless he thinks it's 1985.
This spring, Morris conducted what he called a "social experiment," sporting a neatly cropped mustache, more Zorro than Selleck. His Hawkeyes teammates are big fans, his coaches have warmed up to it and even his girlfriend approves, "though she wants to deny it," he said.
"I'm trying it out," Morris told ESPN.com. "It's about the only time you can have a mustache like this. You won't get fired and your boss won't give you [stuff]."
[+] Enlarge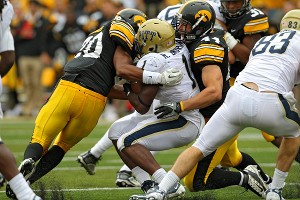 Stephen Mally/Icon SMIJames Morris (44) and Christian Kirksey (20) each had 110 tackles last season, tying for the team lead.
Iowa head coach Kirk Ferentz, who serves as Morris' football boss, has no issue with Morris' 'stache nor his career path to this point. Ferentz, who frequently consults Iowa's recent history when discussing players or teams, likened the progression this spring of Morris and fellow linebacker
Christian Kirksey
to that of former Hawkeyes stars Chad Greenway and Abdul Hodge.
Greenway and Hodge, who played alongside one another from 2002-05, occupy two of the top five spots on Iowa's career tackles chart. (Hodge is third with 453, Greenway is fifth with 416.) Hodge led Iowa in tackles in each of his final three seasons, and he and Greenway own two of the top three single-season tackles totals. (Hodge had 158 stops and Greenway had 156 in 2005.) Both were two-time first-team All-Big Ten selections before moving onto to the NFL. Greenway made his first Pro Bowl last year with the Vikings.
Ferentz isn't putting Morris and Kirksey in the Greenway-Hodge category just yet, but he notes that the linebackers have followed similar paths. Both Morris and Kirksey saw action during their freshman year -- the 6-foot-2, 230-pound Morris made six starts at middle linebacker and recorded 70 tackles -- and they shared the team tackles lead with 110 stops apiece in 2011.
"If you talk about Hodge and Greenway, both of these guys are in that same position," Ferentz said, "except we had the ability to redshirt both Chad and Abdul, whereas James and Chris hit the ground running."
Iowa would be thrilled if Morris and Kirksey could emulate what Greenway and Hodge did, but the juniors are interested in forming their own legacy.
"I wouldn't say Chris and I are trying to be like Hodge or Greenway," Morris said. "A lot of people tailor their game or they try to look at the style of players who have played before them and see what they can pick up. Chris has done that, and I've done that a little bit, but we're just trying to be the best players we can be."
Iowa needs a lot from both men this season. The defense took a step back in 2011, finishing 60th nationally in yards allowed and 46th in points allowed, and has the youngest group of linemen in recent memory.
The unit's strength, at least heading into the fall, is in the back seven and particularly at linebacker. Both Morris and Kirksey moved around a bit last season but seem pretty settled entering 2012: Morris will play middle linebacker with Kirksey on the strong side. Junior
Anthony Hitchens
is the projected starter at the weakside position.
The 6-foot-2, 220-pound Kirksey is a speed player who also can lower the boom as a hitter.
"He's really got a good pop to him," defensive coordinator Phil Parker said. "He can run well. It puts him in a position whereas guys see him being a leader, stepping up and making plays. They're expecting him to lead, and I'm sure that's what he wants to do. Same thing with James. James is no question the inside guy you want in there."
Ferentz called Kirksey a "really positive, upbeat, high-energy player." Those qualities drew Iowa to him during the recruiting process and have helped him earn the respect and admiration of his teammates.
Morris, thrust into a vital position as a true freshman, is comfortable handling responsibility, saying, "I'm hoping to be the leader of the defense, the man in the middle."
Ferentz gave both linebackers high marks during the spring.
"They're really confident, much more so than a year ago because they've had that experience," he said. "I'm not saying it's Hodge and Greenway, but they're a little bit like them. They have good personalities, and they're both really good players who have totally invested and have a good vibe with their teammates."
August, 18, 2010
8/18/10
3:30
PM ET
William Gholston and Max Bullough aren't typical freshmen, so Michigan State sees no point in treating them that way.
While a large portion of Spartans freshman can be penciled in as redshirts for 2010, head coach Mark Dantonio has made it clear that neither Gholston nor Bullough will sit out this fall. Michigan State boasts excellent depth at linebacker, led by All-American Greg Jones, but barring a snag between now and Sept. 4, both Bullough and Gholston will be part of the mix.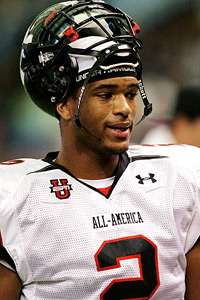 Cliff Welch/Icon SMIWilliam Gholston is the Big Ten's highest-rated recruit.
"We want to make sure that we put them into situations where they can contribute on a consistent basis because you don't want to just take away a guy's year [of eligibility]," Dantonio said after a scrimmage earlier this week. "Those guys can play and have an impact."
Dantonio's words resonate with the two freshmen.
"It's an indescribable feeling to know that I have the opportunity to play as a freshman," Gholston told me Wednesday. "That's very seldom. It was rare for a freshman to play five, six years ago, so to have an opportunity, it's great."
Why are the expectations so high for these two?
Both were decorated high school prospects with advanced physical skills and good family history. Bullough's father and two uncles played for Michigan State, and his grandfather, Hank, played for the Spartans and later served as the teams defensive coordinator. His other grandfather and another uncle played for Notre Dame. Gholston's cousin is New York Jets defensive end Vernon Gholston, the former Ohio State star who visited him this summer and provided a pass-rushing tutorial.
Gholston arrives at Michigan State as the Big Ten's highest-rated recruit, according to ESPN Recruiting, which listed him as the nation's No. 3 defensive end in the 2010 class.
A unique physical specimen who can play both end and linebacker, Gholston stands 6-foot-7 and has increased his weight to around 255 pounds in camp. He even got above 260 for a portion of practice, a major change after being listed at 237 on National Signing Day.
"I was at 265, didn't know it and I ran like an ox," Gholston said, laughing.
The 6-3, 235-pound Bullough also drew strong reviews in high school -- ESPN Recruiting rated him as the nation's No. 4 inside linebacker in 2010 -- and helped himself by enrolling this spring and going through practice.
"In the spring, everything comes faster because it's mostly veterans out there," Bullough said. "Every day, I'd be thinking, 'What do I do here? What do I do on this play?' Now everything comes second nature to me. I'm trying to learn to play fast, play more aggressive, play meaner."
The mean part shouldn't be a problem, as classmate Tony Lippett
found out in a recent practice
.
Gholston didn't practice this spring, but he was a fixture at the football complex, attending almost all of the team's 15 workouts. The many trips from Detroit to East Lansing helped him absorb the defense, which will incorporate more 3-4 elements this fall.
"It's fun having Will out here finally," Bullough said. "I feel like I've been here forever, waiting for Will to get here. We're trying to work together and teach each other."
Added Gholston: "Most of the learning, I grasp that part. It's just applying what I learned. I've got little spurts where I do the right thing. I need to do the right thing every single time."
Although they're in the same class, Bullough is doing most of the teaching so far.
"Max is a very smart player, very physical and very tough," Gholston said. "I've never seen a freshman, a football player the same age as me, have so much knowledge about the game and be so consistent in everything he does."
The Big Ten has had its share of outstanding linebacker tandems in recent years: Ohio State's James Laurinaitis and Marcus Freeman, Penn State's Paul Posluszny and Dan Connor and Iowa's Chad Greenway and Abdul Hodge, to name a few.
Michigan State hopes Gholston and Bullough mold a similar legacy together. The first steps begin this fall.
Bullough isn't taking the opportunity for granted.
"It is nice to hear," he said. "It's all based on assuming -- I can only speak for myself -- I keep getting better each and every day. It's on my shoulders right now."
June, 23, 2010
6/23/10
11:30
AM ET
Chris Doyle is proud of what Iowa has built in the past 11 years. During Kirk Ferentz's tenure as Hawkeyes head coach, the program has become known as one of the nation's best for player development. Doyle has been there every step of the way, coming in with Ferentz in 1999 as the team's head strength and conditioning coach. For more than a decade, Doyle has helped unheralded recruits and walk-ons transform themselves into elite college football players and NFL prospects. His top pupils include Dallas Clark, Eric Steinbach, Chad Greenway and Robert Gallery.
[+] Enlarge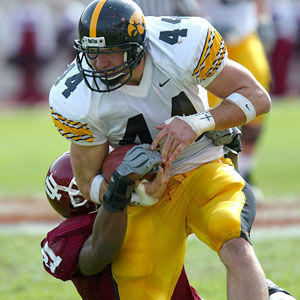 AJ Mast/Icon SMIDallas Clark was transformed from a high school quarterback into an All-American tight end.
Doyle recently shared his thoughts on shaping Iowa into a winner.
What has changed in your job between now and when you arrived at Iowa?
Chris Doyle:
I don't think there's been much of a change. When we first got here, it was about building a culture, instilling the values that match the personality of our head football coach: show up, listen, learn, do your job, no excuses. That was the challenge in '99 and that continues to be the challenge. Complacency can very easily set in to a program that's had some success, and we've had some success. We've also experienced some disappointment, so for us, it's a matter of continuing to build the culture. The good news is we have very positive examples of guys who have done things the right way and who have thus been rewarded for it. So we have built-in examples to utilize, but the challenge remains the same every single year.
How would you describe your philosophy toward doing this?
CD:
We recognize who we are and we have a niche in college football, and our niche is we're going to strive to be the absolute best at player development. When Coach Ferentz came here in '99, we said, 'We cannot be like everybody else in strength and conditioning and show up and beat great football teams. We have to do it better. We have to train harder, we have to train smarter and recognize that there's nothing comfortable about being a college football player, there's nothing comfortable about getting a degree, there's nothing comfortable about trying to perform at your highest level.' How do we do it differently? A big part of what we do is individualized program design.
We're going to look at three areas. We're going to look at training maturity, because everybody's different. We're going to look at functionality. Everyone has a different set of parents, different genetics, different medical backgrounds and different athletic backgrounds, so what functional needs do the athletes have? We screen every athlete. And the third thing is position specific training. There's extreme variation in skill sets. You're looking at a sport where a 5-foot-10, 180-pound defensive back is going to compete on the same playing field as a 6-foot-7, 315-pound lineman. That needs to be addressed in their training.
How did you approach the challenge of working with guys that maybe weren't the top recruits or the big names?
CD:
That's who we are. We don't shy away from that. At Iowa, the guys that have been the absolute most successful guys in our program, the guys who you see their pictures on the wall, are guys who share similar characteristics. They come from humble beginnings, none of them were heavily recruited, none of them were blue chip, 5-star recruits. They worked extremely hard and they were tough guys, smart guys. So you look at those qualities -- modest start, hard-working, tough kids who love the game -- we embrace that. We kind of relish that challenge of, 'Hey, we're going to bring a guy in that maybe flies under the radar in recruiting, but he's our guy.' Iowa football's not for everybody, and if you're looking to sample what Joe College samples when he goes on campus and there's a lot of different options for how kids spend their time, don't come to Iowa. We're not interested in Joe College. It's going to be challenging. We say we're going to try and progress at a faster rate than other teams, and I'm sure everyone says that. But it's one thing to say it, it's another thing to do it. And if we're going to do it, then our guys have to have a stronger commitment than everybody else.
January, 22, 2010
1/22/10
5:00
PM ET
We'll start off with some of your thoughts on
Michigan State's new proposed logo
, and move on from there.
Adam from Baltimore writes:
Hey Adam,Love the blog! As a life-long Spartan fan, just figured I'd respond about the new logo. It looks as though the new logo is trying very hard to replicate the look of the helmets in "300," which was kind of an inspiration during the '07 football season if I remember correctly. Maybe I'm a traditionalist, but I like the old logo better and it just doesn't seem right change a logo essentially for the sake of change. The helmets look cool in the movie, but as a 2D green and white version, it loses its appeal, in my opinion.
Brent from Westland, Mich., writes:
Hey Adam,Spartan logo comment - I do not like the new one. For what Nike could do, or what MSU could do if they were that set on a new logo, this is embarrassing. It does not look like a professionally done design to me, just a sketch - it doesn't look finished. hopefully, it's not. I can wait until April, but for MSU to change to the logo that is circling the web is just ridiculous. Of course, I guess this is what happens when you sign on with Nike - you give them power to do what they want! It is shaping up to MSU being the next team they bring their Combat line too... Maybe they will do something cool like they did to TCU's uni's, but we will have to wait and see!! Thanks for all the info you keep posting, Adam!
Dustin from Clive, Iowa, writes:
On the subject of the new MSU logo, maybe Nike legally needed a new logo before they could pursue the whole uniform upgrade and what-not. With such minor tweaks to the logo, it seems like it was done for legal reasons (new patent) rather than trying to "upgrade the logo" itself. Unless there is some sort of underlying meaning behind the subtle changes to the logo, this is the only scenario that makes any sense to me.
Ryan from Marion, Iowa, writes:
Great Blog- don't know what I'd do at work without it.Obviously, the intent of the new MSU helmet design is to look more realistic. When I compare the two designs, the first thing I noticed was the realism/practicality upgrade in the eye shield. The old helmet has the appearance of being one piece with impact vibrations spreading throughout the apparatus and most likely disabling the Spartan for a considerable amount of fighting time. The eye shield on the new helmet has the look of an "add-on" that would isolate and contain the vibrations to that single piece, thus limiting injury. So this is my question: Is it MSU's real intent to accept and address the problem that they will ALWAYS be getting hit in the face?
Adam Rittenberg: Thanks for the great responses, guys, especially Ryan from Iowa. Very funny stuff. There's obviously much more to Michigan State's presentation (I hope!), and we'll learn a lot more about it in April. As I wrote earlier, I'm a fan of the current Spartans logo, which is one of the better ones in the Big Ten. I'm struck by how much power Nike has in college sports, as teams are bucking tradition (Ohio State) and changing logos in collaboration with The Swoosh. Pretty soon I'll be dressed head-to-toe in Nike apparel for my video posts.
---
Steve from Fort Wayne, Ind., writes:
What's this nonsense about Tressel retiring this decade???? Say it ain't so....
Adam Rittenberg: It's certainly possible that Jim Tressel will be coaching Ohio State in 2020, but he doesn't strike me as a guy who wants to do this another 10 years. Tressel just turned 58, yet I don't see him coaching that far into his sixties. The guy clearly has other interests and could pursue politics or athletics administration. I could see him doing some of the things Tony Dungy does these days when he's through at Ohio State. Again, it's just a prediction, but I think you'll see someone else on the sideline at The Shoe in 10 years.
---
Eric from Newport Beach, Calif., writes:
Adam,How do you leave Drew Brees off the All Decade Team. His last season was 2000 and you said players with one outstanding season made the list. He is the best QB the Big Ten has ever seen and with one game to win you would rather have Troy Smith on your team?
Adam Rittenberg: Tough call on Brees, but I'm not going to vote Smith as the No. 1 player in the Big Ten for the decade and then leave him off of the all-decade team. That doesn't make any sense. Brees won the Maxwell Award in 2000, but he had arguably a better season in 1999 and went nuts statistically in 1998. He's still a guy I'd associate more with the 1990s. It's funny how Smith and Michigan's Mike Hart created by far the most negative backlash from you folks. Smith was pretty darn good in 2005 and 2006, and Hart really had tremendous career numbers, despite some struggles in big games. I don't think Hart is a guy you just write off as overrated because you hate Michigan guys.
---
Craig from Des Moines, Iowa, writes:
I understand that in putting together an all-decade team and things of that sort it is impossible to not leave people out, but with that said:Chad Greenway>>Paul Posluzsny>James Laurinaitis>>>A.J. HawkHawk is clearly being exposed in the NFL while Greenway is standing out.
Adam Rittenberg: Unlike others, I didn't base my All-Big Ten lists on how a guy did at the next level. While Greenway was a great player, those other guys all accomplished a little bit more in college. The Big Ten was absolutely stacked at the linebacker position this decade, so it's very hard to narrow it down to only three guys.

---
Brian from Goshen, Ind., writes:
I've been enjoying your Top 10 of the decade lists. As you begin looking towards the next decade, which of your bottom six teams (Purdue, NW, Minn, MSU, IL, IU) if any, do you see being in the top tier for the 10's? Which of the Top 5 do you see moving down? Obviously a lot of unknowns but that's why its fun.
Adam Rittenberg: Northwestern and Michigan State are the likeliest candidates to move up, Brian. Northwestern has been on the edge of the top tier in each of the last two seasons, finishing fourth in the Big Ten. Michigan State had a third-place finish in 2008 before slipping a bit this fall. Both of those programs look extremely stable with their coaching staffs as well. Illinois and Indiana are already at the bottom, while Minnesota seems to be slipping a bit. Purdue is also a team I could see making a jump up to the top tier. As for who will move down from the upper tier, Michigan is already declining.

August, 22, 2008
8/22/08
11:51
AM ET
Posted by ESPN.com's Adam Rittenberg
COLUMBUS, Ohio -- As promised, it's time to reopen the virtual mailbag. Eight days remain until the season openers for Big Ten teams, so let's see what's on your mind.
Glenn from Red Oak, Iowa, writes: Three years ago Iowa was usually mentioned as one of the top teams in the conference. Today they are listed as one of the worst. What has happened? It is more than just "off-field" problems. In the past they were willing to take chances on the likes of Bob Sanders, Dallas Clark, Chad Greenway, Robert Gallery, etc. Today they seem unwilling to go after that type of player. Comment.
Adam Rittenberg: You're right, Glenn, it's more than the off-field problems, though the sheer numbers of guys in trouble or dismissed from the team, key guys like James Cleveland and Dominique Douglas, does take a toll. One thing to look at is the 2005 recruiting class. Coming on the heels of three great seasons, this class was supposed to carry Iowa into the future, but so far the group has been a bit of a disappointment. This season should reveal a lot, as 2005 recruits like Shonn Greene, Pat Angerer, Dan Doering and Trey Stross take on bigger roles. Iowa also needs to get back to the strong line play that defined Kirk Ferentz's glory years. The defensive front looks strong, but the offensive line has to be a lot better.
---
Haslett from Parts Unknown writes: Now with Jehuu Caulcrick out of the picture, shouldnt javon ringer be talked about just as much as beanie wells. I mean isnt Javon going to have to pick up a few of the 21 touchdowns that Jehuu had, especially in goaline situations.
Adam Rittenberg: Ringer's lack of touchdowns last season definitely limited his hype and that should change in a big way this fall. Hype is sort of like fantasy football -- touchdowns are everything. Michigan State isn't wild about any of the running backs behind Ringer, though Andre Anderson could emerge. Still, Caulcrick was a unique player, nearly impossible to bring down on the first hit. Ringer expects his carries to increase and wants to stay in on goal-line situations. If he remains healthy, more people around the country will start to take notice of him.
July, 28, 2008
7/28/08
10:09
AM ET
Posted by ESPN.com's Adam Rittenberg
The night between Big Ten media days gives players from rival teams the rare opportunity to spend some time together. This isn't quite Ohio State and USC stars partying at the Playboy All-America function, but the players get a chance to hang out in Chicago before the season.
It's a good time for all, though the good vibes rarely last. Three years ago, Northwestern quarterback Brett Basanez organized a group -- all of whom were legal drinking age, of course -- and went to a sports bar. Basanez hung out with Iowa linebacker Chad Greenway, who several months later he accused of head-hunting following a game.
Players from several teams met up Thursday night, and Iowa players ended up spending most of the time with the contingent from Penn State. Both the Hawkeyes and Nittany Lions have endured their share of problems during the offseason. ESPN's "Outside the Lines" recently documented Penn State's string of transgressions, while Iowa coach Kirk Ferentz and other athletic officials are being investigated for a second time regarding their handling of an alleged sexual assault involving two former football players.
"Both of us have had some off-field issues, and our seasons haven't gone the way we wanted them [to go] the last couple years," Iowa defensive tackle Matt Kroul said. "We just talked about as leaders, what they're trying to do, what their coaching staff does. You just try to find similarities, how different schools react to the same problems."
Like Kroul, Penn State center and team captain A.Q. Shipley is accepting a greater responsibility for keeping teammates in line this season.
"With [Iowa] going through the same things, dealing with that, talking about that, it was interesting to see how they were handling things, too," Shipley said. "We've been through it for a while. It's good that we're past it now. Guys faced the consequences and were able to move on."
Though the "Outside the Lines" piece rehashed Penn State's problems, the worst appears to be over in Happy Valley. Iowa is a different story, as an incoming freshman was arrested July 19 after Iowa City police say he led officers on a foot chase.
Kroul said Iowa's team leaders have addressed disciplinary issues throughout the summer and will continue to do so when preseason practice begins Aug. 4.
"We changed some things, made it a little more of an open forum with the older and younger players," he said. "Hopefully, they can feed off us and see how we do things. We're trying to get in more contact with them, let them know that we actually care about them and they're not some little freshmen that don't mean anything to us. It's up to us to keep the Iowa tradition and try to restore the image that we've had."
BIG TEN SCOREBOARD
Saturday, 12/20
Monday, 12/22
Tuesday, 12/23
Wednesday, 12/24
Friday, 12/26
Saturday, 12/27
Monday, 12/29
Tuesday, 12/30
Wednesday, 12/31
Thursday, 1/1
Friday, 1/2
Saturday, 1/3
Sunday, 1/4
Saturday, 1/10
Monday, 1/12
Tweets from https://twitter.com/ESPNCFB/lists/b1g