December, 31, 2013
12/31/13
1:30
PM ET
FORT LAUDERDALE, Fla. -- Did Clemson's Chad Morris nearly become Ohio State's offensive coordinator when Urban Meyer first got to Columbus? Depends on whom you ask.
[+] Enlarge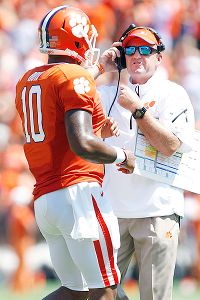 Tyler Smith/Getty ImagesClemson OC Chad Morris and Ohio State coach Urban Meyer have exchanged ideas about their offenses.
It was reported at the time that Meyer tried to lure Morris to the Buckeyes in December 2011. Morris said on Monday that he and Meyer had a conversation about the job right before the 2011 ACC title game. Clemson must have thought those communications were serious because the school gave Morris a big raise -- to $1.3 million a year -- the Sunday morning after the Tigers won the ACC championship.
But Meyer said later on Monday that "there was no truth" to the rumors he'd offered Morris the job and claimed to not have any idea where those reports came from.
"I'm going to have to ask Chad: 'Did you start that?'" Meyer joked.
Whatever the case, this much is true: Meyer and the third-year Clemson play-caller share a mutual admiration. And when their teams face one another in Friday's Discover Orange Bowl, you'll see a lot of similarities in the two offenses.
Morris was still a high school coach in Texas when he got to know Meyer. The relationship started when Meyer recruited some of Morris' players while at Utah. When Meyer went to Florida, Morris took his high school coaching staff to Gainesville one offseason to gather information about the spread offense.
During Meyer's year off from coaching in 2011, he called a handful of Clemson games as an ESPN analyst. Meyer wisely used his time off to learn from other coaches, including Morris.
"You know Coach Meyer," Morris said. "He's definitely always looking to try to find something that separates him offensively. He's an offensive mind. So he would come out and watch our practice. After practice, we'd sit and talk for a while."
Morris said he and Meyer struck up a conversation once about how Clemson was using tight end Dwayne Allen. That led to near-weekly talks on the phone about a tight end's role in the offense.
"I remember watching the transformation from the previous offense to his [at Clemson]," Meyer said. "It was almost overnight. They were doing a great job."
This past spring, two members of Ohio State offensive staff -- including the coordinator Meyer did hire, Tom Herman -- spent about three days visiting Clemson to exchange ideas. Herman, who spent several years coaching in Texas earlier in his career, knows Morris well.
"I wouldn't say we're best buddies," Herman said. "We don't go on vacation together or anything like that, but we do spend a lot of time talking football over the phone. It has been a very good, productive working relationship."
Both Herman and Morris have frequently been mentioned as future head coaches, and with the success of other former offensive coordinators like Auburn's Gus Malzahn, it's easy to see why. Of course, neither needs to settle for just any job. Morris is already being paid like a head coach. When a reporter started a question to Herman about both coordinators being on "the cutting edge" of offense, Herman cracked: "Him more than me, if you look at his paycheck." (Herman makes $550,000 at Ohio State).
Morris said when he and Herman went to dinner in the offseason, they joked about potentially meeting up in a bowl game. And so it came to pass, as two teams that share a lot of offensive principles are about to find out which one works better.
Clemson averaged 40.2 points per game this season, while Ohio State scored 46.3 points per contest. The Buckeyes are a run-heavy team, while the Tigers tilt far more toward the passing game. That's mostly because that's where each team's true strengths lie, as Clemson has
Tajh Boyd
and
Sammy Watkins
, while Ohio State has
Braxton Miller
and
Carlos Hyde
.
But as far as formations, shifting, motions and tempo go, they're a lot alike.
"We have a lot of common ground," said Ohio State offensive line coach Ed Warriner. "Especially in the spread things we do in the passing and running games."
Morris said he didn't give away all his secrets when Herman visited. In college football, many offenses use the same basic concepts.
"It's funny," Clemson defensive coordinator Brent Venables said. "We say it all the time in our meeting. It's not just them. It's a lot of these offenses that you're seeing. You watch the 49ers with [Colin] Kaepernick. It's like all these boys went to the same retreat, the same clinic and they're stealing ball plays from each other."
Imitation is the sincerest form of flattery. And whether Meyer and Morris came close to working together or not, their offenses flatter each other.
December, 30, 2013
12/30/13
3:30
PM ET
FORT LAUDERDALE, Fla. -- Clemson receiver
Sammy Watkins
is not afraid to make his feelings known. To some, this comes off as trash talk. To others, he is just being honest.
Simply put, Watkins does not hold back. So it should come as no surprise, then, that he told reporters after arriving for the Discover Orange Bowl, "I think I'm the best receiver in the nation. ... Overall I think I can't be guarded. That's just my mindset."
[+] Enlarge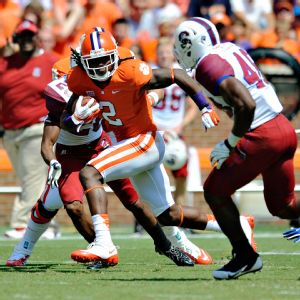 AP Photo/Richard ShiroClemson's Sammy Watkins, who has 10 touchdown receptions and averaged 14.6 yards per catch, is one of the top receivers in college football.
How Ohio State covers Watkins is one of the biggest keys to watch heading into the Discover Orange Bowl. Many believe Clemson has the unquestioned advantage with Watkins and his fellow receivers, specifically because the Buckeyes secondary has not played up to standards over the last two games.
That advantage seems to have grown even larger with
news on Monday
that Ohio State could be without starting cornerback
Bradley Roby
, rehabbing a knee injury. Defensive coordinator Luke Fickell also confirmed the Buckeyes will start freshman
Vonn Bell
at nickel cornerback.
Three new starters could be in the Buckeyes secondary against the best receiver group they have faced to date, leaving observers to believe Watkins and Clemson quarterback
Tajh Boyd
are in line for a big day.
"I think our wide receiver group is top 5 in the country," Watkins said Monday. "We've been playing good all year, not just catching the ball but blocking, taking care of the little things. We definitely have to come out and put on a show. Their defense is pretty good, but for our offense and wide receivers, we've got a better wide receiver corps than they've ever faced in their conference and we've definitely got to show it when we play them."
Watkins has shown it all season long, rebounding from a down year in 2012 to have one of the best seasons in the country with 85 receptions for 1,237 yards and 10 touchdowns, leading the team in receiving yards, receptions, touchdowns, kickoff return yards and all-purpose yards.
Martavis Bryant
ranks second on the team with 800 yards receiving and has shown flashes of brilliance. Their size alone -- Watkins is 6-1, Bryant is 6-5 – gives Clemson a huge edge. Fickell said of the receiver group, "The combination of size and speed is something that's really intriguing."
Add in what has happened the last two weeks to the Buckeyes' secondary. Ohio State gave up 451 yards in the air to Michigan -- the Wolverines' second-highest total on the season -- and then 304 yards passing to Michigan State in the Big Ten title game. That ranks as the highest passing total for the Spartans since their quarterbacks threw for 322 yards Sept. 8, 2012, in a blowout win over Central Michigan.
Ohio State ranks No. 103 in the nation in average passing yards allowed (259.5 ypg).
It's easy to see why Clemson is penciled in to have the edge in the matchup.
"I don't think there's a lack of confidence from our DBs. We believe in ourselves," Ohio State safety
C.J. Barnett
said. "But this is a chance to prove to the doubters -- a lot of doubters -- that we can play well and I think we have to go out there and prove it."
Despite what seems to be an edge on paper, Clemson coach Dabo Swinney is not one of those doubters. After practice Monday, he downplayed the potential matchup advantage, saying, "People look at things like that statistically and say they're 100th or whatever in pass defense and you immediately say, hey, that's a great advantage. Well, we look at things a little bit differently. We take the curtain back and we see they've had some inconsistency at times, some mistakes and busts which have led to some things but also one of the things is people having to throw the ball because they can't run it."
Ohio State ranks No. 6 in the nation in rush defense, but if the Tigers can have success passing the ball the way Michigan and Michigan State did, the run element might not matter. Plus, Watkins has vowed to have the best game of his season, in what most likely is his final game for the Tigers.
Though he says he will not make any announcements until after the bowl game, the junior is the highest-rated receiver on the board for the 2014 draft. Still, Clemson offensive coordinator Chad Morris has done his best to pitch Watkins on the benefits of staying. Namely: seniors get to travel first class on team flights.
"I reminded him of that this week as we got on the plane," Morris said. "I said, 'Just think, next year, when you get on a plane, you'll be able to sit in first class.' Like he always does, he grins ear to ear. He's had a great career, and whatever his decision is, we're going to support him."
Perhaps one final career game in an outstanding career awaits.
November, 30, 2012
11/30/12
3:00
PM ET
Coming at you a bit early today as we gear up for championship weekend in Indy ...
Scott from Forney, Texas, writes:
Nice words, Adam, about Nebraska's
Rex Burkhead
. My question, that I have not seen an adequate response for, is why did Nebraska not consider/seek a medical redshirt additional season for Rex Burkhead after he was hurt in the season's very first game? Am I missing some NCAA rule in Rex's case? I told my 15 year-old son as soon as it occurred in that first game, if they don't do it, Rex will likely face a nagging bad knee for much of the season. NU trainers/docs obviously have much more info than I do. But, it appears to be a mostly wasted senior season for Rex after two attempted comebacks that ended during those two games with Rex limping badly off the field. Rex is a special Nebraska running back who only comes along once in a generation.
Adam Rittenberg:
Scott, in order to apply for and receive a medical redshirt, you need evidence to show the injury is severe enough to cost a player the season. An MCL sprain in Week 1 isn't sufficient enough, and, as we saw, Rex returned to the lineup a few weeks later. Teams can't hold a player out when he could be cleared to play and then seek a medical redshirt. That doesn't fly. If it had been a completely torn ligament that required surgery, it would be different. So Nebraska had to play Burkhead after he was ready to return. Could the school have sought a redshirt after Burkhead first aggravated the knee against Ohio State? That's possible, but then you're dealing with questions about number of games played. It's definitely an unfortunate situation for such a great player, and I wish we could have seen Rex all season. But I don't think Nebraska had many options given the nature of his injury.
---
Bryan from Eden Prairie, Minn., writes:
With the story that the Big Ten championship game ticket market is extremely cold, do you think there's a possibility that a change could occur and the conference goes the Pac-12 route of having the team with the better record host the championship game? Or is this just currently a bottom period & things will look brighter once the times that Ohio State goes to Indy against a Michigan/Nebraska, creating a little bigger buzz?
Adan Rittenberg:
Bryan, it's something for the Big Ten to consider, but the league has made a
commitment to Indianapolis through the 2015 game
, and I expect the next three games (at least) to be played there. Commissioner Jim Delany and his staff love how Indianapolis puts on big sporting events. The game will generate more buzz when it has an impact on the national title race, when it features two ranked teams and even when it features two division champions. This year's game has none of those qualities. The first time Ohio State or Michigan plays in the game, the crowd should be pretty big. The same goes for Penn State, Iowa or other teams with large fan bases that like to travel. Although I'm a little surprised the Nebraska turnout won't be better, I'm not surprised by the smaller contingent for Wisconsin. Bottom line: the game needs to mean more to draw bigger crowds, but the Big Ten shouldn't dismiss campus sites in the future.
---
Jon from San Jose, Calif., writes:
The Big Ten said it may open up an East Coast office. But Adam, would you open up an office for 2-3 schools out of 14? Would it make more sense for 4-5 schools out of 16 (meaning some more ACC are in play)?
Adam Rittenberg:
Jon, good question. The Big Ten technically sees Penn State as an East Coast school now, as it attempted to build a "bridge" from Penn State to the coast with the Maryland/Rutgers additions. But I agree that you don't open up a second league office unless you really want a presence in that part of the country. From talking to several folks, my sense is the Big Ten's primary expansion targets if it chooses to go to 16 are in the ACC -- North Carolina, Virginia, Georgia Tech, maybe Duke. The interesting thing will be if the ACC makes itself attractive enough to retain those schools after Wednesday's addition of Louisville.
---
Cardiac Kev from Chicago writes:
Little has been talked about the overall youth of 9-3 Northwestern. The 'Cats are ranked in all polls right now. If they win and get the monkey off their back in their bowl game, do you expect Northwestern to be ranked in the preseason next year?
Adam Rittenberg:
Absolutely, Kevin, and most likely in the top 20. Northwestern would have a 10-3 record, a bowl win against a very good SEC team and, as you mention, almost all of its key players returning for 2013. I even think the voters who actually study Northwestern's roster going into 2013, regardless of the bowl outcome, might consider ranking the Wildcats. This was seen as a rebuilding year, and coach Pat Fitzgerald instead had his best team in his tenure. With most of that team coming back --
Kain Colter
,
Venric Mark
,
Ibraheim Campbell
,
Nick VanHoose
,
Chi Chi Ariguzo
, the list goes on -- Northwestern has a chance to be very good next fall.
---
Alex G. from Ames, Iowa, writes:
Reading your article on Greg Davis, I want to know your personal opinion on the matter. After all, this is the worst scoring offense under Ferentz since Jake Christensen led(?) the offense to just 18.5 ppg. Not to mention, there have only been 22 worse seasons than 2012 in the 123 years of football played at Iowa, and it's hard to blame the 34h best defense in the nation for that. Additionally, Iowa was only 1 of 4 teams in the nation (other 3 went a combined 9-38 this season) to be ranked 100th or worse in BOTH passing and rushing this year. To me, there is no excuse for any of that. This team had enough talent to be respectable, and coaching failed. Where do you stand?
Adam Rittenberg:
Alex, if it were me, I never would have hired Davis in the first place. But Ferentz, like it or not, is only going to hire certain types of offensive coordinators. Guys like Kliff Kingsbury or Chad Morris aren't going to be walking through the door in Iowa City as long as Ferentz has the big office. They just don't fit Ferentz, even though they do fit what college football has evolved into the past 5-10 years. The bottom line is I understood why Ferentz hired Davis, and as bad as this year was, it's not surprising to see Ferentz keep him for another year. It's hard to transition from doing things one way under Ken O'Keefe for years and then work under a new coordinator. I do think if Ferentz was under any real pressure, he might make a change, but he isn't. Davis' system should click better in 2013, but the play-calling also must improve. It left a lot to be desired this fall.
---
Bart from Columbus writes:
Way to write an entire article about the subject without mentioning the fact that it's been 33 years since OSU won CotY (Coach of the Year). What else could you have talked about in your post, Adam? Maybe you could have told us when exactly the award stopped being about coaching and started being about rewarding plucky underdogs. Maybe you could have discussed all the things that should have disqualified certain coaches from winning the award such as not having your team ready to play until week 3 or losing to a mac school. Instead we get a fluff piece that does nothing but make excuses for the Big Ten coaches celebrating mediocrity. Any chance this is the reason our conference can't compete nationally... because we reward teams for going 8-4 instead of winning?
Adam Rittenberg:
Reading is a skill, Bart. What part about this sentence -- "Buckeye fans were hopeful Meyer would be the first Ohio State boss to win Big Ten Coach of the Year honors since Meyer's mentor Earle Bruce got it in 1979" -- don't you understand? That's 33 years, just spelled out in a different way. And the post illustrates much of what you say, that the award is mainly about rewarding coaches who turn around programs. For a lot of people, that's the definition of coaching. If you bothered to read our
Big Ten Coach of the Year endorsement
, you'd know I endorsed Urban Meyer over Bill O'Brien. Wednesday's post merely explains why the award would go to O'Brien over Meyer. It doesn't justify it. And it's also a stretch to say this type of award voting has any bearing on how the league performs on the field.
---
Joe C. from South Bend, Ind., writes:
What future do you see for
Zach Zwinak
? Since he took over the starting job, he continued to one up himself, finishing with 1000 yards over 9 games. He has some issues with fumbling, but he was only a sophomore. Would you put him in your preseason top 25 countdown next year?
Steve from Milwaukee writes:
Just an idea -- in the downtime in the coming weeks before the bowls, you guys should do a quick evaluation of your preseason top 25 -- maybe 5 a day for a week. Not a re-rank (I know that's coming for postseason), but simply some quick comments on each player and how they fell short/met/exceeded expectations based on your predictions.
Adam Rittenberg:
To answer Steve first, we'll definitely look back at the
preseason top 25 player rankings
and see how guys did. And we'll also do a postseason top 25 ranking after all the bowls are complete. Should be fun to see who met expectations, who exceeded expectations and who underperformed. Joe, I really liked what I saw from Zwinak during Big Ten play. He's a no-nonsense, hard-nosed runner who seemed to fit in well with Bill O'Brien's offense. He took advantage of
Bill Belton
's injury/inconsistency and established himself as Penn State's top back. Will he be in the preseason top 25 for 2013? Hard to say. Depends on who comes back, as the Big Ten will have quite a few good running backs in 2013 (Venric Mark,
Ameer Abdullah
,
Carlos Hyde
,
James White
, maybe
Le'Veon Bell
). But Zwinak certainly deserves some consideration.