August, 26, 2011
8/26/11
12:00
PM ET
Use this weekend to test your grills, buy your face paint and design your signs. From here on out, football will fill the rest of your 2011 weekends.
August, 30, 2010
8/30/10
3:30
PM ET
Welcome to National Depth Chart Day. No day on the college football calendar inspires more curiosity about depth charts than the Monday before the season, when most teams release their Week 1 two-deeps.
(And then there's Purdue, which didn't include a depth chart in its game notes for Notre Dame. Ugh.)
I've had the chance to review depth charts from those programs that released them today -- two-deeps from Illinois, Michigan State and Minnesota are coming soon -- and I checked in on several coaches' news conferences.
Here's what stood out:

INDIANA
Even though Indiana will shift to a 3-4 defensive alignment this year, the depth chart lists a 4-3 with Darius Johnson and Fred Jones as the starting ends and Chad Sherer and Tyler Replogle flanking junior college transfer Jeff Thomas at linebacker.
Interesting to see several veteran offensive linemen like Justin Pagan and Cody Faulkner listed as backups rather than starters. Junior Andrew McDonald steps into some big shoes at left tackle as Rodger Saffold departs to the NFL.
The backup quarterback job remains open, as Dusty Kiel and Edward Wright-Baker are both listed as No. 2 behind Ben Chappell.
Indiana expects big things from redshirt freshman Duwyce Wilson, listed as a starter at wide receiver, kick returner and punt returner.

IOWA
Sophomores Micah Hyde and Greg Castillo are listed as the starting cornerbacks. Shaun Prater doesn't appear on the depth chart after dealing with a leg injury in camp. Prater hasn't been officially ruled out for the Eastern Illinois game, but I wouldn't expect to see much of him on Saturday.
James Ferentz is listed as the starting center, a spot where Iowa might be a little thin following Josh Koeppel's motorcycle accident Monday morning.
Starting defensive end Broderick Binns is suspended for the opener, so Christian Ballard is listed as a possible starter at both end and tackle. Mike Daniels and Lebron Daniel are the next options behind Ballard.

MICHIGAN
Sophomores Denard Robinson and Tate Forcier and freshman Devin Gardner are listed as co-starters at quarterback. Head coach Rich Rodriguez reiterated Monday that Gardner won't redshirt this fall.
Vincent Smith and Michael Shaw are listed as co-starters at running back, with Michael Cox behind them.
True freshman Carvin Johnson is listed as the starter at the spur position (safety/linebacker). Pretty big surprise here, and a testament to Johnson's work in camp.
Senior James Rogers steps into Troy Woolfolk's starting cornerback spot opposite J.T. Floyd.
Receivers Martavious Odoms and Kelvin Grady clearly showed enough in camp to be listed as starters or possible starters against Connecticut.

NORTHWESTERN
Sophomore running back Arby Fields returned to practice Monday and wore a no-contact jersey after being sidelined with a shoulder problem. He's listed as a co-starter at running back with Jacob Schmidt and Stephen Simmons. Northwestern wanted a clear No. 1 running back to emerge in camp, but Fields' injury changed the plan.
Junior Bryce McNaul is listed as the third top linebacker alongside returning starters Quentin Davie and Nate Williams. McNaul won the job in camp.
Venric Mark is the only true freshman listed on the depth chart, both as a backup wide receiver and a co-starter at punt returner. I'll go out on a huge limb (sarcasm) and predict Mark will be the man on returns for the Wildcats very shortly.

OHIO STATE
Junior defensive end Nathan Williams, a projected starter, will miss the Marshall game with a knee injury. He should be back shortly thereafter. Solomon Thomas will start in Williams' spot Thursday night.
Starting cornerback Chimdi Chekwa (hamstring) is questionable for the Marshall game, but corner Devon Torrence (hamstring) should be fine.
Sophomore C.J. Barnett's strong performance in camp lifted him ahead of Orhian Johnson on the Week 1 depth chart. Johnson missed a chunk of camp with an injury.
Start salivating, Buckeyes fans, because running backs Jordan Hall and Jaamal Berry likely will handle kickoff returns against Marshall.

PENN STATE
Sophomores Kevin Newsome and Matt McGloin and freshman Robert Bolden are listed as co-starters at quarterback for the Youngstown State game.
Sophomore Devon Smith's strong camp landed him a starting spot at both receiver and kick returner, and a backup role on punt returns.
Redshirt freshman Garry Gilliam is listed as the starting tight end, as Andrew Szczerba likely will miss the opener with a back injury. Penn State obviously is thin here after losing Andrew Quarless and Mickey Shuler.
Veterans Nate Stupar, Chris Colasanti and Bani Gbadyu are listed as the starting linebackers, with promising younger players like Michael Mauti and Gerald Hodges right behind them.

WISCONSIN
After a very impressive camp, freshman running back James White appears at No. 3 on the depth chart behind both John Clay and Montee Ball. White also is the No. 2 punt returner behind David Gilreath. His emergence likely will result in veteran Zach Brown redshirting the season.
Senior Blake Sorensen likely will start at outside linebacker, as Mike Taylor continues to rehab after undergoing a second procedure on his knee in camp. Culmer St. Jean and Chris Borland are listed as the other starting linebackers.
The starting cornerback spots remain open, as Niles Brinkley, Antonio Fenelus and Devin Smith will compete in practice this week.
April, 19, 2010
4/19/10
11:00
AM ET
Indiana wrapped up spring practice Saturday night with the Cream & Crimson game at Memorial Stadium. Before getting to the game itself, some of the more interesting news from Bloomington took place outside the lines.
The Hoosiers unveiled their
new uniforms for the 2010 season
. The new jerseys still will have "Hoosiers" on the front, but the stripes move from the pants to the shoulders of the jersey. The numbers will be in block narrow font, originating from Indiana's 1967 unis, worn when the team made its only Rose Bowl appearance.
The atmosphere at the spring game also appeared to be significantly upgraded, as new athletics director Fred Glass continues to enhance the experience of going to Memorial Stadium. The Indianapolis Star's Terry Hutchens has a
good account of the event
, which featured contests, prizes and music.
Back to the game, which the Crimson squad
won 17-10
following
Ben Chappell
's 21-yard touchdown pass to
Charles Love III
. The Crimson defense stepped up with two interceptions, a forced fumble, six sacks and only 116 yards allowed. Neither team scored an offensive touchdown until
Trea Burgess
reached the end zone on a 6-yard run midway through the third quarter.
The defensive surge had to be encouraging for a team that has struggled to stop its opponents for more than a decade. Cornerback Lenyatta Kiles, a junior college transfer, recorded two interceptions, while safety John Connelly and safety Aaron Burks both recorded one pick. Defensive end Fred Jones had four tackles for loss and three sacks. Other defensive standouts included defensive end Adam Replogle (2 sacks), linebacker Jamie Lukaszewski (11 tackles, 1 TFL) and linebacker Chad Sherer (10 tackles, 2 TFLs, 1 sack).
On the flip side, Indiana's run game continued to struggle. Starting running back
Darius Willis
sat out the game with an ankle injury, and the teams combined for minus-38 rushing yards in the opening half. There's little doubt that Indiana will have one of the Big Ten's top passing attacks in 2010, led by quarterback Ben Chappell and wide receiver
Tandon Doss
, but the Hoosiers need more balance in their offense.
Other nuggets:
The game's first touchdown came on special teams, as redshirt freshman Jamonne Chester picked up a dropped snap on a punt and raced 38 yards to the end zone.
Freshman Antonio Banks provided the only spark in the run game with a 30-yard burst. Banks, an early enrollee who had an impressive spring, finished with 49 rushing yards on 11 carries.
Several players left the game with injuries, including right tackle James Brewer, wide receiver Duwyce Wilson and safety/return man Jerimy Finch.
The competition at kicker should be interesting to watch this fall. Returning starter Nick Freeland went 1-for-2 on attempts Saturday, connecting from 45 yards out but missing a 32-yarder. Mitch Ewald converted his only attempt, from 44 yards out.
March, 22, 2010
3/22/10
6:00
PM ET
In preparation for the start of spring practice Tuesday, Indiana has issued an
updated depth chart
(Page 4).
There aren't many surprises on offense, as eight starters return from 2009. Junior
Andrew McDonald
appears as the starting left tackle, as Indiana must replace standout Rodger Saffold. Veteran Cody Faulkner is listed as the starting right guard ahead of freshman Aaron Price.
The defensive depth chart reveals a few more clues:
Junior Darius Johnson and fifth-year senior Deonte Mack are listed as the first-team defensive ends. Several others will be in the mix, including Fred Jones, Eric Thomas and Terrance Thomas, who will miss spring ball with a shoulder injury. Mack boasts a good deal of experience at both line positions.
Senior Tyler Replogle shifts to middle linebacker as IU must replace Matt Mayberry. Junior college transfer Jeff Thomas is listed as the backup there.
Junior Leon Beckum and sophomore Chad Sherer are listed as the starters at the outside linebacker spots. Replogle started nine games at strongside linebacker in 2009.
Adrian Burks and Matt Ernest will compete for a starting cornerback spot opposite Donnell Jones. Ernest will be limited this spring as he's pitching for Indiana's baseball team.
Junior Chris Adkins is listed as the starter at free safety, while converted wide receiver Mitchell Evans is the starting strong safety ahead of Jerimy Finch. Evans will miss spring ball following hip surgery, so it will be interesting to see if Finch, a heralded transfer from Florida, can finally answer the bell.
All-Big Ten wideout Tandon Doss will get a shot to fill Ray Fisher's spots on returns. Doss is listed as the starter for both punt and kickoff returns.
Head coach Bill Lynch said today that Edward Wright-Baker and Dusty Kiel will compete for time as the team's Wildcat quarterback, a role Evans filled well in 2009.
March, 16, 2010
3/16/10
1:30
PM ET
Anyone who watched Indiana in 2009 could see the obvious improvement that took place in Bloomington. The Hoosiers had a more dynamic offense and good speed on both sides of the ball. But once again, progress didn't translate into a better record, as IU couldn't finish off potential victories against Michigan, Northwestern, Iowa and Penn State. Fourth-year head coach Bill Lynch will be on the hot seat entering 2010, and he'll need to see his team make more strides on the field, particularly on defense, and most important, in the win column this fall.
[+] Enlarge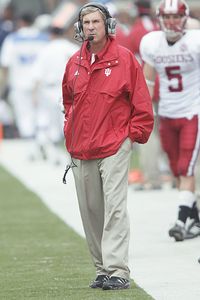 AJ Mast/Icon SMIAfter losing seven starters on defense, Bill Lynch's staff has it's work cut out on that side of the ball.
Indiana kicks off spring ball a week from today, and I recently caught up with Lynch to preview the spring.
You were so close in so many games last year. Is there any way to build off that as you hit the field again?
Bill Lynch:
I certainly think so. I've seen it throughout the winter program. We're building off what we did in the fall, and I've certainly seen good leadership, good gains in the weight room. We've got a great attitude going into the spring. Obviously, we've got two different kinds of teams. We've got great experience on offense. Certainly our skill position guys are back and healthier than they were a year ago. Offensive line, we lost a couple guys, but we've got some good young guys that have been waiting their turn. Defense is a bunch of young guys that are really anxious to go, some kids who have redshirted and we feel are very talented, guys that haven't played but who we think are going to be really good football players for us. So it will be fun to watch them get out and go. It's going to be a fun spring that way. I like what we're doing from an X's and O's standpoint. We just have to get better at it right now.
You mention the defense and I know you lose a lot [seven starters] on that side. As a head coach, I know you're an overseer, but will you spend more time with the defense this spring?
BL:
I don't think my personal time will be spent any more [with the defense]. We'll certainly do a great job of evaluating the kids. We've got to do more of it this spring than we've done in the last couple [of years], in terms of being very accurate in our grading and what we do in the spring with personnel, particularly on the defensive side. When you get out of the spring, you want to have a pretty good idea of your two-deep going into the fall. Now things can change and other kids can have great summers, but you have to have a starting point. In the spring, you give a lot of guys opportunities and see where it shakes itself out. But going into the fall, you have to have a pretty good idea.
So, would you like to know your depth chart on defense coming out of the spring?
BL:
Yeah, I think so. I've always felt like you'd like to come out of the spring knowing who your top 50 football players are. That's not to say you're not going to tweak some things over the summer before they get here in August, but it's important, not only offense and defense, but it gives you a great idea of how you'd like to start out with your special teams.
You mentioned the anxiousness of young players on defense to get out there. Who are some of the guys you're looking forward to seeing this spring?
BL:
I'll start at defensive end, because [Jammie] Kirlew and [Greg] Middleton played so much. Darius Johnson and Javon Cornley. We've got a guy named Kevin Bush, an older guy, really, but he's had a great fall and winter. He was a walk-on who was in the military and came back to school. And then Fred Jones, Eric Thomas are guys who have been in our program that are good football players. They've been waiting their turn to really go in and compete. At linebacker, it's more of a young group, but Damon Sims and D.J. Carr-Watson and Griffen Dahlstrom and Chad Sherer are all kids that are looking forward to showing what they can do because [Matt] Mayberry and [Will] Patterson and [Justin] Carrington and some of those guys that played so much [are gone]. We've got a JC kid in Jeff Thomas from Northern California; we like what we've seen from him in the winter, so I'm anxious to see him on the field. He's an inside [linebacker]. And then in the secondary, it's wide open. [Austin] Thomas and [Nick] Polk played so much, and then [Ray] Fisher played last year. There are some guys there that have had good winters because they know it's going to be very competitive, and this is their opportunity.
I'm sure you have a good idea of your leaders on offense, but who steps into those roles on defense?
Lynch:
There are a couple guys who are great leaders on that side. Tyler Replogle is as good as you're going to find, and Mitchell Evans is the same way, and we're moving Mitchell from offense to defense. So it starts there with those two guys. But all our [defensive] tackles played a lot of football for us last year, so we have good experience there. Evans certainly will give us some stability in the back end there because he's played so much football, even though it hasn't all been on defense.
November, 13, 2009
11/13/09
1:00
PM ET
Indiana has issued its official injury report for Saturday's game at No. 18 Penn State (Big Ten Network, noon ET).
OUT
DE Darius Johnson, shoulder
DT Jarrod Smith, back
CB Ray Fisher, knee
S Jarrell Drane, thigh
OL Cody Faulkner, shoulder
QUESTIONABLE
CB Chris Adkins, elbow
DE Terrance Thomas, shoulder
LB Tyler Replogle, head
S Austin Thomas, shoulder
RB Darius Willis, ankle
PROBABLE
The Hoosiers are very banged up in the secondary, as they'll be without their top cover man (Fisher) for the second consecutive game. Thomas is a starter who will be missed if he can't play, and safeties Nick Polk and Jerimy Finch also dealt with injuries in recent weeks. The Hoosiers need Adkins on the field against Penn State's big wide receivers. Willis, who leads Indiana with 465 rush yards and six touchdowns, has battled ankle problems throughout his career. Replogle ranks second on the team with 75 tackles. Redshirt freshman Chad Sherer is listed as Replogle's backup on this week's depth chart.
September, 25, 2009
9/25/09
3:42
PM ET

Posted by ESPN.com's Adam Rittenberg
Indiana has released its injury report for Saturday's road game against No. 23 Michigan (ESPN2, noon ET).
OUT
Defensive end Fred Jones, foot
Defensive end Darius Johnson, shoulder
Defensive end Kyle Kozak, shoulder
Offensive lineman Alex Perry, knee
QUESTIONABLE
Linebacker Chad Sherer, hamstring
PROBABLE
Running back Zach Davis-Walker, shoulder
Offensive lineman Cody Faulkner, shoulder
Offensive lineman Justin Pagan, ankle
Cornerback Donnell Jones, hamstring
Offensive lineman James Brewer, ankle
The Hoosiers are definitely getting healthier as Big Ten play begins. It would be good to see Pagan off the injury report entirely, but both he and Jones should be fine for Saturday. The big loss here is Johnson, who provides depth at defensive end behind standouts Jammie Kirlew and Greg Middleton. Johnson has eight tackles, a sack and a pass breakup in Indiana's first three games.