February, 5, 2014
Feb 5
7:00
AM ET
Chance Sorrell
stuck his finger in the air to hush his parents.
The Vanderbilt commit had waited for this phone call for close to two weeks. He had wandered the halls of Middletown (Ohio) High School and been stopped, several times, and asked by his teammates and teachers: "What's going on with your coach?" Back in early January, he didn't know where James Franklin would wind up -- or, by extension, where he would. No one did.
So, on the night of Jan. 11, he didn't want to miss the thrust of this phone call while his parents whispered in the background. It could determine his future. It could answer all the questions that raged inside the mind of the three-star offensive tackle. It could put an end to those difficult mornings waking up because it was so hard to fall asleep with this weighing on his mind.
So, on a Saturday night, when an unknown number flashed on his cell -- from Pennsylvania -- he leaped from the couch, muted the TV and sprinted along with his parents to the quieter kitchen. Franklin had been formally introduced as Penn State's head coach less than five hours earlier. It was 9 p.m. now.
And, sure enough, Franklin was on the other line.
Chance, we really like you and we want you to play here. And we're offering you a scholarship at Penn State --
Sorrell couldn't make out the last few words of Franklin's pitch because his parents, literally bouncing with excitement, whispered loudly: "Commit right now!" Sorrell pointed his finger toward his parents, as if to signify, "Just a second here."
When Franklin finished speaking, Sorrell's grin widened: "Yes, sir, I'm committing."
Can I take that as you committing to Penn State?
"Yeah."
Sorrell had never before even stepped foot on campus, so Franklin asked him to repeat himself twice more. And then, his voice rising as it's wont to do when he gets excited, Franklin asked one final time:
So, you're telling me that Chance Sorrell is committing to Penn State?
"It got to the point," Sorrell said with a laugh, "where I finally just said, 'I, Chance Sorrell, am committing to Penn State.' And I guess he had about 10 people in the room because they started cheering when I said that. I think he just wanted me to say it like that."
Sorrell was the first commit of Franklin's Penn State coaching career, and it came less than four hours after Franklin stepped off the dais inside Beaver Stadium -- while T-shirts emblazoned with Franklin's slogan of "Dominate the region" were still ideas in business owners' heads. Franklin had landed in Happy Valley on a twin-jet less than 11 hours before.
Sorrell's commitment would set off a chain of other pledges -- seven more in less than a month -- and he promised Tuesday night he'd scan and email in his letter of intent by 7 a.m. Wednesday.
For the 265-pound prospect, the decision was an easy one. Hours before Franklin's call, he sat at his kitchen table while his father sprawled out a three-inch deck of coaches' business cards and pulled one at a time to ask whether he was interested. Wake Forest, Bowling Green (his first offer) and Tennessee were tossed into the "yes" pile.
But as soon as Franklin offered, those business cards were cleared off the table for good. He trusted Franklin and, although he had been committed to Vanderbilt since June, he felt even more loyal to his coach.
A day after originally committing to the Commodores, a dejected Sorrell picked up the phone to inform his head coach he had torn his labrum. And, if Franklin needed to rescind the offer, he totally understood.
"He told me, 'Chance, you committed to me -- and I'm committed to you. Even if you don't play a single snap, you're graduating with a degree from Vanderbilt,'" Sorrell said.
"So, of course, I wanted to follow him at Penn State. It just seemed like a tremendous fit."
Sorrell has since visited Happy Valley. He stared in awe over the 107,000 seats in Beaver Stadium, took in the players' lounge ("Vanderbilt didn't actually have a players' lounge," he added) and envisioned himself playing on the practice field and lifting in the blue and white weight room.
His recruitment to Penn State started with a phone call and, well, really ended with that same phone call. There was no doubt in Sorrell's mind that he wanted to play for Franklin and, when he received the Penn State offer, he didn't even really need to hear Franklin's pitch to become Franklin's first Penn State commit.
"I'd follow him anywhere," Sorrell said. "And it just seemed like a tremendous fit with a prestigious collegiate program like Penn State."
February, 4, 2014
Feb 4
4:00
PM ET
STATE COLLEGE, Pa. -- James Franklin likes to tell recruits that he leaps out of bed at 4 a.m. and performs a back handspring.
That's an exaggeration, of course, a joke to give recruits an idea of his high-energy personality. But that also seems appropriate now, especially given how many flips he has produced from Vanderbilt's class to Penn State's.
He has flipped five pledges from his old school -- six, if defensive end
Lloyd Tubman
(Louisville, Ky./Seneca) sticks with PSU -- which is the second-most of this college football offseason. Only Washington's Chris Petersen possesses more (six), but he was hired in early December and boasted more than a month's head start.
Franklin has averaged more than a flip per week. And he also has reeled in eight hard verbals from eight different states in less than a month on the job. So his success has a lot of fans and fellow recruits shaking their heads and wondering just how he managed to achieve this so quickly.
[+] Enlarge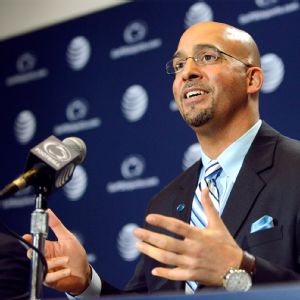 AP Photo/ John BealeJames Franklin's enthusiasm is a key to his recruiting success.
"It's kind of surprising how many of us really did follow, but it's not surprising," said three-star quarterback
Trace McSorley
(Ashburn, Va./Briar Woods), who initially committed to Vanderbilt in July. "It's just the kind of guy Coach Franklin is. He's energetic; that's the reason everyone wanted to go play for him at Vanderbilt."
In separate interviews, four of those flips told ESPN.com that energy is exactly what sold them on Franklin. He's the kind of coach who awoke on a recent Sunday morning and high-fived and hugged visiting recruits at breakfast. He speaks quickly and loudly, as if he perpetually just polished off a six-pack of Red Bull.
Three-star offensive tackle
Chance Sorrell
(Middletown, Ohio/Middletown) said that energy is a big reason for his relationship with Franklin. He recalled with a laugh the time an assistant told him how Franklin pulled alongside a Tennessee car sporting a Georgia Bulldogs flag. Franklin stepped out of his vehicle, knocked on the window -- and asked the driver what it would take for him to attend a Commodores game.
"The way he's involved, you can just tell he genuinely cares about all of his players and everyone he meets," said Sorrell, who flipped to Penn State five hours after Franklin was introduced as the head coach. "He's very persuasive. It doesn't matter where you're from; he'll make you want to play for him."
Sorrell's future teammate McSorley said he spoke to about 10 head coaches over the course of his recruitment, and none came close to matching Franklin's energy. That's Franklin's trademark, his signature, and it's what's helped fuel Franklin as the pied piper of Vanderbilt commits.
McSorley watched part of Franklin's introductory news conference, when he loudly proclaimed -- several times -- that he intended to "dominate the state" and "dominate the region" in recruiting. Franklin's hour-long talk impacted the fan base so much that it led to the instant creation of at least three T-shirts
with his adopted slogans
.
One of the few people who wasn't surprised? McSorley. He knew Penn State's new head coach wasn't in a good mood or wasn't "on" that day. "That's just how he is. That's exactly the person he is. All the time."
Added three-star offensive tackle
Brendan Brosnan
(Park Ridge, Ill./Maine Township South): "It's the way he carries himself, with all that energy. That energy shows he wants to be there, that he's giving it his all every day. It's contagious; his energy is contagious."
This isn't to say Franklin's energy, or even Franklin himself, is the sole reason for all these commitments, but it certainly seemed to play the largest role. A lot of these commits believe in Franklin's vision of Penn State reclaiming its spot as a national powerhouse.
Seven assistant coaches followed Franklin to Penn State
because they believe that as well,
and recruits also believe in the theory that because Franklin brought success to Vanderbilt, he certainly can do it at Penn State. Penn State has a bigger fan base and better facilities -- Vanderbilt doesn't even have a players' lounge -- and plays in a less competitive conference. It's a program that offensive line coach Herb Hand deemed as one of the 15 "haves" in a college football world of "have-nots."
"The biggest piece of advice people gave me during the recruiting process is don't commit to a coach, commit to a school," Brosnan said. "And I agree with that a little bit.
"But I think a coach, especially in Franklin's case, plays a large part. He played a large part in Vanderbilt's success and, the way I see it, the ceiling for success is higher at Penn State. It really is."
January, 21, 2014
Jan 21
8:00
AM ET
Signing day is inching closer and closer, which means there are questions out there. The Big Ten has plenty of top targets remaining.

Here are five things to watch within the conference as signing day approaches:


January, 13, 2014
Jan 13
11:00
AM ET
James Franklin opened
his lengthy and entertaining introductory news conference Saturday at Penn State
by thanking Vanderbilt, his previous employer.
Two days later, Vanderbilt fans are thinking Franklin has a funny way of showing his appreciation.
As Franklin hinted Saturday, he's bringing several Vanderbilt assistants with him to Penn State. Reported additions or possible additions include defensive coordinator Bob Shoop, wide receivers coach/offensive recruiting coordinator Josh Gattis, tight ends coach/special teams coordinator Charles Bankins, strength coach Dwight Galt and football chief of staff Jemal Griffin. Penn State has yet to make any official staff announcements.
Shoop
is a native of Oakmont, Pa., and has extensive coaching experience in the northeast as well as in Virginia (University of Virginia and William & Mary).
These likely additions aren't a surprise as Franklin said Saturday, "I am fiercely loyal as a person in general, and I'm going to be fiercely loyal to the guys that I've worked with in the past."
It's also not surprising that Franklin immediately started contacting Vanderbilt recruits about Penn State. Two of them, tight end
Chance Sorrell
and defensive end
Lloyd Tubman
,
switched their pledges from Vanderbilt to Penn State
on Saturday.
More could be coming, especially if you believe
this story in The Tennessean
, which outlines what has happened to Vanderbilt's recruiting class since Franklin left. One recruiting analyst tells the newspaper that Vanderbilt is left with only three truly solid verbal commits. Another said, "Normally, you're going to have staffs take some kids. But I don't think I've seen many cases where it seems like the entire class is trying to be taken to the next job."
Penn State fans aren't about to feel sorry for Vanderbilt. They remember what happened to the Lions' 2012 recruiting class during the extremely turbulent weeks following coach Joe Paterno's dismissal. Urban Meyer flipped several Penn State commits to Ohio State, including Noah Spence, Armani Reeves and Tommy Schutt.
PSU has 21 commits for the 2014 class, which is essentially complete. It will be interesting to see how much of a Vanderbilt flavor Franklin's first staff and first class will have at Penn State.
January, 13, 2014
Jan 13
8:00
AM ET
We are almost out of the dead period, which ends on Jan. 15. That means things are starting to heat up for Big Ten teams on the recruiting trail. Here is a look at what happened throughout the conference this past week.

Biggest commitment:
Indiana landed ESPN 300 receiver
Dominique Booth
(Indianapolis/Pike), when he announced his decision on Jan. 7. Booth had been committed to Tennessee, but he decommitted and will now enroll early for the Hoosiers.
He is a big pickup for the Indiana offense and is a high ranking in-state prospect who coach Kevin Wilson and his staff are keeping home.
Nebraska also secured a wide receiver with
Jariah Tolbert
(New Orleans/Edna Karr) on Thursday. Tolbert joined his teammate, athlete
Jaevon Walton
, in Nebraska's 2014 class.
To continue reading this article you must be an Insider
BIG TEN SCOREBOARD
Saturday, 12/20
Monday, 12/22
Tuesday, 12/23
Wednesday, 12/24
Friday, 12/26
Saturday, 12/27
Monday, 12/29
Tuesday, 12/30
Wednesday, 12/31
Thursday, 1/1
Friday, 1/2
Saturday, 1/3
Sunday, 1/4
Monday, 1/12
Tweets from https://twitter.com/ESPNCFB/lists/b1g