December, 30, 2011
12/30/11
11:45
PM ET
I have a contract with ESPN.com. It has a start date and an end date. It has a predetermined salary structure. It includes job expectations, company policies and, like any contract, a lot of legalese. But the important things are spelled out clearly.
Before agreeing to the terms, ESPN's legal department sends me the contract to review. I read it over. Usually several times. And then I sign it and send it in.
It's all right there in print -- no gray area.
[+] Enlarge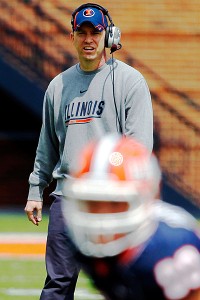 Michael Heinz/US PresswireJeff Brohm is among the Illinois assistant coaches who will fulfill their duties during Friday's bowl despite a contract dispute.
Four Illinois assistant coaches are steamed because they put pen to paper before fully studying what was written on the paper. They thought they had two-year rollover contracts and were surprised to learn recently that their deals had been reworked in the summer of 2010 and as a result, they no longer would be paid after Feb. 28. Illinois fired head coach Ron Zook on Nov. 27, and only one assistant (defensive line coach Keith Gilmore) is remaining on staff with new boss Tim Beckman.
The assistants were irate and lashed out. Offensive line coach Joe Gilbert called the situation "very unprofessional." They even threatened to boycott Saturday's Kraft Fight Hunger Bowl against UCLA, adding even more controversy to a game filled with it.
But the Bizzaro Bowl Boycott won't be taking place.
Zook told ESPN colleague Gene Wojciechowski on Friday night that
his former aides will show up Saturday at AT&T Park
.
"They're going to coach," said Zook, when contacted by ESPN.com Friday evening. "They're [the assistants] frustrated. But they're going to coach. They know it's about the kids. But they were trying to make a point. They've got careers, family, all of those things. They're class guys. And it's important that everyone knows they're really good people."
More from the story:
The dispute centers around a contract promise that Zook said was made to several of his assistant coaches by him and former Illinois athletic director Ron Guenther. According to Zook, the assistants -- Jeff Brohm, Ron West and Chip Long -- were told they would receive two-year deals which would run through the 2012 regular season. Assistant Joe Gilbert has told SI.com that he also was promised a multiyear contract.
"Somewhere -- I'm not sure how -- a couple of the contracts got changed," said Zook. "I truly believed they had two-year contracts. ... I'm not exactly sure how things got changed. I feel awful about it. They're great people and they did a great job. I don't know where it went wrong. I was under the understanding that they had two-year contracts."
I feel for the Illinois assistants. It's a bad deal for them, but it's because they signed bad deals. As athletic director
Mike Thomas told SI.com
, "We have a contract that's pretty clear, and we intend to honor that contract. We assume they'll honor it as well."
Boycotting would have been worse for the coaches and for the Illini players than it would have for the administration. If you want to stick it to your bosses, boycotting the Kraft Fight Hunger Bowl probably isn't the best move. If you want to stick it to your players, boycotting is the way to go.
Plus, these assistants are looking for jobs. They have good credentials. But no employer wants to see "quitter" on a résumé.
Who knows what to expect Saturday afternoon in San Francisco? But at least the Illini assistants with be with the players they've coached all season.
August, 4, 2010
8/04/10
5:00
PM ET
Schedule:
First practice takes place Thursday at Memorial Stadium. First group hits the field at 4 p.m. ET and the second group at 5:30 p.m. ET. Team practices three times in Champaign before moving to Rantoul, Ill., on Aug. 9, for 15 workouts.
What's new:
Uh, like, everything. Ron Zook is still the head coach, but he has six new assistants, including coordinators Paul Petrino (offense) and Vic Koenning (defense). Illinois is breaking in new systems on both offense and defense, and redshirt freshman
Nathan Scheelhaase
takes over at quarterback following the departure of four-year starter
Juice Williams
. The new-look staff has some familiarity, as Petrino, quarterbacks coach Jeff Brohm and tight ends coach Chip Long all worked together at Louisville during the Cardinals' juggernaut days. Illinois needs a No. 1 wide receiver to emerge after Arrelious Benn's departure to the NFL.
Sidelined:
Strong-side offensive tackle Corey Lewis, a projected starter this spring, sustained a torn ACL in spring ball and likely will miss the season. Illinois needs a strong camp from Ryan Palmer as he steps into a featured role.
Key battle:
Illinois has two experienced defensive line pieces in Clay Nurse and Corey Liuget, but the other two spots should bring plenty of competition. Glenn Foster had a nice spring and could be the answer at the second defensive tackle spot, while several players, including Michael Buchanan and Nate Palmer, compete at the "bandit" position.
New on the scene:
Although veteran
Eddie McGee
can shift from wide receiver to quarterback if needed, true freshman Chandler Whitmer likely is a play away from the field. Whitmer enrolled early and impressed the coaches with his knowledge this spring. He enters the fall as Scheelhaase's backup. Also keep an eye on safety Trulon Henry, a junior college transfer and Benn's older brother. He enters camp as the backup to Supo Sanni at free safety.
Breaking out:
Wide receiver
A.J. Jenkins
nearly left Illinois in the winter before deciding to stay and
turn around his career
. Zook and Petrino raved about Jenkins this spring, and he'll likely be Scheelhaase's top target. Running back
Mikel LeShoure
will carry the load after a very impressive finish to 2009. Cornerback Terry Hawthorne also could have a big year after making an impact as a freshman last fall.
Back in the fold:
Illinois really missed Martez Wilson, and the middle linebacker finally gets to hit people again in camp after being fully cleared by doctors. Wilson suffered a herniated disk in his neck in the 2009 opener against Missouri and underwent season-ending surgery. The one-time, can't-miss recruit has one final chance to break out. Cornerback Miami Thomas also returns after tearing his ACL in camp last year.
Quoting:
"The players, we didn't execute. People want to jump on the coaches and blame the coaches. The last time I saw coach Zook catch a pass or make a tackle, they were wearing leather helmets. It is on us now. They brought in new coaches, but at the end of the day, we're the ones playing." -- defensive end Clay Nurse
July, 14, 2010
7/14/10
5:00
PM ET
If this whole coaching thing doesn't pan out, Ron Zook probably can land a job in human resources.
He has spent enough time interviewing job candidates during the last eight months.
Zook made his seventh -- and hopefully final -- coaching hire for the 2010 season on Wednesday, naming Chip Long as Illinois' new tight ends coach. Long replaces Greg Nord, who
left for a position at Kentucky
before coaching a single game at Illinois.
Long spent the last two years as a graduate assistant at Arkansas, where he tutored the tight ends. He worked under new Illinois offensive coordinator Paul Petrino with the Razorbacks and also has familiarity with new Illinois quarterbacks coach Jeff Brohm from a stint at Louisville.
"Chip is an outstanding young coach," Zook said in a prepared statement. "He is very knowledgeable of our offense after his experience with Paul Petrino. He's played the position at high level. Chip brings great energy to an already energized staff."
Long played receiver and tight end at North Alabama and helped Arkansas tight end
D.J. Williams
become a Mackey Award semifinalist in 2008.
"I'm extremely excited to come to Illinois and have the opportunity to work with a great coaching staff that has high expectations," Long said in a statement. "I'm fortunate to be coming into a system that I'm very familiar with, having worked with both coach Petrino and coach Brohm earlier in my career. They've been terrific mentors as I've broken into the coaching profession and I look forward to working with them again here at Illinois."
Long is young, but his experience with both Petrino and Brohm should help. Zook had to act quickly since camp begins in less than a month, and he came through.
I wonder the last time a team made seven assistant coaching hires in a single offseason while retaining its head coach. It's got to be a record.
BIG TEN SCOREBOARD
Monday, 12/22
Saturday, 12/20
Tuesday, 12/23
Wednesday, 12/24
Friday, 12/26
Saturday, 12/27
Monday, 12/29
Tuesday, 12/30
Wednesday, 12/31
Thursday, 1/1
Friday, 1/2
Saturday, 1/3
Sunday, 1/4
Monday, 1/12
Tweets from https://twitter.com/ESPNCFB/lists/b1g