April, 22, 2011
4/22/11
8:00
AM ET
It's one thing for Notre Dame to get punk'd by Michigan State on a fake field-goal attempt.
But the Spartans' own players? Yep, it happened Thursday.
The players on Michigan State's field-goal block team had to be kicking themselves (pun intended) after the second jersey scrimmage. The offense beat the defense 61-55 when backup quarterback
Andrew Maxwell
found tight end
Garrett Celek
for a 35-yard touchdown on a fake field-goal attempt on the final play of the 123-play scrimmage.
Just substitute Aaron Bates for Maxwell and
Charlie Gantt
for Celek, and you'd have "Little Giants" against Notre Dame.
Was this the sequel?
Maxwell's strike to Celek capped a strong scrimmage for the sophomore. He completed 21 of 27 passes for 253 yards and two touchdowns, including a 48-yard strike to Chris D. Rucker.
Starting quarterback
Kirk Cousins
struggled, completing 14 of 23 passes for 140 yards with three interceptions. Cousins also had a
rough time in the first spring scrimmage
. While Captain Kirk has built up enough cred as a two-year starter and Spartans fans shouldn't be too worried, Cousins could use a better performance in next week's spring game.
Receivers
B.J. Cunningham
and
Bennie Fowler
both recorded five receptions Thursday.
Cornerback Johnny Adams and safety Trenton Robinson stood out for the defense as both men recorded five tackles and an interception.
March, 23, 2010
3/23/10
2:19
PM ET
Spring practice is about to get under way at Michigan State, and four players convicted in last year's residence hall assault
have been reinstated
to the team.
Head coach Mark Dantonio said Tuesday that cornerback Chris L. Rucker, offensive linemen J'Michael Deane and wide receivers
Mark Dell
and
B.J. Cunningham
, all of whom received probation and community service after pleading guilty to misdemeanor assault, are back on the team. Wide receivers
Donald Spencer
and
Chris D. Rucker
, suspended for being present at the Nov. 22 incident but never charged, also are back for the spring.
Dantonio confirmed that wide receiver
Myles White
and nose tackle Oren Wilson will transfer. White was sentenced Monday to probation and community service, and Wilson faces sentencing March 31. The status of wide receiver
Fred Smith
, sentenced Friday to five days in jail plus probation and community service, will be determined when his legal issues are over. Eleven current or former players pleaded guilty in the incident, and six -- White, Wilson,
Ashton Leggett
, Jamiihr Williams, Glenn Winston and Roderick Jenrette -- are no longer with the program.
I fully expected reinstatement for Cunningham, Dell, Deane and Chris L. Rucker, who had no prior indiscretions. White and Wilson deserved heavier punishment, potentially dismissal from the team, because their involvement in the assault didn't come to light until January. Wilson even played in the Alamo Bowl, a privilege he didn't deserve. But it's all moot now as both players will be transferring.
I spoke with Dantonio moments ago, and while I'll have a two-part Q&A with the coach this afternoon and Wednesday, a few notes and quotes for now.
Dantonio, on the off-field problems Michigan State has faced: "You're going to fall down at times. We have the same problems that society has in a lot of ways, and because we live in a fishbowl a little bit, there's going to be higher consequences, more public scrutiny and things of that nature. But you do always have to believe in your young people. That helps them grow, and that's what we'll do."
During the winter, Dantonio put a greater emphasis on the team's Unity Council and held 90-minute weekly seminars for players that featured guest speakers, including former players and a criminal justice professor. "We talked about the law, talked about our players' rights, talked about consequences," Dantonio said. "When you make a decision, it's not a quick fix judiciously. Our players need to understand that. It's not over and done with when you do make a mistake. We're just trying to educate and be proactive, and I think it draws our team together."
The big personnel news of the day is Keith Nichol's move from quarterback to wide receiver. Nichol remains an option at quarterback, but with greater depth behind Kirk Cousins this spring, he has a better chance to make big contributions at receiver. Nichol played some wideout during the Alamo Bowl but will spend much more time there this spring. Dantonio said Cousins has earned the starter's tag entering the spring after a solid sophomore season. Nichol is listed as both a first-team wide receiver and a second-string quarterback on the team's spring depth chart. "Keith is an outstanding athlete," Dantonio said. "He's played quarterback for us and he should continue to be thought of in that light somewhat. He would always be able to move back in there. ... But I also think that he can be an outstanding wide receiver, as proven in bowl practice. ... He needs to get on the football field for us."
Dantonio identified offensive line and kicker as the two most critical areas to develop in spring ball. The Spartans lose three starters on the offensive line, including standout center Joel Nitchman, as well as first-team All-Big Ten kicker Brett Swenson.
Some wonderful news about Spartans offensive lineman Arthur Ray Jr., who has kept his dream of playing football alive after battling bone cancer. Ray is finally off crutches and able to run and do individual drills. "His bone is healing," Dantonio said. "He hopes to play in the near future, within maybe a year. We'll have to petition for that. We would have room for [Ray on the roster]. That's something the doctors have to decide on. Me, personally, and our entire football staff, are thrilled to have Arthur out there every single day. ... I can look at him now and say there is a possibility [of him playing]." There are plenty of folks rooting for Ray, myself included.
Defensive end David Rolf is transferring to be closer to his family. Defensive tackle Cameron Jude's status is unclear as he works through academic and personal issues.
Defensive tackle Jerel Worthy doesn't appear on the spring depth chart because he underwent offseason shoulder surgery and will be limited in practice
January, 26, 2010
1/26/10
2:00
PM ET
The problems at Michigan State continue as two more football players have been charged with misdemeanor assault and conspiracy in connection with a Nov. 22 incident at an on-campus residence hall.
Junior defensive tackle Oren Wilson and redshirt freshman wide receiver
Myles White
both
face assault and conspiracy charges
. Spartans head coach Mark Dantonio on Tuesday indefinitely suspended both players from all football-related activities. Both Wilson and White must turn themselves in for arraignment.
"As with the previously suspended players, their status with the team will be re-evaluated on a case-by-case basis as their legal issues are resolved," Dantonio said in a statement issued through the school's sports information department.
Eleven players now have been charged in the incident, which took place during a fraternity potluck function held the same night of Michigan State's team banquet. Four other players were suspended from the team for being present at the residence hall, though none faces charges.
Wilson started for Michigan State in the Alamo Bowl on Jan. 2, while White was suspended for the game for an unrelated incident. Dantonio, through a spokesman, said he didn't know Wilson and White were present at the residence hall until being notified of the forthcoming charges late last week. Though the suspensions were announced Tuesday, the punishments went into effect last week.
Dantonio handed down suspensions or dismissals for all the other players identified as being at the residence hall before the Alamo Bowl. Players were given opportunities to come forward about their involvement in the incident, but both Wilson and White declined to do so. MSU police in early December identified 10 suspects in the assault and were hoping to identify five more. Now we know that all 15 suspects were football players.
Still, it's troubling that more than two months have passed before Spartans coaches knew Wilson and White were involved.
Ingham County Prosecutor Stuart Dunnings told the
Lansing State Journal
: "MSU Police has wonderful investigators and to me, it was never a question of if these two individuals were going to be identified, just a question of when."
Here's the breakdown of what's happening with the 15 players:
Running back Glenn Winston and safety Roderick Jenrette, who face charges and had previous legal issues, have been dismissed from the team.
Running back Ashton Leggett pleaded guilty Jan. 14 to two counts of misdemeanor assault as part of a plea agreement in which a more serious conspiracy charge against him was dropped. Leggett since has transferred to Illinois State. Defensive end Jamiihr Williams, who also faces charges, will transfer as well.
Brynden Trawick and Ishmyl Johnson, who were suspended for being at the residence hall but not charged, are transferring.
Five players who face charges -- cornerback Chris L. Rucker, offensive lineman J'Michael Deane and wide receivers, Mark Dell, B.J. Cunningham and Fred Smith -- had their pretrial hearings postponed earlier this month. Dantonio allowed them to attend a team meeting several weeks ago, but their ultimate status will be determined after the legal process concludes. Wilson and White both are now in the same boat as these players.
Donald Spencer and Chris D. Rucker were suspended but not charged and attended a team meeting earlier this month.
Obviously, this remains a messy situation for Dantonio and Michigan State, which could be without a sizable chunk of the roster when spring practice begins.
January, 13, 2010
1/13/10
5:12
PM ET
Mark Dantonio wanted to put a positive spin on
today's season wrap-up news conference
, but the Michigan State coach couldn't avoid the elephant in the room.
The recent wave of player suspensions and dismissals remains the top story around Michigan State, though linebacker
Greg Jones
'
return to school
is significant as well. Dantonio has reinstated seven players suspended following a Nov. 22 assault at a campus residence hall, five of whom are facing misdemeanor assault and conspiracy charges.
The suspended players who remain at Michigan State were allowed to attend a recent team meeting when the squad assembled following winter break.
"They have been outside of the football facility and everything to do with football for the last six or seven weeks," Dantonio said. "And at this point in time, we are going to welcome them back into that environment for clarity purposes. They are on our football team."
Four suspended players, including two who face charges stemming from the residence hall incident, have transferred from Michigan State. A total of nine players were charged Dec. 10 with misdemeanor conspiracy to commit an assault and battery as well as misdemeanor assault and battery. Two of those players, running back Glenn Winston and safety Roderick Jenrette, have been dismissed from the team.
"We are not doing anything as a team right now," Dantonio said, "but at least to sit in a team meeting room for our initial meeting back, they were welcomed to be in there, and then we will make decisions based on what happens at a later date."
Here's a look at where everyone stands:
The following players who face assault and conspiracy charges have been reinstated: cornerback Chris L. Rucker, offensive lineman J'Michael Deane, wide receiver Mark Dell, wide receiver B.J. Cunningham, wide receiver Fred Smith.
Wide receivers Chris D. Rucker and Donald Spencer, who were suspended for being at the residence hall but never charged, also are back with the team.
Running back Ashton Leggett, who was suspended and charged, has transferred to Illinois State. Defensive end Jamiihr Williams, who was suspended and charged, has transferred to Northeast Mississippi Community College.
Linebacker Brynden Trawick and nose tackle Ishmyl Johnson, who were present at the residence hall but never charged, also have transferred from Michigan State.
Wide receiver Myles White, who was suspended for a situation unrelated to the residence hall assault, also is back with the team.
The players facing charges are scheduled to appear in court Thursday morning for pre-trial hearings. Ingham County prosecutor Stuart Dunnings III told the Detroit Free Press
that no plea agreement is in place
at this time, though that could change.
December, 23, 2009
12/23/09
3:00
PM ET
Michigan State will have quite a few open seats on the team plane as it takes off for San Antonio on Sunday morning.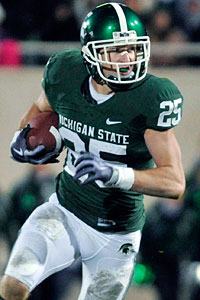 Jason Miller/US PresswireBlair White provides one reliable option for the Spartans at wideout.
And when offensive coordinator Don Treadwell assembles the Spartans' wide receivers to begin final preparations for the Valero Alamo Bowl, the meeting room might feel a little empty. Fourteen Spartans players aren't making the trip to the bowl game, as 12 have been suspended and two, running back Glenn Winston and safety Roderick Jenrette, have been dismissed from the team.
The wide receiver group has been hit especially hard as four suspended players --
B.J. Cunningham
,
Mark Dell
,
Chris D. Rucker
and
Myles White
-- play the position. Cunningham and Dell rank second and third on the team in receiving, having combined for 1,090 receiving yards, 74 receptions and five touchdowns.
Cunningham started nine games, while Dell started the final three regular-season contests. Their presence will be missed Jan. 2 against Texas Tech in a game where Michigan State likely needs to throw the ball a lot and put up points.
"We've talked about all season how at a lot of positions, we feel one of the strengths of our team is depth," Michigan State quarterback
Kirk Cousins
said. "We have lost some guys, and it's going to test our depth. There are guys who haven't had opportunities yet to play in games, who we know work very hard year-round behind closed doors when no one else is really watching.
"They're guys we know we can count on, come the bowl game."
Cousins knows what he's got in
Blair White
, a first-team All-Big Ten receiver who leads Michigan State and ranks third in the league in receiving average (73 ypg). The Spartans also can turn to sophomore
Keshawn Martin
, who, in addition to becoming a threat on returns, has 14 receptions for 325 yards (23.2 ypr) and four touchdowns.
After those two, though, it's slim pickings. Michigan State can turn to tight ends
Charlie Gantt
,
Brian Linthicum
and
Dion Sims
, but it needs more production from the wide receiver position.
So who steps up? Cousins thinks sophomore walk-on
Brad Sonntag
could emerge.
"He's got a lot of upside," Cousins said.
Sonntag and redshirt freshman
Milton Colbert
are listed as the backups to White and Martin on Michigan State's pre-bowl
depth chart
. Neither Sonntag nor Colbert has caught a pass this season.
"We're still tinkering with all that," Cousins said. "We don't have a set plan yet, and we're still figuring out what would be the best matchups to use. And we're a team that likes to use our tight ends, so we always want to get them the football, too."
December, 10, 2009
12/10/09
2:23
PM ET
We now know
the identity of the Michigan State player
cited for public urination and possession of alcohol by a minor outside an East Lansing nightspot early on Nov. 22.
Redshirt freshman wide receiver
Myles White
pleaded not guilty to the misdemeanor charges Thursday morning in a St. Johns, Mich., courtroom. Michigan State indefinitely suspended White from the team several hours later. The wideout faces up to 90 days in jail and $600 in fines if convicted. His next appearance is scheduled for Dec. 18.
It's very important to note that White isn't one of the current or former MSU players charged with conspiracy and assault in connection with a Nov. 22 incident at a campus residence hall. White also hasn't been identified as being present at the residence hall, though an ongoing investigation could result in more charges being filed.
If you're keeping score, Michigan State has suspended 12 players and dismissed two others in recent days. Four of the suspended players --
Mark Dell
,
B.J. Cunningham
,
Chris D. Rucker
and White -- play wide receiver, which creates a major depth problem for the team's upcoming appearance in the Valero Alamo Bowl against Texas Tech.
December, 9, 2009
12/09/09
6:30
PM ET
Here's
the latest on the mess at Michigan State
, as nine players were charged Wednesday with misdemeanor conspiracy to commit assault and battery as well as assault and battery in connection with a Nov. 22 fight at a campus residence hall.
The conspiracy charges carry a maximum penalty of one year in jail, while the assault charges carry a 93-day maximum sentence.
Charges were filed against the following players: safety Roderick Jenrette, running back
Glenn Winston
, wide receiver
Fred Smith
, wide receiver
B.J. Cunningham
, defensive end Jamiihr Williams, wide receiver
Mark Dell
, running back
Ashton Leggett
, offensive tackle J'Michael Deane and cornerback Chris L. Rucker.
The investigation is ongoing, and more charges could be filed.
Deane is one of three new suspensions the team announced today. Wide receivers
Chris D. Rucker
and
Donald Spencer
are the others.
None of the players will travel with the team to the Valero Alamo Bowl on Jan. 2.
I'll have more on this Thursday, especially the involvement of Winston, who has been down this road before.
Tough times for Michigan State, indeed.
August, 18, 2009
8/18/09
12:45
PM ET
Posted by ESPN.com's Adam Rittenberg
If Monday's situational scrimmage at Spartan Stadium is any indication, Michigan State's passing attack should be more dynamic this fall.
The offense beat the defense in the 124-play scrimmage by a score of 73-61 -- don't ask me to explain the scoring system -- and several wide receivers stood out. Michigan State continued to split things pretty evenly between quarterbacks Keith Nichol and Kirk Cousins, though it appears that Nichol, the Oklahoma transfer, delivered the better performance.
He completed 17 of 26 passes for 241 yards with three touchdowns and no interceptions, including a 52-yard scoring strike to Chris D. Rucker. Cousins, the team's primary backup last year, tossed two touchdowns and an interception but completed just 13 of 30 attempts. The sophomore completed 74.4 percent of his passes last season.
Rucker had a scrimmage-high 90 receiving yards, though true freshman tight end Dion Sims led in receptions with seven for 60 yards. Michigan State is extremely excited about Sims, a two-sport star in high school, and he'll only add to a loaded group of tight ends. Sophomore Keshawn Martin also had five receptions for 85 yards and a touchdown.
As for the running back race, sophomore Ashton Leggett, who briefly inched ahead in the competition this spring, had 91 rushing yards and a touchdown on 10 carries, including a 63-yard burst. Senior A.J. Jimmerson had 36 rush yards and a touchdown on 10 carries.
Redshirt freshman defensive end Tyler Hoover stood out on defense with two tackles for loss and a fumble recovery. Junior linebacker Eric Gordon recorded a sack and two pass breakups, and senior cornerback Ashton Henderson had an interception and two pass breakups.
April, 21, 2009
4/21/09
7:21
PM ET
Posted by ESPN.com's Adam Rittenberg

EAST LANSING, Mich. -- It's pretty miserable outside right now, so thankfully Michigan State held practice Tuesday afternoon on its indoor field. Media were allowed to stay for nearly 13 practice periods, the most all spring, so I clearly picked a good day to visit Sparta.
The quarterback competition is clearly the burning issue in these parts, so let's get right to it.
Head coach Mark Dantonio said before practice that sophomores Kirk Cousins and Keith Nichol would split reps evenly in Saturday's Green-White Game, as they have throughout the spring. Michigan State is a long way from choosing a starter, but there's still an opportunity for both players to distinguish themselves.
"You can inch somebody ahead of the other guy, but they've both performed very well this spring," Dantonio said. "They both have strong arms. They both can create and have running ability, some a little bit more than the other. They both have good leadership skills and they're extremely hard workers. And they both have three years left.
"With that being said, you don't want to name somebody and then all of a sudden, have to reverse your thinking later on."
Both players had their moments during team periods and 7-on-7s at Thursday's practice. Cousins, who performed well as Michigan State's backup last fall, has excellent mechanics and a strong arm. He looks a little smoother on his passes than Nichol, who has a bit of an awkward motion but still get the ball out fairly quickly.
Many have characterized Cousins as the pure passer and Nichol as the versatile athlete, but offensive coordinator Don Treadwell said it's a misperception.
"It's deceptive," Treadwell said. "It's not like one guy's a runner and one guy's a pocket passer. Those guys both are able to move their feet very well, get out of trouble and keep their eyes down the field at the same time."
The competition is neck-and-neck, but Cousins looked a little more impressive at Tuesday's workout.
The sophomore showed good zip on his passes, hitting Mark Dell on several deep out routes during team drills and 7-on-7s. Dell definitely appeared to be his favorite target. After overthrowing wideout Cam Martin on a deep post, a disgusted Cousins muttered, "That's six points."
Cousins also had a nice gain on an option keeper, taking a rare hit (he and Nichol wore red "no contact" jerseys) and popping back up and nodding his head. His run delighted starting left tackle Rocco Cironi, who is out for spring ball following shoulder surgery.
"It's fun to get in there, run and get hit," Cousins said. "You feel like a football player instead of a quarterback."
Nichol had a bit of a slow start in team drills, but he heated up during 7-on-7s, hitting Chris D. Rucker on a go route and finding Keshawn Martin on a deep out. It would have been nice to see Nichol run more, but he moves his feet well.
The quarterbacks traded off on each play during 7-on-7s. There were no interceptions, though Cousins fumbled a snap during red-zone drills.
Other observations from Michigan State's practice:
The competition at running back also remains tight, and a fourth player, redshirt freshman Caulton Ray, has entered the mix. Sophomore Ashton Leggett created some separation a few weeks ago before being slowed by a knee sprain, but he was back at practice Tuesday. Leggett, Ray and senior A.J. Jimmerson each had nice gains during team drills.
None of the running backs had much success during red-zone drills, as Jones, Wilson, Neely and others recorded tackles for loss. Sophomore Andre Anderson, who most resembles Javon Ringer in body type and running style, had a nice burst. He runs very hard for a smaller guy.
I got the best look at the backs during a 1-on-1 drills against the linebackers. Anderson looked particularly impressive in the open field, juking All-Big Ten performer Greg Jones and reserve Jon Misch.
Cousins and Nichol both rotated with the first-team offense, but the top offensive line consisted of: left tackle Brendon Moss (in place of Cironi), left guard Joel Foreman, center Joel Nitchman, right guard Jared McGaha, right tackle J'Michael Deane. Dantonio singled out the offensive line as a group that has progressed more than he had envisioned during spring ball, though there's still a long way to go.

Dell, Blair White and B.J. Cunningham took most of the reps as first-team wide receivers. Michigan State will use the tight ends a ton this fall, and several players made catches during team drills, including Garrett Celek and Brian Linthicum, a transfer from Clemson who looks impressive. There's also some buzz about third-team wideout Milton Colbert, a 6-5, 211-pound walk-on who might just work his way into the rotation. Colbert definitely passes the eye test.

The first-team defense: defensive end Colin Neely, defensive tackle Kevin Pickelman, defensive end Trevor Anderson, nose tackle Oren Wilson, outside linebacker Eric Gordon, outside linebacker Brandon Denson, middle linebacker Greg Jones, safety Danny Fortener, safety Trenton Robinson, cornerback Chris L. Rucker, cornerback Ross Weaver. Several players are banged up in the secondary, including safeties Kendell Davis-Clark and cornerback Jeremy Ware.
The option might not be a major part of the offense next fall, but it will certainly be used more with Nichol and Cousins taking snaps. Michigan State ran several option plays Tuesday and also could incorporate more misdirection into its scheme.
Individual practice periods are usually pretty boring, but Michigan State's running backs were worth watching because of a familiar face. Ringer, who remains in town leading up to this weekend's NFL draft, was on the field helping running backs coach Dan Enos in a direction drill. The All-American wore a New York Jets T-shirt but told me afterward he dons apparel from all the teams for whom he worked out. So don't get too excited, Jets fans. Former Spartans right tackle Jesse Miller also attended practice.
Place-kicker Brett Swenson, an All-America candidate, looked solid on field goals and even took a pitch on a fake and raced around right end.

The Spartans paid homage to Michigan native Kid Rock and played his version of "Sweet Home Alabama" to simulate crowd noise during team drills.


August, 5, 2008
8/05/08
9:20
AM ET
| | |
| --- | --- |
| | |
| | Scott Boehm/Getty Images |
| | Brian Hoyer returns to lead the Michigan State offense. |
Posted by ESPN.com's Adam Rittenberg
EAST LANSING, Mich. -- Michigan State media day is under way, so check back for updates later in the morning and this afternoon. For now, here's a look at three major questions facing the Spartans entering what should be a defining 2008 season.
1. Can Brian Hoyer take the next step in his evolution and silence his critics?
Hoyer did a lot of good things last season, but quarterbacks are ultimately judged in the fourth quarter and Michigan State went 2-6 in games decided by seven points or fewer. His play in crunch time will go a long way in determining if the Spartans back up their preseason label as the Big Ten's surprise team. Hoyer can be extremely efficient, as he proved with just seven regular-season interceptions last fall, but the nightmare of his four-interception meltdown in the Champs Sports Bowl lingers with Spartans fans. As a senior, Hoyer should limit his mistakes, and if several capable wide receivers emerge, he'll have a big season.
2. How will Michigan State replace Devin Thomas' playmaking ability?
Thomas' rapid rise as a wide receiver/return man probably can't be duplicated by one player, but the Spartans feel confident in their mostly unproven receiving corps. Both Deon Curry and Mark Dell appeared in all 13 games last season, combining for 44 catches, and redshirt freshman B.J. Cunningham could be the team's top big-play threat. The two Chris Ruckers -- Chris D. and Chris L. -- provide depth and heralded freshman Fred Smith could contribute immediately.
3. Who will anchor the pass rush after the losses of Jonal Saint-Dic and Ervin Baldwin, both of whom ranked among the Big Ten's top seven in sacks?
Expectations are high for end Trevor Anderson, a transfer from Cincinnati and a proven commodity. Anderson recorded 10 sacks and 21.5 tackles for loss in two seasons playing for Michigan State coach Mark Dantonio at Cincinnati. He might be a bit rusty after a year off but should provide a big boost on the edge. The Spartans also need increased production from seniors Justin Kershaw and Brandon Long, who combined for 3.5 sacks last season.