October, 21, 2013
10/21/13
11:00
AM ET
Old-school and new-school Big Ten football were on display in Week 8.
The two early Saturday games epitomized traditional Big Ten-style football, as Michigan State slogged through a 14-0 win over Purdue while Minnesota and Northwestern played a 7-7 first half before the Gophers eventually won 20-17. But just when the "Big Ten is boring" rants threatened to take over Twitter, Michigan 63, Indiana 47 happened.
[+] Enlarge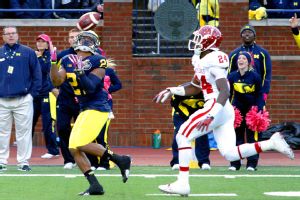 AP Photo/Lon HorwedelJeremy Gallon will be one of the keys to Michigan finding the end zone against Michigan State on Nov. 2.
Some of the crazier numbers from that game:
Michigan receiver Jeremy Gallon's record-setting 369 yards receiving were more than the leading receivers for Illinois, Iowa, Michigan State, Minnesota, Nebraska and Purdue currently have for the entire season.

Michigan quarterback Devin Gardner put up a school-record 584 yards, the highest total by an FBS player this year (yes, including Johnny Football). Gardner came up 1 yard short of the Big Ten single-game record for total offense, set by Illinois' Dave Wilson in 1980. Gardner has had his problems this year, but he leads the Big Ten in total offense by a mile, and at his current pace (including a bowl game), he would finish with 4,271 total yards. Former teammate Denard Robinson set the Big Ten single-season record in 2010 with 4,272.

The Wolverines' 751 total yards were the second-most in Big Ten history, trailing only the 763 Purdue put up against Indiana in 2004. The 751 yards were also the sixth-highest total by an FBS team this year, with the top five spots all belonging to Baylor and Oregon. Michigan and Indiana combined for the third-highest point total (110) ever for a Big Ten conference game. Michigan's 67-65 win over Illinois in 2010 still ranks No. 1.
Is this the wave of the future in the league? On Saturday night, Wisconsin and Illinois combined for 88 points. Scoring remains up in the conference this season, as eight of the 12 teams are averaging at least 30 points, compared to just four teams that did so in 2012. Even teams that we don't think of as offensive juggernauts like Minnesota, Iowa and Michigan State are all scoring at least 28 points per game. The Big Ten -- yes, the Big Ten -- has five teams ranked in the top 18 of the FBS in scoring this year, led by Ohio State at 45 points per game.
Those numbers will surely go down as we get into the heart of conference play and the weather turns colder in November. But don't be surprised if new-school Big Ten football soon becomes the norm.
Take that and rewind it back ...
Team of the week:
Minnesota. The Gophers were the lone team to score an upset in Week 8, beating Northwestern on the road. They did it with coach Jerry Kill making a surprise appearance. "That gave us the little edge we needed," quarterback
Philip Nelson
said. Minnesota has been through a lot already this season and has some major flaws. But the team is 5-2, and a second straight bowl appearance is just one win away.
Worst hangover:
Northwestern enjoyed all kinds of glowing coverage in the lead-up to the Ohio State game and showed the country what kind of team it was that night in a close loss. Or so we thought. Injuries to
Kain Colter
and
Venric Mark
have been a killer, and losing at home to Minnesota after getting blown out at Wisconsin left the Wildcats at 0-3 in the league. A bowl is no sure thing, which would have been a crazy thing to say a little more than two weeks ago. "I see a team that's not executing very well right now," head coach Pat Fitzgerald said. "We have to look at that." And fast.
Big Man on Campus (offense):
Michigan's Gallon and Gardner share the honor. But should we put an asterisk next to any records set against Indiana's defense?
Big Man on Campus (defense):
Minnesota's
Ra'Shede Hageman
knocked down three Northwestern passes and intercepted a fourth in the Gophers' big road upset.
Big Man on Campus (special teams):
After missing one in the first half, Minnesota's
Chris Hawthorne
drilled two field goals in the fourth quarter, and the last one from 38 yards out ended up as the game winner.
[+] Enlarge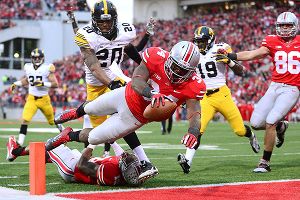 Andrew Weber/USA TODAY SportsCarlos Hyde's fourth-quarter TD run against Iowa displayed what makes Hyde such a talented running back.
Best play:
Carlos Hyde
's fourth-quarter, 19-yard touchdown against Iowa was just ridiculous. He looked to be stopped just inside the 10-yard line, went backward after breaking a tackle and then dived into the end zone. It was incredibly nimble for a guy his size, and it also gave the Buckeyes the lead for good. "I've never had a run like that," Hyde said. We haven't seen too many like it, either.
Stay on target:
Ohio State's
Bradley Roby
became the second Big Ten player this season to be ejected under the new targeting rules after his first-quarter hit on Iowa tight end
C.J. Fiedorowicz
. The Buckeyes didn't like the call, but it looked like a textbook example of the kind of hit the rule is designed to prevent since Roby made helmet-to-helmet contact. Nebraska's
Stanley Jean-Baptiste
was ejected two weeks ago against Purdue. The Huskers didn't agree with that one, either. For what it's worth, the 6-foot-3 Jean-Baptiste had to duck down to tackle 5-9 Purdue running back
Dalyn Dawkins
. Roby, at 5-11, is eight inches shorter than Fiedorowicz.
Fun with numbers (via ESPN Stats & Info):
A reminder that the Big Ten needs better quarterback play: The league does not have a player in the top 25 of ESPN's opponent-adjusted QBR rating. Ohio State's Braxton Miller leads the conference and is 29th nationally with a rating of 74.6. The SEC has five QBs in the top 20, while the Pac-12 has four.

One thing the Big Ten can do is stop the run. Four league teams rank in the top 10 nationally in rushing yards allowed per game, topped by Michigan State at No. 1 with 58.6 yards per game. Wisconsin is No. 4, Ohio State is No. 7 and Michigan is No. 10. In addition, Iowa is No. 16.

Wisconsin's Melvin Gordon became one of two players to eclipse 1,000 rushing yards for the season in Week 8. He is one spot behind FBS rushing leader Antonio Andrews from Western Kentucky, but Andrews has only 24 more yards on 45 more carries than Gordon. The Badgers star is also tied for third nationally in rushing touchdowns (11) and trails only Oregon's Marcus Mariota in yards per carry (9.46) among qualified ball carriers. Gordon has yet to fumble this year, either.

Ohio State's Hyde and Minnesota's Rodrick Williams Jr. are hard to bring down behind the line of scrimmage. Each has only four rushes for zero or negative yards this season, tied for sixth-lowest in the FBS among qualified rushers.

Nebraska has allowed just three sacks all season, tied with Fresno State for the fewest in the FBS. Northwestern has given up 22 sacks, most in the Big Ten and more than all but six teams in the country.

Ohio State has gone three-and-out only 11 times all season; only Baylor has fewer, with nine. By contrast, Purdue has gone three-and-out 32 times this year.
September, 23, 2013
9/23/13
11:00
AM ET
The constant talk about the Big Ten's national perception and performance against other conferences can get a bit tiresome.
But there's also no denying that the league has an image problem that stems from a lack of noteworthy wins. And with nonconference play all but wrapped up (three nonleague games remain -- Illinois versus Miami (Ohio) and Purdue versus Northern Illinois this week, and BYU at Wisconsin in November), we can make a few judgments.
[+] Enlarge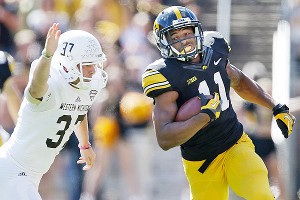 AP Photo/Charlie NeibergallIowa receiver Kevonte Martin-Manley returned two punts for touchdowns in the Hawkeyes' rout of Western Michigan.
The good news is that there weren't many total embarrassments, though Michigan certainly flirted with a couple the past two weeks. The not-so-good news: The Big Ten finished an underwhelming 9-8 against BCS AQ teams. That record is even less impressive when you consider the caliber of the competition.
The best win remains Michigan's Week 2 triumph over Notre Dame, which is the conference's only victory over a ranked opponent for now. Other BCS AQ scalps include California (twice), Cincinnati, Connecticut, Iowa State, South Florida and Syracuse (twice). The losses were to Arizona State (allegedly), Cincinnati, Notre Dame (twice), Missouri, UCF, UCLA and Washington.
The Big Ten went 3-2 against the AAC, 2-0 against the ACC (Syracuse), 1-0 against the Big 12 (Iowa State), 2-3 against the Pac-12, 0-1 against the SEC (Missouri) and 1-2 against Notre Dame. As you can tell, the league didn't exactly play the cream of the crop in the ACC, Big 12 or SEC. The Big Ten's slate was
low on marquee games
, and the conference didn't win any of the ones that were there, save for going 1-for-3 against what looks like a decent but not great Notre Dame team.
Luckily, conference play is almost here, and that will consume us for the next couple of months. But if the Big Ten wants to earn more respect nationally, it will have to wait until bowl season for another shot.
Take that and rewind it back ...
Team(s) of the week:
It's a tie between Iowa and Minnesota. The
Hawkeyes beat Western Michigan 59-3
in their most complete performance in ages, while the
Gophers dismantled San Jose State
and its NFL-caliber quarterback 43-24. Bring on Floyd of Rosedale!
Worst hangover:
Michigan State hoped that maybe, just maybe, it had found a solution to its passing game woes when
Connor Cook
and the offense rolled against Youngstown State two weeks ago. Instead, the Spartans' passing game looked just as bad as last year in a
17-13 loss at Notre Dame
. And the quarterback controversy is not even over, as coach Mark Dantonio strangely went with
Andrew Maxwell
on Michigan State's final possession -- which unfolded just as you would have expected, with three incomplete passes, two penalties and a Maxwell scramble that came up far short of the first-down marker on fourth-and-long.
The Spartans also killed the small momentum they had going in the second half by calling for a halfback pass from
R.J. Shelton
, who threw an interception into tight coverage. Apparently, Michigan State failed to learn from its rival last year, but how about everyone in the Big Ten agree not to call halfback passes in South Bend for a while? Dantonio said he made the Shelton pass call, and he likes to name his trick plays after kids' movies. Call that one "The NeverEnding Story," because that's what MSU's offensive disaster has become.
Big Man on Campus (Offense):
Minnesota QB
Mitch Leidner
made his first career start in place of the injured
Philip Nelson
, and he didn't disappoint. Leidner ran for 151 yards and four touchdowns against San Jose State. The 6-foot-4, 233-pounder showed off some speed when going around the edge and lots of toughness as he continually pushed forward for more yards after first contact.
Big Man on Campus (Defense):
Iowa cornerback
B.J. Lowery
had a pair of pick-sixes against Western Michigan.
Big Man on Campus (Special Teams):
This one's an easy call: Iowa's
Kevonte Martin-Manley
returned a pair of punts for touchdowns in the second quarter, piling up 184 total punt return yards. He became the third Big Ten player to have two punt return touchdowns in the same game and the first since 1983 (Ohio State's Garcia Lane).
Fun with numbers (via ESPN Stats & Information):
Your new Big Ten leader in Total QBR: Ohio State's
Kenny Guiton
, who's No. 10 nationally with an 86.7 rating (based on a 100-point scale). A fan asked on Twitter on Saturday night whether the Buckeyes' Guiton and
Braxton Miller
might be the best two quarterbacks in the league. A strong case could be made for that. ... Wisconsin's
Melvin Gordon
leads the nation in rushing with 624 yards. What's crazy is that the No. 2 rusher, Rutgers'
Paul James
, trails Gordon by 51 yards and has 25 more carries on the season. Gordon is still averaging just over 13 rushes per game. ... Michigan State in a nutshell: The Spartans rank third nationally in total expected points added by the defense at 74.32; the offense, meanwhile, has contributed negative-six expected points added. ... Four Big Ten teams (Wisconsin, Ohio State, Minnesota and Nebraska) rank among the top five in the FBS in rushing yards. Five league teams (Iowa, Nebraska, Minnesota, Northwestern and Ohio State) rank in the top 10 in number of total rush attempts, with the Hawkeyes leading the way at 218 (third nationally). ... Problem not solved: Nebraska has fumbled eight times this year, more than every team except Idaho. The only good news is that the Huskers have lost only four of them. ... Penn State's defense has allowed only 12.8 first downs per game, ranking fourth in the FBS, just behind Michigan State. ... An overlooked part of Minnesota's early success: Gophers opponents have started their possessions inside their own 25-yard line after a kickoff 17 times this season, the most in the nation. Thank kicker
Chris Hawthorne
and the coverage unit for that. By comparison, Michigan's opponents have started a drive after a kickoff inside their 25-yard line just five times this season.
Stern discipline:
Five days after the Pac-12 reprimanded the officials who botched the ending of the Wisconsin-Arizona State game and promised "additional sanctions" for that crew, the same group worked the Utah-BYU game on Saturday night. Yep, that's some punishment, having those officials call an intense in-state rivalry featuring a Pac-12 team on the road. BYU fans didn't like the calls that went against their team in the
20-13 Utes win
and
pelted the officials with trash after they left the field
. That was deplorable by those fans, but as far as we can tell, it was the only real punishment those refs received. The Pac-12 refs aren't the only ones who mess up, though. That was a Big Ten unit hosing Michigan State on those pass interference calls at Notre Dame.
Strangest moment(s):
San Jose State's
Harrison Waid
tried to get revenge for battered punters everywhere after
he got pancaked on a block by Minnesota's
Derrick Wells
. Waid hopped up and tried to go after Wells. Alas, that's a battle a punter will never win, and he got ejected from the game. Yes, a punter was kicked out for fighting.
Meanwhile in Columbus ... as if Ohio State needed any extra help against Florida A&M, running back
Jordan Hall
used umpire Jim Krogstad as a blocker and then a bowling pin
on his way to a touchdown. Maybe FAMU could let Krogstad wet his beak on some of the $900,000 Ohio State paid the school for that 76-0 steamrolling.
Say what?
: Remember when Penn State coach Bill O'Brien called his team a bunch of "fighters" on national TV at the end of last year's Wisconsin finale, but several people
thought he said a different "F" word
? Well, O'Brien appeared to almost use another "F" word
during his postgame news conference Saturday
before catching himself. O'Brien was then asked if he was going to say "fighters" again. "We do have a bunch of fighters," he said. "I don't know anyone who debates me on that. It's like my mom -- she still doesn't believe I said 'fighters.' Do I look like the type of guy who swears?"
June, 26, 2013
6/26/13
12:00
PM ET
April, 23, 2012
4/23/12
1:00
PM ET
We're wrapping up the three Big Ten spring games from over the weekend. Let's review Minnesota's Maroon and Gold Game from Saturday.
You can find coverage of the game
here
,
here
and
here
.

Star of the game:
Sophomore defensive end
Michael Amaefula
had four tackles and a pair of "sacks," helping keep the Gold team scoreless.
How it went down:
Offensive fireworks? Not so much. The Maroon squad beat the Gold 3-0, with 21-yard field goal from
Chris Hawthorne
providing all of the scoring. Though that may sound rough, the Gophers were encouraged by improved play, especially on the defensive end.
Minnesota's defense had a difficult time stopping opposing passing attacks last season but did well against its own quarterbacks in the scrimmage. There were seven pass breakups on the day.
"We've got some guys in the secondary that can run, and we're getting a little bigger in the secondary, which we needed to continue to do," head coach Jerry Kill told reporters. "I can tell you just physically watching that, that was better."
On offense, starting quarterback
MarQueis Gray
completed 4 of 8 passes for 62 yards, and backup
Max Shortell
went 4-of-10 for 68 yards and rushed for 30 yards, showing off much improved mobility. Gray sat out the second half.
"I felt like I did a lot better than last year, taking control of the huddle and being a leader," Gray said. "That's one of the positive things I look forward to [this season]."
It was a tough day for prized recruit Philip Nelson, who went 0-for-6 and was sacked three times.
Brandon Green
led all the receivers with three catches for 59 yards, including a 35-yard grab that was the game's longest play. Freshman JoJuan Harper finished with a game-high 44 yards on nine carries.
Overall, the Gophers showed off more depth and better competitiveness than they had early in Kill's first season. The victorious Maroon team got a postgame steak dinner, while the losing Gold team members were served beans.
December, 15, 2011
12/15/11
4:00
PM ET
It's time to pass out grades for Minnesota's 2011 season.
OFFENSE: D

The Gophers showed a few promising flashes down the stretch, but they struggled offensively for most of the season. They ranked last in the Big Ten in both scoring (18.4 ppg) and total offense (310.3 ypg) and never scored more than 30 points in a game. Quarterback
MarQueis Gray
ran the ball well at times but struggled as a passer, completing barely half of his attempts with as many interceptions (8) as touchdown strikes. To be fair, Gray was transitioning to quarterback after a year at wide receiver and had to adjust to a new system. He should be better in 2012. The key will be developing weapons around him as several young players, including receivers
Malcolm Moulton
and
Marcus Jones
, got their feet wet this year.
DEFENSE: D
The unit entered the season with question marks and didn't provide many answers until the final five contests, two of which resulted in victories (Iowa and Illinois). Minnesota ranked near the bottom of the Big Ten in all the major defensive statistical categories. Despite some experience at linebacker and an excellent safety in senior Kim Royston, the Gophers' youth showed up front and in the secondary. The good news is Minnesota saved its best performance for the final game -- allowing just seven points and 160 yards to Illinois -- and should carry a bit of momentum into a crucial offseason.
SPECIAL TEAMS: B
The kicking game was one of Minnesota's strengths this season. Minnesota ranked second in the Big Ten in kickoff coverage and third in punt coverage. The Gophers were nonfactors on punt returns but finished fifth in the league in kick return average (23.4 ypr) and had a league-high two touchdowns as Jones and
Duane Bennett
both reached paydirt. Jordan Wettstein was perfect on field goals after relieving Chris Hawthorne, while the punting was average.
OVERALL: D
Minnesota looked like the nation's worst major-conference team until its breakthrough win against Iowa (the Gophers happily turned the title over to fellow Big Ten member Indiana). First-year coach Jerry Kill had a tough year both on the field and with his health issues, but both he and his players kept fighting. The Gophers did some nice things down the stretch and built a bit of momentum for the offseason. There's a chance to improve as players will be more familiar with Kill and his staff, but after back-to-back 3-9 seasons, Minnesota has a long way to go.
August, 8, 2011
8/08/11
1:30
PM ET
Our look at three fresh faces to watch for each Big Ten team this season continues with the
Minnesota Golden Gophers
. These players are freshmen, redshirt freshmen, transfers or returnees ready to move into much bigger roles this season.
OFFENSE: Marcus Jones, WR, freshman, 5-8, 170

Minnesota needs more options in the passing game as one of its best receivers,
MarQueis Gray
, will be throwing passes this fall as the team's starting quarterback. Jones will have an immediate opportunity to contribute and might even crack the starting lineup Sept. 3 at USC. The diminuitive freshman has caught on quickly and impressed the coaches both on and off the field. Top wideout
Da'Jon McKnight
will be limited in camp because of a knee injury, so Jones has an opportunity to boost his stock as he competes alongside
Brandon Green
and others.
DEFENSE: Brendan Beal, LB, sophomore, 6-3, 245
Beal comes to Minnesota from Florida, where he redshirted in 2008 and missed the 2009 season because of an injury. He provides depth to a linebacker corps that will be Minnesota's strength on defense this season. Defensive coordinator Tracy Claeys called Beal one of the unit's top performers this spring, and Beal likely will split time at middle linebacker with Gary Tinsley. A decorated high school player, Beal boasts the tools to be a difference-maker for Minnesota. His long layoff from playing games is a concern, but if and when he shakes off the rust, look out.
SPECIAL TEAMS: Chris Hawthorne, K, 6-4, 198
Minnesota needs a starting kicker and Hawthorne, a transfer from NC State, is in line for the top job. Hawthorne walked on at NC State and appeared in three games last season, converting five PAT attempts and a 25-yard field-goal attempt against Wake Forest. Eligible to play immediately at Minnesota, Hawthorne can punt if needed but likely will take over the place-kicking duties this fall. He only kicked for one year in high school, so he's relatively new to the game.
More Fresh Faces
July, 14, 2011
7/14/11
1:15
PM ET
Our preseason position ranking series comes to an end today with everybody's favorite group: special teams.
For this ranking, we're going to consider punters, kickers and returners only. No offense to the long-snappers or the punt-team gunners, but things like kickoff coverage units are hard to forecast. We'll give a little extra weight to teams that have returning and proven players at these spots, because it's difficult to know how new punters and kickers will fare when the pressure of real games begin.
As the guys in these positions would say, let's kick it:
[+] Enlarge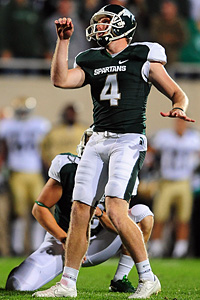 Andrew Weber/US PresswireDan Conroy was nearly perfect on his field goal attempts last season.
1. Michigan State:
Kicker Dan Conroy made 14 of his 15 attempts last year, and
Keshawn Martin
led the league in punt return average. They will miss punter Aaron Bates and will have to improve their kickoff return game. And you know you always have to watch out for the fake when the Spartans line up for a kick.
2. Wisconsin:
The Badgers are set at both punter and kicker, with seniors Brad Nortman and Philip Welch, respectively. Both are third-year starters who can be relied upon. Wisconsin will need to find a replacement for primary return man
David Gilreath
.
3. Penn State:
The Nittany Lions bring back punter Anthony Fera and punt returner
Devon Smith
, who finished just behind Martin in yards per attempt last season. Chaz Powell and
Stephfon Green
are dangerous kick returners. Fera could move over to handle field goals this season if incoming freshman Sam Ficken doesn't win the job.
4. Ohio State:
The Buckeyes have a veteran punter in senior Ben Buchanan and two threats to take a kick to the house in
Jordan Hall
and
Jaamal Berry
. Sophomore Drew Basil is expected to take over at place-kicker. Special teams are almost always a force in Columbus.
5. Purdue:
No one in the league has a bigger leg than Carson Wiggs; the questions is whether he can consistently harness it. Punter Cody Webster averaged 43.3 yards per attempt last season, second best among returning punters. The Boilermakers' return game needs to improve.
6. Illinois:
Derek Dimke was a Lou Groza semifinalist last season and broke the school record for points by a kicker. He nailed two 50-plus yarders. Ray Guy semifinalist Anthony Santella is gone, though return man
Troy Pollard
is back.
7. Northwestern:
Brandon Williams improved at punter as his freshman year went along last season. The Wildcats at long last have an elite return option in
Venric Mark
. But place-kicker was a concern this spring, with Jeff Budzien and Steve Flaherty competing for the job.
8. Iowa:
Kirk Ferentz's teams usually find a way to be good on special teams, so odds are the Hawkeyes will climb these rankings. But they lost a lot from 2010, including Ray Guy finalist and four-year starter Ryan Donahue, plus both primary return men. Eric Guthrie held the edge at punter after the spring. Place-kicker Mike Meyer returns after taking over that role for the final 10 games and doing a solid job.
9. Indiana:
Mitch Ewald was named to the Groza watch list after a strong freshman year in which he made 16 of 19 field goals. Chris Hagerup needs to increase his punting average of 39.4 yards. The Hoosiers should have enough athletes to replace Tandon Doss on returns.
10. Minnesota:
Dan Orseske's 36.1-yard average was worst among starting Big Ten punters in 2010, so that must get better. Jerry Kill must also find a new place-kicker -- NC State transfer Chris Hawthorne looks like the top option. Troy Stoudermire, one of the league's top return specialists, is back for his senior year.
11. Nebraska:
Like Iowa, this is a team that will almost assuredly outperform this ranking. But boy did the Huskers lose a lot of talent and experience. It will be difficult to match the value that punter/kicker Alex Henery brought -- Brett Maher and freshman Mauro Bondi will battle to replace him -- and Adi Kunalic was a secret weapon as kickoff specialist. Top returner Niles Pau is gone, too. The Cornhuskers will likely reload, but nobody has bigger shoes to fill at these positions in the Big Ten.
12. Michigan:
The kicking game looked like a disaster this spring, with neither Seth Broekhuizen nor Brendan Gibbons inspiring confidence. Incoming freshman Matt Wile might win the job this summer. This could prove to be an Achilles' heel for the Wolverines, as it was a year ago. On the plus side, Will Hagerup is the leading returning punter in the Big Ten, though he had only 33 attempts last season.
July, 14, 2011
7/14/11
12:00
PM ET
Anyone else as excited as I am for the return of "Breaking Bad" this weekend?
April, 25, 2011
4/25/11
3:30
PM ET
Coach Jerry Kill wrapped up his first spring practice session at Minnesota on Saturday with a scrimmage at TCF Bank Stadium. It was a pretty vanilla exercise, but for those interested in the scoring, the defense limited the offense to a touchdown and two field goals.

Let's take a quick look at the scrimmage.
Game coverage:
Here
and
here
and
here
and
here
.
Quotable:
"The team has to take where they left off today and when we start two-a-day camp, we better be better. In other words, what they do this summer, I can't go back and start over. We have to start from where we left off today and keep climbing. They're going to have to do a great job this summer in taking care of business and doing what they need to do to get better. So we will see what they are all about." -- coach Jerry Kill
Highlights
Veteran Duane Bennett was the first running back to take the field and had seven carries for 22 yards in the scrimmage. Redshirt freshman Donnell Kirkwood received the bulk of the work and recorded 65 rush yards and a touchdown on 18 carries. Kirkwood had a 28-yard scamper but also fumbled after hauling in a screen pass for the lone turnover of the scrimmage. Senior DeLeon Eskridge had nine carries for 26 yards.
MarQueis Gray exited the spring as Minnesota's top quarterback and barring a preseason shakeup, he'll start the season under center. But Kill hasn't handed the job to Gray, and other players could push the talented junior. Moses Alipate had a nice performance Saturday, completing 9 of 12 passes for 51 yards. Gray completed 11 of 18 passes for 67 yards and added a 20-yard scramble. Freshman Max Shortell enters the mix this summer.
Minnesota finished 10th in the Big Ten in field-goal percentage (.647) in 2010 and would have been last in many leagues (thank goodness for Michigan). For this reason Gophers fans had to be pleased when Chris Hawthorne, a transfer from NC State, connected on a 50-yard field-goal attempt. Hawthorne also connected from 30 yards out. "Was that a 50-yarder? That's good," Kill said. "You can win a lot of games in the kicking game."
February, 2, 2011
2/02/11
6:55
PM ET
Jerry Kill's first recruiting class as Minnesota coach is now official. The Gophers on Wednesday announced the signings of 22 players.
Minnesota signed 17 current high school seniors, two junior college players, one FBS transfer and one player who comes from a prep school.
The players hail from nine states, including six from Minnesota. The class includes 12 offensive players, eight defensive players, one specialist and one athlete.
Here's the position breakdown:
DL:
2
LB:
3
DB:
3

OL:
6
QB:
1
TE:
2
K:
1
Athlete:
1
WR:
3
"I always say you should judge a recruiting class two years down the road," Kill said in a statement. "But I feel good about where we're at with the time we had. With this class, we're laying the foundation for what we're building here. Recruiting is a yearly process and sometimes is a two-year process. For us, it was a three-week process this year. But the previous staff did a great job of keeping kids committed. Our staff really did a great job of hustling around and getting out there."
A few notes:
Five Gophers' players are already enrolled: OL Josh Campion, WR Ge'Shun Harris, athlete Marcus Jones, TE John Rabe and K Chris Hawthorne. Harris and Rabe are junior college transfers, while Hawthorne transferred from NC State.
The Gophers had one four-star recruit (Tommy Olson) and seven three-star recruits, including three offensive linemen and two linebackers.
BIG TEN SCOREBOARD
Saturday, 12/20
Monday, 12/22
Tuesday, 12/23
Wednesday, 12/24
Friday, 12/26
Saturday, 12/27
Monday, 12/29
Tuesday, 12/30
Wednesday, 12/31
Thursday, 1/1
Friday, 1/2
Saturday, 1/3
Sunday, 1/4
Monday, 1/12
Tweets from https://twitter.com/ESPNCFB/lists/b1g