April, 19, 2012
4/19/12
10:30
AM ET
ANN ARBOR, Mich. --
Fitz Toussaint
ran for 1,041 yards last season, becoming the first Michigan running back since Mike Hart in 2007 to surpass the 1,000-yard barrier.
It was an especially impressive feat since Toussaint didn't really take over as the lead, undisputed rusher for the Wolverines until the eighth game of the year. So it's no wonder that people are expecting even bigger things this season. Including Toussaint's head coach.
Brady Hoke told ESPN.com that he pulled Toussaint aside during the Allstate Sugar Bowl and pointed out that Virginia Tech had a 1,600-yard tailback in
David Wilson
.
"We'd sure like to have one of those," he said.
Say no more. A new Toussaint touchstone has been established for 2012.
"The goal is to try to go beyond that," Toussaint said. "I want 1,600 yards to be the minimum."
[+] Enlarge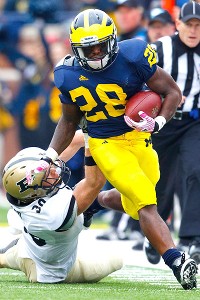 Rick Osentoski/US PresswireFitz Toussaint of Michigan has set a goal of at least 1,600 rushing yards this season.
Only one Big Ten player, Wisconsin's
Montee Ball
, put up more than 1,400 yards rushing last season. That Toussaint's goal doesn't sound all that outlandish is a testament to how far he's come in a short time.
Wolverines coaches liked his talent but weren't sure how tough he was early last year. Toussaint sat out the Notre Dame game in Week 2 with a sprained AC joint in his shoulder. He had also missed some games as a freshman and was gaining a reputation for being injury-prone.
After the Notre Dame game, running backs coach Fred Jackson pulled Toussaint into his office and talked about past great Michigan backs like Hart, Tyrone Wheatley and Chris Perry. Those guys, he said, played through nagging ankle pains, hamstring injuries and other aches.
"He was saying you've got to be tough to play this game at a different level," Toussaint said. "That talk really motivated me."
Toussaint played pretty well with limited carries the next four games but had just 7 yards on two attempts in the loss at Michigan State. The Wolverines then went into a bye week and decided to change their philosophy in the running attack, which until then had involved using
Denard Robinson
and spreading the carries out among the tailbacks.
"We just decided we were going to let him carry the ball," offensive coordinator Al Borges said. "We weren't going to take him out."
He responded with a 170-yard, two-touchdown game against Purdue the next game. Toussaint averaged 135 rushing yards over the final five regular-season games, including a 192-yard effort at Illinois. Nobody was happier about this development than Robinson, who finally had a star running back to take some heat off him.
"It was a relief," Robinson said of Toussaint's emergence. "Running the ball that much, it's a hassle. I knew he was a big-time back, and once he got going he would do well."
Michigan limited Toussaint's reps this spring, knowing what they had in the junior and wanting to get a look at youngsters like
Thomas Rawls
and
Justice Hayes
. When the season starts, though, they will likely give Toussaint all the work he can handle. And if he could replicate his 135-yard average from last year's stretch drive, that equates to just over 1,600 yards for a full 12-game season.
Those kinds of numbers could potentially get Toussaint into the Heisman Trophy discussion along with Robinson. Might we have a
Russell Wilson
-Montee Ball situation developing?
"That hasn't really crossed my mind," Toussaint said. "It's going to take a lot for me to get there. I'm still lacking a couple of things."
Becoming better in pass protection is something he's striving toward this offseason. That goal is a lot less visible than 1,600 yards, but it may be just as important to Michigan's success.
October, 8, 2010
10/08/10
11:21
AM ET
How many yards will
Denard Robinson
, the nation's leading rusher, put up Saturday against No. 17 Michigan State?
What about
Edwin Baker
and
Le'Veon Bell
? Both Spartans backs are capable of gashing a weak Michigan defense.
If Robinson, Baker or Bell have a big day on the ground Saturday, it wouldn't be the first time in the Michigan-Michigan State series. In fact, most of the recent meetings have featured impressive performances by ball carriers.
Thanks to ESPN's Stats & Information for this list ...
2008
-- Javon Ringer (MSU): 37 rush, 194 yards, 2 TD in 35-21 win
2005
-- Mike Hart (MICH): 36 rush, 218 yards, TD in 34-31 (OT) win
2004
-- Mike Hart (MICH): 33 rush, 224 yards, TD in 45-37 (3OT) win
2004
-- DeAndra Cobb (MSU): 22 rush, 205 yards, 2 TD in 45-37 (3OT) loss
2003
-- Chris Perry (MICH): 51 rush, 219 yards, TD in 27-20 win
2001
-- T.J. Duckett (MSU): 27 rush, 211 yards, TD in 26-24 win
January, 19, 2010
1/19/10
5:00
PM ET
Hope you're enjoying flog-the-blogger week, er, I mean decade recap week.
Tell me how you
really
feel.
Kyle from Kingston, Ontario, writes:
Adam, love your post dude! I have to make a comment though. How do you not give any love to Dallas Clark. 01 and 02 he made numerous plays to Iowa on the map. I am not saying he was a top 10 player, but to not even be considered?
Adam Rittenberg: That was an oversight on my part, Kyle. Clark should have been mentioned in the "also considered," a category I now regret even putting up there. But to be honest, he really wasn't close to making the top 10. Same goes for great kickers like Mike Nugent and Nate Kaeding. It's not to say they weren't great players, but they're not going to make a top 10 list for best in the decade.

---
K.J. from Arlington writes:
Funny how you use the term infamous regarding the 2002 championship game but failed to use the term when Michigan was infamously given 2 free seconds which game football absolutely proved should not have been put on the clock by the oh so biased Ann Arbor crew in the 2005 game helping to give Michigan unearned wins in three of the previous five meetings with Penn State? Why is that? Oh wait, because you are an idiot and you hate Penn State, that's why.
Adam Rittenberg: There was some controversy in several of the games I listed, K.J., including Penn State-Michigan in 2005. The clock certainly played a role there in the end. And while I won't argue with you about the idiot part, the me hating Penn State argument is pretty lame and tired. Like I've said before, fans love me when their team is in the top 10 and think I'm a hater when they start to slip a bit. I have nothing against Penn State, which is featured prominently throughout the decade recap this week.
---
Justin from Plainfield, Ill., writes:
Adam,Since you based it on players that generally had mulitple season, I understand (and in general agree) with your list of Big Ten players of the decade. I'd like to see your take on that same list without that caveat (of multiple seasons). To me, Michael Robinson would have to be on that list. You often hear "so and so led his team to victory" get thrown around. MRob truly led his team in 2005.Also, I was glad you gave Randal El some love. That dude was the only reason Indiana football even had a chance for those 4 years.
Adam Rittenberg: This is a good suggestion, Justin, and while I probably won't do a second post with one-year stars, here are a few who really stood out: Brad Banks, Michael Robinson, Larry Johnson, Devin Thomas, Shonn Greene, Chris Perry, Rashard Mendenhall, James Hardy.
---
Andy from Chicago writes:
Adam - Love the blog and appreciate the Hawkeye pub during the season. I have a few follow-up questions/comments regarding your players of the decade list. 1. I know that Jake Long and Joe Thomas are better pros than Robert Gallery, but RG definitely should be on your list. He was the best OL in the conference two years in a row and paved the way for a B10 championship and undefeated conference season. Additionally, when he came out, Peter King said he was "the best lineman to enter the draft in years." Perhaps an oversight on your part, but wanted to get your opinion. 2. If this was about longevity in the league, then I understand your putting Mike Hart on the list. Otherwise, what Greene accomplished in one season is better than anything Hart did in four (or seemingly ten) seasons in Ann Arbor. 3. How many B10 players this decade went undefeated in conference, won a conference title, and finished second in the Heisman voting in the same season? One. Similar to Greene, Banks definitely should have made the cut. 4. Dallas Clark needs to at least make Honorable Mention. That is all. Thanks,
Adam Rittenberg: I really struggled with both Gallery and Long. Any top-10 list is going to leave off some deserving players, and you can certainly make a convincing case for those two. I really tried to identify the MVP for each program during the decade, and I think most Iowa fans would put Bob Sanders in that role. Wisconsin fans would say the same for Joe Thomas. Gallery was a tremendous player, as was Long, and trust me, they weren't far away from making the list. As for Shonn Greene and Brad Banks, lack of longevity was the main reason they didn't make it. The running back position was interesting because you had several one-year standouts in the Big Ten. I didn't want to have a top-10 list without a running back, and Hart really accomplished a lot in four years. As for Dallas Clark, see above.
---
Mike from Wausau, Wis., writes:
Hi Adam:I enjoy your work. When might we expect to hear what the NCAA will do regarding the potential violations by RichRod? I thought a decision was expected by the end of 2009. To me, the lackof public notice to date indicates there is somethingon the way, and perhaps the U of M and the NCAA are "working-out" the terms of the penalty. Also, after two years, do you really think RichRod is the right person for the job? Thanks!
Adam Rittenberg: The Dec. 31 date wasn't a fixed deadline for a decision on the Michigan investigation, but I'd expect we'll hear something soon. The NCAA holds many of its meetings at this time of year, so that could be slowing the process a bit. I don't think the delay necessarily means huge penalties are coming. As for Rodriguez, I think he's still a heck of a coach, but he's operating in a very different environment than he did at West Virginia. If he can get the players he wants throughout the admissions office and have several young defenders emerge, Michigan should be decent in 2010. But I continue to be concerned with what's happening on defense in Ann Arbor.

December, 4, 2009
12/04/09
1:00
PM ET
Penn State quarterback
Daryll Clark
, Wisconsin running back
John Clay
and Michigan defensive end Brandon Graham have been named finalists for the Chicago Tribune's Silver Football award, given annually to the Big Ten's top player.
The winner will be announced Tuesday (Big Ten Network, 11 p.m. ET). Big Ten coaches vote on the award, which went to Iowa running back Shonn Greene last season.
Of these three candidates, I'd definitely vote for Graham. Though Clark and Clay both had good seasons, the Big Ten unquestionably was a defense-oriented league this fall. While I'm a bit surprised not to see Michigan State's Greg Jones or Penn State's Jared Odrick -- the Big Ten's co-Defensive Players of the Year -- named as finalists, Graham would be a very deserving recipient after leading the nation with 26 tackles for loss.
Here's a list of Silver Football winners this decade (note: a defensive player hasn't won since Michigan cornerback Charles Woodson, the Heisman Trophy recipient, in 1997).
2008:
Iowa RB Shonn Greene
2007:
Illinois RB Rashard Mendenhall
2006:
Ohio State QB Troy Smith
2005:
Penn State QB Michael Robinson
2004:
Michigan WR Braylon Edwards
2003:
Michigan RB Chris Perry
2002:
Iowa QB Brad Banks
2001:
Indiana QB Antwaan Randle El
2000:
Purdue QB Drew Brees