September, 16, 2010
9/16/10
10:15
AM ET
Ten items to track as you watch every Big Ten squad in action Saturday.
1. Hawkeyes head west:
History doesn't favor Iowa -- or any Big Ten team, for that matter -- when it comes to early season road games out west. Iowa has dropped its past six games west of the Rockies, and as
columnist Mike Hlas points out
, the Hawkeyes have lost their past three road games against Pac-10 members by an average of 28 points. Fortunately for Iowa, it boasts a senior-laden team that should be able to handle the difficulties of a time change, a late kickoff time, the absence of defensive coordinator Norm Parker and some potentially steamy weather in Tucson against No. 24 Arizona
(ESPN, 10:30 p.m. ET)
. This is a chance for Iowa to
showcase itself on the national stage
and beat a solid Wildcats team. The elements will be tough, but Iowa is a tough team that won in tough places last fall.
[+] Enlarge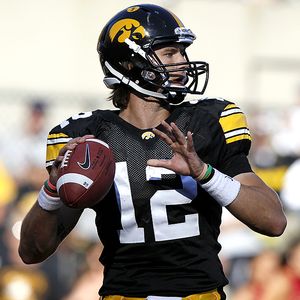 AP Photo/Charlie NeibergallRicky Stanzi and Iowa take aim at a rare road win over the Pac-10.
2. Spartans' secondary put to the test:
Michigan State's secondary was the team's No. 1 concern entering the season. We should get an excellent read on whether the Spartans have taken a step forward or not Saturday night against
Dayne Crist
,
Michael Floyd
,
Kyle Rudolph
and the Notre Dame offense
(ABC/ESPN2, 8 p.m. ET)
. Floyd is a handful for any secondary, and Rudolph showed once again against Michigan that he's not a typical tight end. Michigan State needs strong performances from safety Trenton Robinson, cornerback Chris L. Rucker and others, and it'll be interesting to see if All-American linebacker
Greg Jones
provides a lift in coverage, a point of emphasis for him in returning to school.
3. Big Ten reunion of sorts:
When Wisconsin began watching tape in preparation to face Arizona State on Saturday
(ABC, 3:30 p.m. ET),
coach Bret Bielema made sure to include a clip of a Michigan quarterback leading a historic comeback against the Badgers in 2008. That quarterback was
Steven Threet
, who will lead the Arizona State offense into Camp Randall. Threet is one of several
former Big Ten players reunited with foes from their old league Saturday
. Arizona quarterback
Nick Foles
, formerly of Michigan State, faces Iowa, while Rice running back
Sam McGuffie
, formerly of Michigan, faces Northwestern. And let's not forget about Arizona coach Mike Stoops, who goes up against his alma mater.
4. Minnesota picks up the pieces:
This could go one of two ways for Tim Brewster's crew. Minnesota either will let
Matt Barkley
and USC go nuts Saturday at TCF Bank Stadium
(ESPN, 3:30 p.m. ET)
and increase the calls for a coaching change. Or, the Gophers will use last week's inexcusable loss to South Dakota as a rallying cry and play good football against a USC team asking to get beat. Obviously, Minnesota needs to take a huge step with a young defense, which will regain the services of senior safety Kyle Theret. Overshadowed by the Dakota Debacle were the strong performances of Minnesota quarterback
Adam Weber
and running back
Duane Bennett
, who need even better days against the Trojans.
5. Michigan's quarterback rotation:
Unless we see an Appalachian State re-run, Michigan should be able to rest sophomore quarterback
Denard Robinson
for part of Saturday's game against Massachusetts. If and when Robinson leaves the game, it should get interesting. Will coach Rich Rodriguez continue to call on true freshman
Devin Gardner
before last year's starting signal caller,
Tate Forcier
? How will they perform? Forcier seemed to be in better spirits last week at Notre Dame, and you know he's itching to play and show what he can do in a game.
6. Penn State running on E:
E as in All-Big Ten running back
Evan Royster
, who needs a strong performance very soon after racking up only 72 rush yards in the first two games. Whether it's Royster's weight gain, the offensive line or a limited playbook, Penn State
hasn't gotten much from No. 22
. Saturday provides an interesting challenge as Penn State faces a Kent State team
(ESPN2, noon ET)
that leads the nation in rush defense (11 ypg allowed). The Golden Flashes certainly aren't Alabama, but they did a nice job of holding Boston College's ground game in check last week. This is a good chance for Royster to show he's still got it and make a move in his pursuit for the school's career rushing record.
7. Purdue behind the 8 ball:
Life without No. 8 (
Keith Smith
) begins for Purdue, which must identify a new top target for quarterback
Robert Marve
. Smith was an outstanding possession receiver, and the Boilers will look to
Justin Siller
,
Antavian Edison
,
Cortez Smith
,
Gary Bush
,
O.J. Ross
and others to help fill the void beginning Saturday against Ball State. Purdue also can't also lose sight of the need to identify a deep threat. Through two games, Marve has completed 54 passes for only 391 yards (7.2 yards per completion). Siller seems like a good candidate to stretch the field.
8. A family affair for Poseys:
Ohio State wide receiver
DeVier Posey
squares off against his older brother, Julian, a defensive back for Ohio, on Saturday in Columbus. It's one thing for brothers to play on opposing teams, but the Poseys likely will be matched up directly against one another. DeVier Posey has been excellent so far this season, recording eight receptions for 146 yards and two touchdowns. But Julian Posey can hold his own -- three pass breakups and a 38-yard fumble return to the end zone this year for the Bobcats -- and he knows his little brother better than anyone. Said Buckeyes coach Jim Tressel: "I told DeVier, 'If big brother shuts you down, it's going to be a long lifetime for you.'"
9. Illini aim to own the state:
Illinois is 12-0 all-time against public schools from the state, a streak it tries to continue Saturday against Northern Illinois. It's only Week 3, but this is another must-win for Ron Zook's team, which looked very good last week against Southern Illinois. After the NIU game, Illinois has a week off before opening Big Ten play with Ohio State, Penn State and Michigan State. So this is crucial. Linebacker Ian Thomas and an improving Illinois defense faces a Northern Illinois team favored to win the MAC West but struggling a bit so far this season. NIU also
could be without ailing coach Jerry Kill
for the game.
10. Wildcats, Hoosiers hit the road:
Northwestern and Indiana both are favored to win Saturday, but September road games always are tricky. The Wildcats head to Houston, which will be a
homecoming for several players
, but provides some unique challenges, namely the weather. Rice held its own in the season opener against Texas and should test on-target quarterback
Dan Persa
and his NU teammates. Remember Indiana? It seems like the Hoosiers haven't played for eons (actually Sept. 2), but they're back at it Saturday afternoon at Western Kentucky. The Hilltoppers top
this week's Bottom 10
, but they'll be excited to face a Big Ten squad in their house. Indiana's defense must perform better than it did in the opener.
August, 25, 2010
8/25/10
6:00
PM ET
Bear with me here, as I promise I'll have posts on every Big Ten practice before the season. Up next are the
Illinois Fighting Illini
, who recently hosted the
Big Ten Network preseason tour
for two practices. I've reviewed the show, and here are some notes and observations.
The Big Ten Network crew of Dave Revsine, Gerry DiNardo and Howard Griffith all agreed that the new coaches, particularly coordinators Paul Petrino and Vic Koenning, have helped change the attitude at Illinois after two subpar seasons. "This team is working harder than I've seen it work," said DiNardo, who also noted that the team isn't as talented as in years past. Petrino was mic'd up for one segment of the show, and his high-energy style came through. Illinois head coach Ron Zook also pointed out a difference among players. "The players are kind of taking over," Zook said. "Not that we didn't have leadership before, but these guys, particularly the upper-class guys, have kind of taken over."
Redshirt freshman quarterback Nathan Scheelhaase looked very good in drills, and those of who who haven't seen before likely came away impressed with his performance during the BTN interview. Although known for his running ability, Scheelhaase fired a bullet to Jarred Fayson in team drills. True freshman quarterback Chandler Whitmer also had a nice throw to Fred Sykes. "They're two-deep there," DiNardo said of the quarterback spot.
Scheelhaase talked about how he has been able to gain respect on the team despite his age. "I'm around a bunch of great guys, guys who are willing to give me the respect," he said.
Martez Wilson always has had an All-American's body, but he seemed to be backing it up with his play in practice as well. Wilson filled his gaps nicely during a 7-on-7 drill, and he made a really nice stop against Jason Ford during the team portion.
DiNardo and Griffith both talked about how Illinois likely will use a lot of stunts and twists on defense to compensate for its lack of size up front. We saw this a bit from Glenn Foster, a 260-pound defensive tackle. Defensive lineman Corey Liuget looks leaner than he did a year ago, and DiNardo "liked the way he moved around." There also was a pretty good battle between Clay Nurse and weak-side offensive tackle Jeff Allen during a drill.
The wide receivers looked very good in drills, although the defensive backs seemed to struggle with the exception of physical corner Terry Hawthorne, who Griffith called "a special player." Fayson, Sykes and Chris James all had very good practices. The BTN crew also liked what they saw from Eddie McGee, who we saw working at both receiver and cornerback. If Fayson can stay healthy, he'll form a nice 1-2 receiver combination with A.J. Jenkins.
Running back Mikel Leshoure looked strong and a bit leaner than last year. Remember this is a guy listed at 240 pounds as a freshman who now checks in at 224. DiNardo said Leshoure has separated himself from the other backs, and Zook basically admitted it, too. "Right now, Mikel probably is the starter," Zook said. "I like his work ethic. He's so much different." Ford also looked good during the practice, cutting back nicely on one play.
The offense seemed to have the edge in this practice, although Zook noted that Petrino's scheme throws a lot at an opposing defense. The BTN analysts think the new system will not only help Illinois' offensive players but provide the defense with looks other than the spread in practice. Petrino will use plenty of tight ends and fullbacks this year.
Petrino also explained the strong-side/weak-side philosophy, which puts the offense's strongest players against the defense's weak spots.
Freshman tight end Evan Wilson is an impressive-looking player, and DiNardo tabbed Wilson as his top newcomer. Petrino also said, "We've got a true freshman at tight end that's going to be a really good player." With Zach Becker (foot) out for a while, Wilson should see increased time. Griffith identified wideout Darius Millines as his top newcomer. McGee and rush end Michael Buchanan were the picks for under-the-radar players.
September, 10, 2009
9/10/09
9:30
AM ET
| | |
| --- | --- |
| | |
| | AP Photo |
| | Quarterbacks Terrelle Pryor and Matt Barkley will be the focal point for Saturday's Ohio State-USC throwdown. |

Posted by ESPN.com's Adam Rittenberg and Ted Miller
All eyes will be on Columbus this weekend as No. 3 USC visits No. 8 Ohio State (ESPN, 8 p.m. ET). Before the two teams lock horns on the banks of the Olentangy River, we debated several key questions heading into the mega matchup.
Adam Rittenberg:
Ted, I look at this USC defense and don't see a glaring weakness. Still, several mobile quarterbacks [Vince Young, Dennis Dixon] have hurt the Trojans in the past. How do you expect USC to defend
Terrelle Pryor
and does Pryor give the Buckeyes a fighting chance in this game?
Ted Miller:
I think Pryor gives the Buckeyes a fighting chance because he can make something out of nothing when a play breaks down -- and the USC defense is good at breaking down plays. While USC fans would debate you on the health of their defense vs. Vince Young, the fact is the Trojans learned from that game that you need to account for an athletic quarterback -- you can't just run your base defense and expect gap control and rush lanes to take care of things. There surely will be some sort of spying, whether with one guy or a shift of guys. On the plus side for USC, this is a really fast defense. It's much faster at linebacker than last year. Malcolm Smith is fast -- his brother is an NFL receiver -- and Michael Morgan is a 4.4 guy. Toss in end Everson Griffen and you've got some guys who can really run on the perimeter of the front-seven. Moreover, middle linebacker Chris Galippo implied to me that this will be more disciplined defense. As extraordinary as Brian Cushing, Clay Matthews and Rey Maualuga were last year, they, at times, freelanced, looking for big plays. That means the Trojans won't be as likely abandon their assigned gaps or let contain break down.
As long as we're talking quarterbacks, what do you think about the poise issue for both guys? USC's
Matt Barkley
claims he doesn't get nervous. You buy that at the Horseshoe? And how will Pryor react on this big stage?
AR:
The Shoe remains the toughest place to play in the Big Ten, getting the slightest of edges against Penn State's Beaver Stadium. Barkley's nerves will be put to the test. It will be extremely loud, especially at the start of the game, and the south end zone addition really makes the decibels rise. I'd imagine USC will go to its strength right away, pound away with those tremendous running backs and athletic offensive line and give Barkley some time to get settled. Everything I've heard about this kid -- from yourself and other observers -- is that he's the real deal. I saw true freshman quarterback
Tate Forcier
show no nerves last week for Michigan in the Big House, but then again, he was playing at home. Ohio State's defensive line is the strength of the team, and it has to rattle Barkley early for the Buckeyes to have a shot. As for Pryor, he has shown some toughness late in games, particularly against Wisconsin last year. He's certainly more comfortable as a passer, but he can't get away from what makes him special and needs to make plays with his feet. I still haven't seen a team contain Pryor on the move, but he needs the freedom from head coach Jim Tressel and the willingness from within to really cut loose against USC.
Ohio State's defensive line is the team's strongest unit. Same could be said for USC's offensive line. How do you see that matchup shaking out, and will Ohio State need to use speed (Thaddeus Gibson, Cameron Heyward) rather than power to beat the Trojans' front?