June, 24, 2014
Jun 24
10:30
AM ET
Nearly all of the Big Ten's top freshmen have reported to their respective schools, but ESPN.com caught up with a few players days before to pick their brains on an array of topics.
You can read the
first installment here
. To recap, the participants included Northwestern QB
Clayton Thorson
, ranked No. 157 in the 2014 class; Penn State WR
Chris Godwin
, one of the top 25 receivers in the class; Michigan LB
Jared Wangler
, one of 11 linebackers invited to the UA Game; Iowa WR
Jay Scheel
, one of two four-star players in the Hawkeyes' class; and Maryland LB
Jesse Aniebonam
, the second-best prospect in the state behind OL
Damian Prince
.
Here's what the freshmen had to say:
Outside of your team, what B1G freshmen are you most looking forward to watching and/or playing against?
Thorson:
Hmmm. Trying to think. So there's obviously
Raekwon McMillan
at Ohio State. I know we don't play them this season, but I heard he's a great player, so it'll be fun going against him in future years. And it's just guys like
Zack Darlington
; he's at Nebraska at quarterback and I've gotten to know him over the past the few months, so it'll be cool to go against him. And, at Michigan State,
Madre London
and I played at the Semper Fi [All-American] Bowl together, and he's a great athlete.
[+] Enlarge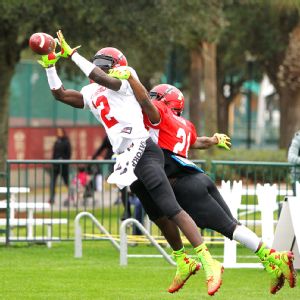 Miller Safrit/ESPNChris Godwin said his goal is not only to start this year but to be the Big Ten freshman of the year.
Godwin:
I'm looking forward to seeing
Freddy Canteen
. I know him pretty well and, with his footwork, I think he'll have a really good year at Michigan.
Wangler:
I want to watch
Byron Bullough
for Michigan State. We played in this Michigan all-star game [
'Border Classic' on June 14
], and we got along pretty good. So I'm excited to see how he does. I know he's got a good history -- his father and brother were successful for Michigan State -- so I feel like Byron is going to be successful, too.
Aniebonam:
Big Ten-wise, that one guy -- Peppers,
Jabrill Peppers
-- he's a solid athlete. I want to see how he does. He was in the Under Armour Game; we watched it right before our game [U.S. Army All-American Bowl] and he did pretty well. So, let's see how he does at Michigan.
Why did you decide to commit to your school, and what do you think separates it from others in the conference?
Thorson:
I always knew I wanted to play in the Big Ten. My family is from Ohio and Illinois, so I always just wanted to be around them so they could see me play – so that's kind of how I narrowed it down. And then visiting different schools like Penn State, Illinois, Northwestern, Wisconsin, Michigan State, Iowa – after looking at all those schools, I decided Northwestern was the best fit for me. I jelled with the guys on the team, and the coaching staff is just awesome. I thought that was the best fit for me both academically and athletically.
Godwin:
I chose Penn State because I felt really comfortable on campus and with the team. It was also the right fit for me academically and socially, and I think the tradition and fan base really separate it from other teams in the conference.
Wangler:
Michigan has always been my dream school to go to, and there aren't many universities out there that offer such a great degree and a great football experience. Plus, I feel really comfortable with Coach [Brady] Hoke and Coach [Greg] Mattison. It's a great fit. It's close to home, my dad played there. ... It's almost too good to be true.
Scheel:
Well, personally, it's just been a dream to play there. So, really, any other school that decided it was going to offer me was nice, but it was always my dream to go to Iowa. I've only heard good things about them. Playing for Iowa is really an honor. And what makes them different is they're not known for getting big recruits -- I know that -- but they take two- and three-star recruits and turn them into NFL players.
Aniebonam:
Maryland just really stood out to me. Not just because it's my hometown team and all my friends and family will be around me, but every time I went to the campus I was just pulled in and attracted to it more and more. If you asked me in the beginning of my junior season if I wanted to go to Maryland, I would've said, 'Heck no.' But it just grew on me; it just felt right. … [What separates Maryland] is they're well-known -- but still underdogs. I think it's a team that is going to be really watched because people want to know what happens here.
What are your expectations for this season -- and your career?
Thorson:
The coaches always say to prepare each week as if you're going to start the game, so I'm going to do that every week. I just want to get better at leading the team and knowing the playbook and everything. The Lord has a plan for me and, whether that's starting this year or next year, whatever happens happens. I'm just really looking forward to getting on campus and playing with these guys.
Godwin:
I would consider them goals more than expectations because I haven't done anything yet. But, this season, my goal is to earn a starting spot by UCF then continually improve as a player and a teammate and, hopefully, be Big Ten freshman of the year. As a team, a goal of mine is to go undefeated, but who doesn't want that, right?
Wangler:
I expect to win. I think this next season we have a lot of people coming back and, after having kind of a mediocre season last year, I think we're going to come out with a lot of hunger and the team is going to do a lot better. I think that's going to set the pace for the four years after that. I feel like I'm going to have a successful career at Michigan.
Scheel:
Personally, going in, I just want to get to know the playbook better and get to know the offense as soon as I can. I pretty much think I'm going to redshirt because starting right away might be difficult. If it does work, that'd be great. But I'm just trying to do my best. With my career, I'm trying to make a big impact on Iowa football, and I just want to have fun and get on the field.
Aniebonam:
I just want to make a name for myself early. I want to get myself out there and really, really put my stamp on the school and into the minds of the coaches as early as I can. … Hopefully, that'll come quick, but nothing is ever promised. You have to work.
June, 23, 2014
Jun 23
3:00
PM ET
The Big Ten's top freshmen will soon run on to their teams' practice fields for the first time with the hope of making names for themselves. Nearly all of them have reported, so what is their mindset? And what do they think about their respective teams?
Before they reported, ESPN.com caught up with a handful of the conference's elite freshmen – all were ranked within the ESPN 300 or earned an invite to the Under Armour Game – and asked them several questions to get a better idea of where they stand.
The participants were Northwestern QB
Clayton Thorson
, the No. 7 quarterback in the 2014 class; Penn State WR
Chris Godwin
, the top player in his state; Michigan LB
Jared Wangler
, one of 90 players selected to the UA Game; Iowa WR
Jay Scheel
, the headliner of the Hawkeyes' class; and Maryland LB
Jesse Aniebonam
, the No. 98 player in the ESPN 300.
Part 2 with those same players will run on Tuesday. Here's what they had to say in this first installment:
What game are you most looking forward to this season?
[+] Enlarge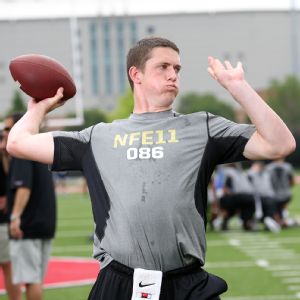 Tom Hauck for Student SportsNorthwestern signee Clayton Thorson is looking forward to the Wildcats' game at Notre Dame.
Thorson:
Obviously, every game is important, so you can't overlook any team. But I'd say the game I'm looking forward to is Notre Dame. That'll just be a cool environment to play in. You see everything about how great their program and history are, so it'll be fun to be inside the stadium and play on the field. It'll be a cool experience.
Godwin:
Honestly, right now, I'm looking forward to the UCF game because it'll be my first game, and I don't really want to look too far into the future. I just want to take everything one day at a time.
Wangler:
To me, Michigan State kind of stands out the most. It's an in-state rivalry, and last year we didn't do well against them – and I feel like, this year, we have a lot to prove against them. I feel like Ohio State is the token answer, and I feel like that's a big game. But, Michigan State, that's an in-state game and they've been beating us the last few years. That's not acceptable.
Scheel:
I'm really just looking forward to the first game and heading out of Kinnick. I'm really looking forward to just experiencing it for the first time, because a lot of players have told me how special it was for them. So that's something I'm really looking forward to, with the fan base and everything.
Aniebonam:
That would be between Penn State and Ohio State, our conference home opener. Back in the day, I dreamed about playing against Penn State -- maybe even, back in the day, playing for them. But I'm looking forward to playing against them. I followed them, as well as Maryland, and it just seems like it would be a really exciting event, a game full of energy. We're playing them up there, and I think it's going to be a really close game. And Ohio State, that's our first home game in the Big Ten. And that'll really set the tone. So, those two are going to be really exciting.
Who's one under-the-radar freshman -- outside of the ESPN 300 -- in your team's class that we should be watching?
Thorson:
I'd definitely say
Justin Jackson
, no question. He was the Gatorade Player of the Year in Illinois two years in a row, rushed for like 6,000 or 7,000 yards in his career, and he's a great guy. Obviously, the recruiting sites put up their view on what a guy is, and a lot said he wasn't top-tier -- but he is. He's the real deal. I think that's one guy that will surprise people.
Godwin:
If I had to pick one, it would be
Troy Apke
. I feel like he's a guy that people aren't really talking about but could really help us out a lot as a group of wide receivers.
Wangler:
Freddy Canteen
. I think he'll be an immediate impact guy. I know he enrolled early, and he's already turning heads. So Freddy Canteen. Everyone should keep an eye on him.
Scheel:
The one guy I played against was
Parker Hesse
. He played both ways, at quarterback and linebacker, and they were a really good team. His legs are big, and he's so fast and big that it was hard to bring him down. I think he's going to be good for Iowa.
Aniebonam:
I would say
Will Ulmer
. He was (Washington, D.C.) Saint John's quarterback this year, and I believe he's one of those underrated players that once people give him a chance – once he steps in – that he'll show he's an amazing athlete and an amazing player. I had the privilege of playing against him -- we butted heads for all four years -- and it was great to find out we were going to Maryland with each other. He's going to surprise people.
If you could change one rule with the recruiting process, what would it be?
Thorson:
The recruiting process comes so fast now, and guys don't have a chance to grow into themselves. So I think one thing I would change is that the recruiting process would start a little later -- I would say coaches wouldn't be allowed to contact guys until you're going into your junior year of high school. I think that's when you could make calls and stuff and talk to these coaches because guys are getting scholarships and letters when they're in eighth grade. That's crazy.
Godwin:
Probably making official visits sooner, so that players don't have to squeeze all of their visits in during the season.
Wangler:
I think there should be an earlier signing day -- like maybe they should have two signing days. Just because it gets everything set in stone quicker because I know, when it gets closer to signing day, a lot of schools are pressuring kids and putting a lot of stress on them, and it's kind of unfair to the kid. I feel if they really want to go somewhere, they should be able to.
Scheel:
My recruiting process went pretty smoothly, so I don't know if I would change anything about it. I guess, maybe being able to sign earlier -- just because you're committed doesn't mean that you're really locked in to there. You need to sign. So if you want to sign right away, I think you should be able to do that.
Aniebonam
: If I could change a rule -- I'm pretty sure you're only allowed to take five officials -- I would change that. I know it's probably a money thing because those cost money for the schools, but I don't know where that rule came from. If you could take more visits than that, you'd get a better feel for more schools. I honestly don't think anyone would need to take more than 10. But a lot of guys, those four- and five-stars, have a lot of options and they may be interested in a lot of schools. So, if they can get a few more solid official visits, that could make the difference.
May, 22, 2014
May 22
9:00
AM ET
After taking a look at the most recent
database of revenues and expenses in college sports
, we're putting the Big Ten under the microscope. Our four-part series -- the rest of which can be found here -- concludes with a look at recruiting expenses and why they've grown.
Penn State defensive coordinator Bob Shoop can still remember sifting through thick stacks of manila recruiting folders in the mid-90s and reaching for a shelf of VHS tapes hanging above his desk.
There were no real recruiting support staffs to speak of. He'd pop a recruit's game tape into a VCR and then ready himself with a notepad.
Fast forward, fast forward.
There's the recruit.
Fast forward, fast forward.
[+] Enlarge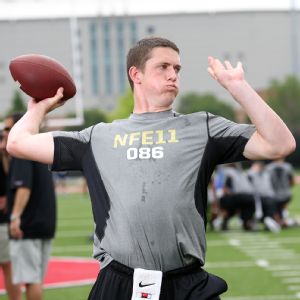 Tom Hauck for Student SportsDigital and online technologies are helping schools discover prospects like Clayton Thorson earlier and make more educated scholarship offers.
"Recruiting's changed a lot," Shoop told ESPN.com. "Our recruiting staff, they'll cut up tapes for me now. I don't have to sift through hours of recruiting tape anymore. Our interns will hand me 10 clips for a 2016 safety or something like that. You're investing to recruit good people."
As technology has evolved, so has recruiting -- and recruiting budgets. In just the past six seasons, according to a recent analysis from "Outside the Lines," recruiting budgets encompassing all sports have increased at 13 of 14 Big Ten schools and risen by at least 30 percent at eight of those. Higher gas prices, increased postage and other variables have undoubtedly played a role but several coaches and athletic directors also stressed how bigger staffs -- a result of newer technology -- have inflated those numbers.
At Penn State, Shoop can now rely on two full-time staff members, two graduate assistants and a team of 30 students/interns to help with recruiting. At Northwestern, the recruiting staff has tripled in just the last six to eight years. And, at Ohio State, one full-time position was recently added, in part, to help with recruiting presentations.
"Our technology has increased quite a bit," OSU athletic director Gene Smith said. "That's a big number for us."
That technology, such as online game film, has placed a bigger focus on immediacy. In an age where a top prospect's highlights can be filmed today and broken down by college coaches tomorrow, staffs can no longer wait until the offseason to evaluate players. And they can't drop everything on a Friday night in October, either, to give up game plan tweaks in favor of digesting film from a high school junior.
"Your coaches are doing this thing in the football season called coaching," said Chris Bowers, Northwestern's director of player personnel. "The time allocation a position coach would spend in March, he's not going to allocate that same amount of time in December or October. He can't. So, yes, there's been an increase in staff for sure.
"I would say at most universities -- I can't speak for everyone -- the recruiting staff is probably two to three times bigger than it was in '06."
In September of 2012, the Wildcats were able to jump early on the
Clayton Thorson
bandwagon because of that extra staff and technology. The ESPN 300 quarterback, who signed with Northwestern in February, hadn't started under center prior to 2012.
So, when he was due in Evanston, Ill., for a Saturday night game, Bowers noticed his high school coach uploaded his film to the Hudl website that Friday evening. Bowers contacted a GA, requested he cut-up some highlights -- and then forwarded the finished product to the coaching staff. Thorson received an offer that Saturday, partially based on something that was filmed less than 24 hours before.
And if this had all happened just a few years before, then how long would it have taken to make that same judgment call? Months?
"

You're investing to recruit good people.

"

-- Penn State defensive coordinator Bob Shoop
"Yes!" Bowers said. "… Even if you were an aggressive recruiting staff, the high school coaches would still need to bring you a DVD or mail it to you -- and they might not do it until the end of the season."
Nationally, recruiting budgets have risen across the board, so it's hardly limited to the Big Ten. Still, the conference seems to be outpacing the competition. Between 2008 and 2012, Big Ten teams placed within the top-10 nationally in recruiting spending on just five occasions. In 2013, four conference teams (Michigan, Ohio State, Nebraska, Penn State) placed within the top 10 -- and Illinois wasn't far behind at No. 12.
But coaches and athletic directors were slow to label last season a turning point. After all, it's not as if the staffs had all doubled overnight. Instead, they cautioned, there were other variables that needed to be taken into account. At Wisconsin, for example, the budget is artificially low because the Badgers are provided a private plane and don't need to charter flights as much. At Iowa, a booster donation wasn't included in the recruiting numbers until a few years ago -- which could account for part of the jump. And at Minnesota, due to the campus location, increased flight and hotel expenses impacted the budget more than schools elsewhere.
"We can't drive as much as others," Gophers athletic director Norwood Teague added. "So we've got to keep building the budget and being aggressive."
Regardless, the trend of spending more on recruiting each season appears to be a difficult one to stop. Whether it's an increased staff or costs elsewhere, few universities take a step back in spending.
But, on the bright side, it could be worse -- at least the era of "Be kind; please rewind" is long gone.
"That required a significant amount of manpower hours," Shoop said with a laugh. "And in some ways, now, it's a pro model. It's not like you have an entire scouting department, but I'm sure we're getting closer to that model now than ever before now, as far as people whose sole responsibility is player evaluation. ... It's incredible how the process has accelerated."
February, 6, 2014
Feb 6
3:00
PM ET
Northwestern
completed its
recruiting class
of 15 signees on Wednesday and added a three prospects from the
ESPN 300
. I recently caught up with Northwestern coach Pat Fitzgerald to discuss his 2014 class and the recruiting process:
Northwestern obviously isn't the easiest school to get into. What kind of extra challenges does that provide on the recruiting front, that maybe other schools don't have to worry about?
[+] Enlarge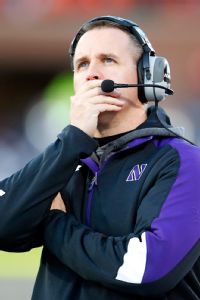 AP Photo/Jeff HaynesCoach Pat Fitzgerald's 2014 Northwestern recruiting class ranked 41st in the country.
Pat Fitzgerald:
I can't say for anyone else, but from our standpoint, we got to get kids to fit our program academically first. And, if they do, then we're usually going to be a pretty good fit for them. So we're looking for that combination for that young man who's a great student and is going to help us compete for championships. We want to find guys that have that balance; it's critical to have both.
What's the easiest high school position to project to the next level -- and what's the hardest?
PF:
There's none. None are easy, none are easy. And I think the hardest is quarterback because you typically take one per year. So none are easy. It's all a challenge.
Since you mention QB, ESPN 300 prospect Clayton Thorson (Wheaton, Ill./Wheaton North) is a big signee. What'd you see from him and, looking ahead, is he a guy you definitely anticipate competing for the 2015 job?
PF:
Sure. Every kid we sign, we expect to come here to compete to start regardless of position -- or else we wouldn't have signed him. That being said, we felt really strongly about his arm strength, his ability to make all the throws and his athleticism. The tape speaks for itself and, more importantly, it's the way he is as a person. He comes from a great family, and he's an upstanding young man.
If you could change on recruiting rule -- just one -- what would it be?
PF:
[Laughs] I think the biggest thing that we've got to look at is the third-party involvement in recruiting. And that's a very general statement, but we really have to look hard at those who are connected to a prospective student-athlete and what benefits we're providing them. We really need to look hard at that. We need to see if there's impropriety and eliminate any patronage that's going on in the process.
You picked up four signees from your home state of Illinois, and you picked up three from Texas. How are you guys able to reach that far, and how do you find out about some of these prospects? Safety Jared McGee wasn't exactly a household name; you jumped on him early.
PF:
Our recruiting staff in-house does a terrific job, and our coaches have areas throughout the country. We're a national-in-scope recruiting team, and we go out in those areas that have been productive for us in the past. It's really Chicago, the state of Texas, Ohio and the Eastern seaboard. They've been very productive for us. And we have three coaches down there [in Texas], that spend time there -- Randy Bates, Matt MacPherson and Dennis Springer.
"

I would just wish that as [recruits] go through this process that kids would look at this as a 40- or 50-year decision and not just a hashtag.

"

Northwestern coach Pat Fitzgerald on the recruiting process.
Does your pitch change at all when you're going after recruits from Texas? You did have two decommits from the Lone Star State, after all, so I'd imagine there's a different dynamic.
PF:
Yeah, anytime distance is a factor, it's definitely a variable. You try to make sure you explain that to kids up-front and that they understand it. Sometimes it works and sometimes it doesn't -- but that's just the nature of recruiting.
You went through the recruiting process as a player yourself back in the early '90s. What's changed the most about recruiting since then?
PF:
Oh, it's totally different. Night and day. First of all, you weren't offered a scholarship until after your senior year. Back when I was playing, a handful of guys were maybe offered during their junior year. This kid named
Peyton
-- who played in that game the other week -- he ended up being one of those guys who was offered early. Now, all these guys are offered early. So the acceleration of the process is probably the biggest change.
Overall, how do you feel about this class? And is there anything you wish you would've done differently?
PF:
I feel great about the class. It's a group that we've had mostly committed for a long time. Terrific group of people, dynamic group of guys athletically. And what would you wish? I don't know if I would wish anything different. I would just wish that as [recruits] go through this process that kids would look at this as a 40- or 50-year decision and not just a hashtag.
February, 5, 2014
Feb 5
12:00
PM ET
Signed, sealed, delivered, I'm yours.
January, 14, 2014
Jan 14
10:30
AM ET
The
ESPN 300 has been updated
and the Big Ten saw plenty of movement for its commits, both up and down the list. Here is a look at the five biggest movers within the ESPN 300.
Smith shoots up the rankings
Defensive back
Erick Smith
(Cleveland, Ohio/Glenville) recently committed to Ohio State to join teammates
Marcelys Jones
and
Marshon Lattimore
as future Buckeyes. Previously ranked No. 228 overall, Smith moved up 45 spots to 183 in the new rankings. He is a big safety who will add a lot to the Ohio State defense in the future. Smith was an Army All-American and had an outstanding week of practice. His rise in the rankings was earned on the field and should make Buckeyes fans happy he will be in Columbus next season.
October, 15, 2013
10/15/13
8:00
PM ET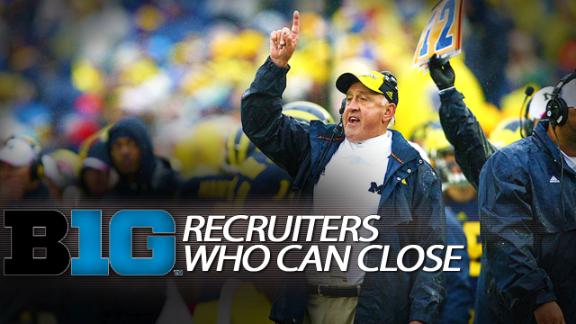 Editor's note: For a look at the national recruiter power rankings based only on Class of 2014 success,
click here
.
Michigan and Ohio State both sit in the top 10 recruiting rankings this year after each landed top 10 classes in 2013 -- the Buckeyes were third, while the Wolverines were sixth.
That's why it should come as no surprise that the two schools have the top four recruiters in the Big Ten Conference for the Class of 2014 so far.
Here's a look at the top 10 recruiters in the Big Ten and why they deserve such high praise:
To continue reading this article you must be an Insider
October, 9, 2013
10/09/13
2:00
PM ET
Each Wednesday, ESPN RecruitingNation updates its
national class rankings
. For an in-depth look at the Big Ten conference, check out our conference rankings:

1. Michigan, 15 commits:
The Wolverines are No. 6 in the RecruitingNation class rankings, which includes nine ESPN300 prospects -- among them headliner and No. 2 overall
Jabrill Peppers
(Paramus, N.J./Paramus Catholic High). Michigan could make a move into the top-5 by winning the race for No. 4
Da'Shawn Hand
(Woodbridge, Va./Woodbridge High). Defensive tackle and No. 67
Malik McDowell
(Southfield, Mi./Southfield High) is another top target still in play. No. 41 overall
John Smith
(Long Beach, Calif./Polytechnic High) will visit Nov. 29, and is another top target remaining.
To continue reading this article you must be an Insider
September, 25, 2013
9/25/13
8:00
AM ET
Who's the next
Johnny Manziel
? For that matter, who has an opportunity to start for a Big Ten team? Is there a Heisman Trophy candidate in the mix in this year's Big Ten recruiting class?
Recruiting writers Brad Bournival and Tom VanHaaren tackle those questions in this week's version of The List:

Current 2014 QB prospect that could start immediately:
Tom VanHaaren:
Most schools either have a returning starter, or younger quarterbacks who will likely be ahead of the 2014 prospects so there likely isn't anyone.
If I had to pick a few that could see playing time I would say Northwestern commit
Clayton Thorson
(Wheaton, Ill./Wheaton North), potentially
Chris Durkin
(Youngstown, Ohio/Ursuline) if Michigan State can't figure out the offense and maybe
Wilton Speight
(Richmond, Va./Collegiate) if there is an injury to
Devin Gardner
.
Brad Bournival:
The problem with most of the Big Ten QB signees is that there's already a big name QB in front of them. Iowa could make a case here with
Jay Scheel
(La Porte City, Iowa/Union), but the fact it has three signal-callers returning kind of ends that talk. Like VanHaaren, I'm going with Durkin at Michigan State. The Spartans are hardly set at the position and Durkin comes in with the athleticism and arm strength needed to succeed at the next level. If he can shore up his reads, Durkin could be the guy in East Lansing.
Program changing 2014 recruiting class:
VanHaaren:
Michigan is filling a lot of holes with its 2014 class and there is a good chance it continues to add to it. The Wolverines have landed nine ESPN 300 commitments and could still add more. The biggest piece, though, is five-star defensive back
Jabrill Peppers
(Paramus, N.J./Paramus Catholic) who is Michigan's highest-rated prospect since the inception of ESPN's rankings.
Bournival:
Ohio State loses four offensive linemen and is light at linebacker and wide receiver. This class has three linemen already as well as three 'backers, and the Buckeyes are the favorite to land the top-rated 'backer in ESPN 300 standout
Raekwon McMillan
(Hinesville, Ga./Liberty County). Where the Buckeyes shine is at the wide receiver/athlete position as six standouts with 4.5 40-yard dash speed or better make up the class.
Current 2014 prospect with Heisman potential:
VanHaaren:
The only Big Ten commit I would feel somewhat comfortable in this category is probably Peppers. Even for him that's going to be a stretch, but he is the only commit who I think could fall in this category.
Bournival:
Like VanHaaren said, this is a tough one as the top-ranked players are
Da'Shawn Hand
(Woodbridge, Va./Woodbridge), McMillan, Peppers and
Damon Webb
(Detroit/Cass Tech) coming in. That said, defense isn't that sexy to Heisman voters. If
Marshon Lattimore
(Cleveland/Glenville) picks a Big Ten team and
IF
he plays offense, he might be the best bet. But that's a lot of ifs.
To continue reading this article you must be an Insider
June, 4, 2013
6/04/13
9:00
AM ET
Now that we've moved into June, it's time once again to take stock of the Big Ten's 2014 recruiting efforts.
Indiana got its first commitment for 2014 over the weekend, giving every league team at least one in this class. Michigan continues to lead the way and currently has ESPN.com's No. 1 ranked class in the country. Ohio State is at No. 14, followed by Penn State at 16 and Northwestern at No. 19. Michigan also leads all teams with nine ESPN 150 commitments.
With the usual caveat that it's a long way away from signing day and much can change between now and February, here's a look at how the Big Ten teams are faring:
Michigan
2014 verbal commitments:
11
Spotlight:
Cornerback Jabril Peppers, whom ESPN ranks as the No. 2 prospect in the country, committed to Brady Hoke late last month in memorable style. He explained his choice while
rapping on live TV
. That takes some guts, and that's what you want to see from the guys who will be on an island defensively.
ESPN 150 selections:
9
Highest rated:
Peppers (ESPN grade: 95)
Northwestern
2014 verbal commitments:
11
Spotlight:
The Wildcats have a Top 20 class right now, according to ESPN.com. Pat Fitzgerald got six commits in May alone, the latest being 260-pound defensive tackle Fred Wyatt. Northwestern doesn't have an ESPN 150 player yet, but Fitzgerald has done a great job identifying the right kinds of players for his program, and now he's improving the overall speed.
ESPN 150 selections:
0
Highest rated:
QB Clayton Thorson (ESPN grade: 82)
Penn State
2014 verbal commitments:
10
Spotlight:
Scholarship restrictions haven't slowed down Bill O'Brien, who can only offer 15 initial counters in for the 2014 class. He's already got 10 lined up, so Penn State can be very choosy with its final five.
ESPN 150 selections:
1
Highest rated:
ATH De'Andre Thompkins (ESPN grade: 84)
Ohio State
2014 verbal commitments:
9
Spotlight:
To oversimplify things, Michigan's Brady Hoke has been cleaning up with early commitments, while Urban Meyer is arguably the best closer in the business. The Buckeyes have just two commitments since early April but are hot on the trail of man big-time prospects and are looking for a quarterback to headline the class.
ESPN 150 selections:
1
Highest rated:
CB Damon Webb (ESPN grade: 84)
Michigan State
2014 verbal commitments:
8
Spotlight:
The Spartans' coaches are known as great evaluators of talent, so the lack of stars next to recruits' names don't bother them. It remains to be seen how much the rise of Michigan and Ohio State will affect Mark Dantonio's efforts. Quarterback Chris Durkin, at 6-foot-4, has an accurate arm and can move.
ESPN 150 selections:
0
Highest rated:
ATH Byron Bullough (ESPN grade: 80)
Wisconsin
2014 verbal commitments:
6
Spotlight:
Though Gary Andersen's roots are out west, five of his six commitments in his first full recruiting class are from the state of Wisconsin. The exception is Ula Tolutau, an athlete from Andersen's native Salt Lake City, Utah. The five Wisconsin players are not surprisingly all linemen. The more things change ...
ESPN 150 selections:
1
Highest rated:
OT Jaden Gault (ESPN grade: 83)
Illinois
2014 verbal commitments:
5
Spotlight:
One thing Tim Beckman has to sell is playing time, and don't be surprised to see him hit the juco route again. One such transfer, tight end Trevor Kanteman, is listed as a 2014 recruit but could play this fall.
ESPN 150 selections:
0
Highest rated:
DE Tito Odenigbo (ESPN grade: 77)
Iowa
2014 verbal commitments:
3
Spotlight:
The Hawkeyes' second commitment of this class was a big one, as they landed top-ranked offensive guard Ross Pierschbacher in January. They've had only one commitment since then and none since April 3 despite some inclinations to offer players earlier. With offensive lineman comprising two of the three commits, Iowa still has a lot of work to do to upgrade its talent at the skill positions.
ESPN 150 selections:
1
Highest rated:
Pierschbacher (ESPN grade: 84)
Minnesota
2014 verbal commitments:
3
Spotlight:
The Gophers typically take their time, and so you don't see a whole lot of early commitments under Jerry Kill. He has landed one of the top in-state prospects in running back Jeff Jones.
ESPN 150 selections:
0
Highest rated:
Jones (ESPN grade: 78)
Purdue
2014 verbal commitments:
3
Spotlight:
The Boilermakers picked up their third commitment last Friday when Georgia receiver Gregory Phillips said yes to Darrell Hazell. Purdue fans are still waiting for some blue-chippers to hop on board.
ESPN 150 selections:
0
Highest rated:
LB Brandon Garner (ESPN grade: 70)
Nebraska
2014 verbal commitments:
2
Spotlight:
The Huskers have had a slow go of it on the recruiting trail thus far, getting commitments from only a pair of safeties. This time a year ago, Nebraska had eight verbal commitments. It's disappointing, to be sure, but the coaching staff is hoping to land a bunch of commitments this summer when prospects come to Lincoln for camps and visits.
ESPN 150 selections:
0
Highest rated:
S Jason Hall (ESPN grade: Not ranked)
Indiana
2014 verbal commitments:
1
Spotlight:
Kevin Wilson didn't get his first commitment until linebacker Michael Barwick pledged over the weekend. But remember that the Hoosiers had no commitments in early June 2013 and ended up with one of the top-ranked classes in recent program history. So it's no time to panic.
ESPN 150 selections:
0
Highest rated:
Barwick (ESPN grade: Not ranked)
May, 13, 2013
5/13/13
2:30
PM ET
There has been plenty of recent news on the recruiting trail around the Big Ten, and we're a bit
overdue for a scorecard
, so here's the latest rundown. Teams are sorted based on most verbal commitments for the 2014 class.
MICHIGAN
Total commits:
9
ESPN 150 commits:
8
The latest:
Michigan's recruiting once again is off to an extremely fast start, as the Wolverines not only are piling up commits but quality players. Defensive end Lawrence Marshall on Saturday
became the eighth ESPN 150 prospect
to pick Michigan. No other FBS team has more than five ESPN 150 players pledged for the 2014 class. Barring a surprise turn, Michigan will sign a top-5 class in February. The Wolverines currently rank No. 3 in the RecruitingNation rankings.
PENN STATE
Total commits:
9
ESPN 150 commits:
1
The latest:
Penn State has filled out most of its 2014 class before mid May, and the Lions are adding quality prospects like ESPN 150 athlete De'Andre Thompkins, wide receiver Chris Godwin and linebacker Troy Reeder. The Lions picked up two more commits late last week in defensive back Marcus Allen and linebacker Jared Wangler. Bill O'Brien and his staff have to be selective because of scholarship restrictions, but they've also been aggressive in piling up early commits. Penn State is No. 13 in the latest class rankings.
NORTHWESTERN
Total commits:
8
ESPN 150 commits:
0
The latest:
Northwestern is quietly putting together the best class in coach Pat Fitzgerald's tenure. The Wildcats are 19th in RecruitingNation's class rankings after an excellent week that ended with them landing talented running back Auston Anderson on Thursday. Anderson's pledge came on the heels of four-star athlete Dariean Watkins choosing Northwestern. Although Northwestern hasn't landed an ESPN 150 prospect, it boasts several commits (QB Clayton Thorson, Watkins) who are close.
OHIO STATE
Total commits:
8
ESPN 150 commits:
1
The latest:
Urban Meyer's assistants are all over the recruiting trail -- and
letting us
know
about it on Twitter
-- and after a six-week drought without a commitment, the
Buckeyes added one Sunday
in wide receiver Lonnie Johnson. The Gary, Ind., native had offers from Indiana, Purdue and Nebraska, among others, but gives Ohio State a four-star prospect at a position of need. Ohio State checks in at No. 14 in the latest class rankings.
MICHIGAN STATE
Total commits:
6
ESPN 150 commits:
0
The latest:
The Spartans' total hasn't changed since they picked up linemen Brian Allen and Enoch Smith Jr. during spring game weekend, but they're
closing in on prospects like tight end
Matt Sokol and
defensive end
Rashawn Pierce. The downside is that Michigan State lost Marshall to rival Michigan
after many believed Marshall would go green
. Michigan State also had been pursuing Watkins, who verballed to Northwestern.
WISCONSIN
Total commits:
4
ESPN 150 commits:
1
The latest:
Gary Andersen's staff has added just one 2014 commit (defensive tackle Craig Evans) since taking over in late December. Although Evans pledged in March, the Badgers staff has been active on the recruiting trail and
extending plenty of scholarship offers
. Wisconsin made a
late addition to its 2013 class last week
by picking up junior-college cornerback Tekeim Reynard.
ILLINOIS
Total commits:
4
ESPN 150 commits:
0
The latest:
The Illini added to their quarterback depth earlier this month by
picking up a commitment
from Ohio prep signal caller Chayce Crouch. Crouch led his team to the state championship game last season and had received scholarship offers from several MAC programs, as well as some interest from other Big Ten schools. Illinois also has injected some more spice into its in-state rivalry with Northwestern by picking up defensive end recruit Tito Odenigbo, the younger brother of Wildcats defensive end Ifeadi Odenigbo.
IOWA
Total commits
: 3
ESPN 150 commits:
1
The latest:
The Hawkeyes haven't added to their total since getting a pledge from offensive lineman Lucas LeGrand in early April. But with three in-state prospects -- headlined by guard Ross Pierschbacher, the nation's No. 47 player and highest-ranked Big Ten commit, according to RecruitingNation -- Iowa still is off to a decent start. Iowa is
extending its recruiting reach to Georgia
and recently offered defenders Henry Famurewa and Bradley Chubb.
MINNESOTA
Total commits:
3
ESPN 150 commits:
0
The latest:
The Gophers added two verbals during spring game weekend in athlete Dimonic McKinzy (early All-Name team nominee) and defensive tackle Steven Richardson. In-state running back Jeff Jones, a three-star prospect, headlines the class so far. Like the previous coaching staff, Jerry Kill and his assistants are targeting Texas for recruits like linebacker Everett Williams and defensive end Noah Westerfield.
NEBRASKA
Total commits:
2
ESPN 150 commits:
0
The latest:
The Huskers wait for their second 2014 commitment ended last week as Texas defensive back Jason Hall pledged for Big Red. At 6-foot-2 and 192 pounds, Hall brings
excellent size to Nebraska's defensive backfield
. Although Nebraska should continue to add to its total in the coming weeks and months, recruiting coordinator Ross Els told ESPN.com last week that the Huskers
likely won't see a surge until prospects start coming to campus on official visits
this fall.
PURDUE
Total commits:
1
ESPN 150 commits:
0
The latest:
Purdue is going back to its recruiting roots under new coach Darrell Hazell, as its first verbal for 2014 comes from the fertile state of Texas. The Boilers recently added wide receiver Trae Hart to the mix. I'll have more on this later in the week, but Boilers recruiting coordinator Gerad Parker said the program is ramping up its efforts in the Lone Star State, mindful of the success former Purdue boss Joe Tiller had there.
INDIANA
Total commits:
0
ESPN 150 commits:
0
The latest:
After signing an excellent recruiting class in February, Indiana's efforts for 2014 are off to a slow start. Indiana and Colorado are the only programs from a big-five conference (ACC, Big 12, Big Ten, SEC and Pac-12) without a verbal commit for next year. Things should pick up when camps kick off next month in Bloomington.
Future Big Ten members Rutgers and Maryland also are recruiting for the Big Ten, so here's a quick look at how they're doing ...
RUTGERS
Total commits:
9
ESPN 150 commits:
0
The latest:
The Scarlet Knights recruited well under Greg Schiano, had six players selected in April's NFL draft and continue to bring in quality players under Kyle Flood. After a productive March and April, Rutgers began May by adding a pledge from defensive tackle Pete Mokwuah. Running back Joshua Hicks and defensive end Justin Nelson headline Rutgers' 2014 so far. Rutgers also went into current Big Ten territory for quarterback Tyler Wiegers from Detroit Country Day School.
MARYLAND
Total commits:
3

ESPN 150 commits:
0

The latest:
The Terrapins added two pieces to their 2014 class in recent weeks in running back Johnathan Thomas from Massachusetts and athlete William Ulmer from Washington D.C. Maryland has plenty of local and regional players on its radar for 2014, as the areas surrounding College Park consistently produce a ton of FBS talent. The Terps picked up most of their 2013 recruits before the start of the season, but they might have to be more patient after a 4-8 record in 2012.
March, 19, 2013
3/19/13
12:00
PM ET
Penn State is off and running for spring practice, and both Purdue and Michigan State hit the field today.
To the links ...
March, 18, 2013
3/18/13
12:00
PM ET