Big Ten:

College Football Playoff
November, 10, 2014
Nov 10
10:04
AM ET
By
Sharon Katz
| ESPN.com
After a weekend that featured six matchups between ranked teams, we have emerged with newfound clarity in the conference races.
Ohio State
,
Baylor
,
Oregon
and
Alabama
each beat a top-20 opponent on Saturday and now controls its own destiny in conference races.
Using projections by
ESPN's Football Power Index
, let's break down how each of the Power 5 conferences are projected to finish, starting the with most likely conference winners.
ACC
FPI's Projected Winner:
Florida State
(75 percent),
Duke
(19 percent)
Florida State has the best chance of any Power 5 school to win its conference.
FPI
projects that the Seminoles have a 99 percent chance to win their division and a 77 percent chance to beat the winner of the ACC Coastal division in the ACC Championship Game, should they get there.
Duke is in the driver's seat in the Coastal division, one game ahead in the loss column over
Miami (FL)
and
Georgia Tech
. The Blue Devils hold the head-to-head tiebreaker versus the Yellow Jackets, and although they lost to Miami (FL), the Hurricanes still have Florida State left on their schedule.
Big 12
FPI's Projected Winner:
Baylor
(72 percent),
TCU
(24 percent),
Kansas State
(4 percent)
After its win against
Oklahoma
, Baylor's chance of winning the Big 12 rose from 27 percent to 72 percent. By most measures, TCU has a more impressive résumé than Baylor, but the Bears hold the head-to-head tiebreaker after defeating the Horned Frogs on Oct. 11 in an unlikely 21-point fourth-quarter comeback.
TCU (68 percent) and Baylor (67 percent) have the best chances among Power 5 one-loss teams to win out. If both teams run the table, Baylor will be the Big 12 champion.
FPI
projects that Kansas State, which also has one conference loss, has a four percent chance to win the Big 12 because of its schedule. The Wildcats have to play West Virginia and Baylor on the road, but if they beat Baylor in the final week of the season, things could get interesting. FPI projects that there is a 29 percent chance that Baylor, TCU and Kansas State win their other remaining games, resulting in a three-way tie.
Pac-12
FPI's Projected Winner:
Oregon
(71 percent),
Arizona State
(13 percent),
UCLA
(10 percent)
Oregon has already clinched the Pac-12 North, so its only barrier to a conference championship will come in that Pac-12 Championship Game. Arizona State, which is one of nine remaining one-loss teams, has a 51 percent chance to win the Pac-12 South, according to FPI, followed by UCLA (30 percent).
The Sun Devils have three remaining conference games, including a tough road test against rival Arizona on Nov. 28, while the Bruins have two. If these teams were to finish with the same record, UCLA owns the head-to-head tiebreaker, and would face Oregon in the Pac-12 Championship game – a game that
FPI
projects the Ducks have more than a 70 percent chance to win.
Big Ten
FPI's Projected Winner:
Ohio State
(65 percent),
Wisconsin
(22 percent),
Nebraska
(11 percent)
Ohio State's win against
Michigan State
on Saturday may have been the biggest win of the weekend in terms of conference championships. Not only did Ohio State put itself in a great position to win its division (FPI projects the Buckeyes have a 98 percent chance to win the Big Ten East), but it knocked its greatest competition out of the race.
One of the biggest games of this upcoming weekend in terms of divisional races features the top two teams in the Big Ten West – Wisconsin and Nebraska.
Because the game is in Madison, FPI projects that
Wisconsin
has a 64 percent chance to win. Whichever team wins will put itself in a prime position to win the division and likely face Ohio State in the Big Ten Championship Game.
SEC
FPI's Projected Winner:
Alabama
(36 percent),
Georgia
(27 percent),
Mississippi State
(19 percent)
The SEC is the most wide open conference. FPI projects that there are three teams – Alabama, Georgia and Mississippi State – with more than a 15 percent chance to win the conference. No other Power 5 conference has more than two such teams.
In the SEC West, FPI projects that Alabama has a 50 percent chance to win the division, largely because it hosts its two biggest competitors – Mississippi State and Auburn – in the next few weeks.
On Saturday, Mississippi State heads to Tuscaloosa in a game with conference and playoff implications. The winner of this game will control its own destiny in the vaunted SEC West and have a great chance to play the SEC East champion in the conference championship game.
Like the SEC West, the East is also quite unsettled.
Although Georgia is currently behind
Missouri
in the SEC East standings, FPI projects that the Bulldogs have a 60 percent chance to win the division because Missouri has three difficult remaining conference games, while Georgia has one.
November, 6, 2014
Nov 6
12:23
PM ET
By
Sharon Katz
and
Toby Petitpas
| ESPN.com
Saturday, there will be six games between teams ranked in the top 20 of the latest College Football Playoff rankings. Below are the stats you need to know heading into each game.
(4) Oregon at (17) Utah
, Saturday 10 ET
FPI projection: Oregon 67 percent chance to win
Matchup to watch
: Utah's pass rush versus Oregon's pass protection – Utah leads the FBS with 39 sacks and has had at least four sacks in an FBS-high six games. In the two games that Oregon allowed more than four sacks, the Ducks lost to Arizona and played a close game against Washington State. Not coincidently, those were the two games that left tackle
Jake Fisher
was sidelined with a knee injury. Fisher vs Utah DE
Nate Orchard
will be a specific matchup to watch as Orchard is tied for second in the FBS with 12 sacks.
Player to watch
: How can Heisman candidate
Marcus Mariota
not be the player to watch? Mariota leads the nation in Total QBR (91.2) and touchdowns responsible for (34) and is averaging the second-most yards per pass (10.3) in the nation.
Stat to know
: Oregon is 31-0 since the start of the 2012 season when it scores at least 30 points. Utah has held its last nine opponents, dating to last season, to fewer than 30 points, tied for the longest active streak in the FBS.
(5) Alabama at (16) LSU
, Saturday 8 ET

FPI projection: Alabama 60 percent chance to win
Matchup to watch
: LSU rushing offense against Alabama rushing defense - LSU has run the ball on an SEC-high 67 percent of its plays this season. The Tigers are 6-0 this season when they rush for at least 150 yards and 1-2 when they do not. They will have a tough test against an Alabama defense that has allowed the second-fewest rushing yards per game (78.1) and fewest rushing touchdowns (2) in the FBS.
Player to watch:
Amari Cooper
had a school-record 224 receiving yards in his last game, a 14-point win at Tennessee. Cooper has been responsible for 49 percent of Alabama's receiving yards this season, the highest percentage for any FBS player. He also leads the nation with 20 receptions that have gained 20 yards or more and ranks second in receiving yards per game (141.5).
Stat to know
: LSU has an FBS-high 24 come-from-behind fourth-quarter wins since Les Miles was hired in 2005. No other SEC school has more than 15 such wins.
(7) Kansas State at (6) TCU
, Saturday 7:30 ET
FPI projection: TCU 36 percent chance to win
Matchup to watch
: TCU's big-play offense vs. Kansas State's disciplined defense – TCU leads the Big 12 with 57 plays of 20 yards or longer. Those plays have gained 247.5 yards per game, second-most in the FBS behind Marshall. Conversely, Kansas State is tied for the second-fewest plays (22) and fourth-fewest yards (86.9) allowed on plays of 20 yards or longer.
Player to watch
: Last week,
Tyler Lockett
passed
Jordy Nelson
for second on Kansas State's all-time receiving yards list. He needs 156 more yards to pass his father, Kevin, for most in school history. He will likely be matched against TCU's
Kevin White
, who helped shut down one of the top receivers in the nation, West Virginia's Kevin White, last week.
Stat to know
: Kansas State has seven turnovers this season (T-seventh in the FBS), four of which were of little harm because they came with the Wildcats leading by 24 or more points. TCU leads the nation with 26 turnovers forced and is one of two teams (Oregon) that has forced at least two turnovers in every game this season.
(14) Ohio State at (8) Michigan State
, Saturday 8 ET
FPI projection: Ohio State 52 percent chance to win
Matchup to watch
: Ohio State run game vs Michigan State run defense - Since its loss to Virginia Tech, Ohio State is averaging 295.3 rushing yards per game, fifth-most in the FBS. Michigan State ranks sixth in the FBS in rush yards per game allowed and has held five of its eight opponents under 100 rushing yards.
Player to watch
:
Jeremy Langford
has rushed for at least 100 yards in 12 straight conference games, tied for the longest streak in the last 10 seasons with Arizona's Ka'Deem Carey. Last season against Ohio State, Langford gained 93 of his 128 rush yards after contact, the most yards after contact that Ohio State has allowed to a player in the last two seasons.
Stat to know
: J.T. Barrett has been responsible for 29 touchdowns, tied for third-most in the FBS and on pace to break Braxton Miller's school record of 36 set last season. Barrett has been responsible for at least four touchdowns in four of eight games this season. Michigan State has not allowed a player to account for four touchdowns since Taylor Martinez scored four in Nebraska's win in East Lansing on Nov. 3, 2012.
(10) Notre Dame at (9) Arizona State
, Saturday 3:30 ET
FPI projection: Notre Dame 52 percent chance to win
Matchup to watch
: Everett Golson against Arizona State pressure package - Arizona State sends five or more pass rushers on 55 percent of opponents' dropbacks, the second-highest percentage for a Power 5 team. On such plays, the Sun Devils rank third among Power 5 defenses in both yards per play (2.9) and sacks (16).
Golson has thrown four of his seven interceptions this season against a blitz, including both of his picks against Florida State. Golson has averaged 5.9 yards per attempt against the blitz this season, 1.2 less than the average for a Power 5 quarterback.
Player to watch
: Golson has been responsible for 29 touchdowns this season, tied with Ohio State's J.T. Barrett for third-most in the FBS and on pace to break the Notre Dame record for a season (39 in 13 games by Brady Quinn in 2006). In the Irish's win last week against Navy, Golson became the first player in Notre Dame history to pass and rush for at least three touchdowns in the same game. Oklahoma's Trevor Knight is the only other FBS player to accomplish that feat this season (vs Iowa State).
Stat to know
: Notre Dame is 12-0 since the start of last season when it has one or fewer turnovers and 4-5 when it has two or more, including the Irish's loss to Florida State this season. Arizona State is 4-0 this season when it has forced multiple turnovers.
(12) Baylor at (15) Oklahoma
, Saturday 12 ET
FPI projection: Oklahoma 66 percent chance to win
Matchup to watch
: Baylor's pass offense vs Oklahoma's pass defense - Baylor has a Power 5-high 17 touchdowns on passes thrown 20 yards or longer. Oklahoma has allowed the most touchdowns in the Big 12 on such passes but also is tied for the conference lead with four interceptions. Zach Sanchez has three of those four interceptions and will be matched up against one of Baylor's explosive wide receivers. The Bears have four receivers who have gained 300 yards and are averaging more than 16 yards per reception.
Player to watch
: Trevor Knight had his best statistical game of the season last week against Iowa State, accounting for a career-high 376 yards of total offense and six touchdowns. The Sooners probably will need another big game from Knight to match Baylor's high-powered offensive numbers. Last season, with Blake Bell at quarterback for Oklahoma, Baylor won by 29 and held the Sooners to a 3.5 raw QBR, their lowest in a game since the 2005 season.
Stat to know: Baylor has never beaten Oklahoma in Norman in 11 games dating to the first meeting in 1974.
October, 29, 2014
Oct 29
8:00
AM ET
Welcome to a new age of college football. The year is now 1 CFPE. The College Football Playoff Era began last night with the first release of the selection committee's Top 25 rankings.
1. The Big Ten
landed three teams in the initial poll
, which is about as good as the league could have expected. The No. 8 Spartans lead the way. Nebraska coming in at No. 15, one spot ahead of Ohio State, was the biggest surprise for Big Ten teams. As entertaining as it was to see the first rankings unveiled, next week's will be far more interesting. Then we'll find out if the committee will let its previous rankings affect the new version -- one of the biggest faults of the AP and Coaches' polls -- or if it will more liberally move teams up and down based on how they look at the moment. Either way it's safe to assume there will be just as much consternation and complaining about snubs as in the BCFPE.
2. Speaking of snubs, somehow Penn State's
Mike Hull
was somehow left off of the list of 15 semifinalists for this year's Butkus Award for the country's top linebacker. Northwestern coach Pat Fitzgerald, who has a vote for the final winner, said
he will make Hull a write-in candidate
. Fitzgerald said the semifinalist lists, which he was on as a player in the mid-90s, are just a popularity contest.
Hull did get noticed
by the Bednarik Award folks this week. They added him to the watch list for their top defender award.
3. No snubs this week, however, were more headshaking than the ones Michigan athletic director Dave Brandon dished out to Wolverines fans via e-mail during the past year.
A report on mgoblog.com
Tuesday revealed a collection of snarky and condescending e-mails that the beleaguered athletic director has sent to fans. It's baffling that a man described as a master of public relations when he took the job at Michigan in 2010 could be so tone deaf when talking to his customers. Brandon called the blog report "
nonsense
" when asked about it leaving an award ceremony Tuesday night, but the messages can't sit well with the university president currently mulling over Brandon's future at Michigan.
East Division
West Division
October, 28, 2014
Oct 28
8:30
AM ET
Welcome to terrific Tuesday. Or terrible Tuesday. All depends on your perspective.
The College Football Playoff selection committee began deliberations on Monday in Grapevine, Texas. Tonight at 7:30 p.m. ET, Arkansas Athletic Director Jeff Long will unveil to a most curious audience the first-ever CFP rankings.
It's a historic time -- and surely chaotic.
Marc Tracy of the New York Times, in
assessing the moment
, writes that "historians will most likely date the end of the era of good feelings to 7:31."
With that in mind, some advice for fans from the Big Ten to the SEC:
August, 30, 2014
Aug 30
12:55
PM ET
By
ESPN.com staff
| ESPN.com
July, 30, 2014
Jul 30
4:30
PM ET
With the announcement on Wednesday of a
home-and-home series
between Auburn and Clemson to start in 2016 at Jordan-Hare Stadium, check out the lineup of games on Labor Day weekend in two years.
September 3, 2016 - Alabama vs USC - Clemson at Auburn - LSU vs Wisconsin - UCLA at TAMU - Ariz. vs BYU - ND at Texas

— FBSchedules.com (@FBSchedules) July 30, 2014
What an amazing way to kick off the season. It's reminiscent of the best college basketball offers in November or December.
If you don't think the College Football Playoff is impacting the way teams schedule, you're not paying attention. No doubt, programs are planning games with the selection committee's focus on schedule strength in mind.
That opening Saturday includes power players from each of the five major conferences, including Wisconsin out of the Big Ten -- playing LSU at Lambeau Field in Green Bay -- plus football independents Notre Dame and Brigham Young.
Get ready for the playoff era. It's only going to get more fun with time.
July, 14, 2014
Jul 14
1:10
PM ET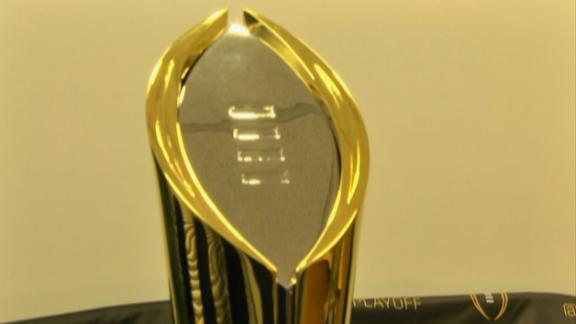 IRVING, Texas -- The Stanley Cup has nothin' on college football's newest and biggest prize -- except a little history, of course.
The College Football Playoff trophy, which was unveiled Monday morning from the sport's new headquarters just outside of Dallas, is handcrafted from 24-karat gold, bronze and stainless steel. At 65 pounds, it weighs almost twice as much as the NHL's trophy. The actual trophy itself –- the part that will be hoisted in celebration on Jan. 12, 2015 –- is 26.5 inches tall and weighs 35 pounds.
They do things big here in Texas.
With SEC media days also beginning Monday, it was a nationwide start to a new era -- although this is a trophy that the country's premier conference has yet to stake a claim to. Bill Hancock, executive director of the new College Football Playoff, called the trophy a priceless "piece of art that will be the ultimate goal for college football players during the season."
There was a round of applause in the small room as Hancock revealed the trophy to a crowd comprised mainly of media, playoff officials and representatives from the trophy's sponsor, Dr Pepper. None of the 13 selection committee members were in attendance, but they will meet again Aug. 11 in Colorado Springs to finalize any last-minute details about the four-team playoff.
The trophy has a modern, sleek look to it and features a focused football at the center of the base that rises to form an actual-size ball. The entire trophy is three feet tall, and the base is made of bronze with a black finish. Hancock said they were looking for a design that was "contemporary, bold and modern." They looked at three or four dozen different designs and video from game celebrations before choosing the trophy.
Fans had mixed reviews on Twitter:
Would look nice in the WestZone... RT @CFBPlayoff A new era, a new trophy. pic.twitter.com/z4idlac5Gr

— Clemson Athletics (@ClemsonTigers) July 14, 2014
I think the design team for the #CFBPlayoff trophy thought they were designing an Olympic Torch. #NoGood

— Tyler Pearce (@tyler_pearce) July 14, 2014
New #CFBPlayoff trophy looks good, but it is definitely going to take some getting used to. IMO, crystal ball was iconic

— Charles Lee Wingard (@CLW_sports) July 14, 2014
There will always be traditionalists who are hesitant to embrace change, but no crystal ball could ever tell us what's in store for this season.
May, 21, 2014
May 21
4:00
PM ET
By
ESPN.com staff
| ESPN.com
May, 21, 2014
May 21
10:30
AM ET
Here's a crazy notion: the biggest game in football being played not in some tropical locale but smack dab in the Midwest.
It's true. The NFL on Tuesday
awarded the 2018 Super Bowl
to Minneapolis and its forthcoming new stadium. Minneapolis was one of three finalists, along with New Orleans and another Midwestern city, Indianapolis.
This development isn't groundbreaking. The 2012 Super Bowl was held in Indianapolis, and Detroit hosted the 2006 game. Sportswriters will no doubt grumble about the weather in 2018 and openly pine for a sunnier destination like Miami or San Diego. But Minneapolis is a great city and should provide plenty to do in the buildup to the game.
[+] Enlarge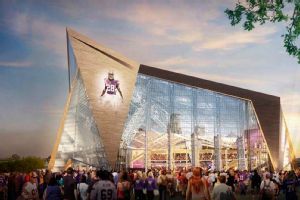 AP Photo/HKSIf Minneapolis' new stadium is good enough to host the 2018 Super Bowl, why can't it -- or another Midwestern city like Indianapolis, Detroit or St. Louis -- host the College Football Playoff championship game?
All of which leads to a larger point: If it's good enough for the Super Bowl, the Midwest ought to land a college football national championship game in the near future, too.
The new
College Football Playoff
system allows cities to bid on hosting the title game. The first three sites are predictably warm-weather spots -- Arlington, Texas, in January 2015; Glendale, Arizona, in 2016; and Tampa, Florida, in 2017. Minneapolis was the only Midwestern city to make a strong run at any of the first three games, losing out to Tampa. Which was disappointing, because other than the weather, Tampa doesn't compare to the Twin Cities.
Having the Super Bowl in 2018 pretty much rules out a bid for the college football title game that year for Minneapolis. But Indianapolis, which had been focusing its efforts on landing the NFL's signature event that year, would now be free to go after the 2018 Playoff championship. Detroit should make a run, too. Having an indoor stadium would lessen concerns about the weather in January, so those three cities -- along with possibly St. Louis -- are the best bets for the Midwest.
And as we've said before, it would be wildly unfair if the college football title game never came to the region. It's supposed to be a neutral site, and there is good football played in more than just the South, West and Texas. The Big Ten for years has dealt with playing virtual road games in its bowls, and that could very well continue in the Playoff semifinals. The league shouldn't have to do that in the title game as well (assuming the conference can get a team there, of course). Indianapolis has proved it can host world-class events like the Final Four and the Super Bowl and has done a fantastic job with the Big Ten championship game, for example.
Comparing the Super Bowl and college football championship game is not apples and oranges. The NFL has tried to reward its owners by moving the game around, particularly to those teams who have built new stadiums. College football doesn't have to worry about keeping its owners happy or to incentivize stadium construction.
But the sport should include all areas of the country that help keep it strong. And if the Midwest is good enough to host the Super Bowl, the region should get college football's top game soon, too.