October, 8, 2014
Oct 8
2:15
PM ET
The debuts don't go unappreciated, and Pat Fitzgerald has made sure to dish out some praise for all the preparation and effort that goes into a breakout performance.
But those moments don't last long with the Northwestern coach. His precocious youngsters are being reminded that it won't always be as easy as they've made it look during their first starts, and they shouldn't expect any statues erected in their honor for being named Big Ten Freshman of the Week.
If Northwestern is collectively going to earn any sort of hardware this season, it figures that their ongoing youth movement will lead the way. And that construction project, a sort of rebuilding-on-the-fly effort, appears to be right on schedule for Northwestern after a couple of upset victories sparked by talented freshmen.
"[Fitzgerald] will praise us a little bit, but then he goes back and tells us what we can correct," redshirt freshman linebacker
Anthony Walker
told ESPN.com. "As a coach, you don't want your guys to get too much of a big head, and I think that's good for us. We've played well, but we have a long way to go fixing the mistakes that we made.
[+] Enlarge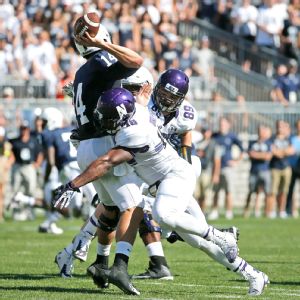 AP Photo/Gene J. PuskarAnthony Walker stepped up with eight tackles and an interception at Penn State.
"It's not coming down on you, it's focusing on the fact that you can get better at this, get better at that. And the young guys are just coming together. We feel like we've got to step up for this football team to be great."
The Wildcats were far from that to open the season, losing back-to-back games against California and Northern Illinois to continue the misery that stretched back to the middle of last year, when a promising 4-0 start unraveled at the seams with seven consecutive losses.
So far, Northwestern has flipped that script entirely around, and it's been the plugging in of well-prepared understudies that has helped lead to the rewrite.
When senior
Collin Ellis
went down with an injury before the conference opener at Penn State, the Wildcats turned to Walker. He responded with a team-high eight tackles and nabbed his first career interception, which he returned for a 49-yard touchdown in the surprising blowout win on the road.
Last weekend, another veteran defender was forced to the sideline with an injury. And with safety
Ibraheim Campbell
on the shelf,
Godwin Igwebuike
stepped in and grabbed three interceptions, tying a school record and topping Walker's outing by adding Defensive Player of the Week honors as well. Meanwhile, true freshman running back
Justin Jackson
has shouldered the load that was expected to be handled by another senior. Jackson continued his emergence since Venric Mark transferred during training camp by rushing for 162 yards to help provide enough offense to hold off Wisconsin for another critical league win.
The underclassmen obviously aren't doing it all themselves. But it's surely more than coincidence that Northwestern's turnaround has included prominent roles for a group of players who clearly are buying the message Fitzgerald has been pitching since that rough early start.
"I really believe it has very little to do with us," Fitzgerald said. "I'm not trying to minimize coaching, but it has everything to do with how you prepare. We've believed in that for a long, long time, and that's something that we value highly. It's great to see young guys buy into what we're preaching and then actually seeing the fruits of that type of investment.
"But we're not going to allow them to become complacent. That's an evil word around here."
Buying into the hype is something of a cardinal sin as well for the Wildcats, and Fitzgerald helps fight that off with his public jokes about making sure nobody builds statues for Walker or Igwebuike after one impressive start.
That doesn't mean their work goes unappreciated. It just means there's a lot more to do if the freshmen are going to turn the Wildcats into a true contender in the Big Ten's West Division.
"We went in with a national championship mindset and we suffered through bad losses the first two weeks, but we hadn't played a Big Ten game yet," Walker said. "We always knew when the Big Ten games came, we needed to take our game up to another level.
"Some young guys were needed to contribute early, and we took on the challenge."
They haven't needed long to prove they're up for the task.