December, 27, 2011
12/27/11
10:00
AM ET
EVANSTON, Ill. —
Dan Persa
wants his legacy at Northwestern to go beyond wins and losses and individual records.
More than anything, Persa hopes he has helped change the way Wildcats players approach their craft. The quarterback set an example early in his career as the team's top weight-room performer and reinforced his reputation as the team's hardest worker while rehabbing a ruptured Achilles' tendon during the winter, spring and summer.
[+] Enlarge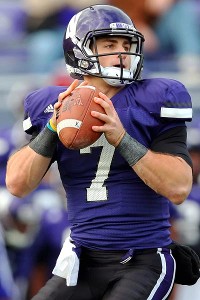 Dennis Wierzbicki/US PresswireSenior QB Dan Persa will try to guide the Wildcats to their first bowl win since 1949.
"My outlook is there's always going to be somebody better out there, and you're going to have to outwork somebody if you want to go anywhere," Persa told ESPN.com after Monday's practice. "You can't just show up. That's the kind of thing I wanted to leave, making football a priority and finding a way to give it everything you've got and never regretting, 'Man, I wish I did this or did that.'
"Just do it all."
Persa has done plenty during his time at Northwestern, particularly in the last two seasons as the team's starting quarterback. He has seen changes in the team's dedication to the game, and expects those to continue after he has departed the program.
But has Persa been rewarded for all his hard work?
After carrying the team through the first 10 games last fall, Persa watched from the sideline as Northwestern suffered blowout losses against Illinois and Wisconsin, and then dropped the TicketCity Bowl to Texas Tech. This year he dealt with lingering effects from the Achilles' as well as other ailments, and still led the Big Ten in passing average (240.3) and led the nation in completion percentage (74.2).
Yet the team went 6-6, largely because of a defense that couldn't get off of the field.
"That's a tough question for me to answer," Persa said when asked if he deserved more. "Obviously, it's disappointing the way we lost six games this year, but I don't know. I'm more worried about we could have done more than whatever our rewards would have been."
There's still one more reward out there, a bowl win, Northwestern's first since the 1949 Rose. Persa wraps up his college career Saturday against Texas A&M in the Meineke Car Care Bowl of Texas.
The senior says he's as healthy as he has been all season, benefiting from the added time without a game.
"We've got one more chapter of the book, one more story to tell," Northwestern coach Pat Fitzgerald said. "The body of work at this point speaks for itself, but to be the quarterback and to be the leader who gets the 63-year-old monkey off our back would be one heck of a final chapter to, in my opinion, a career that has been pretty magical and pretty special."
Persa is on track to set several individual milestones in the bowl game. He needs just 32 pass yards for 5,000 in his career and 277 total offensive yards for 6,000 in his career. His career passing efficiency mark of 157.47 would rank first in Big Ten history, ahead of Ohio State's Troy Smith (157.1 rating), and first in NCAA history among quarterbacks who completed 400-499 career passes.
Most impressive, he should set the NCAA's all-time career completion percentage record even if he has a miserable performance in Houston. Persa, who has a career completions rate of 73 percent, needs 19 attempts to meet the minimum qualifying standard for pass attempts per game. He could fail to complete any of the 19 passes and still break Colt Brennan's NCAA completions record (70.4 percent). Persa hasn't completed less than 62 percent of his passes since being named the starter, so as long as he attempts 19 passes against the Aggies, he'll get the record.
While Persa admits it would be "cool" to have the record, he'd much rather go out a winner. He hasn't won his last game since his freshman year of high school, as his high school team lost the state title in both his junior and senior seasons.
"Walking off the field and being happy with what we left behind in the last game, it'd mean a lot," he said.
Football can be an unforgiving game, and Persa's senior season hasn't gone according to script. But he still has a chance to go out as a winner.
"As the leader," Fitzgerald said, "that would be a heck of a way to finish for him."
November, 26, 2011
11/26/11
9:45
PM ET
MADISON, Wis. -- The game ended one debate and added intrigue to another.
Wisconsin's
45-7
dissection of Penn State left no doubt as to which is the best team in the Leaders division. After falling behind early, the Badgers outclassed the Nittany Lions, as they're prone to do in a building where they've now won 16 consecutive games. They earned the right to face Michigan State next week in the inaugural Big Ten championship game.
But the decisive victory only brought more uncertainty to a question Badgers players and coaches love to get asked even though few have an answer.
Who is the Big Ten's Offensive Player of the Year: quarterback
Russell Wilson
or running back
Montee Ball
?
[+] Enlarge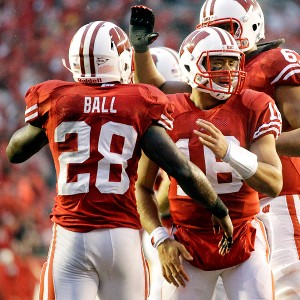 AP Photo/Morry GashWill Russell Wilson and Montee Ball end up sharing the Big Ten's top offensive player of the year honors?
"I'd split it," Wisconsin coach Bret Bielema said. "I don't know if there's ever been co-offensive MVPs off the same team. I don't know if that's ever been done, but I don't know how you can give it to one without the other."
It has happened once: Big Ten coaches voted Iowa quarterback Matt Rodgers and running back Nick Bell as co-Offensive Players of the Year in 1990. Will it happen again next week?
Wisconsin wouldn't be where it is without the contributions of Wilson and Ball, who are putting together the best combined quarterback-running back performance in a season in Big Ten history (more on that later). The senior quarterback and junior running back both sparkled again Saturday, having a hand in all six Wisconsin touchdowns against the nation's No. 8 defense. Wilson finished the game 19-of-29 passing for 186 yards and two touchdowns, while Ball recorded 156 yards and a touchdown on 25 carries.
It's rare when one NCAA record is set in a game, much less two. How about two records by two players in the same half? Wilson and Ball delivered Saturday.
Ball's second rushing score late in the second quarter gave him 12 consecutive games with multiple touchdowns, breaking Barry Sanders' NCAA record of 11 straight games. Wilson's 21-yard touchdown strike to
Jared Abbrederis
in the first quarter gave him 36 consecutive games with at least one touchdown pass, tying the NCAA record held by former Texas Tech star Graham Harrell.
Wilson's team single-season touchdown passes record stands at 28. Ball, meanwhile, has his sights set on a loftier mark, one thought to be unreachable. His four touchdowns Saturday give him 34 for the season, the second-most in NCAA history behind only Sanders' 39 scores in 1988.
"It's extremely rare," Wilson said of his and Ball's performances this season. "It's a once-in-a-lifetime type thing. You don't see it very often, but I think with Montee's ability to do a lot of different things, and then with my ability to throw the ball extremely well and to improvise when I have to, it's pretty dangerous."
You think?
Big Ten awards voting wraps up Sunday, and all-conference teams will be announced Monday night. The league's Offensive and Defensive Player of the Year awards are announced Wednesday afternoon, so the debate about Wilson vs. Ball will continue until then.
Don't expect much help from the Badgers.
"I'm very happy I don't have to make that decision," offensive lineman Travis Fredrick said.
"I couldn't say," added fellow offensive lineman Ryan Groy. "I'd be split between both of them."
Ball appeared to provide a definitive answer the first time I asked him.
"I'd pick myself," he said. "Of course, I'd pick myself."
But when asked during a
video interview
, Ball flip-flopped, saying he'd vote for "the pretty boy, Russell. Because what he brought to this team was a lot." When called out, Ball tried to backtrack, the first time all afternoon he had to.
Wilson was a bit more decisive.
"I'd definitely vote for Montee," he said.
While the debate carries on about which individual performance is superior, the combined effort from Ball and Wilson is more notable.
There's never been anything quite like it in Big Ten history. Wilson's passer rating of 192.9 this season keeps him on pace to break Colt Brennan's single-season NCAA record of 186. He should have no trouble breaking the Big Ten season record of 175.3 set by Michigan's Bob Chappuis in 1947.
Ball already has shattered the Big Ten season touchdowns mark of 26 and should finish among the league's top 10 in single-season rushing (he currently has 1,622).
While the Big Ten has witnessed better individual rushing and passing performances, the combined effort from Ball and Wilson stands alone in league annals. It's the best since Penn State's Kerry Collins and Ki-Jana Carter 1994: Collins passed for 2,679 yards and had a quarterback rating of 172.8, which ranks second in Big Ten history; Carter rushed for 1,539 yards and 23 touchdowns.
Former Wisconsin coach and current athletic director Barry Alvarez brought up Iowa's Chuck Long and Ronnie Harmon in 1985. They had impressive numbers -- Long racked up 3,297 pass yards, 27 touchdowns and a rating of 153.1; Harmon had 1,166 rush yards and nine touchdowns -- but not as impressive as the Wilson-Ball tandem.
"They're both really special," Alvarez told ESPN.com. "You only have one ball, so it's hard to have two guys with numbers like that."
It wasn't hard for Ball and Wilson to mesh. They play different positions and have different responsibilities, but they're driven in the same way.
"It goes back to how hard I worked in the offseason and how hard he worked when he got here," Ball said.
When Wilson arrived July 1, he told Ball he would compete to become one of the best quarterbacks in the country.
"He gravitated to that," Wilson said. "Every day in practice, we work together and communicate extremely well. Our desire to be great and to never be afraid to excel is something we definitely have in common."
For those arguing that Wisconsin and its stars feast on inferior competition, consider this: Ball racked up 495 rush yards and seven touchdowns and added two receiving scores against three top-10 defenses (Michigan State, Penn State and Illinois). While Wilson wasn't at his best in the Michigan State game, he still rallied his team brilliantly in the fourth quarter and stepped up against an excellent Penn State defense on Saturday, completing 15 of 21 passes for 149 yards in the first half.
"Two of the most complete players at their respective positions that I've ever seen play the game," Bielema said.
Wilson and Ball could share Big Ten Offensive Player of the Year. One or both could earn an invitation to New York for the Heisman Trophy presentation.
But the two are more focused on sharing a podium in two other places -- Indianapolis and Pasadena.
November, 23, 2011
11/23/11
11:30
AM ET
The thought crossed
Montee Ball
's mind as he left the field at Ohio Stadium, still in shock after another heartbreaking loss in the final minute.
The Rose Bowl dream, the one that had spurred Ball and his Wisconsin teammates throughout the offseason, appeared to be dashed.
"Yes, of course," the Badgers junior running back said. "We want to play in the big bowl, so after the second loss it stung a little bit because we thought it slipped out of our hands. But now that it's back in our hands and we're able to control our own destiny, it's just a great thing.
"We're going to make sure we embrace it and really capitalize it on it this time."
[+] Enlarge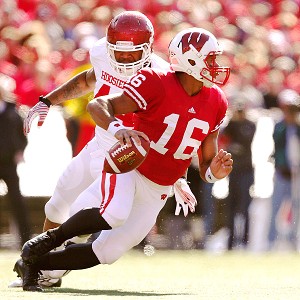 AP Photo/Andy Manis Russell Wilson won't dwell on how close the Badgers were to being in the national title hunt. "You can't look back; you have to look forward," he said.
College football can be unforgiving, and rarely do teams get second chances to achieve their chief goals. After back-to-back road losses to Michigan State and Ohio State, No. 16 Wisconsin has rebounded. With a little help, the Badgers find themselves in position to reach the Big Ten title game and play for a return trip to Pasadena, where they lost 21-19 to TCU on Jan. 1.
Wisconsin will face No. 19 Penn State for the Leaders Division title on Saturday at Camp Randall Stadium, where the Badgers have won 15 consecutive games and average 52.3 points per game this season.
"That's the reason why I came here," senior quarterback
Russell Wilson
said. "... I wanted to be a part of something special."
Wilson wasn't on the field Jan. 1 in Pasadena. He didn't experience the anguish of falling short against TCU. He didn't shed tears in the locker room after the game, like so many Wisconsin players did.
But it didn't take long for Wilson, after transferring from NC State, to recognize what drives his new teammates.
"Russell has gotten more and more comfortable with our kids," Wisconsin coach Bret Bielema said. "And as he's been here longer, he's heard the stories about us falling short against TCU."
Added Wilson: "Guys have definitely talked about it, in terms of, I'm not sure 'heartbreak,' but the toughness that it takes to get through something like that. You never want to lose a game in general, especially a game like that, playing in the Rose Bowl. … We have the opportunity to [return], but before we can even do that, we have to beat Penn State and play a great game."
Wisconsin needs a great game Saturday from Wilson, who has been brilliant at Camp Randall Stadium. He has completed 75 percent of his passes (87-for-116) for 1,415 yards with 13 touchdown strikes and no interceptions. It equates to an astronomical quarterback rating of 214.5 -- a big reason Wilson, who leads the nation with a season rating of 199.3, remains on pace to break Colt Brennan's NCAA record (186).
But Wilson hasn't been nearly as dominant against elite defenses, and Penn State might be the best he'll face all season. He threw two of his three interceptions this season against Michigan State, ranked as the nation's No. 3 defense. He had his least accurate performance (20-of-32) against Ohio State, the nation's No. 16 defense, and passed for only 90 yards last week against Illinois, the nation's No. 9 defense.
Penn State ranks eighth nationally in total defense, sixth in pass defense and fourth in pass efficiency defense (96.4 rating) -- a mark that leads the Big Ten.
"I see guys that can fly around, guys that are extremely aggressive," Wilson said of the Lions. "They've got a lot of talent on the defensive side of the ball."
Some view Wisconsin as a disappointment this season, as the Badgers seemingly had the league's best team and a schedule aligned to make a national title run. An upset-filled Week 12 around the country underscored the fact that, had Wisconsin avoided late breakdowns in East Lansing and in Columbus, it would be in the thick of the title talk.
"Definitely you think about basically those 45 seconds total that it comes down to that you potentially could have been in the national championship," Wilson said. "But at the same time, you can't look back; you have to look forward."
Penn State is in Wisconsin's path to Pasadena. If the Badgers navigate their way past the Lions, they earn a rematch with Michigan State in Indianapolis for a chance to return to the Rose Bowl.
It's not a bad situation, especially considering where Wisconsin was Oct. 29 in Columbus.
"To lose those games the way we did I thought only was going to make us stronger," Bielema said. "It was very, very difficult times, and if you don't have great kids or great coaches, you wouldn't be able to come out of there. ... The result is we put ourselves in a position to go play a Penn State team for the opportunity to play in something even bigger."