August, 6, 2013
8/06/13
12:00
PM ET
Every Big Ten team has hit the practice field for preseason camp. It's almost here, folks ...
February, 22, 2013
2/22/13
3:00
PM ET
NFL combine weekend is upon us. We'll have an update Monday on how the
Big Ten contingent
fared in the early testing.
To your emails ...
Brian from Atlanta writes:
Adam, How can you think Chicago makes sense for the B10 CCG until two things change: 1. The game stops being a primetime game so the windchill isn't below freezing for much of the game, 2. The groundskeepers at Soldier Field learn how to grow a decent field in December? I've seen elementary playgrounds with better grass than Soldier Field has, and a rock hard field with bad grass causes injuries (head and knee). I'd be OK with the game played in the afternoon outdoors in Chicago, but they need a decent field.
Adam Rittenberg:
Brian, I completely agree with you about the playing surface at Soldier Field. As a Bears fan, it's embarrassing to see that slop on Sundays. They should have installed FieldTurf when they did the renovation. The field certainly would be a concern for the Big Ten, mainly because of player safety. No one wants to see injuries in the title game, especially because those teams will be advancing to major bowl games or the playoff. The Big Ten would need assurances from Soldier Field and the Bears that the playing surface would hold up.
I'm less concerned about the weather. While an afternoon kickoff might be the way to go, the temperature in Chicago on the first Saturday of December isn't always frigid. Last year, we had temperatures in the 40s and low 50s. Thank global warming, I guess. While there's always potential for bad weather, it's not as if this game would be played in late December or early January. And c'mon, this is the Big Ten. These teams are used to playing in the cold. This type of thinking is why we haven't had November night games in the Big Ten, which in my view has hurt the league's image/brand.
---
Chas from Ames, Iowa, writes:
ARitt: I appreciate your constant criticism of Iowa Football and the article about Ferentz allegedly reducing recruitment of Florida. Do you think this could be due to the fact that his most recent hires have deep, deep ties in another football hotbed [the Country of Texas]? If so, why would that be a bad thing [especially if one considers that Iowa has done well with athletes from Texas since Hayden Fry's heyday in the 1980's]?
Adam Rittenberg:
Chas, as someone who has read this blog from the start, you know criticism or praise depends on how the team is performing. Iowa has deserved the recent criticism, just like it deserved the praise I doled out in 2009. You and others have pointed out the staff's ties to Texas, which is great. But I don't get the either/or argument at all. You can recruit both Texas and Florida. There's no rule that prevents teams from doing so. Sure, Texas can be a bigger emphasis now with former Longhorns assistants Greg Davis and Bobby Kennedy on staff. But Kirk Ferentz has had the chance to make many more hires. Why not bring in one assistant with ties to Florida so you can have a presence there as well? Both states mass-produce talent, and a program like Iowa that has limited in-state talent should have a presence in both spots, even if Texas is emphasized more than Florida.
---
James from Lincoln, Kan., writes:
Looking at the
Combine numbers for invitees
over the last 3 years, and as a Husker fan, should it be concerning that the list of invitees from Nebraska have been declining over the last few years. Now although I am sure there were some snubs in the past (
Baker Steinkuhler
), shouldn't a school with Nebraska's pedigree be able to send more than 3 players to the NFL combine in any given year?
Adam Rittenberg:
You would think so, James. I wouldn't be overly concerned, but I would closely monitor the number of defensive players Nebraska sends to the combine in the coming years. Nebraska sent four defenders in 2010, four in 2011 and three in 2012, but only one (safety
Daimion Stafford
) this season. Bo Pelini has produced NFL defenders everywhere he's been, but the unit certainly took a step backward in 2012. Nebraska is looking for leadership and star power on that side of the ball. I think the number of offensive players Nebraska sends to Indy will fluctuate a bit -- partly because of the offensive system it runs -- but Big Red should always be sending a handful of defenders to the combine under Pelini.
---
Heisman Voter from New York writes:
Adam and Brian, as a Heisman voter, let me be the first to congratulate you two for your omission of
Kawann Short
from the Top 25 player rankings. Sure he was a consensus All-Big Ten and he had the most sacks (7) and TFL (15.5) by a defensive tackle, in addition to his 1 FF and 4 blocked kicks, but his team was bad this year. That's why he as an individual doesn't deserve to be with the likes of Hankins, whose 1 sack, 4 TFL, zero fumbles forced, and 12 wins completely overshadowed Short. By now you realize this is sarcasm. For the record, I am not a Purdue fan, but I find it astounding that Short gets so little respect because the rest of his team hasn't been among the best. He has been one of the most consistent performers the last three years, racking up 19.5 sacks, 44.5 TFLs, and an astounding 8 blocked kicks. Can you explain how he gets left out, because it really seems like you're using team record as the most important stat. Oh, and Replogle would like a word too...
Adam Rittenberg:
You make some fair points, Heisman, and both Short and Replogle had good seasons and were considered for the list. Again, it's a very exclusive group, only 25 players, and we looked for guys who made the biggest impact week in and week out -- beyond the numbers. Hankins' stats don't come close to reflecting what type of impact he had on games this past season. The same goes for Penn State's
Jordan Hill
, who had better numbers than Hankins and was even more dominant, especially late in the season. It's not all about the numbers for the defensive tackle position. My issue with Short is he'd have a few huge games every year and then disappear for others. And I can't look past the fact he led a Purdue defensive line that quite frankly underperformed this season and was gashed by so many opponents. That reflects poorly on him. The same goes for Replogle at Indiana. Again, both men had solid seasons overall and were considered for the Top 25, but neither made as big of an impact as Hankins or Hill.
---
Adam from Washington D.C., writes:
Your Iowa article was atrocious today. I'm a Michigan fan so I don't have a dog in the fight other than I hate reading ignorant stuff. Iowa needs to recruit better players and have them stay. Literally the sentence before you said "I don't see a good reason for them to leave Florida," you explain that none of their Florida recruits had panned out. Then you say something nonsensical about Michigan ramping up Southern recruiting efforts. You do realize we're recruiting Florida significantly less since Michigan fired Rich Rod and went with Hoke, right? It's like you just type stuff that you think sounds good but don't actually back it up with anything factual. That's why you're no longer in my google reader. It's sad, because sometimes you do great work. Other times, you two the ESPN line wayyyy too much.
Adam Rittenberg:
It's a major ego blow not to be in your google reader. Not sure how I'll possibly recover. The argument that Iowa should de-emphasize Florida because it has had a run of recruits who didn't pan out doesn't make sense to me, either. We know there are many Florida recruits who do pan out. Just look at Wisconsin, which has players like running back
James White
(Fort Lauderdale), safety
Dezmen Southward
(Sunrise) and linebacker
Conor O'Neill
(Delray Beach), as well as recently graduated players like safety Aaron Henry (Immokalee). Wisconsin's success in Florida should encourage Iowa, especially since Bret Bielema and Charlie Partridge are no longer in Madison. Just because you've had a bad run doesn't mean you throw up your hands. As for Michigan, of course I realize the Wolverines are recruiting Florida less without RichRod. But as noted in the post, Michigan was the only other Big Ten team besides Iowa not to sign a Florida player
this year
. That should change in the future. WolverineNation's Tom VanHaaren, who knows Michigan recruiting better than anyone,
told us on a recent podcast
that the staff is emphasizing Florida and Southern recruiting more in the 2014 class. The
article linked
in the post supports this. Michigan will continue to focus on the Midwest but Hoke and his staff are spreading their recruiting net as well, which should be reflected next year.
---
Cody from Okinawa, Japan, writes:
Adam,During this break from college football, I keep running into articles and speculation about further B1G expansion. Maryland and Rutgers are in, and that is tolerable for me. But rumors of Georgia Tech, North Carolina, and Virginia have me worried. I know there has been growing support for a pod system with more teams, but lets stop and consider games like Ohio State at Georgia Tech, Nebraska at Virginia, North Carolina at Michigan. That is not B1G football! I'd love to see a column from you outlining the negative aspects of further expansion.
Adam Rittenberg:
There are several potential drawbacks, Cody. The first is more general -- that bigger isn't always better. Big Ten teams will play one another less often -- despite more overall conference games -- and the intimacy of a league, which commissioner Jim Delany often has talked about, will be harmed to a degree by going to 16 or more teams. Another drawback is that North Carolina and Georgia Tech -- and, to a lesser degree, Virginia -- are in fundamentally different areas of the country than the current Big Ten members. Although the Big Ten wants to become a bi-regional conference -- Midwest and East Coast -- it also wants to maintain a certain culture. The culture around college sports in North Carolina and Georgia is different -- not better or worse, just different. My friend
David Jones outlines it well
, writing:
People belong with their own kind. And most Carolinians aren't transplanted New Yorkers and Ohioans working for GlaxoSmithKline. They are hot-weather-barbecued Southerners who grew up in the pines. They love their area's unique basketball heritage, they talk like Andy Griffith and see the world in different ways than we do. Many of them are wonderful people. My kid goes to camp in northwest North Carolina every year and I've met many of the locals. But they do not belong in the Big Ten. And they will feel like the foreigners they will be if this expansion happens.
His point is that Big Ten folks can relate to Maryland and Rutgers better than they'll be able to relate to North Carolina and Georgia Tech, and vice-versa. Will the Big Ten get richer financially? Sure. But the league's core values -- the essence of who it is -- could be harmed by these moves.
---
Michael from Los Feliz writes:
Hey Adam, I enjoyed your article about Michigan State in honor of Black History Month. However, as a Gopher fan I hope you take some time this month to check out the Gophers' legendary 60s teams. Sandy Stephens was the first African American QB to play at the collegiate level, and he led the Gophers to a National Title and 2 Rose Bowl appearances (1 win). He finished 4th in Heisman balloting at a time when America was still segregated. That is astonishing. Other All-Americans on those teams include Bobby Bell and Carl Eller. All those players remarked on how little racism they found in Minneapolis in comparison to their respective hometowns. This is an important legacy.
Adam Rittenberg:
Completely agree, Michael. Minnesota came up a lot while I was doing my reporting for the Michigan State story. Although other Big Ten teams recruited blacks from the South and provided tremendous opportunities for these players, Minnesota and Michigan State certainly were ahead of the curve. Former MSU quarterback Jimmy Raye, who faced the two obstacles of being black and being a black quarterback from the South, told me, "I wanted to go to school at the University of Minnesota because Sandy Stephens had played quarterback there and taken them to the Rose Bowl. He was the first black All-America quarterback, so I knew if I was being recruited by Minnesota, I would have a chance to play quarterback there." Players like Raye were very aware that Minnesota had brought in Bell and Eller from the same state (North Carolina). I agree that it's a very important legacy.
November, 17, 2012
11/17/12
3:09
PM ET
Wisconsin junior linebacker
Chris Borland
will miss today's game against Ohio State because of a hamstring injury.
Borland sustained the injury last week against Indiana. He had planned to test out the leg in warmups but isn't dressed for the game.
Conor O'Neill
will get the start at outside linebacker alongside senior
Mike Taylor
, while
Ethan Armstrong
slides inside for the Badgers.
The hope is Borland returns in time for the Big Ten title game Dec. 1. He ranks in the top 11 in the Big Ten in tackles (82), sacks (4.5), tackles for loss (9) and forced fumbles (3). Big loss for the Badgers.
November, 21, 2011
11/21/11
1:00
PM ET
Saw you so much clearer, once you were in my rear-view mirror.
Team of the week:
Michigan. The Wolverines flexed their muscles and blew out Nebraska 45-17 in their best performance and arguably biggest win of the season. Michigan is now the Big Ten's best hope for an at-large BCS bid. Michigan State sure liked what happened in Ann Arbor this week, too.
Game of the week:
Penn State 20, Ohio State 14. Ultimately, this game had no bearing on the Big Ten title race, but try telling these two teams that. In a week without many thrillers, the Nittany Lions and Buckeyes played an old-school, physical game that featured no second-half points but plenty of hold-your-breath moments. Given the backdrop of what Penn State had been dealing with back home, it was far from meaningless.
[+] Enlarge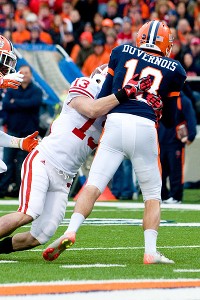 Bradley Leeb/US PresswireIllini punter Justin DuVernois is tackled by Wisconsin's Conor O'Neill after a game-changing fumbled snap Saturday.
Biggest play:
Illinois led Wisconsin 14-0 in the second quarter when punter Justin Duvernois dropped the ball after catching the snap. The Badgers' Conor O'Neill tackled him at the 2-yard line to set up a
Montee Ball
touchdown run and finally give Wisconsin some momentum. Who knows how the game would have unfolded differently had the Illini taken a 17-0 lead into half instead of 17-7. And for a team that had special-teams breakdowns in losses to Michigan State and Ohio State, it was good for Wisconsin to get one back in the kicking game.
Best call:
Lions turning into Wildcats. Interim coach Tom Bradley and his staff decided to use
Curtis Drake
and
Bill Belton
in the Wildcat formation against Ohio State, something Penn State hadn't shown much of all season. By the time the Buckeyes adjusted to it, Penn State had piled up 254 yards and 20 points in the first half. The defense did the rest in the second half. Question: Would the Nittany Lions have used that kind of creativity if Joe Paterno was still the head coach?
Toughest call:
Robert Marve
's touchdown-no-fumble near the end of the Purdue-Iowa game. The Boilers quarterback scrambled and dived for the end zone with 1:27 left in the game, losing the ball just as he hit the pylon. The officials on the field ruled it a touchdown, which would have cut the lead to 31-27 with an extra point giving Purdue a chance to get within a field goal. But after a review, the play was ruled a lost fumble in the end zone, which gave the ball to Iowa and basically ended the game.
Boilermakers coach Danny Hope brought a still picture of the play to his Sunday media briefing, saying it showed Marve's hand hitting the pylon and the ball out of bounds. Other angles and replays seemed to validate the replay officials' ruling. You can watch the
video of it here
at the 1:40 mark. Either way, Purdue simply made too many mistakes in the game to be whining about one call, no matter how crucial it was.
Big Men on Campus (Offense):
Wisconsin's Ball and Michigan quarterback
Denard Robinson
. Ball had career highs in rushes (38) and yards (224) and scored three more touchdowns, becoming just the fifth player in FBS history to reach 30 touchdowns in a season. Robinson bounced back from a couple of rough outings to account for four touchdowns and 263 total yards of offense against Nebraska. He has now won six Big Ten player of the week honors, third-most in league history.
Big Man on Campus (Defense):
Wisconsin linebacker Chris Borland. The sophomore made a career-high 16 tackles, including 1.5 tackles for loss and two forced fumbles against Illinois. His second forced fumble gave the Badgers a short field to set up their second touchdown, and he helped lead a defensive effort that shut out the Illini in the second half and forced four turnovers. A special shout out also goes to Northwestern's Brian Peters, who forced and recovered a fumble and made an interception despite wearing a cast on one arm against Minnesota.
Big Man on Campus (Special teams):
Penn State's Anthony Fera. He made a 43-yard field goal and a 46-yarder at the end of the first half to account for the margin of victory in the Nittany Lions' 20-14 win against Ohio State. He also had three punts downed inside the 20-yard line, including one on the 3-yard line. How good has Fera been this season? This is third Big Ten weekly honor of the season.
Strangest moment:
It's not often you see an offensive guard taking a handoff and running a sweep. But Michigan State's Joel Foreman did just that on Saturday in a nice gesture from Mark Dantonio.
The Spartans were up 48-3 on Indiana when Foreman lined up at tight end and came around the left side for a three-yard gain. Dantonio said he thought of the idea in practice Thursday as a way to honor Foreman, a fifth-year senior who has started 46 career games at left guard.
"That was for every big guy out there who ever wanted to run the ball," Foreman told reporters. "I'm averaging three yards a carry, broken tackle. I think that's more than [quarterback] Kirk [Cousins] has, so I'm doing all right."
It was a particularly appropriate way to end the home season for Foreman, who let cancer survivor Arthur Ray Jr. begin the game in his place in the season opener despite his consecutive starts streak. After Foreman's run, he jogged to midfield with the ball under his arm, saluted and then came out of the game. Ray was one of the first players to greet him.
"He got the game ball for that," Dantonio said of Foreman. "He took it, as a matter of fact."
April, 11, 2011
4/11/11
1:30
PM ET
The Big Ten featured only
one spring game
this weekend, but plenty of teams took to the field for scrimmages. I've compiled some scrimmage highlights from around the league based on reports from official team websites and other media sources. Several teams didn't provide specifics about their scrimmages, but I included what I could find.

ILLINOIS
The
Illini scrimmaged for about 90 minutes Saturday
, and all players were involved in contact aside from starting quarterback
Nathan Scheelhaase
.
Notes
The offense prevailed in the scrimmage and gashed the defense for several big runs. Troy Pollard took most of the reps at running back as Jason Ford sat out with a sore knee, and Pollard helped his cause with 110 rush yards on 19 carries. Scheelhaase completed 7 of 12 passes for 53 yards and added 58 yards on the ground, while backup Miles Osei had a 63-yards pass to Fred Sykes and finished the day with 165 yards through the air.
Coach Ron Zook singled out linebacker Houston Bates for his play in the scrimmage. Bates had a sack and a quarterback hurry. He saw increased playing time after Jonathan Brown was kicked out of the scrimmage after throwing a punch and drawing a personal foul penalty.
INDIANA

The Hoosiers held their
second scrimmage of the spring
Saturday afternoon at Memorial Stadium. Check out coach
Kevin Wilson's thoughts
as well as some
highlights
.
Notes
The offense got the best of the defense Saturday after the D shined in Indiana's previous scrimmage. Receivers Duwyce Wilson and Kofi Hughes stood out in the highlights Indiana showed on its website, as Hughes had a long touchdown reception and Wilson was forced out just shy of the goal line. Both players have been impressive this spring and should complement top wideout Damarlo Belcher in the fall.

IOWA
No official information from Iowa's scrimmage Saturday, but here's a
photo gallery
and some recent
player interviews
from the team's website.
MICHIGAN

No official information from Michigan's scrimmage Saturday, but here are video interviews with defensive tackle
Mike Martin
and offensive lineman
Patrick Omameh
. Running backs
Vincent Smith
,
Michael Cox
and
Stephen Hopkins
had some nice runs in the video highlights.
MICHIGAN STATE
The Spartans held their first jersey scrimmage Friday and the defense prevailed 55-45 in a modified scoring system. The defense had 18 ways to score points, while the offense had 11 ways to score, including touchdowns and field goals.

Notes
The defense dominated the scrimmage, holding the offense without a first down on the first five possessions and without points for the first 13 possessions. Michigan State's D recorded three sacks and two interceptions during the stifling stanza. The only two touchdowns scored came during the goal line and red zone portions of the scrimmage.
Defensive ends William Gholston and Tyler Hoover combined for nine tackles, three tackles for loss, a sack and a pass breakup. Sophomore linebacker TyQuan Hammock recorded an interception. "The defense played well -- tackled effectively, pressured the quarterback and came away with some turnovers," coach Mark Dantonio said in a news release.
Starting quarterback Kirk Cousins had a rough day (6-for-16 passing, 41 yards, INT), although he didn't get much help from his receivers, who dropped three passes. Backup Andrew Maxwell completed 15 of 26 passes for 116 yards with an interception.
The touchdowns came from Edwin Baker (22-yard run) and Le'Veon Bell (6-yard run). Receiver Keith Mumphery caught a 43-yard pass from Maxwell.
MINNESOTA

The Gophers scrimmaged Saturday at TCF Bank Stadium and ran about 120 plays.
Notes
Minnesota's defense held the upper hand as the offense struggled to gain a first down early in the scrimmage. The defensive line had a very good day as tackles Brandon Jacobs and Brandon Kirksey both stood out. Jacobs sacked No. 1 quarterback MarQueis Gray and Kirksey recorded a blocked field goal attempt. Ends D.L. Wilhite and Ra'Shede Hageman also made some plays. "The defensive line got up the field a lot more than we have been. [It was] a lot more aggressive," coach Jerry Kill told reporters. "And we need that. We need more push. We had nine sacks last year, and that can't happen."
Gray and top receiver Da'Jon McKnight hooked up on receptions of 45 and 20 yards. McKnight also recorded a punt block in the scrimmage.
Reserve quarterback Tom Parish threw two interceptions and fumbled a snap. Moses Alipate ran a few series at quarterback and led a scoring drive.
NEBRASKA

The
Huskers ran about 150 plays in a scrimmage
Saturday in Lincoln. Quarterbacks
Brion Carnes
,
Cody Green
and
Kody Spano
took most of the reps and drew praise from coach Bo Pelini.
The coaches limited reps for quarterback Taylor Martinez after the sophomore hurt his toe in a recent workout. Running back Rex Burkhead participated in the scrimmage and "looked great," according to Pelini, although Burkhead's reps were limited as well.
Nebraska had two false-start penalties and one fumble during the scrimmage. "That's not bad," Pelini said. "Most of it is with the young guys. It shows me the emphasis is working and there's progress, but one's too many as far I'm concerned."
NORTHWESTERN

The Wildcats scrimmaged Saturday in Evanston in preparation for this week's spring game.
Notes
Top running back Mike Trumpy had runs of 33 and 25 yards, while Tyris Jones added a scoring run. Jones has had a really nice spring for the Wildcats, who are looking for more options in the backfield.
Trevor Siemian and Evan Watkins took the reps at quarterback as Kain Colter was held out of the scrimmage. Siemian completed 8 of 12 passes for 86 yards with an interception, while Watkins, victimized by dropped passes, completed 8 of 21 passes for 71 yards and a touchdown strike to Charles Brown.
Defensive end Tyler Scott picked off Siemian on the second play of the scrimmage. Siemian later responded with a 36-yard pass to Rashad Lawrence. Demetrius Fields led the receivers with five receptions, while walk-on Torin Dupper had three catches for 46 yards.
OHIO STATE

The Buckeyes held a special-teams scrimmage followed by a full jersey scrimmage Saturday in Ohio Stadium. The team went through about 20 possessions and the offense prevailed 56-45.
Receiver DeVier Posey recorded two touchdown receptions, a 33-yarder from Joe Bauserman and an 8-yarder from Taylor Graham. Freshman quarterback Braxton Miller had the only other touchdown of the scrimmage on an 11-yard run.
Bauserman completed passes of 33 and 16 yards and also threw an interception on a pass tipped by defensive lineman John Simon. Graham completed 10 of 20 passes for 80 yards, while Miller hit on 4 of 6 passes for 43 yards and looked impressive on the touchdown run. Kenny Guiton struggled at quarterback, leading the offense to only one score (field goal) in six possessions.
Posey recorded five receptions for 83 yards and two scores, while the other scholarship wideouts combined for only five receptions. Think Ohio State will miss No. 8 in the first five games?
Senior running back Dan Herron didn't get much work Saturday, and Jaamal Berry and Rod Smith stood out among the backs with several nice gains.
Defensive linemen Adam Bellamy and Melvin Fellows both recorded sacks, while other defensive standouts included cornerback Travis Howard and linebacker Etienne Sabino.

PENN STATE
The Lions scrimmaged Saturday, but there's not much info out there
aside from this
(must pay for content).
WISCONSIN

The Badgers held a scrimmage Saturday, running more than 120 snaps, and coach
Bret Bielema shares his thoughts here
.
Sophomore linebacker Conor O'Neill had a big day with interceptions on back-to-back plays, picking off Joe Brennan and Joel Stave. Wisconsin auditioned O'Neill at safety last year, and his experience defending the pass is paying off.
Bielema said center Peter Konz will miss the rest of the spring because of ankle and knee injuries. Konz will undergo minor knee surgery and should be fine for fall camp. Versatile sophomore Ryan Groy is seeing time at center and can play all three interior line spots.
Remember Zach Brown? The running back is still around in Madison and hopes to enter a crowded backfield this fall. Brown had a 17-yard touchdown reception and an 8-yard scoring run Saturday. "Zach is an angry running back," Bielema told reporters. "Everybody wants to talk about those other guys. People forget he ran for 200 yards [in a game] as a freshman, and he has won some games for us."
August, 18, 2010
8/18/10
4:38
PM ET
Wisconsin went through spring ball without several key pieces -- running back
John Clay
and linebackers Chris Borland and Mike Taylor, to name three -- but the Badgers felt pretty good about their health entering camp.
Unfortunately for Bret Bielema's team, the injuries aren't going away.
Starting safety Jay Valai is the latest wounded Badger, as
he missed practice Wednesday morning
with an undisclosed injury. According to the Milwaukee Journal Sentinel's Jeff Potrykus, Valai was "wearing a wrap on his lower right leg, was limping noticeably and was using one crutch to get around." Bielema is expected to provide an injury update after the team's second practice tonight.
Valai joins Taylor (knee), linebacker Blake Sorensen (calf) and defensive tackle Jordan Kohout (knee) on the sideline. All four players are either starters or in the mix for starting jobs, and Taylor will miss at least the season opener at UNLV following a second knee surgery.
Conor O'Neill is pegged as Valai's backup but missed practice Tuesday and Wednesday morning, so free safety Shelton Johnson filled in as the first-team strong safety during the workout.
No major cause for alarm yet, but the Badgers aren't loaded on defense and need these guys on the field this fall. I'll certainly be interesting to hear about Valai, expected to be the leader of the defense this fall.
In other Wisconsin news, athletic officials are
asking for a $76.8 million athletic performance center
, which would be used primarily for football with new locker rooms and weight training facilities. The proposal also includes upgrades to the McClain Center, and the scoreboard and sound system at Camp Randall Stadium.
If approved, construction on the new facility would start in December 2011 and be completed by October 2013.
The plans call for two tunnels to be built, connecting the new locker room in the proposed performance center and the stadium to the antiquated McClain Center, constructed in 1988. The locker room would include multimedia space, recovery rooms, steam and shower rooms and a coaches suite nearby.

According to the proposal, the athletics department would borrow $50 million against its program's revenue and expects $26.8 million in gifts and grants to pay for it. According to a fundraising document, officials are asking for $7 million for naming rights to the building.

Wisconsin certainly needs the facilities upgrades. A program that has been as successful as this one should have a much better setup.
Whether the university's Board of Regents agrees remains to be seen.
April, 19, 2010
4/19/10
5:00
PM ET
Wisconsin's defense was the unit that entered the spring with question marks.
The Badgers had to replace All-Big Ten defensive end O'Brien Schofield, middle linebacker Jaevery McFadden, safety leader Chris Maragos and both starting defensive tackles. Plus, they had to build depth at linebacker as Chris Borland, the 2009 Big Ten Freshman of the Year, and Mike Taylor sat out with injuries.
But when spring practice ended Saturday at Camp Randall Stadium, it was the Badgers offense, a unit that returns nine starters, that seemed to be searching for answers.
The defense stepped up in
Saturday's spring game
, holding the offense to only two touchdowns and just 101 total rushing yards (for Wisconsin, that translates to about 30). The Big Ten's top red zone offense in 2009 had to settle for three short field goals after stalling near the goal line.
To be fair, the offense played without star running back
John Clay
and top wide receiver
Nick Toon
, and the offensive line has seen a lot of shuffling this spring because of injuries. But quarterback
Scott Tolzien
(12-for-22, 138 yards, 0 TDs, 0 INTs) and his fellow offensive teammates were
disappointed in their performance
.
"We need to be better than that come fall," Tolzien said. "It's good for us to have a setback like that as long as we use it to our advantage and just realize there's a sense of urgency here. We've got to have a great offseason."
Defensive end Louis Nzegwu moved closer to locking up a starting spot with three sacks, and linebacker Culmer St. Jean and safety Jay Valai both recorded interceptions. Cornerbacks Niles Brinkley, Antonio Fenelus and Devin Smith also came on strong toward the end of the spring.
Other nuggets:
Jon Budmayr is still settling in as Wisconsin's backup quarterback, and he'll need a strong summer after struggling in several spring scrimmages. Budmayr completed just 9 of 19 passes for 68 yards with two interceptions for the second-team offense on Saturday. He completed 3 of 6 passes for 16 yards with the first-team offense and was sacked three times in the game.
Lance Kendricks looks ready to become an elite tight end in the Big Ten and recorded six receptions for 63 yards, including a 19-yarder.
Redshirt freshman linebacker Ethan Armstrong recorded a game-high 14 tackles and a pass breakup, while linebacker Conor O'Neill had 12 stops and a pass breakup.
Head coach Bret Bielema confirmed that wide receiver Kraig Appleton has left school and won't return to the team. Appleton and two other players, defensive end Shelby Harris and linebacker Nick Hill, were indefinitely suspended in February for unspecified violations. Harris and Hill both could work their way back to the team.
April, 2, 2010
4/02/10
12:00
PM ET
Spring football is under way at all 11 Big Ten schools. Great time of the year.
January, 27, 2009
1/27/09
12:15
PM ET
Posted by ESPN.com's Adam Rittenberg
The links are on a diet today.
"I'm not saying some point someday, he won't say, 'OK, I've done everything I can do at Iowa. I'm going to go make the big bucks in the National Football League,'" Dolphin said. "But I don't think that day is on the horizon right now. I wish people would just forget about Kirk Ferentz's name being associated with every NFL topic."